Why India won't intervene militarily in Maldives
An Indian Ocean archipelago of 1,192 islands, the Maldives is a tourist paradise. The Maldives is a low-lying country that is expected to be among the first in the world to go under water as a result of climate change. While it may take a few more decades for rising sea levels to wreak havoc on the archipelago, there are more immediate and pressing problems tearing the country apart.
Tourism is the backbone of the country's economy, and tour operators have reported hundreds of daily cancellations since the state of emergency was imposed on February 5. Following the state of emergency, Maldives has been in a tensed state of existence in as the archipelago is facing a sort of turmoil, ransacking its tourism based economy.
Crisis
The current crisis was the result of a Supreme Court ruling on February 1, overturning the convictions of Yameen's rivals. In addition to ordering the government to release the nine convicted opposition leaders, the apex court called for reinstating 12 parliamentarians who were stripped of their seats last year when they left Yameen's Progressive Party of Maldives to join the opposition.
Two weeks after the government of the Maldives declared a state of emergency amid rising political tension, on February 20th Parliament approved a 30-day extension that, among other grave consequences, may result in serious damages to the economy, scaring away international visitors. On February 20, President Abdulla Yameen Abdul Gayoom requested to extend the Maldives state of emergency for a total of 45 days. The Maldives government and the Ministry of Tourism have emphasized their commitment to safety for civilians and tourists alike.
The emergency "shall only apply to those alleged to have carried out illegal activities — it shall not apply to otherwise law-abiding residents of, or visitors to, the Maldives," Yameen's office said in a statement.
The opposition Jumhooree Party says the approval of the extension is illegal, and urged Yameen to lift the state of emergency in order to restore normalcy. "Despite the State of Emergency, the country is functioning as normal as possible," a spokesperson for the Ministry of Tourism told TPG Tuesday before the extension was approved. "Schools and government offices are in operation and we do not foresee any threats to the public or tourists. We too are continuing with the promotional activities of the destination."
Since Yameen became president in a controversial election in 2013, he has systematically crushed dissidence within his party and removed rivals from the political arena.
For instance, MDP leader and former Maldivian president Mohamed Nasheed, the archipelago's first democratically elected leader, was convicted on terrorism charges in 2015 and sentenced to 13 years in jail. While Nasheed has been living in self-exile in Britain since 2016, several other opposition leaders, including a former defense minister in the Nasheed government, Mohamed Nazim; Yameen's once "trusted" vice-president, Ahmed Adheeb; and leader of the opposition Adhaalath Party, Sheikh Imran Abdulla, are in jail on long prison terms.
The opposition Maldivian Democratic Party (MDP) calls on neighboring India to militarily intervene to end the crisis, and let Nasheed become the president.
According to reports in the Indian media, the government has ruled out the military option for now, although it has activated its standing operating procedure for the Maldives by keeping troops ready for deployment there at short notice, should the need arise.
But India is said to be working with a group of countries, including the United States and Saudi Arabia, to pressure the government through imposition of sanctions. However, India has traditionally opposed the sanctions option to influence regime behavior, as sanctions affects ordinary people rather than the ruling elite.
Relations between India and the Maldives have been strong for decades; India played a major role in building the Maldives' economy and military. It was India's support that kept the authoritarian Gayoom in power for three decades.
However, bilateral ties have been fraying since Nasheed's exit from power in 2012. That year, the Maldivian government abruptly terminated a $500 million contract awarded to India's GMR Infrastructure for developing an airport in Male. Bilateral ties have deteriorated since then. Yameen's "authoritarian governance" has irked India, but it is his tight embrace of China that has raised hackles in Delhi.
No invitation for invasion
A country could decide to send military forces to neighboring or any other country only on the request form that nation concerned. Otherwise the intervention becomes totally illegal and amounts to invasion. USA led NATO have been occupying many countries in Middle East and Afghanistan after invading them on false justifications.
Anyone who closely follows Indian state behavior abroad would quickly endorse the argument that India would not intervene in Maldives citing any reason.
In order to decide to sent troops to nearby Maldives, India must have got a request from the government of Maldives but that government has not sought it. In 1988 when India intervened in Maldives it was on the request received from the then President Gayoom.
When an external government is engaged in dealing with an emergency situation, naturally that power should be given huge service charges. Without any request from Maldivian government of Yameen, India won't get any service charges. Though the exiled opposition leader Nasheed might be willing to pay the money to India as he has made the request to New Delhi, but India cannot respond to non-government actors.
This step alone can easily do away with any suggestion to India for intervention in Maldives.
The government of Maldives has not asked for Indian military to help bring peace and normalcy back to the island nation. India cannot attack Maldives on the suggestion by the opposition leader who now lives in Srilanka.
Claiming to be a 'terror victim', India would not like to be seen as an aggressor as no amount of justification can  make New Delhi "innocent" although it has got that look. .
China factor
But there are some more important reasons that deny India any chance to send troops to Maldives which, in the absence of a request from the government,   would mean to remove the President and government from power.
Today, archipelago Maldives is not alone, though insignificant for non-tourists. China is fast becoming an economic ally of Maldives and might soon have its own military bases in the island nations as well.
Chinese nexus is the prime strength Maldives would operate on.
Unlike China, USA can only bully small nations but cannot spend money on them, does not invest there to help their economies flourish. Already, Beijing, knowing the Indian strategic community's desire for a military showcase byIndia in Maldives, has expressed its opposition to outside intervention from India.
Unlike USA, India cannot attack Maldives on the suggestion of USA or Israel or Opposition leader Nasheed and if that at all happens India would possibly be in a long term trouble.
In 2014, when Chinese President Xi Jinping visited Maldives, Yameen handed over the airport project to a state-run Chinese company. The two sides signed a string of deals during that visit that saw Beijing participate in a big way in infrastructure building in Maldives. Maldives also became an enthusiastic participant in the Maritime Belt of China's Belt and Road Initiative.
Then in December last year, the Maldives and China signed a Free Trade Agreement, much to India's concern. Delhi is worried about Beijing's mounting influence over Maldives and the strategic implications for India.
China's growing presence in the Maldives is a serious concern to India given the latter's geographic proximity to the Indian coastline. The Maldives also sit near international sea lanes through which India's oil imports traverse. India's security would be threatened should the Chinese set up a naval base in the Maldives. These concerns are not without substance; in August 2017, three Chinese naval vessels docked at the Maldives' capital, Male, setting off alarm bells in Delhi.
India's vulnerability
India is watching the unfolding crisis in the Maldives with concern. It is mulling different options. Not doing anything is not an option given India's stakes in a stable Maldives.
A seemingly busy India, whose PM is on a perpetual foreign tours as India's foreign policy with very little time for the people and keeps mum on all major anti-people events, promotes rampant corruption and the powerful lords  loot the nation and its resources for private use, steel cash from nationalized banks, illegal mining and land grabbing.
IPL Modi, PNB looter Nirav Modi- both have escaped from India and are now abroad thanks to timely help and aid from agencies of Indian regime, Kothari, et al are just the tip of iceberg in Indian sage of misappropriation of state resources while the intelligence and media lords are terribly busy blasting fake news about Pakistan and Muslims in order rot keep the fanatic sections of India.
The Indian government has said it is "disturbed" by the declaration of emergency in the Maldives and "the suspension of the Maldivian people's constitutional rights." It is "carefully monitoring the situation," it said. Earlier, its Ministry of External Affairs issued a travel advisory to its citizens traveling to Maldives.
Sections in India are in favor of an Indian military intervention in the Maldives. Some argue that it does not behoove a rising power with big ambitions like India to shrink away from acting robustly to defend its interests in the region.
A section of the BJP leadership has described the current crisis in the Maldives as an "opportunity" for India "to stake its claim to being a global player." It is "imperative" for India to intervene in the Maldives, they argue,  "since any global role is always dependent on a country's performance in the neighborhood first. Those who want to see India a superpower as soon as possible with a magic touch, say that "time is ripe for a decisive Indian intervention in the Maldives."  Such intervention by India would have the support of countries like the USA, Israel and UK, which, they reason, would be keen to see the pro-China Yameen removed from power. "This could be used to silence the Kashmiris who fancy for sovereignty".
If India does decide in favor of military intervention, this will not be the first time it has done so in the Maldives. In 1988, India sent in a small contingent of troops to avert a coup attempt against Gayoom. But the circumstances of that intervention were different from what exists today. In 1988, President Gayoom invited India to intervene. Yameen is unlikely to do so now. Importantly as well, 30 years ago the coup plotters were just a small group of mercenaries. A military intervention today could leave Indian troops stuck in a Maldivian quagmire.
Yameen wins power struggle
Yameen, like most rulers today, is determined to cling to power. Not only has Yameen ignored the court order, but he went on to declare an emergency and had the judges who handed out the ruling arrested. Reinstating the 12 parliamentarians would reduce his government to a minority. That would enable parliament to oust him in a no-confidence vote.
Besides, Yameen seems apprehensive that allowing Nasheed to return to the Maldives and freeing the other opposition leaders would galvanize the opposition and boost mass protests against his iron-fisted rule. Presidential elections are due later this year and Yameen fears that he will be defeated by a strong opposition campaign.
With the proclamation of a state of emergency, Yameen has prevented parliament from meeting. The emergency will be in place for 15 days, during which he can be expected to pack the judiciary with loyal judges. He is likely to engineer defections from the opposition. He could extend the state of emergency as well.
Yameen has already appointed new judges, who have since annulled the court order releasing the opposition politicians. Former president and opposition leader Maumoon Abdul Gayoom, who is Yameen's half-brother, has been detained and Yameen has fired two police chiefs over three days.
With Yameen tightening his grip, Nasheed has called on India "to send an envoy, backed by its military to free the judges and the political detainees." He has asked for India's "physical presence" in the Maldives.
China has warned India against any military intervention in Maldives.
Observation
China is closely watching events in the Maldives. The archipelago is a popular destination for Chinese tourists; in light of the current uncertainty, Beijing has advised its citizens to postpone travel to the Maldives. Having invested heavily in the Maldives, China is concerned about the safety of its investments, projects, and personnel. It has asked the Maldivian government to "to take necessary measures to earnestly protect the security of the Chinese enterprises, situations and personnel."
Unlike India, China has leverage with the Maldivian government. Yameen is likely to listen to China. But Beijing would not want to see him go.
China is opposed to India meddling in Maldives and has made this more than clear. An editorial in China's state-run Global Times chided India for openly intervening in its neighbors' domestic affairs. There is "no justification" for India "to intervene in Male's affairs," it observed.
Any military showcase by India could also prove counterproductive to India's long-term interests. It would push Yameen closer to the Chinese, for instance. Besides, it would boost perception of India as a "big brother" and a "bully" in the region. Undemocratic forces in India's neighboring countries have usually stoked anti-India sentiment among the masses by stressing such perceptions. This can be expected to happen in the Maldives too.
Importantly, an Indian military intervention is unlikely to benefit democratic forces in the Maldives in the long run as a democratic government, should one come to power in the archipelago following an intervention, would be seen as "made in India" with the USA acting as a "midwife." Such a government would lack legitimacy in the eyes of many Maldivian people.
It does seem that the Sino-Indian contest for influence in the archipelago is as fierce as the ongoing tussle between Yameen and the Maldivian opposition.
Thus any suggestion for Indian military intervention in Maldives is ruled out.
India could perhaps act as a facilitator or even a mediator in a possible dialogue between Yameen's Maldivian government and the opposition. But will Yameen welcome an Indian role against the Chinese wish? Moreover, he has reportedly defied Indian requests relating to the current crisis. India cannot have privileged the leverage to influence the decisions of Maldivian President.
Popularity-Graph of PM Imran Khan has not dropped down
Although the economy of Pakistan has deteriorated, price hike, increase in utility bills, food prices and consumer prices of daily used items has grown up, the job market has deteriorated. According to a survey, mostly people are complaining about price-hike and the unavailability of jobs. Some people are complaining about the bad practice of nepotism and especially targeting "hired electable and technocrats". It is a fact that the PTI government has failed to meet the expectations of its voters. PTI workers and supporters have been cornered and ignored.
What so ever the government is presenting economic parameters, to defend themselves. What so ever reasons or logic and explanation are provided by the Government to defend themselves? How much blame is put on previous governments, but the failure of the PTI government cannot be justified. The common man in Pakistan is a victim and suffering.
Yet, the popularity of Prime Minister Imran Khan has not deteriorated. According to a small scale survey, the public will vote for Imran Khan in the next general election. As per Survey, no one was willing to accept Maulana Fazl-u-Rehman, leader of JUI-F, as prime Minister of Pakistan. The popularity of PPP and PML-N has also deteriorated sharply.
Strange! It is really very strange, while people are complaining about the performance of PTI Government, but still, praise PM Imran Khan. Some people blame his team, while other analyses as the nature of issues inherited by the previous government are so complex that no one can manage quickly. It might take more time to reach any conclusion and favors that the PTI government should complete its term of 5 years and wait till 2023, for the general election.
Pakistan is a democratic country and the constitution of Pakistan protects the right of every citizen to protest, express his/her opinion, criticize the government and its policies, can organize any procession, demonstration or Dahrna – sit-in. "Azadi March" is permissible in our system and legal, and the government has not offered any resistance in it. The government will not disturb them as long as they stay within the law and peaceful.
Such agitations are part of the Pakistani political system and has a long history. Whenever some of the political parties lose in the election, they blame the winner party or ruling party for rigging and asks them to resign and dissolve assemblies. Even the currently ruling party PTI has been protesting the Government in 2014 and so on. But history has witnessed, no Prime Minister one prime Minister resigned or assemblies dissolved in past as a result of opposition pressure. It is expected, that this time also the PM will not resign, and not dissolve the assemblies.
However, the opposition always gains millage and concessions through negotiations and deals. This time is also no exception and it is guessed that some way out will be explored soon.
But there is a lesson for PM, to pay more attention to the issues of the common man in Pakistan. He has to give due importance to PTI workers and supporters. He must respect the merit and create opportunities for qualified people.
There are 1.5 million fresh graduates every year entering the job market, but the creation of jobs is not in accordance with it. As a result, youth are desperate and unfortunately may involve in negative activities. It is worth mentioning that the biggest vote bank and political force for PM Imran Khan were "Youth". Pakistan's demography consists of 70% of youth under the age of 40.
It is suggested that PM may take serious notice of the ground situation. Realize the problems of the common man in Pakistan. May initiate major structural changes and deep reforms in all dimensions.
Pakistan possesses huge potential for growth if enabling environments are provided and right policies are implemented, there is no reason that Pakistan's economy take-off rapidly.
Pakistan,a Victim of Vicious Circle: The Container Politics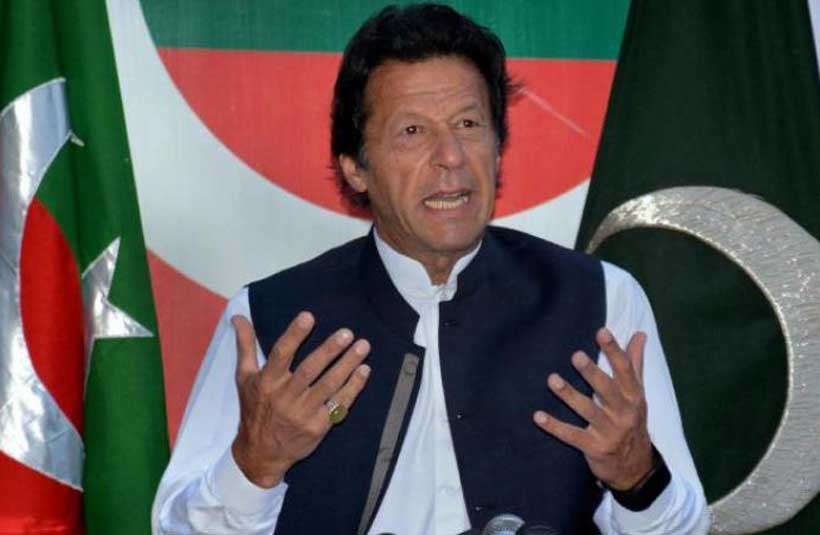 It's pretty tough to comprehend Pakistan's politics or the behavior of Pakistan's political leaders. The example of Pakistan's political system and politicians can be tacit with Robert Jervis's astounding words. "When you pick up one piece of this planet, you find that one way or another, it's attached to everything else-if you jiggle over here, something is going to wiggle over there… We need this sense of the continuing interconnectedness of the system as part of the common knowledge so that politicians feel it and believe it, and so that voters feel it and believe it, and so that kids feel it and believe it so that they'll grow up with an ethic."
Since 1947 Pakistan is trapped in a vicious circle, and it's hard to get rid of this wicked circle with the current political system. Immense tension with neighbor countries, internal political instability, high inflation rate, massive unemployment, poverty, discrimination, corruption, human rights violation, economic problem, low level of domestic and foreign direct investment, energy shortage, wrecked infrastructure, weak and self-centered political leader ruined the country. Now we are witnessing a massive number of lessening faiths on the institutions of almost all kinds. People don't trust the government; they don't believe any corporation and virtually no political leader — the reasons why people's trust is declining in government. The govern leaders do not fulfill their promises, they always raise different slogans spreading fake news to convince the voters for votes, but things are not still the same after elections; all the obligations remain broken. Thus, people certainly don't believe politicians.
After 71 years of a bumpy hard and tough journey, the people of Pakistan in 2018 elected a new prime minister with much new hope, to fight against corruption and other serious challenges. This hope was up to the greatest extent achieved when the supreme court of Pakistan took action against the corrupt leaders and imprisoned them. With such enormous weight, the oppositions are now vindicating a mean to get rid of the present administration; the adversaries have started a long march called Azadi-March, with the aim to takeover Khan's (Imran Khan Niazi current Prime minister of Pakistan) government. The majority of the people are against the so-called Azadi-March, as they are aware of situations. To sidetrack Imran Khan's consideration, these opposition leaders have started Azadi-March, where thousands of protestors are marching to the capital city Islamabad, calling on prime minister Khan over the weak and fragile economy and corruption.
Some religious groups organized the Azadi-March and political rivals, Jamiat Ulema-i-Islam-Fazal (JUI-F) party prearranged the protests, almost all parties have used the march to show their complaints throughout what they call the Azadi March (or Freedom March).The main aim of the Azadi-March, calling Imran Khan to resign, they believe that the current government ruined to satisfy their promises, and the administration is amateurish, inexpert, and doesn't distinguish how the state-run. While addressing the people, Fazal said all Pakistani, from Karachi to Islamabad, want that prime minister Imran Khan should resign, further stated that prime minister still has time to deferentially submit his resignation because the Pakistani will not give him also time to do so.
The purpose behind such Azadi-March isn't only that they want to overthrow the prime minister, but they want him to stop disparaging the adversaries. The opponents, according to most of the local people, are corrupt and crooked, and they are responsible for the country's weak institution and corruption. Since now, Khan is taking legal actions against the oppositions with the support of millions of Pakistani people, thus permit the opponents formed a coalition to stand against Khan. With the help of millions of people Khan isn't against their Azadi-March, but it's something everyone knows, the country is going through tough time, skirmishes with India and recently with Afghanistan, ongoing economic reforms, working to encourage tourists and foreign direct investment, and many other developmental projects, such actions or the so-called Azadi-March will ruin the hope of the current administration and people. The immediate adverse consequence of the Azadi-March is also on the recent Kashmir issue. Currently, the prime minister and his administration are working to find a solution for IOK,by voicing on a different medium, such domestic scuffle will not only hamper the objective but will instead encourage the neighbor states to take advantage of domestic unrest.
The time being Khan is dealing with massive problems, the oppositions should stand with Khan, instead of creating other domestic violence and discontent. The continues Azadi-March will do nothing more than internal turbulence and other dangerous predicaments that will hit the country with more severe difficulties. Democracy means the government of the people, by the people, for the people, which specify that the people of Pakistan elect the current government. Pakistan is a democratic country where people can choose any leader they trust. To make it more vibrant, Pakistan is not the legacy of some elites to govern all the time.
A country with more than 200 million people ought to decide their future; they should stand with Khan and support his campaign of fighting against corruption and corrupt people to bring peace, political stability, economic development, and employment opportunities. Fora very long time, we have experienced different government and their fake promises; they have tumble-down the state's institutions, nepotism, favoritism, and cronyism, all were the hidden agendas of the previous government. Thus, it is clear that the present government is fighting against all the above problems.
Finally, let us begin anew — recalling the current Azadi-March, which is not a sign of being active or reliable, but rather a sign of weakness. Sincerity is always subject to proof, and when you don't have a single proof, you are lucky enough to have needles in your chopsticks. Let us never negotiate with these political leaders who are involved in the march out of fear. But let us never fear to negotiate.
8 Million People under siege for almost 3 months in Kashmir
Kashmir, the most beautiful part of world, heaven on the earth, roof of the world, land of natural beauty, lush green, full of mountains, rivers, lakes, waterfalls, rich in culture, traditions, unique in hospitality, beautiful people, special food, fruits, and paradise for tourists, is at your mercy for their lives.
Around one million Indian Army has sieged 8 million unarmed civilians for almost 3 months. India imposed curfew in Indian Occupied Kashmir since the 5th of August 2019. People are facing a severe shortage of food, fuel, and medicines. Mobile phone service, Internet Service and all types of communications have been cut-off. Before imposing Curfew, India has evacuated all tourists and visitors from Kashmir. Kashmir is completely cut-off from the rest of the world. Media persons are not allowed, UN officials, foreign diplomats, and observers are not allowed to visit Kashmir. American Congressmen were denied access to Kashmir. Human Rights Organizations were denied to visit Kashmir. Kashmir is kept in isolation with evil motives.
Hundreds of thousands were killed, arrests of important figures and personalities are in thousands, and disappearances are outnumbered, fake counters and .killings increased numerously, number of massacres grown in double digits, extrajudicial killings by security forces has become a routine matter, torture is practice in daily routine, children and infants are also victims in the presence of parents, rape is being used to humiliate and as used as a weapon of hate and revenge. Indian atrocities and brutalities have crossed all records of human rights violations in the known-history of human beings.
Kashmir is a Muslim majority area with 87% of its population being Muslims. At the time of partition, the British agreed to divide the subcontinent into India and Pakistan after World War II. The Muslim majority area will be part of Pakistan and Hindu majority areas will be part of India. According to the principle set, Kashmir being Muslim Majority Area should be part of Pakistan. But Indian forces entered into Kashmir and occupied part if it by force. When the Indian army could not face resistance from the local people, the Indian Prime Minister of the time Jawhar Lal Nehru, approached the UN seeking their help. UN Security Council implemented the ceasefire immediately and passed a resolution for plebiscite to ask the will of Kashmiri people. UNSC gave the right of self-determination to people of Kashmir to decide by free will, either to join Pakistan or India.
Being a Muslim Majority area, India was afraid of the loss in the plebiscite, kept on delaying to hold plebiscite since 1948. Meanwhile, India was trying to change the demography of the Kashmir and tried to shift Hindus from other parts of India to settle down in Kashmir, to bring Muslim Majority to a minority. For this goal, India used excessive force and all sorts of atrocities to suppress the Kashmiris. Introduction of draconian laws, black laws, extrajudicial killings, torture, rape, detention, massacre, etc., all brutal actions, etc., but could not succeed to overcome the spirit of Kashmiri people's struggle for self-determination.
Instead of learning from experience that Indian after using all dirty tricks and excessive use of force, could not win the hearts and minds of Kashmiri people. And the struggle for self-determination, even got more active. Finally, India deployed fresh troops and reached to almost one million troops to impose curfew in Kashmir on 5th of August 2019. Almost 3 months passed, people are under siege, no food, no fuel, and no medicines. People are starving. India is committing genocide in Kashmir. There is sufficient evidence of ethnic cleansing. India must understand that, if could not win against the will of Kashmiri people for the last 7 decades, will not succeed in the near future or far future. India, must leave Kashmir, the sooner the better.
International community has taken serious notice of Indian atrocities and there are widespread protests around the world. The International media is also covering Indian brutalities. There are clear signs of the holocaust. Like what happened in Germany with Jews, in Rwanda, and other part of the world. India has established detention camps in Kashmir on the same line of Hitler. In fact the ideology of Modi is exactly the same as Hitler and he is following almost the same actions.
The international community must act, must act proactively, must act immediately, to avoid the Holocaust. Are they waiting for, let the holocaust happened and then they may reach for Photo Sessions, making Documentaries, and Writing reports to tell the next generations the history of Kashmir Holocaust????
UN must send its peace-troops to protect human lives in Kashmir. It is the mandate of the UN and it is appealed to whole international community, to the nations who have conscious and value human lives, to all individuals who believe in humanity and possesses conscious to stand-up and save humanity in Kashmir.
India is involved in war crimes, must be executed according to the Geneva Convention, and Rome Convention, for their alleged role of war crimes. All individuals, either at the policy level, or implementation level, irrespective of their status or rank, involved in the war crimes in Kashmir, must be trialed in the International Court of Justice and punished accordingly for their involvement in war crimes.