Higher Shares of Renewable Energy Central to Sustainable Development Across Southeast Asia
Southeast Asian countries are on course to meet their aspirational renewable energy target of a 23 per cent share of total primary energy supply by 2025, according to new analysis from the International Renewable Energy Agency (IRENA). Achieving this target would also significantly improve the access to affordable clean energy in the region in line with its pursuit of Sustainable Development Goal (SDG) 7.
In the report, Renewable Energy Market Analysis: Southeast Asia – launched during the United Nations Global SDG7 Conference in Bangkok, IRENA highlights that renewable energy is proving key to expanding energy access in a region where 65 million people lack it. With Southeast Asia's vast, untapped renewables potential, considerable opportunities exist to accelerate renewables deployment in the power sector but also in heating, cooling and transport. Strong enabling and investment frameworks however need to be put in place to overcome barriers facing renewables uptake.
"Southeast Asia is making important progress towards the diversification of its energy supply, and is recognising that renewables are a cost-competitive solution to power economic growth and meet rising energy demand " said IRENA Director-General Adnan Z. Amin at the launch event during the Conference.
"The accelerated adoption of renewable energy offers broad environmental, economic and social benefits, including creating jobs, reducing air pollution and tackling climate change," continued Mr. Amin. "Policy makers and other development actors should prioritise investment in clean, reliable and affordable energy as a pillar of development across the region."
Renewable Energy Market Analysis: Southeast Asia covers the critical considerations for effective policy-making to accelerate the energy transformation, and analyses trends in energy supply and consumption at the regional and national level. It also examines the investment trends and policy instruments supporting the current deployment of renewable energy in a region where economic growth exceeds 4 per cent. Southeast Asia's renewable energy potential is also explored, both in terms of resource potential, and the spectrum of benefits the transition to a sustainable energy future brings.
The report notes that in 2016, 611,000 people were employed in Southeast Asia's renewables sector, primarily in liquid biofuels, however up to 2.2 million people could be employed in the sector by 2030 should renewables scale-up in line with the region's potential.
Synergies between decentralised renewable energy and livelihood development, whether in rural, urban or island settings are also highlighted. Drawing on a number of projects that demonstrate how decentralised renewable energy solutions — such as micro-hydro and biogas solutions based on local entrepreneurship and strong community participation  — the analysis draws parallels between modern energy services and socio-economic development.
The report forms part of IRENA's wider body of work in the region, including country-level engagement and regional initiatives, advancing joint efforts of IRENA and the governments of the ASEAN to accelerate the region's transition to low-carbon, sustainable energy.
It is also part of IRENA's Renewable Energy Market Analysis series capturing knowledge and experience from different regions to identify emerging public policy and market development trends. The first two editions covered the GCC (Gulf Co-operation Council) region (2015) and Latin America (2016).
The full report can be downloaded, here.
Reducing Greenhouse Gas Emissions through Energy Efficiency – and Learning from One's Peers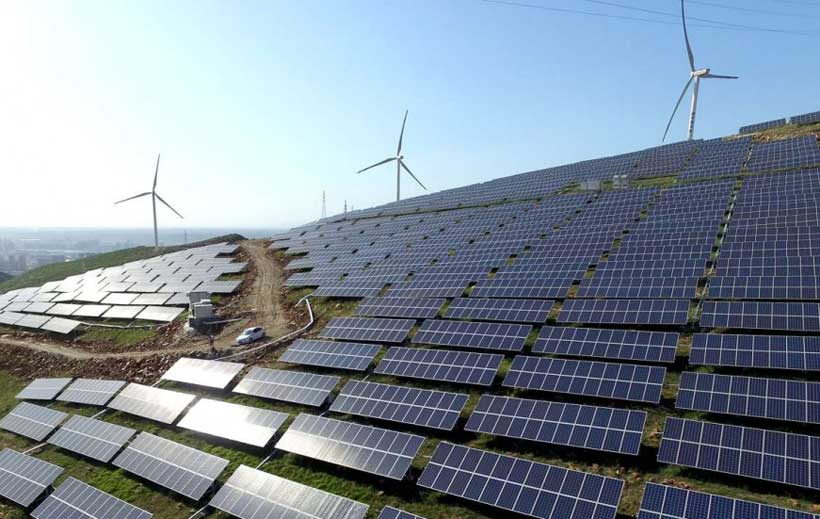 China, India, Indonesia, the Philippines, Pakistan, and Vietnam are critical for global climate action. Why? Among other reasons, because three-fourths of all new coal-fired power plants to begin operations before 2020 globally will be in these six Asian countries. Fostering more energy efficiency will be imperative in the countries' efforts to adopt a low carbon energy path.
One initiative that supports efforts to scale up energy efficiency and clean energy – and lower greenhouse gas emissions – in these six countries is the Energy Transition in Asia program managed by the Energy and Extractives Global Practice.
Comprising of knowledge exchange and capacity building on key issues, the program recently held a workshop in Singapore to share lessons learned on energy efficiency, following last year's learning forum on solar auctions, also held in the city-state. Participants agree that peer-to-peer learning works. After sharing best practice efforts in China, India, Japan, Korea, Mexico, the United Kingdom, and host country Singapore, team spirit and friendships strengthened, along with confidence, productivity and learning outcomes.
By the end of the three-day workshop, participants from governments not only requested follow-up assistance but also to learn more from their newfound friends about conserving more energy. "We were able to advance country engagement with the clients on energy efficiency," explained Xiaodong Wang, team leader for the Energy Transition in Asia initiative. "Conducive policies that combine mandatory regulations with financial incentives are essential drivers to create market demand for catalyzing investments in energy efficiency."
Results are already encouraging. China is a leading example. From 1990 to 2010, more than half of global energy savings took place in China, thanks to the government's ambitious targets, stringent regulatory policies, generous financial incentives, and effective institutions – all of which reiterate strong commitment to energy efficiency. Reducing energy intensity was made a mandatory target, allocated to each province and 17,000 energy intensive enterprises. Efficiency standards for appliances, buildings, and vehicles were upgraded and complemented with billions of dollars of financial incentives in output-based subsidies, rebates for energy efficient consumer products, and compensation for the phase-out of inefficient stocks. All these efforts were monitored across the country.
India also led by example. Energy savings targets – at least for energy intensive industries – were made mandatory with the Perform, Achieve, and Trade scheme (PAT), which also allows the trade of Energy Savings Certificates to achieve targets in a least-cost way. Non-compliance at the end of the three-year cycle incurs a financial penalty. The results of the first phase surpassed targets. The second phase began in April 2017.
Workshop participants from India reminded, however, that these are early years. Following a visit to the district cooling system under Marina Bay Sands – the world's largest underground facility and its most efficient – S.P. Garnaik, Chief General Manager of India's Energy Efficiency Services Ltd. (EESL), a joint venture under the Ministry of Power, envisioned replicating such a system in India. But while a policy framework is being prepared to support the use of district cooling systems in rapidly urbanizing India, Garnaik admits that substantial results may take time, as "these are very new concepts."
In addition to the mandatory output-based target approach in China and India, participants also noted Singapore's green mark program, which combines mandatory building codes with financial incentives from the government for auditing and investment costs, as a model to emulate.
Indeed, the knowledge gap between participating countries is large. Yet even countries in the 'nascent' phase are eager to make progress.
Energy intensity in Asia is highest in Vietnam, with energy consumption by industry accounting for almost half of the country's total energy use. Current efforts towards energy efficiency are encouraging. Labeling schemes have been established and energy management systems now require energy managers and auditors in large energy users. Indonesia is implementing a similar  system.
Learning from one's peers can be galvanizing. As Trinh Quoc Vu of Vietnam's Energy Efficiency and Sustainable Development Department at the Ministry of Industry and Trade explains, Vietnam is eager to learn from China's and India's shift to a mandatory target approach. Indonesia's delegates were inspired by their peers' experience in expanding pilot programs. The Bank is providing advisory services to both Indonesia and Vietnam in their efforts to scale up energy efficiency.
The workshop also highlighted the critical role of strong government support in developing the ESCO business. ESCOS are energy service companies which design and implement energy savings projects.  Energized by his peers, Trinh is now intent on exploring mechanisms for promoting and incentivizing the ESCO business in Vietnam.
The World Bank Group supports many energy efficiency financing mechanisms worldwide, including through credit lines, risk sharing facilities, dedicated funds, program-for-results (PforR), and development policy loans. Critical to success is a strong pipeline for deal flows, as well as technical assistance.
In India, the Partial Risk Sharing Facility for Energy Efficiency initiative, financed by the Clean Technology Fund (CTF) and Global Environment Facility (GEF) resources,  is supporting private sector ESCO-implemented energy efficiency projects through partial credit guarantees. The proposed new US$300 million India Energy Efficiency Scale Up Operation with EESL is expected to leverage over $1.5 billion of demand side energy efficiency investments across residential and public sectors. Similarly, the China Energy Efficiency Financing Project has leveraged the original World Bank financing eight times over, with a total investment of US$2.6 billion. The project has led to an annual reduction of 11 million tons of CO2 emissions.
Such figures may seem ambitious, but workshop participants were unfazed. Many are confident they will accomplish similar achievements. When learning from one's peers, who all face challenges in their respective development journey, anything can seem possible.
The Sustainable Energy Forum for East Africa 2018
The Sustainable Energy Forum for East Africa, a key event for promoting access to renewable energy sources in the region, will take place between 19 and 21 March 2018 in Kigali, Rwanda.
Leaders from governments, businesses, civil society and international organizations are expected to attend the Forum and exchange ideas on how to improve access to clean energy sources in East Africa. The event comes at a crucial moment when the international community is focused on improving progress on Sustainable Development Goal 7 and the goals set by the Paris Climate Agreement.
Off-grid renewables, clean cooking fuels, and energy financing and policies are among the many issues that will be discussed in the plenaries. The Forum will also feature sessions on sustainable cities, East Africa's geothermal projects and future potential, and gender mainstreaming in energy access.
Speakers attending the Forum include: Rachel Kyte, CEO of Sustainable Energy for All; Ambassador Libérat Mfumukeko, Secretary General, East African Community (EAC); Tareq Emtairah, Director of Energy, United Nations Industrial Development Organization (UNIDO); Robert Zeiner, Director International Cooperation, Austrian Development Agency; Upendra Tripathi, Director General, International Solar Alliance (ISA); and Sakari Oksanen, Deputy Director General, International Renewable Energy Agency (IRENA); Monojeet Pal, Manager, African Development Bank (AfDB).
This year's Forum will take place in Kigali, Rwanda. The city is a very special location since it hosted one of the most successful international treaties in human history, the Kigali Amendment to the Montreal Protocol.
The Sustainable Energy Forum for East Africa 2018 is organized by the East African Centre for Renewable Energy and Energy Efficiency (EACREEE) in collaboration with the United Nations Industrial Development Organization (UNIDO), the EAC Secretariat, the Austrian Development Agency (ADA), Sustainable Energy For All (SEforALL), and the Ministry of Infrastructure of the Republic of Rwanda (MININFRA), and is hosted by the government of Rwanda.
The organizers welcome participants from the public and private sectors, including sub-national entities, development finance institutions, domestic and international enterprises, international organizations, industry associations, and experts from academia.
Global Energy Transition Must Accelerate to Thwart Climate Change
A new report, Fostering Effective Energy Transition, published today by the World Economic Forum presents its Energy Transition Index 2018, benchmarking 114 countries according to the current state of their energy systems and their structural readiness to adapt to future energy needs.
The report ranks countries on their current energy system performance along three dimensions – energy security and access, environmental sustainability of the system, and potential for inclusive economic growth and development – and evaluates the extent to which enabling conditions that facilitate a low-carbon transition are present.
"With this new fact-based framework, we do not only get a view of the performance of national energy systems today but also a much-needed perspective on what is needed to succeed in the future", Roberto Bocca, Head of Basics and Energy Industries, World Economic Forum.
The key finding of this year's Index is that worldwide progress toward environmental sustainability has stalled, demonstrated by a near-flat trend in carbon intensity: marginal improvement has occurred at only 1.8% a year over the past five years versus the 3% threshold required to achieve the Paris Agreement on climate goals. In terms of affordability, household electricity prices have risen in real terms in more than half of countries since 2013, despite an overall fall in fuel prices.
On a more positive note, recent global trends indicate more than 80% of countries registering an improvement in their energy systems over the past five years. However, it also concludes that a new strategy is needed to assist the one billion people currently without electricity.
The Energy Transition Index (ETI) in 2018
According to the findings, Scandinavian and Western European nations lead the overall rankings, with Sweden, Norway and Switzerland making up the top three. The United Kingdom (7) and France (9) are the only G7 economies in the top 10.
Other large economies show mixed performance. Germany (16) faces challenges from high energy prices and rising emissions but has a high level of readiness (11), attributed to strong institutions and regulations. The United States (25) scores poorly on environmental sustainability, but a strong innovation ecosystem, robust institutional framework and vibrant capital markets contribute to a higher readiness rank (22).
Colombia (32), Brazil (38) and Russia (70) have well-performing energy systems due to abundant natural resources, but also have low levels of readiness as a result of gaps in human capital and challenges in their institutions and regulatory frameworks.
The report identifies countries that demonstrate above average levels of readiness, despite lower rankings on current performance, suggesting the potential to "leapfrog" to more advanced energy systems. These include the Republic of Korea (49), Jordan (65), and Kenya (71). Increased investment in renewables and energy efficiency in the latter, for example, has led to significant expansion in energy access.
China (76) also achieves leapfrog status due to recent mandates for electric vehicles and political commitment to addressing environmental challenges, including steps towards the creation of a carbon trading market. Its performance suffers due to its low rank on environmental sustainability.
India (78) has improved its performance by making strides towards energy access and reducing energy subsidies. India has taken a series of bold measures, particularly on renewables deployment and energy efficiency, and ranks as an "Emerging Country" that is rapidly approaching the leapfrog category.
Fostering Effective Energy Transition, produced with analytical support from McKinsey & Company, concludes with seven steps for an effective energy transition, as well as illustrations of successful experiences and tested frameworks that countries can learn from. Long-term roadmaps with clear imperatives, goals and milestones – and establishment of enablers identified in this framework – are essential for countries to accelerate their energy transition.
"Disruption in the energy system is approaching an inflection point and policy-makers, business and society must get ready to capture the opportunities that energy transitions offer. Predictable yet flexible country energy roadmaps are a crucial part of an effective transition that creates value for both business and society", said Thomas Seitz, Senior Partner, McKinsey & Company.
"There is an urgent need to speed up the transition toward more sustainable energy production and use, including reductions in greenhouse gas emissions, greater access to energy and improvements in air quality. To do this we will need to harness a broad portfolio of energy technologies and deepen cooperation between governments, industry and civil society stakeholders", said Fatih Birol, Executive Director, International Energy Agency and Co-Chair of Stewardship Board, Shaping the Future of Energy System Initiative, World Economic Forum.