As was also clearly stated by Vladimir Putin on September 4, 2017: "whichever country leads the way in Artificial Intelligence research will be the ruler of the world".
According to Thomas Kuhn's old, but still useful, epistemological model, every change of the scientific paradigm – rather than the emergence of new material discoveries – radically changes the visions of the world and hence strategic equilibria.
Hence, first of all, what is Artificial Intelligence? It consists of a series of mathematical tools, but also of psychology, electronic technology, information technology  and computer science tools, through which a machine is taught to think as if it were a human being, but with the speed and security of a computer.
The automatic machine must representman's knowledge, namely show it, thus enabling an external operator to change the process and understand its results within the natural language.
In practice, AI machines imitate the perceptual vision, the recognition and the reprocessing of language -and even of decision-making – but only when all the data necessary to perform it are available. They do so creatively, i.e. they self-correct themselves in a non-repetitive way.
As can be easily imagined, this happens rarelyin a complex system with a high rate of variation over time and space, as is exactly the case in war clashes.
Just think about the intelligence reserved for the Chiefs of Staff, which obviously no one ever feeds into any machine to "run" it.
Hence, first and foremost, AI is about making the machine imitate the human reasoning process, which is achieved by applying the Turing test.
As you may remember, Alan Turing was the mathematician who devised for the British intelligencea number of techniques for speeding the breaking of German ciphers and cracking intercepted coded messages that could find settings for the Enigma machine used by the German Nazi Intelligence Services.
Due to the large amount of data to be checked and translated, his mathematics required an electromechanical machine, a sort of computer which was in fact created at Bletchley Park, Britain's codebreaking centre, with the technologies of the time: vacuum valves, copper wires and electric engines.
To be precise, the Nazis had developed a primitive computer, namely Z1, that was hard to program, while the British Colossuspermitted the introduction of cards and tapes that allowed its adaptation to the various needs of the British SIGINT of the time.
Furthermore, in Turing's mind, the Imitation Game involving three people (a sort of deception game) could be replaced by a machine – and here the mathematical theory permitting AI comes into play.
The machine takes the place of either human beings who try to prevent the correct identification of the third human being (C) – an identification that remains hidden to both A and B.
Hence Alan Turing claims that man A can be replaced by a machine and that this can be correctly defined as "thinking".
Hence, according to Alan Turing,the human thought can be creatively imitated and recreated through a Finite State Machine (FSM) that can simulate other Discrete State Machines.
In principle a Finite State Machine is a machine allowing  to fully describe – in mathematical terms – the simultaneous or non-simultaneous behaviour of many systems.
With a view to better understanding this concept, we can think of an image: the warp of a fabric with respect to its weft, which can have various colours or designs.
Conversely, a Discrete-State Machine is a calculator, i.e.a machine evolving by sudden jumps from one state to another.
The same evolutionary jumps that the epistemologist, Thomas Kuhn, thought as steps of a scientific paradigm.
Finally, in Turing's mind, the Discrete State Machine was the most suitable for simulating the human thought-behaviour.
Currently, in AI, almost exclusively "hybrid spots" are used, i.e. systems unifying various types of finite or discrete state machineswhich develop and process also probabilistic scenarios.
There is no need for going further into this network of technical reasoning, which only partially regards the topic of this article.
It is worth recalling that the issue has its true conceptual and strategic origin in March 2017, when a computer program developed by Google, namely AlphaGo, beatthe world champion in the ancient Chinese board game Go, an extraordinary strategy game.
According to some US analysts, it was the game that inspired the Head of the North Vietnamese Armed Forces and of the Viet Mihn Communists, Vo Nguyen Giap, in his confrontation with the United States and its allies.
A game in which – unlike what happens in chess-there is no immediate evidence of the victory of either contenders.
Years before, in 1997, a much less advancedalgorithm than AlphaGo had beaten the chess champion Gary Kasparov.
With a view to better understanding what an AI system is, it is worth recalling that AlphaGo is made up of two deep "neural networks" having millions of neural connections very similar to those of the human brain.
A neural network is a mathematical model inspired by the structure of the neural networks typical of the human brain.
It consists of information interconnections and it is a mathematical-information system made up of artificial neurons and processes using computational connections common to all "neurons".
Furthermore the AlphaGo system self-corrects and learns by itself, because it stores and quickly processes the many matches and games in which it participated.
As can be easily imagined, this also makes it largely unpredictable.
In the future, however, the new military robots with high autonomy of movement and selection of targets – and, sometimes, even of the AI ​​procedure to be used – will incorporate a great deal of Artificial Intelligence.
This will make the difference between a losing robot and a winning one on the ground.
Hence, at some point of technological evolution, they may also take autonomous actions.
Therefore the problem arises of how much autonomy can be given to robots, whether they are mobile on the ground or centralized in a command brigade.
Tactical autonomy, while the neural connections between the various military robots are managed simultaneously by a "classic" human system and by a 2.0 AI mechanism?
Probably so.
But here factors such as each country's doctrine and the assessment of the probability of a war clash and with whom, must be considered.
Therefore many human lives can be saved even in a conflict and on the war theatre, except in a counter-resource robot action, which hits the civilian population.
It will also be easier to resortto armed confrontation, but a higher cost of automated defense or attack operations will be expected.
Obviously considering that the AI systems are derived from "natural thought", if – in the activities – very few changes are to be made to an already-defined program, the machines always work better than human beings.
They are faster, much more precise and they never rest. Moreover, they have no parallel reasoning patterns deriving from personal tastes, ideologies, feelings, sensations, affections.
They are not distracted by value, cultural, symbolic, ethical and politicalissues and probably not even by the typical themes of the Grand Strategy.
In principle, however, if what is at stake are substantially equivalent technical choices or similar evaluations of the final future scenarios, on which the machine has no pre-set programming, man will always prevail in the match between man and robot.
Hence Metaphysics – or the "science of aims", to put it in Aristotle's words – is the unique attribute of our species.
But the process to achieve extra-technical goals can always be formalized and hence there is always at least one finite state machine in the world that can imitate it – on its own, however, without further support of the homo sapiens sapiens.
It must also be considered that the techniques for the AI "autonomous weapons" cannot be completely classifiedbecause, in these technologies, the commercial sector can often overcome the efficacy of "covered" technology weapons.
If we open up to commercial technologies, that would be the end of confidentiality.
In fact all AI, ranging from finance to machine tools up to biological and environmental programming, is a market-driven technology controlled by open markets- or rather  still oligopolistic ones.
However, what are the limits and the merits of a war or global strategy technology entirely rebuilt according to  AI standards?
The simple answer is that firstly no finite state or hybrid machine can evaluate the reliability of the data and systems it receives.
Hence we can imagine a new kind of intelligence action, that is the possibility of "poisoning" the command systems of the enemy's AI machines.
The deep Internet, the area of ​web​sites – often having  criminal relevance – not resulting in the official search engines, could also host viruses or even entire opposing systems, which directly reach our AI machines, thus making them fulfill the enemy's will and not ours.
It is worth recalling that Von Clausewitz defined victory as "the prevailing of the opponent's will or of our will".
Nevertheless the Artificial Intelligence systems can be extremely useful in the military and intelligence sector, when it comes to using them in the "computer vision", where millions of data must be analyzed creatively in the shortest possible time.
In fact, the Turing machine and the derived AI ​​machines can imitate abduction, a logical process that is very different from that of deduction and induction.
Deduction, which is typical of traditional machines, such as the calculator, is the logical process that, starting from a non-analyzed premise, rationally derives particular propositions describing the perceivable reality.
Conversely, induction is a logical process that, with a number of finite steps fully adhering to the natural logic, allows to shift from empirical data to the general rule, if any.
Hence abduction is an Aristotelian syllogism in which the major premise is certain while the minor one is only probable.
The Aristotelian syllogisms are made up of a general statement (the major premise), a specific statement (the minor premise) and a conclusion that is inferred.
They are adaptable to both induction and deduction.
Furthermore,  in the various types of syllogism the Stagirite developed, the major premise is the general definition of an item belonging or not to a whole.
For example, "All men are bipeds".
The minor premise is that "George is a man (or is a biped)" and hence the conclusion is that "George is a biped (or a man)".
Finally, in abduction, there is an opposite reasoning compared to the other two: it is used when we know the rules and the conclusion and we want to reconstruct the premise.
The definition of abduction given by Charles S. Peirce, who long evaluated it in his pragmatist philosophy, is the following: "the surprising fact, C, is observed; but if A were true, C would be a matter of course.
Hence there is reason to suspect that A is true".
If I have white beans in my hand and there is a bag of white beans in front of me, there is reason to believe  that the beans in my hand were taken out of that bag.
In fact, this is exactly the way in which an AI machine corrects or enhances its knowledge starting from the program we put in it.
Another military use of AI is the "deep" face recognition, far more analytical and fast than it can be done today.
There is also voice recognition, the immediate indication of the sources of an enemy communication and its almost simultaneous comparison with the countless similar or anyway opposing communications.
Artificial Intelligence can also be used for military logistics issues or for the multi-variable resolution of war games, and even for combat automation in mixed environments with men and machines in action.
Therefore recourse to a limited war will be ever more likely if there are no human victims and if the confrontation is directed by advanced automatic systems.
There will also be an impact on political responsibility, which could be shifted to AI systems and not to  commanders or decision-makers in the flesh.
What political and strategic effects would an automatic clash have and what immediate psychological mechanisms would it trigger in the population?
However, who wins in the recently-started war for dominance in AI military and intelligence technologies?
For the time being, certainly China.
In fact, in November 2017 the Chinese startup company Yitu Tech won the contest for the best face recognition system.
The challenge was to recognize the greatest number of passengers accidentally encountered in a civilian airport.
The Chinese government has already approved a project called "Artificial Intelligence 2.0" having specific applications both in the economy and in military and intelligence structures.
The Chinese  Armed Forces are now working on a unified project in AI 2.0, an initiative regarding precisely the relationship between AI civilian and military applications.
As already noted, this is the strategic weak point of the AI military programming, because it verifies strong competition between the market and state organizations, at least in the West.
In fact, for the US Intelligence Services, the line to be currently followed in the smart war automation is to implement the new technologies to enrich the information already present on the President's table.
In China the "merger" between market and State in the AI ​​sector is directly regulated by the Commission for Integrated Military and CivilianDevelopment, chaired  personally by Xi Jinping – and this says it all.
In the framework of the new AI strategic evolution, the Chinese Armed Forces follow the criterion of "shared construction, shared application and shared use" with private individuals and entities – at least for all innovations in the programming and automatic management of information (and actions) on the battlefield and in the intelligence area.
Therefore the Chinese AI 2.0 puts together robotic research, military systems without pilot or other staff and  the new military brain science.
A new theoretical-practical branch that affects even the mental and remote control of machines through human applications such as headsets detecting and interpreting the brain activity of the wearer, thus allowing them to control the machines.
This already happened at the Zhengzhou Military Academy in August 2015, with students guiding and controlling  robots through sensors placed on their skullcaps.
Hence the new AI activities in the intelligence sector can be easily imagined: infinitely broader and faster data collection – and even structured and semi-processed – creation of automatic intelligence contrast systems; entry into electronic media systems and networks available to  "anonymous" data decision-makers that change the perception of the battlefield and of the whole enemy society.
Finally, the synergic coverage of the civilian and military data of the country that has achieved dominance in AI technologies.
Each new technology in the AI military sector is protected and, hence, implies a civilian, military or hybrid battlefield , in which all the operations of those who possess the advanced tool always hit the target with the minimum use of soldiers and with the utmost confidentiality.
It would be good for the EU to think about these new scenarios, but currently imagining that the European Union is able to think is mere theory.
Furthermore China has created a new Research Institute on AI and related technologies linked to the Central Military Commission and the Armed Forces.
Liu Ghuozhi, the Director of this Research Institute, likes to repeat that "whoever does not disrupt the adversary will be disrupted".
The current rationale of the People's Liberation Army is that the new and more advanced AI environment 2.0 –  i.e.  that of war, of the strategic clash and of the apparently peaceful political one – is already a new stage in military thinking.
This is a qualitatively different level, far beyond the old conflict information technologies – a stage requiring a "new thinking" and a completely different approach to military confrontation, which immediately turns into a social, economic, technological and cultural one.
Hence a Chinese way – through technology –  to the Russian "hybrid warfare", but a strategic thinking remaining along the lines of the Unrestricted Warfare theorized by Qiao Liang and Wang Xiangsui in 1999, at the dawn of globalization.
In fact, the origin of globalizationshould not be found in the fall of the Berlin Wall, but in the beginning of Deng Xiaoping's Four Modernizations in 1978.
It is also worth noting that, from the beginning, the implicit planning in the "Unrestricted Warfare" theorized by the two Chinese Colonels had been thought against "a more powerful opponent than us", namely the United States.
Hence merging of technical and intelligence services in the area of ​​operations;union of intelligence and AI networks; integration of command functions with other activities on the ground, obviously also with intelligence, and finally use of the large mass of information in real time.
This is made possible thanks to the adaptation of the Chinese Intelligence Services to the speed and wide range of data provided by all technological platforms and by any "human" source.
The ultimate goal is unrestricted warfare, in which you do not dominate the "enemy's will", but all its resources.
Therefore China currently thinks that "technology determines tactics" and the People's Liberation Army intends to develop also support systems using Artificial Intelligence to back strategic decision-making.
Still today this should work also on the basis of the old US program known as Deep Green created in 2005 by the  Defense Advanced Research Program Agency (DARPA).
It is an AI system intended to help military leaders in the strategic evaluation of scenarios, of their own options and of the enemy's options, as well as their own potential – at such a speed enabling to counteract any enemy move before it could be fully deployed.
Finally what is the Russian Federation doing in the field of modernization of its Armed Forces by means of Artificial Intelligence?
It is doing many things.
First and foremost, Russia is carefully studying unmanned ground vehicles (UGV), such as Uran-9, Nerekhta and Vir.
They are all armoured tanks that can host anti-tank missiles and mid-sized guns.
Secondly, since 2010 Russia has favoured the development of its Armed Forces in relation to what its military doctrine  defines as "intelligence exchange and supremacy".
In other words, the Russian military world believes that the intelligence superiority is central both in times of peace and in times of war.
Superiority vis-à-vis its own population to be protected from others' dezinformatsjia and superiority with respect to the enemies' propaganda in their own countries – an information action that must be mastered and dominated, so that the enemy's public can develop an ideological universe favourable to Russian interest.
This psycho-intelligence "exchange" – always based on AI supports – implies diplomatic, economic and obviously military, political, cultural and religious tools.
It is mainly developed through two intervention areas: the technical-intelligence and media area and the other one  more traditionally related to psychological warfare.
Russia is also developing a program to adapt its supercomputers to deep learning, with an AI system  significantly callediPavlov.
The deep learning of computers having hundreds of petaflops (a petaflop is equivalent to 1,000,000,000,000,000 floating point operations per second)is an AI system allowing to fully imitate not only the "normal" human thought- which is defined as "logical" – but also the possible statistical variations, which are in fact involved in abduction, of which we have already spoken.
It is worth repeating that the EU closely follows America with regard to drones, computer science and information technologies and it is also starting to fund some projects, including military ones, in the 2.0 AI sector.
However, they are technological goals far away in time and, in any case, despite the dream, or the myth, of a  European Armed Force, intelligence, advanced battlefield doctrines and intelligence neural networks – if any – are strictly limited to the national level.
With the results we can easily imagine, above all considering the intellectual and technological lack of an EU doctrine on "future wars".
The New World Order: The conspiracy theory and the power of the Internet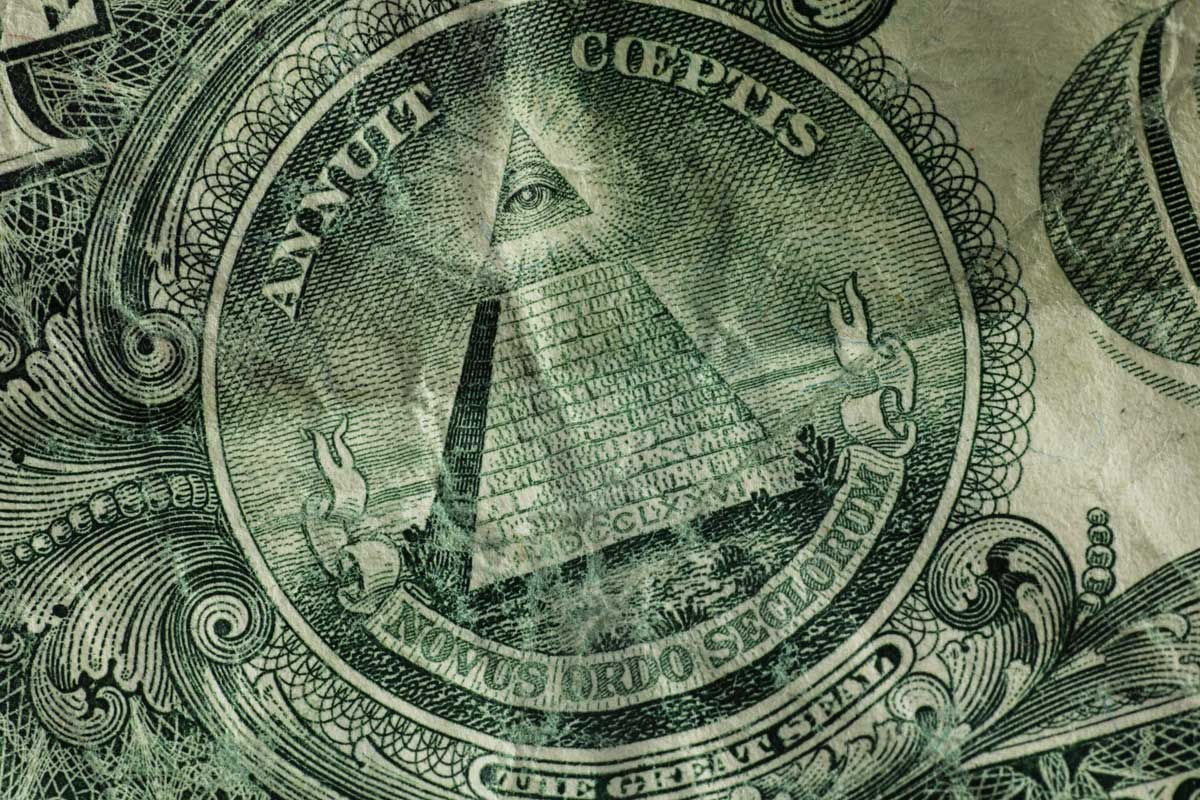 "The Illuminati, a mysterious international organisation made up of the world's top political and social elites, controls the workings of the entire world behind the scenes". This is the world's most famous conspiracy theory about the New World Order.
For hundreds of years, legends about the Illuminati have been spread and many people currently believe that the Illuminati still exist. It is believed that the Illuminati operate in various fields such as global politics, military affairs, finance and mass media and control the historical process of the entire world.
The ultimate goal is to establish a New World Order. Nobody can prove it, but many people believe it. This is the greatest paradox about conspiracy theories.
In the 2009 film, Angels and Demons – based on Dan Brown's best seller of the same name about Professor Langdon, played by Tom Hanks – the story of the Illuminati, who supposedly originated in Europe during the Age of Enlightenment, was recalled. There were physicists, mathematicians and astronomers who questioned the "erroneous teachings" of the authority of the Holy See and dedicated themselves to the scientific field of the search for truth.
Eventually, the Illuminati were forced to become a clandestine organisation and have continued to recruit members for hundreds of years to this day. In Angels and Demons, the historical facts are clearly questionable, and the movie appeared after the great economic crisis of 2007-2008.
The New World Order conspiracy theory has been circulating for a long time and is full of mysterious theories that, however, convince many people who are powerless and dissatisfied with the current state of the world.
The Illuminati, who advocate the establishment of a New World Order through the planning of a series of political and financial events (the financial tsunami of 2007-2008 is said to have been planned by the Illuminati), attempt to influence the course of world history, and ultimately establish an authoritarian world government.
Supporters of the New World Order theory believe that even the powerful US government is now just a puppet government. While another "shadow government" made up of a few people makes decisions that will change the fate of the planet.
You might think that all of the above is just crackpot theories. Many people, however, believe this is true. According to a 2013 poll conducted by the Public Policy Polling Foundation, 28% of US voters believe that the New World Order is actually taking hold.
Brian L. Keeley, a professor of philosophy at Pitts College who devotes himself to the study of modern conspiracy theories, believes that an important feature of conspiracy theorists is that they cite some trivial and overlooked incidents and then propose a perfect explanation compared to an embarrassed official response. The reason why the conspiracy theory explanation can be widely disseminated is that it has no argumentation process to deny. It is just a judgement that jumps directly from hypothesis to conclusion. In the argumentation process, it is only a subjective interpretation of the event.
Nevertheless, for the public that does not fully understand the incident, the conspiracy theory provides an "explanation" for the unknown part of the said incident, and this "explanation" cannot be denied (because its very existence is not corroborated by real arguments and facts). It is therefore recognised as a valid argument by many people.
For example, no one has substantial evidence to prove that the Illuminati actually exist, but no one can prove that the Illuminati are purely fictitious. Therefore, you cannot deny their existence because their existence is "perfection without evidence".
Columnist Martha Gill wrote in The Guardian on the subject, describing the Illuminati as the most enduring conspiracy theory organisation in world history.
"Conspiracy theories relating to the 1969 moon landing mission, the Kennedy assassination, the 9/11 attacks, etc., are all limited to a specific time and place. But conspiracy theories supporting the existence of the Illuminati can connect them. Anything about these connections, however, is difficult to prove". In other words, the supporters of conspiracy theories may have common imagination and attribute everything to this organisation, so that every irrational phenomenon in the world can be explained.
Although no one can prove the real existence of the Illuminati, there is actually an alleged "global shadow government" in the world whose name is the Bilderberg Group. The Bilderberg Group holds an annual world-class private meeting and participants include elites from all walks of society such as government, business, media, science and technology.
Known as the "World's Most Mysterious Conference", the Bilderberg Group invites various famous political and economic figures to participate in its meetings every year.
Prince Bernhard van Lippe-Biesterfeld (1911-2004) held the first meeting in 1954. As the venue for the meeting was the Bilderberg Hotel in Oosterbeek, that name was used as the name of the group.
The existence of the Bilderberg Group is not a secret, but the content of the topics discussed at the Conferences is absolutely confidential and mainstream media cannot report on the content of the meetings.
The Bilderberg Group issues a press release every year to introduce the Conference participants and the outline of the topics discussed. Over the years, participants have come from many places, including Prince Philip of Edinburgh (1921-2021) of the British Royal Family, Crown Prince Charles, former British Prime Ministers, French President Macron, German Chancellor Merkel, former US Presidents Bush and Clinton, and even Bill Gates and other Internet giants. There were also Italians, as reported years ago in a newspaper of our country.
The 2018 Conference was held in Turin, Italy, in June. According to the description on the Bilderberg Group's official website, the main topics included European populism, the development of artificial intelligence, quantum computer technology and the "post-truth" era. Obviously the actual content and results of the meeting's discussion have never been reported.
Therefore, the Bilderberg Group has naturally become a locus where conspiracy theorists want to draw material. They describe the Bilderberg Group as true evidence of the theory that a very small number of elites controls the world, and the participants are planning a New World Order.
On the subject of strange things, let us give some examples. In June 2018, the British Royal Family was also caught up in conspiracy theories. When Prince Harry and his wife Meghan attended a show, they were caught on camera motionless, like two stiff and dull robots. Later related clips went viral on the Internet and netizens were in an uproar: many people believed that the distinguished members of the Royal Family were actually robots developed by high technology.
However, the management of the London museum, Madame Tussauds, later explained the mystery by stating that Harry and Meghan were only played by two actors who wore extremely high-realism wax masks on their faces – all to promote an exhibition of wax statues – and inadvertently caused an uproar.
In that short video, Harry and Meghan did not change their facial appearance and their expressions were stiff just like robots. Consequently, conspiracy theorists used this as evidence that they were robots secretly built by the British Royal Family.
This argument is an extension of the 'trivial evidence' mentioned above. The argument proponents ignore any argumentation process and directly draw the final conclusion through the above stated "trivial evidence". This conclusion is highly topical and quite appealing. With the fast spread of the Internet, the "quick truth" will naturally be recognised and sought after by many people.
I think many people still remember the "Mandela effect" that spread wildly across the Internet in the early years as a false memory. The name "Mandela effect" is believed to have come from Fiona Broome, a self-described "paranormal consultant", who created a website called the "Mandela effect". Supporters of the 'Mandela effect' claim to "remember" that former South African President Mandela died in prison in the 1980s. But in reality, after being released from prison, Mandela served as President of South Africa from 1994 to 1999 and died in December 2013.
So why should anyone believe this seemingly absurd statement? The Internet has become a support platform for a lot of false content, fake news, as well as unreasonableness and lack of justification. When someone shared that 'false memory' with others on the Internet, many people believed it to be true, and even suddenly recalled having that memory: "Mandela died in prison that year".
As a result, lies inconsistent with facts continue to spread. The lie is repeated thousands of times and many people consider it to be the truth: this learning phase is the first misleading rule on the Internet.
In the Internet era, multidimensional and multiplatform features have generated a number of online "malignancies" of conspiracy theories. Moreover, their dissemination ability is not limited to "believers" only. Since online social media provide a widespread and wide dissemination platform, one passes it onto ten people, ten spread it to a hundred, a hundred to a thousand, and so it goes on in geometric fashion, thus turning a 'hot' topic on the Internet into an absolute truth. Those who want to believe are naturally prepared and willing to do so. Moreover, these false opinions on the Internet may even have an impact on the real world.
For example, at the political level, everyone can now comment and participate in the online arena. For politicians to get the right to speak and set the agenda, the key is to rely on the public's direction on the Internet. The Internet discourse has become the dominant factor of the political storytelling, and not vice versa. The characteristics of social networks are precisely the breeding ground for conspiracy theories.
The Internet is easy to spread among the public and it is exactly the breeding ground for conspiracy theories.
Nowadays, conspiracy theories are enough to influence politics and even political developments. A specific conspiracy theory gains a number of supporters through the Internet that promotes it to become a highly debated topic among the public. Consequently, it enters the real political arena coming from the virtual community and its influence can change the direction of governmental decisions.
Looking at it from another perspective, when conspiracy theories are put on the Internet and continue to proliferate – regardless of whether the Illuminati exist or not – they are enough to establish a New World Order. The real-world public opinions, as well as the composition of opinions and the basis of social discussions are changed, and thus world's countries, politics and rulers are affected.
USA and Australia Worry About Cyber Attacks from China Amidst Pegasus Spyware
Pegasus Spyware Scandal has shaken whole India and several other countries. What will be its fallout no one knows as we know only tip of iceberg. Amidst Pegasus Spyware Scandal USA and Australia both have shown serious concerns about Cyber Attacks on US and Australian interests. Both say that China is hub of malware software and both face millions of such attacks daily.
I am trying to understand why a software is needed to spy on a particular individual when all calls, messages, data, emails are easily accessible from server. In most of cases these servers are located in USA and some cases these are located in host country. In certain sensitive cases Government Agencies have their own server like Central Intelligence Agency and hundreds of other agencies and military establishment world over including India. Now point is who installs those servers.
A couple of years back I had talked to Mr Mike Molloy who is Chief Executive Officer of Orion Global Technologies previously known as Orion SAS. He had explained me how his company installs servers in host countries on request of private or gov bodies. He talks about contract and trust. That means even when a company or Gov buys a server or software for designated uses the "Secrecy" Factor remain on discretion of company which has supplied server or software.
Now if all data, e-mail, chat, messages, calls are accessible to Gov as per law and technology (Through Server all components of Communication are accessible and thats why me and you see start seeing call recording of a person even after many years later), I am unable to understand why a Gov will be needing a software to Spy on any one.
Now coming to where Australia and USA wants to carry the whole debate.
Australian Foreign Minister Sen Marise Payne said, "Australian Government joins international partners in expressing serious concerns about malicious cyber activities by China's Ministry of State Security.
"In consultation with our partners, the Australian Government has determined that China's Ministry of State Security exploited vulnerabilities in the Microsoft Exchange software to affect thousands of computers and networks worldwide, including in Australia. These actions have undermined international stability and security by opening the door to a range of other actors, including cybercriminals, who continue to exploit this vulnerability for illicit gain", She further added.
She opined, "The Australian Government is also seriously concerned about reports from our international partners that China's Ministry of State Security is engaging contract hackers who have carried out cyber-enabled intellectual property theft for personal gain and to provide commercial advantage to the Chinese Government".
She warned China by saying, "Australia calls on all countries – including China – to act responsibly in cyberspace. China must adhere to the commitments it has made in the G20, and bilaterally, to refrain from cyber-enabled theft of intellectual property, trade secrets and confidential business information with the intent of obtaining competitive advantage".
On other hand USA's The National Security Agency (NSA), Cybersecurity and Infrastructure Security Agency (CISA) and Federal Bureau of Investigation (FBI) released a Cybersecurity Advisory on Chinese State-Sponsored Cyber Operations. National Security Advisor said, "Chinese state-sponsored cyber activity poses a major threat to U.S. and allied systems. These actors aggressively target political, economic, military, educational, and critical infrastructure personnel and organizations to access valuable, sensitive data. These cyber operations support China's long-term economic and military objectives".
The information in this advisory builds on NSA's previous release "Chinese State-Sponsored Actors Exploit Publicly Known Vulnerabilities." The NSA, CISA, and FBI recommended mitigations empower our customers to reduce the risk of Chinese malicious cyber activity, and increase the defensive posture of their critical networks.
Afghan issue can not be understood from the simplistic lens of geopolitical blocs
Authors: Tridivesh Singh Maini and Varundeep Singh*
On July 14, 2021 a terror attack was carried out in Khyber Pakhtunkhwa (KPK) province in which a number of Chinese engineers, working on the Dasu hydropower project (a project which is part of the China Pakistan Economic Corridor) were killed. The attack predictably evinced a strong response from China. The Chinese foreign minister, Wang Yi speaking before a Shanghai Cooperation Organisation (SCO) Foreign Minister's meeting asked the Taliban to disassociate itself from 'terrorist elements' and in a meeting with Pakistan Foreign Minister, Shah Mehmood Qureshi, asked Pakistan to bring the perpetrators to book. Earlier in April 2021, a car bomb attack took place at Serena hotel in Quetta which was hosting China's Ambassador to Pakistan (four people were killed and twelve were injured)
Wang Yi significantly praised the Ashraf Ghani government, for its attempts towards building national unity and providing effective governance. Beijing clearly realizes that its economic investments in the country as well as big ticket infrastructural projects can not remain safe if there is no security. Afghanistan also criticized Pakistan for its role in sending 10000 Jihadis to Taliban, this is important in the context of the region's geopolitics.
Like all other countries, Beijing and Islamabad, would have expected uncertainty after the US withdrawal of troops but perhaps over estimated their capabilities in dealing with the turbulence which had been predicted by many.
Importance of Chinese Foreign Minister's statements
Wang Yi's statements are important because days earlier a Taliban spokesman, Suhail Shaheen had praised China and welcomed its role in the country's reconstruction. He had also assured China that those involved in the insurgency in Xinjiang would not be given refuge in Afghanistan (one of China's major concerns has been the support provided by Taliban to the East Turkmenistan movement)
While Beijing may have opened back channels with the Taliban and realized that it needs to adapt to the changing geopolitics, recent developments would have increased its skepticism vis-à-vis the Taliban. On the other hand, Russia has been more favorable towards the Taliban. Russia's Deputy Chief of Mission in India, Roman Babushkin argued that the Taliban are a reality which needs to be accepted, and also that any military activities without a political process are insufficient.
Babushkin did make the point that for successful negotiations, Taliban needed to end violence.
'that Taliban should deal with the problem of terrorism and other related issues in order to become legitimate, in order to [get] delisted [at the UN Security Council], in order to go ahead with the future Afghanistan and creation of the inclusive government
It would be pertinent to point out, that Zamir Kabulov, Russian President's Afghanistan envoy went a step further and said that the Afghan government was not doing enough to make talks with Taliban a success.
China's statements subtle warning to the Taliban, indicating its reservations, and praise of Ghani indicate a possibility of greater understanding between Washington and Beijing (even though Beijing has repeatedly attributed the current troubles in Afghanistan to Washington's decision to withdraw troops).
Can US and China find common ground
It remains to be seen if Biden who has exhibited dexterity on a number of complex issues reaches out to Xi Jinping to find common ground with regard to Afghanistan. Significantly, while US-Turkey relations had witnessed a downward trajectory and Biden has been critical of Turkish President Recep Tayyip Erdogan's authoritarian tendencies and Human rights record, both leaders met on the sidelines of the NATO Summit in June 2021. During the meeting Turkey agreed to secure Kabul Airport. US National Security Advisor Jake Sullivan while commenting on Turkey's assurance said
'The clear commitment from the leaders was established that Turkey would play a lead role in securing Hamid Karzai International Airport, and we are now working through how to execute to get to that,'
Taliban earlier this week warned Turkey of 'consequences' if the Middle Eastern nation increased its troop presence in Afghanistan.
Conclusion
Russia's statements with regard to the Taliban indicate that it is not totally on the same page as China (its prior experience in Afghanistan has made it more cautious and circumspect), and that the Afghan issue can not be understood from the simplistic lens of geo-political blocs and traditional lenses. All major stakeholders in Afghanistan, both within the region and outside, seem to be understandably befuddled by the turn of events. It is not just the US, but even China which would be worried not just from an economic stand point but the overall security implications of the turmoil in Afghanistan. The terror attack in KPK indicates that other CPEC related projects could also face threats from militant groups. Beijing would thus need to be quick to react to the overtures from the Taliban in order to secure its economic assets and lives of Chinese workers in neighbouring Pakistan.
It is especially important for Washington, Beijing and other important stakeholders in the region to work together for dealing with the near term turbulence as well as long term challenges Afghanistan is likely to face.
*Varundeep Singh is an Independent Policy Analyst.