What an 'Impossibility Clause' can make possible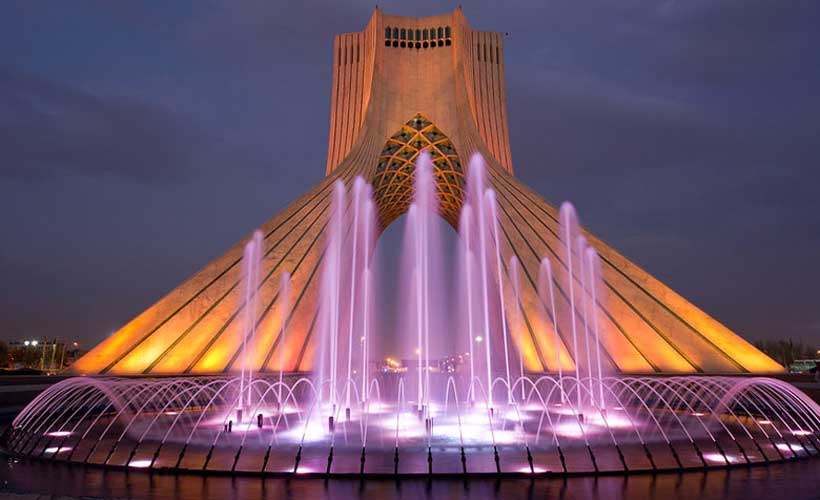 Since the implementation of the JCPOA in January of 2016, and throughout the current period of accelerating investment by foreign enterprises in Iran, many participants have taken for granted that in the event of a "Snapback" or the reimposition of UN, U.S. and EU sanctions under the provisions of the JCPOA, foreigners must perforce exit all investments in Iran and Iran's major industries would be relegated to the shadows as an unlawful destination for foreign capital.
The operative assumption has been that any such reimposition of sanctions under a Snapback scenario would make it "impossible" for such foreign participants to maintain, lawfully, their investments in the various projects within Iran, investment they have made a huge effort to structure and uphold in the still-new era of significantly relaxed sanctions.  In fact, the very idea of the impossibility of maintaining significant investments in Iran under such sanctions has become something of a fixation. To the dismay of Iranian partners in various ventures, their foreign partners tend to focus on securing their own interests, rights, and recompense under a Snapback. An efficient exit strategy is often sought.
In reality, those who are here on the ground in Iran know that, regardless of the whims of the American President or the vicissitudes of foreign capital flows, the continued development and renovation of Iran's domestic economy, both in terms of absolute production, as well as in terms of sophistication, efficiency, and integration, will continue apace, and therefore, the wiser among the stewards of foreign investment in Iran understand that it is as much a question of ensuring business continuity for their Iranian-Foreign joint venture projects despite changing international sanctions regimes, which have been imposed by the West against Iran for decades.
As a result, the most basic and fundamental considerations for any prospective foreign project participant and its Iranian partner become:
1. How the foreign participant can, through appropriately drafted "Impossibility Clause(s)", remain invested in the Iranian venture for as long as possible under the threat of renewed or reimposed sanctions, and without incurring unacceptable risk.
2. How the foreign participant can contractually envision the broadest range of adverse sanctions scenarios through a single and efficient impossibility mechanism.
3. How the foreign participant can provide for a gradual approach to any putative withdrawal procedure, as opposed to the simplistic solution of outright termination upon Snapback after a period of suspension.
4. How the foreign participant can, in the event of the extinguishment of impossibility, subsequent relaxation or obtained exemption of sanctions, reasonably provide for the right, or at least the option, for itself to reenter an investment project which it may have exited because of Snapback.
The legal thought process underpinning successful solutions which industry practitioners may be likely to embrace is beyond the scope of this article, but the conceptual summary can be a useful guide for all of us as we come to grips with what can be made possible by "Impossibility Clauses".
1. Remaining invested, minimizing risk: Of course, it is true that for many projects, a direct investment by the foreign participant though its stake in an Iranian joint venture entity may be the most straightforward means of effecting the transfer of capital that allows the foreign party to have a stake in a project.  It also allows for the simplest mechanism by which a foreign party may apply for and successfully obtain an investment license in accordance with the Foreign Investment Promotion and Protection Act.
Nonetheless, such a direct investment may, particularly in the case of European entities which also do business in U.S. jurisdictions or in jurisdictions which have significant links with the U.S. financial system, provide little or no cushion under even the most benign reimposition of any form of secondary sanctions.  This is because the direct investment leaves the foreign party little room to maneuver by way of restructuring or otherwise allocating its participatory interest in the project as sanctions change.
For this reason, a more effective solution could include the formation of a foreign special purpose vehicle to act for the project entity.  In the case of a joint venture, an SPV incorporated in a jurisdiction less likely to be adversely affected by reimposition of sanctions would allow for a more flexible platform to facilitate intelligent solutions such as exit and re-entry options, trustee or agency relationships, and contingent sale-repurchase strategies to prepare for the worst outcome of a sanctions scenario which may force a foreign party to exit Iranian investment.
2.Knowing unknowns, counting uncountables: Even now, with the most recently issued ultimatum by the American President declaring that the end of the JCPOA as we know it is nigh (to be either amended or abrogated, if Mr. Trump is to be believed), there exists a wide variety of circumstances involving the reimposition of sanctions, ranging from those that would make the maintenance of an interest in a project by a foreign party merely inconvenient to those which would make maintaining such an interest lawfully untenable.   These may range from largely toothless, otherwise symbolic targeted secondary sanctions which apply only to the entities of specific countries, as we have continued to see since Trump's October 2017 decertification, or those which may apply only to certain economic sectors or types of goods or projects, to those which render further financial flows in support of such a project functionally impracticable.  Most challenging of all would be the failure of the UN to continue to waive the imposition of sanctions against Iran.
Thus, a single mechanism to classify sanctions in some way as materially adverse changes and evaluate consequences seems a more pragmatic solution than contemplating what may constitute an "impossibility" event, and including it under grounds for termination.
Under a scenario in which the foreign party has made appropriate structuring preparations as suggested, the determining exit remedies depends on compliance with mandatory applicable laws of the project vehicle's jurisdiction.  To put it another way, the most straightforward test of whether the foreign party may have to adjust, or exit from its participation, comes down to whether it can fulfill project obligations while abiding by all applicable regulations that may apply to it.  Beyond such a litmus test, imagining or prognosticating about the myriad complexities of a possible Snapback scenario may be fruitless and contractually inefficient.
3.Avoiding the black-and-white trap: Of course, a foreign project participant can easily avail itself of the opportunity to stipulate that under any kind of scenario of project impracticability caused by sanctions, certain or envisioned, termination shall be the one and only prescribed remedy.
But this is likely to disadvantage the foreign party in the context of negotiations over comprehensive project terms with its Iranian counterparty, and it may limit the scope of the project work itself and fail to allow for a more complex investment structure which cannot survive the threat of termination overnight due to a "Snapback" of one kind or another.
Aside from termination, and its precursor remedy, suspension, there should also be the possibility to contemplate a variety of concepts including assignment, agency and delegation, in order to benefit from the vagaries of sanctions regulations and their exemptions. In some cases, project obligations which would be in violation of sanctions for some foreign entities may not be so for others.  As has been shown by the agreements between foreign export credit agencies ("ECA"s) such as EKF, BPI and Invitalia, developments at an international level, especially where adequate sovereign support and sufficiently ringfenced banking facilities exist, are being contemplated to facilitate the kind of continuity required for the decades-long projects now underway in Iran.   In addition to these ECAs, other parties such as quasi-sovereign corporations, particularly those from less dollarized jurisdictions, can play a role as fallback transferees of the exiting foreigner's project interest or shares under Snapback.  Moreover, it should always be noted that under even the most negative circumstances, the potential for a foreign party to obtain a waiver does exist and can be specified for the benefit of all parties.
4.Saving face, weighing options: Although some foreign entities have a checkered past derived from cutting and running under the threat of or the actual imposition of sanctions against Iran, time has shown that many of the same foreign parties which were forced, or chose, to exit their project ventures are the first ones to have returned since the JCPOA. Such is the compelling nature of Iran as a destination for foreign capital.
Iranian parties to a project know both this history itself and its implications. Foreign participants may wish to keep close to the exits, but foreign companies that have been victimized by their own government's whims regarding sanctions, and the slippage inherent in exiting and reentering, cannot be understated.
For this reason, foreign project partners may choose to consider the solution of exit and entry "options" for themselves under adverse sanction scenarios, and thus it is important for all parties involved to understand what an "option" precisely means, and how to value such an option.
In financial speak, an option is defined as the right but not the obligation to sell (or buy) an asset in a fixed quantity at a fixed price on (or before) a fixed date in time.  In the case in question, the asset is the participatory interest of the foreign party in the Iranian project, and the date is that point in time at when the parties to a project agree that the foreign party must leave due to sanctions (or is able to re-enter due to easing of sanctions).
However, it is not obvious immediately what the fixed price should be for foreign project interest at the time of exit or re-entry, and, most importantly, what may be overlooked is the tremendous value that such an option has.  In finance, the greater the underlying uncertainty about an asset, the more valuable any option on that uncertain asset is. Similarly, the longer the life of an option on an asset, the more valuable that option is.  In the context of long term investments, any option to exit (or re-enter) should be linked with a significant premium (that is, the worth of the option), and the contract parties should ensure that they successfully negotiate an appropriately fair value for the flexibility the options offer. As an illustrative example, the alternative to any exit put option for the foreign party is a fire-sale in the face of illiquid conditions for its share interest under the menace of reimposed international sanctions, or more problematic still, the inability to exit its share interest altogether, which an option is supposed to protect against.
Absent a foreign investor's legal immunity to the whims of the UN, OFAC, or other authorities, there is no perfect panacea for fool proofing long-term Iranian projects against the kind of uncertainty which the spectre of sanctions create.  But although this threat, to a certain extent, has forestalled the growth in Iran's industry and economy despite the strengthening of Iran's relationships with the international community, it is now apparent, moreso than ever before, that foreign parties can be expected to take an increasingly pragmatic approach in efforts to remain engaged with their Iranian projects for as long as possible.  They can effectively do so by allowing for the most flexible and broad classification of sanctions-related termination risks, by specifying a menu of contractually stipulated responses to reimposed sanctions (in conjunction with intelligent and pre-emptive project structuring) and by exchanging due consideration with the Iranian party for the invaluable options which allow them to remain confident that they can, if absolutely necessary, exit the project and someday re-enter, at a fair price.
Thus, it seems that the operative watchword for all foreign investors in Iran is continuity: continuity of the progression towards innovation, development and growth, and continuity of the participation of foreign interests in that process, bolstered by intelligent structuring solutions, both legal and financial, for dealing with the complicated reality of international economic sanctions.  With a measure of foresight, and a functional, flexible contractual framework, all participants in long-term, large-scale project joint ventures can move closer to the ideal of mitigating most, if not all, of the adverse consequences of sanctions regulations on investment decisions and risk management.
First published in our partner Tehran Times
'America First' vs. Global Financial Stability
The recently concluded annual meeting of the IMF and World Bank group, held in Indonesia last weekend, has highlighted a series of concerning trends with regard to the global economy. It has subsequently left many considering the impacts of a possible global recession that may be looming ahead in the next of couple of years to come.  These fears were evident in the worldwide sell-off in global equities last Thursday that has been widely attributed to the IMF revising down its global growth forecast in its World Economic Outlook (WEO) report. The report highlighted growth in a number of developed economies as having plateaued, with rising trade tensions and policy uncertainty greatly contributing to the slow-down. This includes the ongoing trade war between the US and China, as well as the numerous uncertainties pervading within the Euro-Zone.
All of this has had a significant knock-on effect on emerging markets, including Pakistan which has already been struggling with massive fiscal and current account deficits amid rampant inflationary pressures.  With tensions between the United States and China still on the rise, Pakistan presents a notable example of how deteriorating global macro-economic conditions have been exacerbated by rising geo-political tensions between these two global powers.
For instance, it took Imran Khan's fledgling government months to accept the reality of another IMF bailout (Pakistan's 13th in the last 30 years) despite its $68 billion investment commitment with China. This is because the US, being the largest contributor of funds to the IMF has increasingly politicized this bailout in light of its own deteriorating relations with China.  In fact, the US has directly blamed China for Pakistan's recent debt woes referring to what has been come to known as China's 'Debt Trap Diplomacy'. The argument being that the massive loans being doled out by China to developing countries under its Belt & Road Initiative are leading to unsustainable debt levels, eroding their sovereignty while expanding China's hold over them. Pakistan's loan obligations to China as part of the China Pakistan Economic Corridor are presented as a case in point.
Despite both Pakistan's and China's protests to the contrary, it is widely expected that some of the IMF's conditions attached to Pakistan's requested bailout are thus likely to include greater scrutiny and revisions regarding the CPEC initiative. This is likely to form part of the US's overall objective of limiting and constraining China's influence over Pakistan and the wider region.  The impact this would have on Pakistan however is likely to prove critical considering its precarious economic as well as geo-political position. Not only would the IMF's conditions limit the new government's ability to maneuver its economy around an increasingly unstable world financial system; it would also delay the much needed infrastructure projects being planned and implemented under CPEC with Chinese assistance.  Therefore, the very purpose of the IMF bailout which is to provide some semblance of stability to Pakistan's ailing economy, would embroil it deeper in uncertainty as a direct result of the US's unilateral push against China.
It is worth noting here that during its annual meeting, the IMF clearly voiced its concerns regarding escalating trade tensions between the US and China. While calling for increased dialogue and a careful examination of debt induced risks across the world, the IMF seems to be warning both sides over the fragility of prevailing global economic conditions. At the same meeting, China too echoed these concerns and called for increased dialogue with the US to promote open trade and growth. As a country that has for the last few decades championed globalization, China's vision of shared global growth and win-win partnerships in emerging markets such as Pakistan, have however been directly challenged by the US. A US, that is in contrast aggressively willing to defend the prevailing status quo, as part of President Trump's mantra of 'America First'. Hence it was no surprise that US representatives, in response to these concerns brought up by the IMF and China, have continued to downplay the risks of their policies on global economic stability.
With respect to China and numerous emerging markets such as Pakistan, the fact still remains that the world financial system is currently replete with risks and uncertainty as a direct result of US policy. All of this is occurring while the US President continues to boast about surging US equities and record employment figures as a direct outcome of these policies. While the US economy has experienced sustained growth since the 2008 financial crisis, markets and business cycles have a way of correcting themselves, especially when world leaders themselves point to overbought and overextended conditions.
If the US economy truly is on the cusp of a potential downturn, then present geo-political tensions are more than likely to exacerbate the impacts of an impending global recession. For Pakistan, with its precariously low foreign currency reserves and an unsustainable debt to GDP ratio, such a recession is likely to bring on even bigger problems than any of the potential cuts the IMF may propose on CPEC. Thus, while the US may limit China's rise as an economic power in the short-term, it does so at the expense of emerging markets and global economic stability in the long-run. This lack of foresight is likely to hurt the US more as it realizes how economies cannot exist within a vacuum in an increasingly interdependent world.
How to finance Asia's infrastructure gap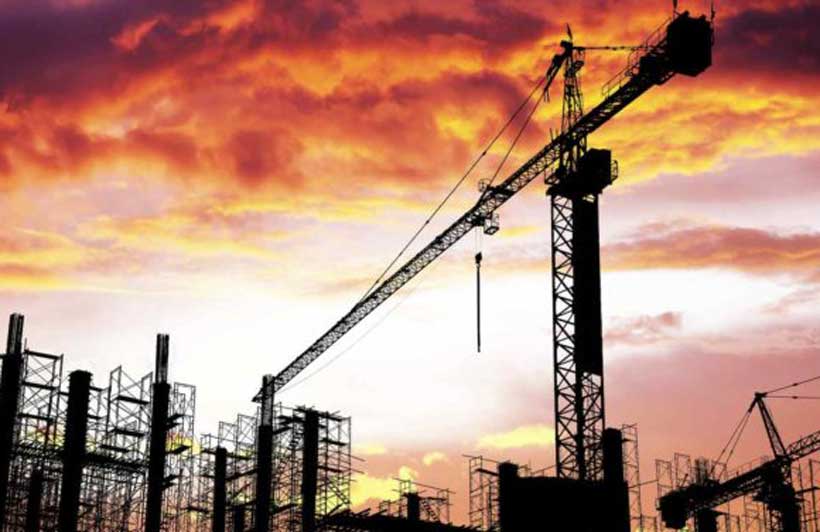 Asia's countries famously need to invest trillions of dollars a year to provide infrastructure required to keep traffic flowing, ports trading, and factories humming. Yet most countries in the region consistently fall short.
The 2017 Asian Development Bank (ADB) report "Meeting Asia's Infrastructure Needs" puts the infrastructure tab for 45 developing Asian countries at more than US$1.7 trillion per year. Developing Asia now invests only about $881 billion a year, or slightly more than 50 percent of that. This is the infrastructure gap.
Less well known, however, is that the investment shortfall is frequently not for a lack of funds or technology. The money may be available, particularly in the private sector, but not enough of it is going where Asia needs it. And this is because many developing countries lack the knowledge and capacity to design and implement bankable infrastructure projects that integrate new technologies.
To encourage private sector investment in infrastructure, high-quality bankable projects must adopt current levels of proven technology as well as be "future-proofed" to further advances in technology.
Delegates from across the development spectrum — from government through the private sector — will gather on Oct.13 in Bali for the Global Infrastructure Forum 2018 to discuss several trillion-dollar questions. How can governments and the private sector help fill the infrastructure gap? How can authorities' better pair the world's big investors with the many inclusive, resilient, sustainable, and technology-driven infrastructure projects this region needs to advance economic progress? And how can multilateral development banks best help?
To be sure, strong infrastructure projects are going up all over Asia. Take Indonesia, the Forum host; the country has made enormous strides under its ongoing and ambitious infrastructure program.
The country has seen progress: from the trans-Papua road project in one of the country's most remote and underdeveloped regions to better information and communications technology under the Palapa Ring (satellite) Project. Indonesia has also launched innovative and clean energy projects such as the 72-megawatt Tolo wind-farm in South Sulawesi and massive urban infrastructure to boost Jakarta's livability and competitiveness. This latter project includes a new modern airport terminal, rail link, and the first phase of the mass rapid transit expected to open in 2019.
Knowledge is crucial to get such projects off the ground, and this is where the multilateral development banks, including ADB, can assist.
The development banks are providing governments financial and technical support to enhance knowledge in numerous areas.
ADB is also helping strengthen government and private sector project development and governance capacity, for instance, for preparing high-quality projects able to support private finance. It also established the Asia Pacific Project Preparation Facility, a $73 million multi-donor trust fund to support project preparation, monitoring, and project restructuring, as well as capacity building and policy-reform initiatives linked to specific projects.
In addition, the organization is promoting public-private partnerships, catalyzing regulatory reforms to make infrastructure more attractive to private investors, and encourage more bankable projects. Potential is vast, in that pension funds alone, which hold $7.8 trillion in assets, are estimated to invest only about 1 percent of funds under management in infrastructure.
A recent ADB report, "Closing the Financing Gap in Asian Infrastructure," notes that the richer Asian economies, such as Japan — where savings rates top 30 percent — can clearly play a stronger role if it only could. Yet, the country still invests almost $4 trillion in portfolio assets outside Asia.
Likewise, ADB is developing alternative financing structures and is backing green finance to encourage a bankable green finance project pipeline that can access funds from commercial and institutional investors. Many major investors are now strictly subject to environmental, social, and governance requirements in their investment decisions.
Finally, as technology rapidly evolves, particularly digital, it is creating substantial opportunity. Land acquisition, for example, significantly delays infrastructure projects across the region. Digital technologies are therefore being tested in several countries and watched closely for an ability to improve land titling. Likewise, ADB is involved in Spatial Data Analysis Explorer to help in decision-making relevant to climate hazards and resilience across urban systems.
Multilateral development banks can play multiple roles, from assisting and advising on the creation of appropriate legal and regulatory frameworks, developing bankable projects, direct financing or providing credit enhancement tools to finance projects, to structuring innovative "blended finance" solutions in circumstances where the underlying project is incapable of supporting a financing structure priced at commercial funding rates. In all of this, multilateral development banks and other development partners can assist developing countries gain the knowledge to better develop sustainable, accessible, resilient, and quality infrastructure.
Prema Gopalan Honoured as India Social Entrepreneur of the Year 2018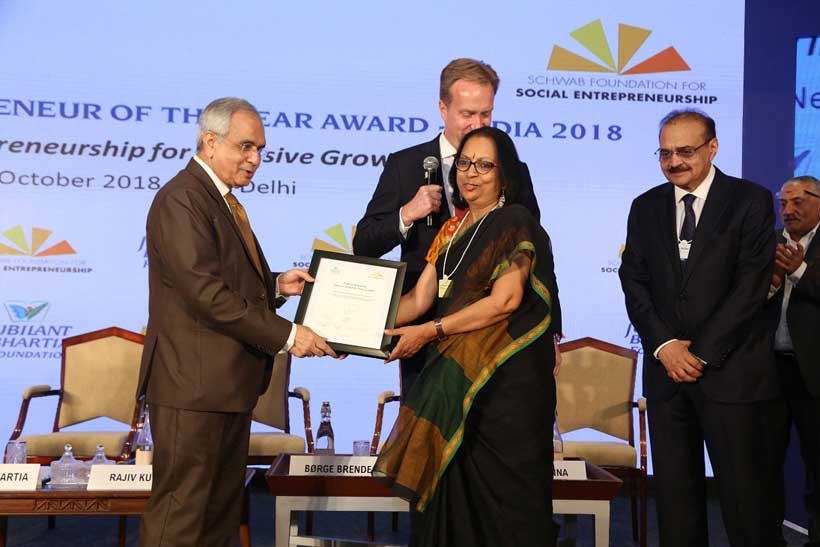 The Schwab Foundation for Social Entrepreneurship, in partnership with the Jubilant Bhartia Foundation, announced Prema Gopalan of Swayam Shikshan Prayog (SSP) as India Social Entrepreneur of the Year (SEOY) 2018. The award honours her exceptional contribution in revitalizing rural economies by empowering women to succeed in remote and ailing markets. The SSP model comprises four ventures: a federated network of 5,000 self-help groups; a resilience fund for women-led businesses; a rural school of entrepreneurship and leadership for women; and a market aggregator that provides warehousing, branding, marketing and distribution services to last-mile business women. In addition, it has catalysed the government, investors, financial institutions and Indian and global corporations to partner directly with grassroots women business leaders.
Over two decades, this has had a domino effect in 2,000 climate-threatened villages across six states of India. Over 97,000 women in drought and flood-affected villages have set up enterprises in clean energy, sanitation, basic health services, nutrition and safe agriculture. They have transitioned from self-employment to diversify their ventures, aggregate into value chains and mentor thousands of others to get on the path of entrepreneurship – 900 women are recognized locally as climate resilience leaders and 500 are playing a role in local governance. SSP's grassroots women entrepreneurs are taking their communities forward as part of their business success. As SSP partners with the government to scale its model, it is demonstrating that investing in rural women entrepreneurs can be a solid strategy for transforming India.
Smita Ram and Ramakrishna NK of Rang De were also selected as finalists for their work on unlocking unusual channels of capital for India's poorest, building bridges between India's credit-starved communities and ordinary citizens who contribute to meet the education, health and enterprise needs of resource-poor populations. Working on the premise of "micro-investment for micro-loans", this peer-to-peer lending platform has to date disbursed INR 70 crore from 14,000 social investors and philanthropists to benefit 60,000 families.
"The World Economic Forum has long championed gender equality on the global agenda," said Hilde Schwab, Chairperson and Co-Founder of the Schwab Foundation for Social Entrepreneurship. "The 2018 winner, Prema Gopalan of Swayam Shikshan Prayog, has demonstrated that investing in rural women is a good investment. Female entrepreneurs are critical actors to help bring about the transformation that India seeks!"
Congratulating the winner, Shyam S. Bhartia, Founder and Chairman, Jubilant Bhartia Group, and Founder Director of Jubilant Bhartia Foundation, said: "We are entering the tenth year of partnership with the Schwab Foundation. In the last nine years, we received more than 1,400 applications for this award. The response is indeed overwhelming and the quality of the applications very competitive. We are glad to see how the SEOY India Award is able to identify and bring to the forefront the enterprises who are achieving social impact at a larger scale. We hope that this year's SEOY India Award winner will serve as an inspiration to future generations of social innovators."
The SEOY India Award brings some of the country's most remarkable change-makers on to a common platform. These social entrepreneurs are promising self-starters, with a strong inclination towards addressing the most pertinent needs of marginalized communities in scalable and sustainable ways. Their endeavours encapsulate alleviating poverty, hunger, gender inequality, promoting women empowerment and education. These social entrepreneurs are torch-bearers who have taken the onus of working towards managing micro-finance needs and finding solutions to daunting challenges like climate change. The tenets of this year's finalists are aligned with the United Nation's Sustainable Development Goals.
The winner will be invited to join the Schwab Foundation's global community of over 350 social innovators. Social Entrepreneurs are driven by their mission to create substantial social change and promote inclusive growth, developing new products and service models that benefit underserved communities.