A journey from Heydarabad to Alinjagala Fortress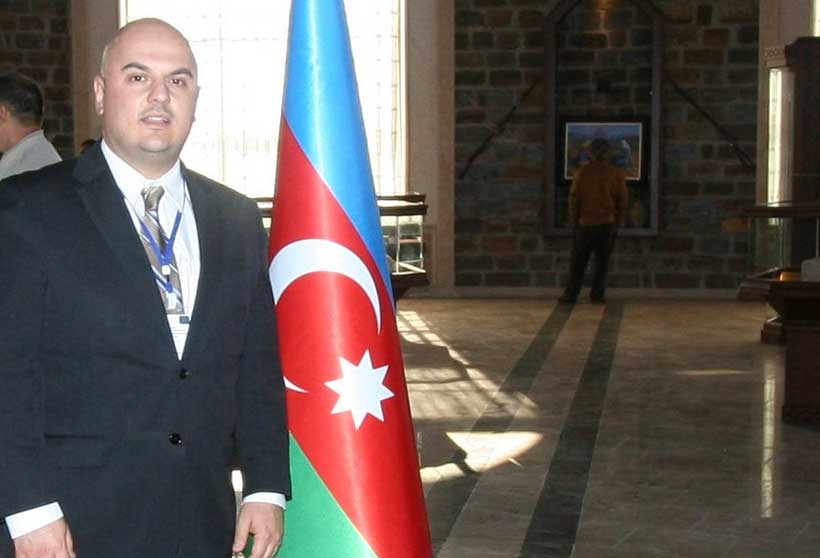 Vasif Talibov, the leader of Nakhchivan Autonomous Republic (Azerbaijan), has shown to the world a deep commitment towards strengthening his country's response to the threat of climate change, enhanced urban development, revamped sustainable tourism industry and promoted reforestation projects throughout the regions of Nakhchivan. The architects of the Paris Agreement and international community in general ought to pay a greater attention to the remarkable accomplishments that were proudly implemented by Chairman Vasif Talibov, who has made Nakhchivan, the westernmost province of Azerbaijan, become as developed as any western European country.  Over the last decade, Chairman Talibov has radically transformed the renewable energy production matrix of Nakhchivan, a region that has the world's highest number of hydroelectric power plants per square kilometer, making this territory of Azerbaijan home of seven hydroelectric dams, one solar power plant and one gas turbine. Furthermore, the city of Heydarabad, only a few meters away from the border with Armenia and a hundred yards away from a desolate precarious Armenian village, is testimony to a perfect urban setting with paved roads, where a brand new middle school, health care center and a city hall make it an attractive tourist destination.
Additionally, foreign visitors will appreciate a prosperous city with all amenities on the Azerbaijani side and on the Armenian side there is a terribly poor community with houses built out of adobe or mud bricks; indeed it appears to be an abandoned village that is artificially implanted by Yerevan's fascist regime.
On November 23rd, 2017, as I was traveling from Nakhchivan city to Shahrur region, it is remarkable to observe the overwhelming reforestation campaigns organized by the Government of Nakhchivan on both sides of a widely paved highway, a project that had involved civil society leaders, Nakhchivan State University students and faculty and members of the Azerbaijani Armed Forces.
Chairman Talibov's vision and dynamic leadership has encompassed another sector that is very important to Azerbaijan's national economy, tourism infrastructure and restoration of historical, archaeological sites have proved to be vital in the promotion of the Autonomous Republic of Nakhchivan across the world. The Alinja – Gala Fortress is an emblematic monument that has attracted thousands of tourists and rushed forward as a symbol of Chairman Vasif Talibov's pragmatic leadership in restoring historical monuments and bolstering the tourism industry at a time when Autonomous Republic of Nakhchivan has been selected as the world's capital city of Islamic culture.
Merely located one hour away from Nakhchivan city, Alinja – Gala fortress, a masterpiece of Chairman Vasif Talibov's vision, is a genuine tourist destination and a cultural monument that is equally a brilliant engineering innovation established at the top of a rock on the VI century.  The fortifications crowning its defense system are at an altitude of 1,800 meters.  Indeed, in Azerbaijan there are other fortresses built at a greater height but they cannot be compared to Alinja – Gala fortress. The combination of natural obstacles and the art of fortification, make this structure impossible to conquer by force.
Up to fifty buildings have been located at the top: barracks, warehouses, and a prison for highly dangerous criminals, a bathhouse, stables, bakeries, a mint house, an extensive arsenal, the treasury and the ruler's palace.  Many leaders have deposited their treasures in this fortress; including the great Atabeys of Azerbaijan, the Ildenizids, the Khulaguids and the Jelairids.  At that time it was hard to find a safer place than Alinja – Gala, the quantity of treasures deposited in Alinja-Gala can be ascertained from the fact that when a ruler from the Chobanid dynasty, Malik Ashraf, wanted to retrieve them out of the fortress, he needed 1,000 camels and 400 mules to transport his wealth.
The Eagle's nest, in the fatherland of Mammad Araz Ibrahimov – a Nakhchivani poet – has only two mountain paths leading to the fortress.  On the eastern slope its narrow path, on which only two people could climb, was blocked by three walls and on the western side – by eight walls.  Each had a height of up to nine meters and was made not of brittle bricks, but of large stones.  There was no point in trying to destroy this structure with a ram or medieval cannons.  Moreover, watchtowers, and signal stations where built on the roads leading to the citadel, and on the slopes, there were small shelters for two to three arches at a distance of 20-25 feet from one another.  In general, in Alinja – Gala, every inch of land could be taken only at the cost of the invaders' lives.
It is imperative to note that Alinja – Gala fortress is located at the helm of a steep mountain that would immediately bring to a total exhaustion every warrior equipped with an armored uniform, therefore becoming an easy target to the arrows of over 600 defenders of the fortress.
Such a historical monument epitomizes the best that Autonomous Republic of Nakhchivan has to offer to international history buffs and to an audience that is eager to appreciate early medieval cultural monuments that are meticulously restored and easily accessible. Alinja – Gala Fortress is a signature piece of restoration led by Chairman Vasif Talibov, a transparent, effective elected official that has made Nakhchivan one of the top destinations in Europe.
Norwegian Cruise Line Introduces Norwegian Viva
Norwegian Cruise Line (NCL), the innovator in global cruise travel, today unveiled Norwegian Viva, the next ship in its brand-new Prima Class.
Providing guests with elevated experiences including more wide-open spaces, thoughtful and stunning design and exceptional service, Norwegian Viva will begin sailing remarkable Mediterranean itineraries in June 2023, homeporting in key Southern European port cities including Lisbon, Portugal; Venice (Trieste) and Rome (Civitavecchia), Italy; and Athens (Piraeus), Greece. She will then sail the Southern Caribbean for her 2023-2024 Winter Season offering warm-weather getaways from San Juan, Puerto Rico.
Mirroring the upscale design and structure of her record-breaking sister ship Norwegian Prima, Norwegian Viva, also built by renowned Italian shipbuilder Fincantieri in Marghera, Italy, will debut at 965 feet long, 142,500 gross tons and accommodate 3,219 guests at double occupancy. Travelers will live up every second of their journey in the most spacious accommodations including the brand's largest inside, ocean view and balcony category staterooms.
The world-class vessel will not only offer the highest staffing levels and space ratio of any new cruise ship in the contemporary and premium cruise categories and largest variety of suite categories available at sea, but will also boast a redefined The Haven by Norwegian, NCL's ultra-premium keycard only access ship-within-a-ship concept. The Haven's public areas and 107 suites designed by Piero Lissoni, one of Italy's most renowned designers, will feature an expansive sundeck, a stunning infinity pool overlooking the ship's wake and an outdoor spa with a glass-walled sauna and cold room.
The Prima Class' variety of recreational activities also make their elevated comeback on Norwegian Viva with only-available-on-Prima-Class experiences including the fastest freefall drop dry slides at sea with The Rush and The Drop and the largest three-level racetrack at sea with the Viva Speedway.
Norwegian Viva will feature Ocean Boulevard, the 44,000 square foot outdoor walk way which wraps around the entire ship; Indulge Food Hall featuring 11 varieties of eateries; The Concourse boasting an outdoor sculpture garden; expansive pool decks and infinity style pools at Infinity Beach and Oceanwalk, showcasing glass bridges above water.
Harry Sommer, president and chief executive officer of Norwegian Cruise Line, said: "Norwegian Viva sets the standard in the premium segment, illustrating our commitment to pushing boundaries in four main areas: wide open space, service that puts guests first, thoughtful design and experiences beyond expectation. We have taken everything our guests love to the next level with this brand-new class of ships designed with them in mind."
Norwegian Viva will boast eye-catching hull art designed by Italian graffiti and sculpture artist Manuel Di Rita, commonly known as "Peeta," who also illustrated the exceptional hull design on Norwegian Prima. World-class architects who helped design Norwegian Prima including Rockwell Group, SMC Design and Miami-based Studio Dado, also have returned to influence the aesthetic of various restaurants, staterooms and public areas.
"Norwegian Viva, the second of six Prima Class vessels being built with us, reinforces the great collaboration between Norwegian Cruise Line and Fincantieri," said Luigi Matarazzo, General Manager Merchant Ships Division at Fincantieri. "We were extremely satisfied that Norwegian Prima, the first of the new class, earned record-breaking bookings and we are excited to see how Norwegian Viva will live up to her sister ship. As we proved our resilience during these challenging times, this announcement represents another testament to Fincantieri´s global leadership role in the cruise sector."
The first two Prima Class vessels, Norwegian Prima and Norwegian Viva, will feature cutting-edge alternative technologies, such as a NOx reduction system (SCR), that reduce the ship's overall environmental impact. SCR catalysts filter out sulfur oxides up to 98% and nitrogen oxides up to 90%, ensuring the vessels meet Tier III NOx compliance. Further, they will be equipped with an Exhaust Gas Cleaning System (EGCS), an Advanced Wastewater Treatment System to treat and clean all wastewater to meet stringent international standards and Cold Ironing functionality to connect to onshore power grids to further reduce emissions while in port.
Surprise Your Family with These 3 Memorable Gifts
Finding the perfect gift for your family can be a challenge, especially when you're not quite sure where to start. And since chances are everyone in your family has different tastes, you might be wondering which types of gifts will appease everyone. Fortunately, there's a long list of gifts that will cover all of your family's bases.
Narrowing down your list will ensure you've given plenty of thought to each idea, ideally ending up with your family being beyond thrilled with what you've chosen. Here are three memorable gifts to consider giving your family.
1. An Unforgettable Travel Experience
Traveling with your family is one of the best ways to spend quality time together away from it all. It's a way to explore, experience new things and make plenty of memories. Surprising your family with the trip of a lifetime would be a wonderful gift for everyone, so why not add one to your list this year?
One of the best parts about traveling as a family is that there are so many options for where to go and what to do. And when your goal is to give the perfect gift, choosing a trip that will go down in the books as one of the best family memories ever is a good place to start.
Let a Europe cruise immerse your family in gorgeous scenery, amazing food and rich history. A ski trip would be a fun way for everyone to enjoy the great outdoors together. Imagine your whole family enjoying the relaxing atmosphere of a tropical island, maybe snorkeling or even giving parasailing a try.
2. Family Heirloom Pieces
One of the nicest gifts you can give anyone is something that comes from the heart. Investing in a personalized, one-of-a-kind piece for your family will add a wonderful touch to your home for years to come. What's great about this is that there are so many directions you can take it.
Depending on your home decor style, you may find that some types of art are better suited than others. Getting creative and making a thoughtful decision will ensure you choose the best piece for your family.
A wrought iron or hand-carved wooden namesake sign could grace your front entrance for years, bringing a sense of home each time you pass it by. A family constellation print would not only be beautiful to look at, but a fun activity to do together time after time (try pairing it with a telescope!). There are so many other options for other personalized items, including DIY projects as well.
3. A Home Improvement Project
Is there something in your home that everyone can agree needs updating? Is there something you've always wanted to add to your home but haven't gotten around to doing? Now's the perfect time to take action. What better way than to make it a surprise for the rest of your family?
It could be that your kitchen is outdated and cramped, but it's also the place where your family spends the most time. While a full kitchen renovation is certainly an investment, it's also something that will pay you back in no time. Or maybe your family has always dreamed of a backyard pool, so you decide to make that a reality. It could also be something like finishing off an area of the basement and creating a game room.
Since home is where your family spends the most time, it only makes sense to do all you can to make it the best possible space for everyone. Presenting it as a gift will make whatever you do that much more special and heartfelt.
Surprising your family with a gift can be approached in so many different ways. Remember that a gift can be anything — an experience, a material item, or a project of some sort. Spend time thinking about what would best benefit your family and bring the most joy and get ready to give the best gift ever.
Pakistan – A Wonderful Destination For Adventurous Sports
Pakistan is famous for its exciting cities, historical sites, hospitality, great cuisines across the world. However, most of the international states are not aware of the fact that it is an excellent destination to enjoy adventurous sports as well as cultural festivities. The variety of adventure sports in Pakistan is enormous. There are a number of adventurous destinations for extracurricular activities in Pakistan, which anybody can travel to. From fishing to river rafting, skiing to camping and jeep safari to mountaineering, Pakistan is gifted with such vibrant geographical landscapes that makes it outstanding tourist destination.
The northern areas of Pakistan are known as hub of Adventure sports and open to tourists and sportsman's wonderful opportunities. Its rivers falling down from the snowcapped mountains and glaciers are great for water sports like river rafting, canoeing, sailing and kayaking. Horse and Camel safaris are other two exciting activities to enjoy. There are various destinations in northern Pakistan that provide wonderful opportunities for jeep safaris. Some of the destinations that can be visited for jeep safari include Gilgit, Hunza, Shandur, Sust and Skardu. Rivers Chitral, Indus, Gilgit, Swat, Hunza, Kunar and the Neelum offer exciting opportunities for water sports. There are mountains that offer wonderful trekking trails that lead to some beautiful spots.
Likewise, Swat is being called as Switzerland of Pakistan. Pakistan also offers beautiful spots for skiing. Swat's Malam Jabba is one of the best skiing resorts. If Jeep Safari is what gives one thrill, perhaps there is hardly any destination as exciting as the Northern Areas: hence one should come here without any fear and must enjoy the adventure.
Mountaineers from all over the world continue to test their minds and bodies by ascending some of toughest terrains in the world. Mountaineering is a highly specialized sport, especially on the 8,000-meter high mountain peaks, five of which are located in Gilgit-Baltistan (GB) region of Pakistan. These include K-2, Nangaparbat, G-I & II and Broad peak. Besides, 70% of mountain peaks above 7,000 meters are also located in Pakistan. An elite group of mountaineers, some of the best in the world, challenge the limits of what is thought to be humanly possible by attempting every winter to climb these summits.
Pakistan has produced wonderful legends in the field of mountaineering like Nazir Sabir, the first Pakistani to summit Mount Everest; Muhammad Ali Sadpara, the first Pakistani to summit Nanga Parbat in winter; and his son Hasan Sadpara. Muhammad Ali Sadpara has put Pakistan's mountaineering in limelight at the cost of his own life.
Pakistan also has a lot of scope in the field of rock climbing. Unlike mountaineering, rock climbing is not an exciting sport in popular perception. Rock climbing is probably one of the toughest and most dangerous forms of extreme sports.
The season, which attracts mountain climbers from all parts of the world, creates a hoard of opportunities for mountaineering-related businesses in the country and helps Pakistan generate millions in lieu of taxes and fees every year. The life of common people is very tough in Northern areas of Pakistan due to extreme weather conditions specially winter. Pakistan govt has built various lodges along the whole routes, and has offered more services, this step has enticed more people to come. Visa process for foreigners to get tourist visas for Pakistan has been made very easy.
There are few suggestions which can help in bringing more charm in these games. International federations must contribute funds which assist in making the life of public better in the northern areas of Pakistan. The doors of President and PM houses should be opened for national and international mountaineers who summit main peaks and those success stories should be highlighted on international media as well. This adventure sport should be made top priority by government. There is a need to establish an international level professional mountaineering school and a trained rescue team of experts.
The Alpine Club of Pakistan (ACP) should be given more strength. The ACP needs thorough professionals on board to make it more vibrant organization to promote and mainstream mountaineering in Pakistan and attract foreign mountaineers and trekkers. Government and state departments should make more focus to check the bottlenecks and facilitate the trekking expeditions. It is suggested that Mountaineers and High Altitude Porters (HAPs) have no insurance schemes, proper training and sponsorships, they should be facilitated at all levels.