5 ways the United Kingdom is leading the fight against plastic pollution
We're only two months into 2018, but this year has already seen a number of concrete steps to combat plastic pollution in the United Kingdom. Changing public opinion, along with new restrictions on sending plastics to China (which previously took in 66 per cent of the UK's plastic waste), have forced businesses and government bodies to reconsider traditional strategies for dealing with discarded plastic.
1. Queen Elizabeth bans disposable plastic
Buckingham Palace has implemented a plan to phase out the use of disposable plastics at royal estates. The new waste plan calls for ending the use of plastic straws and bottles in public and private dining areas. Additionally, biodegradable takeaway containers will be introduced. The Queen was reportedly inspired after working on a wildlife film with Sir David Attenborough, whose recent involvement in the BBC series Blue Planet 2 has been praised for bringing greater attention to the issue of plastic pollution in the world's oceans.
2. Restaurants ditch plastic straws
An increasing number of UK restaurants and pubs are joining the global movement to end the use of plastic straws. Chains such as Costa Coffee, Pizza Express, Wagamama restaurants, and Wetherspoons have all put plans into place to phase out the use of non-biodegradable drinking straws in 2018. A number of independent establishments have also followed suit, encouraging customers to forego the straw or use a biodegradable one.
3. Scotland announces nationwide bans
While many companies and individuals have made great progress by phasing out plastic straws, the British nation of Scotland took it a step further by announcing plans for a countrywide ban on straws, which will be developed this year. This came on the heels of a previous announcement in January to ban the sale and manufacture of plastic cotton buds, which will be phased out over the course of 2018.
4. The UK says no to microbeads
In January, a government ban on plastic microbeads officially went into effect. The miniature plastic particles are widely used in cosmetics, soaps, and toothpastes, and due to their small size, can slip through treatment plants and pollute rivers and lakes. The first phase of the ban prevents the plastics from being used in the making of cosmetics and cleaning products, followed by a complete sales ban in July. This law follows similar ones passed by the United States, Canada, and Ireland, as well as moves by global cosmetics companies to phase out the use of such products.
5. Supermarkets go plastic free
In January the UK supermarket chain Iceland made headlines when it announced plans to eliminate plastic packaging for all Iceland branded products. The company released a five-year strategy that calls for introducing paper and pulp food containers, as well as paper bags, all of which can be returned to in-store recycling facilities. The company has already banned plastic straws and is beginning to introduce the new packaging over the next couple of months. Other companies such as Tesco and Aldi UK have announced similar plans, a response to increased demands from shoppers for environmental responsibility.
This article was originally published by UN Environment
China: Navigation Improvement Project Keeps Environmental Protection in Mind
Reuse of the dredged sediments
The setting sun paints the sky and sea in red and orange. Tiny pieces of broken seashells glitter in the vast sandy beach.  This is the location of the Putou Operation Area of the Meizhou Bay Port. This 1,200-square-meters land has been filled with dredged sediments from the Meizhou Bay Navigation Improvement Project, and six berths for ships will be built here.
Supported by a $50 million loan from the World Bank, the project seeks to widen and deepen 21.5 kilometers of the existing main channel through dredging and rock blasting. Managing the disposal of large amounts of dredged sediments and debris was a challenge.
"The traditional way is to dump it into the ocean.  But it would cause pollution of the ocean. So we used the dredged sediments to backfill the land area behind the port, and turned the waste into something useful," said Chen Jianxin, a division chief from the project management office.
Reusing the dredged sediments, estimated at 16 million cubic meters, could save up to RMB100 million ($15 million), said Zhao Xiangchao, manager of the Putou Operation Area.
Mitigating the environmental impact
The dredging of the navigation channel has major environmental impacts on bottom-dwelling organisms such as worms, clams, crabs and lobsters, and aquatic habitats, coastal mudflats, water quality and marine hydrodynamics. In addition to mitigation measures, an ecological compensation plan has been carefully designed, which includes a fish reproduction and release program, and a habitats restoration program for planting mangroves.
In the fish reproduction and release program, five fast-growing native fish and shrimp species with high economic value have been selected and bred in a hatchery under the supervision of the Fujian Fisheries Research Institute. These are released in batches during a five-year period.
The fourth release event took place on August 11, 2017 on the coast of Quanzhou. A researcher from the fishery institute conducted a sample count of the tiny shrimps brought in from the hatchery before these were loaded onto fishing boats and released into the sea.  About 150 million baby shrimps was released that day, and researchers will monitor and carry out follow-up surveys to assess the effects of the program later.
The program is welcomed by the local fishing communities. An increase in fishery resources leads to more catches and therefore more income. A fisherwoman who joined the release work said there are now more fishes than before.
The 950-year-old Luoyang Bridge in Quanzhou is the first stone bay bridge built in China, and is one of the country's four most famous ancient bridges. Near the bridge are large areas of lush green mangroves.  A few egrets can be seen resting or searching for food among the trees. These mangroves are part of the Quanzhou Bay Estuary Wetland Nature Reserve.
"Under the project, we have planted 558 mu (372,000 square meters) of mangroves inside our reserve," said Lai Xingkai, an engineer from the reserve.
Mangroves play an important role in coastal protection.  Lai listed their three major benefits: they can improve water quality, reduce pollution and eutrophication (over-enrichment of water by nutrients), and prevent red tides; they can reduce waves and strengthen dikes; and they provide a home to birds and coastal animals.
"Our workers are all hired from the nearby villages, and familiar with local conditions. We have more than 40 regular workers to maintain the mangroves," Lai said.
Chen Chunfang, a local resident in the Zeng'an Village, looks after the mangroves as a part-time job. Every day, she would drive around the mangroves and stop any activity that may be harmful to the trees.  "With the mangroves, the environment has become so much better, and there are so many birds now, particularly in the morning," said Chen.
Close attention has been paid to the protection of the environment during the project's implementation, with more than RMB30 million ($4.55 million) invested in environmental measures. Engineering design was optimized to reduce the disposal area; special staff were assigned to supervise environmental compliance of contractors; related training courses were organized; intensive environmental quality and impact monitoring was conducted; and independent environmental consultants were engaged to assess the implementation of the environmental management plans and provide technical guidance and support.
Improving connectivity and creating jobs
Located between Quanzhou and Putian in the middle of the coast of Fujian Province, the Meizhou Bay Port is a major bulk port, handling approximately 40 million tons of freight in 2010 at 46 berths spread over four port areas. The main commodities handled are crude oil, building materials, coal and oil products, as well as iron ore, grain, and timber. It is also the closest port to some of the inland provinces.
Upon completion of the project in 2019, the main navigation channel will be upgraded to a 300,000 DWT (deadweight tonnage) standard that will allow for unidirectional tide-independent navigation of Q-MAX LNG (liquefied natural gas) ships, as well as unidirectional tide-dependent navigation of bulk cargo ships up to 400,000 DWT, the world's largest bulk vessels.
The development of the Meizhou Bay Port will reduce the land transport distance and improve transport connectivity between the land-locked provinces of western Fujian, Jiangxi and Hunan and the ports and cities of the more dynamic coastal region, thus boosting the growth of the underdeveloped inland regions.
Domestic and international shipping companies, as well as the nearby industries that are heavy users of the port such as petrochemicals, power generation, timber processing and grain milling will directly benefit from improved navigation conditions.
Sinochem Quanzhou Petrochemical Co. operates five berths for import and export of crude oil and petroleum products.  Zhang Huaiguo, a manager from the company's storage and transportation department, expects the project to reduce ships' waiting time outside the port.
CNOOC Fujian LNG Co runs an LNG (liquefied natural gas) port. The current capacity of the navigation channel only allows 66,000 cubic meter LNG tankers. "Growing demand for LNG in the domestic market requires larger tankers, for example, 217,000 cubic meter Q-Flex tankers. Larger tankers would reduce transportation costs substantially," said Xu Guoyang, a manager of the company's production and operation department.
Xu's words were also echoed by Yang Jin, a deputy engineering manager of the Luoyu Port, a large iron ore port under construction. "Ships of the future will be larger, because larger ships are more environment-friendly and cost-effective," said Yang.
The port and associated industries have employed more than 30,000 people, with additional jobs provided by the upstream and downstream industries spawned by petrochemical and energy industries, benefiting the local communities.
Sharing knowledge and strengthening capacities
"The involvement of the World Bank has brought us international experience and best practices," said Yu Junqi, a deputy director of the project management office. "The project has provided opportunities for knowledge sharing with peers in and outside China, by organizing study tours to major international ports such as Hamburg, Rotterdam and Esbjerg, and inviting experts from Germany and Singapore to give training and technical assistance. This has helped strengthen the capacities of the port authority," he said.
Contributing to the Belt and Road Initiative
By 2020, the Meizhou Bay Port is expected to increase the number of productive berths from 50 to 90 with handling capacity reaching 200 million tons, and have the channel capacity for the world's largest bulk carriers to enter. The port authority is also developing several logistics parks and a bulk goods trading platform, and seeking partnerships with other domestic and international sea ports, committed to play a greater role for the implementation of the Belt and Road Initiative, according to its director Li Qing.
Access to safe water: Is the green revolution around the corner?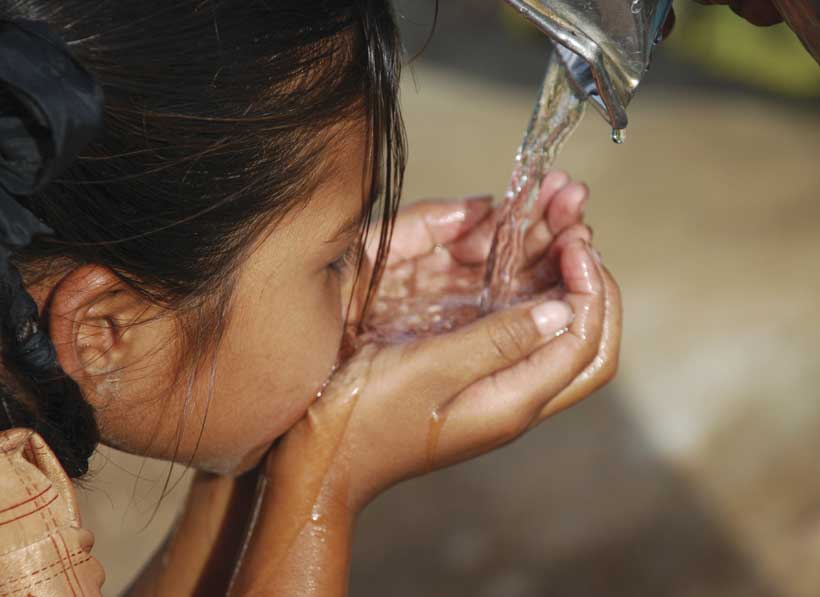 Nature-based solutions can play an important role in improving the supply and quality of water and reducing the impact of natural disasters, according to the 2018 edition of the United Nations World Water Development Report. The study, which will be presented by Audrey Azoulay, Director-General of UNESCO, Gilbert Houngbo, Chair of UN-Water, at the 8th World Water Forum in Brasilia (Brazil), argues that reservoirs, irrigation canals and water treatment plants are not the only water management instruments at our disposal.
In 1986, the State of Rajasthan (India) experienced one of the worst droughts in its history. Over the following years, an NGO worked alongside local communities to set up water harvesting structures and regenerate soils and forests in the region. This led to a 30% increase in forest cover, groundwater levels rose by several metres and cropland productivity improved.
These measures are good examples of the nature-based solutions (NBS) advocated by the latest edition of the report, Nature-based Solutions for Water. It recognizes water not as an isolated element, but as an integral part of a complex natural process that involves evaporation, precipitation and the absorption of water through the soil. The presence and extent of vegetation cover across grasslands, wetlands and forests influences the water cycle and can be the focus for actions to improve the quantity and quality of available water.
"We need new solutions in managing water resources so as to meet emerging challenges to water security caused by population growth and climate change. If we do nothing, some five billion people will be living in areas with poor access to water by 2050. This Report proposes solutions that are based on nature to manage water better. This is a major task all of us need to accomplish together responsibly so as to avoid water related conflicts," declared the Director-General of UNESCO.
"For too long, the world has turned first to human-built, or "grey", infrastructure to improve water management. In so doing, it has often brushed aside traditional and Indigenous knowledge that embraces greener approaches. Three years into the 2030 Agenda for Sustainable Development, it is time for us to re-examine nature-based solutions (NBS) to help achieve water management objectives", writes Gilbert Houngbo, Chair of UN-Water and President of the International Fund for Agricultural Development in the foreword of the report.
Focusing on 'environmental engineering'
So-called 'green' infrastructure, as opposed to traditional 'grey' infrastructure, focuses on preserving the functions of ecosystems, both natural and built, and environmental engineering rather than civil engineering to improve the management of water resources. This has multiple applications in agriculture, the greatest consumer of water by far. Green infrastructure can help reduce pressures on land use while limiting pollution, soil erosion and water requirements by contributing to the development of more effective and economic irrigation systems, for example.
Thus, the System of Rice Intensification, originally introduced in Madagascar, helps restore the hydrological and ecological functioning of soils rather than using new crop varieties or chemical products. It enables savings of 25 to 50% in water requirements and 80 to 90% in seeds while raising paddy output by 25 to 50%, depending on the region in which it is implemented.
It is estimated that agricultural production could be increased by about 20% worldwide if greener water management practices were used. One study cited by the Report reviewed agricultural development projects in 57 low-income countries and found that using water more efficiently combined with reductions in the use of pesticides and improvements in soil cover, increased average crop yields by 79%.
Green solutions have also shown great potential in urban areas. While vegetated walls and roof gardens are perhaps the most recognizable examples, others include measures to recycle and harvest water, water retention hollows to recharge groundwater and the protection of watersheds that supply urban areas. New York City has been protecting its three largest watersheds since the late 1990s.  Disposing of the largest unfiltered water supply in the USA, the city now saves more than US$ 300 million yearly on water treatment and maintenance costs.
Faced with an ever-increasing demand for water, countries and municipalities are showing a growing interest in green solutions. China, for example, recently initiated a project entitled "Sponge City" to improve water availability in urban settlements. By 2020, it will build 16 pilot Sponge Cities across the country. Their goal is to recycle 70% of rainwater through greater soil permeation, retention and storage, water purification and the restoration of adjacent wetlands.
The importance of wetlands
Wetlands only cover about 2.6 % of the planet but play a disproportionately large role in hydrology. They directly impact water quality by filtering toxic substances from pesticides, industrial and mining discharges.
There is evidence that wetlands alone can remove 20 to 60% of metals in water and trap 80 to 90% of sediment from runoff. Some countries have even created wetlands to treat industrial wastewater, at least partially. Over recent years, Ukraine, for example, has been experimenting artificial wetlands to filter some pharmaceutical products from wastewater.
However, ecosystems alone cannot perform to totality of water treatment functions. They cannot filter out all types toxic substances discharged into the water and their capacity has limits. There are tipping points beyond which the negative impacts of contaminant loading on an ecosystem becomes irreversible, hence the need to recognize thresholds and manage ecosystems accordingly.
Mitigating risks from natural disasters
Wetlands also act as natural barriers that soak up and capture rainwater limiting soil erosion and the impacts of certain natural disasters such as floods. With climate change, experts predict that there will be an increase in the frequency and intensity of natural disasters.
Some countries have already started taking precautions. For example, Chile announced measures to protect its coastal wetlands after the  tsunami of 2010. The State of Louisiana (USA) created the Coastal Protection and Restoration Authority following Hurricane Katrina (2005), whose devastating impact was magnified by the degradation of wetlands in the Mississippi Delta.
Nevertheless, the use of nature-based solutions remains marginal and almost all investments are still channelled to grey infrastructure projects. Yet, to satisfy the ever-growing demand for water, green infrastructure appears to be a promising solution complementing traditional approaches. The authors of the report therefore call for greater balance between the two, especially given that nature-based solutions are best aligned with the Sustainable Development Goals adopted by the United Nations in 2015.  Coordinated by the UN World Water Assessment Programme of UNESCO, the United Nations World Water Development Report is is the fruit of collaboration between the 31 United Nations entities and 39 international partners that comprise UN-Water. Its publication coincides with World Water Day, celebrated every year on 22 March.
Role of an individual being to save the green earth
It is no secret that for decades, Earth has been incessantly abused, threatened, and destroyed. As man continues to put his selfish needs first, our environment suffers. The amount of destruction humans have caused in the past three decades is beyond comprehension – the glaciers in the poles are rapidly melting which is increasing the water level of the oceans; forests are quickly depleting; the percentage of greenhouse gases and other pollutants in the air is continuously rising, posing a threat to the already thinning ozone layer; energy reserves are exhausting, and the list goes on.
Isn't it about time we started thinking about our beautiful planet and other life forms that inhabit it?
We all know that in an ecosystem, the well-being of one is closely and intricately related to that of another. Every living being – microorganisms, insects, animals, birds, plants – is dependent on each other for survival. The extinction of one species will naturally create an imbalance within the ecosystem, disturbing all other life forms within it.
Every individual has a role to play in preserving the Earth's environment. A positive change, no matter how small, holds the ability to create a lasting ripple of change in the long run. Just imagine, if every individual all around the world (that is, 7 billion!) started doing their respective parts in reducing their carbon footprint and adopting the green way of living, how massive a change could we create! Taking baby steps and starting by adopting positive everyday habits could go a long way in saving the environment.
Here are a few things you, as an individual, could start doing to make this world a much 'greener' and better place.
Adopt the 3R technique – Reduce, Reuse, and Recycle.
First, try to minimize wastage of resources and the domestic waste produced as much as possible. Buy only what you need, and it is a wise move to buy large packets(more quantity of product but less waste generated when it comes to packaging). Always reuse items that can be used more than once, such as grocery and shopping bags. Opt for washable utensils over disposable ones. Indulge in recycling products to create new products. People all around the world have come up with many unique ideas to recycle waste and create something new!
Composting is the way to go!
Instead of dumping away the organic waste(vegetable and fruit peels, flowers, leaves, etc.) produced in your house daily in some landfill, try composting. Dig a pit in your backyard and start dumping the organic waste in it. When the hole is filled, cover it up with soil. The organic waste will decompose in several weeks and will serve as natural manure for the soil. This is the best way to start organic farming in your own backyard!
Live Unplugged!
Always, always, remember to unplug used chargers from the sockets and switch off the lights, fans, and any other electrical appliance when not in use. You may not realize it, but these little acts of carelessness may be the reason behind your skyrocketing electricity bills. By switching off devices and appliances when not in use, you are not only cutting down on your energy costs but are saving a considerable amount of energy.
Opt for energy efficient appliances
Replace the age-old and energy-hogging appliances in your home with the new, energy-efficient ones. Today, the market is filled with energy efficient bulbs, fans, heaters, air conditioners, TVs, refrigerators, and so much more. These devices deliver excellent performance while consuming minimal energy. Thus, the overall consumption of electricity in your house will reduce to a large extent, as will your utility bill.
Plant Trees
Trees provide us with oxygen, shade, and bring rainfall. They are immensely needed to help combat the climate change that is taking the entire world in its grip. Do your part and make it a point to plant trees in your surrounding areas. You can take up the initiative during festivals or special occasions and create a tree plantation drive in your neighborhood. This way, you will encourage others to plant trees for a greener future.
Apart from these major steps, you can also save the Earth by doing the following:
Opt for public transport. Individual cars and automobiles not only increase the overall fuel consumption but also increase the air pollution every day. By riding public buses, trains, metros, etc., you can help reduce this.
Choose e-receipts and bills over paper bills. This will help save our forest resources.
Fix any leaks and cracks, in any, in the pipes, taps, and water cooling system in your homes. Every drop of water is precious.
Adopt rainwater harvesting. By collecting rainwater in clean containers or tanks, you can create an extra buffer of water for fulfilling your domestic purposes(washing cars, watering plants, etc.).
Say no to plastic bags. Use cloth or jute bags.
If each one of us starts following these steps, our Earth will become much greener and livelier in the years to come. Never forget, this is our only Home, and it is up to us to protect and preserve it.