Mexico officially joins IEA: First member in Latin America
Mexico officially became the International Energy Agency's 30th member country on 17 February 2018, and its first member in Latin America. The membership came after the signed IEA treaty (the IEP Agreement) was deposited with the government of Belgium, which serves as the depository state, following ratification by the Mexican Senate.
Mexico's accession is a cornerstone of the IEA's on-going modernization strategy, including "opening the doors" of the IEA to engage more deeply with emerging economies and the key energy players of Latin America, Asia and Africa, towards a secure, sustainable and affordable energy future.
The IEA Family of 30 Member countries and seven Association countries now accounts for more than 70% of global energy consumption, up from less than 40% in 2015.
"With this final step, Mexico enters the most important energy forum in the world," said Joaquín Coldwell, Mexico's Secretary of Energy. "We will take our part in setting the world's energy policies, receive experienced advisory in best international practices, and participate in emergency response exercises."
"It is a historic day because we welcome our first Latin American member country, with more than 120 million inhabitants, an important oil producer, and a weighty voice in global energy," said Dr Fatih Birol, the IEA's Executive Director. "The ambitious and successful energy reforms of recent years have put Mexico firmly on the global energy policy map."
At the last IEA Ministerial Meeting, held in Paris in November 2017, ministers representing the IEA's member countries unanimously endorsed the rapid steps Mexico was taking to become the next member of the IEA, providing a major boost for global energy governance.
They recognized that Mexico had taken all necessary steps in record time to meet international membership requirements since its initial expression of interest in November 2015. In December, the Mexican Senate ratified the IEP Agreement paving the way for the deposit of the accession instrument and for membership to take effect.
Mexico is the world's 15th-largest economy and 12th-largest oil producer, and has some of the world's best renewable energy resources. The IEA family will benefit greatly from Mexico's contribution on discussion about the world's energy challenges. The IEA is delighted to continue supporting implementation of Mexico's energy reform with technical expertise, and further intensifying the fruitful bilateral dialogue of energy policy best practice exchange.
US pardons for accused war criminals, contrary to international law
A presidential pardon for two United States soldiers accused of war crimes, and a sentence reduction for a third, "run against the letter and the spirit of international law which requires accountability for such violations", the United Nations human rights wing said on Tuesday.
"While pardons exist in international law, and can properly address issues of injustice or unfairness", Rupert Colville, Spokesperson for the UN High Commissioner for Human Rights (OHCHR), told reporters at a regular press briefing in Geneva that these cases showed no circumstances to suggest anything other than "simply voiding the otherwise proper process of law in the cases".
"These pardons send a disturbing signal to military forces all around the world", he added.
The accused
According to news reports, Lieutenant Clint Lorance was tried and convicted for ordering the shooting of Afghanistan civilians in 2013 and handed down a 20-year prison sentence. Last Friday, he was given a full pardon.
Major Mathew Golsteyn was charged with executing an unarmed Afghan man who was a suspected Taliban bombmaker in 2010. He was scheduled to be tried in February.
And Chief Petty Officer Edward Gallagher was charged with murdering a captive in Iraq. He was acquitted but received a demotion for posing with the corpse for a photograph. President Trump on Friday vowed to restore his rank.
"These three cases involve serious violations of international humanitarian law, both proven and alleged, including the shooting of a group of civilians and execution of a captured member of an armed group", said Mr. Colville.
Some US news outlets applauded President Donald Trump's reprieves, while others saw them as a sign of disregard for the decisions of military juries as well as for the judicial process itself.
"International Humanitarian Law establishes the obligation to investigate violations and prosecute war crimes", reminded Mr. Colville.
He pointed out that by investigating the allegations, and initiating and completing criminal proceedings, the US military justice system had been in compliance with international law.
Underscoring that "victims of gross human rights violations and serious violations of international humanitarian law have the right to a remedy", Mr. Colville maintained that the pardon terminating further criminal proceedings in the case of Major Mathew Golsteyn, was "particularly troubling".
He elaborated that remedies include equal and effective access to justice, the right to the truth, and to see perpetrators serve punishments proportionate to the seriousness of their conduct, "rather than see them absolved of responsibility".
Rwanda: EU provides €10.3 million for life-saving refugee support measures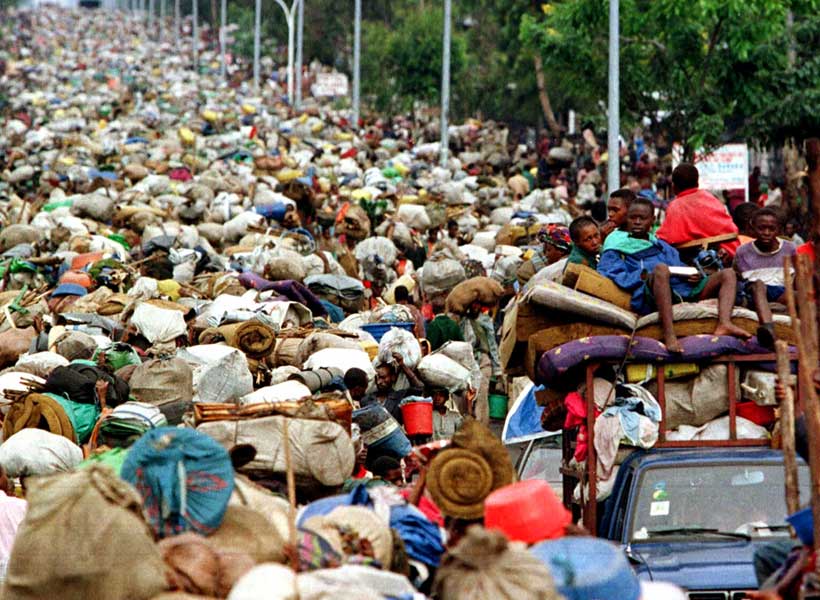 During his visit to Rwanda, Commissioner for International Cooperation and Development Neven Mimica has announced a €10.3 million support package to the UNHCR's Emergency Transit Mechanism (ETM) in Rwanda, which provides a life-saving avenue out of Libya for people in need of international protection, with a view to their further resettlement. The funding is provided through the Emergency Trust Fund for Africa. This initiative builds on the example of the ETM Niger, through which more than 2,900 refugees and asylum seekers have been evacuated out of Libya since 2017.
High Representative/Vice-President Federica Mogherini said: "The Emergency Transit Mechanism in Rwanda is a vital life-saving measure to bring people in need of international protection out of Libya. It is an important sign of African solidarity and of partnership with the European Union. It broadens the support to the most vulnerable people held in Libyan detention centres that need to be closed urgently."
Commissioner Mimica said: "This project will support efforts of the Government of Rwanda to receive and provide protection to about 1,500 refugees and asylum-seekers who are currently being held in detention centres in Libya. Such a remarkable and powerful proof of African solidarity should be further encouraged, replicated and supported."
Background
The UNHCR has evacuated more than 4,250 refugees and asylum-seekers out of Libya to other countries since 2017.
However, around 4,700 people are currently estimated to be held in dire conditions inside detention centres in the country. They urgently need to be moved to safety and to be provided with protection, lifesaving assistance, and durable solutions.
Following the escalation in and around Tripoli, namely the July air strike on a migrant detention centre, the EU continues to support the vital work of the Gathering and Departure Facility on location.
The EU is also supporting the UNHCR's increased efforts to transfer to Tripoli the most vulnerable people in need of international protection from conflict areas where they are at risk, pending their evacuation outside of Libya.
ADB Program to Help Improve Education and Health in Armenia
The Asian Development Bank (ADB) has approved a $10 million policy-based loan (in euro equivalent) to assist the Government of Armenia's efforts to improve the quality and accessibility of education and health services.
Armenia is experiencing a demographic shift with the share of children under the age of 18 declining from 37% of the national population in 1990 to 25% now, signaling an impending decline of the country's labor force. Access to and funding for quality education and health services are poor, resulting in many people not having the skills to meet employers' needs and avoidable ill health having a detrimental effect on the population.
In 2017, for instance, public expenditure on education was about 2.2% of gross domestic product (GDP), which is lower than the 5% recommended by the Organisation for Economic Co-operation and Development. Government health spending was at 1.3% of GDP, below the 5% threshold observed by the World Health Organization as expenditure of countries with low shares of out-of-pocket payments.
To address this, the Government of Armenia has implemented reforms since 2010 to improve education and health services, with a focus on helping women and girls. A preschool law was endorsed to the National Assembly with the aim of boosting the number of children in elementary schools to 70% in 2023, from around 30% in 2017. Teachers have also been receiving training and skills development. A new set of guidelines and protocols, meanwhile, have been implemented in most of the country's hospitals and health centers, covering topics ranging from preventing hospital-acquired infections to methods in continuing medical education.
"A well-educated and healthy population is essential for the growth and development of a country like Armenia, where human capital is significantly unrealized," said ADB Senior Health Specialist for Central and West Asia Ms. Rouselle Lavado. "ADB's assistance will support the government's ongoing efforts to ensure that citizens are educated, healthy, and productive.
The main focus of the Human Development Enhancement Program is children and youth, starting from the preschool age. As well as improving the accessibility and enhancing the quality of education and health services in the country, the program will also increase financing for these efforts.