Strengthening Sino-Russian Ties
During her speech at the New Year's celebration, hosted by the Russian Cultural Center in Beijing, in late December 2017, Olga Melnikova, Counsellor of the Russian Embassy and Director of the Russian Cultural Center in Beijing, said Russia has many cultural symbols that come from China. In her opinion, Sino- Russian bilateral relations are an example of "the most stable, healthy, mature and lasting relationship between countries in today's world." The Russian Cultural Center for years has organized cultural, educational and science- related activities to stimulate Chinese citizens' interest in learning the Russian language and culture.
In her recent interview with Women of China (WOC), Melnikova said she hoped the Sino-Russian strategic partnership would be strengthened, and that cultural communications between the people of the two countries would be  enhanced.
Had you visited China prior to assuming your post as Director of the Russian Cultural Center in Beijing in September 2017? What is your impression of China and the Chinese people?
I first visited the capital of China, Beijing, in 2012. I was a tourist at that time. Beijing impressed me as a modern metropolis that also kept well its traditional Chinese flavor. I saw magnificent ancient temples and palaces coexisting with modern buildings and small cozy streets. The architectural styles of many buildings, the decorations on streets, and the designs of parks clearly showed how much Chinese people had been respecting their history and traditions.
Now, I look at Beijing through the eyes of one of the city's residents, not as a  tourist. In modern Beijing, people are    paying great attention to physical education and sports, and to taking care of their health. I have watched, many times, the Chinese citizens who gather in the morning to exercise together. They perform qigong , a system of deep breathing exercises that Chinese use to train their bodies and properly maintain the energy flow in their  bodies.
My job has pushed me to travel around China, and to meet people from all walks of life, including government officials, diplomats, representatives of academic institutions, professions, teachers, students and schoolchildren. Based on my personal communications,   I think Chinese are friendly, polite and  kindhearted. Chinese always l isten attentively to  interlocutors' opinions, and they know how to correctly defend their points of view.
Please tell our readers about some of the events your center has organized in China to promote Russian culture.
Under the circumstances of globalization, culture becomes an important "language," or factor, that lays the foundation to build the whole system of international relations. Cultural exchanges include communications in tourism, the scientific and educational fields, business contacts, and cooperation in the sports, mass media, art, music and film  industries.
Russia is a country that has a great cultural heritage and centuries-old traditions. Within the framework of popularization of Russian culture in the world, our Russian Cultural Center regularly hosts events, such as concerts of Russian folk artists, music and dance groups, meetings with Russian celebrities in the cultural field, exhibitions of contemporary artists, photo exhibitions of Russian museums' archival materials, film screenings showcasing the latest achievements of Russian cinematography and theater performances for both children and  adults.
Every year, we celebrate our victory in World War II, the day of the first space flight of cosmonaut Yuri Garagin and the launch of our first space satellite. Soon, we will celebrate the date of lifting the blockade of Leningrad and the anniversary of the battle of Stalingrad. Those events are great and memorable, not only for Russian people, but also for humanity all around the  world.
Are you interested in Chinese cultural symbols?
Developing mutual interest in our cultures helps us strengthen the "ties" between our peoples. For example, the  Chinese horoscope, which includes the tradition and meaning related to the Spring Festival, is very popular in Russia. Some symbols of good fortune, such as the dragon, fish and frog, can be found in decorations that Russian people place in their houses, offices and private shops. Although the images with auspicious hints are used as decorations, most Russians do not fully understand the meanings that those images imply. Perhaps the most popular auspicious inscription is a picture of the upside-down Chinese character of "fu," which means "happiness."
What roles are women playing to enhance bilateral communications between Russia and China?
It is a global trend that women play more active roles in different spheres of life — business, politics and diplomacy … In some countries, women occupy the highest positions in government. There are women ministers, prime ministers and even heads of state. Women and men should complement each other while they are dealing with political issues.
Actually, the Russian- Chinese Commission on Humanitarian Cooperation is chaired by Olga Golodets, Vice-Premier of the Russian Government, and Liu Yandong, Vice-Premier of the State Council of China.
The Russian Cultural Center is the representative office of Rossotrudnichestvo — the State Agency, which is headed by Eleonora Mitrofanova, a Russian diplomat of high level with significant experience in the Ministry of Foreign Affairs of the Russian Federation and in international organizations. Our center will continue to make contributions to strengthen the ties between Russia and China, advance the promotion of the Russian language and culture in China, and stimulate the development of mutual exchanges.
Andy Warhol: From A to B and Back Again
The San Francisco Museum of Modern Art (SFMOMA) announces the exclusive West Coast presentation of the critically acclaimed exhibition, Andy Warhol—From A to B and Back Again on view from May 19 through September 2, 2019. Spanning the artist's 40-year career and featuring more than 300 works on three different floors of the museum, the exhibition includes paintings, drawings, graphics, photographs, films, television shows as well as a personal time capsule of ephemera. The retrospective features examples of the artist's most iconic pieces in addition to lesser-known abstract paintings from later in his career. Uncannily relevant in today's image-driven world, Andy Warhol—From A to B and Back Again provides new insight into Andy Warhol himself by examining the complexities of this enigmatic artist more than 30 years after his death in 1987. The show's title is taken from Warhol's 1975 book, The Philosophy of Andy Warhol (From A to B and Back Again), a memoir featuring the artist's musings on fame, love, beauty, class, money and other key themes that frequently appear in his work.
"He's a complicated figure and a complicated artist," said Gary Garrels, Elise S. Haas Senior Curator of Painting and Sculpture at SFMOMA. "His inner emotions, his psychic self were not his subject matter. Warhol is constantly labeled a Pop artist, but all that happened within a couple of years and then he moved on and the work goes quite dark and explores questions of gender and sexual identity, fame, subcultures. At the time of his death, the consensus was that Warhol was no longer relevant. But the last major retrospective in 1989 was a wake-up call: this is an artist we have to reckon with."
First presented at the Whitney Museum of American Art in New York and curated by Donna De Salvo, Deputy Director for International Initiatives and Senior Curator at the Whitney, with Christie Mitchell, senior curatorial assistant, and Mark Loiacono, curatorial associate, this exhibition provides an opportunity for new generations to reconsider Andy Warhol, one of the most influential, inventive and important American artists. Warhol's understanding of the growing power of images in contemporary life anticipated our social media-focused world and helped to expand the artist's role in society making him one of the most recognized artists of the 20th century.
Andy Warhol—From A to B and Back Again also showcases SFMOMA's impressive holdings of many of the artist's most important works including National Velvet (1963), Liz #6 (Early Colored Liz) (1963), Triple Elvis (Ferus Type), (1963), Silver Marlon (1963), Robert Mapplethorpe (1983) and self-portraits.
THE EXHIBITION
Andy Warhol—From A to B and Back Again will be presented on three floors of SFMOMA: two, four and five.
On the museum's second floor, two galleries of works on paper offer a detailed look at Warhol's earliest drawings from the 1940s and hand-drawn commercial illustrations created for advertising in the 1950s. These early drawings lay the groundwork for many of the techniques and approaches he would use throughout his career. This portion of the exhibition includes delicate, gilded collages and sketches of shoes for the Miller Shoe Company, and illustrations for publications such as Glamour Magazine and The New York Times.
On display in SFMOMA's fourth-floor special exhibition galleries, the exhibition takes visitors chronologically through the arc of Warhol's career and his production in painting, drawing, photography, film and installation. The first half of the exhibition opens with his best known work from the creatively active period of 1960–68, with his earliest paintings such as Dick Tracy (1961) and Superman (1961), followed by the groundbreaking, iconic Pop Art paintings, Green Coca-Cola Bottles (1962), 192 One Dollar Bills (1962) and the sculpture, Brillo Boxes (1969, version of 1964 original). The exhibition then highlights Warhol's depictions of celebrities, including Elvis, Elizabeth Taylor and Jacqueline Kennedy. In a dedicated black box gallery adjacent to the early Pop Art work, samples of Warhol's films and videos will be on view including his series of Screen Tests featuring Ethel Scull, Edie Sedgwick and Billy Name (1964–65).
Subjects take a darker turn in Warhol's Death and Disaster paintings (1963–64) memorializing car crashes, the electric chair and a benign yet sinister can of tuna fish contaminated with botulism. An eye-popping gallery filled with 16 colorful Flower paintings (1964) will be installed on top of Warhol's Cow Wallpaper (1966) for a bold immersive experience. Visitors will have a chance to experience Silver Clouds, Warhol's sculptural installation of shiny Mylar balloons created in 1966, the point at which he declared himself to be done with painting.
Warhol's work of the 1970s and 1980s focuses on post-Pop artwork, which Garrels observes are "very unknown to most people." In these galleries Warhol shifts his focus with a massive portrait of Chairman Mao (1972), followed by a gallery featuring photographs and paintings of trans women and drag queens from the 1970s, which provide a look into Warhol's fascination with the elusiveness and complexity of gender and identity. A separate suite of photographic self-portraits of Warhol in drag provides a different view into the artist's carefully cultivated persona. A large single gallery is dedicated to Warhol's grand experiments with abstract painting, featuring a gold Shadow painting (1978) and two large-scale Rorschach paintings (1984). Warhol's influence on the young artists of the East Village in the 1980s is highlighted through collaborative works created with Jean-Michel Basquiat and Keith Haring. Also on display is an unpacked personal time capsule, one of 610 created over the course of the artist's life.
Two galleries in the museum's fifth floor Pop, Minimal and Figurative Art presentation feature a 1970s "facebook" of wall-to-wall grids of large-scale silk-screened portraits representing a "who's who" of celebrities, cultural icons, gallerists, athletes and business leaders. These galleries feature nearly 40 portraits such as Halston (1975), Dominique de Menil (1969), Liza Minnelli (1978), Pelé (1977), Leo Castelli (1975), Mohammad Reza Shah Pahlavi (1976) and Gianni Versace (1979–80), as well as the artist's mother, Julia Warhola (1974). For the subject, a Warhol portrait provided social validation and an immediate status symbol; for Warhol these commissions were a consistent revenue stream that supported his studio and desire to explore other more personal ventures. Warhol's television shows and videos are on display in the city gallery on this floor.
THE ARTIST
Andy Warhol was born Andrew Warhola in Pittsburgh, PA in 1928. In 1949, he graduated from Carnegie Institute of Technology (now Carnegie Mellon University) with a Bachelor of Arts in pictorial design.  Shortly after graduation, Warhol moved to New York City, where he would live for the rest of his life, and began what would become a vaunted career as a commercial artist, for which he earned numerous awards and accolades. Despite his commercial success, Warhol was determined to pursue a career as a fine artist. He first exhibited his work at the Hugo Gallery in 1952, though he did not gain recognition in the fine art world until 1962 when the Ferus Gallery in Los Angeles staged his groundbreaking exhibition of Campbell's Soup Can paintings. Through the 1960s, Warhol exhibited at Ferus, Stable Gallery, Castelli Gallery, Sonnabend Gallery and internationally to great acclaim. He established "the Factory" in 1963, the same year he began his pioneering work in film. In 1965, Warhol announced his "retirement" from painting to pursue filmmaking full-time; underground films such as Empire (1964) and The Chelsea Girls (1966) remain some of his most influential works.
In 1968, Warhol was shot in a near-fatal assassination attempt, but by 1969 he had founded Interview magazine and his interest in producing work across all media—including sculpture, video and performance—was reignited. In 1975, Warhol published The Philosophy of Andy Warhol (From A to B and Back Again) and by the late 1970s had expanded his practice to cable television shows with Andy Warhol's Fashion, Andy Warhol's Fifteen Minutes and Andy Warhol's T.V. Warhol's work of the late 1970s and 1980s exhibits an increased interest in abstraction and collaboration and often reflexively returns to his own earlier work and iconography. His late work speaks to a voracious interest in current events and enthusiasm for artists from the East Village scene such as Keith Haring and Jean-Michel Basquiat, with whom he collaborated. In February 1987, Warhol died after a brief illness following routine gallbladder surgery. The Andy Warhol Diaries, his infamous account of his own life from the mid-1970s up to his death, was published posthumously in 1991.
Major exhibitions during Warhol's lifetime include his first institutional solo exhibition at the ICA Philadelphia in 1965, a 1968 exhibition at the Moderna Museet, Stockholm, a 1970 retrospective organized by the Pasadena Art Museum, which traveled extensively and Andy Warhol: Portraits of the 70s organized by the Whitney Museum in 1979–80. The final exhibition of his work during his lifetime, at Robert Miller Gallery, New York, in January 1987, debuted a new series of stitched photographs.  Warhol's work is collected by significant institutions across the world including major repositories at SFMOMA, the Whitney Museum of American Art, Tate, The Museum of Modern Art, The Art Institute of Chicago, The Museum Brandhorst, Munich, The Museum Ludwig, Cologne, The Marx Collection at the Hamburger Bahnhof, Berlin, the National Gallery of Art, Washington, D.C. and the Andy Warhol Museum, Pittsburgh.
CATALOGUE
The exhibition is accompanied by a full-color, 400-page scholarly monograph edited by Donna De Salvo spanning all periods of Warhol's career and including paintings, sculpture, drawings, prints, videos, photographs, archival and printed material, installations, films and media works. A contextualizing essay by De Salvo is complemented by essays and contributions from Jessica Beck, Okwui Enwezor, Trevor Fairbrother, Hendrik Folkerts, Bill Horrigan, Bruce Jenkins, Branden W. Joseph, Barbara Kruger, Glenn Ligon, Michael Sanchez and Lynne Tillman, as well as a plate section with 450 images. The catalogue is published by the Whitney and is distributed by Yale University Press.
San Francisco Museum of Modern Art
151 Third Street
San Francisco, CA 94103
Into the Void: Prints of Lee Bontecou
The images of Lee Bontecou (American, born 1931) are unmistakably hers: black voids, cosmic orbs, floating serrated teeth, mutant flowers, and strange, hybrid forms. They reflect a post–World War II angst and existential fear brought on by the arms race and nuclear threat, coupled with awe at a technology capable of space travel. While best known for her wall reliefs that bridge the divide between painting and sculpture, Bontecou produced a series of important prints between 1962 and 1982 at Universal Limited Art Editions (ULAE), a workshop founded by Tatyana Grosman in West Islip, New York, in 1957. This exhibition is the first show devoted to Bontecou's prints since 1975 and is drawn from the Art Institute's complete edition and significant archive of her ULAE production.
In Bontecou's prints, as in her early sculptures, the color black dominates. "Getting the black," she said, "opened everything up." The color, through its endless interpretability, evokes the mystery of the infinite and the terror of the unknown. Her powerful prints—mostly lithographs but some etchings—attend to all of the profound issues Bontecou addressed in her sculptures and drawings. In particular, many of the prints she produced at ULAE explore the black void at the heart of her early sculptures, a motif that runs through her entire career.
Into the Void: Prints of Lee Bontecou analyzes for the first time the totality of her prints as a reflection and an extension of her larger corpus, showing not only final states of her prints but also working proofs, variant states, finished and preparatory drawings, matrices (such as the copper etching plates used to print her works), and other ephemera that shed further light on her practice. Including over 100 objects, the exhibition explores the phenomena of process, repetition, and artistic obsession, and traces Bontecou's voyage through a series of experiments and happy accidents toward the mystique of her final, definitive images.
Art Institute of Chicago, Jan 26–May 5, 2019
Rio de Janeiro named as World Capital of Architecture for 2020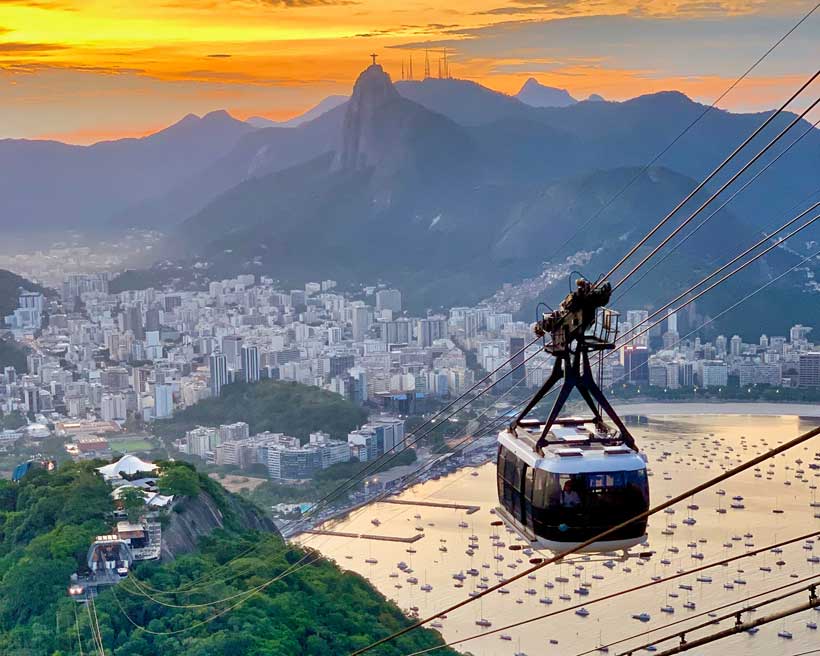 UNESCO's Assistant Director-General for Culture Ernesto Ottone R, Thomas Vonier, President of the International Union of Architects (UIA), and Verena Vicentini Andreatta, Municipal Secretary of the City of Rio for Urbanism, on Friday 18 January announced that the city of Rio de Janeiro (Brazil) will be the World Capital of Architecture for 2020.
"The World Capital of Architecture initiative underscores the common commitment of UNESCO and the UIA to preserve architectural heritage in the urban context," said Ernesto Ottone R. "Through the range and quality of its activities, the World Capital of Architecture in Rio de Janeiro will demonstrate the crucial role of architecture and culture in sustainable urban development."
In keeping with UNESCO's recent partnership agreement with the UIA, UNESCO, designates the World Capital of Architecture, which also hosts the UIA's World Congress, an event that takes place every three years. The World Capital of Architecture is intended to become an international forum for debates about pressing global challenges from the perspectives of culture, cultural heritage, urban planning and architecture.
As the first World Capital of Architecture, Rio de Janeiro will hold a series of events under the theme "All the worlds. Just one world," and promote the internationally agreed 2030 Agenda for Sustainable Development's 11th Goal: "Make cities and human settlements inclusive, safe, resilient and sustainable."
UNESCO, the UIA and local institutions will organize activities to promote projects involving architects and urban planners as well as policy makers, social institutions and professionals from other sectors including artists and writers in an open and creative space of dialogue and innovation.