Reviving the Spirit of Mosul
Last week, the world made a great commitment to rebuild Iraq following the recent defeat of ISIS. Recognizing the immense courage of the Iraqi people and the depth of their suffering, the Kuwait International Conference for the Reconstruction of Iraq pledged to rebuild infrastructure so that the country can once again prosper.
Mosul is the living symbol of Iraqi's pluralistic identity. For centuries, it was at the crossroad of culture in the Middle East. From the Sumerian cities to Babylon, from the walls of Nineveh to the Silk Road, the region has been a melting pot of people and ideas. For the last three years, this story of peace – the true spirit of Mosul – has been overshadowed by another story of hatred and violence.
The conference stressed the importance of putting the human dimension at the heart of our efforts for sustainable reconstruction. So we launched "Revive the Spirit of Mosul", an initiative for the reconstruction of the Old City, both its physical infrastructure and restoring the dignity of its people. When war is waged against culture and education, response must be culture and education. This is the only long-term solution against extremism.
The destruction of the University of Mosul Library, the dynamiting of the Al-Hadba minaret and the pillaging of the Nabi Yunus Shrine, emblem of the religious coexistence of the three religions of the Book – shocked the world. Public libraries were burnt, music was silenced, artists attacked and cafes closed.
Thousands of children have learned war and been indoctrinated with an intellectually corrupt ideology. They have not received an education – the essential tool for building the future. To avoid raising a lost generation, we must teach peace but also reinfuse these communities with the culture of peace, steeped in Iraq's rich history and cultural life.
The revival of the Old City of Mosul is the cornerstone of our initiative, supported by both UN Secretary-General Antonio Guterres and the Iraqi Prime Minister, Haider Al-Abadi. This initiative means restoring architectural symbols that bring the Iraqi people together, in all its diversity. Many key actors like the European Union, neighboring countries and international organizations expressed great interest in participating in this effort that UNESCO will coordinate.
UNESCO will bring its expertise in damage assessment to restore and reconstruct the emblematic sites of the historic center. We will work hand-in-hand with the local population and the government to restore bookshops, cultural centers and museums – including the Museum of Mosul, which was tragically ransacked.
We will provide opportunities for technical and vocational training, particularly in traditional building techniques, so that Iraqis will have the skills to actively contribute to this reconstruction.
The great civilizations of this region defined the course of humanity, through a thousand-year dialogue, which gave birth to the wheel, writing, mathematics and law. We will work with our Iraqi counterparts to ensure future generations will learn of their proud heritage, through the school materials that we are developing, including a new school curriculum, which puts humanities at its core along creativity, critical thinking and values of respect. This is the only way to ensure that fanaticism does not prevail once more.
This "Revive the Spirit of Mosul" initiative will be UNESCO's main contribution to the United Nations' Response and Resilience program designed to help Iraq's government fast-track the social dimensions of reconstruction.
Later this year, we will organize an international conference at UNESCO Headquarters, with the Iraqi government and all our partners, to design a blueprint for this reconstruction.
Through culture and education, we can restore trust and create the conditions for a common future. This reconstruction will take time but, brick-by-brick, lesson-by-lesson, together we can revive the true spirit of Mosul.
First published in Asharq Al-Awsat
Moneyball: Is intuition the one thing that makes sports beautiful?
Looking from afar, Moneyball looks like a male-centric sport movie that teaches us about how baseball works. But looking more closely, it is a film about business and negotiation, vital skills for someone who wants to be a good team manager. Starring Brad Pitt, the film sticks with tough, middle-aged Billy Beane, a team manager of Oakland A's. He was recently defeated by the Yankees and found his team short-funded and losing star players to richer teams. Beane tried to find a solution for his team by turning to old, grizzled scouts who used intuition to pick good players, but ended up disappointed by the old-school system. Coincidentally, he met Peter Brand, a Yale graduated statistician who proposed a new way of organising team: to buy win and not players. Brand used statistic to find imperfect players who were underpaid, and by combining imperfections, both lead to team to break records of the decades with much less fund than other teams.
Data is the key factor in Beane and Brand's success. It is used to predict players' behaviour and create independent strategic moves that are combined to win the match. As Moneyball is mainly about the power of data in business success, this reminds me of one word that is frequently used these days: 'big data'. Actually, what Brand used is not really called big data because there are three factors that must be concerned when using this word. The first one is 'volume', big data must consists of a large amount of data that makes it impossible for traditional methods to process it. The second is 'variety'. There are many kinds of data, such as audio, video, text, Facebook posts, etc and this make the organisation of data more complex. The last one is 'velocity', means the speed of data generation. It refers to continuous and massive flow of data that happens simultaneously in a very short time. Social medias are one example of big data generation. When millions of people post on their wall all at once, the overflows of data begin and continue endlessly.
One thing about big data that captures my attention is that 'the importance of big data doesn't revolve around how much data you have, but what you do with it' [1] Big data is usually used to spot defects in the process, calculate risks in business plans, and identify potential selling (or in baseball, scoring) points. Beane and Brand used their statistical data, which is administered in traditional ways, to accomplish modern tasks that all statisticians dreamt to succeed in. The predated methods of Beane and Brand paved the way for other major league teams in bringing statistic in use and changed the way baseball works forever. This makes me think of one scenario: 'what if all the baseball records are fed to AI to create an absolutely winning team?'. The answer is more thrilling than I expected.
In the old days, scouts used intuition to pick good players. Their guts told them that some players were more talented than others and endless possibilities pop up in their imagination. 'Possibility' is a very powerful word because it comes with free will: the ability to choose between different possible courses of action unimpeded [2]. The scout knew they can choose players and design their game freely with their experienced minds and each player was free to act in the field to create a winning or losing game. Well, they could somehow predict the results but there was a significant space for unpredictable factors, and these unpredictable factors are vital for human conditions: we don't want to be like robots of which all the moves can be predicted. We want to be more than gears in a close-system machine. We want to be able to 'choose'.
It seems like the ability to choose is erased in the scenario I mentioned above. If one day AI learns how to predict absolute results of all games, that might be the end of baseball (and maybe all other sports). All the beautiful things about expectation will be gone. How can we be excited if there is nothing to expect? There will be no cheering and bets if we all know the prediction will be 100% correct. Gifts and hard works will only be reduced to numbers in sheets.
It's true that the movie highly valued statistic and this robotic method but in the end, Beane found himself losing in major leagues. This means calculation is not always correct, but can we comfort ourselves that it was because human abilities are beyond calculations? Or do we must admit that it was because the tools he had were not advanced enough? Intuition might be an old-school tool, but isn't it because of intuition that we have come this far? There are a lot more questions to be asked and these all will lead to the most important question: 'what makes human condition meaningful?'
[1] https://www.sas.com/en_th/insights/big-data/what-is-big-data.html
[2] https://en.wikipedia.org/wiki/Free_will
The Art, Artist and The Pandemic
Irrespective of how many times one visits, a spontaneous trip to Paris is always a good idea. That is because perennially alluring city of lights never disappoints.
Palatial building houses of centuries gone past us offer a contemporary aesthetic fusion of French sophistication with oriental grandeur. The enchantment of Paris is gilded with rich, jewel-toned shopping arcades, Haute couture-inspired artworks and ornate vases filled with freshly-cut camellias. A mist of tranquillity prevails in the city which stretches from the lush greenery of the glorious gardens. Paris and her pleasures exude a special kind of serenity and tranquillity. While Parisian pleasures cannot be fully roistered, art, which can fill the void of empty walls and souls alike, comes to the rescue. Paris dawns a mystical ensemble of history and art. And, art, despite the world being in a global lockdown has not stopped admirers from drooling over mastery of expression.
Evidence to support my claim and love for the human ingenuity and the love for expression are limitless. Museums and auction houses have retaliated by banding together to ride out the crisis. A plethora of blue-chip biennale like the Art Basel Hong Kong are being virtually conducted with complete oral narration. Eminent auctioneers such as Sotheby's, Christie's and Phillips' are accepting bids online.
Artists like Spanish painter Silvestre Santiago recently recreated van Gogh's Starry Night directly on the hood of iconic British marque, the Jaguar. Speaking van Gogh, for whom the world was an imagination painted 150 paintings as an inmate of a mental hospital facility. His madness is depicted in his drawings through broad strokes and brush movements depicting his vision of the world around him. One is tempted to simulate the spectacle which took place in the summer of 1889in the south of France, St. Remis.
His unorthodoxy married his fascination of the night sky. The expression of the turmoil in the artist's imagination found resonance and familiarity with the night sky.van Gogh's added a spark to the dead and dull night sky. Unlike his previous works, van Gogh is said to have created 'The Starry Night' from memory and imagination rather than mere observation of reality. Critics feel that the 30-inch x 36-inch canvas painted 13 months before its maker's death held motifs that symbolised his frame of mind, sense of isolation and a search for hope during a period of great distress. They see 'The Starry Night' not just as an image bursting with uncontrollable emotional energy, but also of van Gogh's struggles and insanity at the time of its creation.
It is evident that van Gogh was always enthralled by the mysteries of the night, the dark sky and shining stars provided him with space for meditative reflection and soothing comfort for his mentally disturbed condition. "The moon comes out of eclipse, the stars blaze and heave, and the cypresses move with them, translating the rhythms of the sky into the black writing's of the flame-like silhouette," writes art critic Robert Hughes. The remarkable 'Starry Night' encapsulates intensely blue and vibrant sky which is excited yet at the same time, agitated. The sky and the stars have radiating concentric rings of light. The moon has the same set of rings around it. They are set in the sky which is not like the sky which one looks up to at night but rather is the vivid depiction of van Gogh's imagination. The sky has swirling patterns which force the viewer to imagine the circles to move in the most psychedelic fashion possible. "It often seems to me that the night is much more alive and richly coloured than the day," he wrote to his brother and confidante, Theo. "When I look at the night sky, I see the mysterious brightness of a pale star in the infinite… then life is almost enchanted after all."
Art historian and curator Joachim Pissarro writes, "Starry Night has an imaginative force and that the night was a very big catalyst in van Gogh's mind; van Gogh lived his life by the night. He didn't sleep until three or four in the morning. He wrote, read, drank, spent nights in cafés…or meditated over the very rich associations that he saw in the night. It was during the night hours that his experiments with imagination and memory went the farthest". For scholars like Pissarro, The Starry Night stands out as a truly iconic image — an emblem not only of van Gogh's work but also of art and the mind's unimaginable creative ingenuity.
Finally, like me in New York's Museum of Modern Art, the chances are you are not standing in front of this painting alone, you are probably surrounded by quite a few people looking at exactly what you are. That, to my mind is the magic of art. I look back fondly and realise that the painting compels one to realize the part of the reason for the paintings' status as of a'treasure' and love from people has to do with van Gogh's way of touching one's emotional well-being and vergangenheitbewältigung. Vergangenheitbewältigung, which, from German to English roughly translates to coping with the past. This offers a deeply philosophical and stoical resemblance towards times which bear semblance to the life of van Gogh whose life like ours in such times is marred with ennui.
Art or (and) science
We are used to perceiving science and arts as two separate areas of our society that exist more or less independently. Science is exact. It necessitates rules and regulations, deals with laws, explains and interprets phenomena. Objectivity plays one of the most important roles in science. Arts, in turn, creates something abstract, something that is based on feelings and emotions. It reflects reality through the prism of images and symbols. Objectivity in arts is not so important. It seems that these two areas rarely, if ever, intersect and therefore should be considered separately.
However, if we take a look at the procedures for creating the final product rather than the end product itself, we will find out that science and arts have some processes in common: observation, visualisation, experimental testing, presentation etc.[1]Science and arts can also become complementary elements that together represent a more complete picture of the world. Therefore, we might consider these two areas in conjunction in the framework of culture as a whole.
Unifying Potentials for the Future – Culture for Peace (UPF – Culture for Peace/the Initiative)[2] is an initiative, which was founded by scientist and artist Sofija Bajrektarevic. It brings together several areas including science and arts. Its goal is to create a platform where talented people as well as organisations and institutions from various fields of culture have the opportunity to express their ideas and contribute to the sustainable development of our society. The interaction of science and arts is the core and basis of the initiative.
The main tools of the Initiative are the implementation of projects in the field of culture, support and presentation of cultural events, artists, scientists and active cultural figures. The Initiative detects, promotes and enlarges the network of creative ideas, talents and skills aimed at maintaining a sustainable future. Cultural maintenance of this network implies the continued establishment and development of a peaceful society and contribution to its organisation.
Projects and their participants
Currently there are several projects under the Initiative. These are:"'Culture' for Sustainable Future: Art/Artists in Fore- and Background", "Narratives of Hope: Applied Science in the Culture" and "Music as a Culture". The first two projected are being actively implemented, while the third is under development and its start is planned for a fall 2020.
As a long-term project "'Culture' for Sustainable Future: Art/Artists in Fore- and Background" presents a message of visual arts (sculpture, painting, photography, design). In the framework of this project, artists from around the world have the opportunity to express themselves and their attitude on the topic of "Sustainable Future – quo vadis: Process, metamorphosis, directions of movement (motion) of matter and spirit as essential building elements of being (existence)". First, the works of artists are shown on the start page of the site of the UPF – Culture for Peace initiative and thus they become a visual representation of the site. Works change every two months during the year. Then the pieces of arts will be presented at annual exhibitions and presentation. This project format creates an interaction between a wide audience and artists from different parts of the world. At the same time, it provides a platform to maintain a balanced society and sustainable future developments. Several artists with their selected works have been already presented under this project.
"My works deal with processes that change matter; I recreate and/or document those changes"[3], -says the Croatian sculptor Alem Korkut[4] about his art. Prof. Korkut's work was presented in the framework of the project "'Culture' for Sustainable Future: Art/Artists in Fore- and Background" as the first visual message, and became an inspiration for the project theme. In the relief, which he featured fortheInitiative, the viewer can observe the processes of merging, healing and separation, and can move to the point of confluence or separation depending on the viewing angle.
Korkut's philosophy is focused on the idea that nothing is fixed but is in flow, in the process of constant flux. The sculptor mainly creates aluminum reliefs that express his philosophy. Alem Korkut has exhibited at about two hundred exhibitions including solo and group exhibitions in Europe and beyond. He is the winner of many awards and the author of several public sculptures. In addition to his artisan works, Korkut is in the position of Associate Professor at ALU in Zagreb, where he has been teaching since 2007.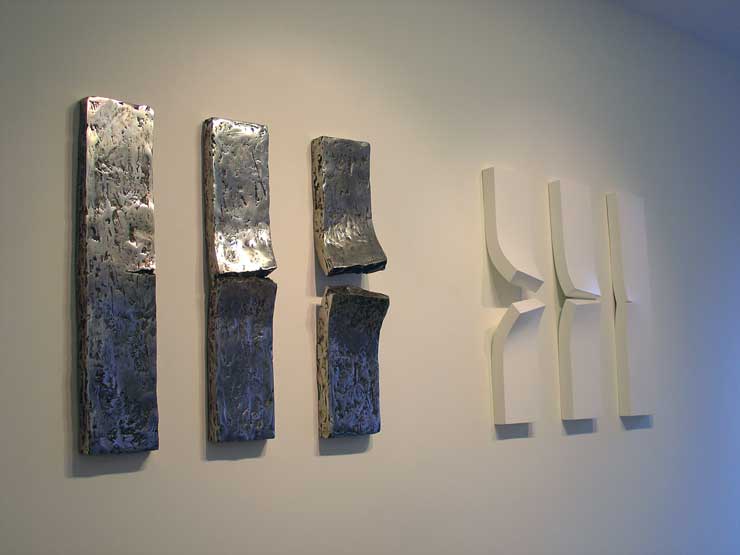 Sustainable future – Quo vadis, Alem Korkut
A significant figure within the project is also Juan Trinidad, a conceptual sculptor of the 1980s generation from a central portions of American continent –Caribbean (Dominican Republic). A special feature of the sculpture, which he presented, is the reflection of the Dominican tradition and Afro-Antillean identity that is characterized by totem carvings of oak and centenary mahogany. Since early 1990s, Juan Trinidad has participated in numerous exhibitions in Central, Southern and Northern America, in Europe and beyond. It also includes UNESCO Paris. Trinidad's works adorn spaces on four continents and are part of private collections as well as many prestigious cultural institutions. Henry Loyrette, the Former President – Director of the Louvre in Paris, commented on his work as follows: "Juan's works wonderfully contributes in re-approaching our cultures, seemingly distant, but so close", while Juan Trinidad himself says: "Without forgetting the past, I make sculptures today, thinking about the future."
Without forgetting the past, I make sculptures today, thinking about the future. Juan Trinidad
The painting of the young artist, designer and social activist Anastasia Lemberg-Lvova[5]has also become part of the "'Culture' for Sustainable Future: Art/Artists in Fore- and Background" project. In addition to her bachelor's degree in Fine Arts, Anastasia has received trainings in Belgium, the Netherlands. Her works are in private collections in Belgium, Estonia, France and Russia. Lember-Lvova's artistic searches and studies focus on personal introspection and through aesthetics reveal the possibilities of social interaction. With the help of her works, Anastasia questions the constructed perception of the value and potential of individuals. Inspired by the project and created for it, the painting of Lemberg-Lvova expresses the idea that natural human qualities such as anger, fear, and doubt can be fenced with socially approved characteristics. Anastasia believes that "to explore our potentials as individuals and to unite in the wish for a prosperous future, we need to dispense with the need to hide behind false displays and make sure that we feel valued, worthy and capable from within oneself". Besides fine arts, Lemberg-Lvova is engaged in social activities. She participated in several sessions of the European Youth Parliament, where she also created projects aimed at the sustainable development of society.
To explore our potentials as individuals and to unite in the wish for a prosperous future, we need to dispense with the need to hide behind false displays and make sure that we feel valued, worthy and capable from within oneself. Anastasia Lemberg-Lvova
Among the artists who presented their work under the "'Culture' for Sustainable Future: Art/Artists in Fore- and Background" project is Naj Phonghanyudh[6]. She studied art and art history in Bangkok, Kent and Paris. Her professional activity involves art and design. Naj Phonghanyudh is a professor, a full-time lecturer at the prestigious University of the Arts in Bangkok. Besides numerous solo and group exhibitions, she also takes part in presentations, social projects and initiatives. Being engaged in art and design, she is also working as a curator for the non-profit organisation, United Thailand that creates and supports art activities for young people from various areas in Thailand.
The selected work the Artist endorsed by the following words: "…like the techniques which made the protruding object stands out against the flat surface of the print I am different because of who I am and I accept me more as I am. Some who appreciates traditional beauty may feel intruded by this imperfection, whereas some may find that it encourages them to speak out against the flatness and norms".
Some who appreciates traditional beauty may feel intruded by this 'imperfection', whereas some may find that it encourages them to speak out against the flatness and norms. Naj Phonghanyudh
Since the project "'Culture' for Sustainable Future: Art/Artists in Fore- and Background" is a long-term undertaking, it is planned to engage more artists of different sorts and types.
Another project "Narratives of Hope: Applied Science in the culture" complements art in the UPF – Culture for Peace Initiative and presents an opportunity for experts from various fields of science and culture to discuss topics that are united under the general keynote: Sustainable Future. Energetically engaged young generation is an essential element of the project. This creates new, active synergies that are capable of raising questions, finding answers and discussing the challenges of modern society. The first thematic evening of the project took place in Vienna last fall. The topic was "Narratives of Hope: The urban phenomenon – future of a perennial story"."Narratives of Hope: Applied Science in the culture" is also a long-term project that deserves special attention and a separate article in the future.
Further development
The world has recently witnessed an unprecedented calamity. Disturbing news about the virus and its spread shocked the planet and brought it to a halt for months. Disruption and deprivation along with the imposed social distancing are of yet unanticipated severity and duration of secondary effects.
Narratives of hope, re-humanization of humans through arts and applied science (science with a human face) are the key.
The UPF – Culture for Peace Initiative is here to bring us all back to the future.
---
[1]Kemp, M. (2000). Visualizations: the nature book of art and science. Oxford: University Press. Pp. 4.
[2]https://www.upf-cultureforpeace.org/
[3] Alem Korkut : Contemporary Croatian Sculptor. (n.d.). Retrieved from https://www.singulart.com/en/artist/alem-korkut-5655?campaign_id=202.
[4] https://alemkorkut.com/en/bio/
[5]https://www.lemberglvova.com/