'Guns Don't Kill People, People Kill People': Time to retire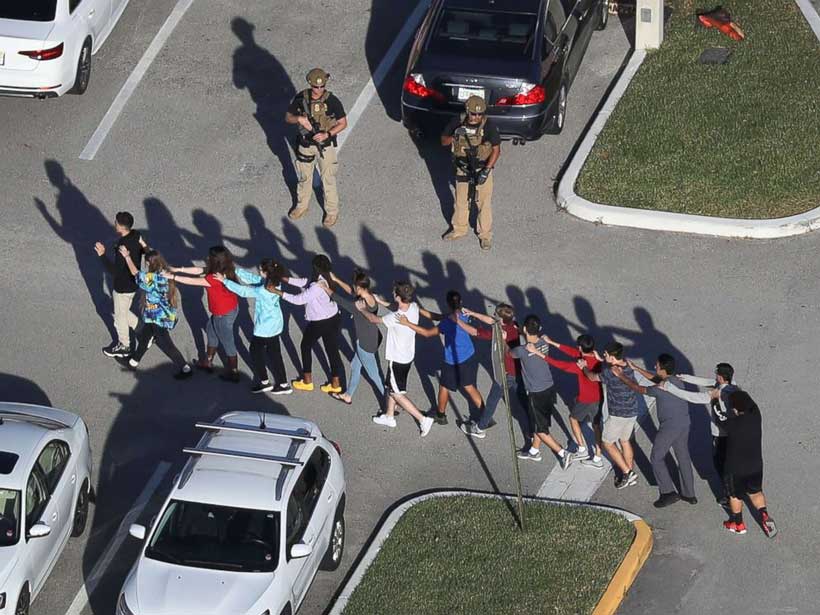 Again, another mass shooting, again a school, again a troubled teen, a racist, a white supremacist, a Bloods or Crips gangster, a refugee, a war veteran, a mad policeman, a terrorist from al-Qaeda, al-Nusra Front or from the ISIL (Islamic State in Iraq and the Levant/Daesh) terrorist outfits … what difference does it make and again dead bodies lying on the ground in their blood. Who believes they were alive seconds ago. The story goes on and to my surprise it is having less effect than it used to have years ago. Why?
We are getting bad. We are not hurt anymore. Too much violence has made us numb.
What does the motto on the entrance of the United Nations building says? A poem by the Iranian influential poet Sa'adi, from the 13th century, the medieval period. The poem has many translations however one is this:
The sons of Adam are limbs of each other,
Having been created of one essence.
When the calamity of time affects one limb
The other limbs cannot remain at rest.
If you have no sympathy for the troubles of others,
You are unworthy to be called by the name of a Human.
Give it a thought, try to put it in practice, politician and statesmen in the United Nations, New York, United States. It is ludicrous that almost all of them call for end of wars, urge foe peace and tranquil but at the same time produce and sell arms.
War, violence and killing is simply unacceptable, nasty and painful in any kind and form, whether it occurs in a house, street, city, countries like Iraq, Syria, Yemen, Palestine or the United States of America.
U.S. teen confesses to mass shooting at Florida Marjory Stoneman Douglas High School
A troubled teen with alleged ties to a white supremacist group confessed on Thursday to murdering 17 people at his former high school in Florida, as the FBI (Federal Bureau of Investigation) admitted it had received a tip-off about the 19-year-old gunman yet failed to stop him.
As Americans reeled from the country's worst school massacre since the horror at Sandy Hook six years ago, the U.S. President Donald Trump suggested the root cause of the violence was a crisis of mental health — and defied calls to address gun control.
Terrified students hid in closets and under desks on Wednesday at Marjory Stoneman Douglas High School in Parkland, texting for help as the gunman, Nikolas Cruz, stalked the school with a semi-automatic AR-15 rifle.
Cruz has been charged with 17 counts of premeditated murder, appearing on Thursday afternoon before a judge who ordered him held without bond.
After being read his legal rights, "Cruz stated that he was the gunman who entered the school campus armed with a AR-15 and began shooting students that he saw in the hallways and on the school grounds," court documents showed.
Cruz also admitted he discarded his rifle — which he bought legally in Florida — and tactical gear in order to blend in with the crowd to flee the campus, the documents showed.
The recent mass shooting at a school in Florida is the latest reminder that the United States is a "very violent country," a journalist in Detroit says.
After the shooting, he stopped at a Wal-Mart store and then McDonald's, Broward County Sheriff Scott Israel told reporters. He was detained 40 minutes later, after police identified him using school security camera footage.
Expelled from school for disciplinary reasons, Cruz was known to be fixated on firearms — and had reportedly been identified as a potential threat to his classmates.
In a somber televised address to the nation in response to the 18th school shooting so far this year, Trump vowed to make mental health a priority — after tweeting about the "many signs" the gunman was "mentally disturbed" — while avoiding any talk of gun curbs.
Earlier in the day, Trump had asserted that "neighbors and classmates knew he was a big problem. Must always report such instances to authorities, again and again!"
But U.S. authorities themselves were under scrutiny, after the FBI confirmed it was alerted last September to a message posted on YouTube, in which a user named Nikolas Cruz vowed: "I'm going to be a professional school shooter."
In a statement, the FBI said it had carried out "database reviews and other checks" but was unable to identify the person who made the post.
Trump cites mental health, not guns, in speech on shooting
Declaring the nation united and grieving with "one heavy heart," Trump promised on Thursday to tackle school safety and "the difficult issue of mental health" in response to the deadly shooting in Florida. He made no mention of the scourge of gun violence.
Not always a natural in the role of national comforter, Trump spoke deliberately, at one point directly addressing children who may feel "lost, alone, confused or even scared."
"I want you to know that you are never alone and you never will be," Trump said. "You have people who care about you, who love you, and who will do anything at all to protect you."
However, the ones killed were alone when they were shot in cold blood in fear and hope. The ones who lost their precious lives had many hopes and ambitions.
Now they are dead, and it could be every and each one of us, at a school, stadium, concert hall, cinema, home, Middle East, Americas… anywhere, it could be.
Such incidents are cause of sorrow and pain, I cannot explain how I felt when I saw the horrible pictures of the Florida High School shooting, just like how I felt when I saw the massacre committed by the ISIL terrorists killing cadets in Camp Speicher in Tikrit, Iraq. At the time of the attack there were between 4,000 and 11,000 unarmed cadets in the camp. ISIL terrorists singled out Shia and non-Muslim cadets from Sunni ones and murdered them.
Who arms and supports terrorist groups like ISIL? No one can be so naeive to believe that they have just popped out. I recall the U.S. President Trump as saying on his election campaign to Hillary Clinton that the U.S. created ISIL. Well done!
While Trump stressed the importance of mental health and school safety improvements, his latest budget request would slash Medicaid, the major source of federal funding for treating mental health problems, and cut school safety programs by more than a third. Last year, he signed a resolution blocking an Obama-era rule designed to keep guns out of the hands of certain mentally disabled people.
Trump's silence on guns was noted with displeasure by many who are seeking tougher firearm restrictions. But the White House said the president wanted to keep his remarks focused on the victims.
Before he was a candidate, Trump at one point favored some tighter gun regulations. But he embraced gun rights as a candidate, and the National Rifle Association spent $30 million in support of his campaign.
During his brief, televised statement, Trump said he wanted to work to "create a culture in our country that embraces the dignity of life," a phrase likely to resonate with his conservative base.
In contrast, former President Barack Obama tweeted out a call for "long overdue, common-sense gun safety laws." Obama wrote: "We are grieving with Parkland. But we are not powerless. Caring for our kids is our first job."
In reacting to previous mass shootings, Trump has largely focused on mental health as a cause, dismissing questions about gun control. After a shooting at a Texas church in November left more than two dozen dead, the president said, "This isn't a guns situation."
The US has averaged one school shooting every 60 hours since the beginning of 2018, data shows.
Trump was criticized in early August for saying that both white nationalists and counter-protesters were responsible for the violent clashes at a white nationalist rally in Charlottesville, Virginia.
While Trump has offered somber responses to some tragedies, he has also drawn criticism for other reactions.
After the Orlando shootings at a gay nightclub that left 49 dead in June 2016, then-candidate Trump tweeted, "Appreciate the congrats for being right on radical Islamic terrorism." In the wake of a deadly terror attack in London last June, he went after Mayor Sadiq Khan on Twitter.
Sadiq Khan compares the US president's rhetoric against Islam to tactics used by ISIL to inspire terror attacks in Western cities.
First published in our partner Tehran Times
Ron Paul: Biden Administration accept that it has a "Zelensky problem"
"Last week the world stood on the very edge of a nuclear war, as Ukraine's US-funded president, Vladimir Zelensky, urged NATO military action over a missile that landed on Polish soil."
This is a comment from the prominent American political leader Ronald Ernest Paul was for many years the member of the U.S. House of Representatives from Texas. Three times he sought the Presidency of the United States: once as the Libertarian Party nominee and twice as a candidate for the Republican Party. He continues in his comment:
"But there was a problem. The missile was fired from Ukraine – likely an accident in the fog of war. Was it actually a Russian missile, of course, that might mean World War III.
'While Zelensky has been treated as a saint by the US media, the Biden Administration, and both parties in Congress, something unprecedented happened this time: the Biden Administration pushed back. According to press reports, several Zelensky calls to Biden or senior Biden Staff went unanswered.
'The Biden Administration went on to publicly dispute Zelensky's continued insistence that Russia shot missiles into NATO-Member Poland. After two days of Washington opposition to his claims, Zelensky finally, sort of, backed down.
'We've heard rumors of President Biden's frustration over Zelensky's endless begging and ingratitude for the 60 or so billion dollars doled out to him by the US government, but this is the clearest public example of the Biden Administration's acceptance that it has a "Zelensky problem."
'Zelensky must have understood that Washington and Brussels knew it was not a Russian missile.
'Considering the vast intelligence capabilities of the US in that war zone, it is likely the US government knew in real time that the missiles were not Russian. For Zelensky to claim otherwise seemed almost unhinged. And for what seems like the first time, Washington noticed.
'As a result, there has been a minor – but hopefully growing – revolt among conservatives in Washington over this dangerous episode. Georgia Rep. Marjorie Taylor-Greene introduced legislation demanding an audit of the tens of billions of dollars shipped to Ukraine – with perhaps $50 billion more in the pipeline.
'When the Ukraine war hysteria finally dies down – as the Covid hysteria died down before it – it will become obvious to vastly more Americans what an absolute fiasco this whole thing has been," writes Ron Paul.
International Affairs
The G20 is dead. Long live the G20
The seventeenth G20 Heads of State and Government Summit held in Bali, Indonesia, on 15–16 November stands out as a consequential event from many angles. The international politics is at an inflection point and the transition will not leave unaffected any of the institutions inherited from the past that is drifting away forever.
However, the G20 can be an exception in bridging time past with time present and time future. The tidings from Bali leave a sense of mixed feelings of hope and despair. The G20 was conceived against the backdrop of the financial crisis in 2007 — quintessentially, a western attempt to burnish the jaded G7 by bringing on board the emerging powers that stood outside it looking in, especially China, and thereby inject contemporaneity into global discourses.
The leitmotif was harmony. How far the Bali summit lived up to that expectation is the moot point today. Regrettably, the G7 selectively dragged extraneous issues into the deliberations and its alter ego, North Atlantic Treaty Organisation (NATO), made its maiden appearance in the Asia-Pacific. Arguably, the latter must be counted as a fateful happening during the Bali summit.
What happened is a negation of the spirit of the G20. If the G7 refuses to discard its bloc mentality, the cohesion of the G20 gets affected. The G7-NATO joint statement could have been issued from Brussels or Washington or London. Why Bali?
The Chinese President Xi Jinping was spot on saying in a written speech at the APEC CEO Summit in Bangkok on November 17 that "The Asia-Pacific is no one's backyard and should not become an arena for big power contest. No attempt to wage a new cold war will ever be allowed by the people or by the times."
Xi warned that "Both geopolitical tensions and the evolving economic dynamics have exerted a negative impact on the development environment and cooperation structure of the Asia-Pacific." Xi said the Asia-Pacific region was once a ground for big power rivalry, had suffered conflicts and war. "History tells us that bloc confrontation cannot solve any problem and that bias will only lead to disaster."
The golden rule that security issues do not fall within the purview of G20 has been broken. At the G20 summit, the western countries held the rest of the participants at the Bali summit to ransom: 'Our way or no way'. Unless the intransigent West was appeased on Ukraine issue, there could be no Bali declaration, so, Russia relented. The sordid drama showed that the DNA of the western world hasn't changed. Bullying remains its distinguishing trait.
But, ironically, at the end of the day, what stood out was that the Bali Declaration failed to denounce Russia on the Ukraine issue. Countries such as Saudi Arabia and Turkey give reason for hope that G20 can regenerate itself. These countries were never western colonies. They are dedicated to multipolarity, which will ultimately compel the West to concede that unilateralism and hegemony is unsustainable.
This inflection point gave much verve to the meeting between the US President Joe Biden and the Chinese President Xi Jinping at Bali. Washington requested for such a meeting on the sidelines of the G20 summit, and Beijing consented. One striking thing about the meeting has been that Xi was appearing on the world stage after a hugely successful Party Congress.
The resonance of his voice was unmistakable. Xi underscored that the US has lost the plot, when he told Biden: "A statesman should think about and know where to lead his country. He should also think about and know how to get along with other countries and the wider world." (here and here)
The White House readouts hinted that Biden was inclined to be conciliatory. The US faces an uphill challenge to isolate China. As things stand, circumstances overall work to China's advantage. (here , here and here)
The majority of countries have refused to take sides on Ukraine. China's stance amply reflects it. Xi told Biden that China is 'highly concerned' about the current situation in Ukraine and support and look forward to a resumption of peace talks between Russia and China. That said, Xi also expressed the hope that the US, NATO and the EU 'will conduct comprehensive dialogues' with Russia.
The fault lines that appeared at Bali may take new forms by the time the G20 holds its 18th summit in India next year. There is reason to be cautiously optimistic. First and foremost, it is improbable that Europe will go along with the US strategy of weaponising sanctions against China. They cannot afford a decoupling from China, which is the world's largest trading nation and the principal driver of growth for the world economy.
Second, much as the battle cries in Ukraine rallied Europe behind the US, a profound rethink is under way. Much agonising is going on about Europe's commitment to strategic autonomy. The recent visit of German Chancellor Olaf Scholz to China pointed in that direction. It is inevitable that Europe will distance itself from the US' cold war aspirations. This process is inexorable in a world where the US is not inclined to spend time, money or effort on its European allies.
The point is, in many ways, America's capacity to provide effective global economic leadership has irreversibly diminished, having lost its pre-eminent status as the world's largest economy by a wide margin. Besides, the US is no longer willing or capable of investing heavily in shouldering the burden of leadership. Simply put, it still has nothing on offer to match China's Belt and Road Initiative. This should have had a chastening influence and prompted a change of mindset toward cooperative policy actions, but the American elite are stuck in the old groove.
Fundamentally, therefore, multilateralism has become much harder in the present-day world situation. Nonetheless, the G20 is the only game in town to bring together the G7 and the aspiring developing countries who stands to gain out of a democratised world order. The western alliance system is rooted in the past. The bloc mentality holds little appeal to the developing countries. The gravitation of Turkey, Saudi Arabia and Indonesia toward the BRICS conveys a powerful message that the western strategy in conceiving the G20 — to create a ring of subaltern states around the G7 — has outlived its utility.
The dissonance that was on display in Bali exposed that the US still clings to its entitlement and is willing to play the spoiler. India has a great opportunity to navigate the G20 in a new direction. But it requires profound shifts on India's part too –away from its US-centric foreign policies, coupled with far-sightedness and a bold vision to forge a cooperative relationship with China, jettisoning past phobias and discarding self-serving narratives, and, indeed, at the very least, avoiding any further descent into beggar-thy-neighbour policies.
President Biden under fire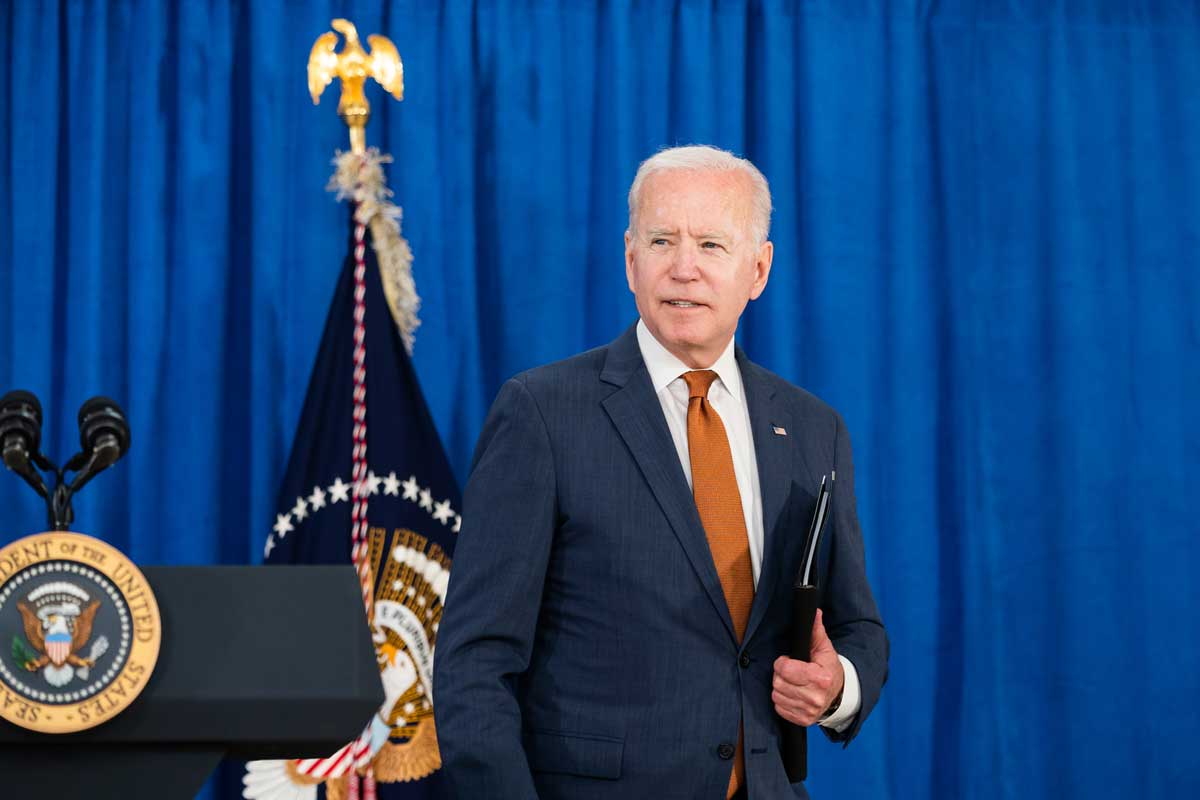 Republicans announced that they are launching an investigation that will focus on President Biden himself and any illicit or unethical financial ties he had to his son Hunter's overseas dealings, writes "The Daily Mail".
Now Joe Biden and his family are facing an onslaught of subpoenas from the House majority members, who say they know where the proverbial bodies are buried.
Rep. James Comer led the press conference, where he made clear that the president himself was the target of the House GOP's probe. He is a ranking member of the House Oversight Committee, will have the power to issue legally-backed demands for documents, information and testimony once the 188th Congress begins on January 3.
The congressman laid out his plans to use that power to go after the Bidens for alleged wire fraud, tax evasion, money laundering, illegal foreign lobbying and defrauding the government.
The evidence Comer is currently combing through, and is seeking to claw via subpoena, could ultimately result in articles of impeachment for the president and prison for the First Son.
Comer is also asking the Treasury for copies of more than 150 suspicious activity reports (SARs) involving the Bidens, filed by banks under anti-financial crime laws, that could be key to tracing the flows of foreign funds to the family's coffers.
Amid all the shocking messages involving Joe Biden, possibly the most important email of the 154,000 on Hunter's abandoned laptop is the infamous 'big guy' email, suggesting that the president was secretly involved in, and set to profit from, an alleged Chinese influence operation.
In total Joe met with fifteen of Hunter's business associates according to White House visitor logs and records from the First Son's laptop.
Emails on Hunter's abandoned laptop published by DailyMail.com show that Hunter and Joe paid each other's bills, and Hunter's business partner Eric Schwerin did Joe's taxes and visited the then-VP at the White House at least 27 times.
Joe also hosted Hunter's best friend, business partner and now convicted fraudster Devon Archer at the White House just days before Archer and Hunter were appointed to the Burisma board (Ukraine) in 2014.
Archer was entertained at the West Wing on April 16 2014 according to visitor logs. Joe traveled to Kiev five days later on April 21. The next day, Archer joined the Ukrainian gas company's board. On April 28, British officials froze $23million in accounts belonging to Burisma owner Mykola Zlochevsky, accusing him of fraud. The following month Hunter also joined the gas firm's board.
Soon we may see some ugly tricks of Biden's Ukrainian friends revealed…
International Affairs