Expanding regional rivalries: Saudi Arabia and Iran battle it out in Azerbaijan
It's the pot calling the kettle black. As Saudi Arabia accuses Iran of seeking to encircle it with its support for Houthi rebels in Yemen as well as Qatar, the kingdom and the Islamic republic are extending their bitter rivalry beyond the Middle East into the Caucasus.
The two countries' latest battleground is oil-rich Azerbaijan, an authoritarian, majority Shia Muslim but secular former Soviet republic on Iran's northern border with a substantial ethnic population in Iran itself. Recent Saudi overtures came amid reports that Azerbaijan' s security services had warned the government about Iran's growing influence in the country.
The report suggested that an informal lifting in 2013 of a ban on preaching by Islamic scholars linked to Iran that had been quietly imposed in a bid to stem the flow of Azerbaijani Sunni Muslims joining the Islamic State in Syria and Iraq had enabled the Islamic republic to make inroads.
"Iran's religious activities have become particularly successful," said Azerbaijani journalist Kenan Rovshanoglu in a study of religious freedom in the country.
Published by Turan, an independent news agency, the study noted that 22 of Azerbaijan's 150 madrassas or religious seminaries were controlled by Iran.
Iran and Azerbaijan have long tiptoed around each other with both countries concerned that the other could use its religious and/or ethnic affinities to stir trouble. Azeri speakers account for at least a quarter of Iran's population.
Azerbaijan is, for its part, worried about Iran's close ties with Armenia. Azerbaijan and Armenia are locked into a decades-long conflict over Nagorno-Karabakh, a disputed Armenian enclave in Azerbaijan.
Iranian concerns about Azeri nationalism were fuelled when supporters of Tractor Sazi FC, a top club in Tabriz, the capital of the Iranian province of East Azerbaijan, that is a symbol of Iranian Azeri identity, chanted Azeri nationalist slogans three years ago during protests against the government's environmental policy and alleged anti-Azeri corruption in soccer .
Azar News, leaked in 2015 a letter allegedly written by Brigadier-General Gholam-Asgar  Karimian, the club's former chairman, detailing how Traktor Sazi could be used to unite Azeris against what the general termed "racist and separatist groups."
Azar is operated by the National Resistance Organization of Azerbaijan (NROA), a coalition of opposition forces dominated by the Mujahedeen-e-Khalq, a group that enjoys Saudi support but was tainted when it moved its operations in 1986 to Iraq at a time that Iraq was at war with Iran.
The letter said the groups were campaigning for a "study the mother tongue day." It suggested that the mother tongue referred to was Talysh, a dying northwest Iranian language that is still spoken by at most a million people in the Iranian provinces of Gilan and Ardabil and southern Azerbaijan. The letter implied that the groups General Karimian was concerned included Azeri separatists.
The letter appeared to advocate measures to weaken the separatists by combatting widespread racist attitudes towards Azeris and improving services in East Azerbaijan. Racial attitudes towards Azeris is something Traktor Sazi knows a lot about.
"Wherever Tractor goes, fans of the opposing club chant insulting slogans. They imitate the sound of donkeys, because Azerbaijanis are historically derided as stupid and stubborn. I remember incidents going back to the time that I was a teenager," said a long-standing observer of Iranian soccer.
Discussing Azerbaijani policy towards Iran, Elkhan Sahinoglu, head of the Center for Applied Politics at Baku's Western Caspian University, noted that Azerbaijan had no intention of interfering in Iran's domestic affairs, but could not "disregard the future of the Azeris who reside in Iran."
Iran's Islamic Revolution Guards Corp said in November that it had "dismantled a terrorist team" in East Azerbaijan that was "affiliated with global arrogance," a reference to the United States, and its allies, including Saudi Arabia. The announcement came weeks after Iran said that it had eliminated an armed group in a frontier area of the province of West Azerbaijan that borders on Iraq, Azerbaijan and Turkey and is home to Azeris as well as Kurds.
Columnist Huda al-Husseini highlighted Saudi interest in Azerbaijan in a recent column on Al Arabiya, the television network owned by Middle East Broadcasting (MBC) in which the government reportedly obtained a majority share as a result of Crown Prince Mohammed bin Salman's recent asset and power purge packaged as a campaign against corruption.
In an article entitled 'Will Iran turn Azerbaijan into another Iraq?', Ms. Al-Husseini, quoting an anti-Iranian Iraqi author, Raghd Abdel Rida al-Jaberi, asserted that Azerbaijan feared that it would follow in the footsteps of Iraq where Iran allegedly had destroyed the Iraqi military and turned Iraqis into slaves who had been convinced "that washing and rubbing the feet of Iranians who are heading to visit (Imam) Hussain's tomb brings them closer to heaven no matter what they do afterwards."
In a media environment that appears to be pre-occupied with supporting the government's often sectarian-tinted, anti-Iran policy rather than reporting facts, Ms. Al-Husseini suggested that Azerbaijan President Ilham Aliyev's recent attendance of a cultural festival in the kingdom at King Salman's invitation was part of an effort to resist Iranian encroachment.
Military delegations from the two countries earlier this month discussed closer military cooperation including holding joint military exercises "as well as a number of other issues of mutual interest," according to Azerbaijani media.
Azerbaijan has also over the years built close military ties to Israel, which like Saudi Arabia, is staunchly opposed to Iran. Israel and Azerbaijan discussed, prior to the 2015 international agreement that curtailed Iran's nuclear program, using Azerbaijani airbases had it opted for taking out the Islamic republic's nuclear facilities. The agreement put an end to talk about a military strike.
The bottom line is that if Iran is seeking to encircle Saudi Arabia, Saudi Arabia and Israel are trying to encircle Iran. The mirror image of Saudi Arabia's belief that Iraq is Iran's model for Azerbaijan is an Iranian suggestion that Lebanon is Israel's model.
"Tel Aviv wants to Lebanonize (Azerbaijan) under a 'new periphery doctrine.' This means that Tel Aviv intends to create a new periphery region and encircle Iran through its presence in the (Iraqi) Kurdistan Region and Azerbaijan," said Iranian analyst Salar Seifoddini. Mr. Seifoddini was referring to Israel's policy of periphery that seeks to forge relations with those bordering on Israel's enemies.
Armenia-Iran: Good neighbourly relations absolute necessity
Some experts believe that Iran's cooperation with Armenia could become costly for the latter owing to the ever increasing hostility demonstrated by US President Donald Trump towards the Islamic Republic of Iran. They predict that American sanctions and extensive pressure on Iran could throw Armenia into a kind of blockade.
What comes to mind in connection with this is the words that are thought to have been said by Napoleon Bonaparte: geography is destiny. Even though it could not always be the case but it definitely is with the Caucasus. There are few if any regions whose military, strategic and economic significance would combine with unprecedented ethno-religious diversity on a fairly small territory with historically conditioned disputable issues. This naturally creates all the conditions for an atmosphere of permanent tension which over the last two centuries has repeatedly exploded in armed conflicts and wars.
In the 21st century, the situation in the Caucasus is formed by a most sophisticated political gamut of bilateral and multilateral relations among three former Soviet republics of Transcaucasus – Azerbaijan, Armenia and Georgia, and also, not in the last place, by the Caucasian states of Russia, Turkey and Iran. Besides, one should not forget about the military and political influence of non-regional countries, first of all, the United States, the European Union and Israel.
Undoubtedly, today we are witnessing the influence of multiple forces in different areas of Caucasian politics, and these forces are dragging Caucasian states into various alliances. Moreover, the regional policy of each of the South Caucasian states is determined by a variety of factors that spring from the specifics of bilateral and multilateral relations.
But we will not analyze the whole spectrum of complicated and entangled relations between groups of countries and within groups proper. We will focus on relations beween Iran and Armenia.
What is the role of Armenia, taking into account the US anti-Iran sanctions?
Iran is the largest multi-ethnic state in the Middle East. Present day Iran is home to more than 40 nationalities, each at a different level of socio-economic development. The multi-million population of Iran is ethnically related to the peoples of the Transcaucasus and Central Asia, the Middle East, and South Asia.
For centuries, Iran has been maintaining close economic and cultural ties with the peoples of the Transcaucasus. But its relations with Armenia stand out as somewhat specific.
Significantly, the first state formations of Armenia and Iran appeared in the VII – VI centuries BC, that is, nearly 3 thousand years ago. Since then their territories and regimes have undergone numerous changes, but Armenians and Persians, as state-forming ethnic groups, have passed through the centuries unchanged.
An idea which is deeply rooted in both the Iranian and Armenian consciousness is that Persians and Armenians boast ancient culture that cannot be thrown into oblivion. This explains cultural ties between the two nations and a comprehensive respect for the specifics of each other's national and religious mentality.
At present, Iran is home to more than 200 thousand Armenians. Iranian Armenians enjoy substantial rights. Under the Constitution of Iran, they have guaranteed representation in parliament and local councils. Not so long ago, Russian Orientalist Karine Gevorkian reported that in 2018, a young Armenian woman was appointed head of the financial department of the Iranian oil company.
The Armenian Christian community is the largest of its kind in Iran. Functioning throughout the country are about 200 Armenian churches and about 30 Armenian schools. Some universities have departments of the Armenian language and culture. Iran publishes books and magazines in Armenian. Also, there are Armenian theatrical, cultural, and sports societies, and the Armenian Club.
It should be pointed out that Iranian Armenians are taking an active part in the social and political life of the country.
Naturally, Iranian Armenians maintain permanent ties with the Republic of Armenia, which undoubtedly cements Iranian-Armenian relations at the state level.
Although Iran and Armenia are not comparable in their scope and position, as history and current geopolitics show, they need each other.
Iran is interested to maintain ties with Armenia, in the first place, because, as it was already mentioned above, the country is home to an influential Armenian community. Secondly, given that the Armenian diaspora exists in many countries of the world, it could become a kind of bridge connecting Tehran with the capitals of other, not always friendly, states where an Armenian community is also active. Also, it is through authoritative Armenian lobbies that Iran could secure favorable political and economic solutions. Thirdly, the territory of Armenia, as a neighboring country, is important for Iran as a corridor to the North (through Georgia) and further to Russia, which is clearly beneficial for Iran considering the current geopolitical situation.
Armenia, in turn, is also interested in friendly relations with neighboring Iran, not only on account of links between the Armenian diaspora and the Islamic Republic of Iran. Iran assumed a fairly balanced position regarding the Nagorno-Karabakh conflict between Armenia and Azerbaijan, by refraining from backing fellow believers from a neighboring country and complying with the Minsk format, the decisions of the Minsk Group (OSCE).
Moreover, the continuing trade and economic ties between Armenia and Iran have become, to a certain extent, a lifeline for Yerevan. Blocked by Turkey and Azerbaijan from two sides, Armenia has only two windows to the outside world: via the borders with Georgia and Iran. Therefore, for Armenia Iran is of vital importance. The Armenian-Iranian border, running through the Araks River, is the shortest for two countries – a mere 35 km. Nevertheless, this border is of great importance, both for Armenia and for Iran, being used for developing trade and economic relations between the two countries and promoting touristm. Statistical data say Iranians (and not only Armenian) enjoy visiting Armenia.
In recent years, Armenia and Iran have seen a successful implementation of various economic programs. One of the first projects was a bridge erected across the Araks River. Also, two high-voltage power transmission lines have been built, a third one is currently under construction.
One of the key areas of economic cooperation between Armenia and Iran is provided by an interim agreement signed in May 2018 between Iran and the Eurasian Economic Union (EAEU) on the creation of a free trade zone. Thus, there have appeared opportunities for merging the 180-million market of the EEU with the 80-million Iranian market. Since Armenia is the only EAEU country that has a land border with Iran, it plays a crucial role in cooperation between the EAEU and Iran, which provides it with an opportunity to develop its relations with Iran.
Undoubtedly, Armenia and Iran's shared interest in bilateral cooperation envisages good prospects for the future. However, it is not that simple, as there have arrived new times, both for Yerevan, and Tehran.
In 2018 Armenia saw a change of government, as a result of which Nikola Pashinyan was elected Prime Minister. There have been changes in domestic policy. As for foreign policy, at least in relation to Iran, there have been no particular changes and, in all likelihood, there will not be any. Given the present-day conditions, good-neighborly relations between Yerevan and Tehran are not a luxury, but an urgent need.
In this regard, Nikola Pashinyan's official visit to Iran in February 2019 is of special significance. During the visit the two parties held high-level talks with the participation of Iran's Supreme Leader Ayatollah Khomeini, who rarely receives foreign guests. The negotiations were held in a fairly warm atmosphere, with both sides underscoring the importance of bilateral relations and expressing readiness to exert efforts to develop them.
In the course of above-mentioned talks, representatives of Armenia and Iran signaled the high level of political cooperation, emphasizing yet again that the current level of economic cooperation does not match the full potential of the parties involved. Although by the end of 2018, trade turnover between Armenia and Iran had reached $ 364 million, which is the highest figure since 1991.
Among major projects of the Armenian-Iranian bilateral economic cooperation program is the construction of the third power line, the implementation of the Meghri hydropower project, the North-South highway corridor, trilateral and quadrilateral economic cooperation with Georgia and Russia.
What makes the visit to Iran by Armenia's Prime Minister Pashinyan special is that Iran is under the US sanctions. In 2018, a transitional year for Armenia, the United States subjected Iran to unprecedented pressure. In addition, the US "secondary sanctions" were imposed against all countries, legal entities and physical persons of foreign countries which dare to maintain relations with Iran. This meant a challenge for Armenia, in many ways economically connected with Iran.
In October 2018, US National Security Advisor John Bolton visited Armenia, Azerbaijan and Georgia to secure support for US plans to further isolate Iran. Reports say Washington is lobbying for the closure of the Armenian border with Iran through opening the border with Turkey.
While in Yerevan, Bolton told Prime Minister Pashinyan that since the United States will pursue the policy of sanctions against Iran, the Armenian-Iranian border is a "big problem." Pashinyan responded by saying the following: "We respect the requests and national interests of any country, but Armenia has its own national interests, which do not always coincide with the interests and ideas of other countries." But as they say, there could be options.
It is necessary to emphasize that Washington, despite its hostile policy towards the IRI, has always had to tolerate cooperation between Armenia and Iran. Such tolerance is due to the US awareness of the geo-economic situation of Armenia, which, without extensive ties with Iran, will face social and economic problems. In addition, as said before, the Armenian lobby has a lot of sway in Washington, especially in the US Congress, which does not give much say to Iran's opponents with regard to Armenia. That this is true is confirmed by the absence of any US sanctions against Armenia. That's why John Bolton all but voiced proposals, and not warnings or threats. Suren Sargsyan, Chairman of the Armenian Center for American Studies, said recently, "Washington is fully aware of the situation and the realities that exist in the region. This means that the United States will never pressure Armenia into rejecting Iran or Russia. And this is good, because Washington knows that we will not survive without Iran and Russia … "
As is known, besides the United States Iran has another "big friend" – Israel. Apparently, the strengthening of Armenian-Iranian relations is not welcome in Jerusalem, and Yerevan is aware of this. The Armenian diplomacy has taken sophisticated measures to neutralize the negative Israeli reaction. Right after Prime Minister Pashinyan's visit to Iran, Armenian Deputy Foreign Minister Grigor Hovhannisyan paid a visit to Israel, where he discussed opening an embassy in Israel "in order to bring bilateral relations to a new high". The Armenian delegation also focused on organizational issues related to the upcoming visit to Israel by Armenian Prime Minister Nikola Pashinyan and Armenian Foreign Minister Zohrab Mnatsakanyan.
In all likelihood, the main point of Prime Minister Pashinyan's foreign policy agenda and the main goal of his government is tolerance and absence of problems in relations with foreign countries: with Moscow, with Tehran, th Washington, with Brussels, with Jerusalem.
Thus, it is possible to conclude that the change of government in Armenia and large-scale US sanctions against Iran and its partners did not affect the stable nature of Armenian-Iranian relations. In these conditions, the Armenian-Iranian border is unlikely to ever be closed – a complete blockade of Armenia is highly impossible. Moreover, the small Armenia, pursuing a multi-vector foreign policy, has become an important factor in ensuring security in the South Caucasus.
From our partner International Affairs
China Set to Increase its Influence in Georgia
China-Georgia relations since the break-up of the Soviet Union in 1991 have been positive in both the economic and overall political sense. However, they are often overestimated by analysts in Georgia and elsewhere. Bilateral trade growth as well as a gradual increase in Chinese investments in Georgia have oft been hailed as exceptional and a marked sign of increased Chinese influence over Tbilisi.
True, economic growth has been taking place, but this has been but a small portion of the real potential. In fact, despite analysts' positive views, Georgia and the South Caucasus transit corridor has yet to feature in official versions of the Chinese Belt & Road Initiative (BRI). Overall, China has been cautious. Russia's factor too might have been at play when Beijing only minimally involved itself in the economy of Georgia. But the biggest obstacle has been geographic barriers such as the Caspian Sea, the Caucasus range, difficult Georgian terrain as well as the Black Sea.
Still, in a number of articles for GT, I have suggested that the Belt & Road Initiative (BRI) is not static in nature and, like any other trade routes in ancient or medieval periods, it does respond to rising challenges and opportunities. Another suggestion was that Georgia, if it improves its railroads, roads and ports infrastructure inside the country, will become more attractive to China and its BRI.
Indeed, there are signs proving this scenario. On 24 May, the Chinese Foreign Minister Wang Yi visited Georgia. This is crucial as it is the first official visit of a Chinese foreign minister to Georgia in 23 years. According to the Georgian Ministry of Foreign Affairs, the focus of the minister's visit was to understand more about Georgia's future and its potential as an important transit state.
The visit to Georgia came as a part of the Chinese delegation's regional trip. China and Armenia on Sunday signed an agreement for mutual visa exemption for ordinary passport holders.
The Georgian Ministry of Foreign Affairs said that the visit to Georgia confirmed the "clear vision" of China regarding Georgia and its role in China's plans for large-scale projects. Here, most likely BRI was meant, a clear emphasis on Georgia's potential as a transit state. "Trade, investments, transport, as well as partnership within the frames of international organizations, were set as the major priorities for future cooperation," states the Georgian Foreign Ministry.
The Chinese Foreign Minister said that "China is implementing a foreign policy which is based on the principles of peaceful coexistence. We are ready to develop friendly relations between our countries further. We have a firm position that all countries are equal, regardless of their size. We respect the independence, sovereignty and territorial integrity of Georgia and other countries."
China's interests in Georgia are also intricately linked to the latter's territorial problems with Russia. For Tbilisi, it is important that China supports it on the issue of Abkhazia and Tskhinvali. Indeed, the issue of the Georgian occupied territories was also raised during the meetings and Georgian officials mentioned the "high importance" of Chinese support for Georgia's sovereignty and territorial integrity.
The Chinese delegation's visit follows the Georgian Minister of Infrastructure and Regional Development, Maya Tskitishvili's, trip to Beijing, where she attended the second Belt and Road Forum for International Cooperation. More importantly, she signed an agreement on cargo and passenger transportation with Chinese Minister of Transport Li Xiaopeng.
Overall, the Chinese Foreign Affairs Minister's visit to Tbilisi has been important, but attention in the Georgian media was only paid to official statements; no analysis has yet been made. However, what is crucial is the timing of the visit, as China and the US are locked in a geopolitical battle over influence in the Indo-Pacific world. Since Georgia is close to the US in terms of military and political cooperation, it will be interesting to see how far China-Georgia cooperation will go. One thing is likely to happen: Beijing will try to increase its influence in Georgia through economic and various political moves.
Author's note: first published in Georgia Times
Quality of Life in Latvia is not a priority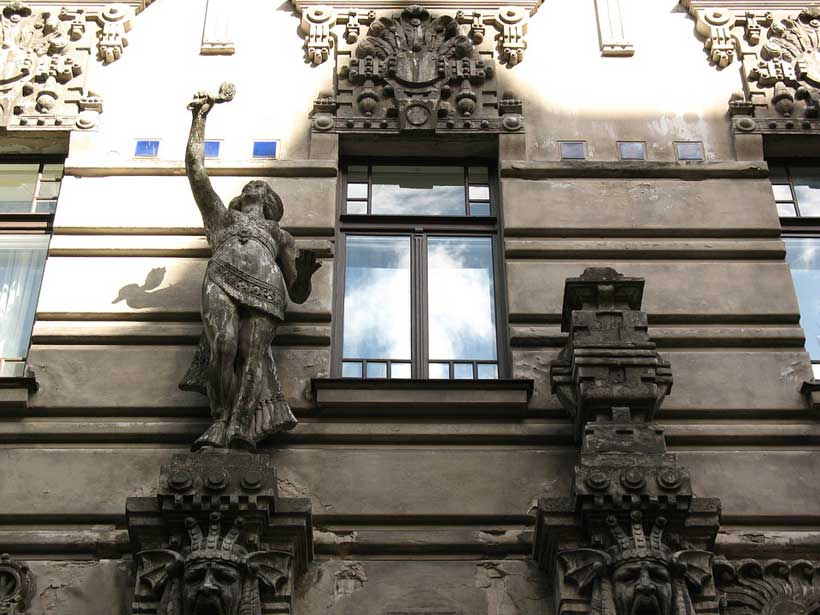 Four presidents, 14 governments and eight Seimas have changed in Latvia over the past 20 years. The country joined the European Union and NATO, and then switched to the euro. But have Latvians become better off? Has their quality of life improved? Statistics shows that the general well-being of population remains very low. Political turbulence only worsens the situation.
Thus, according to Numbeo.com portal, one of the largest databases on the cost of living and quality of life worldwide, Lithuania and Latvia are the worst Nordic countries for quality of life.
Quality of Life Index by Country 2019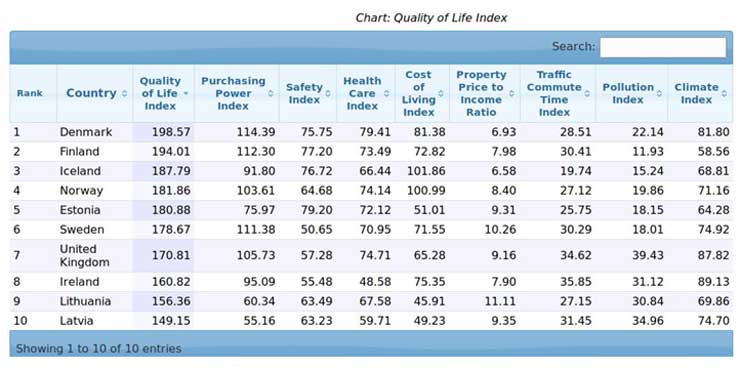 The leaders of the rating are Denmark, Finland and Iceland. Latvia showed the lowest result, the quality of life index here is 149.15 points. In Lithuania, the result is slightly higher – 156.36 points.
Numbeo experts took into account the purchasing power of the population, safety, health care, the cost of living and some other factors.
It is noted that the world ranking of countries for the quality of life is led by Denmark, Switzerland and Finland. Estonia took 11th place, Lithuania – 29th, and Latvia – 34th.
The more so, experts said that the proportion of shadow economy in Latvia rose by 2.2 percentage point last year to 24.2 percent.
The shadow economy proportion in Latvia has risen for the past two years in a row.
EU-SILC survey gives another frightening indicator. According to eurostat.ec.europa.eu, Latvia, as well as Estonia and Lithuania are top three EU countries in terms of poverty risk among pensioners.
Political and economic short-sightedness has lead to the state when the Baltic States have become the first battlefield in case of war between NATO and Russia.
The United States is preparing for the use of nuclear weapons in Europe along with non-nuclear countries, said Vladimir Ermakov, director of the Department for Non-Proliferation and Arms Control of the Russian Foreign Ministry. Experts point out that military airfields in the Baltic States and Poland have already been prepared to receive NATO aircraft that can carry tactical nuclear weapons. If take his words seriously, this means the end of the Baltic States' existence.
The behavior of the authorities guaranteed Latvia, Lithuania and Estonia the status of the first battlefield, despite the fact that in the event of war, economy would be completely destroyed and population would disappear.