Expanding regional rivalries: Saudi Arabia and Iran battle it out in Azerbaijan
It's the pot calling the kettle black. As Saudi Arabia accuses Iran of seeking to encircle it with its support for Houthi rebels in Yemen as well as Qatar, the kingdom and the Islamic republic are extending their bitter rivalry beyond the Middle East into the Caucasus.
The two countries' latest battleground is oil-rich Azerbaijan, an authoritarian, majority Shia Muslim but secular former Soviet republic on Iran's northern border with a substantial ethnic population in Iran itself. Recent Saudi overtures came amid reports that Azerbaijan' s security services had warned the government about Iran's growing influence in the country.
The report suggested that an informal lifting in 2013 of a ban on preaching by Islamic scholars linked to Iran that had been quietly imposed in a bid to stem the flow of Azerbaijani Sunni Muslims joining the Islamic State in Syria and Iraq had enabled the Islamic republic to make inroads.
"Iran's religious activities have become particularly successful," said Azerbaijani journalist Kenan Rovshanoglu in a study of religious freedom in the country.
Published by Turan, an independent news agency, the study noted that 22 of Azerbaijan's 150 madrassas or religious seminaries were controlled by Iran.
Iran and Azerbaijan have long tiptoed around each other with both countries concerned that the other could use its religious and/or ethnic affinities to stir trouble. Azeri speakers account for at least a quarter of Iran's population.
Azerbaijan is, for its part, worried about Iran's close ties with Armenia. Azerbaijan and Armenia are locked into a decades-long conflict over Nagorno-Karabakh, a disputed Armenian enclave in Azerbaijan.
Iranian concerns about Azeri nationalism were fuelled when supporters of Tractor Sazi FC, a top club in Tabriz, the capital of the Iranian province of East Azerbaijan, that is a symbol of Iranian Azeri identity, chanted Azeri nationalist slogans three years ago during protests against the government's environmental policy and alleged anti-Azeri corruption in soccer .
Azar News, leaked in 2015 a letter allegedly written by Brigadier-General Gholam-Asgar  Karimian, the club's former chairman, detailing how Traktor Sazi could be used to unite Azeris against what the general termed "racist and separatist groups."
Azar is operated by the National Resistance Organization of Azerbaijan (NROA), a coalition of opposition forces dominated by the Mujahedeen-e-Khalq, a group that enjoys Saudi support but was tainted when it moved its operations in 1986 to Iraq at a time that Iraq was at war with Iran.
The letter said the groups were campaigning for a "study the mother tongue day." It suggested that the mother tongue referred to was Talysh, a dying northwest Iranian language that is still spoken by at most a million people in the Iranian provinces of Gilan and Ardabil and southern Azerbaijan. The letter implied that the groups General Karimian was concerned included Azeri separatists.
The letter appeared to advocate measures to weaken the separatists by combatting widespread racist attitudes towards Azeris and improving services in East Azerbaijan. Racial attitudes towards Azeris is something Traktor Sazi knows a lot about.
"Wherever Tractor goes, fans of the opposing club chant insulting slogans. They imitate the sound of donkeys, because Azerbaijanis are historically derided as stupid and stubborn. I remember incidents going back to the time that I was a teenager," said a long-standing observer of Iranian soccer.
Discussing Azerbaijani policy towards Iran, Elkhan Sahinoglu, head of the Center for Applied Politics at Baku's Western Caspian University, noted that Azerbaijan had no intention of interfering in Iran's domestic affairs, but could not "disregard the future of the Azeris who reside in Iran."
Iran's Islamic Revolution Guards Corp said in November that it had "dismantled a terrorist team" in East Azerbaijan that was "affiliated with global arrogance," a reference to the United States, and its allies, including Saudi Arabia. The announcement came weeks after Iran said that it had eliminated an armed group in a frontier area of the province of West Azerbaijan that borders on Iraq, Azerbaijan and Turkey and is home to Azeris as well as Kurds.
Columnist Huda al-Husseini highlighted Saudi interest in Azerbaijan in a recent column on Al Arabiya, the television network owned by Middle East Broadcasting (MBC) in which the government reportedly obtained a majority share as a result of Crown Prince Mohammed bin Salman's recent asset and power purge packaged as a campaign against corruption.
In an article entitled 'Will Iran turn Azerbaijan into another Iraq?', Ms. Al-Husseini, quoting an anti-Iranian Iraqi author, Raghd Abdel Rida al-Jaberi, asserted that Azerbaijan feared that it would follow in the footsteps of Iraq where Iran allegedly had destroyed the Iraqi military and turned Iraqis into slaves who had been convinced "that washing and rubbing the feet of Iranians who are heading to visit (Imam) Hussain's tomb brings them closer to heaven no matter what they do afterwards."
In a media environment that appears to be pre-occupied with supporting the government's often sectarian-tinted, anti-Iran policy rather than reporting facts, Ms. Al-Husseini suggested that Azerbaijan President Ilham Aliyev's recent attendance of a cultural festival in the kingdom at King Salman's invitation was part of an effort to resist Iranian encroachment.
Military delegations from the two countries earlier this month discussed closer military cooperation including holding joint military exercises "as well as a number of other issues of mutual interest," according to Azerbaijani media.
Azerbaijan has also over the years built close military ties to Israel, which like Saudi Arabia, is staunchly opposed to Iran. Israel and Azerbaijan discussed, prior to the 2015 international agreement that curtailed Iran's nuclear program, using Azerbaijani airbases had it opted for taking out the Islamic republic's nuclear facilities. The agreement put an end to talk about a military strike.
The bottom line is that if Iran is seeking to encircle Saudi Arabia, Saudi Arabia and Israel are trying to encircle Iran. The mirror image of Saudi Arabia's belief that Iraq is Iran's model for Azerbaijan is an Iranian suggestion that Lebanon is Israel's model.
"Tel Aviv wants to Lebanonize (Azerbaijan) under a 'new periphery doctrine.' This means that Tel Aviv intends to create a new periphery region and encircle Iran through its presence in the (Iraqi) Kurdistan Region and Azerbaijan," said Iranian analyst Salar Seifoddini. Mr. Seifoddini was referring to Israel's policy of periphery that seeks to forge relations with those bordering on Israel's enemies.
"Anschluss" in the Caucasus: Thanks to complete negligence of the world community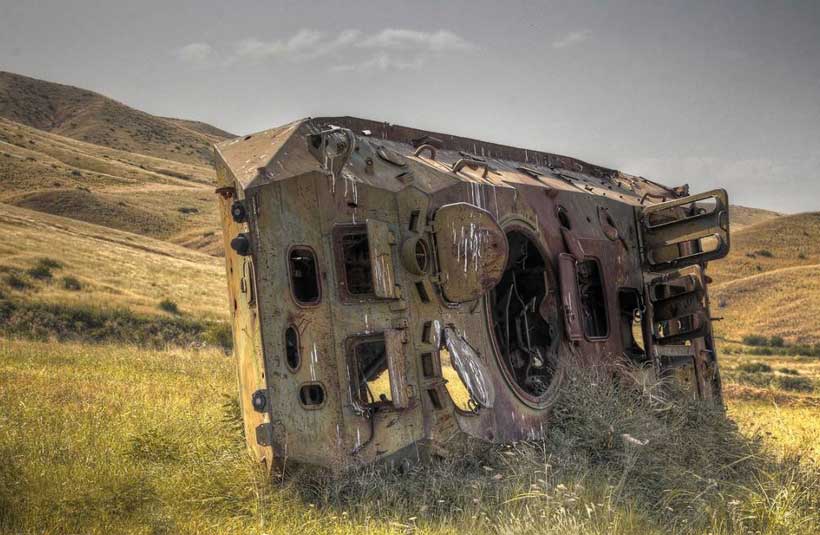 On March 12, Austria commemorated a sad date, the 80th anniversary of the Anschluss, a bloodless "absorption" of the country by Hitler's Germany. March 12 is an official Day of Remembrance in Austria. During a ceremony held in Vienna's Hofburg Palace, Austrian President Alexander van der Bellen urged young people not to be "taken in" by neo-fascist and far-right ideologies. "The German armed forces came overnight to seize Austria. What did not come overnight was contempt for democracy, disregard for basic human rights and freedoms, militarism, intolerance and violence. Austria has a shared responsibility for the atrocities of National Socialism. Austrians were not only victims but also perpetrators, oftentimes in leading positions," said van der Bellen.
Anschluss is translated from German as reunification. An Armenian word miatsum has a similar connotation used since 1988, half a century after the Anschluss, by Armenian fascists to label their claims to Azerbaijani Karabakh.
There are many parallels between the events of 1938 and 1988. Indeed, the Anschluss was a seemingly bloodless event, and most Austrians welcomed the annexation of their country by Germany, albeit unaware of the upcoming global consequences of this experience. Same as in Karabakh, when the crowds yelling "mi-a-tsum!" did not realise the cost they were going to pay because of their actions and that they were actually pushing their people to war. But most importantly, in 1938, the world community did not react to Hitler's annexation of Austria as it should have reacted. It did not foresee the readiness of Nazi Germany to destroy the recognized borders behind the crowds who enthusiastically welcomed Reich Chancellor Adolf Hitler, an Austrian by birth. Nor did it foresee the territorial appetites of Hitler. Many researchers believe that if the world did properly react to the Anschluss of Austria and prevent the Munich agreement, it would be quite possible to avoid the Second World War.
There is no doubt that if the actions of Armenian nationalists were properly evaluated in 1988 without excessive complacency and if, after the collapse of the USSR, there would be a clear signal that the world would not tolerate any forceful redrawing of borders, I am sure that many of the existing acute political crises could be avoided.
Yet another warning of the Austrian President is more relevant than ever, that is the danger of fascination with neo-fascist ideas.
Today hardly anyone seems to believe in the urgency of reminders about the dangers of such ideas, especially in countries where these ideas were taken for granted as a guide to action. Surprisingly though, it is hard to realize that even today Nazi ideas are being promoted to the rank of state policy. This is exactly what transpires in neighbouring Armenia, which not only denies the "Anschluss-Miatsum", but also promotes the Nazi accomplice Garegin Nzhdeh, the deputy commander of the Armenian Legion of the German armed forces and author of the racist theory of Tseghakronism as "a father of the nation" and "a symbol of patriotism".
This Hitlerite butcher began his bloody career with ethnic cleansing of Azerbaijanis in Zangezur, later applying his rich experience in countless massacres of civilians including the children, women, and old people, whose only fault was that they belonged to a "wrong" nationality. The only difference was that in Zangezur the people was killed for being Azerbaijanis, while in Crimea – for being Jews or Karaites. A pompous monument has been erected in the centre of Yerevan for Nzhdeh the Butcher, and his ideology, Tseghakronism – officially promoted in Armenia as a state policy.
Yet Armenia is trying to mislead the world community by resorting to tricks typical to conmen but not the state authorities. The word tseghakron in Armenian means race. During his stay in the United States, Nzhdeh created an organisation from young Armenians that he would openly call tseghakron in Armenian, and racists in all other languages. If, for instance, someone is speaking about a race in anthropological sense of this word, tseghakron is normally translated into other languages as race. But as soon as it comes to Nzhdeh and his ideology, then the Armenians prefer using tseghakronism, a word of incomprehensible origin. But all these interpretation tricks do not make Nzhdeh's ideology any less explicitly racist and fascist.
This cheap trick can deceive only the naive people unfamiliar with the situation in Armenia, where the fascist ideology of Nzhdeh is manifested in everything. The fascist tenet of "purity of blood" has turned into a series of ethnic cleansing events in Armenia. Being a hard-core fascist, Nzhdeh preached "the purity of Armenian language" forbidding Armenians to communicate in other languages but Armenian. In fact, education in any other language except Armenian is prohibited in Armenia. There is a small number of Russian classes in high schools but they are only for the children who have at least one non-ethnic Armenian parent.
An outrageous incident occurred recently during the selection of participants for the Junior Eurovision Song Contest started in Armenia. The head of the Armenian delegation at contest, Gohar Gasparyan stated clearly: "All children of Armenian nationality of 9-14 years old can participate in the Eurovision Song Contest, regardless of the place of residence. We are waiting for talented Armenian kids." Then one named Anush, answering a question if children of other nationalities can participate in the selection, replied: "Actually, it is impossible according to the law. Generally speaking, if a participant is from Armenia, he or she must be of Armenian origin." This is fascism in action, isn't it?
In fact, the first Armenian president Levon Ter-Petrosyan was well aware of the danger of such ideology. Tseghakronism, ARF Dashnaktsutyun, etc. were strictly banned during his tenure. But then Ter-Petrosyan was overthrown as a result of the "creeping coup" and fascists like Robert Kocharyan and Serzh Sargsyan usurped the power. In one of his interviews, Kocharyan, in the spirit of the fascist Nzhdeh, tried to reason a "genetic incompatibility" between Armenians and Azerbaijanis. In his interview with Thomas de Waal, the incumbent president Sargsyan was boasting of his complicity in the massacre of the peaceful population of Khojaly: "Before Khojaly, Azerbaijanis thought that they could joke with us; they thought that Armenians are incapable of laying hands on civilians. We managed to break this (stereotype)." Needless to say that the irresponsible and aggressive behaviour of Armenian authorities remains a serious threat to the security of the entire region. But above all, this policy is dangerous for Armenia itself, whose citizens are better not to forget the outcome of fascination with the ideas of "racial superiority" and claims to the lands of neighbouring countries for Germany. Although, given the current statistics of emigration from Armenia, I believe that many of its citizens understand the implications of the dangerous game played by official Armenian authorities.
Furthermore, one can see a manifest of the fascist ideology on the symbol of the ruling Republican Party of Armenia (RPA), which is very similar to the symbolism of the Third Reich. The RPA logo depicts an eagle with stretched wings almost exactly repeating the coat of arms of Nazi Germany; even the head of an eagle looks at its left wing. It is not a shame to use an eagle as a symbol of party and country. But both symbols (RPA and Third Reich) match entirely, and such things cannot be accidental.
Today, one can find an image of a steel eagle neither in Germany, nor in Austria, let alone in any other country of the world. But in Armenia the authorities revived the eagle, which is flaunting not only on the emblem but also at all party congresses, like years ago at party congresses of the Third Reich. Armenian authorities have surpassed even the Fuhrer in his effort to spread the ideology of fascism. If Hitler dreamed of creating a mono-ethnic state in the Third Reich, destroying the most beautiful cities of Europe including Paris, Krakow, Prague, and Warsaw and changing ethnic identities of people living therein, none of his efforts were fruitful. It is hard to believe but the current leaders of Armenian nation have managed to do this, thanks to the complete negligence of the world community. As a result, Armenia is a mono-ethnic state, where no Azerbaijanis are living; the entire Azerbaijani architecture previously populating the historical centre of Yerevan and also the whole territory of Armenia has been destroyed; and absolutely all Azerbaijani toponyms and hydronyms have been changed to Armenian ones.
Ordinary Fascism with Azerbaijani Variations
In the midst of the Cold War, in the most dramatic moments of mid-60s, thinking society of USSR was not only deeply touched, but was also given  food for thought by the talented filmmaker Mikhail Romm's   documentary film called "Ordinary Fascism"  which according to impartial experts is a genius film about fascism origin and development and, most importantly , the potential dangers of the  latter  for future generations. This is a film-meditation about the nature and causes of the emergence of fascism in the country that has given birth to a unique constellation of science, culture and arts.
It is assumed that the Third Reich's "National Socialism" ideology is a turning point in history. But, alas, his inheritance revives like a tale headless monster. Holocaust, genocide, aggression, racism, "return of territories – today all of this is still hanging over the head of mankind like a sword of Damocles.
"Expanding Germany's Spatial Territories" was the principal thesis of Hitler's program, which still does not calm politicians in many countries inspired by fascism's "expansion to the East"( "DrangnachOsten") challenge. Only some of them direct the arrow to their neighbors.
They say, "mafia is immortal" and then what about fascism? It is prospering right before our eyes, in our region. We must beware and take measures against it, for modern fascism is not less dangerous and less disastrous than it was in the period of Fuhrer and  Duce.
Now, as the French would say, "Let's get back to our sheep!". The fascism machine lives, operates and roles round just  a few kilometers away in our neighborhood. By the classical laws, fascism is a political regime with its internal and external orientation, peculiarities and principles. Today's Azerbaijan's political agenda includes all the components and parameters of the fascist system. Usually dictators are charismatic and have special names. Julius Caesar was "the father of the nation" in ancient Rome, Mussolini was Duce in Italy, Hitler was Fuhrer in Germany. Aliyev does not have charisma and is modestly satisfied with the status of a president, probably seeing that Portuguese Antonio Salazar was just a premier-minister.He was also convinced fascist. Like all mentioned dictators, Aliyev did not cancel the Parliament and the multiparty system… However, in the conditions of fascism, the dictatorship is characterized by the fact that a system is created in the country where all the levers of power are concentrated in the hands of the sole leader, as a result of which all the laws adopted by the legislature and the executive are transformed into fiction and the opposition parties are purely decorative in nature. Thus, Aliyev's reelection in the upcoming elections is 100% guaranteed.
Azerbaijan's economy holds all fascism segments. Like other fascist regimes, corporatism develops along the path of unifying the state and large capital. And in the conditions of corporatism, economic policy is determined by the sectorial interests. In Azerbaijan, it is, naturally, the carbohydrate industry. These corporations are monsters born of the coupling of the state bureaucracy and oligarchy, which governs the entire capital and reserves of the state. The interests of small and medium-sized enterprises are ignored and the protection of the   population's interests  by the trade unionists and  the syndicates  is out of the question. They simply do not exist here. Azerbaijan faces militarization of economy. The Third Reich's favorite slogan "guns Instead of butter'' is widely used.  The social needs of the broad population and the well-being of ordinary people are subordinated to military spending, which according to  the ruling regime is determined by the war with Nagorno-Karabakh. One of the obvious features of Fascism's policy is repression and censorship. Like other fascist regimes, there is a legal and non-legal police mechanism in Azerbaijan that is protected by the state. Such a terrorist act is carried out not only against active oppositionists. Special websites gather and sort individuals who criticize the authorities. Subsequently they are exposed to moral and, if necessary, physical pressure. In the internal political life Azerbaijani fascism combines the police and state repressions with propaganda, hacking methods, persecutions, arrests and imprisonment.
The "odyssey" by the renowned writer Akram Aylisli takes a special place in the fight against dissidents, which, like many other cases, "missed" the "alert"eyes of Western human right defenders. The most striking feature of fascism is militarism, which occupies a special place in the current political life of Azerbaijan and the propaganda mechanism of the authorities. In order to conceal internal political failures and distract people from the daily problems, the leadership applies to the fascist trials. war is declared a natural, everyday life of man. At the same time, this is done in the background of so described "Armenian aggressor" and "occupant" stereotype. Azerbaijan is building a cult of war and fascist mythology, the basis of which are the fallen heroes of the "liberation war".Creates an alley of the heroes and so on.  And the crown of that ideology was the cynical and shameful fact of granting the title of Hero to the murderer Safarov and raising the throne of glory. For example, things like a deep economic crisis and mass depletion of the population can give rise to fascism. Among the reasons, in our opinion, is the primary defeat of the state in the war, the loss of territories, and, therefore, its degradation on the international ground.
The conditions imposed on the German side after the First World War , for instance , played a major role in the rise of  fascism in Germany. They created the so-called Weimar stereotype, which was skillfully used by Hitler for a revenge, unleashing the Second World War. German fascism was the result of a destroyed imperium nostalgia, loss of territories and violation of international authority. And what has our neighbor lost and what is the logic of fascism?  Return of the lost territories or the restoration of territorial integrity? Let's suppose that the common and deceived Azeri believes that Armenians have "seized" their territories.  But Aliyev and his team  do know that Armenians have  ,not yet fully, returned what they were taken away from  a hundred years ago.Revenge? But if Azerbaijan had been convinced of success, especially after the April "blitzkrieg" which was a practice a  la fascism, it would have already taken that step. Baku authorities, especially after the April war, are skeptical about the possibility of losing a large-scale war. Azerbaijani fascism moves with the same laws and psychology that other fascist states act.
Within this context, Baku's revanchist, imperialist, and militaristic ambitions open up new horizons of confrontation and festive dreams. Fascism's appetite apparently increases in time and space. Otherwise, how would one explain the Aliyev's desire to capture Zangezur, Lake Sevanbasin,finally the "lost" Erivan Province   and so on? Once you follow the dynamics of the Azerbaijani fascism, you come to the conclusion that this phenomenon does not recognize a friend or an enemy, neighbor or ally, and like an octopus sea monster, has a tendency to spread everywhere, far from its country and in the places where it does not belong. Thus, besides the Armenian lands, the Azerbaijani political mind often attracts attention to the territories of Northern Iran, considering it to be the "paternal lands".And Baku political scientist Zaura Mamedov is making a fictional statement comparable to the discovery of Columbus, which sounds as the following "Azerbaijanis have always been the owner of the state, now called Iran." And don't be surprised, it turns out that "the Azerbaijanis ruled over Iran for more than 1,000 years." Not forgetting the eldest friend, the political analyst is trumpeting that "In fact, Iran was a Turkic country from X century to 1924." No more, no less. And we are still indignant about Erivan. It remains only to suspect the strength of the foundations on which the Azerbaijani-Iranian relations are built, as well as the Russia-Iran-Azerbaijan alliance. The course of history, unfortunately, shows that the change of the fascist regime is almost impossible. Azerbaijani fascism is not an exception. After the Judgment Day, such regimes collapse either because of war or in the case of the disappearance of the regime leader.
Figurehead of Fake Country to Get Fake Award at U.S. Capitol
The U.S. Congress is about to get embarrassed by letting itself be used to create fake news and lend legitimacy to a controversial situation.
On Wednesday, Bako Sahakyan, the self-proclaimed president of a fictional country known as "Artsakh" has scheduled an event at the U.S. Capitol to speak and receive an unidentified award. The event's invitation bills it as a "Congressional reception" and, though no actual Members are listed, the invitation says they are "invited to offer remarks."
Here are the facts: "Artsakh" is actually the occupied Nagorno-Karabakh region of Azerbaijan that Armenia seized in a 1988-1994 war. The Nagorno-Karabakh region and nearby territories have belonged to Azerbaijan since antiquity. In 1988, Armenia attacked. Six years later when a ceasefire was declared, the region – which accounts for 20 percent of Azerbaijan's land mass – was in the hands of Armenians and Armenian-backed separatists.
Armenia has repeatedly violated a ceasefire in the region and refuses to negotiate an acceptable end to what has been called a "frozen conflict" that would return the territory to Azerbaijan. During the long war, 30,000 Azerbaijanis were killed, 50,000 more were wounded and a shocking 724,000 were turned into refugees, as Armenia drove them out of their homes in Nagorno-Karabakh, engaging in what many called ethnic cleansing.
"Artsakh," which also calls itself the "Nagorno-Karabakh Republic," is not recognized by a single nation on earth. Every international body from the United Nations on down agrees that Nagorno-Karabakh belongs to Azerbaijan and was illegally seized by Armenia, which continues to run the region.
If Armenia cannot make a factual case that "Artsakh" is a legitimate country, its only remaining strategy is to blur the facts. Like a child or a politician that believes repeating a lie enough times makes it true, Armenia thinks that if it peddles the fiction of an "Artsakh" nation enough it will eventually become fact.
Wednesday's event with Sahakyan at the Capitol is the latest attempt to build that fiction. This time, organizers of the event appear to be trying to co-opt the power – or at least the image – of the world's most important deliberative body, the U.S. Congress.
Artsakh may be a fictional country, but its self-styled president, Bako Sahakyan, is a real obstacle to any peaceful resolution to the ongoing conflict between Azerbaijan and Armenia and has a real history of blood.
During the worst part of the Nagorno-Karabakh War from 1991 to 1994, Sahakyan was the deputy commander of the Nagorno-Karabakh Republic Committee of Defense Forces. This made him the No. 2 to Monte Melkonian, who commanded Armenian forces against Azerbaijan. Sahakyan is clearly committed to retaining Azerbaijan's illegally seized Nagorno-Karabakh territory and has shown he will resort to deadly force to do so.
Armenia has become a virtual puppet state of Russia, key to President Vladimir Putin's plan to restore the former geopolitical influence and regional footprint of the defunct Soviet Union. Armenia has a joint-defense pact with Russia and has been the only country allowed to have nuclear-capable Russian Iskander missiles. According to press accounts, Sahakyan was given Russia's prestigious "Peter the Great" award.
Any pretense that Artsakh is an independent country with an agenda of its own is undermined by the invitation to Wednesday's fake-news event. RSVPs are directed to the Embassy of Armenia and its major front groups in the U.S., the Armenian National Committee of America and the Armenian Assembly of America.
Thanks to the internet, we live in an era when any actors can create fake-news events that carry an air of legitimacy, spread rapidly around the world and can have real consequences. It's uncertain so far what governments and countries can do to stop this tide of lies. But one thing that can be done is to deny these bad actors access to the sacred symbols of democracy and legitimacy they seek to co-opt.
No matter how influential the Armenian lobby may be, the U.S. Congress should not allow bogus politicians and their fake-news events to occur under its roof and patronage.