Another Face of Abu Qatada: Speaking on the Principle of Terrorism
Abu Qatada, who many have called the spiritual father of al Qaeda in Europe, is a scholar of Islam and what many might deem a terrorist instigator, or an ideologue who puts out arguments in support of militant jihad, but never himself fights jihad or spills blood. Yet, in these interviews, the third and fourth ICSVE researchers have made with him over the past year, he spoke candidly about his views on terrorism—making statements that will surprise many.
Palestinian by birth, Abu Qatada grew up in refugee camps in Jordan, carrying within himself a heritage of bitterness over his lost homeland. He is angry and rebellious against what he believes to be Western hegemony. He does not hide his strong desire to see a fundamental reordering of the Arab world. In this interview, we spoke to him about the changes he longs to see in the Middle East and the guiding principles by which to influence such changes, including his predictions as to what might actually happen.
Earlier in his career, Abu Qatada resided in London, where he was editor in chief of the Usrat al -Ansar weekly magazine, a propaganda media outlet that he started on behalf of the Groupe Islamique Army's (GIA). In the early 90s, Abu Qatada issued a fatwa, which was published in his weekly bulletin Al-Ansar, after the Islamic Salvation Front (FIS) was poised to win elections in Algeria but was denied an impending electoral victory by a military coup. Some hold his issued fatwa against the military responsible for justifying GIA massacres against innocent civilians, including unleashing a rampage of beheadings. [1] In 2006, the GIA who Abu Qatada was aligned with in London, announced a union with Al-Qaeda, and by 2007 the group changed its name to Al-Qaeda in the Islamic Maghreb.
In 2000, Abu Qatada was deemed by the UK as a security risk and was arrested as a terrorism suspect, imprisoned and subjected to a secret parallel system of justice. He was held in Belmarsh Prison without a conviction, on and off for 10 years, under an emergency legislation that authorized indefinite detention of "certified" foreign nationals in the U.K. representing a national security risk.
Held with the aim of disrupting a network of extremist ideologues from promoting acts of violence in the UK, he was never officially and directly linked to any terrorist plots in Europe. A source close to the case, however, shared that intercepts of those who visited Abu Qatada revealed that they were later contacted and invited to meet others actually involved in terrorism, although nothing was ever found to directly implicate Abu Qatada.
Abu Qatada's angry grievances and teachings against the West are believed to have inspired numerous al-Qaeda- related terrorists plots and killings, allegedly including, through second generation ties, the 2015 Charlie Hebdo massacres.
While a Jordanian court convicted Abu Qatada in 2002 in absentia on terrorism charges related to the thwarted millennium terrorist plots aimed at attacking Western and Israeli targets in Amman, such charges were overturned in 2014 on the grounds that evidence may have been acquired by torture. In 2013, after many delays, due to concerns that he might be tortured in Jordan, or again convicted on the basis of evidence taken under torture, Abu Qatada was deported back to Jordan. Already railing against the West and siding himself with al-Qaeda, Abu Qatada does not forget his time in Belmarsh. He is still angry over it, though, as we were able to witness, his anger profoundly resonates with a power of righteousness and moral superiority that must also affect his followers.
No longer in prison, Abu Qatada now resides in his stone hewn home on the outskirts of Amman, Jordan. Dressed in a long dark thobe and his grey beard reaching over his chest, he hosts us in a large diwan, with its walls filled with collections of books—translations of histories and philosophies from around the world, and books about Islam. Surrounded by towering shelves supporting hundreds of such books, mostly in Arabic, one could not help but be drawn to the "intellectual warmth" we sensed, including the room's distinct touch and setting that offered a glimpse into Abu Qatada's character, interests, and passions.
During our two days of conversing with him, he covers a whole range of topics and makes numerous statements. The most surprising to us, however, is that Abu Qatada, the supposed terrorist instigator, does not appear to support terrorism at all. Despite expecting armed conflict in the Middle East and hoping for the demise of regional dictatorships and the rise of an Islamic State of sorts, he strongly condemned the use of terrorism.
This is our third time talking to Abu Qatada and we already know he is a fervent advocate of the Palestinian cause. Speaking about the defensive posture he feels he was born into, Abu Qatada states, "We [Palestinians] have only one choice. [We were] forced to take one choice of adapting to a reality on the ground. If you are put in the corner, you have to scratch out to defend yourself."
Having witnessed the Palestinian-Israeli peace process fail repeatedly, he is also cynical. "I'm very afraid of the word peace, because it's the word most used by the oppressor," he says. Furthermore, he adds, "You talk about peace after you take your rights…you are not given rights, through oppression. For the Palestinian, regardless of other identities, 'peace' is not in his interest."
"Twenty-five years ago, when they told us the word 'peace,' they presented it to us as hope, but now after the experience of 'peace,' we found out it is a lie. Now, when I hear the word 'peace,' I hold my pocket, for the new theft going on, "Abu Qatada says with a smile crossing his face.
"Beautiful things are only built with strong foundations," he explains. "When you entered the house, you saw the book shelves and chandelier, but didn't see the foundation that is represented under the stones. You can't talk about dialogue without a fundamental basis."
"Principles?" I ask, eager to discuss this very thing, as we want to hear where he stands on the principles underlying terrorism.
"No, before principles, it's rights," Abu Qatada answers.
We discuss Trump and his recent recognition of Jerusalem as the capital of Israel, while we wait for the opportunity to ask him about how he justifies Palestinian terrorism. Using the example of Wafa Idris, the first female suicide bomber whose surviving family members I interviewed in 2000, I tell him about my visit to her family and ask him about Wafa's attack on civilians. A number of Palestinians I spoke to at that time told me, "We have to use our bodies to fight back against a much better armed force, to explode ourselves to equalize the battle." But she exploded herself among civilians, in a shoe store. Do you agree with this?" I ask.
"To talk about details distracts!" Abu Qatada answers, with his face reddening in sudden fury. "To take the whole Palestinian issue and to drill down to such details!" he sputters.
"But it's not details, it is the principle behind details. Is it correct to say that if I'm fighting a much stronger enemy I can attack children, for instance?" I ask.
"No, this is not accepted," Abu Qatada responds, still unable to avoid the barrage of angry expressions showing on his face. "But I am not talking about people talking with their emotions," he continues. "I am Abu Qatada talking from a scientific [i.e. religiously defended] position. This I will not allow it. I consider it a destruction to the issue that I believe in."
He goes on to tell me that Wafa Idris was acting from emotions, and that we cannot possibly know the depth of pain for what motivated her to engage in suicide bombing and target civilians. Indeed, having interviewed her family members, I know her story intimately. I know that she served as a nurse on Fridays with the Red Crescent during the Second Intifada and witnessed countless casualties from demonstrations against the Israelis. For instance, shortly before the suicide bombing, she was helping to transport a man whose skull had been fractured by Israelis. Her job was to hold his skull together as the ambulance bounced over rough Palestinian terrain, but she ended up with his brains falling out into her hands as he died. Her brother stated she was never the same again.[i] While Abu Qatada might not necessarily know all the details of her story, he does not have any trouble imagining them.
"This attempt to enter details to discuss the moral reality of the fight from our side, it is like a denial, a journalist denial," he practically shouts, as he stands up now. "Like being mad at a child under the boot of a solder because he doesn't have the right appearance, " he adds. His face is now red with anger, and I wonder if our interview will be abruptly terminated. I wonder if I have touched a raw nerve of Abu Qatada or trampled upon what he views as the Palestinian right to fight back, even using terrorism as a weapon.
"Definitely Wafa Idris was mobilized by her emotions and her anger," he continues, calming somewhat. "The question should be why a young girl's emotions would be moved to this extent."
That is a powerful and meaningful statement indeed. Having traveled throughout the West Bank and Gaza during the second Intifada, I know what it is like to be mistaken for a Palestinian woman and hauled out of buses at Israeli gunpoint or nearly run off the road by Israeli Humvees. It is a constant feeling of threat with no rights, except in my case when I presented my American passport. Then everything changed—for me at least.
"I know my mother, my wife, my daughter. I know how they think. I know what mobilized her. A human emotion that should not be discussed ideologically," he continues.
"I was in her home," I counter. "Her nieces and nephews were playing beneath this giant-sized poster glorifying her and her act. Do you think that's the right thing to do?" I ask, trying to draw him out on the principles of the battle for the things he wants most in life and for which he is willing to encourage others to fight.
"To consider her an icon within her society just because she represented the anger," Abu Qatada sputters again. "It's not whether she went into a shoe shop or a military camp," he states. Piercing me with his eyes and standing tall in his dark thobe, he gestures with his hand warning me, "I'm angry now."
That was already obvious, but he has put it out there, so I try to calm the situation, keep him talking, as I want to know what he really thinks.
It does matter if it was a shoe store frequented by civilians or a military camp—that is the heart of the matter. I want to hear him address it, but we will not get there if he abruptly ends our interview.
"If we brought the Muslim world, not just the Arabs, and put them on a scale and compared their deeds to the deeds of the Westerners," Abu Qatada states. "And talk about history. How many people did you kill? How many bodies did you bury?"
The argument amounts to what I often heard all through my time in Palestine: that the Israelis killed civilians at a much higher rate than Palestinians killed Israeli citizens. The question I always countered with was whether the Israelis specifically targeted Palestinian civilians, as the Palestinian terrorists targeted the Israeli civilians? The answers were often vague: that Israelis did not aim for civilians but when they targeted their enemies they knew full well that they were killing civilians as well, and in high numbers, and still did not refrain from carrying out their acts. "So, what is the difference?" the Palestinian terror leaders would ask me and that would be our stalemate—perhaps to be repeated here as well.
For me the difference between targeting civilians vs allowing for collateral damage is important, although one could argue that the moral difference between the two can become slim indeed. When premised upon the right to live a full life, the morality of killing innocent human beings becomes unjustifiable in both scenarios, but is still much different when the intention is to kill innocents versus acts aimed at heinous criminals in which innocents also get killed. Nonetheless, these issues have troubled many even former Shabak (Israeli Security Agency) leaders who discuss these very points as documented in the 2012 Israeli film, the Gatekeepers.
"These are the guys, these are the Jews, who went into villages and massacred them—the Egyptians, slaughtered them with kitchen knives," Abu Qatada states referring perhaps to the Rafah and Qibya events.
"Then you come to a society, you don't know how a young girl in our society can…" Abu Qatada booms, but his voice trails off, overcome with emotion. "I am a man, I am an extremist, a terrorist, but I cannot explain Wafa. On a human level, I don't understand what mobilized Wafa. But, the explosion of emotions and the anger I can understand," he states, his eyes blazing, still towering above us.
"The pain, people do things that cannot be understood ideologically," he continues, as I recall him telling us in the first interview that he feels the pain of his lost homeland every day. The gnawing bitterness inside. "I am not going to apologize for what she did."
We talk a bit about the recent recognition of Jerusalem as the capital of Israel, and as we talk politics, Abu Qatada sits down again and calms himself down.
"Those barbaric settlers have no values," he states. Suddenly, the conversation veers into the issue of settlements and my unpleasant experience way back at a checkpoint in Nablus with settlers supported by Americans. I shared my fear and anger when Israelis pointed guns at my face, including my feeling of disappointment and temptation at the time to remind them that "my tax dollars probably paid for the rifles they pointed at me."
"I don't hate very many people, but I hated them," Abu Qatada states, clearly glad to hear that I also did not think well of the settlers' misbehavior at their checkpoint. "They take from Americans the weapons," he continues. "Everyone knows that a solution would come if America disengages from Israel."
I try to steer the conversation back to the discussion on principles. Which principles does Abu Qatada stand by when he advocates for fighting back to win back Palestine, to bring down corrupt and unrighteous governments in the region, or to bring his hoped-for ideal of an Islamic state in the Middle East? I tell him how the Palestinian terrorist leaders I spoke to in the West Bank and Gaza would argue that it was permissible to kill Israeli civilians, even children, because they all eventually end up serving in the military—that Israeli society is militarized with the aim of keeping Palestinians down.
"I told you from the start, religiously I oppose the idea of killing children and all civilians. But I understand the emotions. Israel is a militarized society, but it does not justify killing children."
"I cannot understand, not just psychologically but religiously also, how could anyone justify killing a child," he states unequivocally.
"We are talking about when we can control the battle," he adds, and I nod.
"Throughout history, Westerners were the ones who first started using civilians to put pressure on soldiers," Abu Qatada explains, citing various examples from history. " Even Hitler, they used civilians to pressure soldiers to submit," Abu Qatada argues." If there were those [civilians] affected by us, they were more affected by the West. We never used [killing] civilians to pressure as a strategy."
I ask again, as I'm surprised to learn that Abu Qatada's views seem to stand in stark contrast to those of other Palestinian terrorist leaders I spoke to in the West Bank and Gaza. They justified terrorist killings of Israeli citizens by arguing that Israeli men and women are part of the military—arguing that even their children who will grow up to serve. They also argued that Israelis have modern equipment while Palestinians have only their bodies to explode in terror attacks. None of this sways Abu Qatada from his clear denunciation of terror attacks against innocent civilians, particularly against killing children.
"I am surprised that there is any Islamists who will support it," he says. As we have spoken for hours at this point, he tells us we need to adjourn the interview until two days later.
When we return, Abu Qatada begins the interview telling us that he told his wife about our discussion on suicide terrorism aimed at civilians. The topic has clearly caught his attention, and he has been brooding on the subject.
"From that day to today, I have been thinking how can anyone with feelings issue a fatwa of killing women or children outside of the battle, I honestly ask you?" Abu Qatada asks, his big brown eyes sincerely gazing into mine as he speaks.
I have been thinking about it as well and am ready to list Palestinian leaders for him who justified killing innocents using suicide terrorism. Khaled Mashal [the leader of Hamas] and Ahmad Sa'adat [the General Secretary of the Popular Front for the Liberation of Palestine, PFLP, an organization that engaged in terrorism], we mention for starters.
"Who was Hamas following?" Abu Qatada asks.
When I tell him that Sheik Yassin supported martyrdom operations against civilians during the second Intifada, Abu Qatada answers that Yassin did not have the ability to issue a fatwa of this type.
"Fiqh [Islamic jurisprudence] doesn't deal with things like symbols," Abu Qatada explains. "In the sharia [Islamic law derived from the Quran and Hadith], there is a big difference between targeting civilians and targeting a military man, as with collateral damage, trying to reach a military target and the consequences of reaching a target."
"No one announces that they target civilians, like the Russians did. This is not the act of a person of resistance or of ideology. This is an act of revenge. I cannot imagine an Islamist or a Palestinian who does this," Abu Qatada states with what appears to be full sincerity, as I wonder where he was during the Palestinian second Intifada, when Palestinians were engaged in suicide bombings in crowded Israeli restaurants, nightclubs, and grocery stores. I find his stance on the issue surprising to say the least.
"I really thought about our talk," he continues, appearing disturbed. "The people inside [Palestine] are more aware of things than me. They look at every [Israeli] man and woman as a military person. Israeli society is a military society. They look at the Jewish guys in Palestine as military guys."
"I cannot imagine going against children," he repeats.
What about beheading journalists like ISIS has done in recent years?" I ask, curious to know if he is willing to condemn such acts as terrorism as well.
This gets us off on a discussion of whether journalists are who they say they are, as Abu Qatada references what he calls, "the dirty work of the CIA."
"[What] if you catch someone who says I'm one thing and is something else?" he asks. Yet, ISIS has assassinated numerous journalists who were highly unlikely to have been spies, James Foley being one of them, I tell Abu Qatada, also mentioning that I have met and spoken to his bereaved mother in person, hoping this human element will make him feel the horror of it.
"You judge a journalist as you judge a messenger," Abu Qatada answers. "A messenger is never to be killed. But if there is a journalist who is really a soldier, he will be dealt with as a soldier."
I press him on the journalist James Foley and Nicholas Berg, both beheaded by terrorists (ISIS and al Qaeda) in Iraq.
"I don't know this issue. I didn't study this issue," Abu Qatada answers. He appears sincere in what he is saying. Perhaps he is so buried in his religious and political studies that he just blanks out all the violence carried out by those on his side?
"I understand the grudge and bitterness that is carried against the Americans," Abu Qatada explains, kindly excluding me from that hatred, which makes me wonder if sharing my many experiences of being mistaken as a Palestinian in dealings with the Israelis in the West Bank and Gaza, and how I, too, felt under threat and sometimes felt the urge to fight back has somehow softened his heart these days when he is talking with us, or is this how he normally feels when it comes to terrorism. We are two women talking to him after all, I wonder if he is showing a softer side on these days for us, but it is not how he really feels? But it does not seem that way, as he continues to repeat himself.
"You can never kill civilians intentionally," Abu Qatada stands firm in his statement. "Our battle is not with civilians. This is an indisputable rule."
"Why do people around the world think you say something else?" I ask, dumbfounded to hear him disavow terrorism.
"No one has interviewed me," Abu Qatada answers a smile crossing his face. "I expected to sit with you once only. Most come only once," he states. This is our fourth time visiting Abu Qatada. With each visit, we have ensured that we do not overstay his welcome, but have talked with him for hours. Although considered the spiritual father of al-Qaeda in Europe, I cannot underestimate his wide range of knowledge on the most pressing global issues, not to mention his intellectual potency and immutability in character when it comes to narrating the story of human suffering, particularly as it pertains to Palestine and the Palestinians. He is clearly well read, follows politics closely, and has a fire inside for justice: "No one has heard of me and sat with me, except [when] he was stunned by what I said," Abu Qatada explains as his friendly smile covers his face. "It's a big propaganda [about me], "he adds.
"Many reports credit you as having issued a fatwa to kill civilians in Algeria," I say, letting the harsh words come out between us like the wood table that separates us as we talk. I am afraid it will anger him again, but better to get it all out in the open.
"What I said was…if the Algerian army used our women and children to pressure our fighters, the mujahideen are allowed to use the threat of killing their women and children, if they continue in this way," Abu Qatada explains. "It was a battle to stop the ugly way of killing civilians if this battle continued. On this message it would not have continued," he explains. "It was the reason to stop an ugly battle going on."
"If the only way I can stop your killing my wife and children is by threatening to kill your wife and children, then so be it," he explains, looking exacerbated at this point. "The reality of this fatwa was not to open the door to actual killing of women and children," he explains.
"Sometimes a surgery will take you 15 minutes to do but will give you rest for the rest of your life," Abu Qatada says, suddenly feeling defensive. He is obviously disturbed knowing that he many have repeatedly blamed him for the carnage that resulted after his fatwa was issued. It appears it was not his intent, as our conversation today indicates.
"My picture is an atom on the head of a needle compared to bombs dropped on a city to stop a war," he says, while remaining defensive. "Were the Japanese killing women and children for the other side to threaten them?" he asks, and continues, "There is a difference between threatening to kill innocents and actually doing it."
I decide to ask him what I asked Ahmad Sa'adat in a prison interview with him during the second Intifada, telling him to imagine I am dedicated to the "cause." "I want to go bomb myself in Jerusalem for al Aqsa, will you give me your blessing?" I ask.
"No I won't give you my blessing. I won't give my blessing to kill a clear civilian," he answers, again unequivocally and without hesitation denouncing terrorist acts aimed at innocents.
"Do you remember when the Palestinian groups started hijacking planes?" he asks. " Wadie Haddad, [the Palestinian leader of the militant wing of the PFLP] was the architect. He was with George Habash [the founder of the PFLP]. They asked him why he was doing this? I want the world to hear the Palestinian message,' he answered."
"In this thing now," Abu Qatada asks, "What will a civilian target accomplish for me now?"
"Even when the military targets a civilian target, it's a loss from a military perspective," he adds.
"So, 9-11, was it wrong?" I ask.
"I went to prison for 11 years because I answered a question that wasn't right," Abu Qatada fires back, referring to his time in British prisons. "I don't like my answer to look like I want sympathy from Americans," he demurs.
"If Hamas did something against civilians, if they went to a religious kids school [to attack it], is it up to me to condemn or to be hung?" Abu Qatada asks, placing the responsibility back on the group.
"There is an area of agreement between us, and all Muslims: that it is not allowed to kill women and children," he explains. "We all agree on this, but in any dialogue, someone will come and tell me, I did this in different circumstances. This is a sub dialogue and could create an exception," he states. Referring to when there are disagreements on exceptional cases, he adds, "This disagreement that will come out would not make me go towards my enemy. At the same time, to be honest, I will have no sympathy for my opponent. I cry for my family, my people."
He further explains that it is important for him to show solidarity for his own people. "The sheiks, because of their positions, from certain times, they started sympathizing with the opponents of the nation; they went against those in the ummah who fight their enemies," he explains. "I will not go against anything an Islamist did," he adds.
"So you will not go against ISIS?" I ask.
"My problem with ISIS is that they killed Muslims," Abu Qatada explains. "And I never said anything against them when they killed Muslims, he adds, reflecting how he doesn't like to break ranks even when he fundamentally disagrees with [such] tactics and principles.
"My priority is my nation," he continues. "I always want to be in sync with their feelings. I am not willing to upset Hamas or the mujahedeen in exchange for hand clapping by the West."
I can see his point, but ask him all the same. "Does not a person of principle have to have his principles and openly state them?"
"My principle is to be on the side of my nation. If a Palestinian is listening to me saying I condemn the killing of James Foley, then what is this in comparison to what Human Rights Watch documents?"
I tell him that I see resemblance in his response to what Shamil Baseyev, a Chechen terrorist, admitted to a journalist after over 300 schoolchildren and their parents were killed in the 2004 Beslan siege. While he grudgingly admitted to being a terrorist in that interview, he also demanded that the journalist add Putin to his terrorist list, as an even worse terrorist, as Basayev killed over 300 while Putin killed 40,000 civilians in carpet bombing the capital of Chechnya. "Yet, his terrorists shot those children in their backs as they tried to escape," I point out as Abu Qatada reaches out to his toddler granddaughter who has entered the room. She is adorable, with curly dark hair and a red dress.
"To take them as hostages to use them," Abu Qatada states, referring to the Beslan children, then kisses his granddaughter on the head as she passes by. "There is a difference between using and killing the children," he concludes. "I will be guilty if I show compassion," he adds.
"But, is there right and wrong?" I press as my heart breaks that we are discussing such things while he is kissing his grandchild so sweetly.
"With my words, I cannot simplify 99 rights and concentrate on one wrong.
It will condemn all 99 rights," Abu Qatada explains. "They [Westerners] will use our words against us," he warns, while admitting, "We do have an internal debate, and it's known that I don't handle these debates."
I remind him of how mercilessly the terrorists shot the children while attempting to flee the school during the Beslan siege. His granddaughter is running around our table as we talk, and I cannot wipe from my memory, while gazing at her pure innocence, the images of the bereaved parents I talked with—whose children had been killed there and the traumatized siblings who survived when their brothers and sisters did not.[ii]
"I'm 58 years old and I learned how to resist my emotions, even when I see a documentary of what happened to my opponents," Abu Qatada answers. Everyone is sympathizing with our opponents. No one is sympathizing with us. I understand. You, as an American, want to be just in distributing your sympathies, but me as a Palestinian, I visit my father every two weeks, and he cannot sit with me once without talking to me about Palestine."
"Sympathy is not the same as principles," I press.
"I don't own a media podium that will be equal to what my opponents have when I talk about the pain of my nation," Abu Qatada explains. "But when I talk about what my brother does, the whole world will listen to it and use it? Which is about something that is right but reaches a wrong. You should not [judge] as the act itself but the end itself." While what he is saying might read as "the end justifies the means", he does not quite mean that. He proceeds to explain that he is referring to the possibility of his standing up for principles being used to delegitimize what he holds sacred, such as the Palestinian struggle, or the Muslim/Arab struggle, for that matter.
"When my word is being used, whether in right or wrong against my people," Abu Qatada explains, while temporarily halting his speech. "I saw how people who made this type of mistake and were coopted into the fold of the opponent, whether they meant to be or not. We have a saying: don't hang your dirty laundry outside. Don't do that especially now, when we are at the point of weakness. He goes on to explain that he does not want his words condemning attacks on civilians to be twisted against the Palestinian or the greater Muslim struggle, especially when he feels that instead of his call for a reordering—even if by armed struggle, if necessary—to bring justice to both, only that particular sound bite will be extracted from his many statements,
"Once I am able to reach out my word to the nation's enemies in the same strength as my opponent is using against my brothers, then I can speak out," he comments
"It's not a question that just happened now,' he continues. "The whole time I was in prison [in the UK] it was the same. I could have gone out in public and condemned 9-11… and become a hero, well known…and obtained UK nationality, among others. I didn't accept it. It would be a betrayal."
"When a nation is in a battle, you must balance what you should and should not say," he metaphorically encapsulates his reticence to publicly condemn terrorism at this point in time. "When things are more relaxed, it's the time to talk. It's dumb to give your opponent a weapon," Abu Qatada concludes.
Drinking coffee together, we end our chat with Abu Qatada. We drive away trying to make sense of the so-called spiritual father of al Qaeda in Europe apparently being against attacks against innocent civilians or terrorism essentially. We wait to hear if he will deny having said it or quietly accept his words in print—hopefully not used to harm the legitimate bases of his cause in any way.
Reference for this Article: Speckhard, Anne (February 14, 2018) Another face of Abu Qatada: Speaking on the Principle of Terrorism. ICSVE Research Reports. http://www.icsve.org/research-reports/another-face-of-abu-qatada-speaking-on-the-principle-of-terrorism/
Terrorism and FATF's Sword of Damocles
Pakistan is struggling hard to wriggle out of the Financial-Action –Task-Force grey. Pakistan needs 15 out of 39 votes to get rid of being listed. But, it may remain on grey list if it gets only three votes.
The whole listing procedure looks biased as it does not accommodate Pakistan's perception. The main allegation is that Pakistan harborus UN-designated terrorists. But, the yardstick with which the US measures its allegation is lopsided. The UN views ongoing freedom movement in the Jammu and Kashmir State, a dispute d territory under UN resolutions, `terrorism', aided by Pakistan.
In the historical context, the term meant different things to different individuals and communities. The oldest 'terrorists' were holy warriors who killed civilians. Recent examples of religious terrorists are Aum Shinrikyo (Japanese), Rabbi Meir Kahane and Baruch Goldstein and Yigal Amir (Jews).The Jewish-controlled media describes Hezbollah and Hamas as 'religious terrorists'. In the first century A.D Palestine, the Jews publicly slit the Romans' throats, in the seventh century India, the thugs strangulated gullible passersby to please the Hindu Devi Kali, and the 19th century adherents of Narodnaya Volya (People's Will) mercilessly killed their pro-Tsar rivals.
`Terrorist' and `freedom fighter' had been interchangeable labels subject to expediency. Not long ago the US treated the taliban as freedom fighters. Ronald Reagan accorded red carpeted welcome to Jalluddin Haqqani. Cuban terrorists were decorated in US gallery as freedom fighters.
The term 'terrorism' received international publicity during the French reign of terror in 1793-94. It is now common to dub one's adversary a 'terrorist'. Doing so forecloses possibility of political negotiation, and gives the powerful definer the right to eliminate the 'terrorist', an individual or a country. FATF is employed as a Sword of Damoclese in case of Pakistan.
Doval doctrine: In line with India's security Czar Ajit Doval's Doctrine, RAW aims at fomenting insurgency in Pakistan's sensitive provinces. Doval is inspired by India's nefarious efforts which resulted in the secession of East Pakistan. Naila Baloch's `free Balochistan' office has been working in New Delhi since 23 June 2018. BJP MLAs and RAW officers attended its inauguration.
B Raman in his books admitted that not only India's then prime minister Indra Gandhi but also the heads of RAW and IB created and trained Mukti Bahini. Doval publicly claims that he acted as a spy under a pseudonym in Pakistan for 11 years.
`Free Balochistan': It sponsored offensive posters on taxi cabs and buses in Switzerland and Britain. The USA has recently outlawed Balochistan Liberation Army. However, earlier, in 2012, a handful of Republican had moved a pro-separatist bill in US Congress. It demanded `the right to self-determination'.
Aid to Afghan insurgents: India's ambassador Bharath Raj Muthu Kumar, with the consent of then foreign minister Jaswant Singh, `coordinated military and medical assistance that India was secretly giving to Massoud and his forces'… `helicopters, uniforms, ordnance, mortars, small armaments, refurbished Kalashnikovs seized in Kashmir, combat and winter clothes, packaged food, medicines, and funds through his brother in London, Wali Massoud', delivered circuitously with the help of other countries who helped this outreach'. When New Delhi queried about the benefit of costly support to Northern Alliance chief Massoud, Kumar explained, "He is battling someone we should be battling. When Massoud fights the Taliban, he fights Pakistan."
Pushtun Tahafuz Movement: Pushtun Tahafuz Movement is apparently being backed byA India. In their over-ebullient speeches, PTM's leaders openly scold Pakistan's national security institutions. For instance, Manzoor Pashteen, in an interview, berates Pak army operations and extols drone strikes. He says, 'The army did not eliminate even a single Taliban leader. All the 87 Taliban commanders killed in the last 18 years were eliminated in drone strikes'. At a PTM meeting in Britain, even Malala Yusafzai's father (Ziauddin), like His Master's Voice, echoed anti-Army sentiments. He said, "Pakistan army and intelligence agencies knew that Fazalullah was a terrorist who continued to operate a radio station in Swat."
RAW officers Raman's and RK Yadav's self-incriminating disclosures: In a published letter, Yadav made startling revelation that India's prime minister Indira Gandhi, parliament, RAW and armed forces acted in tandem to dismember Pakistan. The confessions in his letter are corroborated by B. Raman's book The Kaoboys of R&AW. He reminds `Indian parliament passed resolution on March 31, 1971 to support insurgency. Indira Gandhi had then confided with Kao that in case Mujib was prevented , from ruling Pakistan, she would liberate East Pakistan from the clutches of the military junta. Kao, through one RAW agent, got hijacked a Fokker Friendship, the Ganga, of Indian Airlines hijacked from Srinagar to Lahore.
Kulbushan Jadhav unmasked: Jadhav was an Indian Navy officer, attached to RAW. His mission was to covertly carry out espionage and terrorism in Pakistan. Pakistan also alleged there were Indian markings on arms deliveries to Baloch rebels pushed by Jadhav. To India's chagrin, India's investigative journalists confirmed from Gazettes of India that he was commissioned in the Indian Navy in 1987 with the service ID of 41558Z Kulbhushan Sudhir. A later edition of the Gazette showed his promotion to the rank of commander after 13 years of service in 2000. His passport, E6934766, indicated he traveled to Iran from Pune as Hussein Mubarak Patel in December 2003. Another of his Passports, No. L9630722 (issued from Thane in 2014), inadvertently exposed his correct address: Jasdanwala Complex, old Mumbai-Pune Road, cutting through Navi Mumbai. The municipal records confirmed that the flat he lived in was owned by his mother, Avanti Jadhav. Furthermore, in his testimony before a Karachi magistrate, Karachi underworld figure Uzair Baloch confessed he had links with Jadhav. India's prestigious Frontline surmised that Jadhav still served with the Indian Navy. Gazette of India files bore no record of Jadhav's retirement. India told the International Court of Justice (ICJ) that Jadhav was a retired naval officer. But, it refrained from stating exactly when he retired. The spy initially worked for Naval Intelligence, but later moved on to the Intelligence Bureau. He came in contact with RAW in 2010.
Unexplained contradiction: It is not understood why freedom movement in disputed Kashmir is terrorism while India-sponsored insurgency, followed by armed intervention, in erstwhile East Pakistan isn't. B. Raman, in his book The Kaoboys of R&AW: Down Memory Lane makes no bones about India's involvement up to the level of prime minister in Bangladesh's insurgency. One is shocked to read accounts of former diplomats and RAW officers about executing insurgencies in some other neighbouring countries also.
Conclusion: India portrays the freedom movement in Kashmir as `terrorism'. What about India's terrorism in neighbouring countries? Will the world take notice of confessions by India's former intelligence officers and diplomats? Pakistani outfits sdympathising with kashmiri freedom fighters are dubbed as terrorists. But, Indians abetting terrorism in Sri Lanka, or supplying IED components to ISIS go scot free.
B Raman 's book, and RK Yadav's letter of 14 August 2015 published in Indian and Nepalese media confirms India's involvement in terrorism against Pakistan. Kalbushan Jhadav wanted to replay the Mukti Bahini experience in Balochistan and Khyber Pakhtunkhwa.
The conduct of Indian diplomats amounts to state-sponsored terrorism. For one thing, India should close the `Free Balochistan' office on her soil, and stop resuscitating propaganda skeletons of pre-Bangladesh days.
Why FATF treats India as a protégé and Pakistan as a bête noire?
Indian media is never tired of describing Pakistan as hub of money laundering and terror financing in the world. Indian representatives echoed their babble in recent United Nations' meeting also.
India makes no bones in declaring its intention to link Pulwama blasts with money trail to Pakistan. By doing so India hopes to get Pakistan blacklisted by Financial Action Task Force.
Little focus on money laundering and terror financing by India: Nowadays, Major powers' geo-political and economic interests have forced them to ignore suspicious financial transactions by India. However, not long ago, the world was more concerned about money laundering in India than in Pakistan.
Even the USA called upon India to do more to prevent financing of terror networks. USA's Assistant Secretary of State for Economic and Business Affairs Anthony Wayne told the Senate Banking Committee, 'In India, two accounts belonging to terrorist individuals/entities have been identified, but the Government of India has not frozen any assets to date. It is aware of the UN 1267 Committee List, however', Wayne noted that India's Prevention of Money Laundering Act `criminalises money laundering and requires banks and other financial institutions and intermediaries to report individual transactions valued over US$ 23,000 to the financial-investigation unit'. Wayne added, 'India has also indicated it wants to join the Financial Action Task on Money Laundering. However, at a recent FATF plenary meeting in Paris, concerns were raised regarding its ability to provide effective international cooperation in a timely manner and to extend mutual legal assistance'.
Here is a glimpse of corrupt India. World Bank estimated that capital flight of Rs 50 to 100 crore took place in four fertilizer plants projects via Italian firm Snam Projetti. Minimum commission of seven percent was charged on imports of the public sector. Indian government paid no regard to the recommendations adopted by the Financial Action Task Force on money laundering, set up in July 1989 by the Paris summit of the seven most-developed countries. The conventional money-laundering techniques (smurfing, cover companies, etc.) are used to the hilt in India. The average amount stashed away from India during 2002-06 is US$27.3 billion (about 136,466 crore). It means that during the 2007-2018 period, the amount stashed away is 27.3×15=US$ 4, 095 billion. Just imagine the volume of money stashed abroad since 1947, including Nehruvian era when Birlas and Tatas gave blank cheque to Congress.
Lid on laundered money lifted: To what end, the laundered money is put is anyone's guess. However, a recent document-based report by the International Consortium of Investigative Journalists has blown the lid off the suspicious financial transactions by Indian banks, public and private sector companies.
The ICIJ report based on Financial Crimes Enforcement Network (FinCEN) files "represent less than 0.02% of the more than 12 million suspicious activity reports that financial institutions filed with FinCEN between 2011 and 2017."
Earlier a study, conducted by Conflict Armament Research, had confirmed that seven Indian companies were involved in the supply chain of over 700 components including fuses or detonating cords used by the Islamic State to construct improvised explosive devices .Even the Sri Lanka blasts were linked to terrorists hiding in Indian Southern States. As an eye wash, India arrested Islamic State moles. To bypass banking channels, even gold and diamond are `legal tender' for money laundering.
How the FATF favoured India: In both India and Pakistan, money laundering is popularly known as hawala, or hand –to-hand-transaction. The Financial Action Task Force was scheduled to review India's money laundering and terrorist financing regime, a ten year cycle, in September-October 2020. But, it has been tentatively postponed to January February 2021 ostensibly `in view of COVID19 pandemic in India. The year-long review evaluates `Indian legal system against financial crimes at its plenary meeting in February 2022 and subsequently issue a statement and recommendation about the country.
The FATF happily agreed with India that `it is impossible for assessed jurisdictions and asssessories alike to conduct on-site visits and in-person meetings' (no relaxation for Pakistan).
How India hoodwinked the 2013 FATF team: In the 2013 review, India managed to hoodwink the FATF by pleading that `it has set up a joint working group comprising 22 central investigation, intelligence-gathering and regulatory agencies to check illegal financial transactions. The agencies include the Central Bureau of Investigation. Enforcement Directorate, Income Tax Department, Directorate of Revenue Intelligence, Financial Intelligence Unit, Customs, Market regulator, Securities and Exchange Board of India, banking regulator and insurance regulator TRDAL.
The 2013 review team was much impressed by Rahul Navin, a 1993-batch Indian Revenue Service Officer of the Income Tax Department deputed with the Enforcement Directorate. Navin who had earlier worked with the Organisation for Economic Cooperation and Development had authored a book Information Exchange and Tax Transparency: Tackling Global Tax Evasion and Avoidance.
How the ICIJ blew lid off India's US$ 2 trillion money laundering and terror financing: The International Consortium of Investigative Journalists based its report on two million Suspicious Activity Reports filed by prestigious banks with Financial and Crime Enforcement Network (FinCEN). The ICIJ report is just tip of the iceberg. Its revelations are based on `only 0.02% of the more than 12 million suspicious activity reports that financial institutions filed with FinCEN between 2011 and 2017'. The US banks who filed reports include Deutsche Bank Trust Company Americas, BNY Mellello, Citibank, Standard-Chartered and JP Morgan. The reasons mentioned in the reports include `high-risk jurisdiction for money laundering or other financial crimes, adverse media or public information on the client', unidentified parties, and the fact that source of funds and purpose of transaction could not be ascertained'. Not only the banks but also the public and private sector companies were the culprits. They include Hindustan Aeronautics Limited, Bhushan Steel Limited, Bharti Airtel and Essar. Heretofore is a bird's-eye view of the findings.
Indian banks figure in over 2000 transactions, linked to Indian entities, valued at over US$ 1 billion (Rs. 7, 369 crore) between 2011 to 2017. These banks include State Bank of India, Punjab National Bank, Canara Bank, HDFC Bank, Kotak Mahindra Bank, Axis Bank, and Indus Ind Bank.
Open Question: While the ICIJ has shared the information with Buzzword and 108 other media outfits, India's `Special Investigation Team on Black Money' stays mum. The SIT was formed on the directions of India's Supreme Court.
Inference: The FATF should undertake an even handed investigation to India's multi-facetred money laundering and terror financing.
Stateless and Leftover ISIS Brides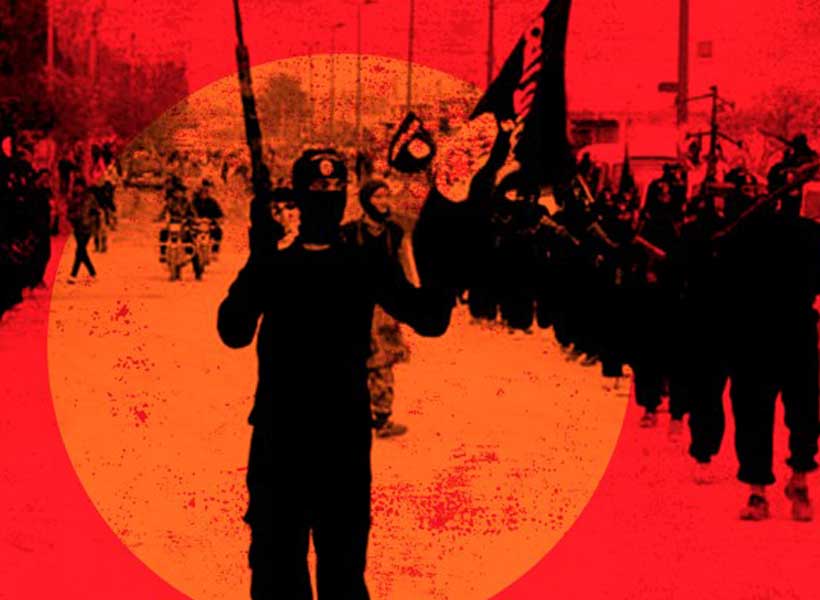 While the World is busy fighting the pandemic and the economic devastation caused by it, one of the important problem that has been pushed to dormancy, is the status of the ISIS(Islamic State of Iraq and Syria) brides. The Pandemic has crippled the capacity of the law enforcement and exploiting this the ISIS executed attacks in Maldives, Iraq, and the Philippines. The United Nations Secretary-General Antonio Guterres has warned that terrorists are exploiting the COVID-19 Pandemic. Albeit the ISIS has been defeated, approximately ten thousand of them are in ISIS detention centres in Northern Syria under Kurds. Most of these detention centres are filled by women and children, who are relatives or widows of the ISIS fighters. With their native states denouncing them, the status of the stateless women and children is unclear.
As it stands today states' counter-terrorism approach has been primarily targeting male militants but women also have played a role in strengthening these terrorist organizations. Women involvement in militant organizations has increased as they perform several activities like birthing next-generation militants/jihadists, managing the logistics and recruiting the new members to the organizations. The world did not recognize women as key players in terrorist organizations until the 1980s when females held major roles in guerilla wars of southern America. Women have either willingly or unwillingly held a variety of roles in these extremist organizations and Islamist terrorist organizations like Hamas and al-Qaeda women do simply provide moral support.
According to the media reports since the US withdrawal from Iraq in 2006 female suicide attacks have been increased and they have been extensively part of ISIS. The ISIS had a female brigade which they called as Al-Khansaa which was established to perform search activities in the state. Both foreign and domestic recruits in the Islamic state have participated in brutal torture. A recently acquired logbook from a guesthouse in Syria provides important information about 1100 females who joined the organization, the western women who are called as 'the muhajirat'.
When the people from rest of the world joined organizations such as ISIS, they burnt their passports and rejected their national identity. Especially women from western countries who were radicalized online based on their phenomenon 'ISIS brides/Jihadi brides' to marry terrorists. Since Islamic State isnot recognized by the world these marriages are not legally valid, apart from this a number of these brides have experienced sexual torture and extreme violence.
While the erstwhile members of the extremist organizations like ISIS and others are left adrift the one challenging question remaining is should states and their societies keep them and reengage or rehabilitate or prosecute them. How firmly the idea of their erstwhile organization is stuck in their minds and especially the followers who crossed the world to join remains a concern to many. The U.S backed Kurdish forces across turkey border hold thousands of these left-behind women and children in their centre. Hundreds of foreign women and children who were once part of an aspirant state, The caliphate are now floating around the concentration camps in Syria, Turkey and Kurdish detention centres and prisons. Many are waiting to return to their origin countries. They pose a unique challenge to their native states like whether to include them or not and even if they include how to integrate adults who at least for a time part of these terrorist organizations and what to do with children who are too young to understand the politics and obstacles keeping them in camps and detention centres where resources are scarce. Women present a problem because its hard to know what kind of crimes they have committed beyond the membership of the terrorist organization.
It is no secret that women also have been part of insurgency across the world, like in ISIS,LTTE,PIRA and PFLP. The responsibility of women in ISIS includes wife to ISIS soldiers, birthing the next generation of jihad and advancing ISIS' global reach through online recruiting. The International Center for Study of Radicalization (ICAR) estimates that out of 40000 people joined ISIS from 80 different countries nearly 8000 are women and children. After the defeat of ISIS and such extreme organization those who are left behind possess the ideological commitment and practical skills which again a threat upon return to home countries.
The states across the world are either revoking the citizenship or ignore their responsibility. The most famous case of Shamima Begum a UK citizen married to an ISIS fighter whose citizenship was revoked by the UK government. In other cases like HodaMuthana of the USA and Iman Osman of Tunisia have been the same case. As recently as Tooba Gondal an ISIS bride who now in a detention camp in northern Syria begged to go home in the UK in a public apology.
The American president Donald Trump issued a statement saying women who joined ISIS cannot return. The NATO deputy head said "…returning ISIS fighters and brides must face full rigours of the law". Revoking the citizenship and making someone stateless is illegal under international law and it is also important to know how gendered these cases are because the UK have successfully prosecuted Mohammad Uddin and the USA has also done it so. Stripping off their citizenship itself a punishment before proper trail and the only good out of it would state can take their hands off in dealing with cases. Samantha Elhassani the only American who repatriated from Iraq so far and pleaded guilty for supporting ISIS. Meanwhile, France is trying to route its citizens who joined the ISIS and extradited few who are under trial in Bagdad.
As experts and political analysts say "countries should take responsibility for their own citizens" because failure to do so will also make the long term situation more dangerous as jihadists will try to a hideout and turn into militant groups for their protection. The children, the second-generation ISIS need cultural centres and rehabilitation centres and this is an international problem. These women known as jihadists brides suffer from a post-traumatic stress disorder and many are pregnant or multiple children born in ISIS territory.
In some countries travelling abroad to join the insurgencies in North Africa and Syria was not always a criminal act, Sweden criminalized such act recently but to prosecute them proof of offences committed in the conflict zone is difficult to collect and most countries in the world do not allow the pre-trial detention for more than 14 days. With problems of different national Lawson extradition and capital punishment and to prosecute them in conflict countries is also a challenge for states. Since Kurdish forces have signalled that they cannot bring all the prisoners into justice the home countries will have to act or else it might create a long term dangerous situation. With the civil war in Syria is about to end it is time to address these issues because since there are more ISIS fighters in Kurdish prisons and detention centres they could be influenced to join rebels who are fighting the regime of Assad in last standing province of Idlib.
If the governments reject the repatriation applications then they will be signalling that their action is essential for national security and thus asserting that failed or poorly resourced states are better equipped to handle potential extremists. The criminal system in Iraq is corrupt and human rights violations have been reported and which creates the risk of further radicalization. One should not forget that even citizenship of Osama bin laden was also stripped but which did not stop him from forming al-Qaeda in Afghanistan. If the citizens commit crimes and forget their responsibility then the states must bring them to justice instead of stripping citizenship. The states must come with a solution for this problem before its too late, setting up an international tribunal to deal with these cases would be a great start but these tribunals are time-consuming and expensive.
States must act as a responsible actor in the international system. Jihadist terrorism is a global problem and states must act together to deal with it because with nearly 40000 fighters joining caliphate from across the world it only shows how global and deeply rooted the phenomenon is. Instead of stripping their citizens' citizenship, states must find a way to act together for the peace and security of the international community.