South Africa: Ruling ANC removes Jacob Zuma from Presidency
South Africa's ruling party ordered Jacob Zuma on February 13 to step down as head of state but gave him no firm deadline to go, setting the stage for a potential fight to wrest him from power.
Leading members of the African National Congress now want new party leader Cyril Ramaphosa to replace Zuma. Zuma had promised to respond to the order by Wednesday. That appeared to herald the end of the road for a leader whose near decade in power divided Nelson Mandela's post-apartheid 'Rainbow Nation'.
Since mid-November when Ramaphosa emerged as a real ANC leadership prospect, economic confidence has started to pick up. The rand – a telling barometer of Zuma's fortunes – has gained more than 15 percent against the dollar over that period.
In explaining its decision to order Zuma to leave power, the ANC did not refer directly to the scandals surrounding his presidency. But it said his continued presence could "erode the renewed hope and confidence among South Africans" since the choice of new party leaders in December.
There was confusion over whether Zuma would address the public. Privately owned eNCA TV said Zuma would hold a media briefing at 10:00 a.m. local time (0800 GMT) on Wednesday, but an anchor on the state broadcaster SABC said the presidency had denied plans for such a briefing. Zuma's spokesman could not be reached for comment.
ANC Secretary General Ace Magashule said he had met Zuma personally to pass on the order to resign "The organization expects him to go." Zuma had asked the party to give him a notice period of three to six months but that had been rejected, Magashule said. The NEC believes that this is an urgent matter so it should be treated with urgency," he said.
South Africa's cabinet meeting set for Wednesday has been postponed indefinitely, the government's communication service said. ANC chairman Gwede Mantashe told a meeting in the Eastern Cape province that the party had given Zuma an ultimatum to resign or face a motion of no-confidence, the Independent online news service reported. "Once you resist we are going to let you be thrown out through the vote of no confidence because you disrespect the organization and you disobey it, therefore we are going to let you be devoured by the vultures," Mantashe said in a message to Zuma, according to the Independent.
Zuma is already facing a no-confidence motion in parliament set for Feb. 22 and brought by the opposition Economic Freedom Fighters. The ANC could throw its weight behind such a vote if it lost patience with Zuma. But that would be a painful option for the ruling party. "Instructing MPs to vote with the opposition and against their own leader would add to splits in the party and provide an embarrassing political coup to the opposition," a leader Ashbourne said.
Zuma himself engineered the ouster of former President Thabo Mbeki in 2008 shortly after taking the helm of the ANC. Mbeki was also "recalled" by the party, ending a nine-year rule marked by economic growth but marred by accusations of abuse of power that he denied.
In power since 2009, President Jacob Zuma has been dogged by corruption allegations. Zuma's presidency has been overshadowed by allegations of corruption which he has always vehemently denied. In 2016, South Africa's highest court ruled that Zuma had violated the constitution when he failed to repay government money spent on his private home.
Last year the Supreme Court of Appeal ruled that he must face 18 counts of corruption, fraud, racketeering and money laundering relating to a 1999 arms deal. More recently,  Zuma's links to the wealthy India-born Gupta family, who are alleged to have influenced the government, have caused his popularity to plummet. Both Zuma and the Guptas deny the allegations.
Zuma has been living on borrowed time since Ramaphosa, a union leader and lawyer once tipped as Mandela's pick to take over the reins, was elected as head of the 106-year-old ANC in December.
Zuma has resisted increasing pressure to quit since December, when Cyril Ramaphosa replaced him as leader of the ANC. It is unclear how Zuma will respond to the formal request to step down, which is expected to be issued later on Tuesday. Earlier, Ramaphosa left the meeting of the ANC's national executive committee to travel to Zuma's residence, where he is said to have told the president he would be recalled if he did not step down. He later returned to the ANC conclave.
Zuma has survived other such votes but he is not expected to pull it off again. A confidence vote would be considered a humiliating process for him and the party. South African media are calling President Zuma's seemingly inevitable exit "Zexit". His predecessor, Thabo Mbeki, resigned in 2008, also after a power struggle with his deputy. The deputy in question was Jacob Zuma, who took over the presidency the following year. Zuma cannot legally return to power in any case.
It will be very difficult for him to resist a formal request to resign but he would not be legally obliged to do so and could technically carry on as president despite losing the faith of his party. However, he would then be expected to face a confidence vote in parliament. This has already been scheduled for 22 February.
Jacob Zuma is the most colorful and controversial president South Africa has had since white-minority rule ended in 1994.  He has been a politician of nine lives, surviving a series of scandals which would have surely ended anyone else's career. But Zuma, the man born into poverty who went into exile to fight apartheid before rising to become "the people's president", cannot survive forever.
Zuma's bid for the presidency was written off before he had even really started. In the run-up to the 2009 election, he was simultaneously battling allegations of rape and corruption. He was acquitted of raping an HIV-positive family friend in 2006 – although the fact he told the court he had showered in order to avoid catching HIV would continue to haunt him throughout his presidency. His second – and final – term in office is coming to an end. He is no longer leader of the ruling African National Congress (ANC). And those charges of corruption – always vehemently denied – appear to be catching up with him. President Zuma, whose poor roots, charisma and strength in adversity partly explain his ability to hold on to power, is set to face his ninth vote of no confidence in parliament – if his own party doesn't succeed in removing him first.
South African economy is tatters although cricket matches with India are in full swing to make extra money. The rand currency weakened, with traders blaming uncertainty caused by the lack of a clear timetable.
Since becoming president in 2009, Zuma has been dogged by scandal. He is fighting the reinstatement of corruption charges that were dismissed before he became president over a 30 billion-rand (now $2.5 billion) government arms deal arranged in the late 1990s. More recently, the country's anti-corruption watchdog wrote in a 2016 report that the Gupta family, billionaire friends of Zuma, had used links with the president to win state contracts. The Guptas and Zuma have denied any wrongdoing.
South Africa's economy has stagnated during Zuma's nine-year tenure, with banks and mining companies reluctant to invest because of policy uncertainty and rampant corruption.
The party's national executive was split on precisely when Zuma should step down. The ANC was badly rattled by its performance at the 2016 local elections when it won its lowest share of the vote since coming to power under the late Nelson Mandela in 1994. It wants to project a fresh image for next year's general election. Having served two terms in office (South African presidents are elected by parliament), On Monday, opposition parties called for an early election to lead this country, must get their mandate from the people of South Africa
Though he has survived several no-confidence motions in the past, now his time is up. Zuma's entire cabinet would have to step down if a parliamentary vote went through.
South African presidency is not for life time of Zuma who is no more wanted as president and he knows the signals.
The role of nuclear in Zambia's sustainable economic growth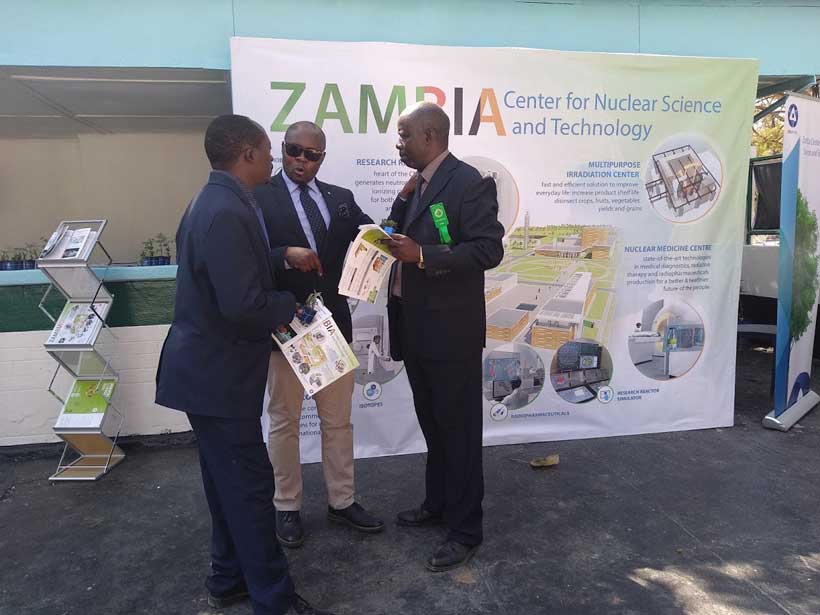 On August 6th, the 92nd annual Agricultural and Commercial Show wrapped up after six entertaining and educational days in Lusaka, Zambia.
Thousands of visitors received information materials about the role of nuclear in Zambia's sustainable economic growth during the 92nd annual Agricultural and Commercial Show.
The show was officially opened by President Edgar Lungu, who highlighted the importance of the show's theme, which was 'sustainable economic empowerment'.
He noted that the theme was directly in line with government's aspirations espoused in the Second National Agricultural Policy (SNAP) to have an efficient, competitive and sustainable agricultural sector which assures food and nutrition security, increased employment opportunities and incomes.
The Zambian Ministry of Higher Education in collaboration with Russian State Atomic Energy Corporation ROSATOM hosted a dedicated information stand on the future Zambia Center for Nuclear Science and Technology (CNST).
Representatives of ROSATOM and Zambia's Interim Secretariat on Nuclear Science and Technology (ISNST), constituted by senior officers from various Government Ministries and Institutions, worked on the stand, explaining the specifics and benefits of the future nuclear facility to thousands of Zambian visitors.
The stand provided the public with information on the nuclear technology that is set to assist Zambia to grow and be economically empowered, such as: food irradiation technologies, nuclear medicine (which is already being implemented at the Cancer Diseases Hospital), material science, radioisotope production and mineral identification techniques.
The materials were prepared by ROSATOM, ISNST and International Atomic Energy Agency (IAEA).
Dmitri Shornikov, CEO of Rosatom Central and Southern Africa, explained the future benefits of the Center and expressed the importance of educating the public on these benefits: "It is very important for the Zambian citizens to understand that the future Center will empower agriculture, medicine and industry, thanks to wide application of radiation technologies."
"The CNST will also promote the growth of national education and science through the training of highly qualified experts in various fields. It represents the new stepping stone for Zambian scientific, economic and technological growth. Similar facilities have been contributing to more than 50 countries' around the world for more than 60 years. Currently, there are 245 working research reactors in the world with 58 units operated in Russia".
Mr. Reuben Katebe, National Coordinator of the ISNST noted that the Center was directly in line with the theme of the show as well as government's policy and that it would help the agricultural sector to grow sustainably and ensure food security: "The use of radiation for food preservation will improve food safety and create conditions for the increase of Zambian agricultural exports. We hope that our information stand helped many farmers to understand all the benefits that the Center will bring to them."
Apart from agriculture, healthcare will also benefit from the Center's activities like single use medical product sterilization," said Mr. Katebe: "The radioisotopes produced here will be used to diagnose and treat primarily cancer and cardiac diseases. This Center will increase availability of high-tech nuclear medicine for Zambia's population."
For reference
State Atomic Energy Corporation Rosatom and the Republic of Zambia signed a general contract for the construction of a Center for Nuclear Science and Technology (CNST). The signing took place during the 10th international Atomexpo-2018 forum in Sochi. Construction of the center is the first joint project of Russia and Zambia in the field of nuclear technologies.
The center will be located 10 kilometers away from the capital of Zambia, Lusaka. The CNST will include a nuclear research facility based on a multipurpose research water-cooled reactor of up to 10 MW, a state of the art laboratory complex, multipurpose irradiation center as well as a cyclotron-based nuclear medicine center.
The project will be implemented in several stages within 3-6 years from the work commencement date under the contract. Rosatom has built more than 120 research reactors in Russia and abroad.
China- Africa Framework: Strategic Cooperation
The Forum for China Africa Cooperation (FOCAC), built up to link relations between the two states, is due to hold its next meeting later this year. This evaluates what the benefits from that meeting will be on this developing, active, and mutual relationship. China's engagement in African states goes back several years. In the last decade, from the mid-1950s to late 1970s based more on spontaneous confidentiality than that of 1980s and the period after the cold war. currently, the relationship sets up more on pragmatic economic considerations and cooperation. China is already Africa's third largest trading partner. This multi-leveled partnership between China and Africa is both intricate and active. As China and its African participants arrange everything for the next FOCAC summit.
What does China want in Africa?
China's relationship with African countries is very active, some perspectives have sustained stable. The most significant of these are the principles and outcomes of Chinese foreign policy through African and other developing countries. According to the Beijing's Africa Policy issued in January 2006, China will: China-Africa friendship, will be proceeding from the basic benefits of both the Chinese and African peoples, build up and develop a new kind of strategic partnership with the African continent, presenting political equality and mutual trust, economic win-win cooperation and cultural exchange
The fundamental laws and aims for leading Chinese foreign policy in Africa as set out in this arrangement of government policy are: (1) Goodwill, friendship, honesty and equality; (2) Mutual benefit, cooperation and common prosperity; (3) Common mutuality, support and close reciprocity; and(4) Learning from each other and pursing, sharing common development. This mostly is the government expression of how it views, and ambitions, to manage its relationship with the African continent.
While the Chinese policy announcements are mostly clear; there is still skepticism about what China wants in Africa. Take the principle of non-intervention, one of the Five Principles of Peaceful Coexistence, which have been regularly highlighted guidance of Chinese foreign policy in one hand, and its Africa policy in the other. The most significant examples are Sudan and Zimbabwe. In current years, Sudan has seen a conflict of perspectives, with the US and other superpowers placing pressure on Beijing government to use its impact in Sudan over the condition in Darfur, and China responding that it is preferable to help in continued development in such states, and determining them this way. Therefore Beijing's commitment to non-interference in African domestic affairs and its intention to establish partnerships based on cooperation and mutual respect have been generally welcomed by leaders of the African continent, just as it has got some critiques from the West especially the US.
To some extent does China manage Sino-Africa relations?
Yet, Chinese national interests in Africa are multi-aspects and multi-leveled, so the aspects who engage in China's Africa policy making and implementation are generally diverse. This faces great challenges for China's management capability, which is the real reason why FOCAC was established. Similar to the different trend of China's interests and outcomes in Africa, we can highlight many types of aspects who have a sound in China's Africa policy-making and performance. First of all and most important type of aspect is the government, both central and provincial, including officials–diplomats and other state-owned enterprises. Secondly coves several private corporations and their representatives in Africa. Inspired by the Chinese government's "Go Out" policy, these private entrepreneurs chanced to Africa in seek of business opportunities. The third and importantly significant aspect is individuals, both influential middle-businessmen and the general Chinese laborers in Africa, which may amount to somehow a million people by 2009.
With the number of aspects rising, the traditional decision-making and strategy implementation system is under great pressure. In term of policymaking, power is centered at the top, in the Office of the Foreign Affairs of the Communist Party of China (CCP) Central Committee and the Foreign Affairs Office of the State Council. The top engine of executive power is the State Council, which includes the premier, vice premiers, and ministers. The Ministry of Foreign Affairs points out Chinese leaders and helps implement African policy. It cuts responsibility between a unit for Sub-Saharan Africa and one for West Asia and North Africa. The Ministry of Commerce plays a significant job in trade, aid, and investment. It has a Department of Foreign Aid. China's State-owned Assets Supervision and Administration Commission (SASAC) is equally ranked with the Ministry of Foreign Affairs and the Ministry of Commerce. SASAC is either mostly owns a state-owned enterprise (SOE) or sustains a supervising share of stock in a public SOE, several of which function in Africa. SASAC has branch offices in African countries. China's Export-Import Bank is the only state-owned firm that allocates official economic assistance in the frame of low-interest loans, export credits, and guarantees. Additionally, The CCP's International Department communicates with African representative to lay the pillars for business trading and diplomatic cooperation, encourage visits and to ensure that policies are implemented in accordance with CCP strategic goals.
What are the Challenges of China In Africa?
Under the policy of FOCAC and its follow-up perspectives, China has adopted its Africa policy-making and implementation and made several contributions to African development. However, the challenge of China-Africa relation is based on two main aspects. The first, the Chinese economic slowdown decreases the resources that are likely accessible for the next FOCAC meeting. Xi Jing ping said at G20 summit that China will, within its goodwill and potentiality, carry on to enhance its aid to Africa, decrease or cancel African states' debts, enlarge its trade and enhance business investment in Africa, achieving the commitments it made during the Beijing Summit of the Forum on China- Africa Cooperation in 2017. On the other hand, because China's economy now is export-oriented, the situation will greatly reduce the volume of China-Africa trade due to the western states' needs decreasing. For instance, 50% of Sudan's oil exports ship to China, but this number does not mean that this oil is bought by Chinese consumers. As a matter of fact, China National Petroleum Corporation(CNPC), the company which subdues the oil transactions between China and Sudan, does not sell the oil imported from Sudan on the Chinese domestic market. Instead, CNPC sells it on the international market for many profits. And in 2006, Japan was the largest single recipient of Sudanese oil. Now, because of the economic problem, the needs of the international market have dropped off.
Conclusion
The last decade has observed a key and very important enhance in China's engagement in Africa. FOCAC was built up and is now working, as the main means by which to manage dialogue and talk between different African countries and China over where the general direction of this partnership should go. Basically, it gives an integrative foundation for treating Africa as a single actor, which will surely promote the identity-building of Africa and differentiate itself from other relationship. In the coming years, China will surely enhance its interests in the African continent. Therefore. the FOCAC process provides Africa a new opportunity for a partnership with China and the prospect of a long-term win-win partnership with the world's largest-growing economy.
Building a nuclear industry in Africa
Russia's nuclear energy diplomacy in Africa has hit stumbling blocks, it's been at the crossroad over the past two decades after the collapse of Soviet-era.
In order to find long-shelf solutions to chronic power shortages, African leaders and Governments that have shown interest in adopting Russian nuclear energy, signed necessary legal documents but lacked the needed funds for prompt implementation and final realisation.
"Rwanda's annual budget stands at US$3 billion while the construction of the nuclear power plant would cost not less than US$9 billion which is equivalent to Rwanda's entire gross domestic product." David Himbara, Rwandan-Canadian Professor of International Development at Canada's Centennial College, wrote in an emailed interview.
He said that Rwandan President Paul Kagame always believed that he must validate his supposedly visionary and innovative leadership by pronouncing grand projects that rarely materialised.
Currently, all African countries have serious energy crisis. Over 620 million in Sub-Saharan Africa out of one billion people do not have electricity. It is in this context that several African countries are exploring nuclear energy as part of the solution.
There is only one nuclear power plant on the entire African continent, namely, Koeberg nuclear power station in South Africa. Commissioned in 1984, Koeberg provides nearly 2,000 megawatts, which is about 5% of installed electricity generation in South Africa.
According to Himbara, "Of all African countries that have shown interest in nuclear energy, none have so far gone beyond the stage of conducting preliminary feasibility study, project costing and financing models, except South Africa."
But, the South Africa US$76 billion deal with the Russians to build a nuclear power plant collapsed along with the Government of Jacob Zuma that negotiated the deal in secrecy, in fact when such corporate projects have to be discussed by the parliament and necessarily have to pass through international tendering process, he pointed out.
Russia and South Africa concluded an intergovernmental agreement on strategic partnership in the nuclear sphere in 2014. The agreement provided in particular for construction of up to eight NPP power units.
"Nuclear waste will pile up, and where are they going to put it? The Sahara? The US is always trying to force nuclear waste repository on some poor or indigenous community and when that fails, the waste keeps piling up at the reactor sites, creating greater and greater environmental risks," he said.
He added that "Managing nuclear waste and its safety is universally complex and dangerous. The Chernobyl disaster in Ukraine and Fukushima in Japan, remind the world of the human and environmental costs of nuclear power accidents. Millions of people are still suffering from radiation and radiation related diseases till today."
Foreign Minister Sergey Lavrov, in an interview with the Hommes d'Afrique magazine in March, described Africa as rich in raw material resources, including those that are required for high technology and for moving to a new technological pattern. Apart from mining, Russia and African countries are cooperating on high technology.
What was more important for Africa's energy sector when he informed that Rosatom has been considering a number of projects that are of interest to Africans, for instance, the creation of a nuclear research and technology centre in Zambia. Nigeria has a similar project. There are good prospects for cooperation with Ghana, Tanzania and Ethiopia. Talks are underway on the construction of a nuclear power plant in South Africa.
Shadreck Luwita, Zambian Ambassador to the Russian Federation, informed that the processes of design, feasibility study and approvals regarding the project have almost been concluded. The site of the project is yet to be designated as it is equally a process and it is envisaged that construction should commence, in earnest, not later than the second half of 2018.
In addition, he affirmed that the Russians envisaged technology transfer in the development of this massive project by way of manpower development capacity. For now, there are only a few Zambian nationals, who are studying nuclear science in one of the Russian universities in Moscow.
The Zambian Government hopes that upon commissioning of this project, excess power generated from this plant could be made available for export to neighbouring countries under the Southern African Development Community Power Pool framework arrangement.
From all indications, Russia wants to turn nuclear energy into a major export industry. It has signed agreements with African countries with no nuclear tradition, including Rwanda and Zambia. And is set to build a large nuclear plant in Egypt.
Interestingly, Egypt's dreams of building nuclear plant has spanned with agreement that was signed (as far back in March 2008) during official visit to the Kremlin by the ousted President Hosni Mubarak, and then again with former Egyptian leader Mohammed Morsi who discussed the same nuclear project with Vladimir Putin in April 2013 in Sochi, southern Russia.
During the dawn of a new era, Vladimir Putin and Abdel Fattah Al Sisi signed an agreement to set up four nuclear plants in El Dabaa, on the Mediterranean coast west of the port city of Alexandria, where a research reactor has stood for years.
The deal signed on the heels of talks held between Putin and Al Sisi, where both expressed high hopes that Russia would help construct the country's first nuclear facility. Egypt began its nuclear program in 1954 and in 1961, acquired a 2-megawatt research reactor, built by the Soviet Union.
However, plans to expand the site have been decades in the making that Rosatom will provide its fuel, personnel training, and build necessary infrastructure. The four blocks of the nuclear power plant will cost about $20 billion.
However, Director Anton Khlopkov and Research Associate Dmitry Konukhov at the Center for Energy and Security Studies, co-authored a report to Valdai Discussion Club, part of RIA Novosti Agency, that success of Egypt's nuclear project depends on three key factors.
These are the political stability and security situation in Egypt, a viable financing mechanism that reflects the country's economic situation, and the government's ability to secure support for the project among the local residents of El Dabaa, the site chosen for Egypt's first nuclear plant back in the 1980s.
In reality, Ghana has a similar never-ending dreams and fairy tales of owning nuclear plants. The agreement re-signed on June 2, 2015. The Russian reactor, 1000 MW plant, will cost a minimum of $4.2 billion. The financing scheme has not been finalised. And it will take about eight to ten years from site feasibility studies to commissioning of the first unit.
As local media reported, Ghana's quest to industrialise for economic growth and development has fast-tracked plans to establish nuclear power in the country within the next decade, that means by 2029 and export excess power to other countries in the sub-region.
With "One District, One Factory" – Ghana's industrialisation agenda might not be realized under Nana Addo Dankwa Akufo-Addo's administration based on the roadmap of the nuclear power programme to commence construction by 2023 and inject nuclear energy into the grip by 2030.
The African countries' MoUs and Agreements with RosAtom including Nigeria, Kenya, Tanzania and the rest are stacked. Nearly three decades after Soviet collapse, not a single plant has been completed in Africa.
Some still advocate for alternative energy supply. Gabby Asare Otchere-Darko, Founder and Executive Director of Danquah Institute, a non-profit organisation that promotes policy initiatives and advocates for Africa's development, wrote in an email that "Africa needs expertise, knowledge transfer and the kind of capital imports that can assist Africa to develop its physical infrastructure, add value to two of its key resources: natural resources and human capital."
Russia has respectable expertise in one key area for Africa: energy development. "But, has Russia the courage, for instance, to take on the stalled $8-$10 billion Inga 3 hydropower project on the Congo river? This is the kind of development project that can vividly send out a clear signal to African leaders and governments that Russia is, indeed, ready for business," he said.
The renewable energy potential is enormous in Africa, citing the Grand Inga Dam in the Democratic Republic of Congo. Grand Inga is the world's largest proposed hydropower scheme.
It is a grand vision to develop a continent-wide power system. Grand Inga 3, expected to have an electricity-generating capacity of about 40,000 megawatts – which is nearly twice as much as the 20 largest nuclear power stations.
Researchers and Experts strongly believe and further estimate that the cost of building nuclear power does not make any sense when compared to the cost of building renewables or other sources of energy to solve energy shortages in Africa.
According to the company profile, Rosatom offers a complete range nuclear power products and services from nuclear fuel supply, technical services and modernisation to personnel training and establishing nuclear infrastructure. Currently, Rosatom has built more than 120 research reactors in Russia and abroad.