More than 5,000 child soldiers released in 2017, but tens of thousands still being used in conflict
"Children can only be freed from armed groups and forces through a comprehensive reintegration process, including medical and psycho-social support, as well as educational programmes and trainings," the Special Representative of the UN Secretary-General for Children and Armed Conflict, Virginia Gamba, said Monday, on the International Day against the Use of Child Soldiers.
"Without a strong political and financial commitment to the reintegration process, re-recruitment is unfortunately likely to happen in many conflict situations," Ms. Gamba added.
Despite progress, boys and girls continue to be recruited, kidnapped, forced to fight or work for military groups or armed forces. The recruitment and use of children happened in all 20 country situations covered by the mandate entrusted to Ms. Gambia and her office.
Sixty-one parties to conflict out of 63 are listed for this grave violation in the 2016 Annual Report of the Secretary-General on the issue, making it by far the most widely-spread violation.
"It is our responsibility to show these children that there is hope outside of conflicts, that they can live in peace and security and be allowed to live their dreams," Ms. Gamba, reminded.
The International Day was initiated in 2002 when the Optional Protocol to the Convention on the Rights of the Child on the Involvement of Children in Armed Conflict entered into force on February 12, 2002. This protocol, which sets the minimum age for recruitment into armed forces in conflict at 18, has been ratified by 167 States.
Is the international approach fit-for-purpose?
Meanwhile, the United Nations University (UNU) has been collaborating with the UN Children's Fund (UNICEF), the UN Department of Peacekeeping Operations, Luxembourg and Switzerland, to examine whether the international community's approach to this scourge is effective, or requires adjustments.
The goal is to use the empirical findings of the research to inform programmatic guidance for actors in the field and to effectively disengage children from armed groups.
In their report, titled Cradled by Conflict: Child Involvement with Armed Groups in Contemporary Conflict, researchers suggest that most children do not so much "opt" into conflict as "grow" into it.
According to the report, conflict structures the information they see and the choices they make. It pulls and pushes them in many directions. Conflict erodes their relationships. It exacerbates their needs and exposes them to untold risks. Conflict shapes their identity and heightens their need to find meaning in their lives.
Ultimately, the forces of conflict narrow the paths available to children, and tragically, for many, lead to exploitation, violence, and trauma.
These findings undermine the conventional wisdom that "violent extremism" or ideology is predominantly responsible for driving children into armed groups.
The report proposes five principles for more effective international efforts to prevent and respond to child recruitment and use by armed groups: avoid programmes focused primarily on ideological factors; only incorporate ideological components where individually necessary and where they can be embedded into larger, holistic efforts to address the needs and risks of children; ensure all interventions are empirically based; rigorously assess interventions over the long term; and engage children not just as beneficiaries, but as partners.
UNIDO advocates for sustainable energy at EUSEW
For the second consecutive year, the United Nations Industrial Development Organization (UNIDO) took an active part in the European Union's Sustainable Energy Week (EUSEW) in Brussels, which focused on 'Shaping Europe's Energy Future'. "Ongoing research and collaborative actions between the European Union and Africa are crucial to renew the partnership", said UNIDO Climate Change Expert Cassandra Pillay. "The aim of this event is to facilitate policy debates and strengthen partnerships between the two continents across private and public sectors".
Pillay participated in the session "EU-AFRICA Long term Partnership on Sustainable Energy: The Role of Research & Innovation", with UNIDO also contributing to the "Transport, Energy and Digitalisation – City and Industry Views" session, which was jointly organized by ERTICO-ITS Europe, EUROCITIES, ORGALIM and UNIDO. The session addressed the synergies between the transport, energy and digital sectors to achieve sustainable energy policy goals and aimed at enhancing the value of actions and cross-sectoral work programmes.
The EUSEW is a flagship event organized by the European Commission to bring awareness about renewable and efficient energy use across Europe, which brings together public authorities, private companies, NGOs and consumers to promote initiatives to save energy and move towards renewables for clean, secure and efficient power. More than 4,000 registered participants attended.
EU mobilises over €18 million for the Central African Republic in 2019
As many people continue to suffer in the Central African Republic (CAR), the European Union continues to stand in solidarity with the people in need in the country and announces €18.85 million in humanitarian assistance for 2019. This additional support brings EU humanitarian assistance in CAR to more than €135 million since 2014.
Christos Stylianides, Commissioner for Humanitarian Aid and Crisis Management, said: 'For the EU, the humanitarian situation in the Central African Republic is not a forgotten crisis. We will continue providing assistance to bring life-saving relief to the people in need. We remain, however, concerned about violence levelled against civilians and aid workers in the Central African Republic. Innocent people and humanitarian workers are not a target.'
EU humanitarian funding in the Central African Republic aims at:
helping conflict-affected people whose basic survival depends on humanitarian assistance. Internally displaced people, host communities and returnees are provided with food aid, emergency health and nutrition treatment, water and hygiene, shelter, basic essential items, education, and support to their livelihoods;
preventing violence and providing medical, psychosocial and legal support to victims of violence and human rights breaches;
tackling the food and nutrition crisis with assistance for families in need and for people at high risk of undernutrition, and support to the health sector to step up malnutrition prevention and treatment;
supporting the delivery of aid to areas where poor infrastructure and ongoing fighting make access difficult for humanitarian workers.
The Central African crisis has also an impact on the entire region as 592,000 refugees have sought refuge in neighbouring countries to which the EU is providing support as well.
Background
Since 2013, violent conflict has plunged the Central African Republic into turmoil and a protracted humanitarian crisis. Despite a new peace agreement signed in February 2019, people continue to be affected by violence. Attacks against civilians have been a major driver of the humanitarian situation in the country, leading to mass displacements and a total rupture of their means of subsistence, mainly agriculture.
More than half of the Central African Republic's population is in need of humanitarian assistance to survive and a quarter of the population is displaced. An estimated 1.8 million people are suffering from a severe lack of food, and almost 38% of children under five years suffer from chronic malnutrition. Almost two thirds of the population has no access to health care, while access to basic social services remains largely dependent on humanitarian actors.
International Labour Conference ends with adoption of key Convention and Declaration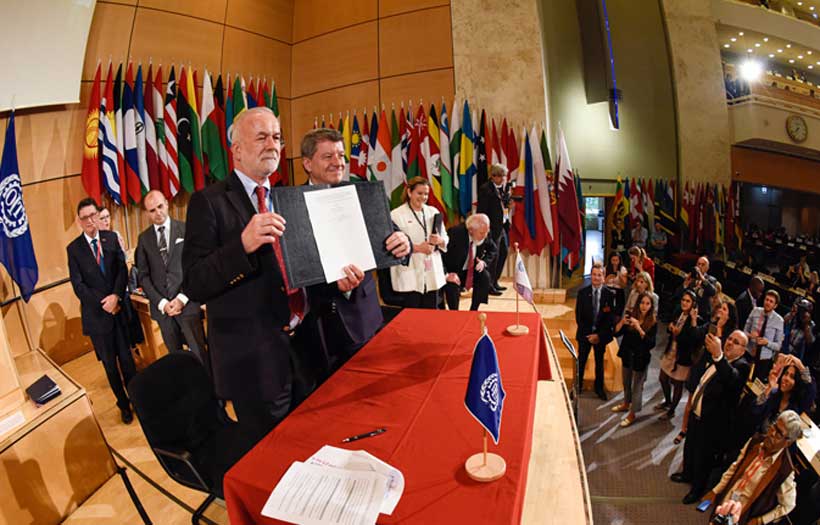 The Centenary Conference of the International Labour Organization (ILO) ended on Friday with the adoption of an unprecedented Convention and accompanying Recommendation to combat violence and harassment in the world of work, as well as a Declaration charting the way towards a human-centred future of work.

The ILO Centenary Declaration for the Future of Work, 2019 , is a reaffirmation of the relevance and importance of the ILO's mandate in the changing world of work, a strong statement of intent, a mobilizing call, and a road map for action by the ILO itself.

"What we have adopted today is a roadmap, a compass to take us forward in the future of this Organization, because the future of work is the future of our Organization," said ILO Director-General, Guy Ryder.

The Declaration looks to the future of work with a human-centred lens. It has a strong focus on enabling people to benefit from changes in the world of work, by strengthening the institutions of work to ensure adequate protection of all workers, and by promoting sustained, inclusive and sustainable growth and full and productive employment.
Specific areas for action identified include:
The effective realization of gender equality in opportunities and treatment
Effective lifelong learning and quality education for all
Universal access to comprehensive and sustainable social protection
Respect for workers' fundamental rights
An adequate minimum wage
Maximum limits on working time
Safety and health at work
Policies that promote decent work, and enhance productivity
Policies and measures that ensure appropriate privacy and personal data protection, and respond to challenges and opportunities in the world of work relating to the digital transformation of work, including platform work.
UN Secretary-General António Guterres joined some three dozen world leaders who, in the course of the two-week International Labour Conference (ILC), delivered strong messages of support for the ILO and its social justice mandate.

"You are carrying forward the torch that was lit one hundred years ago to help build a new world – a world based on social justice, founded on a model of inclusion – with governments, workers and employers at the decision-making table together," Guterres said.

Guterres told delegates that the Declaration "marks an historic opportunity to open a door to a brighter future for people around the world."

"The Declaration is ambitious – setting out the basis for delivering the ILO's mandate in its second century. But the Centenary Declaration is much more than a statement of wishes or intent. The Declaration proposes a shift in the paradigm of how we look at development," he said.

Guterres also welcomed the adoption of the Violence and Harassment Convention, 2019, which is accompanied by a Recommendation.

The Convention recognizes that violence and harassment in the world of work "can constitute a human rights violation or abuse…is a threat to equal opportunities, is unacceptable and incompatible with decent work." It defines "violence and harassment" as behaviours, practices or threats "that aim at, result in, or are likely to result in physical, psychological, sexual or economic harm." It reminds member States that they have a responsibility to promote a "general environment of zero tolerance".

The new international labour standard aims to protect workers and employees, irrespective of their contractual status, and includes persons in training, interns and apprentices, workers whose employment has been terminated, volunteers, jobseekers and job applicants. It recognizes that "individuals exercising the authority, duties or responsibilities of an employer" can also be subjected to violence and harassment.

The standard covers violence and harassment occurring in the workplace; places where a worker is paid, takes a rest or meal break, or uses sanitary, washing or changing facilities; during work-related trips, travel, training, events or social activities; work-related communications (including through information and communication technologies); in employer-provided accommodation; and when commuting to and from work. It also recognizes that violence and harassment may involve third parties.

Ryder welcomed the adoption. "The new standards recognize the right of everyone to a world of work free from violence and harassment, "he said. "The next step is to put these protections into practice, so that we create a better, safer, decent, working environment for women and men. I am sure that, given the co-operation and solidarity we have seen on this issue, and the public demand for action, we will see speedy and widespread ratifications and action to implement."

Conventions are legally binding international treaties that may be ratified by member States, while Recommendations serve as non-binding guidelines. Declarations are resolutions of the ILO's member States used to make a formal and authoritative statement.

During the Conference, the Committee on the Application of Standards adopted conclusions on 24 individual cases related to issues arising from the implementation of Conventions by ratified by member States.

The Conference outcomes "empower the ILO to perpetuate its commitment to social justice in support of peace in the world," said Conference President Jean-Jacques Elmiger, head of International Labour Affairs at Switzerland's State Secretariat for Economic Affairs. "Let us dare admit it, our conference will mark history."

The two-week ILC was attended by about 6,300 delegates, representing Governments, workers and employers from 178 of the ILO's member States, as well as observer national and international non-governmental organizations.

A number of thematic forums on future of work issues took place during the Conference, featuring heads of United Nations and multilateral agencies and high-level government, workers' and employers' representatives.