Who's going to rescue Male?
In the last three and a half years of Prime Minister Narendra Modi's administration, China has been allowed to easily interfere with the internal affairs of India's close neighbors'. This demonstrates India's reluctance to stand with its neighbors'as they face grave domestic challenges which require India's assistance. The best example is the recent refugee crisis in Rakhine, western province of Myanmar, and the fleeing of the Rohingya Muslims to India and Bangladesh. Modi's government only observes the issue from the perspective of security, and therefore seeks to send the refugees back to Myanmar; it does not attempt to resolve the crisis. India is supposed to take the lead in resolving the Rohingya refugee crisis. However, its insular, defensive strategy has given the Chinese the opportunity to take a foothold; Modi is failing to address the situation. India is a country aspiring to become a major power but it is presently losing ground daily in the international power system. These raises serious doubt among the great powers and among those countries that desire and expect the rise of India.
The present Maldives crisis provides India with a chance to reclaim the trust of its neighbors. The first democratically elected President, Mohamed Nasheed, was arrested for terrorism charges in 2015 and sentenced to 13 years. In consequence of his health problems, he exiled in London now staying in Sri Lanka. Meanwhile, the Maldives' Supreme Court has ordered (on 1 February 2018) the release of the former president Nasheed and the other twelve members of the opposition party. If President Yameen's government complies with the court order, there is a good chance that it would lose its majority to the opposition party. Hence, Yameen refused to comply with the verdict of the court and declared a state of emergency. The Supreme Court has since taken a 'U' turn and revoked its judgment regarding the release of prisoners. Thus, Male is facing a great crisis.
In this article, I would like to argue that, since the Male crisis is occurring in the Indian Ocean Theater, it is for New Delhi to exercise its responsibility and resolve the crisis.
The Male Crisis
Modi skipped a visit to Male during his state visit in 2015 to the Indian Ocean countries. This was a policy mistake of the Modi's government. Hence, "India's leverage in the Maldives is less than it has ever been" (The Hindu). He should have visited at that time, to register a strong message in Male that 'India will stand with them shoulder to shoulder to restore democracy'. This would have been a tough message to Yameen, to respect the law. Now, however, in the vacuum of the government's mistake, Yameen is spreading his wings towards India's adversaries – China and Pakistan. If it is allowed – this would be a serious security threat for India. China should not be allowed to dictate terms in the Indian Ocean Region (IOR). So, by resolving the situation, Modi can rectify his past errors.
If India is to emerge from the containment strategy of China, then it should act with strategic assertiveness whilst simultaneously inviting both government and the opposition of Maldives' to negotiating table, to recover the rule of law in Maldives, and allow elections to be conducted in September 2018.
India should now act sensibly by considering the request from 'Nasheed the opposition camp' for India's support; they ask India "to send an envoy, backed by India's military". Nasheed believes that India alone can restore the democracy to the Island. Moreover, India cannot run from this emergency by citing "its long-standing claim not to interfere in other states' affairs" (The Independent). The Indian Ocean is India's backyard. India should not expect the West to come to the rescue of Male or allow China to interfere. The world knows that China is Yameen's close ally. It also knows that the Male military has trained in Islamabad and that ammunition has been produced in Male with the support of Pakistan.
The traditional responses of India – such as "we are watching closely and are disturbed" – will not work this time nor gain any diplomatic advantage. This is the time for India to step in and prove that the Indian Ocean is indeed India's Ocean, especially with increasing Chinese assertiveness therein. India should consider the sincere request of former president Nasheed, the condemnation of the West, and the support of the wider world.
China's mouthpiece, The Global Times, advises that – 'India must not interfere in Male' as it has no justification. India is surrounded by more rogue states. If India does not interfere in resolving the Male crisis, then law breakers closer to home will presume that India's desire to get along with China provides them with more impunity for breaking the law domestically. India's relations with China have no space with Male crisis. Hence, India has the duty to reinstate democracy in the island nation of Maldives and proclaim to the world that India's aspiration to become a major power has not faded. Modi should not forget that India is now a country with a "credible minimum nuclear deterrent". Our "ballistic missile arsenal can deliver warheads on targets more than 5,000-km away – a range that encompasses China's eastern centers". India also possesses and we have the "air, sea, and land-based launching platforms" (CRS Report, 2017). India's past leadership gave substantial power to Modi so that he would use it in situations of necessity like this, to safeguard India's image on the Indo-Pacific stage.
Conclusion
What are the available solutions and who is going to rescue Male? The answer is very clear: India holds this responsibility.
First, whilst dealing in this matter, New Delhi should avoid crafting useless statements like "we are disturbed by watching the Male crisis". This will not provide any positive results. India should being tough with the Yameen government; it should ring a bell about former Prime Minister Rajiv Gandhi's realism of "1988's Operation Cactus" to thwart the coup attempt to save the Maumoon Abdul Gayoom's government in Male. Through this communication Yameen will have a chance to presume India's strategic trajectory. Although China, Pakistan and Saudi Arabia are the close allies of Yameen, India should not back down on this matter. To shy away from this challenge is akin to a suicide attempt for the Modi government. No one would accept this leadership if it took this course.
Second, India should communicate its stance with the Indian Ocean Region (IOR) countries, to stand together and to mount pressure on the Maldives. This would send a signal to Beijing that it ought to avoid any interference in the issue, and sternly warn Yameen, forcing him to reconsider his position.
Third, New Delhi could meanwhile obtain the backup of the US, EU, and Australia, to make a powerful statement of India's intention to restore peace and order in Maldives.
Fourth, India should stand tall in this matter and tell the world that it is its duty and responsibility to earn and preserve the trust of other nations. This trust is now under serious threat, following the actions of the ruling elite in New Delhi. This trust was built brick by brick by India's leaders in the last seven decades. To keep this trust with its ally alive, India should act wisely to maintain its interest in the Indian Ocean.
Fifth and finally, if Modi fails to defend India's interest in the Indian Ocean, he should take moral responsibility. India's neighbor is facing a very serious issue. It is also vulnerable to the influence of China in the Maldives, which increases whenever New Delhi stands still. If there is no keen watchfulness with China, there will be serious long-term consequences. This can be seen in Sri Lanka today.
A Golden Cage of Repression: The Paradoxical Outcome of Afghan Women's 'Liberation'
Following the September 11 terror attack, the term 'freedom' acquired fresh momentum in the global North. However, it captivated America's national security dialogue in particular. Under the rhetoric of 'freedom', the hegemonic masculine American military grew obsessed with protecting the burqa-clad female 'victims trapped in Afghanistan'. The neo-colonial presumption that Afghani women could be emancipated through American intervention in Afghanistan proved to be unsurprisingly problematic. Evidence has indicated that the insecurity of women exacerbated since the inception of the 'war on terror'. Numerous women in Afghanistan were displaced during the conflict (and remain soto this day).They continue to endure an unstable economic, political, and social order. Those who fled to neighbouring countries, primarily to Pakistan and Iran as reported by Amnesty International in 2015,were subject to physical and sexual abuse and had restricted access tobasic facilities (i.e. education, healthcare, sanitation etc.) that are imperative to pursuing a decent standard of living. This represents an explicit failure in the American quest for advancing 'women's rights.'
The American invasion of Afghanistan governed (in part) by a pseudo-focus on advancing women's rights was further accentuated in Laura Bush's speech in 2001. This widespread American liberal feminist thought addressed violence against Afghani women as an outcome of the ideologies imposed by the Taliban male 'Other'. However, it is this very perspective, representing women from another culture as gendered 'victims', that one should be careful of advocating. The tendency to homogenise the experiences of all Muslim women is a rampant limitation of most Western feminist practice, subsequently paving the path to epistemic violence. In addition to cultural/religious insensitivity, their inherent hypocrisy is made apparent when 'liberation', which in essence seeks to promote 'freedom of choice', equates notions of oppression to various veiling practices widespread in the Afghani culture. The oversimplification of a complex issue in relation to adiverse female population (comprising of cultural, geographical and/or religious identities) enforces elements of neo-colonial violence, thus robbing Afghani women of their agency regarding clothing choices.
With particular focus on Afghanistan, Wylie has demonstrated the importance and implications of focusing on cultural accounts, deep-seated in the history of a nation, in order to understand the foundation of gender order. Utilising the complex historical climate of Afghanistan, one which comprises the decades-long influence of a conservative culture together with the current conflict worsened through foreign funding and support, Wylie has argued that overthrowing the Taliban rule after 9/11andreplacing another government regime would inevitably propose challenges regarding the advancement of '(liberal) women's rights' constructed by those outside Afghanistan. Counter-productivity concerning the promotion of women's rights in society or abolishing violence against women altogether is essentially an outcome of their (liberal feminists) failure to formulate strategies that compliment traditional Afghani practices. Hence, we should strive to understand the root causes of injustice apparent in a nation and then, tailor a culturally sensitive approach to combat violence. Otherwise insecurity will continue to prevail, as exhibited in the 'war on terror.'
Lastly, the voices of those women who have personally encountered the three-fold processes (epistemic, physical, and structural) of violence during the 'war on terror' is absent from the discourse. Alack of anecdotes pertaining to an Afghani woman's cry for help when an invasion in their name is being pursued is rather puzzling. The imposition of such paternalistic belief masked under the rhetoric of freedom has left women voiceless and their agency stripped. It is imperative to note that Afghani women are aware of the obstacles they face to economic, political, and social progress. Their exclusion in the rights debate while being de facto held captive by the daily cycle of violence perpetuated by both the domestic and international community is a key reason as to why insecurity amongst Afghani women is still rampant. This encompasses key implications for academics, policy makers, and the general global arena who provide blind support to those keen to advance the women's rights discourse but do so clumsily so that no real participation investment is available to actual Afghani women. As long as this remains the case, as long as Afghani women are being patronized in a manner that does not allow them true freedom over their own social rights' discourse, then it seems unlikely that great progress can be achieved in Afghanistan when it comes to gender equality, gender freedom, and gender security.
It is an undeniable fact that the forceful imposition of American ideals of 'liberation' on Afghani women has facilitated an escalation in the three-fold processes of violence. The consequences of military invasion supported by the American government should have been closely observed when it came to the social, political, and development situation for local women. Developing culturally sensitive strategies which address gender order grounded in the historical complexities of a country really needs to be paramount. Without this grounding any force-adoptive strategies placed from above have a small likelihood of lasting once the invading forces withdraw. Lastly, one cannot stress enough on the significance of incorporating indigenous women's voices explicitly in gender rights discourse. This is a primary step which can enable women (and men) to disrupt the cycle of violence and consequently transfer agency back to the women of Afghanistan (or any other country for that matter). Failure to do so means Western countries will be basically inserting another form of repressive patriarchy in place of the Taliban version. It does not matter that the former is meant to be done with the best of intentions and with improved welfare for local women in mind. Preventing Afghani women from first achieving and then exercising true agency is creating a golden cage. Unfortunately, a cage is still a cage no matter how much it may sparkle compared to the previous one.
Bibliography
Amnesty International (2015). Global Refugee Crisis – by the numbers. Available: https://www.amnesty.org/en/latest/news/2015/10/global-refugee-crisis-by-the-numbers/[Accessed 3rd November, 2015].
Husain, M. E., & Ayotte, K. J. (2005). Securing Afghan women: Neocolonialism, epistemic violence, and the rhetoric of the veil. NWSA journal, 17(3),pp. 112-133.
Wylie, G. (2003). Women's Rights and Righteous War 'An Argument for Women's Autonomy in Afghanistan. Feminist Theory, 4(2), pp. 217-223.
Humanizing the Kashmir Issue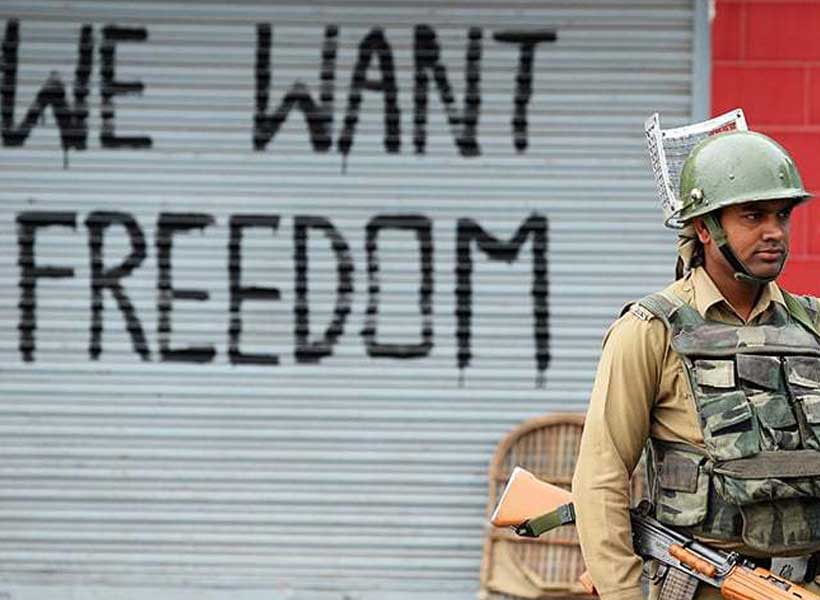 It is a fact that in a conflict situation, the contending parties aim at extracting maximum benefit mostly at the expense of the opponent. In doing so however, a pure realistic logic comes into play where exercising maximum power to achieve maximum gain is the rule of law. No compromise, no compassion, and nothing less than a complete victory over the other is acceptable. While it is known that conflict is ubiquitous in nature and follows a certain life cycle short of either exploding into a full-blown war or ending into a stalemate, it also has a probability to get resolved, managed or be transformed if proper techniques are employed coupled with the necessary will. Not only does that allow for the space to address a conflicting situation but also raises hopes for minimum material and human causalities. One relevant option in such cases is to "humanize" the conflict through conflict transformation mechanism so as to associate the human dimension to the dispute and making it more humane. This helps reframe the ways in which peace building initiatives could be discussed and pursued. It is important to note that "empathy" is essential to peace building.
Same is the treatment that is needed to be extended to the Kashmir issue, the most bitter territorial dispute between India and Pakistan. The two nuclear states have fought their first war in 1948 on this very issue and have been engaged in continuous skirmishes along the LoC from time to time, so much so that today it is seen as a nuclear flashpoint between Pakistan and India. It is important to identify that the stakeholders in this case are not just the state of Kashmir, Pakistan or India, but the real stakeholders are the people of Jammu and Kashmir who have been suffering for more than six decades at the hands of Indian brutality and savage atrocities.
It is ironic that despite the decades long miseries of innocent Kashmiri people, the international political community is mum on the subject in terms of taking any practical action against the aggressor or to even acknowledge the human suffering in this case. Even though the UN resolution of 1948 suggests the fair, free and independent plebiscite, the resolution was never implemented because of India. Instead, swift genocide of Kashmiri Muslims is being carried out by Indian state sponsored elements in Kashmir to make it a Hindu majority land, which needs to be stopped. Pakistan's permanent representative to the UN, Amb. Maleeha Lodhi rightly stated that "nothing undermines the credibility of UNSC more than the selective implementation of its resolutions".
Nonetheless Pakistan on its part has been raising the issue of indigenous struggle of people of Kashmir at all the regional and international platforms on purely human grounds. There is more than ever an immediate need to put an end to the Indian brutalities that has even crossed the last limits of barbarism through pallet gun attacks on unarmed civilian population and by unabashedly using the innocent people as human shield tied in front of their vehicles. An excerpt from the book "The Collaborator" written by a Kashmiri writer Mirza Waheed depicts the horrific picture of violence by India in Indian occupied Kashmir mentioning that "there were people dying everywhere getting massacred in every town and village, there were people being picked up and thrown into dark jails in unknown parts, there were dungeons in the city where hundreds of young men were kept in heavy chains and from where never emerged alive, there were thousands who had disappeared leaving behind women with photographs and perennial waiting, there were multitudes of dead bodies on the roads, in hospital beds, in fresh martyr's graveyards and scattered casually on the snow mindless borders".
This is only a glimpse of what is actually going on there. No less than a breakthrough, on June 15, 2018, finally the first ever UN report on Kashmir recognizes the human rights violation and carnage against the local Kashmiri population by the authorities in the Indian Occupied Kashmir. It is indeed a first positive step that would not only coax the international community and Human rights watchdogs to be more objective towards the Kashmir issue but will also evoke the much required empathy needed to make positive progress for the basic rights of the Kashmiri people. Although it took the UN seventy long years but it comes as a sigh of relief that the report explicitly mentions that in IOK, people have been subjected to lack of justice and impunity, extrajudicial killings, administrative detentions, torture, enforced disappearance, and sexual violence. It identifies the Indian authorities being ruthless with the unarmed civil population and employing the most brutal of acts to inflict human anguish.
This report could actually serve two major purposes: one, the international community should now be able to see in black and white the aggressor and the victim, and the real stakeholder i.e. the people of Kashmir; second, seeing the conflict from the human lens can help to limit escalation and violence. The international community should not allow India to de-humanize the issue anymore, which so far has only led to the gross human rights violation and genocide by India. There is a high hope that evaluating the Kashmir issue on purely human grounds will dispel the misleading Indian generated propaganda against the indigenous freedom struggle of innocent Kashmiris. It will help better educate the world community on the issue and employ relevant humanizing strategies to effectively transform this never ending conflict.
Indian students abroad and the new immigration policy
The UK and US have for long been preferred destinations for Indian students, due to employment opportunities, and the deep economic and political links India shares with both these countries. In recent decades, other countries like Australia, Canada and New Zealand have also emerged as popular choices  for Indian students. In the case of the US, total number of Indian students as of 2018 was 1,86,000. Indian students contributed well over 6 Billion USD to the US Economy. For some time, there was a decline in number of Indian students going for disciplines like Engineering, given the Trump Administration's revisions made to the H1-B Visa regime. As a result number of Indian students going to the US dropped by 21%, and was estimated at 18,590 in 2017.
Apart from this, there are new restrictions to the Optional Practical Training OPT. Says the United States Customs and Immigration Services UCSIS website:
'The training experience must take place onsite at the employer's place of business or worksites to which US Immigration and Customs Enforcement (ICE) has authority to conduct site visits to ensure the OPT requirements are being met….The training experience may not take place at the place of business or worksite of the employer's clients or customers because ICE would lack authority to visit such sites."
This revision has also made US education less attractive for Indian students, who looked at training as a possible opportunity.
UK's recent reforms
Only recently, UK has introduced reforms to its immigration regime. In its new immigration policy tabled before British Parliament, India was not included in the list of 'low risk countries' , by the British Home Office, for Tier 4 student visas (university applications for students applying for low risk countries will become simple. Significantly, countries, including Bahrain, Indonesia, and the Maldives have been included in the list.
It would be pertinent to point out, that the spokesman for the Home Office did acknowledge the relevance of Indian students:
"We welcome Indian students who want to come to the U.K. to study at our world-leading educational institutions. We issue more visas to students from India than any other country except China and the U.S.,"
Reactions to this decision
Lord Karan Bilimoria, an entrepreneur of Indian origin, and President of the UK Council for International Student Affairs (UKCISA) has dubbed this as an insult to India, while also citing this as an instance of UK's ignorant attitude towards immigration.
It is likely, that UK Home office's decision may have an impact on the FTA  (Free Trade Agreement) to be signed between India and UK, the former is likely to harden its stance.
While the recent decision is not likely to go down well with prospective Indian students. There has been a dip in Indian students attending British Universities. In 2010, Indian students in UK were estimated at 60,000. While in 2016, that number had dropped significantly to 15,000. In 2017-2018, there was a 27% increase in student visas (the first time since 2010), but this did not cover the decline over a number of recent years.
Problems being faced by Indian students have been raised on a number of occasions. Indian High Commissioner to UK, YK Sinha, had flagged the issue of problems faced by Indian students in UK, with Britain's Minister of State for Universities Sam Gyimah in June 2018.
The recent Immigration policy did have some good news in the context of tier-2 visas (for professionals). Techies, teacher, doctors and engineers, have been removed from the total cap of 20,700 Visas. This creates new opportunities for professionals.
Countries which have benefitted
The biggest beneficiaries of the restrictive policies of US and UK have been countries like Australia, Canada and New Zealand. In Australia, there were over 68,000 Indian students as of November 2017 (a rise of 14% from the period from January-November 2016), there has been a surge in the number of Indian students attending Canadian universities ( in 2015, this number was estimated at 31,795 while at the end of 2016, this was estimated at 52, 890).
While Australia abolished 457 (the equivalent of an H1 B), which impacted Indian professionals.  Canada has been generous in providing work visas as well as permanent residency. The latter has been successful in weaning away software professionals from the US through Canadian PM Justin Trudeau's, Global Skills Strategy.
Need to safeguard Indian students interests.
Countries like US and US need to decide for themselves, whether or not they want to make use of talent. Indian government, itself needs to be more firm in safeguarding the interests of its students overseas. Indian students, who perform exceedingly well academically, as well in the professional sphere, are an important component of India's 'Soft Power'.
Indian students, on their part, should also explore new destinations, which are trying to open up student visas and employment opportunities and should not go by education consultants.  As India begins to strengthen ties with countries in East Asia and South East Asia, Indian students should explore possible opportunities in countries like Taiwan. It is setting up more education centres in India, establishing exchange programs with Indian Universities. The country's Ministry of Education is also planning a revision to the law according to which talented overseas students may be permitted to work in Taiwan.
Conclusion
Countries which have been preferred choices for higher studies should realise that Indian students have numerous options, and they can not be taken for granted. Not just simpler application procedures and student visas, it is important that there are substantial incentives such as relaxation of work visas. New Delhi on its part needs to be firmer in flagging problems being faced by Indian students, and while strengthening ties with countries there should be a focus on strengthening educational linkages.