The Role of Sustainable Development in Preventing the Relapse of Conflict in Africa
Authors: Charles Matseke and Bhaso Ndzendze
In this paper we will discuss the interplay between violence and development and lack thereof and then lay down the framework from which we situate the relationship. Secondly, we will articulate the role of sustainable development in preventing the relapse of conflict through two empirical studies (China and Rwanda). Then lastly, we will lay out some suggestions which the case studies point out in terms of future policies by South Africa as a leader in the continent, the AU as a continental multilateral body and the United Nations' various organs.
The Peace-Development Nexus
Three disturbing patterns exist regarding civil wars and their recurrence. First, civil wars have a surprisingly high recidivism rate. Of the 103 countries that experienced some form of civil war between 1945 and 2009 (from minor to major conflict), only 44 avoided a subsequent return to civil war. That means that 57 percent of all countries that suffered from one civil war during this time period experienced at least one conflict thereafter. This confirms what Collier and Sambanis (2002) have called the "conflict trap;" once a country experiences one civil war, it is significantly more likely to experience additional episodes of violence.
Second, recurring civil wars have become the dominant form of armed conflict in the world today. In fact, since 2003 every civil war that has started has been a continuation of a previous civil war. Third, civil wars are increasingly concentrated in a few regions of the world. Prior to the end of the Cold War, civil wars were spread over almost every continent, in countries as diverse as Bolivia, Greece, Indonesia, Lebanon and Nicaragua. The end of the Cold War, however, brought an end to many of these conflicts, especially those in Central America and Southeast Asia. The result is a greater number of civil wars concentrated in sub-Saharan Africa.
The interplay between conflict and poverty is a storied one. With very few exceptions, where there is conflict, there is more often than not grinding poverty which acts to bring about conflict in a variety of ways:
Poverty leads to unemployment which in turn leads to a lack of opportunity cost for those youths especially who are both dis-incentivised away from being good and law-abiding citizens and in turn are drawn to violent groups, be they rebel militia and terrorist groups. Religious terrorist groups throughout the continent, capitalizes on local conditions by offering envisioned solutions to the grievance shared by the surrounding communities. They portray the situation in terms of an impoverished Nigerian Muslim population  as being oppressed by non-Muslim rulers, and "apostates" backed by sinister forces that intend to keep the local Muslim communities subservient.
According to James J. Forest, terrorists and criminals thrive in a climate of sustained grievances. It is no coincidence that the worst forms of political violence in Nigeria today originates in the most socio economically disadvantaged part of the country. In the north, where unemployment and poverty are the highest, radical Islamists and the imposition of Shari'ah have challenged the authority of the state (Forest, 2012: 45).In the south, where environmental destruction resulting from oil extraction in the Niger Delta has made local Nigerians traditional groups and armed militant gangs often consisting of unemployed youth have engaged in kidnapping, extortion, car bombings, murder, and other forms of violent attack against the government and the nation's critical oil infrastructure. This shows that issues like ideology and ethnical grievances are merely benchmarks or contingents and that the real issue at the core of conflict is (1) a lack of resources, (2) a lack of opportunity and (3) therefore a lack of development. And allowing violent groups to provide the first two can lead to a complete shutoff of the third because civil violence in turn has developmental implications in several ways:
Firstly, terrorist attacks enhance uncertainty. This comes to limits investments and diverts FDI to "safer venues" (Gaibulloev and Sandler, 2011).
Secondly, augmented security outlays by a targeted government led to the crowd-out effect on what would otherwise be productive public and private investment.
Thirdly, an anti-terrorism campaign increases "the costs of doing business" through, for example, more expensive insurance premiums, higher wages, and higher security expenditures, which can themselves plummet profits, undermine productivity, and therefore economic growth.
Fourthly, in relation to the first point, terrorist attacks can lead to the undermining of growth through the destruction or degrading of social overhead capital that "facilitates commerce (for example, transportation, communication and electricity) and daily routines."
Finally, terrorism tends to impact specific industries airlines and tourism and this may directly limit growth; "this may be especially true when terrorists target export-sector assets in an export-led-growth economy". For example, states that purchase the target country's export(s) may take their business elsewhere to states that have more reliability. (Gaibulloev and Sandler, 2011: 91-92).
The 2011 World Development Report's authors argue that violence is not just one cause of poverty among many: it is becoming the primary cause. Countries that are prey to violence are often trapped in it. Those that are not are escaping poverty. This has profound implications both for poor countries trying to pull themselves together and for rich ones trying to help.Conflict in impoverished states thus becomes a self-reproducing loop which needs to be interrupted. Misunderstanding this relationship is what many states and organisations have done best, however.
The NATO aid budget for Afghanistan, for example, is focused almost entirely on military expenditure – about 90% — whereas only 10% is on developmental issues. And the shift in the White House's rhetoric to further prioritise militant means over social ones and to not understand the factors leading to the need for violence in the first place further undermine multilateral efforts at culling conflict through development.
This section will now detail case studies wherein the logic discussed above has been lent some weight.
Brief Case Studies: In War and Peace, Poverty and Development
China: Performance Legitimacy and Beyond
Pre-1949 China, under the Qing was a political anomaly.Its feudal arrangement was one which the citizens were not entirely citizens and had no productive capacity. This, in addition to a lack of a stable and strong state, and one, moreover under increasingly intrusive Western control, lent itself to massive violence and chaos that resulted in a Warlord era, under which various civil insurgencies vied for control over the corpse of the once great empire.
But even when the People's Republic was declared, and stability was brought onto the land, there was still the potential for massive citizen dissatisfaction and therefore of major uprising. Indeed, some scholars have argued that the Cultural Revolution only took place because youths were not incentivized away from violence. China is too big, and therefore preventing insurgency can only be done through massive development output and that is just what China has done since the 1970s.
To begin with, the Communist Party, has carried out what is labeled as "performance legitimacy" by political scientists through which it maintains its hold on power and brings about stability due to the wide approval it maintains due to its economic output. To that end, some 90% of Chinese society approve of the CCP; and some 60% of Chinese people believe their country is a democracy.
Additionally. In order to fight the perceived socioeconomic roots of terrorism, China has launched a number of development initiatives. Beijing is trying to stabilize the Xinjiang Uyghur Autonomous Region by improving the living standards of Uyghurs, creating jobs and integrating Xinjiang with the Chinese economic heartland. These efforts intensified with the proclamation of China's Silk Road Economic Belt initiative in 2013.The Silk Road initiative has also brought about stability in the Asian continent outside of China's borders to include the states of Uzbekistan, Tajikistan and Pakistan; Pakistan is a particularly interesting case in point because of the well-documented history is has had with terrorism.
The China-Pakistan Economic Corridor (CPEC) constitutes one of the largest foreign investments China has made in the framework of the OBOR initiative. The expenditures planned for the coming years in the amount of approximately $46-billion will further intensify relations between China and Pakistan as well as provide Beijing with access to the Arabian Sea, increasing its trade with Europe and the Middle East and Africa. On the other hand, there have been benefits for Pakistan, a country whose median age is 22.7 years, in terms of its fight against terrorism on which the government spends $67.93 billion per year fighting.
Already, this has been described by Pakistani officials as a "fate changer for Pakistan"; Pakistani economist Dr Gulfaraz Ahmed has estimated that some 700,000 jobs will be created along the silk road and through the newly created infrastructure and special economic zones and industrial zones. This is especially so in transportation, energy and some manufacturing.
Thus despite fears that the belt and road would be disrupted by violence, the Pakistani and Central Asian cases show the extent to which the violence can be pre-emptively halted through development.
Rwanda: Optimism, Economic Incentives and Social Responsibility
On 6 April 1994, with the world's media focused on the election of Nelson Mandela, a plane was shot down in Kigali, the capital of Rwanda. It had been carrying Rwanda's president, Juvénal Habyarimana and Cyprien Ntaryamira, the Hutu president of Burundi. The double assassination triggered the state-sponsored genocide of approximately 800,000 of Rwanda's minority Tutsi population and moderate Hutus. The mass slaughter was carried out in 100 days by government-backed perpetrators in the army, police, militias and by thousands of Hutu civilians across the country.
In 1996 an OECD report stated that the Rwandan government and international financial institutions face a major challenge: "maintaining macroeconomic policy in favour of growth and development."
One of the first things the new government did was to eliminate the reference to ethnicity in identification documents. From then on, the country's inhabitants were all "Rwandans." In fact, children are educated in schools that are strongly encouraged to desist from using potentially divisive labels. Pupils are discouraged from identifying themselves as Hutu or Tutsi and are instead asked to focus on building the future of a common Rwanda. To this end, in 2001, the government unveiled a new flag and national anthem.
The practice of doing regular community work, which was grounded in the Rwandan tradition of "umuganda," was reintroduced not only as part of the effort to rebuild the country but as a way to foster a community spirit. Once a month, Rwandans are called upon to perform communal tasks such as building a house for the needy, laying a road or sweeping a square. On a national level, traditional community courts called "gacaca" were revived in 2001. Between 2005 and 2012 these courts tried almost two million people across the country.
For several years, the members of the community of Simbi have been organized in an agricultural cooperative called "Duharanire Ubumwe N'Ubwiyunge" – "Working Toward Unity and Reconciliation." Together, the members of the cooperative want to boost agricultural production – for them, a sign of development.
The government in Kigali is also counting on economic progress to help the country achieve lasting reconciliation. A poverty reduction program, with measures such as the introduction of health insurance for all, the targeted improvement of educational opportunity as well as a promotion of the private sector had already yielded results
Rwanda had reduced its poverty rate by 12 percent within 5 years. It now stood at 45%, adding that in comparison to other African countries that was an extremely good result.
The capital, Kigali, has 1.2 million inhabitants. It is regarded as a symbol of Rwanda's progress. In the city center, one commercial skyscraper after the next is being built. Mayor Fidele Ndayisiba is convinced that "if the pace of development continues, in 10 years time Kigali will be a modern, flourishing city." Even if the people beyond the city center still have to wait for modernity to arrive, Rwandans are patient and optimistic about the future. Today D' Artagnan Habintwali, the traumatized boy from Butare, is 25 years old. He has almost completed his studies and wants to become a writer. "There will come a time when everything will be alright," he says confidently.
Today, the country can boast that 97% of its children attend primary school – the highest rate in Africa. UNESCO noted this by naming it as one of the top three countries globally for improving access to education. Yet with the youth unemployment rate persisting above 40%, there is clearly much to be done to support the people who will drive the country's economic growth.
The youths are no longer susceptible to being Interahamwe, and pursuing violent means through which to voice their grievances – there is optimism and therefore there is peace. Which is in turn another more positive feedback loop; and one to be built on.
Multilateral Policy Implications
From the case studies it is clear that there is a role for the international community to play in terms of bringing about sustainable development. In China, the international community has served the capacity of consumers. In Rwanda the international community is playing the role of the consumer but also that of developmental partner in terms of developmental aid
As we look at various conflicted and post-conflict societies in transition, we must acknowledge the role to be played by regional organisations and leaders such as South Africa and African Union in Africa, and international organisations – primarily the UN.
Sustainable peace, development and democracy have three mutually reinforcing dimensions, namely; societal reconciliation, democratization and economic reconstruction. Henceforth, greater coordination during post-conflict reconstruction is of greater need not only within the UN coordination but also within the entire aid community. Prospectively, it requires bringing together economic aid and political assistance, and thus have more comprehensive and integrated methods by the UN organizations and the Bretton Woods institutions. The Carnegie Commission report on Preventing Deadly Conflicts recognizes the symbiotic tensions between economic conditionality and the peace imperative, and look more into the binary distinction between neo-liberal economic reforms advocated by the international financial institutions and the contingencies of post-conflict countries (Patrick and Salomons, 1999). It thus calls on the Bretton Woods financial institutions 'to establish better cooperation within UN's political structures for economic inducements to facilitate a more central position in terms of early prevention and in post-conflict reconstruction. For example, the peace agenda of El Salvador has been diminished by the competing neo-liberal economic agenda and the prospect for peace in Guatemala continue to depend largely on the adaptation of the neo-liberal economic prescriptions.
Inside the UN structures, the UNDP facilitated a leading role with the UN in as far as to support recovery from conflict and sustaining democratic peace. The peace settlement of 1972 in El Salvador and the 1996 peace settlement of Guatemala together with the transitional election of 1990 Nicaragua were formidable in the sense that they intertwined peace and development, thus creating a key role for UNDP. In its efforts to secure good governance and reconciliation, programs in post-conflict countries, the UNDP took full appreciation of 'the peace process of Central America were the first instance of UNDP involvement in overtly political and diplomatic, as well as developmental activities'. These experiences had a profound effect on the developmental philosophy of the UNDP and the stage whereby an organization vests its focus on countries with special circumstances (UNDP, 1999). At the Ibero-American Summit of 1996, a 'Democratic Governance and Development' resolution was adopted, UNDP made flagship for a more robust 'Political Cooperation for Democratic Governance', which at a later stage subscribed to policies and strategies on UNDP regional bureau for Latin America and the Caribbean (UNDP, 1996).But how primed are these actors for such responsibilities, and what policy prescriptions can be given in relation to this particular context we find ourselves in?
The first thing to note about the UN peacekeeping budget is how small it is, at least when compared with the defence budgets of national governments.At $8bn, the entire peacekeeping budget is equivalent to one month of US military spending in Afghanistan at the height of the conflict in 2010, or just 1.4% of the current US defence budget, which stands at $573bn.
At the same time, peacekeeping operations are not considered as purely military interventions. United Nations Peacekeeping and Health noted there was a problem "of peacekeepers providing healthcare to the local population in situations where the quality of medical care provided to the mission's own personnel is not always in accordance with WHO guidelines".
While Monusco, the UN Peacekeeping mission in the DRC, is the most expensive operation, Minusca, the mission in Central African Republic, received the biggest increase in funding in 2016; rising 220% to over $800m, amid an intensification of fighting in the country.
Military and police personnel costs have increased by more than 300% to more than $350m, while spending on consultants, has increased by over 1,000% to $462,600. Medical spending increase to $9m, up 712% on the previous year, but this dwarfed by the $20m spent on communications, an increase of 37% on 2015. But despite the increase in funds, the missions faces numerous problems.
Area-Based Development Approach to Conflict
An area-based developmental approach significantly represent a precise instrument for conflict prevention and post-conflict reconstruction and has been extensively implemented in conflict regions. In order to evaluate the applicability of the Area-based developmental approach in addressing conflict situations, the comprehension of conflict and its nature. Conflict is endemic in human society, and conflict of interest is inherent as well, this calls for all societies to introduce a range of norms and institutions to prevent the tension from developing into an open conflict between the groups or various government bodies. In order to systematically arrange various characteristics and conditions of conflict, this section will illustrate literature found in Brown's categorization and clustering of the main factors of conflict divided into four categories, namely; structural, political and governance, economic and social, and cultural and perceptual (Ross, 1986).
Structural factors
Structural factors as most scholars would suggest, include inter-state security objectives including location in war-prone neighborhoods and undemocratic regions, mountainous country or rough terrain, size of the population, military capability, ethnic demographics including high ethno-linguistic and religious diversity. Collier and Hoeffler discovered through their lengthy econometric analysis that the risk of conflict is proportional to a country's population, siting both opportunities and grievances increase with the size of the population (Collier and Hoeffer, 2007). The tradition of conflict and time difference since the previous conflict including ethnic dominance, understood as one ethnic group being a major stakeholder of the population also have a significant effect on the risk of conflict. On the other hand, one structural factor that is often omitted is the role of neighboring countries. Refugee problems, economic contestation which often leads to the disruption of trade, communication and production networks and military problems including the use of a neighboring state's territory for shipment of arms and supplies and as a base for operation, can all substantially contribute to regional instability (Brown, 1996).
Political and governance factors
Political and governance factors are most likely to include issues such as a weak or failed state, exclusionary national ideologies and inter-group, elite and identity politics, and discriminatory political institutions. Weak or failing states both from the perspective of political legitimacy and its capability to exercise authority over the population and the overall territory under its jurisdiction and provide services for its citizens, is an important factor potentially contributing to conflict. Eroded elite and public confidence in the legitimacy and capability of government is one of the factors, which in combination with economic and social factors increases the probability of civil violence (Nafziger and Auvinen, 2005). Reiterating the significance of political factors and the weakness of the conventional economic illustration of inter-ethnic tensions. Horowitz influential work on Ethnic Groups in Conflict maintains that the developing elite of a subordinate group generally aspire not to economic power and business opportunities, but are focused on political power. Violent eruptions of conflict is therefore generally linked to the political system and in a particular degree in which the institutions of government are discriminatory or based on exclusionary ideologies Hegre and Sambanis, 2005).
Economic and social factors 
This crucial and comprehensive category of conflict factors is in academic writing portrayed by failed microeconomic policies, limited access to the market, low level and slow growth and structure of income, vertical inequalities such as income inequality, economic and social horizontal inequalities, failure of social contract, role of the Diaspora and male secondary education enrolment. According to Collier and Hoeffler, the key supporters of economic or feasibility theory of conflict, maintains that economic attributes such as the level, growth and structure of income are significant in the analysis of war initiation (Collier and Hoefer, 1998). Moreover, the Diaspora holds the potential to significantly increase the risk of conflict renewal, being a possible source of finance and having more sentimental views than the domestic population. An examination of the ties between humanitarian agencies and their hypothesized source in less-developed countries by Auvinen and Nafziger also confirms that stagnation and decline in real GDP, high income inequalities and a high ratio of military expenditure to national income are associated with the emergencies (Auvinen and Nafziger, 1999).
Environmental factors
Environmental factors can be broadly defined into three groups including threats related to scares resources, such as water, energy, sea passage and fishing grounds, to environmental externalities and those relating to social upheaval or environmental refugees. Environmental externalities consist of issues such as upstream river and trans-boundary air pollution and illegal trade in toxic waste. Environmental refugees and social upheaval result from forced migration in response to ecological disaster or chronic shortage of natural resources (Rawabizambuga, 2007).
Cultural and perceptual factors
Finally, these are factors which illustrates patterns of cultural discrimination, inequitable educational opportunities, legal and political constraints on the use and teaching of minority languages, religious freedom as well as problematic group histories and incendiary perception (Brown, 1996). Many if these attributes are linked to the structural, political and social factors and horizontal inequalities mentioned above.
Conclusion
Coordination among international organisations and states so as to not undermine one another's developmental efforts. A case in point is the IMF and World Bank's advocating for the rollback of the state via structural adjustments and therefore taking away of the social nets and developmental efforts being done in those countries. Likewise, blindly giving aid by the UN, AU and South Africa is counterproductive when it cannot be guaranteed that it is actually going to the advertised core issues. Policy should therefore be framed around sustainable development; development which yields results. Indeed the most important result of development is its self-reproduction and therefore a positive feedback loop in terms of peace and development; and therefore development and peace
The role of nuclear in Zambia's sustainable economic growth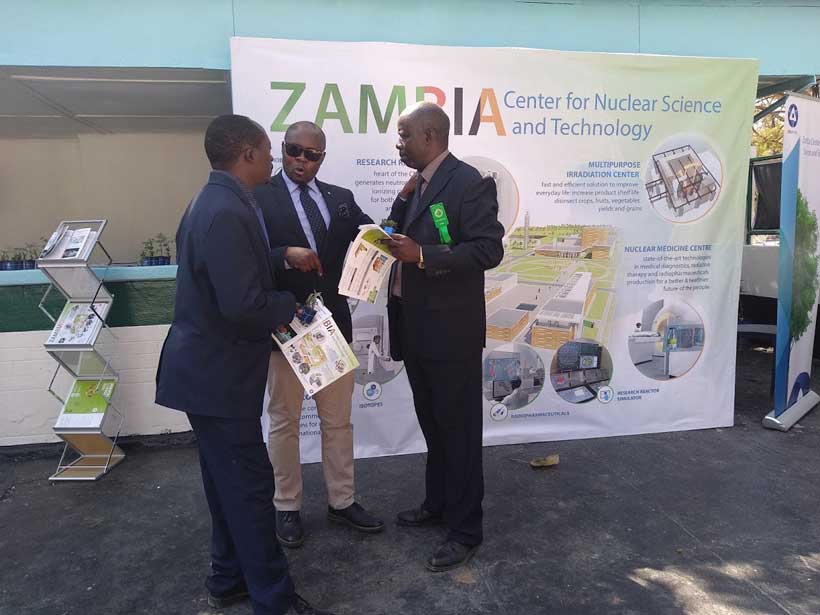 On August 6th, the 92nd annual Agricultural and Commercial Show wrapped up after six entertaining and educational days in Lusaka, Zambia.
Thousands of visitors received information materials about the role of nuclear in Zambia's sustainable economic growth during the 92nd annual Agricultural and Commercial Show.
The show was officially opened by President Edgar Lungu, who highlighted the importance of the show's theme, which was 'sustainable economic empowerment'.
He noted that the theme was directly in line with government's aspirations espoused in the Second National Agricultural Policy (SNAP) to have an efficient, competitive and sustainable agricultural sector which assures food and nutrition security, increased employment opportunities and incomes.
The Zambian Ministry of Higher Education in collaboration with Russian State Atomic Energy Corporation ROSATOM hosted a dedicated information stand on the future Zambia Center for Nuclear Science and Technology (CNST).
Representatives of ROSATOM and Zambia's Interim Secretariat on Nuclear Science and Technology (ISNST), constituted by senior officers from various Government Ministries and Institutions, worked on the stand, explaining the specifics and benefits of the future nuclear facility to thousands of Zambian visitors.
The stand provided the public with information on the nuclear technology that is set to assist Zambia to grow and be economically empowered, such as: food irradiation technologies, nuclear medicine (which is already being implemented at the Cancer Diseases Hospital), material science, radioisotope production and mineral identification techniques.
The materials were prepared by ROSATOM, ISNST and International Atomic Energy Agency (IAEA).
Dmitri Shornikov, CEO of Rosatom Central and Southern Africa, explained the future benefits of the Center and expressed the importance of educating the public on these benefits: "It is very important for the Zambian citizens to understand that the future Center will empower agriculture, medicine and industry, thanks to wide application of radiation technologies."
"The CNST will also promote the growth of national education and science through the training of highly qualified experts in various fields. It represents the new stepping stone for Zambian scientific, economic and technological growth. Similar facilities have been contributing to more than 50 countries' around the world for more than 60 years. Currently, there are 245 working research reactors in the world with 58 units operated in Russia".
Mr. Reuben Katebe, National Coordinator of the ISNST noted that the Center was directly in line with the theme of the show as well as government's policy and that it would help the agricultural sector to grow sustainably and ensure food security: "The use of radiation for food preservation will improve food safety and create conditions for the increase of Zambian agricultural exports. We hope that our information stand helped many farmers to understand all the benefits that the Center will bring to them."
Apart from agriculture, healthcare will also benefit from the Center's activities like single use medical product sterilization," said Mr. Katebe: "The radioisotopes produced here will be used to diagnose and treat primarily cancer and cardiac diseases. This Center will increase availability of high-tech nuclear medicine for Zambia's population."
For reference
State Atomic Energy Corporation Rosatom and the Republic of Zambia signed a general contract for the construction of a Center for Nuclear Science and Technology (CNST). The signing took place during the 10th international Atomexpo-2018 forum in Sochi. Construction of the center is the first joint project of Russia and Zambia in the field of nuclear technologies.
The center will be located 10 kilometers away from the capital of Zambia, Lusaka. The CNST will include a nuclear research facility based on a multipurpose research water-cooled reactor of up to 10 MW, a state of the art laboratory complex, multipurpose irradiation center as well as a cyclotron-based nuclear medicine center.
The project will be implemented in several stages within 3-6 years from the work commencement date under the contract. Rosatom has built more than 120 research reactors in Russia and abroad.
China- Africa Framework: Strategic Cooperation
The Forum for China Africa Cooperation (FOCAC), built up to link relations between the two states, is due to hold its next meeting later this year. This evaluates what the benefits from that meeting will be on this developing, active, and mutual relationship. China's engagement in African states goes back several years. In the last decade, from the mid-1950s to late 1970s based more on spontaneous confidentiality than that of 1980s and the period after the cold war. currently, the relationship sets up more on pragmatic economic considerations and cooperation. China is already Africa's third largest trading partner. This multi-leveled partnership between China and Africa is both intricate and active. As China and its African participants arrange everything for the next FOCAC summit.
What does China want in Africa?
China's relationship with African countries is very active, some perspectives have sustained stable. The most significant of these are the principles and outcomes of Chinese foreign policy through African and other developing countries. According to the Beijing's Africa Policy issued in January 2006, China will: China-Africa friendship, will be proceeding from the basic benefits of both the Chinese and African peoples, build up and develop a new kind of strategic partnership with the African continent, presenting political equality and mutual trust, economic win-win cooperation and cultural exchange
The fundamental laws and aims for leading Chinese foreign policy in Africa as set out in this arrangement of government policy are: (1) Goodwill, friendship, honesty and equality; (2) Mutual benefit, cooperation and common prosperity; (3) Common mutuality, support and close reciprocity; and(4) Learning from each other and pursing, sharing common development. This mostly is the government expression of how it views, and ambitions, to manage its relationship with the African continent.
While the Chinese policy announcements are mostly clear; there is still skepticism about what China wants in Africa. Take the principle of non-intervention, one of the Five Principles of Peaceful Coexistence, which have been regularly highlighted guidance of Chinese foreign policy in one hand, and its Africa policy in the other. The most significant examples are Sudan and Zimbabwe. In current years, Sudan has seen a conflict of perspectives, with the US and other superpowers placing pressure on Beijing government to use its impact in Sudan over the condition in Darfur, and China responding that it is preferable to help in continued development in such states, and determining them this way. Therefore Beijing's commitment to non-interference in African domestic affairs and its intention to establish partnerships based on cooperation and mutual respect have been generally welcomed by leaders of the African continent, just as it has got some critiques from the West especially the US.
To some extent does China manage Sino-Africa relations?
Yet, Chinese national interests in Africa are multi-aspects and multi-leveled, so the aspects who engage in China's Africa policy making and implementation are generally diverse. This faces great challenges for China's management capability, which is the real reason why FOCAC was established. Similar to the different trend of China's interests and outcomes in Africa, we can highlight many types of aspects who have a sound in China's Africa policy-making and performance. First of all and most important type of aspect is the government, both central and provincial, including officials–diplomats and other state-owned enterprises. Secondly coves several private corporations and their representatives in Africa. Inspired by the Chinese government's "Go Out" policy, these private entrepreneurs chanced to Africa in seek of business opportunities. The third and importantly significant aspect is individuals, both influential middle-businessmen and the general Chinese laborers in Africa, which may amount to somehow a million people by 2009.
With the number of aspects rising, the traditional decision-making and strategy implementation system is under great pressure. In term of policymaking, power is centered at the top, in the Office of the Foreign Affairs of the Communist Party of China (CCP) Central Committee and the Foreign Affairs Office of the State Council. The top engine of executive power is the State Council, which includes the premier, vice premiers, and ministers. The Ministry of Foreign Affairs points out Chinese leaders and helps implement African policy. It cuts responsibility between a unit for Sub-Saharan Africa and one for West Asia and North Africa. The Ministry of Commerce plays a significant job in trade, aid, and investment. It has a Department of Foreign Aid. China's State-owned Assets Supervision and Administration Commission (SASAC) is equally ranked with the Ministry of Foreign Affairs and the Ministry of Commerce. SASAC is either mostly owns a state-owned enterprise (SOE) or sustains a supervising share of stock in a public SOE, several of which function in Africa. SASAC has branch offices in African countries. China's Export-Import Bank is the only state-owned firm that allocates official economic assistance in the frame of low-interest loans, export credits, and guarantees. Additionally, The CCP's International Department communicates with African representative to lay the pillars for business trading and diplomatic cooperation, encourage visits and to ensure that policies are implemented in accordance with CCP strategic goals.
What are the Challenges of China In Africa?
Under the policy of FOCAC and its follow-up perspectives, China has adopted its Africa policy-making and implementation and made several contributions to African development. However, the challenge of China-Africa relation is based on two main aspects. The first, the Chinese economic slowdown decreases the resources that are likely accessible for the next FOCAC meeting. Xi Jing ping said at G20 summit that China will, within its goodwill and potentiality, carry on to enhance its aid to Africa, decrease or cancel African states' debts, enlarge its trade and enhance business investment in Africa, achieving the commitments it made during the Beijing Summit of the Forum on China- Africa Cooperation in 2017. On the other hand, because China's economy now is export-oriented, the situation will greatly reduce the volume of China-Africa trade due to the western states' needs decreasing. For instance, 50% of Sudan's oil exports ship to China, but this number does not mean that this oil is bought by Chinese consumers. As a matter of fact, China National Petroleum Corporation(CNPC), the company which subdues the oil transactions between China and Sudan, does not sell the oil imported from Sudan on the Chinese domestic market. Instead, CNPC sells it on the international market for many profits. And in 2006, Japan was the largest single recipient of Sudanese oil. Now, because of the economic problem, the needs of the international market have dropped off.
Conclusion
The last decade has observed a key and very important enhance in China's engagement in Africa. FOCAC was built up and is now working, as the main means by which to manage dialogue and talk between different African countries and China over where the general direction of this partnership should go. Basically, it gives an integrative foundation for treating Africa as a single actor, which will surely promote the identity-building of Africa and differentiate itself from other relationship. In the coming years, China will surely enhance its interests in the African continent. Therefore. the FOCAC process provides Africa a new opportunity for a partnership with China and the prospect of a long-term win-win partnership with the world's largest-growing economy.
Building a nuclear industry in Africa
Russia's nuclear energy diplomacy in Africa has hit stumbling blocks, it's been at the crossroad over the past two decades after the collapse of Soviet-era.
In order to find long-shelf solutions to chronic power shortages, African leaders and Governments that have shown interest in adopting Russian nuclear energy, signed necessary legal documents but lacked the needed funds for prompt implementation and final realisation.
"Rwanda's annual budget stands at US$3 billion while the construction of the nuclear power plant would cost not less than US$9 billion which is equivalent to Rwanda's entire gross domestic product." David Himbara, Rwandan-Canadian Professor of International Development at Canada's Centennial College, wrote in an emailed interview.
He said that Rwandan President Paul Kagame always believed that he must validate his supposedly visionary and innovative leadership by pronouncing grand projects that rarely materialised.
Currently, all African countries have serious energy crisis. Over 620 million in Sub-Saharan Africa out of one billion people do not have electricity. It is in this context that several African countries are exploring nuclear energy as part of the solution.
There is only one nuclear power plant on the entire African continent, namely, Koeberg nuclear power station in South Africa. Commissioned in 1984, Koeberg provides nearly 2,000 megawatts, which is about 5% of installed electricity generation in South Africa.
According to Himbara, "Of all African countries that have shown interest in nuclear energy, none have so far gone beyond the stage of conducting preliminary feasibility study, project costing and financing models, except South Africa."
But, the South Africa US$76 billion deal with the Russians to build a nuclear power plant collapsed along with the Government of Jacob Zuma that negotiated the deal in secrecy, in fact when such corporate projects have to be discussed by the parliament and necessarily have to pass through international tendering process, he pointed out.
Russia and South Africa concluded an intergovernmental agreement on strategic partnership in the nuclear sphere in 2014. The agreement provided in particular for construction of up to eight NPP power units.
"Nuclear waste will pile up, and where are they going to put it? The Sahara? The US is always trying to force nuclear waste repository on some poor or indigenous community and when that fails, the waste keeps piling up at the reactor sites, creating greater and greater environmental risks," he said.
He added that "Managing nuclear waste and its safety is universally complex and dangerous. The Chernobyl disaster in Ukraine and Fukushima in Japan, remind the world of the human and environmental costs of nuclear power accidents. Millions of people are still suffering from radiation and radiation related diseases till today."
Foreign Minister Sergey Lavrov, in an interview with the Hommes d'Afrique magazine in March, described Africa as rich in raw material resources, including those that are required for high technology and for moving to a new technological pattern. Apart from mining, Russia and African countries are cooperating on high technology.
What was more important for Africa's energy sector when he informed that Rosatom has been considering a number of projects that are of interest to Africans, for instance, the creation of a nuclear research and technology centre in Zambia. Nigeria has a similar project. There are good prospects for cooperation with Ghana, Tanzania and Ethiopia. Talks are underway on the construction of a nuclear power plant in South Africa.
Shadreck Luwita, Zambian Ambassador to the Russian Federation, informed that the processes of design, feasibility study and approvals regarding the project have almost been concluded. The site of the project is yet to be designated as it is equally a process and it is envisaged that construction should commence, in earnest, not later than the second half of 2018.
In addition, he affirmed that the Russians envisaged technology transfer in the development of this massive project by way of manpower development capacity. For now, there are only a few Zambian nationals, who are studying nuclear science in one of the Russian universities in Moscow.
The Zambian Government hopes that upon commissioning of this project, excess power generated from this plant could be made available for export to neighbouring countries under the Southern African Development Community Power Pool framework arrangement.
From all indications, Russia wants to turn nuclear energy into a major export industry. It has signed agreements with African countries with no nuclear tradition, including Rwanda and Zambia. And is set to build a large nuclear plant in Egypt.
Interestingly, Egypt's dreams of building nuclear plant has spanned with agreement that was signed (as far back in March 2008) during official visit to the Kremlin by the ousted President Hosni Mubarak, and then again with former Egyptian leader Mohammed Morsi who discussed the same nuclear project with Vladimir Putin in April 2013 in Sochi, southern Russia.
During the dawn of a new era, Vladimir Putin and Abdel Fattah Al Sisi signed an agreement to set up four nuclear plants in El Dabaa, on the Mediterranean coast west of the port city of Alexandria, where a research reactor has stood for years.
The deal signed on the heels of talks held between Putin and Al Sisi, where both expressed high hopes that Russia would help construct the country's first nuclear facility. Egypt began its nuclear program in 1954 and in 1961, acquired a 2-megawatt research reactor, built by the Soviet Union.
However, plans to expand the site have been decades in the making that Rosatom will provide its fuel, personnel training, and build necessary infrastructure. The four blocks of the nuclear power plant will cost about $20 billion.
However, Director Anton Khlopkov and Research Associate Dmitry Konukhov at the Center for Energy and Security Studies, co-authored a report to Valdai Discussion Club, part of RIA Novosti Agency, that success of Egypt's nuclear project depends on three key factors.
These are the political stability and security situation in Egypt, a viable financing mechanism that reflects the country's economic situation, and the government's ability to secure support for the project among the local residents of El Dabaa, the site chosen for Egypt's first nuclear plant back in the 1980s.
In reality, Ghana has a similar never-ending dreams and fairy tales of owning nuclear plants. The agreement re-signed on June 2, 2015. The Russian reactor, 1000 MW plant, will cost a minimum of $4.2 billion. The financing scheme has not been finalised. And it will take about eight to ten years from site feasibility studies to commissioning of the first unit.
As local media reported, Ghana's quest to industrialise for economic growth and development has fast-tracked plans to establish nuclear power in the country within the next decade, that means by 2029 and export excess power to other countries in the sub-region.
With "One District, One Factory" – Ghana's industrialisation agenda might not be realized under Nana Addo Dankwa Akufo-Addo's administration based on the roadmap of the nuclear power programme to commence construction by 2023 and inject nuclear energy into the grip by 2030.
The African countries' MoUs and Agreements with RosAtom including Nigeria, Kenya, Tanzania and the rest are stacked. Nearly three decades after Soviet collapse, not a single plant has been completed in Africa.
Some still advocate for alternative energy supply. Gabby Asare Otchere-Darko, Founder and Executive Director of Danquah Institute, a non-profit organisation that promotes policy initiatives and advocates for Africa's development, wrote in an email that "Africa needs expertise, knowledge transfer and the kind of capital imports that can assist Africa to develop its physical infrastructure, add value to two of its key resources: natural resources and human capital."
Russia has respectable expertise in one key area for Africa: energy development. "But, has Russia the courage, for instance, to take on the stalled $8-$10 billion Inga 3 hydropower project on the Congo river? This is the kind of development project that can vividly send out a clear signal to African leaders and governments that Russia is, indeed, ready for business," he said.
The renewable energy potential is enormous in Africa, citing the Grand Inga Dam in the Democratic Republic of Congo. Grand Inga is the world's largest proposed hydropower scheme.
It is a grand vision to develop a continent-wide power system. Grand Inga 3, expected to have an electricity-generating capacity of about 40,000 megawatts – which is nearly twice as much as the 20 largest nuclear power stations.
Researchers and Experts strongly believe and further estimate that the cost of building nuclear power does not make any sense when compared to the cost of building renewables or other sources of energy to solve energy shortages in Africa.
According to the company profile, Rosatom offers a complete range nuclear power products and services from nuclear fuel supply, technical services and modernisation to personnel training and establishing nuclear infrastructure. Currently, Rosatom has built more than 120 research reactors in Russia and abroad.