Think of South Africa, and images of majestic savanna landscapes and roaming wildlife may come to mind. A South African safari is an unforgettable experience, but no visit to the country is truly complete without a cultural immersion. Luckily, the vibrant city of Durban combines the best of both worlds in the most stunning of settings. Located along the Indian Ocean coast just an hour from Johannesburg by air, Durban offers an eclectic array of activities where you can explore the city's important role in world history, the rich heritage of its Zulu people, and innumerable natural wonders – from the beach to the bush.
Experience authentic Zulu culture in the Valley of 1,000 Hills
Named for its dramatic surrounding landscape, the Valley of 1,000 Hills has been home to the Zulu people, South Africa's largest ethnic group, for centuries.
Visitors can take an organized tour deep into tribal lands to experience Zulu culture with its exuberant ceremonies, traditional music, and dancing. You'll learn about Zulu beliefs and healing practices, break bread with local families, and learn the hidden meanings behind their colorful beadwork. Those seeking a truly transformative experience can arrange one-on-one sessions with the village healer or spend the night with a Zulu family in their home. The natural scenery in the Valley of 1,000 Hills will take your breath away, and the welcoming nature of the Zulu people will stay in your heart forever.
Walk in the footsteps of Gandhi and Mandela
Not everyone is aware that Mahatma Ghandi's life work was inspired by his experiences in Durban. In 1893, he arrived as a young lawyer, and the discrimination he witnessed personally and against his fellow Indians drove him to start his worldwide movement of passive resistance as he fought for the legal and civil rights of the Indian population. At the Phoenix Settlement, you will see Gandhi's house and the printing press he used to publish his newspaper, The Indian Opinion. Many of the more than one million Indians living in the city make the pilgrimage to this important historical site alongside visitors from around the world.
Five years after his death, the great Nelson Mandela remains South Africa's most revered public figure. 2018 marks a year-long celebration of his life and what would have been his 100th birthday on July 18. Honor his work when you're in Durban by visiting the Nelson Mandela Capture Site, located at the exact spot where he began his "Long Walk to Freedom" after being arrested for anti-Apartheid activism in 1952. The focal point of the site is a striking monument, and an educational exhibition walks you through Mandela's life and role in establishing a democratic South Africa.
Hit the beach at Umhlanga Rocks
To play amongst the ocean-loving locals, head to Umhlanga Rocks, Durban's laidback beach village. Located on a picturesque stretch of the Indian Ocean, Umhlanga Rocks beckons visitors with a scenic promenade that passes by local landmarks including Umhlanga Lighthouse and Whale Bone Pier. A walkable downtown area makes dining and nightlife easily accessible from the area's many upscale boutique hotels and guesthouses, and opportunities to get on the water abound – from surfing to deep sea fishing, scuba diving, whale watching, and kiteboarding.
Discover an underwater wonderland at Aliwal Shoal
Those intrigued by the underwater world can get their adrenaline pumping on Aliwal Shoal. Consistently rated one of the top warm water diving and snorkeling sites in the world, Aliwal Shoal is also the spot to get up close and personal with blacktip reef sharks. Those brave enough can swim or dive alongside these mysterious creatures in the open ocean, but viewing from inside a cage is always an option.
Witness stunning wildlife on a Big Five safari
Back on land, the South African bush is less than four hours away by car. A number of private game reserves offer high-end safari lodge accommodations, minimal crowds, and optimal chances for getting the perfect photos of the "Big Five" – elephants, rhinos, water buffalo, lions and leopards. In iSimangaliso Wetland Park, a UNESCO World Heritage Site, hippos, crocodiles, pelicans, and flamingos roam Lake St. Lucia, while elephants, giraffes, and leopards inhabit the adjacent grasslands.
Is Durban, South Africa calling you?
Visit www.durbanexperience.co.za to start planning your journey.
Entrepreneurs in unexpected places: How one Midwest city promotes diverse local innovation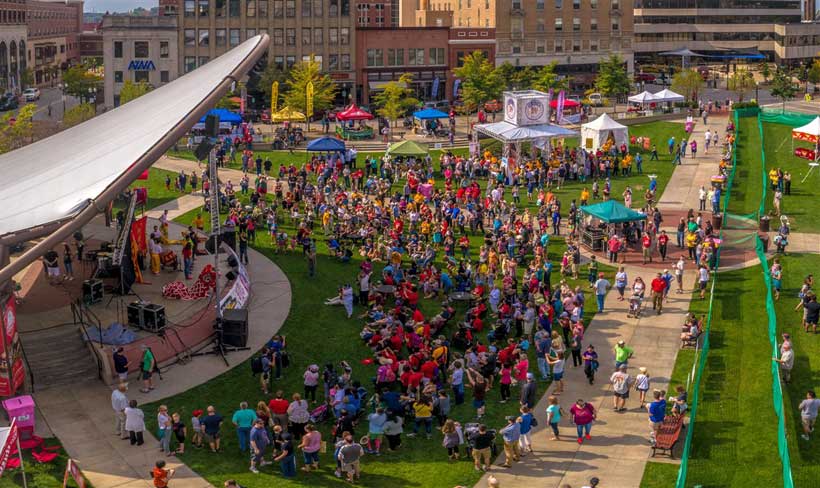 In September of 2017, thousands of people from around the world congregated in an unlikely place: Wausau, Wisconsin.
This diverse crowd was gathered for the first International Wisconsin Ginseng Festival. While many may be surprised that such an event would be held in the middle of Wisconsin's rolling hills and scenic lakes, it is locally a $50 million industry with a long history. In the mid-1970s Hmong immigrants, primarily from Vietnam, brought their entrepreneurial skills and revitalized the local ginseng industry. Welcomed by a friendly community that continues to foster an entrepreneurial spirit, Hsu's Ginseng, now under the leadership of the original founder's son Will Hsu, has grown to be the largest integrated ginseng growing and retailing operation in the U.S. Wausau's industrious self-starters and newcomers grew a multimillion-dollar industry, and the region continues to incubate entrepreneurs across a diverse array of business sectors.
Local innovation
Wausau, ranked recently by ZipRecruiter as a Top 10 Job Market for 2018, has a track record of successful public-private development partnerships and hosts a thriving incubator — the Wausau Entrepreneurial and Education Center — to help local entrepreneurs get started and help established businesses grow. For instance, Wausau-based Resilient Technologies, now a business of Bridgestone Americas, was approached by the U.S. government to develop puncture-resistant tires. In an effort to make military vehicles more safe, they used strong local manufacturing ties to develop a first-of-its-kind non-pneumatic tire in Wausau's incubator. Bridgestone is now looking for ways to apply the technology to its consumer and commercial portfolio, and develop next-generation tires that offer extended mobility.
"A lot of people don't know these types of projects are happening here, but the city of Wausau is a great partner and the city provides our team with a wonderful place to call home," says Louis Stark, operations manager, Resilient Technologies, Bridgestone Americas Tire Operations.
The availability of an experienced workforce that can develop these specialized tires for the U.S. military is the same workforce that has made an impact on other areas of Wausau's economy.
Entrepreneurial workforce
Sometimes entrepreneurial opportunities spring from unusual skills. Some residents in Wausau have deep connections to artistic traditions, including sewing. Bob Jacquart, chief executive officer of Stormy Kromer, makers of iconic hats and rugged outerwear, says he now relies on the sewing skills of Wausau's residents to create one of the Midwest's most storied brands.
Stormy Kromer's operations in Wausau have been successful, outpacing production in the company's headquarters in Ironwood, Michigan.
"I could not have felt more welcome and city leaders could not have been more accommodating in helping Stormy Kromer find a suitable space as well as skilled workers in Wausau," says Jacquart. "Our business found exactly what it needed and the support from leaders was exceptional."
Incubating community
The local economic conditions and support environment that allowed these Wausau-based companies to thrive are the very conditions that led Time Magazine to label Wausau a "middle-class paradise" last year.
A combination of affordability, welcoming atmosphere and economic diversity is attracting young people, new industries and incubating unlikely entrepreneurs. Aiming to make the most out of these trends, the city is responding in kind. New growth and development hit record levels in 2017 across diverse sectors of growing businesses in Wausau. The city's warm attitude toward entrepreneurs and diversity further complement its traditional economic base in metals manufacturing, building materials, insurance, informational technology and health care.
To learn more about how the city of Wausau is attracting entrepreneurs and gaining an international reputation, visit www.wausome.com.
Shumbrat, Mordovia! The Land of Finno-Ugric nation and the host city of the World Cup 2018
What is common between Finland, Estonia, Hungary, and the Republic of Mordovia?
In 2007, Saransk, Mordovia, the 1st Festival of the Finno-Ugric Peoples was hosted by President Vladimir Putin of Russia, and visited by Finnish President, TarjaHalonen, and Hungarian Prime Minister, Ferenc Gyurcsány. There are about 200 nationalities live in Russia and 13 of them are Finno-Ugric people. The nations that communicate in Finno-Ugric languages live in Finland, Estonia, Russia and Hungary. However, the nationalities have not lost their desire to share their cultural and historical heritage. The festival that was opened 10 years ago established the cultural development of Finno-Ugric peoples. Numerous festivals, events, shows and conferences that focused on protection its common traditions and pass them on to future generations were organized by the Finno-Ugric nations in Estonia, Finland, Hungary and russian regions for these years.
Interesting fact, The Mordovians are divided into two main ethnic subgroups and three further subgroups. The Erzya and Moksha are the main groups:
The Erzya or Erzyans, (Erzya: Эрзят/Erzyat), speakers of the Erzya language. Less than half of the Erzyans live in the autonomous republic of Mordovia, Russian Federation, SuraRiver and Volga River.
The Moksha or Mokshans, (Moksha: Мокшет/Mokshet), speakers of the Moksha language. Less than half of the Moksha population live in the autonomous republic of Mordovia, Russian Federation, in the basin of the Volga River.
Only 1/3 of all Mordovian live in Mordovia, the rest are scattered over the Russia as well as Far East, Armenia,Europe and USA.
5 top destinations to visit Mordovia
The Stepan Erzya Museum of Fine Arts is one of the major cultural centers of the Republic. The museum contains the works of the great sculptor, as well as collections of the folk artist of Mordovia F. Sychkov and Academician of Portrait-painting I. Makarov.
The Museum and ethnographic complex «Mordovian Podvorie» was opened in 2012  Here is a wooden house with national interior design and picturesque yard entourage: household outbuildings, Russian sauna, old farm tools. The restaurant «Mordovian Podvorie» is situated on the territory of the village. It presents the dishes of Mordovian and Russian cuisine.
The Museum of Mordovian Folk Culture was opened in 1999. The museum funds have over 3000 exhibits. Visitors can see Mordovian folk clothing, ceramics, icons, household utensils, as well as the products of folk art craftsmen
The St. John the Teologian Makarovsky Mostery was founded as a churchyard in 1702 by the landowner Makar Artemyevitch Polyansky on his own land. The historical part of the monastery, the Makarovsky churchyard, represents an architectural ensemble in baroque of 18th century.
State Natural reserve of  P.G. Smidovich is the area of untouched nature occupies 32,142 hectares. It is located in the far north-west of Mordovia. The reserve is one of the oldest in Russia. The reserve offers the services of the Museum of Nature, cordons "Pavlovsk" and "Inorsky", nature trails "Understanding the nature reserve" and "observation of the animals".
The host of the World Cup 2018
Four group stage games of the world Cup FIFA 2018 in Russia will be held on 45-thousand stadium "arena Mordovia". According to the designers, the shape and color of the "Mordovia Arena" symbolize the sun!
Take a pre-cruise vacation and 'live like a local' on Florida's Space Coast
There's something magical about taking a cruise. Is it the open ocean? The indescribable feeling of warm sea air blowing through your hair? The endless access to world-class food, drinks and entertainment? Whatever the reason, each year millions of people around the world set their sights on the fun, adventure and luxury that cruise ships have become known to deliver.
Located on Florida's Space Coast, bustling Port Canaveral is one of the largest and busiest cruise ports in the U.S. As the home port to some of the most-innovative players in the cruise world, there's a good chance that your next cruise might depart from this vibrant east coast venue.
With so much to see and do on the Space Coast, many cruise passengers extend their vacation by a day or two in this fun-filled port city, so they can settle in before their departure and bypass any last-minute travel challenges. It's called taking a "pre-cruise," and it's a perfect way to immerse yourself into the rhythm of your vacation and ensure you're well-rested and prepared for your cruise adventure. To truly experience and get an intimate feel for the special way of life on the Space Coast during your pre-cruise, you'll need to explore the area like a local, starting with these five must-do activities:
Treetop Trek — Located at the Brevard Zoo, the Treetop Trek allows visitors to climb, crab walk and zipline through different animal habitats and have an up-close experience with wildlife. With three different aerial obstacle courses, this heart-racing activity provides something fun for everyone.
Duran Golf Club — What would a trip to Florida be without a few rounds of golf? And we're not just talking about any old kind of golf. No, we're talking a world-class course that attracts pros, beginners and everyone in between. A favorite among locals and nationally recognized players, Duran has been voted "Best Public Course" and ranked as one of the top 50 courses in the country for practice ranges.
Riverfront Park — Once you experience Riverfront Park in historic Cocoa Village, you'll quickly understand why this is a favorite place for locals to hang out. With public access to nearly 10 acres of prime riverfront land, you'll see plenty of people jogging, playing, relaxing and loving the sun, as good Floridians do. The park includes a playground, amphitheater, boardwalk, spacious covered pavilions and areas for fishing.
Ossorio Bakery & Cafe — We could write pages about how delicious the food here is, but this handful of words usually will suffice: hand-rolled pastries and homemade ice cream. Caught your interest yet? Located in historic downtown Cocoa Village, Ossorio has been providing locals with unforgettable meals and treats in a relaxed and friendly setting for the past 15 years.
Superb Fishing — You know how they say there are plenty of fish in the sea? Here, that's literally true. Along the Space Coast, there are something like 500 different species of fish inhabiting the local waters. From deep-sea fishing to surf casting to quietly angling along a peaceful river or lagoon, there are numerous guides and outfitters who can take you on a fishing adventure like no other.
You've spent months, maybe even years, planning your dream cruise vacation. Take an extra day or two and make it even more special by exploring the Space Coast. You deserve it.