May the Olympic peace prevailing over the nuclear phantom
Authors: Zhou Dong-chen & Wang Li
On February 9, the 2018 Winter Olympics began sensationally in Pyeong-Chang, South Korea. The world media once again focused on the Korean Peninsula, yet, this time is the Olympic Game instead of the war game between North and South Koreas. To certain extent, the event offered moments of euphoria. As Bach, President of IOC, declared that "the Games can send a powerful message of peace to the world".
No doubt, peace never comes easily and cheaply as well. One can argue that there held two inter-Korean summits in 2000 and 2007 respectively, their athletes also waved unified flags aloft in Sydney and their unified-teams competed at the other Olympic Games. Even people thought these meetings and unified efforts at the Olympic Games as the signals of a beautiful friendship, but their hopes did not last long. Tensions in the Korean Peninsula soon resumed. In light of this, the new euphoria on the Peninsula has aroused a political debate between liberals and conservatives on the Korean issues.
Liberal opinion represented by Moon Chung-in argues that the Olympics should be an opportunity for negotiation with North Korea, a process they understand will take time and is unlikely to run smoothly. But they insist that this opportunity should be seized and that Washington should lend a hand and support the negotiation process, even if that means delaying the yearly military drill or abstaining from any military attack on North Korea. As a result, liberals called for efforts to create the right conditions to realize such a visit and urged Pyongyang to actively seek dialogue with the United States.
Yet, to conservative scholars headed by Kim Young-ho, they openly criticized the current President's liberal policy towards the North. Consider the past experiences in dealing with the North, they argued now is not the time for concessions towards the North and that the sanctions placed on it should continue and even be increased. Their concern also goes to any economic assistance that might be promised by Seoul to Pyongyang during negotiations will undermine the effectiveness of the sanctions and allow Pyongyang to continue developing its nuclear and missile capabilities. This actually echoes the U.S. belief that the diplomatic drive by Pyongyang tries to weaken the measures against it and eventually to loosen the alliance between the Seoul and Washington. Therefore, Vice President Pence reiterated in public remarks that North Korea has to "put denuclearization on the negotiation table and take concrete steps with the world community to dismantle, permanently and irreversibly, their nuclear and ballistic missile programs." Put it bluntly, "Denuclearization has to be the starting point of any change in Pyongyang."
From the beginning, President Moon Jae-in has made a great deal of effort to persuade Kim Jong-un to send the North Korean team to participate in the Pyeong-Chang Winter Olympics. To that end, part of Moon's effort involved persuading Washington to ease its anti-Kim rhetoric. As a result, Kim finally decided to participate in the Games to maximize the gains it would be able to accumulate following its achievement of credible deterrence via its ICBM with a nuclear warhead. It is believed that the Pyeong-Chang Olympics, followed by the Paralympics Games, should delay the next potential crisis until the end of March 2018, at which time the issue of the US-South Korea joint military drill will come back to the table. North Korea has demanded that South Korea not participate in this exercise. So far, no one can assure all the parties involved will do next simply because the United States was willing to postpone it until after the Olympics, but it will not approve a further request by Seoul to postpone for the sake of inter-Korean negotiations. Given this, President Moon will soon face the dilemma as follows: either participate in the military drill and terminate the dialogue with Pyongyang, or delay the drill, continue the dialogue, and intensify the dispute with Washington. That is evidently uncertain so far.
In a long run, South Korea can't disengage itself from the United States but also has little chance of convincing Washington not to pursue such a stern policy toward North Korea. Yet, peace is not absence of conflict, it is the ability to handle conflict by peaceful means. Because North Korea will not change or abandon its nuclear plan by overnight, all sides concerned should continue their efforts to persuade Pyongyang to return to the right side of history through joining rather than deserting the international community. In view of this, China's leadership has demonstrated its will, wisdom and strength. During the state visit of President Moon Jae-in to China in December 2017, President Xi reiterated that China and ROK must firmly adhere to the goal of the denuclearization of the Korean Peninsula, and no war or chaos is allowed on the Peninsula. Due to this, China can only accept that the Peninsula would be resolved through diplomacy and it is ready to support two Koreas to improve their relations through talks. In his response to Xi, Moon reaffirms that Seoul is firmly committed to resolving the Korean Peninsula nuclear issue through peaceful means, and stands ready to work with China to jointly safeguard peace and stability in the region. On January 8, Moon formally announced that the United States and the ROK agreed to delay joint military exercise during the Pyeong-Chang Winter Olympics. No matter how is has been debated, it is surely a good start.
In international relations, legitimacy is usually built on the consensus between countries. Moon's vow to work closely with China assures that peace remains there. As long as the key countries involved endorse peace, it is held that the spirit of the Olympics is bound to prevail over the nuclear phantom through multilateral dialogue in light of mutual respect and reciprocal benefits. Thus, Bach's remark of "a powerful message of peace to the world" would be turned into a reality of peace.
China's Post-COVID strategy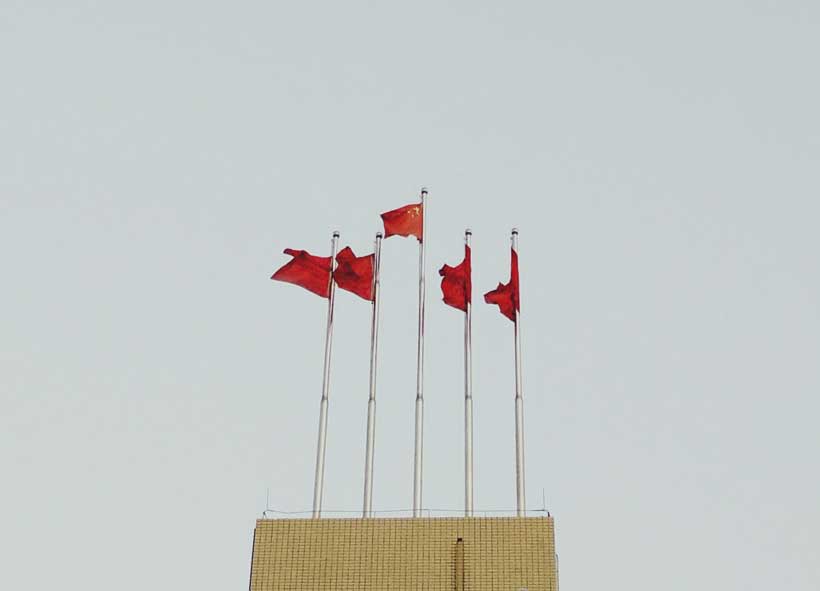 In the aftermath of the covid19 pandemic, the increasingly belligerent behaviour exhibited by China in South Asia and South East Asia and China's imposition of the National Security Law in Hong Kong, it is interesting, to see the tone of the English media of China. While there is not an iota of doubt, that for a genuinely comprehensive peek into the Chinese view on crucial political, economic and geo-political issues, a perusal of the Chinese language papers is imperative. The Global Times,the mouth piece of the Communist Party is important, because it covers the views of Chinese academics, strategic analysts who through their opinion pieces provide a deep insight into China's approach towards crucial economic and geo-political issues.
From the opinion pieces of the past few months, the Global Times one thing is evident, that with the US becoming increasingly unpredictable under Trump, it is virtually invincible. There is a growing belief, that Beijing is formidable both in the economic and strategic context. Strategic Analysts and journalists writing for the English speaking daily, have also tried to drive home the point, that Beijing is in a position to take on the US and its allies and that any attempt to isolate China would not be taken lying down. On the other, articles in the Global Times warn against Anti-China alliances, and also argue against why they will not be possible, pointing to the fault lines between the US and other countries. It has also not refrained from using strong language against countries like Australia and Canada by insinuating that they are acting as mere appendages of the US.
Aggressive stance vis-à-vis countries which blamed China for lack of transparency with regard to the outbreak of the pandemic
If one were to look at the newspaper's labelling of countries which took a firm stand against China, with regard to blaming it for suppression of crucial information pertaining to the pandemic, Beijing was scathing not only in it's criticism of the US, but also lashed out at Australia, for asking for an enquiry into the origins of the deadly pandemic. The newspaper labelled Australia as a mere appendage of the US, even dubbing it as a 'poodle' and 'dog of the US'.
It has also warned other countries, especially Australia, of the economic consequences of taking on Beijing. An article titled, 'Australia's economy cannot withstand Cold War with China' written by Wang Jiamei concludes by saying
'…..If a new Cold War leads to a China-Australia showdown, Australia will pay an unbearable price. Given Australia's high dependence on the Chinese economy, an all-around confrontation will have a catastrophic effect on the Australian economy'
The fact that Beijing did not take kindly to Australia's criticism of China, and a demand for a probe was strongly reiterated by the point, that China imposed sanctions on imports of certain Australian commodities like barley and suspended the import of beef. China has also issued warnings to students and tourists to reconsider travelling to Australia.
This was done days after China's envoy in Australia Cheng Jingye in an interview to an Australian media outlet had warned of strong economic repercussions (the envoy was referring not just to the impact on Australia-China trade, but on Chinese students pursuing education in Australia and tourists visiting Australia) if Australia continued to adopt a strong stance against China on the issue of an enquiry into the origins of the covid19 pandemic (Australia reacted very strongly, to this threat).
Beijing unsettled by emerging alliances?
One interesting point is, that while commentaries and reportage in the Global Times try to send out a message, that China's rise is inexorable and that Beijing is not daunted by emerging alliances and the narrative of reducing economic dependence upon China, it seems to be wary of partnerships and alliances which seek to challenge it. The newspaper repeatedly warns India, UK, Australia, EU member states about the perils of strengthening ties with the US. Even in the midst of recent tensions between India and China, Global Times tried to argue, that India would never openly ally with the US and if it did so, this would be damaging. An article in the Global Times states
It won't be in the interest of India, if it really joins the Five Eye intelligence alliance. the role of a little brother of the US within a certain alliance is not what India really wants.
The article also tries to dissect differences between US and India over a number of issues, which are not wrong, but what it forgets is which two countries do not have differences over strategic and economic issues.
Strong language against Canada
It is not just US, Japan, Australia, EU and India, Global Times has also adopted an aggressive posture vis-à-vis Canada. An article in the Global Times, 'China-Canada ties wane further as Ottawa becomes Washington's puppet over HK' dubbed Justin Trudeau was in pole position of bootlickers castigating him for the measures he has taken, after China tightened its control over Hong Kong via the imposition of National Security Law. Steps taken by Trudeau include suspension of the extradition treaty with Hong Kong and a decision to end the export of sensitive military items to the region.
Cracks in the bilateral relationship had begun to emerge between Canada and China, after Canada detained CFO of Huawei, Meng Wanzhou on a US extradition warrant (in the end of May, a Canadian court had ruled that Wanzhou could be extradited to the US much to the chagrin of the Chinese), while Beijing in return had detained two Canadians Michael Kovrig and Michael Spavlor (both were charged with espionage in June 2020). It would be pertinent to point out that Beijing has signaled it's displeasure with Canada by reducing imports of Canadian products like pork and canola oil.
Conclusion
While Beijing itself is becoming more aggressive and belligerent, it can not expect other countries to stick to their earlier position on crucial strategic issues. While it is unfair to assume that The Global Times can cover the fact is that China is on the defensive, because it is for the first time that other countries are finding common ground in the strategic and economic sphere. While the results may not come overnight, partnerships are likely to concretize and gather momentum, because Beijing seems in no mood to give up on its hegemonic mindset and patronizing approach. Yet, other countries and regional blocs also need to have a clear vision to counter China and divergences over minor issues will not help. It is true, that a zero-sum approach vis-à-vis China is not beneficial, but for that to happen Beijing too needs to act responsibly, which seems doubtful given its behavior on a number of issues.
Why does the Dragon do what it does
The recent stand-off between China and India has been the headlines around the world, especially since the stand-off went ugly with 20 Indian soldiers and an unknown number (probably less than 20) Chinese soldiers losing their lives in a vicious hand to hand combat. Since then, nationalistic sentiments in India are running high with immense public pressure to account for the Chinese for what happened in Galwan Valley. In order to understand the motives behind the recent clashes, one has to go back to 1962 or even before that.
This is not the first time that tensions along the LAC (Line of Actual Control) have flared up and definitely this is not the end of such events. Strategically, what was true in 1962, is true today. The real bone of contention is still Aksai Chin. Aksai Chin is the Dragon's hanging sword on Delhi, which can be unleashed anytime keeping India continuously in a state of passive defensive. As long as China adheres to its strategy on Aksai Chin, it will always have the strategic initiative, and India's "great power ambition" will continue to lay in the abyss of the Indian Ocean.
Aksai Chin indeed was a part of the State of Kashmir but since Kashmir already was being fought over between India and Pakistan and the region being far from both India and Pakistan was inaccessible to both claimants. Beijing saw an opportunity and with tacit approval from Pakistan, went ahead to control this "Sand Sea of China" which is the literal translation of Aksai Chin in Turkic.
Aksai Chin is strategically very important for China. It is the only possible land route that connects China's Xinjiang Region to Tibet. China's G219 Highway and the New Tibet Railway Line both pass through Aksai Chin. If there was not to be an Aksai Chin, the Chinese had to cross the hard terrain of the Kunlun Mountains to connect China's two big landmasses. In 1962 when China took the initiative to cross the LAC, Beijing had several things on its mind. Firstly, it had to secure Aksai China so that a land link between Xinjiang and Tibet can be established. Secondly, China knew that controlling the heights over India is going to give it a long term strategic advantage and through it, it could always keep the initiative in its hands, keeping Delhi in a defensive position for an unprecedented time in the future. Thirdly, it wanted to support Pakistan which was having its own problems in the Kashmir sector. In case of any future Indo-Pak conflict, China would be in a better position to intervene. Lastly, and most important of all, Beijing wanted to ensure no future disturbances along the LAC. The main objective of the 1962 War was made very clear by Chairman Mao at the Xiangshan meeting: "At least 30 years of peace must be guaranteed."
One may wonder that what does thirty years of peace do. What merited the risk of crossing over the LAC by the Chinese? The answer is rather simple: Integration of Tibet! Tibet was having internal problems and especially after the Dalai Lama fled Tibet it was getting harder for Beijing to keep it under control, but that couldn't be possible unless and otherwise New Delhi would be completely knocked out of the Tibetan game and this is exactly what the 1962 War did.
Some analysts believe that instead of focusing on Aksai Chin which is a rugged piece of land, China should've gone for the Arunachal Pradesh, which the Chinese call "Southern Tibet". The area is also much richer in natural resources than Aksai Chin. The point made then by Beijing was that Arunachal Pradesh was a more difficult terrain to be defended plus the aim was to stabilize the whole of Tibet, instead of just Southern Tibet. Another interesting reason why Beijing kept mum about Southern Tibet was that it was the "Granary of Tibet", the absence of which meant that Tibet had to rely on Beijing for its basic necessities. Another well-calculated move by Beijing to reign in Tibet.
All along the 1962 War, Beijing was clear of its objectives. It was not expansionism that drove the war but rather strategic interests. The war was initiated by China, and China itself took the initiative to end it. It was clear to the Chinese planners that any War with India had to be swift, decisive and must set the tone for future engagements. That is why after the PLA took over control over large swathes of land across the LAC and the "McMahon Line", then quickly retreated back to the "McMahon Line". Since the battleground is usually too cold for battle, the PLA had only a two-month window to launch an offensive
Prior to the war, at the Beijing Xiangshan meeting in which it was decided to fight the 1962 War, Zhou Enlai specifically instructed that "logistics must be done well, and we must never increase the number of casualties due to logistical factors like in the Korean War."
Learning on the lessons of 1962, India unilaterally decided not to build any infrastructure in the region surrounding the LAC, fearing that the same infrastructure might be used by the Chinese to come into the Indian mainland. Since now New Delhi is ascertaining its regional and global power, it is constructing new roads and infrastructure along the LAC and China is clearly not happy with India changing the status quo. Previously, the status quo maintained gave Beijing a strategic advantage. One border issue had pinned India for decades, wasting a lot of India's national power, and has allowed China to develop with peace of mind for decades.
Escalation of conflict between two Koreas: Why now and what could it lead to?
Observers worldwide signal a rapid deterioration of relations between two Koreas which began on June 9th, after North Korea's authorities discontinued contacts with South Korea over the anti-Pyongyang leaflets circulated by North Korean defectors. While Seoul has announced readiness to take measures, the other party chose to ignore the announcement.
Pyongyang has blocked all communication lines with Seoul (except those between special services). North Korea has also blown up the building of the inter-Korean communication office in Kaesong, which was opened in 2018 for promoting cooperation between North Korea and South Korea. This is a precedent which sets one thinking: why is all this happening now and what could it result in?
Throughout the past few decades Pyongyang has repeatedly resorted to the "slam the door" tactic according to which it first broke contracts and then resumed them. There was a time when the participants in inter-Korean talks threw cookies at one another during a coffee break in a manifestation of mutual resentment. But no one blew up buildings.
Significantly, the measures in question have been reported by Kim Jong-un's younger sister Kim Yo-jong, who described South Korea as a «foe». Deputy head of the propaganda department of the Central Committee of the Korean Labor Party, this pretty-looking lady with good manners were originally appointed to represent the North Korean regime with a "human face". Now, she is playing the part of a "bad cop".
So, why is it all happening now? The year 2020 began with radical changes about American-North Korean denuclearization talks, which ran into a deadlock. North Korea repeatedly voiced discontent over the US not lifting sanctions against Pyongyang and not calling off military exercises with South Korea despite the fact that North Korea has stopped nuclear tests, frozen intercontinental ballistic missile launches and closed nuclear testing sites. In response, Pyongyang chose to raise negotiation stakes by saying 'no' to talks on the lifting of some UN-imposed sanctions in exchange for major nuclear facilities of North Korea.
Apparently, North Korea considers it possible to repeat the same tactic in its relations with the South, which have been stalled, largely over the coronavirus pandemic. Despite Pyongyang's expectations, North-South relations cannot enter the specific cooperation phase, first of all, over the position of Washington, which has been doing everything to thwart it.
When a chess game enters a deadlock, the angry party, like in the Ilf and Petrov classic, is tempted to overturn the chessboard, or worse, to crush it on the head of the other party. This is the logic that the North Korean party could be driven by at the moment; such a behavior seems quite sensible, because it has yielded good results many times before. The question is why torpedo the inter-Korean dialogue now, under President Moon Jae-in, who is widely known for his commitment to the North-South dialogue and has done a lot to promote it (and must have been getting ready to do more, thereby earning a credit for himself in history before he steps down from the post of president in 2022)?
It is not a secret that this dialogue has limits which are imposed by American-South Korean alliance. Since the North has always been against them, the current escalation could well be part of an attempt to "blow up" the existing system (or, at least, rock it out of balance). But this kind of move is hardly sensible and hardly feasible.
What will the current escalation which the North has been demonstrating so openly ("seven people hold me, or I break loose and crush everything"), lead to? What sounds alarm is Pyongyang's intention to deploy troops in areas which have been deemed as demilitarized since 1953, when North and South Koreas signed an armistice agreement. After that the two sides saw a number of intermittent setbacks but they never touched the border zone in the 38th parallel. Seoul and Pyongyang never attempted to reconsider the zone's demilitarized status. A violation of this "taboo" is fraught with danger – it could cause unintended military incidents on the demarcation line, particularly considering the fact that the 38th parallel has the world's biggest concentration of military power and weapons.
Finally, what are external players to do? The UN secretary-general has urged the United States and South Korea to take joint efforts to normalize inter-Korean relations. After that the State Department issued a corresponding statement which ran into a rebuke on the part of North Korea. The day before the Trump administration extended sanctions against North Korea for another year, and the circle has been closed.
The Chinese Foreign Ministry and Russian State Duma coordinator for cooperation with North Korea Kazbek Taisaev have expressed hope that peace will be preserved. But this is not enough. Russian and Chinese diplomats have been acting in line with a consolidated position of China and Russia on the situation around the Korean Peninsula, which was enshrined in the Joint Statement of the two countries' foreign ministers of July 4, 2017. Action for action, a step-by-step lifting of sanctions depending on progress at the talks is what Russia and China propose for a settlement. This principle, however, proceeds from the fact that North Korea is interested in such progress, not vice versa. For this reason, our countries' foreign ministries may have to streamline their strategy with a view to make it easier to implement and boost its effectiveness.
From our partner International Affairs