Resource experts call for new strategy to build better cities
As urban areas around the world continue to grow, cities are placing an increasingly heavy burden on our environment. Policymakers should therefore treat resource efficiency as equal in importance to climate policy if they want to move towards a sustainable future, according to a new report from the International Resource Panel.
The Weight of Cities: Resource Requirements of Future Urbanization calls for a new strategy to meet the needs of 21st-century urbanization, one that would result in cities that are low carbon, resource efficient, socially just, and in which people can live healthy lives.
Unless the world's urban areas make optimal use of their resources, cities will soon demand far more resources than our planet can sustainably provide, placing a huge burden on agriculture, energy, industry and transport. In the next 30 years, 2.4 billion people are likely to move to urban areas, bringing the proportion of the global population living in cities by 2050 to 66 per cent.
The annual amount of natural resources used by urban areas could grow from 40 billion tonnes of raw materials in 2010 to 90 billion tonnes by 2050, an increase of 125 per cent, if changes are not made to how cities are built and designed.
The report, the 25th from the International Resource Panel, an eminent group of experts set up by UN Environment in 2007 to examine natural resource use, was one of two summary reports to be launched at the 9th World Urban Forum in Kuala Lumpur today.
"There are already far too many people around the world who are already being poisoned by breathing dirty, dangerous air in the cities they live in, and it's alarming to see that this trend is set to worsen," said UN Environment chief Erik Solheim.
"We can and need to do far better. We can design better cities, where people can walk or cycle instead of having to use cars, where waste is recycled rather than burned or tossed into landfills, and where everyone can access clean fuels and energy."
Slightly more than a third of urban growth is expected to come from three countries: India (expected to contribute 404 million new city-dwellers), China (292 million) and Nigeria (212 million). At the same time, currently one in three urban residents lives in a slum or informal settlement, often without access to proper housing or basic services.
The increase in urban population will require the building of new cities and the expansion of existing ones. Building and operating these new cities, and supporting the urban lifestyles of those who live in them, requires billions of tonnes of raw materials, such as fossil fuels, sand, gravel, iron ore, wood and food.
Historically, existing cities have been spreading at a rate of two per cent a year, increasing global urban land use from just below one million square kilometres to 2.5 million in 2050, and putting agricultural land and food supplies at risk.
To achieve a transition to low-carbon, resource-efficient, socially just cities, the report recommends:
Monitoring the flow of resources entering and leaving the cities to understand the local situation and to help develop resource-efficient strategies.
Planning cities to have:
Compact growth, to avoid urban sprawl and so economize on the square kilometres of asphalt, the concrete, the electricity and the water wasted in spread-out cities.
Better connections by efficient and affordable public transport (e.g., light rail, bus rapid transit).
Liveable neighbourhoods where design encourages people to walk or cycle.
Resource-efficient urban components, such as car sharing, electric vehicles and charging point networks, efficient energy, efficient waste and water systems, smart grids, cycle paths, energy-efficient buildings, new heating, cooling and lighting technology, etc.
Infrastructure for cross-sector efficiency, such as using waste heat from industry in district energy systems and industrial waste materials in construction, such as fly-ash bricks.
Establishing a new model for city governance and politics that supports imaginative business propositions and experimentation.
The second report launched today, Sustainable Urban Infrastructure Transitions in the ASEAN Region: A Resource Perspective, was produced by UN Environment with scientific input from International Resource Panel member Dr Anu Ramaswami.
It examines future urbanization in the countries of the Association of Southeast Asian Nations (ASEAN) – Indonesia, the Philippines, Viet Nam, Thailand, Myanmar, Malaysia, Cambodia, Laos, Singapore and Brunei — where 205 million people are expected to move to cities by 2050, resulting in the rapid rise of 200 new small cities or urban areas with populations of fewer than 500,000. This is likely to take place against a backdrop of increasing air pollution and climate risks, and in a region where 73 million people live in slums, 120 million lack access to electricity and 280 million lack clean cooking fuels.
The report says that collaborative governance, at all levels, and long-range planning will be needed to transform the region's cities. Strategies suggested include:
Undertaking national and cross-ASEAN urbanization planning to balance economic growth across a range of city sizes and to preserve high-value agricultural land and ecosystem services.
Promoting compact, mixed-use, accessible and inclusive cities through regional and city planning to reduce land-use planning, streamline infrastructure provisions and promote sustainable mobility (such as public transport, car-sharing, walking and cycling).
Developing zero-slum cities through land-use planning that prevents slum formation and rehabilitating existing slums in resource-efficient, disaster-resistant, multistorey buildings.
Promoting resource-efficient, resilient buildings and electricity grids.
Promoting resource efficiency at the systems level across the city through innovative and profitable exchanges of "waste" energy and materials.
UN forum spotlights cities, where struggle for sustainability 'will be won or lost'
Although cities are often characterized by stark socioeconomic inequalities and poor environmental conditions, they also offer growth and development potential – making them central to the 2030 Agenda for Sustainable Development and a main focus of the third day of the United Nations High-Level Political Forum (HLPF) on Wednesday.
Through the inherently integrated nature of urban development, the 11th Sustainable Development Goal (SDG) impacts a wide range of 2030 Agenda issues from sustainable consumption and production to affordable and clean energy along with health, sustainable transportation, clean water and sanitation. Basically, life on land.
According to the UN, cities are where the struggle for global sustainability "will either be won or lost."
"Urbanization is one of the most important issues when it comes to sustainable development," Maimunah Mohd Sharif, Executive Director of UN-Habitat, told journalists at UN Headquarters in New York.
"We must make sure we do it right if we are to achieve the SDGs and move towards a world where we see an end to poverty, the protection of our planet and everyone enjoying peace and prosperity," she added.
While SDG 11 pledges to make cities and human settlements safe, inclusive, resilient and sustainable by 2030, local and national authorities are making uneven progress towards achieving that goal, according to the UN.
A new report by UN-Habitat and partners tracking SDG progress since their 2015 adoption coincides with the first review of SDG 11 at the HLPF.
At the current rate of expansion, over 700 cities will have populations of more than one million by 2030.
While cities can be powerhouses of economic growth and development, without proper planning and regulation, they could, among other things, suffer soaring levels of poverty, crime and pollution, says UN-Habitat.
"Cities are the spaces where all SDGs can be integrated to provide holistic solutions to the challenges of poverty, exclusion, climate change and risks," affirmed Ms. Sharif.
Leilani Farha, UN Special Rapporteur on adequate housing, told the HLPF that although there are no global homeless statistics, "housing conditions are fraught."
She underscored that some six billion people are inadequately housed worldwide and that close to 900 million people are living in informal settlements and encampments in both the global North and South.
"If we do not find housing solutions, no State will be able to meet their Agenda 2030 commitments because without access to adequate, secure and affordable housing there is no equality, there is no end to poverty, to health and well-being, to sustained access to education, to employment," she added.
Established in 2012, the HLPF meets annually under the auspices of the Economic and Social Council (ECOSOC). It is the main United Nations platform on sustainable development and it has a central role in the follow-up and review of the 2030 Agenda and the SDGs at the global level. The Agenda with its 17 Global Goals were adopted in 2015 by UN Member States and aim to protect the planet and ensure that all people enjoy peace and prosperity.
Historic Step
Meanwhile in the afternoon, New York City took the distinction of becoming the first city in the world to report directly to the international community on its efforts to reach global benchmarks in addressing poverty, inequality and climate change by 2030.
Among other accomplishments, its Voluntary Local Review (VLR) showcased significant achievements in cleaner air and water, record job and wage growth, and tripling the number of children in free pre-Kindergarten.
"We encourage cities and communities to join the urgent discussion about what is working on the local level, and how we can address the shared challenges that remain on the way to reaching the Global Goals," said Penny Abeywardena, NY Commissioner for International Affairs.
Moreover, Mayor Bill de Blasio declared Wednesday, 11 July 2018, as Global Goals Day in New York City, to welcome HLPF participants and express local solidarity with efforts worldwide to achieve the goals.
Applauding the Mayor's leadership and New York on the SDGs, Secretary-General António Guterres noted that the UN recently launched the Local2030 platform for cities and local governments to pursue new pathways for low-emission growth and climate action, poverty alleviation and inclusion of the most vulnerable residents.
"This Voluntary Local Review is a first step towards such progress and I urge other cities and local governments to follow suit," he said.
New financial instrument to make Brazilian cities more energy efficient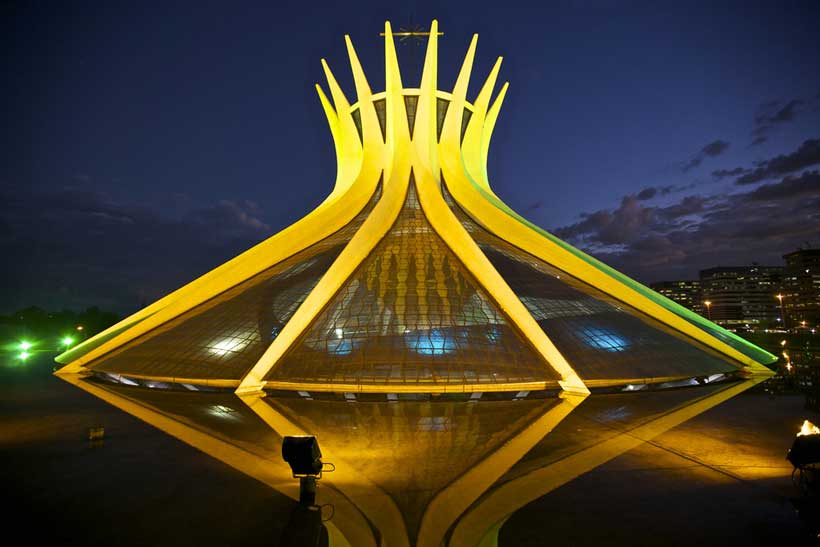 A new financial instrument will allow Brazil to increase its investment in urban infrastructure and make the country more energy efficient. The Financial Instruments for Brazil Energy Efficient Cities – FinBRAZEEC will catalyze resources from the private sector and climate funds to create new markets in the areas of efficient street lighting and industrial energy efficiency.
"With this project, CAIXA has the opportunity to develop innovative financing mechanisms that will attract  new investors," said Antonio Gil Padilha Bernardes Silveira, executive director of sanitation and infrastructure at Caixa. "We will work to support the development, implementation and financing of projects for public lighting in Brazilian municipalities and industrial energy efficiency."
Brazil's public sector funding declined in 2015 and 2016, exacerbating the gap in infrastructure financing and highlighting the urgency of bringing private funds into the financing equation. The country's high urbanization rates (86% in 2018) make investments in urban energy efficiency crucial to address the 2030 SDG's Energy Efficiency and National Determined Commitments (NDC) goals.
FinBRAZEEC will help Brazil increase investments in urban energy efficiency and meet the goal of improving energy efficiency in the electricity sector by 10% by 2030, set as part of its Nationally Determined Contribution under the Paris Agreement on climate change.
"The FinBRAZEEC project offers one of the first genuine project financing structures in the Brazilian market", said Martin Raiser, the World Bank Director for Brazil.  "Its innovative financing model will help us unlock investment potential in the street lighting and industrial energy efficiency sectors, which had previously been identified as particularly promising for market based solutions. But we hope the example will encourage similar approaches also in other areas".
Under the project, which includes a US$ 200 million project IBRD loan combined with Green Climate Fund (GCF) and Clean Technology Fund (CTF) resources, the World Bank will partner with Caixa Econômica Federal (CEF), the second largest state-owned financial institution in Latin America and the fourth largest bank in Brazil, as the financial intermediary and borrower of IBRD and climate funds. CEF will lead the syndication of commercial lenders and will establish a Guarantee Facility that will provide partial credit guarantees to the commercial lenders participating in the syndication.
"The creative approach of FinBrazeec's new financial instruments galvanizes the experience of the World Bank in strengthening a truly domestic, modern and de-risked infrastructure asset-class market for investors," according to Antonio Barbalho, Practice Manager for Energy, Latin America and the Caribbean. "The World Bank developed a cutting-edge financial and risk mitigation product, opening new windows of opportunity for supporting infrastructure investments," adds Barbalho. The instrument encompasses best practices in infrastructure project preparation and provides flexible features to mobilize private finance while managing and mitigating risks.
FinBRAZEEC is expected to mobilize more than US$ 1.1 billion for urban energy efficiency investments in Brazil. In addition to the US$200 million IBRD loan, it will count on US$180 million of counterpart funds, as well as US$195 million in climate funds from the GCF and US$25 million in climate funds from CTF. The Project's goal is to leverage US$ 730 million in commercial debt and equity, making it an excellent example of the World Bank's strategy of Maximizing Financing for Development.
The Project will also benefit from a strong technical assistance program, supported by a US$ 4 million GCF grant, as well as nearly US$1 million in Bank-executed funds from the Energy Sector Management Assistance Program (ESMAP) and the Global Infrastructure Facility (GIF). These funds will be used to increase CEF's capacity to implement the innovative financial products and support sub-project pipeline development.
Act Now for a More Prosperous and Livable Dhaka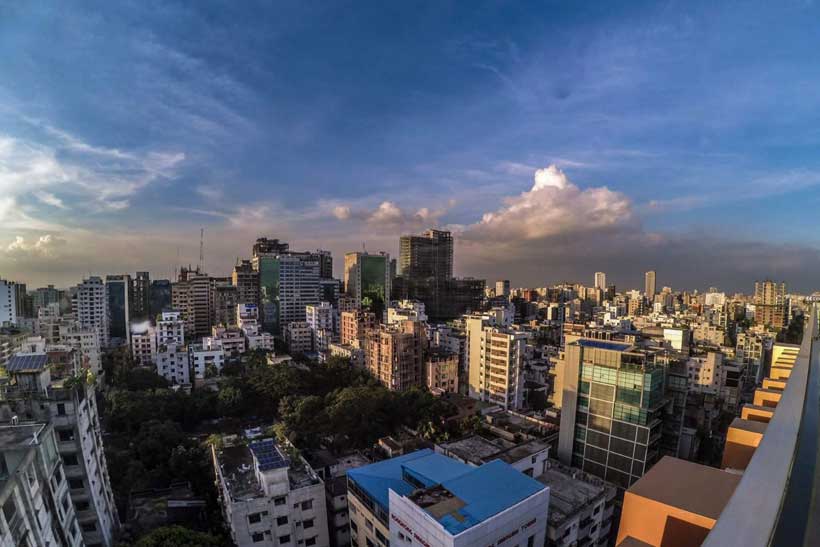 Through swift measures to develop East Dhaka, Bangladesh has a unique opportunity to relieve the flooding, congestion, and messiness that are clogging the capital's growth and affecting the quality of life of its people, says a new World Bank report released today.
The report, Toward Great Dhaka: A New Urban Development Paradigm Eastward, lays out a strategic vision for the city to unlock its development potential. Inspired by the success of Pudong, Shanghai, but based on localized economic modeling and simulations, the report recommends three critical interventions to develop East Dhaka. This area is mainly rural at present, but it is located within a few kilometers of the most valuable parts of the city.
The three interventions are: building the eastern embankment along the Balu River to mitigate flooding; developing transport links and public transit to ease congestion; and creating a world-class business district with sound policies to attract firms and residents eastward.
The report analyzes how these interventions could propel Dhaka toward becoming a global city and a stronger economic powerhouse for Bangladesh. If adopted, average income per capita in Dhaka could reach $9,200 by 2035 compared to less than $8,000 on current trends.
"Dhaka's residents currently face many difficulties, as the city's infrastructure development has not kept pace with the substantial growth of its population and traffic" said Martin Rama, the World Bank's Chief Economist for South Asia. "Developing East Dhaka with a strategic approach will result in a more prosperous and livable city. But action must be taken now, to avoid replicating the messy urban development of the past, and to mitigate environmental and social risks. Fixing East Dhaka in the future will be much more expensive and difficult."
Dhaka's population has increased from 3 million in 1980 to more than 18 million today, with 3.5 million residents currently living in slums that lack basic services. Average driving speed has slowed from 21km/h to less than 7km/h, and 3.2 million working hours are wasted everyday due to congestion. Social costs will worsen without a different approach to urban development, as Greater Dhaka will be home to 25 million people by 2035 on current trends.
 "Because of its vast size and proximity to the city center, East Dhaka represents a golden opportunity that few megacities in the world have. But seizing this opportunity requires a clear mandate by authorities, good collaboration between agencies, and concerted implementation" said Qimiao Fan, the World Bank's Country Director for Bangladesh. "As a long-term development partner, the World Bank stands ready to work with the government and the people of Bangladesh to transform the dream of a great Dhaka into a reality." 
The three interventions proposed in the report could enable Dhaka to comfortably host an extra 5 million inhabitants, and to create 1.8 million additional jobs, compared to a continuation of business as usual. The interventions would cost about $15 billion, but they could lead to $53 billion in increased economic activity per year by 2035. They would also result in an improved quality of life for Dhaka's inhabitants, and alleviate many of the challenges the city currently faces.