In southern China, the ancient capital city of Nanjing beckons travelers who long to immerse themselves in Chinese history and culture.
Nanjing served as the capital city of 10 dynasties and regimes over more than 1,800 years and is home to some of China's most significant historical attractions, including the Xiaoling Tomb of the Ming Dynasty, Dr. Sun Yat-sen's Mausoleum, the Presidential Palace and the City Wall, which dates back more than 600 years.
Here, past dynasties are alive and well, entwined with glittering modern skyscrapers. The misty Purple Mountain looms in the distance and the Ningzheng Ridge forms a crescent around this city in the heart of the Yangtze River delta.
If you visit Nanjing, don't just see the sights like a tourist. Walk in footsteps of the past with these thought-provoking, immersive experiences designed to bring Nanjing's history and culture to life.
Imperial Examination Experience
Do you have what it takes to be a top scholar? When you take part in the Imperial Examination Experience at Nanjing's Jiangnan Imperial Examination Hall Museum, you will step into the shoes of an ancient Chinese civil servant and find out. Beginning in the Han Dynasty (206 B.C. to 220 A.D.), citizens wishing to serve in the state bureaucracy were required to pass a rigorous government-issued examination. However, the test didn't involve job skills. Instead, it assessed candidates' knowledge of classic literature and literary style. Successful candidates were generalists who shared a common language and culture, which helped to unify the empire and shape the fabric of China's intellectual, cultural and political life.
During the three-hour Imperial Examination Experience, you'll dress in traditional attire and learn to create Chinese calligraphy with a brush pen and make thread-bound books to take home as a souvenir. You will walk away having experienced a glimpse of what ancient Chinese life was really like.
Chinese Tea Culture Experience
Few things are as closely associated with China as tea. Its long history as an indispensable part of daily life runs like a silk thread through everything from poetry to painting to calligraphy to medicine. Travelers seeking a deep exploration of tea should be sure to book the Chinese Tea Culture Experience in Nanjing.
During this four-hour activity, you'll see the stunning and peaceful Xuanwu Lake Park, formerly an imperial garden, before you disappear into a secret interior passageway in the Nanjing City Wall to find the hidden, speakeasy-style Lao Cui Teahouse. There, you'll learn about the importance of tea in the Chinese culture from a tea master, who will guide you in the ways of brewing a perfect cup of tea. Finally, you'll learn the ancient art of Chinese woodblock printing and create your own as a keepsake of the experience.
Nanjing Cloud Brocade Museum
Yunjin, meaning "as beautiful as a cloud at sunset," is silk brocade exquisitely woven in a style dating back 1,500 years. Incorporating silk, gold and silver threads, and even peacock feathers, the fabric was once reserved exclusively for the ornate dragon robes worn by emperors. At the Nanjing Cloud Brocade Museum, the only one of its kind in the world, visitors can watch as artisans weave the brocade in the traditional style on self-powered looms. The craft is so intricate that the weavers produce only five centimeters of yunjin per day.
Nanjing Impressions
Founded in 1994, Nanjing Impressions is considered one of the must-visit restaurants in all of China for locals and travelers alike. Named a Top 50 Chinese Heritage Restaurant, it aims to preserve traditional Huaiyang cuisine, a popular and prestigious style of cooking in Jiangsu Province that has been designated as one of the four great traditions of Chinese cuisine.
The atmosphere in Nanjing Impressions transports you to the past with its interior designed like an ancient tea house, hundreds of hanging lanterns, wooden benches and authentic dress for the servers and chefs. The experience is vibrant, with servers shouting blessings as they pass traditional Nanjing specialties. You'll find many duck dishes on the menu here, but make sure to try the city's signature dish of Nanjing Salted Duck, a 400-year-old recipe that involves a complicated procedure of brining and dry rubbing that produces a rich, tender bird.
The Chinese believe a perfect meal consists of 10 dishes, so come hungry to experience this love letter to Nanjing cuisine.
Qinhuai River Cruise
Float lazily down Nanjing's Mother River on a romantic evening cruise, and you'll feel like you've traveled back in time to the city's roots. Distant strains of guqin, a traditional Chinese stringed instrument, waft through the air as you cruise along the lantern-lit Qinhuai Scenic Area, with its quaint riverboats, footbridges and Chinese architecture including one of the world's best-preserved Barbican gates. As the ancient Chinese world floats by, you'll understand why the Qinhuai River cruise is one of Nanjing's top attractions.
Ready to start planning your Nanjing experience? Visit gotonanjing.com for more information, details on tour packages, and other travel planning resources.
8 Things to Do in Winter at Four Seasons Resort Sharm El Sheikh
Escape the winter days into the all-year-around warm haven of Four Seasons Resort Sharm El Sheikh, a desert-and-sea hideaway. Whether looking for a romantic break or a family gathering, the Resort's masterful team will make sure to check-off your Sharm El Sheikh bucket list in this hillside lush greenery oasis.
Scuba Diving for an Underwater Adventure in Sharm El Sheikh
With an easy access to more than 70 dive sites, adventure seekers can either go for wreck diving to explore the shipwreck sites of Thislegorm and Dunraven or for a chance to spot rare underwater creatures, colourful coral reefs and myriad marine life just off shore. This is in addition to snorkelling and scuba lessons for all ages at the Resort's Dive Centre.
A Bedouin Dinner Experience, Four Seasons Style
Held on the sands of Four Seasons Sharm El Sheikh shorefront, this is truly a feast for the senses. Enjoy an authentic dinner under an endlessly starry sky, where the shadows and firelight dance invitingly and the sound of waves on the shore mixes with the exhilarating notes of traditional music.
Desert Adventures
Experience the spiritual power of Sinai mountains and live the real safari, the way Bedouins have done thousands of years ago. Explore the destination's beauty, from a sunset camel safari to horseback riding or quad biking on the desert trails on an adventurous journey through the splendid hills and mountains.
Swim with the Dolphins
Experience an amusing opportunity to see, feed, dance and swim with the smart dolphins, trained to perform tricks, jumps and many fun activities. Capture a picture-perfect family moment in a fun-filled open air theatre.
Spa Specialities Inspired by Ancient Egypt
After a day in the desert sun, retreat to the Spa and try one of the culturall- inspired treatments echoing the Pharaonic world of beauty and Bedouin wellness rituals. A luxurious bath of honey and milk followed by a relaxing massage with the Cleopatra treatment will leave you feeling like royalty.
Kids for All Seasons Club
Keep the little ones busy with different themes every day, from handmade Pyramid hats to belly dancing lessons, cartouches making with Egyptian hieroglyphs, sandcastles on the beach and treasure diving in the pool, just a few of the fun-filled cultural activities.
Classic Keepsakes to Take Back Home
For souvenirs, visit Soho square adjacent to Four Seasons Resort Sharm El Sheikh. At night Soho square becomes a hub for entertainment, shopping, clubbing and activities. It has numerous pieces of public art, a dancing fountain and kids arcade, all working for a great environment to enjoy with friends or family.
Saint Catherine Monastery and Biblical Landmarks
A UNESCO World Heritage site, Saint Catherine Monastery situated at the foot of Mount Sinai, which is said to be where Moses saw the burning bush, is the most scenic spot in Sharm El Sheikh. The Resort's concierge team can help arrange a trip to climb Mount Sinai at sunset and see the stunning landscapes painted in gold and orange hues.
Mind-Blowing Facts About the Rockefeller Center Christmas Tree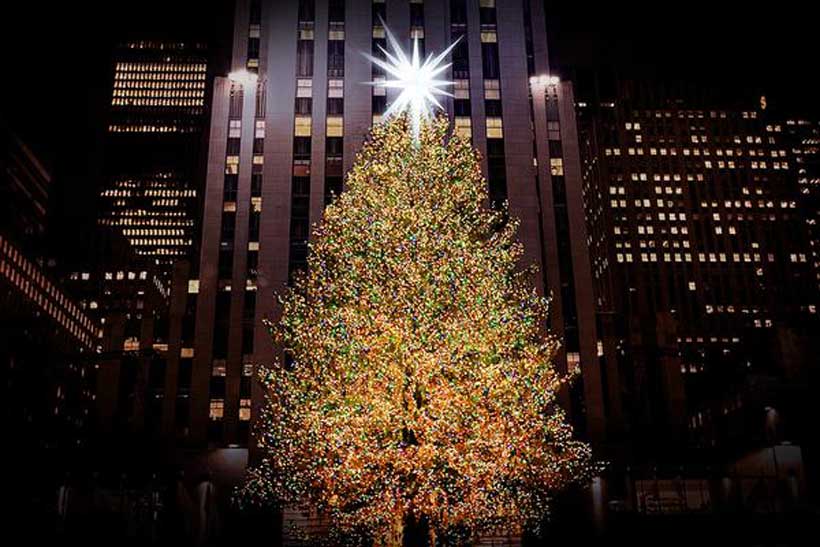 The Rockefeller Center Christmas tree acts each holiday season as a luminous magnet for camera-toting visitors. It towers above the ice-skating rink, with the golden statue Prometheus near its apron, carrying on a custom as old as Rockefeller Center itself—starting back in the early 1930s when the Midtown complex was still under construction.
The folks at Rock Center accept submissions each year. What do they look for in a specimen? A nicely shaped Norway spruce, typically at least 75 feet tall and dense enough that you "shouldn't be able to see the sky through it," according to head gardener Erik Pauze. Being from the tristate area generally helps—long distance is a consideration, but it's not a deal breaker (1998's tree was flown in from Ohio, and there was one from Canada way back when). The selection process takes a while, during which time the winner generally makes itself known. As Pauze says, "Sometimes I visit a tree several times over the year, [to] watch it grow or fill out. But when I see the perfect one, I just know it."
Come late November, Today show personalities Hoda Kotb, Savannah Guthrie, Al Roker and Craig Melvin will join a host of performers (Pentatonix and John Legend included) for the opening ceremonies, and the tree stays lit—and available for public viewing, selfies and Instagram posts—until early January. This year, a ceremony for hoisting the new Daniel Libeskind–designed Swarovski star atop the tree will precede the lighting by a couple of weeks.
Pining for more info? We'll go out on a limb and guess you are. Here's some tree trivia to keep you waxing botanic through the holiday season.
This year's model
Height: 72 feet
Weight: 24,000 pounds (estimated)
Species: Norway spruce
Hometown: Wallkill, New York
Age: Roughly 75 years
Date felled: November 8, 2018
Date put in place: November 10, 2018
Date of star raising: November 14, 2018
Date of tree lighting: November 28, 2018
Up until: January 7, 2019
Number of lights: 50,000+
Average number of expected daily viewers during holiday season: 750,000
Through the years
1931 First Christmas tree on the grounds, put up by construction workers
1933 First official year of Rockefeller Center Christmas tree
1941 Four reindeer, in pens, flank the tree; later, they move to the Bronx Zoo
1942–44 Tree goes unlit due to World War II
1949 The tree is painted silver, ostensibly to make it look more wintry
1966 A white spruce hailing from Canada becomes the first tree from outside the US
1981 Last time a species other than a Norway spruce (in this case, another white spruce) is chosen
1997 Tree from Stony Point, NY, is transported by barge down the Hudson River
1999 Tallest tree ever, at 100 feet
2016 Tony Bennett, at the age of 90, performs at the ceremony for the fourth time in seven years
Fast facts
* Why a Norway spruce? Our research indicates that its characteristics of a straight trunk and the ability to resist wind make it a sturdy choice; and its size, on average between 80 and 100 feet at full maturity, matches Rockefeller Center's height requirements.
* For the most part, the same LED lights, which were first introduced in 2007, are used each year (though their total number has grown from around 30,000 to around 50,000).
* The Swarovski-crystal star that tops the tree first appeared in 2004—and has been reimagined by architect Daniel Libeskind for 2018. The new version has 3 million crystals, 70 glass spikes and, with a brightness of 106,000 lumens, may be powerful enough to turn night into day.
* Those in charge maintain the tree with regular watering—as it's outside, it retains its freshness better than it would in a house or apartment.
* The inaugural tree lighting was broadcast on radio in 1933; 18 years later it made its televised debut on the Kate Smith Evening Hour.
* After the tree is done spreading holiday cheer, it's sent on its merry way to be used as lumber for Habitat for Humanity.
The Best Ways to Spend the Festive Holidays in Beirut
The holiday season is one of the most exciting times to visit Beirut. The city streets are decked out in shimmering lights, dazzling displays of ornaments and that incomparable festive buzz.
There's plenty to experience in Beirut during the holidays and Four Seasons Hotel Beirut is your ideal home away from home, perfectly located to take in the sights, sounds and excitement of the festivities, which are just a stroll away. To ensure you make the most of your trip and don't miss out on the best activities of the season, our concierge team is happy to share a helpful insider's guide to celebrate the holidays in the city.
Partake in Festive Culinary Delights
Celebrate the holidays at Four Seasons Hotel Beirut with an exquisite array of innovative offerings and culinary delights. From a holiday-themed afternoon tea to delightful delicatessen evenings, and even a pop-up caviar and oysters bar, revel in a host of magical moments, all backed by legendary Four Seasons service.
Admire the Beautiful Christmas Trees
Downtown Beirut is the place to be if you want to see the most popular Christmas lighting events in the city, as the famous Martyr Square welcomes Christmas with VIP appearances, music and a countdown to the Christmas tree illumination. Other celebrations include the Beirut Souks Christmas Tree Lighting event and our very own Four Seasons Christmas Tree Lighting ceremony.
Holiday Ice Skating
One of the best ways to get in the Christmas spirit and have some winter fun in Beirut is by wrapping up warm for an ice skating session at Beirut Ice Skating, just a few steps from the Hotel.
Visit Byblos Christmas Village
Without a doubt, Lebanon's most comprehensive Christmas attraction is the Byblos Christmas Village. An hour drive from Beirut, enter a world of Christmas bliss with stunning lights, decorations and other festive attractions. Admire the sky-high Christmas tree that has been featured in The Guardian and Wall Street Journal. Numerous food stalls and a traditional Christmas market add to the merry atmosphere.
Shop for Gifts
Shopping in Beirut at Christmas is a sightseeing opportunity in itself, as ABC, Beirut Souks, Aishti Seaside and Le Mall all boast dazzling Christmas displays and impressive seasonal decor both inside and out. From department stores to high-end boutiques, shopping for your Christmas gifts in the city definitely won't disappoint.
Check Out the Christmas Street Food Market
A popular annual event Souk El Akel, Christmas market edition is a food celebration showcasing Lebanon's vibrant culinary world of foods including Lebanese, Middle Eastern and international bites, and can be found at various locations throughout the city. Entertainment, parades, kids area, food court, and much more await.
Attend a Christmas Concert
One of the season's most anticipated highlights, Beirut Chants Festival welcomes during December performers from all over the world, both established and emerging, to share heart-warming performances in the many beautiful and historic churches of Beirut.