In southern China, the ancient capital city of Nanjing beckons travelers who long to immerse themselves in Chinese history and culture.
Nanjing served as the capital city of 10 dynasties and regimes over more than 1,800 years and is home to some of China's most significant historical attractions, including the Xiaoling Tomb of the Ming Dynasty, Dr. Sun Yat-sen's Mausoleum, the Presidential Palace and the City Wall, which dates back more than 600 years.
Here, past dynasties are alive and well, entwined with glittering modern skyscrapers. The misty Purple Mountain looms in the distance and the Ningzheng Ridge forms a crescent around this city in the heart of the Yangtze River delta.
If you visit Nanjing, don't just see the sights like a tourist. Walk in footsteps of the past with these thought-provoking, immersive experiences designed to bring Nanjing's history and culture to life.
Imperial Examination Experience
Do you have what it takes to be a top scholar? When you take part in the Imperial Examination Experience at Nanjing's Jiangnan Imperial Examination Hall Museum, you will step into the shoes of an ancient Chinese civil servant and find out. Beginning in the Han Dynasty (206 B.C. to 220 A.D.), citizens wishing to serve in the state bureaucracy were required to pass a rigorous government-issued examination. However, the test didn't involve job skills. Instead, it assessed candidates' knowledge of classic literature and literary style. Successful candidates were generalists who shared a common language and culture, which helped to unify the empire and shape the fabric of China's intellectual, cultural and political life.
During the three-hour Imperial Examination Experience, you'll dress in traditional attire and learn to create Chinese calligraphy with a brush pen and make thread-bound books to take home as a souvenir. You will walk away having experienced a glimpse of what ancient Chinese life was really like.
Chinese Tea Culture Experience
Few things are as closely associated with China as tea. Its long history as an indispensable part of daily life runs like a silk thread through everything from poetry to painting to calligraphy to medicine. Travelers seeking a deep exploration of tea should be sure to book the Chinese Tea Culture Experience in Nanjing.
During this four-hour activity, you'll see the stunning and peaceful Xuanwu Lake Park, formerly an imperial garden, before you disappear into a secret interior passageway in the Nanjing City Wall to find the hidden, speakeasy-style Lao Cui Teahouse. There, you'll learn about the importance of tea in the Chinese culture from a tea master, who will guide you in the ways of brewing a perfect cup of tea. Finally, you'll learn the ancient art of Chinese woodblock printing and create your own as a keepsake of the experience.
Nanjing Cloud Brocade Museum
Yunjin, meaning "as beautiful as a cloud at sunset," is silk brocade exquisitely woven in a style dating back 1,500 years. Incorporating silk, gold and silver threads, and even peacock feathers, the fabric was once reserved exclusively for the ornate dragon robes worn by emperors. At the Nanjing Cloud Brocade Museum, the only one of its kind in the world, visitors can watch as artisans weave the brocade in the traditional style on self-powered looms. The craft is so intricate that the weavers produce only five centimeters of yunjin per day.
Nanjing Impressions
Founded in 1994, Nanjing Impressions is considered one of the must-visit restaurants in all of China for locals and travelers alike. Named a Top 50 Chinese Heritage Restaurant, it aims to preserve traditional Huaiyang cuisine, a popular and prestigious style of cooking in Jiangsu Province that has been designated as one of the four great traditions of Chinese cuisine.
The atmosphere in Nanjing Impressions transports you to the past with its interior designed like an ancient tea house, hundreds of hanging lanterns, wooden benches and authentic dress for the servers and chefs. The experience is vibrant, with servers shouting blessings as they pass traditional Nanjing specialties. You'll find many duck dishes on the menu here, but make sure to try the city's signature dish of Nanjing Salted Duck, a 400-year-old recipe that involves a complicated procedure of brining and dry rubbing that produces a rich, tender bird.
The Chinese believe a perfect meal consists of 10 dishes, so come hungry to experience this love letter to Nanjing cuisine.
Qinhuai River Cruise
Float lazily down Nanjing's Mother River on a romantic evening cruise, and you'll feel like you've traveled back in time to the city's roots. Distant strains of guqin, a traditional Chinese stringed instrument, waft through the air as you cruise along the lantern-lit Qinhuai Scenic Area, with its quaint riverboats, footbridges and Chinese architecture including one of the world's best-preserved Barbican gates. As the ancient Chinese world floats by, you'll understand why the Qinhuai River cruise is one of Nanjing's top attractions.
Ready to start planning your Nanjing experience? Visit gotonanjing.com for more information, details on tour packages, and other travel planning resources.
Eight Hilton Hotels Located in Historic Buildings Around the World
For more than 100 years, Hilton has spread the light and warmth of hospitality across the world, creating a portfolio of hotels that not only excel at offering world-class services and amenities, but also purposefully adopt local cultures, lifestyle and a general sense of place reflected in the architecture and designs. This philosophy of adopting the feel of a hotel's surroundings is especially evident in properties that have a significant historical value; making Hilton keen to preserve the property's architecture and décor while combining the modernity of offerings and amenities to offer travelers an authentic, artisanal experience.
From a historic train station in St. Louis to a colonial fort in the Bahamas, and a one-time bank headquartered in Amsterdam to a chocolate factory in Croatia, here are just eight of the many Hilton hotels that allow guests to indulge in culture and comfort.
St. Louis Union Station Hotel, Curio Collection by Hilton, United States
Built in 1894 in what was once the most ornate railway terminal in the United States, this National Historic Landmark in downtown St. Louis was converted to a hotel in 1985 and is well-known for its iconic Grand Hall, a lobby lounge area with 65-foot ornate vaulted ceilings on which a dazzling 3D light show is projected nightly.
Hampton Inn & Suites by Hilton Mexico City – Centro Historico, Mexico
The hotel is located in "Casa San Agustin," a registered historic building in Mexico that was built in the 1800s by Bienes Culturales de Mexico, the Instituto Nacional de Antropologia e Hisotria, and the Nacional de Bellas Artes. Considered an architectural jewel, the building has been used for accommodation purposes since its beginning. Various restorations have preserved much of the original exterior façade's style, including ajarcas—moldings and ornaments that were combined with tezontle exteriors in that period.
British Colonial Hilton Nassau, Bahamas
Sitting on the Old Fort of Nassau site dating back to 1695, British Colonial Hilton Nassau is the island's oldest resort operating in a historic building. Demolished in 1873, the Old Fort was built to protect the Nassau Harbour's western entrance, specifically from pirates. The original hotel was built by American industrialist Henry Flagler in 1900. The existing concrete building, known as the New Colonial, was constructed in 1923, after the original wooden building was destroyed by fire. The hotel's western wing was built on these ruins.
Waldorf Astoria Amsterdam, Netherlands
The hotel's 93 rooms and suites are housed inside six 17th– and 18th-century buildings facing the historic Herengracht canal. As the former headquarters of a bank, the hotel is still home to the original, thick-steel vault door, which stands in front of the aptly named Vault Bar. Behind the bar itself, a wall of safety deposit boxes is propped open, with some serving as bottle shelves.
DoubleTree by Hilton Lisbon Fontana Park, Portugal
Once the site of an ironworks factory dating back to 1908, DoubleTree by Hilton Fontana Park pays homage to the building's former life, fusing modern design with original character. Complete with an open-air courtyard and beautiful waterfall, the hotel provides a calm oasis for travelers after a busy day of sight-seeing in the Portuguese capital.
Canopy by Hilton Zagreb City Centre, Croatia
Once home to the Union chocolate factory, the first chocolate maker in South Eastern Europe, the hotel is one of the Croatian capital's newest lifestyle hotels, where guests are presented welcome gifts of handmade chocolates upon check-in. Finding themselves located in the heart of the city, travelers are encouraged to grab a Canopy Bike and follow the brown tourism signs throughout downtown toward the Croatian National Theatre, historic Upper Town, museums and the stunning Zagreb Cathedral.
Hilton Sydney, Australia
Housing the renowned Marble Bar—a 127-year-old underground bar—Hilton Sydney is built on the ruins of the Tattersalls Hotel. Marble Bar features authentic sheets of plate-glass mirrors, marble walls, pilasters and mosaic floors. Originally built in 1893, the Victorian structure was painstakingly dismantled, transported and reassembled in Hilton Sydney in 1973—where the restored mahogany bar and marble archways still awe guests to this day.
Waldorf Astoria Shanghai on the Bund, China
Once the renowned Shanghai Club, the hotel retains much of its original design, offering guests a unique taste of Shanghai's heritage and culture, all while enjoying unparalleled service, award-winning cuisine and views of the majestic Huangpu River. The historic building was built in 1864 and used to be the principal men's club for British residents in Shanghai. The hotel is suitably located near the iconic Bund, featuring waterside strolls and shopping.
What can I do if I lied about my criminal history to travel to Australia?
You'd be surprised to hear how many people actually lie when they apply for a visa to get to Australia. This is because Australia has very strict laws concerning visas and immigration authorities want to know about any type of offences the applicants might have committed in their country of origin or indeed in any other country where they have resided for a longer period, 12 months or more typically.
What sort of offences do you need to declare when applying for an Australian visa?
Short answer: Any offence on your record.
This is the part that baffles most foreign nationals applying for an Australian visa. Why would a minor traffic offence committed 10 years ago matter to Australian authorities? Well, it matters to them so deal with it.
Can you get away with it? Yes, if you apply for a tourist visa or a Working Holiday visa you can get away with it. You will be asked for a statement concerning existing convictions and if you say you don't have any, they'll most probably take your word for it.
What foreigners don't understand is that having minor convictions doesn't necessarily mean your visa application will be denied.
If you state that you have some offences on your record, you will be required to present a national criminal history record certificate. If your convictions total less than 12 months in prison you have no reason to worry your application will be rejected. In most cases, it is only people with lengthy prison terms on their record that have to worry and even then the immigration officer in charge of your case may grant you a visa after reviewing your circumstances.
So, why would you lie if you only have some minor offence on your criminal record?
What can you do if you lied on your visa application?
Many young people coming to Australia on a Working Holiday visa (417 visa) decide they want to stay longer if they've found a good employment. For that, your employer needs to sponsor you for a Temporary Skills Shortage visa (428 visa) and this is when that little white lie comes back to haunt you.
When you apply for a 428 visa you will need to submit a national police check from your country of origin which will include the offence you have lied about in your original visa application.
The only thing you can do is tell the truth this time and hope for the best. If you're lucky, the officer in charge of your application might not notice you omitted to mention your past convictions when you first came to Australia and granted you the 428 visa no questions asked.
However, there's a strong possibility your lie will be discovered and that's pretty serious. Even if it was a stupid traffic offence, the Department of Home Affairs might deny your request simply because you lied in the first place.
If you really want to stay and work in Australia it's best to seek professional migration assistance. There are various organisations that deal with such problems and they can guide you through the process.
It's not a guarantee, but in many cases the lie in your first visa application can be forgiven provided you can offer solid character references, which are an essential part of the character assessment.
Bottom line – If you want to travel to Australia, better don't lie to the immigration authorities, saving yourself a lot of headache!
Most Unique Dubai Hotels to Stay In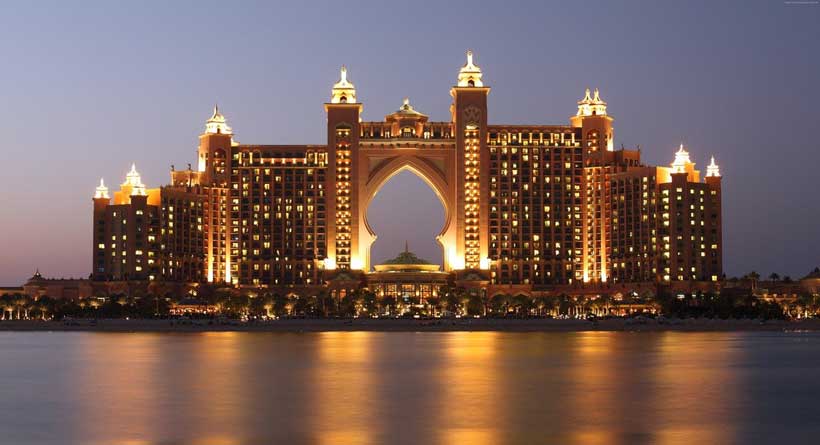 Planning a trip to Dubai, lots of students are interested in hotels located by the sea. The hotels with their own beaches are internationally recognized as a standard of luxury and wealth. We have collected together the unique hotels located by the sea and in the middle of the desert, having their own zests.
Don't hesitate to find a reliable writing service that can work your home assignment out as soon as you ask them, "Could I pay for my essay to have my paper done?" to get more spare time to enjoy your holidays.
Al Shams Desert Resort and Spa
This luxurious resort is built in the dunes of Dubai. Being a guest of this hotel, you have a scenic pool overlooking the desert. The hotel spa offers a wide range of treatments both for men and women. Outside the hotel, you will find rows of fountains, lush gardens, and stone narrow streets. If you are tired of staying in the hotel area, you could explore the surrounding nature by horse or camel. In addition, you should try to take up archery, falconry, and croquet. Kids can take advantage of Sindbad's facilities at a children's club or swim in the children's pool.
Palazzo Versace Dubai
If you want to enjoy Arabic places of interest and feel the Italian spirit by the sea, you need to visit this wonderful place. The building of this magnificent hotel resembles an Italian castle, built in the 16th century. The territory is decorated with a garden. The interior rooms are decorated in Italian style. The hotel complex has 8 restaurants, bars, and a terrace in the open air. You can swim in the pool or relax in the garden.
Atlantis The Palm
The lovers of the underwater world should visit this amazing resort. The hotel has its own sandy beach offering stunning views of the Persian Gulf. The hotel has a large aquarium where you can swim with dolphins. The hotel has the best boutiques and high-end stores to buy everything you need. The hotel guests can book a helicopter ride for a 15-minute tour of Dubai and see the resort with your head in the clouds.
Grand Excelsior Hotel Al Barsha
The prestigious Grand Excelsior Hotel Al Barsha is notable for its unusual modern building, stylized as a cruise ship. There is a beautiful rooftop lounge with a swimming pool, hot tubs, and many furnished terraces. The rooms are notable for their spacious and original design.
It's also worth noting that the hotel is one of the few hotels in Dubai, which has a license to sell alcohol. Its restaurants offer a lot of elite alcohol sorts, brought from all over the world. The convenient location and high service level make the Grand Excelsior Hotel an ideal place to spend your leisure time.
Raffles Dubai
It's a unique hotel whose design looks like an Egyptian pyramid. The building is made in the sand color scheme to complement the mystery and atmospheric interior. All the suites have balconies and are considered one of the most luxurious and spacious rooms in the city with a stunning panoramic view. The hotel has 10 restaurants and bars, which will satisfy the most demanding gourmets.
The hotel has a huge botanical garden with exotic plants and a unique spa center with an unusual outdoor pool. A personal marble bath with Jacuzzi will be a big surprise for you as well as the luxurious decoration of bedrooms made of handmade fabrics and wooden products.
Kempinski Hotel Mall of the Emirates
The hotel represents a single complex with the famous shopping center Mall of The Emirates and an indoor ski center. The hotel's clients can enjoy unique rooms with panoramic windows overlooking the ski center's snow-covered slopes. The hotel's customers can be engaged in interesting skiing activities under the guidance of a personal trainer, and they can enjoy many privileges in the amazing entertainment center. Gourmets will not be disappointed by this hotel, which has 5 restaurants of different specializations to choose from. Among them, you can find Spanish and Italian restaurants, and the fans of elite tobacco will enjoy the aristocratic cigar bar.
The Meydan Hotel 
It's the first hotel in the world, which was built directly on the racetrack. It's a modern chic building, whose guests can watch the races from the best angle without leaving the hotel! Besides, a huge spa salon is an attractive feature of the hotel, a recreation area with a huge swimming pool and sun terraces on the roof, and concerts with world stars' participation.
The word "meydan" means "meeting place" in Arabic, reflecting this hospitable hotel's philosophy — comfortable luxury and entertainment are available to every guest. The hotel building is made in the famous architectural style of modern Dubai. The interiors reflect the eastern wealth and cosmopolitan atmosphere.