India's Quest for Ballistic Missile Defense Shield
A Ballistic Missile Defense (BMD) system is a system that defends any country against possible incoming missile threat. It intercepts targets and destroys enemy missile enroute. A BMD missile flights through three phases: boosts, mid-course and terminal. Usually the radar of the BMD missile intercepts the missile from the opponent's side, then tracks the target through command and control system and finally fires the interceptor missile from the launcher truck. Other countries that have advanced missile system include the US, Russia, Israel and China. The leading BMD systems in the world are Patriot Advanced Capability-3, THAAD, S-400 Triumph and S-500.India with its aspirations for regional dominance has been trying to develop an indigenous (BMD) system since the late 90s with the start of Integrated Guided Missile Development Program (IGMDP).
The Indian BMD programme is structured as a two-tiered system with Prithvi Air Defense (PAD) for high altitude interception and Advanced Air Defense (AAD). PAD is a two-stage missile: a solid-fuel motor and liquid fuel propeller. It works with the inertial guidance navigation system with mid-course updates from the Long-Range Tracking Radar (LRTR) and active radar homing in the terminal phase. Moreover PAD is also capable of tracking 200 targets at a range of 600 km, with a maximum interception altitude of 80 km in exo-thermic-in space range.
In its quest for acquiring the Missile Defense System (MDS), India has developed Ballistic Missile System that could intercept missiles in not only endo-atmosphere i.e. within the earth's atmosphere, but can also intercept in the exo-atmosphere. However this advancement of Indian BMD and Air Defence System (ADS)is not merely the fruits of Indian efforts. Countries like Russia, Israel and the US helped India while providing it with an access to sophisticated technology in order to advance its MDS. Recently India plans to buy 131 surface-to-air missiles from Israel at the cost of US$70 million (S$93 million), as per the Indian Defence Ministry press relesae issued on 2ndJanuary 2018. The BARAK missiles made by Israel's Rafael Advanced Defence Systems are to be used aboard India's first locally built aircraft carrier, the INS Vikrant, which is under construction. Previously in April 2017 India and Israel signed a deal worth around US$2 billion which includes medium-range surface-to-air missiles. Israel has become a major defence supplier to India, selling an average of US$1 billion worth of military equipment each year.
Moreover not only relying on Israeli missiles, India signed an inter-governmental agreement with Russia for the purchase of the S-400s in October 2016. The estimated worth of the contract is US$ 4.5 billion. The S-400 is technologically one of the most advanced Missile Air Defence System in the world. The S-400 system is armed with the capacity which enables it to engage with the stand-off jammer and Airborne Warning and Control System (AWACS) aircraft including both ballistic and cruise missiles.
India has been briefed about the Patriot III under the long-term strategic partnership with US. It was also the view of the analyst that India might buy Patriot III from US. But the matter of the fact is that how many systems India will acquire for its Ballistic Missile Defence Shields (BMDS) because no Ballistic Missile (BM) can guarantee100 percent interception and destruction of incoming missile. Although India is learning about the new technologies for the creation of its BMDS but its previous record of building the indigenous weapon system is not very encouraging. The best examples are the failed Arjun Main Battle Tank (MBT), the rejected Indian New Small Arms System (INSAS) rifle, and most recently Indian indigenously built SSBN Arihant which went critical twice.
Although Indian BMDSis particularly designed against Pakistan however, alternatively it would not be wrong to say that India might not be able to defend itself from Pakistan's missiles. Petr Topychkanov, a senior researcher at the Carnegie Moscow Centre's Non-Proliferation Programme says "despite heavy investments in developing anti-ballistic missile systems, India may not be able to fully defend itself in a conflict from strikes by Pakistani missiles". This is true that India has been signing defence deals of millions of US dollars with Israel and it aims to acquire S-400 from Russia as well. Yet, it lacks a sophisticated BMD system which could defend it from incoming Ababeel Multiple Independent Reentry targetable Vehicles (MIRV) of Pakistan.
Subsequently Indian Ballistic missile system will give a false sense of security. Already according to a rough estimate South Asian region hasone-third of the total world's ballistic missile capability. In such a complex and volatile environment, India's quest for BMDS will lead India with a false sense of security and might compel India to go for a nuclear first strike. Hence such a scenario undermines the strategic stability of the whole region.
The world arms sales market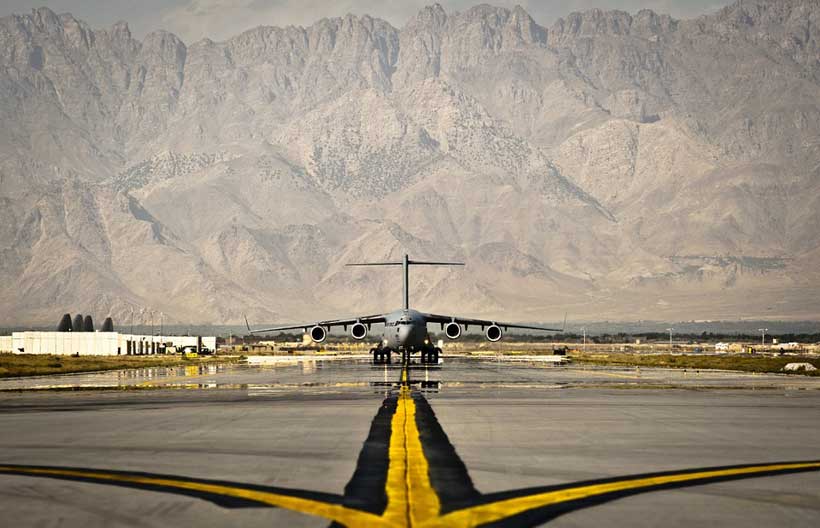 New data from SIPRI's Arms Industry Database, released last December, show that arms sales by the world's twenty-five largest defence equipment and military services companies totalled 361 billion dollars in 2019. This is an 8.5% increase in real terms in arms sales compared to 2018. All this emerged from the studies by the Stockholm-based International Peace Research Institute founded in 1966.
In 2019 the top five arms companies were all based in the United States: Lockheed Martin, Boeing, Northrop Grumman, Raytheon and General Dynamics. These five companies together recorded 166 billion dollars in annual sales. In total, twelve U.S. companies rank among the top 25 for 2019, accounting for 61% of total sales.
For the first time, a Middle East company appears in the top twenty-five. Edge, based in the United Arab Emirates, was established in 2019 from the merger of over twenty-five smaller companies. It ranks twenty-second and accounts for 1.3% of the total arms sales of the top twenty-five companies. This demonstrates that oil revenues in the Near and Middle East are also invested in businesses that produce jobs and money, and are not just accumulated for the personal expenses of the ruling elite. Edge is an example of how high domestic demand for military products and services, combined with the desire to become less dependent on foreign suppliers, is driving the growth of arms companies in the Near and Middle East.
Another newcomer to the top twenty-five list in 2019 was L3Harris Technologies (ranking tenth). It was created by the merger of two U.S. companies that were both in the top twenty-five in 2018, namely Harris Corporation and L3 Technologies.
The top twenty-five list also includes four Chinese companies. Three of them are in the top ten: Aviation Industry Corporation of China (AVIC, ranking sixth), China Electronics Technology Group Corporation (CETC, ranking eighth) and China North Industries Group Corporation (Norinco, ranking ninth).
The combined revenue of the four Chinese companies in the top 25 list, which also includes China South Industries Group Corporation (CSGC, ranking twenty-fourth), grew by 4.8% between 2018 and 2019. Chinese arms companies are benefiting from the People's Liberation Army's military modernisation programmes.
Conversely, the revenues of the two Russian companies in the top twenty-five, namely Almaz-Antey and United Shipbuilding, declined between 2018 and 2019, for a combined total amount of 634 million dollars. A third Russian company, United Aircraft, lost 1.3 billion dollars in sales and dropped off the top 25 list in 2019. Domestic competition and reduced government spending on modernising the Russian Navy were two of the main challenges for United Shipbuilding in 2019.
After the United States, the People's Republic of China recorded the second largest share of 2019 arms sales by the top twenty-five companies, accounting for 16%.
The six Western European companies together account for 18%. The two Russian companies in the ranking account for 3.9%. Nineteen of the top twenty-five arms companies increased arms sales in 2019 compared to 2018. The largest absolute increase in arms sales revenue was recorded by Lockheed Martin: 5.1 billion dollars (11% in real terms). The largest percentage increase in annual arms sales (105%) was reported by French manufacturer Dassault Aviation Group. A strong increase in export deliveries of Rafale fighter aircraft pushed Dassault Aviation into the top 25 arms companies for the first time.
The Sipri report also examines the international presence of the 15 largest arms companies in 2019. These companies are present in a total of 49 countries, through majority-owned subsidiaries, joint ventures and research facilities. With a global presence in 24 countries each, Thales and Airbus are the two most internationalised companies, followed closely by Boeing (21 countries), Leonardo (21 countries) and Lockheed Martin (19 countries).
The United Kingdom, Australia, the United States, Canada and Germany host the largest number of these companies.
Outside the North American and Western European arms industries, the largest number of foreign corporate entities is hosted by Australia (38), Saudi Arabia (24), India (13), Singapore (11), United Arab Emirates (11) and Brazil (10).
There are many reasons why arms companies might want to establish themselves abroad, including better access to growing markets, collaborative arms programmes or policies in host countries that link arms purchases to technology transfers.
Of the 49 countries hosting foreign industries in the top 15 arms companies, seventeen countries are low- and middle-income ones. Southern countries seeking to restart their arms production programmes have welcomed foreign arms companies as a means for benefiting from technology transfers.
Chinese and Russian arms companies in the top 15 list have only a limited international presence. Sanctions against Russian companies and government limits on takeovers by Chinese companies seem to have played a role in limiting their global presence.
All these data were collected by the Sipri Arms Industry Database founded in 1989. At that time, it excluded data for companies in Eastern European socialist countries, including the Soviet Union. The updated version contains 2015 data, including data for companies in the People's Republic of China and the Russian Federation. An archive of the first one hundred data sets for the period 2002-2018 is available on the Sipri website (www.sipri.org), while for the first twenty-five ones it has been updated with the latest available information.
Arms sales are defined as sales of military goods and services to military customers at national and international levels. Unless otherwise stated, all changes are expressed in real terms. Comparisons (e.g. between 2018 and 2019 or between 2015 and 2019) are based on the groups of companies listed in the respective year (i.e. the comparison is between different groups of companies).
For 2020-2021, Sipri is releasing its dataset on arms sales of the world's largest companies along with the results of a mapping on the internationalisation of this industry. For this reason, a new dataset was created, including 400 subsidiaries, joint ventures and research facilities linked to the top fifteen arms companies in 2019. Data sources included corporate investment documents, information on company websites, public records and newspaper and magazine articles.
To be included in the mapping, an arms industry must have been active for the majority of its fiscal year, as well as be located in a country other than that in which its parent company is headquartered and also (i) produce military goods or provide military services to military customers; (ii) produce or provide services for dual-use goods to military customers.
This is the first of the key data handovers in view of the publication of the next Sipri Yearbook in mid-2021. Before that, Sipri will release its data on international arms transfers (details of all major international arms transfers in 2020), as well as its data on global military expenditure (comprehensive information on global, regional and national trends in military expenditure). We will inform readers of all this in due course.
Aman-2021 Naval Exercise: Maritime Diplomacy
Pakistan has hosted Aman-2021 biannual multi-national naval exercise(Feb.11-16) that has been the focal-point for Indian media particularly due to the significance of this naval drill . The prime disposition of this naval exercise was that, it was conducted in peace times, therefore no country can misperceive the exercise.
Secondly, the objectives of the Aman-2021 are quite clear that;
The exercise aims to contribute to regional stability
The exercise is a united resolve against the threats of terrorism, piracy and other related threats to maritime domain
This exercise is likely to enhance interoperability between the regional as well as extra-regional navies. It also will bridge the gap between regional and extra-regional naval forces to unite against a common threat
Pakistan navy has been remarkable in bringing 45 countries' naval forces together .Some of the notables are the U.S., Russia, China and Turkey.
All major nations want their influence in the Indian Ocean Region(IOR) due to its strategic chokepoints and the Sea-Lines of Communications(SLOCS) that are vital maritime routes between ports, used for trade ,logistics and naval forces. Indian Ocean is one of the vital global trade arteries accounting for more than 80% of world's oil shipments passing through this region. This region has world's fastest growing economies and a home to 2.7 billion population. This region is lucrative market for multinational corporations but rise of Asian economies has got competition with European economies. The IOR is supra-rich in natural resources that is why during colonial times, colonial powers preferred to colonize countries in this region. This region's natural resources are equivalent to combined with rest of the world. In short, this region is the most significant due to its political, economic, strategic and geological features. That is the primary reason, great powers wish to maintain their influence in the region.
Aman-21 exercise has provided participating countries with an opportunity to demonstrate naval strength. Russia, U.S., and China are largest navies in the world and they are collaborating under on a single platform(Aman-21).Russia's participation with NATO members makes this naval exercise very special because the former has not done so since the 2011 'Bold Monarch' naval exercise -off the coast of Spain.
All the participating navies are gathering under the slogan "togetherness for peace" and despite having differences between them, some of the countries are uniting to thwart threats to maritime security and stability. Some of the scholars are terming Pakistan navy's maritime diplomacy as a huge success. As the number of participating countries grew immensely due to the message of peace that Pakistan navy is promoting. Though, the primary objective of the exercise is to counter threats of hybrid warfare, piracy, drug trafficking, arms trafficking, human smuggling, terrorism and climate change.
At the sidelines of the Aman-21, Pakistan navy organized 9th international Maritime Conference (IMC)2021 in Karachi. Advisor to Prime Minister on National Security, Dr.Moeed Yusuf stated "Pakistan's blue economy has the potential of billions of dollars but it is earning around $200 million from ocean resources.
Pakistan navy aims to contribute more in regional peace and stability by transforming itself into a blue water force equipped with state of the art technology (surface, airborne, submerged, unmanned) to play a greater role in the IOR. Pakistan's strategically located Gwadar port is in close proximity of the Strait of Hormuz, which is a vital area for world's developed nations due to oil transit chokepoint and it connects Middle East with South and Central Asia.
India always sees Pakistan's efforts for promoting regional peace with a greater doubt. India's relations with Pakistan plummeted after Modi government revoked Article 370 and 35-A, altering Jammu and Kashmir's autonomous status. Indian media did a lot of propaganda regarding Pakistan's successful naval exercise. Even one of the Indian magazine The Week captioned " Pakistan's navy chief visits Russian warship. worry? "It also claimed that Pakistan's navy chief Admiral Mohammad Amjad Khan Niazi visited the Admiral Grigorovich. The Admiral Grigorovish is a frigate that has the capability to carry missiles, torpedoes, anti-submarine, anti-air and anti-ship guns. Pakistan's naval chief was given the tour of weapon system and communication equipment on board the ship. This naval exercise has been an opportunity for navies to demonstrate their professionalism and showcase their weaponry.
As the Aman-21 was concluded Iran and Russia started a two-day naval drill in the northern part of Indian Ocean. India also joined the naval exercise without any proper invitation and due to diminutive participation of Indian navy, it could not make that strategic impact that was thought by India. Now some of the Indian media outlets deny India's participation in the Iran-Russia naval exercise. India's efforts to neutralize the strategic impact of Aman-21,evaporated and Aman-21 naval exercised concluded with achieving desired objective of bringing 45 naval forces together under the slogan of "togetherness for peace". Pakistan's efforts for promoting regional peace and stability will bear more fruits after the China-Pakistan Economic Corridor's completion and regional connectivity for collective good.
Indo-French Bonhomie is Destabilizing South Asia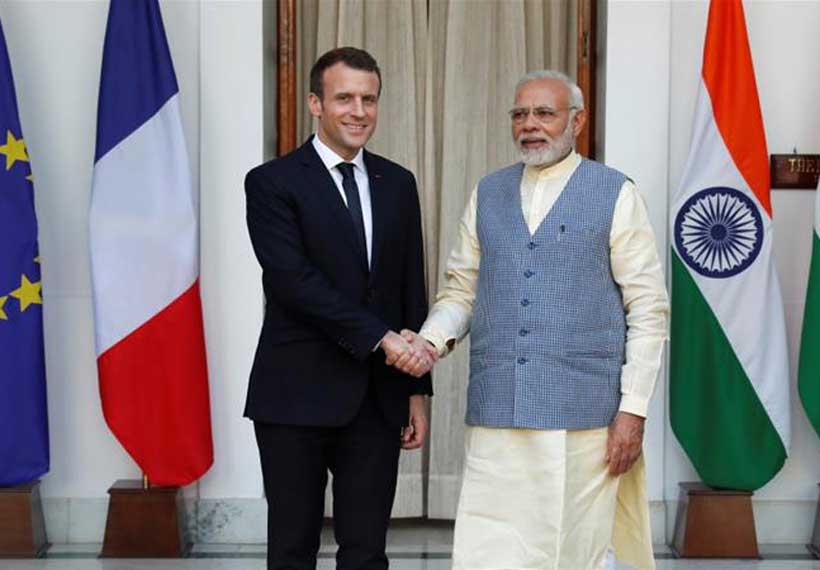 India is rapidly increasing its weapons capability in order to threaten and coerce Pakistan so that latter could submit to India's hegemonic designs. Such hegemonic aspirations not only threaten South Asia's regional equilibrium but also take entire region to the brink of nuclear brinkmanship. Some of the Western countries are eager to sell their weaponry to India and in particular, France has taken the weapons sale to an entire new level by selling nuclear-capable fighter jets to India. This is unprecedented from a Western country which is also signatory to the Nuclear Nonproliferation Regime (NPT). Selling of such weapons to Modi regime is worrisome not just for South Asia but entire global peace and security.
One of the major contributors to Indian arms buildup is France, which has provided technologically advanced conventional and strategic weaponry to India. India largely depends on foreign assistance to acquire weapons and over the period of a decade, Indo-French defense cooperation has strengthened. It is because both countries have convergence of interests when it comes to strategic policy in the Indo-Pacific region. However, this convergence is destabilizing the South Asian region, and contributing to security challenges for Pakistan.
Indo-French strategic partnership mainly spans in the fields of defense, nuclear and space. In the first week of January 2021, India and France held their annual strategic dialogue, led by Indian National Security Advisor Ajit Doval and Diplomatic Advisor to French President Emmanuel Bonne. It is interesting to see that France is not only following Indian footprints in the Indo-Pacific region but it's also been vocal about India's entry into Nuclear Suppliers Group (NSG), a global body which controls global nuclear commerce. France is also at forefront regarding India's seat at high tables of UN Security Council.
This is ironic and disappointing in the sense as to how a member of civilized world community like France neglects Indian atrocities in the Indian illegally Occupied Jammu and Kashmir (IIJO&K). Indian atrocities in occupied Kashmir are no more a secret. Entire world community condemned PM Modi's illegal annexation of disputed territory. France reaction was awful to the core. Instead of mediatory role, France called Kashmir as India- Pakistan bilateral issue. France put a blind eye on number of UN Resolutions which clearly state Kashmir as a disputed territory. India has violated those resolutions, but irony lies in the fact that France wants India to be part of very prestigious body whose resolutions means nothing for it.
India's relationship with France is not confined to one domain of defense; rather it includes energy cooperation, cyber security, space exploration and other areas of strategic convergence. Their strategic partnership also focuses on bilateral cooperation in combating terrorism. It is ironic to note their selective choosing of terrorism. France remains oblivious to India's state sponsored terrorism in Pakistan and persecution of Kashmiri Muslims. France's silence on such matters not only put a question mark on its global standing but also shows how countries like France lose moral grounds just for the sake of some economic incentives. This moral bankruptcy is unimaginable and condemnable.
South Asia is a fragile region. Massive arms import and weaponization of India has direct ramification for Pakistan's security calculous. In order to match increasing conventional superiority with India, Pakistan may be compelled to participate in arms race fueled by countries like France. France's defense industry and its strategic collaboration with Indian defense firms also pose a serious threat of technological reverse engineering. At the same time, there is no clear indication of end user agreement on French weapons in India. Whether there would be any end-user agreement is yet another question.
There's no second thought that, France is actively fueling India – Pakistan arms race. India has been buying arms and ammunitions for decades and remains the world's topmost importers for last many years. Indian imports of weapons from France have risen by 75%, making latter the third largest supplier of arms to India in last 5 years. France is exporting weapon systems to India, which are not only conventional but also have strategic implications. The application of such weapon systems also varies from air to land to sea. This clearly signifies that France is destabilizing the region.
The Indo-French Strategic Partnership is being deepened at the expense of regional balance of of power in South Asia. The already fragile strategic stability in South Asia is under assault from France's massive arms transfer to a revisionist India. French sale of sophisticated military technology to India, at this scale, is further deteriorating the regional stability and eroding global norms and rules. There must be an end to this frenzy which is being run in the name of "strategic partnership". France needs to realize the severity of the situation created by its weapons sale to an aggressor before it gets too late.