5 ways travel will change in 2018
As international travel gains popularity each year, new destinations are added to bucket lists and new travel gadgets and accessories appear on the market. The way we travel has changed in the past few decades, but that age-old itch to explore and discover new places and experiences remains the same. So how and why are people traveling now? The results of Visa's recently released Global Travel Intentions (GTI) Survey reveal some interesting travel trends — and tips — to keep in mind for 2018.
Simplifying payments abroad — For as long as anyone can remember, a standard part of traveling to a foreign country involved exchanging currency. Carrying cash involves time, planning, anxiety about losing money and often, wondering what to do with leftover cash once you return home. In fact, loss or theft of cash is the number one money concern for travelers while on trips. And 72 percent of people say working to get their hands on foreign currency prior to departure is a waste of time. With more than 46 million merchants accepting Visa around the world, a Visa card is the most important travel accessory you can carry.
TIP: Use your Visa card and pay in local currency for a competitive exchange rate. A whopping 87 percent of travelers have leftover cash after a trip. However, only 29 percent convert it back to currency that can be used at home. Avoid wasting money by sticking to your Visa card and only pulling out cash when needed.
People travel because of culture — Of all the places to go in the world, why is it some people choose one place over another? According to Visa's GTI survey, 41 percent of people cite "rich culture" and "friendly locals" as reasons to pick a destination. Although famous monuments, great museums and spectacular palaces continue to draw in visitors, the people who live in a traveler's destination are hugely important.
TIP: Hang with the locals. Check out fun events such as festivals and concerts to make sure you're not missing the best events in the city you're visiting. And don't forget local flavors of the country's national dishes.
Ideal vacations look a little different to everyone — What do you want to get out of travel? Is it to meet new friends, see something in person you saw on television, or fulfill a longtime dream? When vacationing, 63 percent of travelers are motivated by a combination of reward and achievement. That means to them, an ideal vacation has some combination of relaxation and experiencing new cultures or exotic locations.
TIP: Block out time on your trip to relax and reflect on the experience. It can be easy to plan activities and sights to see, but it's important to rest in between.
People are feeling optimistic about travel — Though they may be excited to get out of their comfort zone, some people have reservations about the safety of traveling to far-off locations, or worry about affording such a trip. However, according to the GTI Survey, people are not letting these factors keep them at home. Globally, only 17 percent of people cited security as a top concern and only 19 percent chose a destination because it fit their budget. What that says is that people are willing and eager to visit their dream destinations.
TIP: Budget your trip accordingly. A better understanding of what you can spend can help keep your mind at ease during travel. According to the GTI Survey, global travelers spend an average of $1,793 per trip. However, if you are following Tip #1, keeping cash transactions to a minimum will help in the budgeting process. While on vacation, look for Visa or PLUS logos at point-of-sale terminals or ATMs to ensure international payment cards are accepted.
Technology is the new travel companion — The traveler's well-folded map and dog-eared guidebook might be a thing of the past. As more travelers adopt digital technology, virtually everything they need to navigate fits right in the palm of their hand. What's more, 88 percent of travelers have online access while abroad and almost half, 44 percent, use ride-sharing apps to get around once they are on the ground.
TIP: Research apps or technology that might be helpful on your travels. Downloading your bank or credit card apps can help track your money while traveling. As technology continues to revolutionize our daily lives, so it will continue changing how we travel.
Staying on top of trends can allow travelers to plan accordingly. By budgeting, planning, avoiding cash and finding out the best ways to track spending, travelers can get the most from their dream travels — and their wallets.
Most Unique Dubai Hotels to Stay In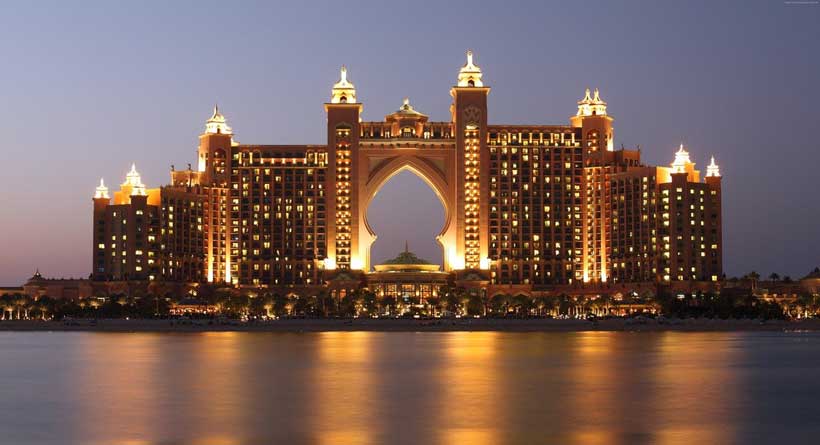 Planning a trip to Dubai, lots of students are interested in hotels located by the sea. The hotels with their own beaches are internationally recognized as a standard of luxury and wealth. We have collected together the unique hotels located by the sea and in the middle of the desert, having their own zests.
Don't hesitate to find a reliable writing service that can work your home assignment out as soon as you ask them, "Could I pay for my essay to have my paper done?" to get more spare time to enjoy your holidays.
Al Shams Desert Resort and Spa
This luxurious resort is built in the dunes of Dubai. Being a guest of this hotel, you have a scenic pool overlooking the desert. The hotel spa offers a wide range of treatments both for men and women. Outside the hotel, you will find rows of fountains, lush gardens, and stone narrow streets. If you are tired of staying in the hotel area, you could explore the surrounding nature by horse or camel. In addition, you should try to take up archery, falconry, and croquet. Kids can take advantage of Sindbad's facilities at a children's club or swim in the children's pool.
Palazzo Versace Dubai
If you want to enjoy Arabic places of interest and feel the Italian spirit by the sea, you need to visit this wonderful place. The building of this magnificent hotel resembles an Italian castle, built in the 16th century. The territory is decorated with a garden. The interior rooms are decorated in Italian style. The hotel complex has 8 restaurants, bars, and a terrace in the open air. You can swim in the pool or relax in the garden.
Atlantis The Palm
The lovers of the underwater world should visit this amazing resort. The hotel has its own sandy beach offering stunning views of the Persian Gulf. The hotel has a large aquarium where you can swim with dolphins. The hotel has the best boutiques and high-end stores to buy everything you need. The hotel guests can book a helicopter ride for a 15-minute tour of Dubai and see the resort with your head in the clouds.
Grand Excelsior Hotel Al Barsha
The prestigious Grand Excelsior Hotel Al Barsha is notable for its unusual modern building, stylized as a cruise ship. There is a beautiful rooftop lounge with a swimming pool, hot tubs, and many furnished terraces. The rooms are notable for their spacious and original design.
It's also worth noting that the hotel is one of the few hotels in Dubai, which has a license to sell alcohol. Its restaurants offer a lot of elite alcohol sorts, brought from all over the world. The convenient location and high service level make the Grand Excelsior Hotel an ideal place to spend your leisure time.
Raffles Dubai
It's a unique hotel whose design looks like an Egyptian pyramid. The building is made in the sand color scheme to complement the mystery and atmospheric interior. All the suites have balconies and are considered one of the most luxurious and spacious rooms in the city with a stunning panoramic view. The hotel has 10 restaurants and bars, which will satisfy the most demanding gourmets.
The hotel has a huge botanical garden with exotic plants and a unique spa center with an unusual outdoor pool. A personal marble bath with Jacuzzi will be a big surprise for you as well as the luxurious decoration of bedrooms made of handmade fabrics and wooden products.
Kempinski Hotel Mall of the Emirates
The hotel represents a single complex with the famous shopping center Mall of The Emirates and an indoor ski center. The hotel's clients can enjoy unique rooms with panoramic windows overlooking the ski center's snow-covered slopes. The hotel's customers can be engaged in interesting skiing activities under the guidance of a personal trainer, and they can enjoy many privileges in the amazing entertainment center. Gourmets will not be disappointed by this hotel, which has 5 restaurants of different specializations to choose from. Among them, you can find Spanish and Italian restaurants, and the fans of elite tobacco will enjoy the aristocratic cigar bar.
The Meydan Hotel 
It's the first hotel in the world, which was built directly on the racetrack. It's a modern chic building, whose guests can watch the races from the best angle without leaving the hotel! Besides, a huge spa salon is an attractive feature of the hotel, a recreation area with a huge swimming pool and sun terraces on the roof, and concerts with world stars' participation.
The word "meydan" means "meeting place" in Arabic, reflecting this hospitable hotel's philosophy — comfortable luxury and entertainment are available to every guest. The hotel building is made in the famous architectural style of modern Dubai. The interiors reflect the eastern wealth and cosmopolitan atmosphere.
Rokeby Manor springs right from a fiction book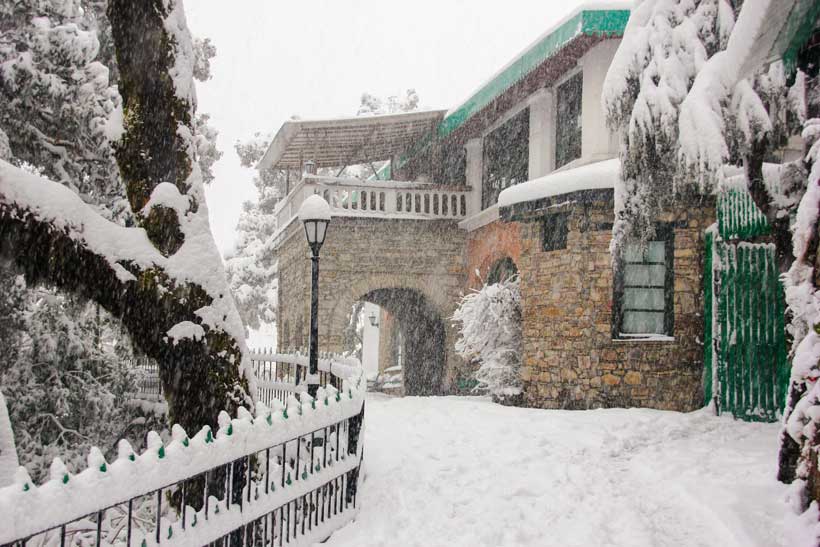 I visited Rokeby Manor in Mussoorie earlier this year. The property springs right out from a fiction book. Each room is uniquely designed by Ms. Rachna Narang has its own appeal. From the starry night room, it is easy to look at the walls which have a beautiful night sky painted on them and feel like you are a part of something larger. The room also has a small opening in the ceiling which can be opened right out whenever someone wants to glance at the night sky.
The Landour bakehouse is actually a landmark destination in Mussoorie. Landour gets many travellers, hippies and tourists who have driven 2 hours just to try the treats at the bakehouse. Rumours say that the bakehouse has come to life from a cookbook which was created by a woman in Mussoorie centuries ago. The vivid imagination is brought to life as a dog named Chu Chu always guards the entry to the bakehouse. A broken delivery van is placed outside the bakehouse creating an almost mysterious feel making travellers realise that they have come to a place with remarkable history.
Mussoorie is a place which I visit almost twice a year, just to feel more close to myself within. The place never fails to show a new side to me each time. Glancing at Dehradun city lights, the valley view and pine trees from Cafe Ivy, and the wondrous sunset from the Tea Garden at Rokeby Manor feels like a great grande break from the city life. It's the pause one often needs in their life. The mere feeling of going back to a destination which one somehow finds their heart comes back to life.
Emily's the classic restaurant at the manor boasts Italian food far better than anything you find in the city. The cheese at Emily's is sourced from the local shop Prakash stores which has nailed the art of cheesemaking over several decades. Overall, Emily's is one place where people come to feel like they belong again. Facing the valley and Himalayas, one can enjoy their lopchu (mild flavoured tea) and some fantastic baked potatoes with cheese. Their ratatouille is out of the world as they decorate each dish beautifully.
Mussoorie is the quaint destination where you find yourself bumping into locals who make great conversation. I met people working at WWF on my recent trip as they were trying to work on the Jabarkhet Nature Reserve to preserve the beauty of the place. Walking in Jabarkhet and trekking along the forest line made me feel like I was closer to nature. The stupendous view of the Himalayas with occasional views of Dehradun city made me feel grand.
As I walked around Char Dukan, I saw various sayings which were stuck on the walls around. I realised that Mussoorie was indeed the hidden wonderland which few people even knew the insides of. "The network is weak here but connections are strong", said one saying which was pinned to a tree. Right when I was reading the saying and taking a casual evening walk, the Himalayan view opened up to me with snow capped peaks. I realised that the view of the Himalayas was so profound that I may just stay there forever.
I was walking around mall road, the market street the next day and I ended up at Cambridge Bookstores. Casual chirp and mountain gossip later, the bookstore owner told me that he could arrange a signed copy from Ruskin Bond. I was delighted and decided to buy it for my father. What better gift than a book of mountain reflections from Mr. Bond himself.
There's a local village called Sainji around 40 mins away from Rokeby Manor. I learned that the property had played an important role in preserving the village and I decided to pay the place a visit. It was a fantastic experience travelling and exploring the village houses with corn adorned outside them. I felt delighted to stay at Rokeby because I saw that they are playing an important role in preserving the local cultural heritage. I was proud of choosing to stay with a place which was deeply vested in the community.
After hiring a scooter from the manor, I whistled away in the woods and glanced at the valley view. Mussoorie is a place where I have made so many memories and I am certain that there are many more to come. I may just stay there forever. The mountain gossip, evening tea, valley views and delicious food truly have my heart.
Shivya Nath: A bold solo traveler who is breaking gender stereotypes
In a majorly patriarchal Indian society, Shivya Nath found it in her to be a bold solo traveller. She leads a nomadic lifestyle, travelling across the world with her backpack. Shivya is the author of a best selling book, "The shooting star", in which she highlights more about her life and experiences travelling. The book is an inspiration to women who are staying at home, craving a free lifestyle, and want to travel the world solo.
In this interview with Modern Diplomacy, Shivya tells us more about her life experiences journeying the world. She tells us what it takes to travel the world as a solo woman and narrates her experiences both bitter and sweet.
You have travelled so much and seen the world so intricately that you might as well be a nomad. The most obvious question – what convinced you to travel the world?
I grew up in a protective Indian family in Dehradun, a valley at the base of the Himalayas, and spent my childhood wondering what lay beyond the mountains I could see from my rooftop. Upon finishing high school, I went to Singapore to study, with big dreams and a big student loan. As luck would have it, I graduated in the middle of the financial recession of 2009, when most companies I wanted to work with had ceased hiring. I landed a job with the Singapore Tourism Board, where my experiments with social media began, and I first began following the journey of travel writers / bloggers around the world. It was impossible to tame my restless cubicle-bound soul, so in 2011, I took a 2 month unpaid sabbatical from work. I went flash-packing across Western Europe with a friend, and volunteer-travelled by myself in the high Himalayas of India. In those two months, I saw, experienced and lived more than I ever had before. Within a week of my return to work, I decided to quit my first and only corporate job with a dream of travelling the world on my own terms.
Your new project, Voices of Rural India is picking up steam and picking accolades for telling the most unlikeliest of stories. How do you envision it forward?
Voices of Rural India is an effort to turn this unprecedented pandemic into an opportunity to create alternate livelihoods by upgrading digital skills in rural India, while also preserving grassroots knowledge that is slowly disappearing. Voices of Rural India is a not-for-profit digital initiative that hopes to revolutionize storytelling, by hosting curated stories by rural storytellers – in written, photo or video format. Unlike most existing online platforms, the stories of rural India are told directly by local storytellers. In the short-term, Voices of Rural India is creating a revenue stream for affected communities through digital journalism. In the long run, it aims to develop digital storytelling skills at the grassroots level, along with becoming a repository of local culture and knowledge, documented in local voices. We are currently working with rural communities in Ladakh, Himachal Pradesh, Uttarakhand, Kerala, Maharashtra and Gujarat, through on-ground community-based tourism organisations like Global Himalayan Expedition, Himalayan Ecotourism, Himalayan Ark, Spiti Ecosphere and Grassroutes Journeys. The initiative is supported by the Digital Empowerment Foundation. We're eagerly looking forward to a post-Covid world, where we can physically travel to visit the communities we're virtually working with, conduct digital storytelling workshops, identify local talent and hopefully bridge some of the gaping urban-rural digital divide.
Your favourite place so far? You can give multiple answers of course.
There's so much to love about so many places! I love my home country India, because despite its challenges, nowhere comes close to the diversity of natural beauty, food and culture it offers. It's perhaps one of the few places in the world where strangers are the quickest to become friends. Other than that, I feel a deep connection to Guatemala, Bhutan, Georgia and Iran.
Your passion for environmental protection and climate change issues is also noteworthy. What do you think should be the biggest change that can make mankind save itself?
Unlearning.
The more I slow travel around the world, the more I unlearn conventional ways of doing things. And that's exactly what we need on a massive scale – politically, economically and individually.
We need to unlearn our reliance on fossil fuels, the issues based on which we elect our leaders, the way we treat some animals as friends and others as food (speciesism), the way we measure development and so on.
A deep unlearning will (hopefully) allow us to re-establish a world driven by mindfulness and compassion, rather than money.
Your book 'A Shooting Star' is a bestseller. Along with the travelogue, it is also about a spiritual journey one undertakes. Do you thus agree with the phrase that humans can better understand oneself and another with more communication and a better experience of diversity?
The Shooting Star charts my battles and adventures from the cubicle to the road, and from small-town India to remote corners of the globe. I write candidly about my struggles of transitioning from an average Indian girl to a free soul, who wanted to live on her own terms, explore the world meaningfully and smash stereotypes along the way. I write about my relationships, battles, triumphs and life-changing encounters, and how I tried to conquer my deepest fears.
There's no doubt that travelling is as much an inner journey as a physical one.
Tell us about a time when you were travelling alone and felt challenged?
After traveling safely and adventurously through some of Central America's more notorious countries (like Honduras, labelled 'the most violent place on earth'), I had pretty much let my guard down in Costa Rica. On a hurriedly hailed cab ride to the airport to impulsively catch a flight to the Pacific Coast, the cabbie and I chatted like long lost friends. Closer to the airport, he told me we'd get stuck in traffic so it's better to drop off a street before and walk; I agreed without thinking twice. When we arrived, I paid him and got off the cab, only to see him grabbing my small bag – the one with my passport, laptop and everything precious – asking for more money or he'd take off with it. I had the equivalent of 50$ in my pocket and gave it to him, shivering at the idea of being left alone without my valuables. In retrospect, there were a lot of hints I didn't catch; he asked me if I had family in the country, or if I had a local SIM card – pointed questions that should have made me wary. I felt shaken up for days, refused to trust anyone else I met along the way, and found solace in places crowded with other tourists, much unlike my usual travel style. It really wasn't about the money I lost, but the trust I lost, and it took me months to rebuild it.
What has been your biggest achievement till date? The most satisfying moment in your career?
There have been many satisfying moments on this journey: Publishing my first book and seeing it become a national bestseller in just over a month of release; recognition, awards and international features for my work to promote responsible, immersive travel; launching a clothing collection inspired by The Shooting Star that raises funds to grow forests in my home state Uttarakhand; and most recently, co-founding Voices of Rural India to challenge the way digital storytelling is typically done in India. But I think I feel the deepest satisfaction when a reader reaches out to me to share how my work has played a role in inspiring them to make different life or travel choices.
Travelling, that too alone is still considered a taboo for women in large parts of India. What do you think will change that?
As more of us choose to travel solo and share our stories online or offline, change is bound to happen. While female solo travellers are still considered an anomaly in some parts of India and the world, there's a lot more chatter, acceptance and encouragement online now.