Crisis in the Maldives: A geopolitical chess game
The outcome of a power struggle in the Maldives that has sparked declaration of an emergency, military control of parliament, and arrests of senior figures, is likely to shape the geopolitical designs of China, India, the United States and Saudi Arabia at a strategic interface of the Indian Ocean and the Arabian Sea.
The struggle between authoritarian president Abdulla Yameen and exiled former president and onetime political prisoner Mohamed Nasheed, a staunch critic of Chinese and Saudi interests, has a direct bearing on the future of the two countries' significant investment that has already reshaped the archipelago's social and political life.
The struggle also involves Maumoon Abdul Gayoom, the politician who served longest as the country's leader, Mr. Gayoom's son-in-law, Mohamed Nadheem, and senior figures in the judiciary, including Chief Justice Abdulla Saeed. All were detained last week on charges of corruption and attempting to overthrow the government.
Mr. Yameen, in what United Nations High Commissioner for Human Rights Zeid Ra'ad al-Hussein dubbed an "all-out assault on democracy," declared the state of emergency after the Supreme Court ordered the release from prison of opposition politicians and their retrial. The state emergency, gives the government sweeping powers to make arrests, search and seize property, and restrict freedom of assembly.
The court ruling appeared to enhance Mr. Nasheed's chances of challenging Mr. Yameen in elections scheduled for later this year by giving the opposition a majority in the country's legislative assembly.
Politics in the Maldives, a strategically located 820-kilometre-long chain of atolls with a population of 420,000 that is best known as a tourism hotspot threatened with demise by climate change, are convoluted. Mr. Gayoom is Mr. Yameen's half-brother and opposed to the president together with Mr. Nasheed, who unseated Mr. Gayoom in the country's first democratic elections in 2008.
Mr. Yameen, who came to power in 2013 in a disputed election that opponents say was rigged and has since been accused of eroding democracy, allowing Islamic militancy to flourish, cracking down on dissent and jailing opposition leaders, has been amenable to Chinese and Saudi interests that analysts believe could lead to the establishment of military bases in the archipelago.
China sees the islands as a node in its "string of pearls" – a row of ports on key trade and oil routes linking the Middle Kingdom to the Middle East – while for Saudi Arabia, the atolls also have the advantage of lying a straight three-hour shot from the coast of regional rival and arch-foe, Iran.
The possible building of Chinese and/or Saudi military bases in the Maldives would complement the independent development of both nations' military outposts in Djibouti, an East African nation on a key energy export route at the mouth of the Red Sea.
They "want to have a base in the Maldives that would safeguard trade routes – their oil routes – to their new markets. To have strategic installations, infrastructure," Mr. Nasheed charged last year.
The United States. through its Sri Lanka-based ambassador, and India have primarily sought to counter China's growing influence by pressuring on Mr. Yameen to adhere to democratic principles. Mr. Nasheed was in the Sri Lankan capital of Colombo when the state of emergency was declared and like incarcerated Judge Saeed, who was appointed by Mr. Nasheed, has maintained contact with Indian authorities.
Mr. Yameen's election in 2013 derailed negotiations with the United States for a Status of Forces Agreement (SOFA), that would have tightened military cooperation with the Maldives and given the US military greater access to the archipelago. A return to power by Mr. Nasheed, who in 2009 became the Maldives' first democratically elected president, would have likely revived the negotiations.
Mr. Yameen, in a further turn towards China, in 2016 withdrew the Maldives from the Commonwealth of Nations after the association of former British colonies threatened to suspend it for chipping away at democratic institutions.
Saudi Arabia sees its soft power in the Maldives as a way of convincing China it is the kingdom rather than Iran that is the key link in China's Belt and Road initiative that aims to link Eurasia to the People's Republic through Chinese-funded infrastructure.
Saudi Arabia, to lay the ground for the investment, has in recent years funded religious institutions in the Maldives and offered scholarships for students wanting to pursue religious studies at the kingdom's ultra-conservative universities in the holy cities of Mecca and Medina.
The funding has pushed the Maldives towards greater intolerance and public piety. Public partying, mixed dancing and Western beach garb have become acceptable only within expensive tourist resorts.
The Maldives is, moreover, believed to have contributed more Islamic State fighters in Syria and Iraq on a per-capita basis than any other country that was not a party to the conflicts.
The Saudis, despite being bitterly opposed to the Islamic State, have had, according to Mr. Nasheed, "a good run of propagating their world view to the people of the Maldives and they've done that for the last three decades. They've now, I think, come to the view that they have enough sympathy to get a foothold."
Messrs. Nasheed and Gayoom have urged India to intervene to force Mr. Yameen to release the judges and other political prisoners. Mr. Nasheed went a step further by calling on India to deploy a "physical presence" in the archipelago. India, which rarely intervenes in the affairs of foreign countries, helped put down an attempted coup in the Maldives in the 1980s.
In a statement, India advised Mr. Yameen to abide by the rule of law. "In the spirit of democracy and rule of law, it is imperative for all organs of the Government of Maldives to respect and abide by the order of the court," the statement said.
The US State Department charged that "President Yameen has systematically alienated his coalition, jailed or exiled every major opposition political figure, deprived elected members of parliament of their right to represent their voters in the legislature, revised laws to erode human rights… and weakened the institutions of government."
Mr. Yameen, backed by China and Saudi Arabia, and in the absence of more strident Indian and/or US action, is likely to maintain the upper hand. He appears to enjoy the support of his military and police despite the sacking of the police commission immediately after the declaration of the state of emergency. To drive the point home, state television showed pictures of military and police officers pledging to sacrifice their lives "in the defense of the lawful government."
Similarities between Trump-Modi Policies and their Actions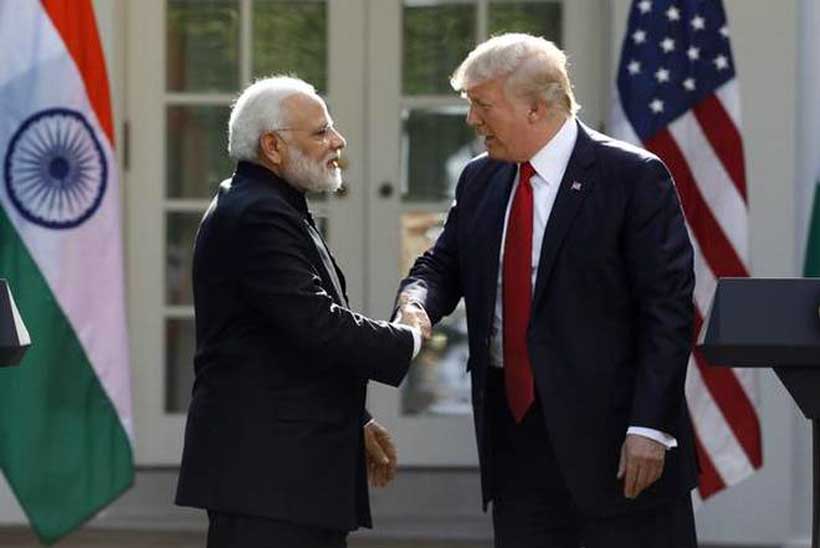 President Donald Trump calls PM Narendra Modi the father of India; according to him he has been successful in combining every section of society like a father combines the whole family through caring for the needs, necessities and reservations of his children. Including praise for PM Modi, President Trump has raised very serious matters for the nations of the world in his recent speeches. Throughout his tenure, President Trump has remained centred on the idea of "American Exceptionalism." As evident in his statements, he has already expressed in one of his recent speeches that "The future does not belong to globalists, the future belongs to patriots". He further explained that this is the rise of nationalism and fall of globalism. Though, whatever the ideology guiding President Trump's statements and strategies it still creates several complexities for the world, especially for weaker developing nations. In the same way, PM Modi has expressed his ideas and thoughts – as influenced by RSS ideology – which are also based on a similar sense of superiority albeit based around a predominantly Hindu inspired nationalism.
Taking into account this idea of America as the saviour of the world -, as evident in its penchant to intervene in any part of the world -the US has created its own definitions what is just and unjust. Likewise, PM Modi's more hands-on approach to Kashmir and even to a certain extent Gujrat represents a similar approach couched in a sort of 'saviour' complex. According to PM Modi, the ancient books of Hinduism give the lesson of humanity throughout the world that it is protected under their responsibility. In this regard, they will work in collaboration with other states who also want to protect the same cause of saving humanity as described by both President Trump and PM Modi during the Howdy-Modi gatherings in United States. Thus, hinting at perhaps a dangerous penchant for a more interventionist approach to world politics.
Now this is psychological rhetoric used by different entities to provide a moral justification for their actions in an attempt to make their actions legal and just in front of a specifically targeted audience. As such this kind of manoeuvring, used by States and individual rulers via looking over the changing global dynamics, is all about gaining interests, power, dominance and influence. There was a period when Narendra Modi was banned in America as well as some other countries of the world. He was banned because of the numerous atrocities, massacres, misconducts and the spread of RSS extremist ideology. He was the central person who was allegedly involved in the massacre of the Babri Masjid in Gujrat, India. He has been an active member of the RSS for a very long period of time. As such he remains famous for his fascist, extremist, hawkish and discriminatory policies imposed on the people of India. These include his harsh policies against the people of Jammu and Kashmir which are glaring proof ofseveral human rights violations.
PM Modi and President Trump have the same ambitions despite the varying differences between the status, development levels, technology, and economies of their respective countries. However, there are numerous similarities within their ideologies, policies and actions as they are mostly inspired by their far-right more conservative electoral bases. Such types of states or individual rulers use beliefs and ideologies for legitimizing their actions. In this regard, United States of America has been practicing these policies and actions within various parts of the world like Palestine, Middle East, Afghanistan. If America is imposing such injustices such a significant share of the world's population while projecting itself as the saviour of human right violations, then any state with the ability to project power and influence could exploit the situation against the pretext of saving human right violations. As evident, it is this same mentality that has led to the deterioration of the security of various parts of world.
Similarly, Narendra Modi's ideology has been generating serious issues for the security of South Asia. In this regard, PM Modi along with several other RSS stalwarts have been accused of spreading violence, discrimination and hatred against India's marginalized communities such as Dalits, Sikhs Christians particularly Muslim and other religious minorities. The recent controversy embroiling the Citizenship Amendment Act (CAA) is an example of such violent and extremist policies which have already resulted in mass agitations and strikes throughout India. The policies and actions adopted by PM Modi have been the cause of various problems within India as well as in the region including the repeated threats from BJP leaders against Pakistan.
When there are nuclear states being led by such leaders who have already fought several wars over multiple issues, they require a certain maturity, sense of responsibility, rationality and understanding in their behaviours as well as the actions of their rulers. Such kind of statements and behaviours portray a picture of madness or irrationality which can generate various problems for the peace and security of both nations as well as regional stability. Both PM Modi and President Trump would do well to ponder over that together during their forthcoming meetings in India which is considered very important for the strategic partnership of India as well as regional security and stability.
Dysfunctional Government of Pakistan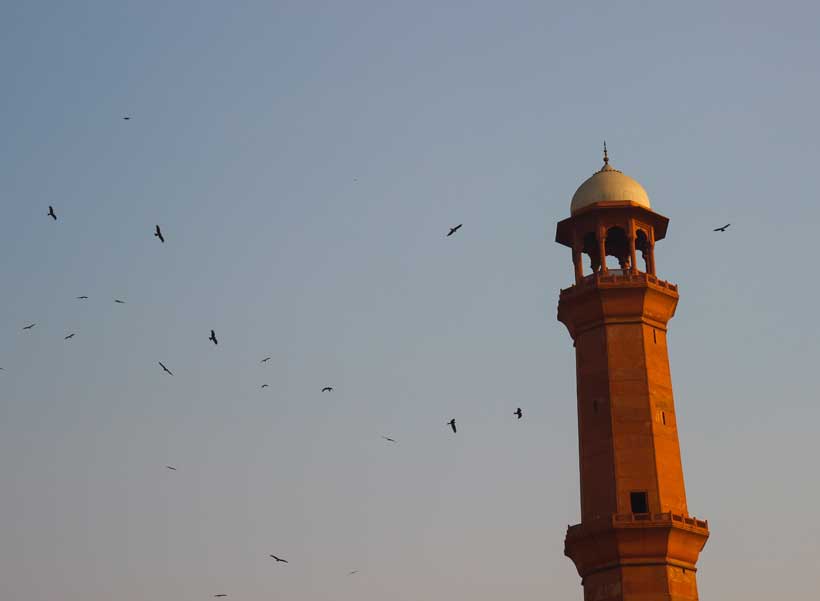 The def of successful government is to control defined territories, population, conduct diplomatic relation with other state, succeed in providing peace & stability to their public & monopolize legitimate violence in their territory. While a stateless or failed government can not create peace, law & order for their population, no control over their territory, weak & dependent institution. There will be no economic stability & no control over the distribution of goods. The massive economic violence, warlord's & unequal distribution of resources make a failed government.
Resent example of weak government is Pakistan. Where disintegration occur, civilian dependent institute, selection on the name of election, ruling of bureaucrat instead of serving, no check & balance system on institute, monopoly on foreign & internal policy, no freedom of expression, demand of right & protest is a crime. Instead of rule of Law, autocracy is on peak.
That's why this country face major challenges like humanitarian, extremism, sectarianism, violence, poverty, foreign aid budget, enforced disappearance, disease & philanthropic resources. On the slogan of national interest public face insecurity & unsafety. Because interference is on peak, instead of own constitutional duties s/he interfere in dealing of other. When the nondemocratic forces influence the weak democratic institute then the contract between the state & citizen will be weaker. And majority of population will be unpleasure from law & order implementation.
Where does Pakistan stand in term of democracy, freedom, rule of law, independence of Judiciary and sovereignty of parliament? Are we the people of Pakistan is not democratic? Is democracy will not solve our problem like politics of dynasty, personality-oriented politics, presidential and parliamentary form of government, check and balance in legislature, judiciary and executive, power of president and PM, making and amending of constitution? Procedure of Election and action against rigging and horse trading. The superpower and indigenous conspiracies and its short- and long-term effects? Devolution of power to local government system and participation of women in our politics? Literacy rate and influence of clergy on public?
The genesis of the present situation is that in Pakistan politics has never been based on some specific philosophy, programmed or principles. It has been in negation of all the ingredients of democracy. It has always been confined to prison or personalities. Ever since partition the only motive of alliances has been for personal gain, power and wealth. Political parties are the personal fiefdom of political leaders; scions of interrelated families of Landlords, Pirs, Nawabs, industrialists, business tycoons and Generals. They conspire and intrigue with civil/ military bureaucracy to achieve, retain and perpetuate power.
The historical background of the issue irradiates that our provincial and national politics have been helpless victims of the power hogging syndrome. Whoever reaches the throne, sets about misusing all the power that he can lay his lands on, whether, it is covered by the rules or not. However, the local government was degenerated into an instrument for perpetuating the British Raj. Bureaucracy was imposed on the people's representatives; Deputy commissioners were the pillars of British Empire. Nothing much changed after independence in the year 1947. Pakistan inherited a highly centralized political system. Even the idea of federation envisaged by the successive reconstitutions was negated by the preponderance of the central government's power in legislative, financial, administrative and political fields. The ruling classes confirm to the colonial traditions of governing the entire country from a strong center.
Now it's the basic responsibility of international community, actors, Institutions & nongovernmental organizations to address these issues immediately. Empowering political parties, strengthening constitution, independent & effective judiciary, reviewing a professional military & police service, effective & influential governance, stopping humanitarian and security problem and holding free & fair election. To return from a weak government to a functioning govt.
Pakistan- Afghanistan- Turkey Trilateral Summits and its implication for the region
This essay aims to critically explain the Pakistan-Afghanistan-Turkey Trilateral Summits and its implications for the region. These summits were initiated by Turkey to normalize the bilateral relations between Pakistan and Afghanistan. We found that these summits have somehow normalized the relations, but still, there is a need for a formal treaty such as strategic partnership and consensus. The author holds that if both states sign these two treaties, then it will lead them to build a common security community and focus on the positive-sum game, instead of zero. Moreover, it will provide them the opportunity for confidence-building and security reassurance. If they succeed to do so will vital implications for the region. For instance, it will confidently overcome the issue of terrorism which is problematic to the security of the whole region.
Turkey was the first Muslim country that tried to ameliorate Pakistan and Afghanistan's relations during the post 9/11 decades. Ankara began to hold a presidential summit known as the Pakistan-Afghanistan-Turkey Tripartite Summit in April 2007. Since 1947, the bilateral relations between Islamabad and Kabul have been weakened mainly due to security reasons. The security reason is very diaphanous as the Afghanistan government did not agree to recognize the Durand Line border due to their claim that some part of Pakistan's Khyber Pakhtoon Khowa province belongs to Afghanistan. In fact, it is an international 2,430-kilometre border that separates both states from each other. The Duran Line represents the name of Henry Mortimer Durand, a foreign secretary of the colonial government of India. He was an official who demarcated the border between Afghanistan and British India after diplomatic negotiations in 1893. However, in 1947, after the independence of Pakistan, this became a security tension between Islamabad and Kabul. Besides, bilateral security issues it is widely believed that the terrorists such as Al-Qaida and Taliban are taking benefit of this border and are easily moving from Afghanistan to Tribal area of Pakistan.
In Sep 2005, due to the threat of terrorism, Islamabad decided to commence the fencing of the border where work was begun in Apr 2007. Nevertheless, this was unacceptable to Afghanistan because they hold the claim that it will weaken the free movement of the Pashtun tribe. The Afghan government further argued that fencing is nothing more than the division of our Pashtoon tribes because the fencing cannot stop terrorism. Both state blame on each other for terrorism as it is noted that "the Afghan government has been blaming Pakistan for harboring key Taliban leaders on its soil and providing them with sanctuaries to stage war against Afghan forces and their foreign counterparts. However, Pakistan has often rejected the allegations and has claimed that it is extending support to the Afghan peace process". On the other side Pakistan claims that India is using Afghan soil for terrorists' activities against Pakistan.
However, Turkey tried to eschew any possible conflict between Pakistan and Afghanistan but it bore no fruits. As in May 2007, the Afghan forces tore the fencing, which consequently led both side troops to serious conflicts. Same On 5 May 2017, an armed skirmish occurred after Afghan forces attacked a Pakistani census team in Chaman, in Pakistan near the border with Afghanistan. At least 15 people died on both sides in the immediate border clash. It is one of a series of similar border-related incidents between the two countries. This plight confirmed that there are misunderstandings and a deficit of trust between both states. Even both states were informally agreed in 2007 in Turkey during Trilateral summits that both will respect the territorial integrity and will not interfere in the domestic affair of each other. Given this, Turkish President Abdullah Gul again invited the two countries in the same year to resolve the issue and promised to hold a summit every year until relations between the two countries were normalized. Further, in the second summit, the three states decided to work on shared military exercises and to share intelligence information on terrorism. Turkey also assured that both states need to build contact between their parliaments which are essential for trust-building. With the passage of time these summits somehow brought the both states at conclusion to avoid any possible conflicts and interference in each other domestic affairs but it still need formal proper agreements for positive results which are important for the whole region.
Implication for the region
Now, for instance, these trilateral summits succeed, then what will be the implication for the region? The first and foremost implication will be the resolution of Afghan's issue itself. For instance, if both Pakistan and Afghanistan get agree for strategic partnership and flexible consensus, then both can build common security where they will think for win-win security cooperation instead of zero-sum. The common security will build trust between them as the international system is anarchic and no one knows the intention of other states, especially the presence of India in Afghanistan is hideous for Pakistan. The flexible consensus will bring both states at one page to mutually formulate the policies that serve best their specific interests.
The second most significant advantage will be if both states build common security then will surely overcome terrorism which is not only problematical to the security of both states but as well as to the whole region. For instance, terrorism has no boundary and no religion which means it can continue its activities anywhere they want. One of the Vulnerable region is the Central Asian Republican States which are strategically vital regions for the all great and major powers due to natural resources if the terrorism in Afghanistan rooted out then there will be no future threat to this region.
Suggestion
There is no doubt that Turkey is working to normalize relations between Pakistan and Afghanistan, but it needs to change its current policy based on informal processes because formal agreements are needed. In short, only spoken agreements are not enough Turkey should convince both states for strategic partnership and flexible consensus which is very important for the security of the whole region. The strategic partnership which is rival to relic power politics as the strategic partnership provides the opportunity of the win-win situation instead of zero sums. Where the flexible consensus is important due to its ability to bring both states policymaker at the same page to formulate mutual beneficial policies and agree to support a decision in the best interest of the whole group or common goal.