The threat to national security: Emergency clamped in Maldives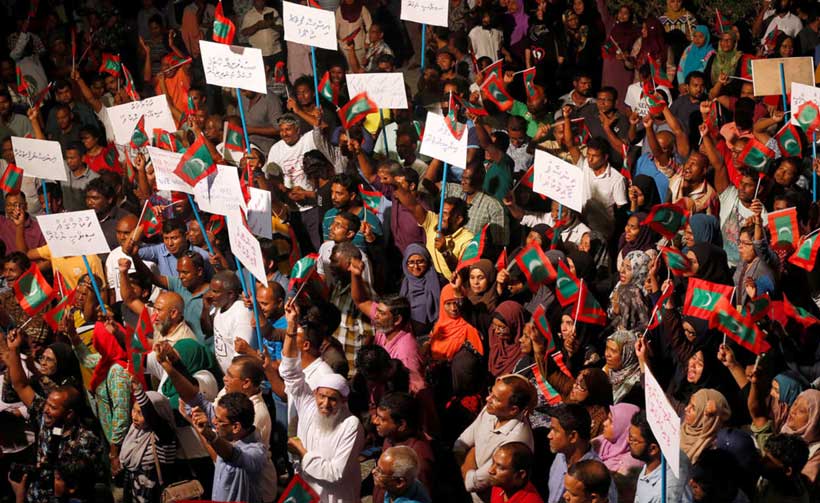 The president of the Maldives Abdulla Yameen's has declared a state of emergency, citing a threat to citizens' safety and national security, following widespread international condemnation and concerns about its impact on the country's crucial tourism industry, the government said. Maldives has declared State of Emergency for 30 days as per Article 253 of the Constitution citing threat to national security. The government said a curfew would not be imposed.
The state of emergency was limited to 30 days only and Abdulla Yameen's decree, which came into effect at midday local time (0700 GMT), suspends all basic rights and gives the security forces sweeping powers to arrest suspects before a major anti-government rally planned later this week. Seven articles of the constitution have been suspended, including those guaranteeing citizens of the Indian Ocean island nation the rights of assembly, free expression, freedom from arbitrary detention and freedom of movement.
Under the emergency regulations, police are allowed to enter and search homes without a warrant, and the rights to assemble peacefully and travel between the many islands of the archipelago nation were suspended. Soldiers in riot gear surrounded the parliament building in the capital Male on Sunday soon after the opposition petitioned parliament to remove the South Asian island's attorney-general and its chief prosecutor.
The Maldives has suffered acute political instability for several years, but a new cycle of chaos and unrest appears to be intensifying.  "President Yameen has declared state of emergency to ensure the safety and security of every citizen," his spokesman Muaz Ali tweeted. In a statement to the nation, Yameen, who took power in a contested election in 2013, said there were groups planning to use weapons and explosives.  "My beloved citizens, I assure you, that in enforcing this decree, the rights and freedoms stated in the constitution will only be restricted within the limits of … the constitution, and only to the extent strictly required by the situation," Yameen said.
The move comes at a time of heightened tensions following an explosion on Yameen's speedboat on 28 September that wounded his wife and two others. Yameen was unharmed in the blast, and the FBI has said there is no evidence it was caused by a bomb. But the authorities say it was an attempt on his life. Yameen arrested the vice-president, Ahmed Adeeb, on 24 October after accusing him of "high treason" and linking him to the boat blast.
Legal Affairs Minister Azima Shakoor made the emergency announcement on Monday on state television, and a statement attributed to President Abdulla Yameen was posted on the ministry of foreign affairs website. "The government of Maldives wishes to also assure all Maldivians and the international community that the safety of all Maldivians and foreigners living in and visiting the Maldives will be ensured," the statement said.
The Maldives National Defence Force (MNDF) said it had found a remote-controlled bomb near the president's official residence and safely defused it. Officials on Wednesday said several discoveries of arms and explosives had been made, though the whereabouts of other weapons and ammunition missing from state armouries remained unknown.
Further searches were under way on Wednesday evening, with local media reporting that at least one suspected explosive device had been found. "The purpose of today's announcement is to send a clear message. Those who seek to cause harm and unrest through violence – whether their aims are political, religious or otherwise – have no place in our country. We are a young, vibrant democracy and will do all we can to uphold those values," said Maumoon.
The Maldives plunged into political turmoil last week after the country's top court threw out a "terrorism" conviction against its former president Mohamed Nasheed, and ordered the release of other jailed opposition politicians. The ruling dealt a blow to Yameen with critics accusing him of corruption, misrule, and rights abuses. He denies the allegations. The government does not believe that the Supreme Court ruling to release the political prisoners can be enforced
The government declared the state emergency after refusing on Monday to implement a ruling that has led to a wave of protests in the capital, Malé, with angry clashes between police and demonstrators. The president, Abdulla Yameen, has responded by dispatching soldiers to surround the parliament building, preventing MPs from meeting. He also called a noisy rally of his supporters.
The main opposition Maldivian Democratic Party said declaring the state of emergency in the first place was political, designed to stop a rally planned for last Friday demanding the release of the party's leader, former President Mohamed Nasheed. "It appears that Yameen is willing to make up threats about the nation's security in order to settle political scores," the party said in a statement, referring to the president. "Yameen's increasingly erratic, paranoid and dangerous behavior is damaging the country and proves he is unfit to be president. He has failed and should step down."
The Supreme Court ordered Yameen on Thursday to free nine dissidents, ruling that their trials were politically motivated and flawed. The court also called on the president to reinstate opposition MPs. But the government refused to implement it and declared the emergency.
The Maldives Supreme Court has hit back at President Abdulla Yameen's refusal to free his jailed opponents amid an escalating crisis that saw security forces seal off the country's parliament and arrest two opposition lawmakers on Sunday.   Judges of the top court said there should be "no legal barrier" to releasing the nine people, including the island nation's exiled former president Mohamed Nasheed, whose terrorism and corruption convictions it overturned last week.
Their statement came after Attorney-General Mohamed Anil raised concerns about freeing people convicted of "terrorism, bomb attacks, corruption, embezzlement and fraud".
The top court's ruling last week has plunged the Maldives into political turmoil and dealt a major blow to Yameen, who critics accuse of corruption, misrule and rights abuses.
Yameen denies the allegations.
The sudden about face by the Supreme Court, which sided with Yameen in the past, and the widespread international support for its verdict puts unprecedented pressure on the president to free his opponents ahead of a presidential election later this year.
The government accused the Supreme Court of trying to oust the president, a claim judges did not respond to in their statement late on Sunday.
Earlier in the day, the attorney general, in a televised appearance flanked by the chiefs of the army and the police, said the government has received news of an imminent order by the Supreme Court to impeach Yameen. "I have informed all law enforcement agencies they must not obey such an illegal order," Mohamed Anil said.  Ahmed Shiyam, the army chief, said the security forces would follow the attorney-general's advice and "will not wait and watch as the Maldives descends into crisis".
The opposition called Anil's order to the security forces "unconstitutional, highly illegal, and dangerous" and petitioned parliament to oust Anil, as well as the country's chief prosecutor. Shortly afterwards, soldiers surrounded the parliament building and sealed it off.
The island nation emerged a decade ago from a long spell of 30 years of authoritarian rule under President Maumoon Abdul Gayoom. His successor Mohamed Nasheed, elected in 2008, presided over a brief flourishing of multiparty democracy before being controversially ousted five years later.
Since then Yameen has stifled dissent and imprisoned members of the opposition. Rights groups have accused Yameen of using new laws and criminal cases to silence critics and to neutralise his opponents.  On Monday the government made clear it had no intention of respecting the supreme court's decision. The legal affairs minister, Azima Shakoor, said the ruling was not enforceable, adding that there were numerous challenges to freeing prisoners.
Yameen's main rival, Nasheed, described events taking place in the country as "tantamount to a coup". He tweeted that Yameen should resign and said the security services "must uphold the constitution and serve the Maldivian people".
Nasheed is in Sri Lanka. He has been living in the UK since 2016 after being given asylum when he travelled there on medical leave from prison.
In addition to ordering the release of the political prisoners, the Supreme Court also reinstated 12 MPs who switched allegiance to the opposition. When they return, Yameen's Progressive Party of Maldives will lose its majority in the 85-member parliament, which could result in the legislative body functioning as a rival power to the president. On Friday Nasheed said he would mount a fresh challenge for the presidency this year. Nasheed was sentenced to 13 years in prison after he was convicted under Maldives' anti-terror laws. The trial that was widely condemned by international rights groups
Dunya Maumoon, the foreign minister, described the measures as "precautionary action by the government in light of several security threats that have emerged in the last week". "As a government we have a responsibility to our citizens to ensure they can go about their daily lives in peace and security. We are determined to root out a small minority who seem intent on causing damage to people and property," she said. On Wednesday the streets of Malé, the capital, were quiet, but soldiers had cordoned off water and power plants. Residents said raids were continuing.
The main opposition Maldivian Democratic Party (MDP), whose leader Mohamed Nasheed is in jail following his conviction earlier this year under anti-terror laws, has organised the protest. Nasheed left power in 2012 amid protests, forced out by what his supporters claim was a coup. Nasheed called on the international community to consider introducing sanctions against the current government. He also appealed to tourists travelling to the Maldives to reconsider their views on the popular holiday destination. "It is good and necessary to have a relaxing holiday but important they understand what is happening here too," he said.
The incarceration of Nasheed, who was convicted on charges of using the military to arrest a senior judge when in office, has been severely criticised by the UN and international rights groups.
The British high commissioner to Sri Lanka and the Maldives, James Dauris, said he was "most concerned by restrictions on fundamental rights and freedoms in the Maldives from today". Thoriq Hamid, from the NGO Transparency Maldives, said his organisation was "extremely … concerned that the situation has escalated to this point". The Australian government last week told its citizens to exercise a "high degree of caution" while travelling to Malé, "due to the possibility of civil unrest and the threat of terrorist attacks".
The MDP rally was aimed at pressuring Yameen to release Nasheed, the first democratically elected leader of the country and an internationally recognised climate change campaigner. Eva Abdulla, an MDP member of parliament, said the rally would proceed as planned. "We saw this coming. Everything has been leading up to this. This is the last straw – the only straw – left for Yameen. He has totally lost grip on governance. He doesn't have the public with him and any control is based on fear and intimidation," she said.
There are growing fears of Islamic extremism in the Maldives, fuelled in part by the political instability since the departure from power of autocratic ruler Maumoon Abdul Gayoom in 2008.The government has put him under house arrest. The government has warned media outlets their licences will be suspended "if broadcasts threaten national security".
The justification for the state of emergency on the basis of a security threat could be dangerous, Abdulla, the MDP parliamentarian, said. "My worry is we are a hotbed for jihadi recruitment at the moment so to use this to get at political opponents is irresponsible in the extreme. They could be turning a blind eye to the real problem and endangering us all as a result."
Junayd Mohamed, a journalist with the Maldives Independent, told Al Jazeera he also heard reports that riot police and military officials were inside the court. He said they set up barricades to block off the area, but protesters were rallying outside.  "Hundreds of people [are] gathered outside who are calling on the security forces to arrest President Yameen and protect the Supreme Court," Mohamed said.
Opposition members of parliament urged foreign intervention after the government ignored the Supreme Court ruling. The opposition now has a majority in the 85-member house as the court ruling also reinstated 12 members of parliament who were stripped of their seats last year. But two of the 12 were arrested at the airport on Sunday, shortly after they returned to the Maldives after spending months in exile.
In a resolution signed in the capital Male on Sunday, opposition MPs called on the international community "to impress upon the government of Maldives the need to respect the rule of law, and implement last Thursday's Supreme Court ruling that ordered the release of political leaders and the reinstatement of 12 opposition MPs".  They also called for "all necessary measures … to hold government officials accountable for violations of national and international law".  Tensions "could escalate to civil unrest and incite violence across the country", they warned.
The United Nations, European Union, and several foreign governments – including India, the USA and UK – have urged Yameen to comply with the Supreme Court's order.   The government has accused the court of trying to oust the president, a claim judges have not responded to. The United States urged government restraint on Monday. "The Maldivian government and military must respect the rule of law, freedom of expression, and democratic institutions. The world is watching," the White House National Security Council said in a Twitter post.
Rights group Amnesty International denounced the government's "appalling track-record of suppressing freedom of expression and any form of opposition". "This emergency cannot become a licence for further repression," Omar Waraich, the group's deputy South Asia director, said on Twitter.
The opposition now has a majority in the 85-member house as the Supreme Court ruling also reinstated 12 members of parliament who were stripped of their seats last year. But two of the 12 were arrested at the airport on Sunday, shortly after they returned to the Maldives after spending months in exile. Abdulla Sinan and Ilham Ahmed were detained on charges of bribery, a police spokesman told Al Jazeera.
Ibrahim Mohamed Solih, an opposition parliamentarian, condemned their arrest in a statement.  "We call on the police to release the MPs immediately, and to stop following unlawful orders, to stop obstructing the lawful mandate of parliamentarians," Solih said.  "In a desperate attempt to cling onto power, President Yameen has illegally overrun the state. His attorney-general has illegally assumed the powers of the apex court, while the military has overrun the legislature," he added.
On Sunday night, hundreds of flag-waving opposition supporters took to the streets of the capital Male calling on the government to abide by the court ruling.
Meanwhile, the official who heads the parliament's secretariat resigned after the speaker, a Yameen ally, cancelled the opening of the parliament, scheduled for Tuesday, over unspecified "security concerns".  "I have stepped down," Ahmed Mohamed told Al Jazeera on Sunday, without offering further details. The heads of the Maldives' main high-security prison and the elections commission have also quit in recent days.
Nasheed, speaking to a private television channel from neighbouring Sri Lanka on Sunday, called for protests and urged rank-and-file members of the security forces to arrest the attorney-general as well as the chiefs of the army and police.
Observation
Maldives is a tourist's paradise. It is not clear how much of an impact the state of emergency has had on the tourism industry in the Maldives, which is best known for its luxury tourist resorts.
The US State Department on Tuesday also welcomed the lifting of the state of emergency. Washington had been critical of its imposition, and has called for an end to politically motivated prosecutions and detentions.
Known for its luxury tourist resorts, Maldives has suffered from weak government institutions and a divided political system dominated. Yameen is the half-brother of Gayoom. The former president is now a vocal critic of Yameen. Over the weekend, Gayoom tweeted: "A band of thugs armed with knives drove by my residence several times after midnight last night shouting abuse at the top of their voice." He added: "I wonder who would have sent these unruly thugs?"
The Maldives has had a difficult transition to democracy since holding its first multiparty election in 2008. The state of emergency has been declared in Maldives amid a deepening political crisis sparked by a Supreme Court ruling that called for the release of imprisoned opposition politicians.
President Yameen has been in office since 2013. He had been set to run for re-election this year almost unopposed, with all of his opponents either jailed or exiled. Lawmakers voted Vice President Ahmed Adeeb out of office using the regulations. Authorities suspect that Adeeb was behind the alleged attempts on Gayoom's life, and he has been arrested and detained. Gayoom was not hurt in the September 28 blast aboard his boat, but his wife, an aide and a bodyguard was injured.
The Maldives' economy has faltered in recent years and the country suffers from overcrowding, high unemployment rates and substance abuse. The declaration of a state of emergency comes amid a bitter power struggle between the president and Adeeb, with factions within the police and army supporting different political players. The dispute has weakened the government at a time of growing popular anger over the continuing detention of Nasheed and economic problems.
Police has started investigations into Supreme Court judges and officials since the ruling, and have said that they now plan to question Gayoom in a separate case. On Monday, the health minister, Hussain Rasheed Ahmed, quit in protest against the government's attitude towards its highest court.
The continuing political instability in the Maldives is likely to damage its vital tourist trade, a key employer and earner of foreign exchange. Every year more than a million tourists visit the Maldives, an almost exclusively Sunni Muslim nation composed of 1,192 small coral islands, with a population of 340,000.
White sandy beaches, turquoise waters, shallow lagoons and secluded islets draw holidaymakers from all over the developed world as well as celebrities seeking privacy. Officials said there was no threat to resort security and the Maldives remained a safe destination for international visitors.
Human rights violations in India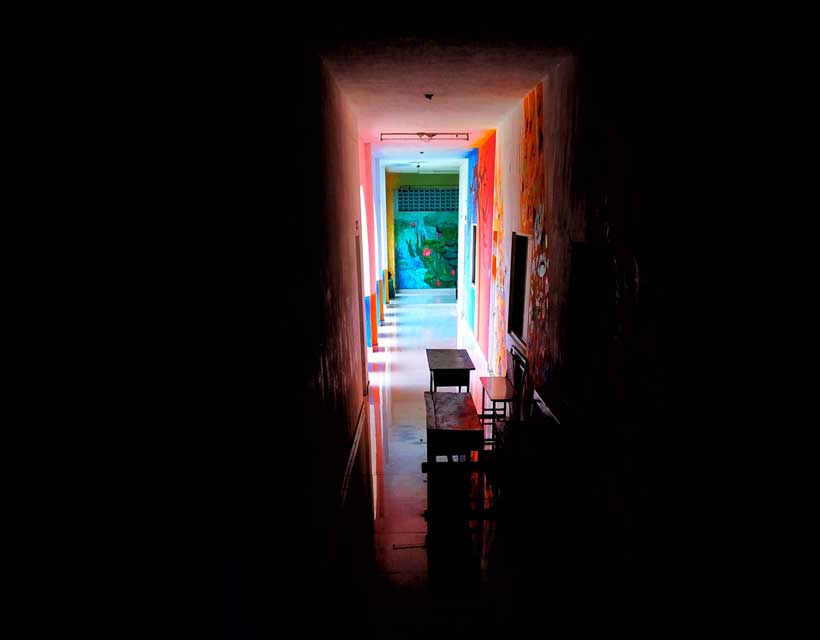 In yet another damning report, the United Nations' High Commissioner for Human Rights, Michelle Bachelet expressed `concern over restrictions on Non-governmental Organisations, arrests of activists and implications of Citizenship Amendment Act.
She `appealed to the Government of India to safeguard the rights of human rights defenders and NGOs, and their ability to carry out their crucial work on behalf of the many groups they represent'. She `expressed regret at the tightening of space for human rights NGOs in particular, including by the application of vaguely worded laws that constrain NGOs' activities and restrict foreign funding'. Besides, she `cited as worrying the use of the Foreign Contribution Regulation Act (FCRA), which a number of UN human rights bodies have also expressed concern is vaguely worded and overbroad in its objective'. The Act prohibits `receipt of foreign funds "for any activities prejudicial to the public interest'. But, it leaves vague definition of the `public interest' ad `prejudicial' to wild imagination of police officers.
The Act, which was adopted in 2010 and was amended last month, has had a detrimental impact on the right to freedom of association and expression of human rights. Amnesty International was compelled to close its offices in India after its bank accounts were frozen over alleged violation of the FCRA. Bachelet noted, `The FCRA has been invoked over the years to justify an array of highly intrusive measures, ranging from official raids on NGO offices and freezing of bank accounts, to suspension or cancellation of registration, including of civil society organizations that have engaged with UN human rights bodies. ..Constructive criticism is the lifeblood of democracy. Even if the authorities find it uncomfortable, it should never be criminalized or outlawed in this way.'
India keeps the UN in dark: The UN Human Rights Committee oversees implementation of the International Covenant on Civil and Political Rights to which India is a party. The Committee found that India did not `show the specific nature of the threat or risks posed, and limit its responses to those necessary and proportionate to address such threat or risks' . India was bound to explain to the Committee that it was invoking `national security and protection of public order as a reason to restrict the right to freedom of association'.
The Committee noted that `more than 1,500 people have reportedly been arrested in relation to the [CAA] protests, with many charged under the Unlawful Activities Prevention Act – a law which has also been widely criticized for its lack of conformity with international human rights standards'.
Bachelet drew attention to arrest and continued detention of the 83-year-old Catholic priest Stan Swamy, a long-standing activist engaged in defending the rights of marginalized groups, despite his poor health. She urged India `to ensure that no one else is detained for exercising their rights to freedom of expression and peaceful assembly, and to do its utmost, in law and policy, to protect India's robust civil society'.
A bird's eye view of India's anti-human laws: India claims to be the "world's greatest democracy". But, the shiny face of democracy has been disfigured by repressive Indian laws like: (1) Indian Armed Forces (Special Powers) Act, (2) Terrorist-Affected Areas (Special Courts) Act, (3) Terrorist and Disruptive Activities (Prevention) Act, 1987 (TADA), and (2) Prevention of Terrorism Act, 2002 (POTA).
The aforementioned laws clothed police and security/armed forces with emergency powers without explicitly abrogating people's fundamental rights under the Indian Constitution (a fundamental right cannot be usurped or altered).
POTA is successor to TADA. The TADA remained in force between 1985 and 1995 (modified in 1987) under the background of the Punjab insurgency and was applied to whole of India. The Act had a sunset provision for lapsing after two years post-commencement, which it did on 24 May 1987. The POTA is just old wine in new bottle. It does not repeal fake cases under TADA. Indian media termed POTA as "draconian'. Verily so as penalties under this law are akin to those stipulated in Draco's code of 610 BC to forestall future revolts by common men. The code provided death penalty for even trivial offences like stealing an apple, or an earthenware utensil.
The POTA attaches evidentiary value to the telephonic, telegraphic and internet conversations. The brutality of the law was brought into limelight when S. A. R Geelani, a Kashmir lecturer in Delhi University was implicated for attack on the Indian parliament (December 13).
POTA was employed to frame cases against several other Kashmiri leaders _ Yaseen Malik, Syed Ali Geelani et al. Despite his frail health (ailing kidney, heart with right ear subjected to micro-surgery), Malik was arrested on March 25 under POTA for receiving ISI's money when he was addressing a press conference at the Hurriyat office. The court acquitted him with observation that there is not an iota of believable evidence against him.
Syed Geelani and his journalist son-in-law, Iftikhar Gilani also were detained under POTA. Funny charges on senior Geelani included: (1) "Being a member of Jamaat-e-Islami, he criticised US war against Afghanistan, and described himself as Pakistani".
Iftekhar Geelani was detained for violation of Official Secrecy Act for possessing information about Indian troops' movement of pre-1996 period. The alleged information was available on the internet. Having failed to make a case against him, police charged him under the Pornographic Act!
POTA features: In what follows, we would review significant features of POTA. It usurps Constitution-of- India safeguards for fundamental rights (part 3, articles 13-35). The rights include "life and liberty of the person" (article 21) and "freedom of expression" (article 19). The POTA also violates article 21 which provides that "no person shall be deprived of his life or personal liberty except according to procedure established by law".
TADA was meant to suppress the Sikhs' freedom movement. POTA is intended to stifle Kashmiris' freedom movement. Due to heavy opposition from the NHRC, human rights organisations and political parties POTA was not introduced as a bill in parliament. Instead, it was promulgated as POTO, Prevention of Terrorism Ordinance.
POTO became POTA on March 26, 2002. POTA as a modified version of TADA, with similar inconsistencies in protection of human rights.
The POTA violates international-human-rights standards, which provide the framework for international protection and promotion of human rights. It is also incompatible with international human rights standards and treaties, particularly the International Covenant on Civil and Political Rights (ICCPR), to which India is a party.
India has signed but not yet ratified the UN Convention against Torture and Other Cruel, Inhuman or Degrading Treatment or Punishment (CAT) to validate torture under POTA. However, notwithstanding non-ratification, adherence to international human rights standards has been upheld by the Supreme Court of India in a number of decisions (for example, Vishaka & Others vs. State of Rajasthan & Others: 1997(6) SCC24).
The Telegraph Act makes intercepts inadmissible as evidence. But POTA allows it. Other rights-suffocative features of POTA include: (1) vague definitions, (2) insufficient pre-trial and trial safeguards, (3) threats to freedom of association and freedom of expression. Ensuing paragraphs highlight the features.
VAGUE DEFINITIONS: Section 3(5) of the POTA, while criminalizing membership of a "terrorist gang" or a "terrorist organisation," does not clearly define what these terms mean. The crime is considered complete upon proof of membership.
Thus POTA provides for criminal liability for mere association or communication with suspected terrorists or expressing political opinions without the possession of criminal intent. Obviously, the section is repugnant to ` the right to freedom of association' enshrined in Article 22 of the ICCPR.
Section 3(8), purports to punish those in possession of information of material assistance in preventing a "terrorist acts". Failure to provide such information is punishable by up to three years' imprisonment.
Section 4 of POTA allows legal presumption that if a person is found in unauthorized possession of arms in a "notified area," he/she is automatically linked with terrorist activity. This along with other provisions undermines the basic right to be presumed innocent until proven guilty.
ARREST: Section 48(2) provides for pre-trial police detention for up to 180 days. This provision contradicts Articles 9(2) and 9(3) of the ICCPR which require that all arrested people be promptly informed of the charges against them and that they are entitled to trial within a "reasonable time", or release.
TORTURE: Torture in police custody is a well-known fact. Section 32 provides that confessions, even those under duress or torture, made to police officers are admissible in trial. This violates Indian Evidence Act, article 14(3) (f) of the ICCPR and article 20(3) of the Constitution of India.
Section 56 of the Ordinance provides for protection from punishment and blanket immunity to police officers who use torture or cruel, inhuman or degrading treatment during interrogations. POTA obviously contradicts India's repeated promises that she is dedicated to eradicating torture".
Efforts on the anvil to refine POTA are nothing but palliatives to cure police brutality. Hence, they are not worth discussing. When asked about the POTA, in an interview to The Hindu, Dato' Param Cumaraswamy, former United Nations Special Rapporteur on Independence of Judges and Lawyers said: "Past experience had shown that draconian legislations did not provide much safety to the state against terrorists or militants but were used only to protect the safety of the government in power". He added, "My concern is that extensive powers given to the executive can always be abused without there being any independent judicial review".
Conclusion: India uses its draconian laws to gag dissent. The Hindu-monk chief minister of India's northern state of Uttar Pradesh regards a cow as a citizen. He directed the police to register cases under National Security Act for offences concerning a cow. One hundred and forty cases were soon registered to terrify the Muslim.
The inescapable conclusion from the above analysis is that the POTA is meant to gag political dissent and crush freedom movements. It baffles one's imagination that POTA has the same goal as Draco's code had 2, 613 years back that is "crush common men's revolt by use of brutal force". POTA is unnecessary in view of India's other equally draconian laws like Indian Armed Forces (Special Powers) Act and Terrorist-affected Areas (Special Courts) Act. These laws allow pre-trial detention of "suspected militants" without disclosing reasons and house searches without warrants. An arrestee is considered guilty until he is proved innocent. An appeal against POTA lies to the inaccessible Supreme Court.
India's fury at Moeed Yousaf's interview?
In an interview with Indian media outlet The Wire, Moeed Yusuf , revealed that India had expressed a "desire for conversation" but said that Pakistan's agreement to talks would be conditional (Talks with India only possible with Kashmir as third party, says SAPM Moeed Yusuf, Dawn 14 Oct 2020) . India quickly denied any offier for talks. Moeed as also his interviewer were quickly dubbed anti-India jihadi.
A leader becomes a traitor the moment he stops singing paeans for "secular democracy". Take Sheikh Abdullah. Barkha Dutt recalls (This Unquiet Land, p. 154) `In a 1948 speech to the United Nations, Sheikh Abdullah … made a blistering defence of the accession to India. Sher-e-Kashmir (Lion of Kashmir) roared, :`I had thought all along that the world had got rid of Hitlers…but what is happening in my poor country I am convinced that they have transmigrated their souls into Pakistan…I refuse to accept Pakistan as a party in the affairs of Jammu and Kashmir'
Dutt says, "Sheikh Abdullah [later] began to talk about possibility of independent Kashmir…Soon after he changed his stance he was jailed and dismissed from office and was not able to lead the state for another twenty years'.
While talking to Cyril Al Maeda in an exclusive interview that appeared on 12th May, Pakistan's former prime minister Sharif had said `Militant organizations are active. Call them non-state actors, should we allow them to cross the border and kill 150 people in Mumbai?' During Kalbushan jhadav'strial, Indian counsel used the MNS statement ` to blame Pakistan for its alleged involvement in sponsoring terrorism in India'.
The factual position is that gullible Sharif had relied on statement by then serving ISI chief Shuja Pasha. Even Pasha's statement was grossly misinterpreted. Pasha never asaid that it was ISI who in any way sponsored the Mumbai operation. Even the USA never trusted interrogation of David Headley who was `linked' to the Mumbai incident.
Let me quote Mohammed Adobo and Etgar Ugur (eds.), Assessing the War on Terror, 2013, Lynne Reiner Publishers, Inc., Colorado 80301 (USA). Chapter V: Pakistan Perfidious Ally in the War on Terror, C. Christine Fair, p. 85)
According to Indian officials who interrogated him after his indictment, David Headley, an American involved in the Mumbai attacks conceded ISI involvement (Jason Burke, "ISI chief aided Mumbai terror attacks: Headley", The Hindu October 19, 2010; Jane Perlez, Eric Schmitt and Ginger Thomson, "US had warnings on Plotter of Mumbai Attack", New York Times, October 17, 2010). US officials have not endorsed this claim. Bt, according to some reports, the current director general of the ISI Shuja Pasha, acknowledged that the persons connected to the ISI were involved in attacks (Woodword, Obama's Wars, pp 46-47). Documentary analysis shows secretive Mumbai trials were translucent (Davidson, Betrayal of India: Revisiting the 26/11 Evidence).
It is a documented fact that India is stroking insurgencies in neighbouring countries. Unlike Kashmir, Bangladesh was not a disputed state like Jammu And Kashmir State. It was an integral part of Pakistan. But, harboured, nurtured, trained and armed Bangladeshi 'freedom fighters'… Some Indian diplomats and RAW cover officers have made startling revelations in their books about involvement in insurgencies or terrorism in neighbouring countries. . For instance, RK Yadav, and B. Raman (The Kaoboys of R&AW: Down Memory Lane) make no bones about India's involvement in Bangladesh's insurgency. They admitted that India's then prime minister Indira Gandhi, Parliament, RAW and armed forces acted in tandem to dismember Pakistan. Raman recalls 'Indian parliament passed resolution on March 31, 1971 to support insurgency. India Gandhi had then confided to Kao that if Mujib was prevented from ruling Pakistan, she would liberate East Pakistan from the clutches of the military junta. Kao, through one R&AW agent, got hijacked a plane Fokker Friendship Ganga of Indian Airlines from Srinagar to Lahore. India's security czar Doval publicly claims that he acted as a spy under a pseudonym in Pakistan for 11 years. India's then army chief, SAM Manekshaw confessed in video interview that India Gandhi ordered him to attack erstwhile East Pakistan. (YouTube: Indian Army Stories of the Indo-Pak War 1971 by Sam manekshaw).
United Nations' view of `accession: Aware of India's intention to get the 'Instrument of Accession' rubber-stamped by the puppet assembly, the Security Council passed two resolutions to forestall the `foreseeable accession' by the puppet assembly. Security Council's Resolution No 9 of March 30, 1951 and affirmative Resolution No 122 of March 24, 1957 outlaws accession or any other action to change status of the Jammu and Kashmir state.
Under hypnotic spell of Indian propaganda, readers naively accept IHK's `assembly' and preceding `instrument of accession' as fait accompli. No sir, they aren't. Aware of India's intention to get the 'Instrument of Accession' rubber-stamped by the sham assembly, the Security Council passed two resolutions to forestall the foreseeable` accession' by the puppet assembly. Security Council's Resolution No 9 of March 30, 1951 and confirmatory Resolution No 122 of March 24, 1957 outlaws accession or any other action to change status of the Jammu and Kashmir state.
`Accession instrument' is a myth, unregistered with the UN. Alastair Lamb, in his book Incomplete Partition (Chapter VI: The accession Crisis, pp. 149-151) points out that Mountbatten wanted India not to intervene militarily without first getting `instrument of accession' from maharajah Hari Singh. Not doing so would amount to `intervening in the internal affairs of what was to all intents and purposes an independent State in the throes of civil conflict'. But, India did not heed his advice. It marched its troops into Kashmir without maharajah's permission _ an act of aggression. Lamb says `timing of the alleged Instrument of Accession undoubtedly affected its legitimacy'(p.172, ibid). She adds `If in fact took place after the Indian intervention, then it could well be argued that it was either done under Indian duress or to regularise an Indian fait accompli'.
He argues that the maharajah was travelling by road to Jammu (a distance of over 350 km). How could he sign the instrument while being on the run for safety of his life? There is no evidence of any contact between him and the Indian emissaries on October 26, 1947. Actually, it was on October 27, 1947 that the maharajah was informed by MC Mahajan and VP Menon (who had flown into Srinagar) that an Instrument of Accession is being fabricated in New Delhi. Obviously, the maharajah could not have signed the instrument earlier than October 27, 1947. The instrument remains null and void, even if the maharajah had actually signed it. The reason, as pointed out by Alastair is that the `signatures' were obtained under coercion. Under law, any undertaking secured through coercion or duress is null and void. She points out Indian troops had already arrived at and secured Srinagar airfield during the middle of October 1947. On October 26, 1947, a further airlift of thousands of Indian troops to Kashmir took place. She questions: "Would the maharajah have signed the Instrument of Accession, had the Indian troops not been on Kashmiri soil?" Isn't it funny that, in the summer of 1995, the Indian authorities reported the original document as lost or stolen?
Lamb concludes (p. 191, ibid):`According to Wolpert, V. P. Menon returned to Delhi from Srinagar on the morning of 26 October with no signed Instrument of Accession. Only after the Indian troops had started landing at Srinagar airfield on the morning of 27 October did V. P. Menon and M. C. Mahajan set out from Delhi from Jammu. The Instrument of Accession, according to Wolpert, was only signed by Maharajah Sir Hari Singh after Indian troops had assumed control of the Jammu and Kashmir State's summer capital, Srinagar'.
It is time the Kashmiris woke up and grab the opportunity to correct their historical blunder. It is `Now or Never'. No more palliatives.
Conclusion: India is unqualified to become a permanent member of Security council as it has flouted international treaties. India is wedded to `might is right' (Noam Chomsky, Rogue States: The Rule of Force in World Affairs). It should be shunned as a rogue state and punished as a pariah states ( Tim Niblock, Pariah States and Sanctions in the Middle East).
Tripartite dialogue over Kashmir: Only Way out
Dr. Moeed Yusuf, Special Advisor to Prime Minister of Pakistan on National Security and Strategic Policy disclosed in an interview with senior Indian journalist, Karan Thapar (October 13, 2020) that India sent us a message for a desire to a conversation. He added that Pakistan stands for conversation that moves us forward. He however emphasized that there are three parties to the dispute, Pakistan, India and there is a principal party, called Kashmiris. The only thing that matters is the wishes of the people of Kashmir.
We whole heatedly welcome the articulation of Dr. Yusuf to include the Kashmiri leadership in the talks. The people of Kashmir will welcome any talks between India and Pakistan as long as the genuine leadership of the people of Jammu & Kashmir is the part of process of negotiations. They steadfastly maintain that tripartite talks are the only way to resolve the Kashmir issue that has dominated the South Asian region for over 73 years. They maintain this constructive position, despite the outrage caused and the indescribable suffering inflicted on them, by the barbarities of the Indian occupation forces.
The people of Kashmir want to emphasize that as the dispute involves three parties –Government of India, Government of Pakistan and the people of Kashmir who are the most directly affected – any attempt to strike a deal between two parties without the association of the third, will fail to yield a credible settlement. The contemporary history of South Asia is abundantly clear that bilateral efforts have never met with success. The agreement between India and pro-India Kashmiri leaders, like Sheikh Abdullah failed because they sought to bypass Pakistan. Similarly, the agreements between India and Pakistan, like Tashkent Declaration and Simla Agreement failed because they sought to by pass the Kashmiri leadership. All these attempts served only to prolong the dispute, leaving the basic issue unsettled and preserved the stalemate. Although the Simla Agreement of 1972 is irrelevant to the Kashmir dispute, yet it did visualize a 'final settlement', but failed for a concrete course of action toward determining Kashmir's status by the will of its people.
No longer can the mere holding of talks between India and Pakistan defuse the situation. It is a matter of record that during the 72 years history of dispute, India has merely used the façade of talks to evade settlement and ease internal or external pressure. In 1962, when India was facing grave difficulties because of war it had launched against China, it agreed to a round of ministerial talks only to delude two eminent emissaries sent by the United States and the Great Britain. The six seemingly serious sessions were simply exercise in futility. After the end of the 1965 war, when the Security council had committed itself to address the underlying cause of the India – Pakistan conflict – which was none other than the Kashmir dispute – Indian secured the support of its ally, the former Soviet Union and the tacit acquiescence of others to help consign the dispute to limbo as far as the United Nations was concerned. Today, India is again in confrontation with China on one side and with Pakistan on the other. We earnestly hope that the Indian Government's message to Pakistan 'for a desire to have a conversation' will not be one more step in that direction to sabotage the real intent of the talks through diversionary tactics.
Dr. Moeed Yusuf's approach is based on pragmatism when he said that there can be no progress in talks if they are not accompanied by practical measures, like:
i. To release all political prisoners; ii. Reverse military siege in Kashmir, iii. Pull back the Domicile Law that changes the demography of Kashmir; iv. End human rights violations; and v. Stop Indian state terrorism.
In the past, India has not desisted from its human rights violations while announcing its intent to talk. India has to be told in an understandable language that peace cannot be held, nor continued as long as terror reigns over Kashmir and India remains at war with Kashmiris.
The people of Kashmir believe that the conversion of Line of Control (LoC) into an international border is a non-solution. Such an idea is an insult to the intelligence of the people of Kashmir. They fought against status quo and as Dr. Moeed Yusuf said 'Line of Control is a problem and cannot become a solution.'
We hope that the Secretary General of the United Nations maintains and intensify his watch over the situation in Kashmir and not be lulled into the belief that India and Pakistan will initiate any meaningful dialogue over Kashmir unless there are some mediatory initiatives by an impartial third party. Third party could be the United Nations itself or a person of an international standing who could be delegated by the United Nations to bring all the three parties together.
The policy that aims at merely defusing the situation, whatever that may mean, and not encouraging a credible settlement has not paid in the past. It is likely to do even less now.