The threat to national security: Emergency clamped in Maldives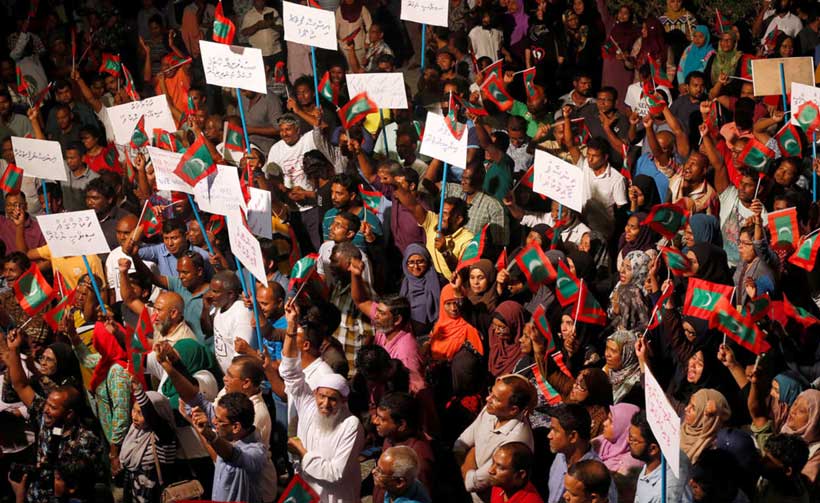 The president of the Maldives Abdulla Yameen's has declared a state of emergency, citing a threat to citizens' safety and national security, following widespread international condemnation and concerns about its impact on the country's crucial tourism industry, the government said. Maldives has declared State of Emergency for 30 days as per Article 253 of the Constitution citing threat to national security. The government said a curfew would not be imposed.
The state of emergency was limited to 30 days only and Abdulla Yameen's decree, which came into effect at midday local time (0700 GMT), suspends all basic rights and gives the security forces sweeping powers to arrest suspects before a major anti-government rally planned later this week. Seven articles of the constitution have been suspended, including those guaranteeing citizens of the Indian Ocean island nation the rights of assembly, free expression, freedom from arbitrary detention and freedom of movement.
Under the emergency regulations, police are allowed to enter and search homes without a warrant, and the rights to assemble peacefully and travel between the many islands of the archipelago nation were suspended. Soldiers in riot gear surrounded the parliament building in the capital Male on Sunday soon after the opposition petitioned parliament to remove the South Asian island's attorney-general and its chief prosecutor.
The Maldives has suffered acute political instability for several years, but a new cycle of chaos and unrest appears to be intensifying.  "President Yameen has declared state of emergency to ensure the safety and security of every citizen," his spokesman Muaz Ali tweeted. In a statement to the nation, Yameen, who took power in a contested election in 2013, said there were groups planning to use weapons and explosives.  "My beloved citizens, I assure you, that in enforcing this decree, the rights and freedoms stated in the constitution will only be restricted within the limits of … the constitution, and only to the extent strictly required by the situation," Yameen said.
The move comes at a time of heightened tensions following an explosion on Yameen's speedboat on 28 September that wounded his wife and two others. Yameen was unharmed in the blast, and the FBI has said there is no evidence it was caused by a bomb. But the authorities say it was an attempt on his life. Yameen arrested the vice-president, Ahmed Adeeb, on 24 October after accusing him of "high treason" and linking him to the boat blast.
Legal Affairs Minister Azima Shakoor made the emergency announcement on Monday on state television, and a statement attributed to President Abdulla Yameen was posted on the ministry of foreign affairs website. "The government of Maldives wishes to also assure all Maldivians and the international community that the safety of all Maldivians and foreigners living in and visiting the Maldives will be ensured," the statement said.
The Maldives National Defence Force (MNDF) said it had found a remote-controlled bomb near the president's official residence and safely defused it. Officials on Wednesday said several discoveries of arms and explosives had been made, though the whereabouts of other weapons and ammunition missing from state armouries remained unknown.
Further searches were under way on Wednesday evening, with local media reporting that at least one suspected explosive device had been found. "The purpose of today's announcement is to send a clear message. Those who seek to cause harm and unrest through violence – whether their aims are political, religious or otherwise – have no place in our country. We are a young, vibrant democracy and will do all we can to uphold those values," said Maumoon.
The Maldives plunged into political turmoil last week after the country's top court threw out a "terrorism" conviction against its former president Mohamed Nasheed, and ordered the release of other jailed opposition politicians. The ruling dealt a blow to Yameen with critics accusing him of corruption, misrule, and rights abuses. He denies the allegations. The government does not believe that the Supreme Court ruling to release the political prisoners can be enforced
The government declared the state emergency after refusing on Monday to implement a ruling that has led to a wave of protests in the capital, Malé, with angry clashes between police and demonstrators. The president, Abdulla Yameen, has responded by dispatching soldiers to surround the parliament building, preventing MPs from meeting. He also called a noisy rally of his supporters.
The main opposition Maldivian Democratic Party said declaring the state of emergency in the first place was political, designed to stop a rally planned for last Friday demanding the release of the party's leader, former President Mohamed Nasheed. "It appears that Yameen is willing to make up threats about the nation's security in order to settle political scores," the party said in a statement, referring to the president. "Yameen's increasingly erratic, paranoid and dangerous behavior is damaging the country and proves he is unfit to be president. He has failed and should step down."
The Supreme Court ordered Yameen on Thursday to free nine dissidents, ruling that their trials were politically motivated and flawed. The court also called on the president to reinstate opposition MPs. But the government refused to implement it and declared the emergency.
The Maldives Supreme Court has hit back at President Abdulla Yameen's refusal to free his jailed opponents amid an escalating crisis that saw security forces seal off the country's parliament and arrest two opposition lawmakers on Sunday.   Judges of the top court said there should be "no legal barrier" to releasing the nine people, including the island nation's exiled former president Mohamed Nasheed, whose terrorism and corruption convictions it overturned last week.
Their statement came after Attorney-General Mohamed Anil raised concerns about freeing people convicted of "terrorism, bomb attacks, corruption, embezzlement and fraud".
The top court's ruling last week has plunged the Maldives into political turmoil and dealt a major blow to Yameen, who critics accuse of corruption, misrule and rights abuses.
Yameen denies the allegations.
The sudden about face by the Supreme Court, which sided with Yameen in the past, and the widespread international support for its verdict puts unprecedented pressure on the president to free his opponents ahead of a presidential election later this year.
The government accused the Supreme Court of trying to oust the president, a claim judges did not respond to in their statement late on Sunday.
Earlier in the day, the attorney general, in a televised appearance flanked by the chiefs of the army and the police, said the government has received news of an imminent order by the Supreme Court to impeach Yameen. "I have informed all law enforcement agencies they must not obey such an illegal order," Mohamed Anil said.  Ahmed Shiyam, the army chief, said the security forces would follow the attorney-general's advice and "will not wait and watch as the Maldives descends into crisis".
The opposition called Anil's order to the security forces "unconstitutional, highly illegal, and dangerous" and petitioned parliament to oust Anil, as well as the country's chief prosecutor. Shortly afterwards, soldiers surrounded the parliament building and sealed it off.
The island nation emerged a decade ago from a long spell of 30 years of authoritarian rule under President Maumoon Abdul Gayoom. His successor Mohamed Nasheed, elected in 2008, presided over a brief flourishing of multiparty democracy before being controversially ousted five years later.
Since then Yameen has stifled dissent and imprisoned members of the opposition. Rights groups have accused Yameen of using new laws and criminal cases to silence critics and to neutralise his opponents.  On Monday the government made clear it had no intention of respecting the supreme court's decision. The legal affairs minister, Azima Shakoor, said the ruling was not enforceable, adding that there were numerous challenges to freeing prisoners.
Yameen's main rival, Nasheed, described events taking place in the country as "tantamount to a coup". He tweeted that Yameen should resign and said the security services "must uphold the constitution and serve the Maldivian people".
Nasheed is in Sri Lanka. He has been living in the UK since 2016 after being given asylum when he travelled there on medical leave from prison.
In addition to ordering the release of the political prisoners, the Supreme Court also reinstated 12 MPs who switched allegiance to the opposition. When they return, Yameen's Progressive Party of Maldives will lose its majority in the 85-member parliament, which could result in the legislative body functioning as a rival power to the president. On Friday Nasheed said he would mount a fresh challenge for the presidency this year. Nasheed was sentenced to 13 years in prison after he was convicted under Maldives' anti-terror laws. The trial that was widely condemned by international rights groups
Dunya Maumoon, the foreign minister, described the measures as "precautionary action by the government in light of several security threats that have emerged in the last week". "As a government we have a responsibility to our citizens to ensure they can go about their daily lives in peace and security. We are determined to root out a small minority who seem intent on causing damage to people and property," she said. On Wednesday the streets of Malé, the capital, were quiet, but soldiers had cordoned off water and power plants. Residents said raids were continuing.
The main opposition Maldivian Democratic Party (MDP), whose leader Mohamed Nasheed is in jail following his conviction earlier this year under anti-terror laws, has organised the protest. Nasheed left power in 2012 amid protests, forced out by what his supporters claim was a coup. Nasheed called on the international community to consider introducing sanctions against the current government. He also appealed to tourists travelling to the Maldives to reconsider their views on the popular holiday destination. "It is good and necessary to have a relaxing holiday but important they understand what is happening here too," he said.
The incarceration of Nasheed, who was convicted on charges of using the military to arrest a senior judge when in office, has been severely criticised by the UN and international rights groups.
The British high commissioner to Sri Lanka and the Maldives, James Dauris, said he was "most concerned by restrictions on fundamental rights and freedoms in the Maldives from today". Thoriq Hamid, from the NGO Transparency Maldives, said his organisation was "extremely … concerned that the situation has escalated to this point". The Australian government last week told its citizens to exercise a "high degree of caution" while travelling to Malé, "due to the possibility of civil unrest and the threat of terrorist attacks".
The MDP rally was aimed at pressuring Yameen to release Nasheed, the first democratically elected leader of the country and an internationally recognised climate change campaigner. Eva Abdulla, an MDP member of parliament, said the rally would proceed as planned. "We saw this coming. Everything has been leading up to this. This is the last straw – the only straw – left for Yameen. He has totally lost grip on governance. He doesn't have the public with him and any control is based on fear and intimidation," she said.
There are growing fears of Islamic extremism in the Maldives, fuelled in part by the political instability since the departure from power of autocratic ruler Maumoon Abdul Gayoom in 2008.The government has put him under house arrest. The government has warned media outlets their licences will be suspended "if broadcasts threaten national security".
The justification for the state of emergency on the basis of a security threat could be dangerous, Abdulla, the MDP parliamentarian, said. "My worry is we are a hotbed for jihadi recruitment at the moment so to use this to get at political opponents is irresponsible in the extreme. They could be turning a blind eye to the real problem and endangering us all as a result."
Junayd Mohamed, a journalist with the Maldives Independent, told Al Jazeera he also heard reports that riot police and military officials were inside the court. He said they set up barricades to block off the area, but protesters were rallying outside.  "Hundreds of people [are] gathered outside who are calling on the security forces to arrest President Yameen and protect the Supreme Court," Mohamed said.
Opposition members of parliament urged foreign intervention after the government ignored the Supreme Court ruling. The opposition now has a majority in the 85-member house as the court ruling also reinstated 12 members of parliament who were stripped of their seats last year. But two of the 12 were arrested at the airport on Sunday, shortly after they returned to the Maldives after spending months in exile.
In a resolution signed in the capital Male on Sunday, opposition MPs called on the international community "to impress upon the government of Maldives the need to respect the rule of law, and implement last Thursday's Supreme Court ruling that ordered the release of political leaders and the reinstatement of 12 opposition MPs".  They also called for "all necessary measures … to hold government officials accountable for violations of national and international law".  Tensions "could escalate to civil unrest and incite violence across the country", they warned.
The United Nations, European Union, and several foreign governments – including India, the USA and UK – have urged Yameen to comply with the Supreme Court's order.   The government has accused the court of trying to oust the president, a claim judges have not responded to. The United States urged government restraint on Monday. "The Maldivian government and military must respect the rule of law, freedom of expression, and democratic institutions. The world is watching," the White House National Security Council said in a Twitter post.
Rights group Amnesty International denounced the government's "appalling track-record of suppressing freedom of expression and any form of opposition". "This emergency cannot become a licence for further repression," Omar Waraich, the group's deputy South Asia director, said on Twitter.
The opposition now has a majority in the 85-member house as the Supreme Court ruling also reinstated 12 members of parliament who were stripped of their seats last year. But two of the 12 were arrested at the airport on Sunday, shortly after they returned to the Maldives after spending months in exile. Abdulla Sinan and Ilham Ahmed were detained on charges of bribery, a police spokesman told Al Jazeera.
Ibrahim Mohamed Solih, an opposition parliamentarian, condemned their arrest in a statement.  "We call on the police to release the MPs immediately, and to stop following unlawful orders, to stop obstructing the lawful mandate of parliamentarians," Solih said.  "In a desperate attempt to cling onto power, President Yameen has illegally overrun the state. His attorney-general has illegally assumed the powers of the apex court, while the military has overrun the legislature," he added.
On Sunday night, hundreds of flag-waving opposition supporters took to the streets of the capital Male calling on the government to abide by the court ruling.
Meanwhile, the official who heads the parliament's secretariat resigned after the speaker, a Yameen ally, cancelled the opening of the parliament, scheduled for Tuesday, over unspecified "security concerns".  "I have stepped down," Ahmed Mohamed told Al Jazeera on Sunday, without offering further details. The heads of the Maldives' main high-security prison and the elections commission have also quit in recent days.
Nasheed, speaking to a private television channel from neighbouring Sri Lanka on Sunday, called for protests and urged rank-and-file members of the security forces to arrest the attorney-general as well as the chiefs of the army and police.
Observation
Maldives is a tourist's paradise. It is not clear how much of an impact the state of emergency has had on the tourism industry in the Maldives, which is best known for its luxury tourist resorts.
The US State Department on Tuesday also welcomed the lifting of the state of emergency. Washington had been critical of its imposition, and has called for an end to politically motivated prosecutions and detentions.
Known for its luxury tourist resorts, Maldives has suffered from weak government institutions and a divided political system dominated. Yameen is the half-brother of Gayoom. The former president is now a vocal critic of Yameen. Over the weekend, Gayoom tweeted: "A band of thugs armed with knives drove by my residence several times after midnight last night shouting abuse at the top of their voice." He added: "I wonder who would have sent these unruly thugs?"
The Maldives has had a difficult transition to democracy since holding its first multiparty election in 2008. The state of emergency has been declared in Maldives amid a deepening political crisis sparked by a Supreme Court ruling that called for the release of imprisoned opposition politicians.
President Yameen has been in office since 2013. He had been set to run for re-election this year almost unopposed, with all of his opponents either jailed or exiled. Lawmakers voted Vice President Ahmed Adeeb out of office using the regulations. Authorities suspect that Adeeb was behind the alleged attempts on Gayoom's life, and he has been arrested and detained. Gayoom was not hurt in the September 28 blast aboard his boat, but his wife, an aide and a bodyguard was injured.
The Maldives' economy has faltered in recent years and the country suffers from overcrowding, high unemployment rates and substance abuse. The declaration of a state of emergency comes amid a bitter power struggle between the president and Adeeb, with factions within the police and army supporting different political players. The dispute has weakened the government at a time of growing popular anger over the continuing detention of Nasheed and economic problems.
Police has started investigations into Supreme Court judges and officials since the ruling, and have said that they now plan to question Gayoom in a separate case. On Monday, the health minister, Hussain Rasheed Ahmed, quit in protest against the government's attitude towards its highest court.
The continuing political instability in the Maldives is likely to damage its vital tourist trade, a key employer and earner of foreign exchange. Every year more than a million tourists visit the Maldives, an almost exclusively Sunni Muslim nation composed of 1,192 small coral islands, with a population of 340,000.
White sandy beaches, turquoise waters, shallow lagoons and secluded islets draw holidaymakers from all over the developed world as well as celebrities seeking privacy. Officials said there was no threat to resort security and the Maldives remained a safe destination for international visitors.
India's Stance on the USA-China Cold War
Amidst the USA and China's tussle encompassing trade war and COVID-19 blame game, India and the other Asian countries consequently have to sustain the damage. It is manifest by India's current strategies that it is all set to establish alliances with the West which is contrasting to its past reaction of staying neutral.
The country took the neutral path in 1961 when the then Prime Minister Jawaharlal Nehru signed the Non-Alignment Movement. It continued to foster its cordial ties with both the power blocks – USA and Soviet Union, presently Russia. For many decades it has managed to balance its relations with major powers of the world. India had conceived the notion that it wasn't the right time to crush between other's agendas and it found the conflict-ridden situation lucrative for itself which was discernible from the support gained from the USA and allies as well as China and Russia. However today's world scenario demands for the nation to take a stand. China, India's neighbour, is exhibiting fast and aggressive growth. It is hostile in doing so and is manoeuvring to change the world order while expanding its territories and its imperialism. India and other countries are at threat and thus must act together to curb its rigorous policies.
China's Escalating Pressure on the Asian Countries
China has been persistently exerting military pressure on many Asian countries including India. The Galwan Valley standoff which emerged on May 5 managed to take a violent turn on June 15 when 20 Indian soldiers died in the scuffle. Since then there have been several diplomatic talks between the two opponents but all in vain so far because the troops disengaged marginally. China's hostility nevertheless is not only restrained to India, it extends to other Asian nations – Vietnam, Malaysia, the Philippines, Taiwan and Japan.
Foreign Ministry of Vietnam claimed one of their fishing boats was ambushed on April 2 by two Chinese ships close to the Paracel Islands which China claims of its own. On April 14, Haiyang Dizhi ship was spotted in Vietnam's Exclusive Economic Zone according to Marine Traffic's report. Haiyang is the same ship that was recruited to explore Vietnam's oil-laden parts of the sea. The tension between Beijing and Hanoi are on rise ever since in the South China Sea.
Malaysia faced China's wrath on April 16 when Haiyang Dizhi 8 survey ship, flanked by more than 10 armed China Coast Guard and maritime militia vessels, commenced shadowing a drillship, West Capella, contracted by Malaysian oil firm Petronas to comb for oil off the coast. This Chinese action engendered reaction from the USA as it sent its warships to the area.
The Philippine Foreign Secretary Locsin informed that a "radar gun" was pointed at a Philippine navy ship off Commodore Reef in the Spratlys in the month of February. This radar aims weapons on a target prior to an actual attack. He added these actions were both violations of international law and the country's sovereignty.
A worrisome event that jolted Taiwan was intrusion of Chinese bomber and fighter planes in its air defence identification zone, not once but eight times in the past two weeks. The country became wary immediately and has deployed its patrolling jets to chase away Chinese's. Taiwan and China's clash dates long back when Taiwan acquired its de facto independence from China but with the current inclement international relations climate China bas been subjugating the neighouring country evermore.
Ishigaki in Okinawa, Japan has passed the bill to rename Senkakus island chain which is a disputed area between Japan and China. In April, Japan kept silent but worriedly watched Chinese aircraft carrier Liaoning along with its strike group making the first trip through Miyako Strait.
Above listed incidents are some of the very recent ones. China has bolstered and showcased its military, air force and navy prowess in the Asian region to allegedly divert world's attention from the pressing demand of pandemic's investigation. The USA and China have meshed their horns in this indefinite brawl but the countries in Asia have to pay its price. India has leaped towards the West in its reaction to the Chinese blitzes.
India's Alliance-Build Up with the West
USA and allies have yearned for India's partnership in their collaborative efforts to mitigate China's expansionist conducts. For many years India had played neutral in their conflicts but only recently it has started taking side. The Western powers want India's involvement because it is the world's largest democracy countering the largest autocracy and because of its proximity to the Dragon.
With China encountering allegations over the pandemic, India has taken steps that have filled West with the confidence that their goal is near to completion. The friction between India and China has swayed the Elephant into discreetly shaking hands with the Western allies. This push has led to various deals and alliance-build up between the two.
India-Australia defence deal signed on June 4 allowed them to nurture a comprehensive strategic partnership. This deal meant access to each other's military bases that will bolster their military exercises and exchanges in the Indo-Pacific region. This will also pave way for Australia's comeback to the Malabar series of naval war-game and thus succour its involvement in the Quad.
India-USA too have deepened their defence cooperation. On November 26, India and the USA carried their first sea, land and air exercises, Tiger Triumph, which was inline with the 2018 pact between the two that bestowed them to share sensitive information and strengthen their military partnership to counter China's growing maritime influence in Asia. In February this year, Donald Trump announced they would ink a $3 billion arms deal in the near future. Both the nation's commitment is conspicuous from their cooperative military exercises and deals to deter the Chinese malign activities. Siemon T. Wezemen, Senior Researcher at the Stockholm International Peace Research Institute stated, "India is now at that level where it's basically like a NATO partner even if there's no alliance."
India-France too enjoy collaborative defence undertakings. In February, India-France joint patrol was conducted from the Reunion Island. For this venture P-81 was deployed with a French Navy personnel on board. Furthermore 36 Rafael fighter jets will be delivered to India soon. It is obvious that India-France's military-to-military engagement and defence deals have shown an upsurge.
India has recently secured the chance to play a central role during the pandemic as Dr. Harsh Vardhan took the seat of WHO's Executive Board Chairman in May. In addition, India has bagged the support of 184 nations for United Nations Security Council's non-permanent chair.
From May 3-9, India joined the USA, Japan and the Philippines in the South China Sea which trumpeted its warning to China. Donald Trump has proposed to expand G-7 by giving membership to India, Russia, Australia and South Korea. It is an attempt to unite allies against China. The Dragon is not the member of this alliance even though it has the world's largest population and is the second largest economy. Russia being an ally of China has shown interest in membership but also called it biased. Russian Deputy Foreign Minister Sergei Ryabkov said, "I believe that the G7 as presented by the American side reflects a somewhat one-sided view of problems, if only because China is not among those invited to that group." It is gauged that the West is trying to manufacture new alliances to sideline China.
With a similar motive, D-10 got proposed by Boris Johnson, he conveyed his wish for India's membership to discourage 5G Huwawei Company's expansion. This alliance would be exclusively of 10 democratic member countries to engineer an alternative source of 5G technology as they suspect China's 5G dubious and involved in cyber-espionage. Additionally, there is prospective revival of the Quad which is generally compared as the North Atlantic Treaty Organisation (NATO) of Asia that will counteract China in the South China Sea.
From the above discussion the deduction is that India is sailing with the West. The Elephant is eager to build stronger relations with them to get assistance to deal with China. However, China has been sensitive about India's growing ties with the West, particularly with the USA.
Conclusion
India's stride towards tying friendship knot with the West has become a reality. Its aim of securing larger profile in the international organisations has moved a step forward. India's stand on the Cold War between the USA and China is noticed and realised by the world. More multilateral ties await India, but India must stay wary of others agendas and safeguard its own interests in signing off various deals and accepting membership of alliances.
Pakistan's endorsement of Osama Bin Laden may harm relations with Beijing
A cricket star turned politician, Imran Khan, called Taliban a terrorist group in UpFront on Al Jazeera in 2016. Answering Mehdi Hassan's quick question "Do you consider Taliban to be a terrorist group", he answered in an assuring manner that "Yes, Yes, Yes, Yes, Yes, they are. Anyone who kills innocent people is a terrorist." In an interview to Fox News, he said "And yet it was ISI that gave the information which led to the location of Osama bin Laden. If you ask CIA it was ISI which gave the initial location through the phone connection." Imran Khan changed his stance now and considers Osama Bin Laden to have died for a noble cause – a cause that is considered terrorism in the civilized world.
Recently, in the National Assembly session, he made a controversial speech in which he explicitly called Osama Bin Laden a martyr who was killed by the Americans. While the extremist segments in Pakistan may welcome the gesture of Imran Khan, Beijing will certainly see it as a potential threat even if the Prime Minister takes his words back for it was not a slip of tongue but the gesture showcases an ideology. A confused response to the most important issue pertaining to stability in Pakistan by the national leadership sends signals of mistrust to Beijing. To Beijing, stability matters the most.
China is a prisoner of its geography. The China-Afghanistan border was enacted as a result of the 1895 agreement between Russia and England – a deal involving neither the Afghans nor the Chinese. The thin strip that separates Pakistan from Tajikistan meets with Xinjiang. The western region of China lacks development and Beijing views the activities in Xinjiang autonomous province with keen eyes. China is blamed to disrespect human rights there in re-education camps. The separatist group East Turkestan Islamic Movement (ETIM) is frowned upon by the Han Chinese. Andrew Small writes in his book "The China Pakistan Axis" that a leaked Chinese government document in 1998 listed Uighur independence movements as the main threat to the stability of the Chinese state." With Xinjiang having border with eight countries including Afghanistan and Pakistan, any religious instability that can destabilize China enrages Beijing.
The extremist segments in Pakistan are accused of having links with Xinjiang's internal instability, though at a limited scale. During the Operation Silence at the Red Mosque of Pakistan in 2007, twelve Uighars were killed. This operation was launched because the Red Mosque students, considering themselves as the ultimate custodians of Islam, took the responsibility to impose a self-hypothesized version of sharia in Islamabad and abducted Chinese women accusing them to spread vulgarity. As a consequence of that operation in which the Jihadi proponent Abdul Rashid Ghazi was killed, Tehreek Taliban Pakistan (TTP) was formed. Pakistan had to bear a huge cost protecting the lives of Chinese from religious extremists. The damages done by TTP are hitherto unseen in Pakistan's history.
Pakistan has always enjoyed the support of China with the only exception of the former's sympathy toward the religious militancy. The abduction of Chinese workers and engineers from Pakistan over the course of time had given sleepless nights to many in Beijing. When the ideology of sympathizing with terrorists revive, it gives setbacks to peace efforts by the civilian and military leadership to curtail terrorism in the war against terrorism in which seventy thousand lives have been lost in Pakistan. The opposition lambastes PM Imran Khan for his callous statement of applauding Bin Laden. Trivializing a highly sensitive issue puts question mark on the role of Pakistan's intelligence agencies in countering terrorism. China looks forward to a perpetual peace that Pakistan officially claims to achieve by combatting terrorism.
For China, "it's the economy stupid". To drive the economy, China looks forward to stability. Zhu Rongji, the then premier of China, advised Pakistan's president General Musharaf in 2001, "Investors are like pigeons, when a government frightens them with poor decisions, they all fly off together". China needs a stable Pakistan and a stable Afghanistan to rise peacefully. It aims to complete the Belt and Road project by 2049 – celebrating 100 years of creation of the People's Republic of China. The China Pakistan Economic Corridor (CPEC) is its flagship project. Pakistan relies heavily on CPEC for economic growth. It is equally important for both the states. With the revival of fresh air of militant ideology, a single spark can start a prairie fire in Sino-Pak relations. Pakistan needs to think twice before appeasing extremists for it can lose the only friend in the region.
India Playing Double Game
India is playing the double game smartly. On the one hand, India is projecting that his soldiers were killed by China and occupied its territory in the Ladakh region. Nepal has issued a new Map and included Indian occupied territories. And China is at the back of Nepal for all its actions against India. Bhutan has cut-off water entering India, and again it is due to Chinese back. Bangladesh disputes are also linked to China. Confrontation with Pakistan is also backed by China. Myanmar is creating problems with India due to China. Sri Lanka and the Maldives are also against India due to China.
India wanted to prove that China is aggressive and increasing its influence in the region to victimize India. India is a victim of China and needs support from the international community, especially from the US, EU, and anti-China block. India is playing over-smart, and Indian media is over-engaged in spreading anti-China sentiments.
However, it is India, who is the aggressor and cause of instability and epic center of all evils in the whole region. Indian philosophy of "Greater India," which includes all states in the region of Arabian Pennisula to Australia, including Indonesia, Malaysia, and New Zealand. India is progressing its agenda silently and occupying its neighboring states.
India has illegally annexed: Travancore, Jodhpur, Bhopal, Hyderabad, Junagadh, Jammu and Kashmir, Ladakh, Naga Land, Sikkim, Juna Garh, etc. India is illegally occupying Nepali territories, West Bengal from Bangladesh, some areas of Myanmar, Pakistan, and China.
India has almost colonized Bhutan, a land lock small country in the Himalayan region. Nepal was coerced and penalized in the form of sanctions and cut-off supplies of basic necessities of life like food, fuel, medicine, electricity, etc., during the worst hit-disaster times.
The recent increase in terrorist attacks in Pakistan is also linked with India; there is sufficient evidence. As a matter of fact, India has no capacity to confront its neighbors directly, so it is involved in terrorism. Indian notorious Intelligence agency "RAW" is involved in cross border terrorism, espionage, and insurgencies.
Pakistan is a very liberal, democratic and open society. Pakistan enjoys the highest degree of freedom of expression. It is very convenient for India to penetrate into our community and conduct any terrorist activities. Corruption is also one aspect in Pakistan, facilitating India for terrorism. Some Indian agents in Pakistan are posing Pakistani citizenship cards (CNICs) or Passports, as a corrupt official issue them against hefty bribes.
Furthermore, just like any other free country, there are disgruntle Pakistanis or destitute Pakistanis, identified by Indian Intelligence Agency, picked and chosen for terrorism. They are brainwashed, trained, armed, funded, and exploited against Pakistan. Many international intelligence agencies are operating in Pakistan, some of them are cooperating with India too.
The sudden increase of terrorism activities in Karachi and Balochistan are witnessed, and it is feared that India might assassinate high profile political leaders in Pakistan to destabilize Pakistan. Indian evil-design and over-ambitions must be checked before irrecoverable damage is caused to Pakistan.
India is also trying to revive its relations with Russia. India was a partner with the former USSR in the era of the cold war era but turned its face in 1991 at the time of transformation of the USSR to the Russian Federation. India was of the opinion that Russia can not revive and has become impotent, can not help India anymore. Then, India hired politicians, Senators, Congresswomen in the US for lobbying. As a result of intensive marketing, finally, India joined the American Club and prevailed benefits from all Western World. The Recent attempts to come close to Russia is also a double game, on the one hand trying to gain sympathies from Russia and, on the other hand, sending a signal that if Western World does not extend undue help to India, it might be slipped to Russian block again.
As a matter of fact, Indian is an opportunist nation. It milked USSR in the 1950s, 1960s, 1970s, and 1980s and got benefits as much as possible, as long as possible. When Russia was no more beneficial for India, it turned its face toward America and the Western World. Today India is the largest beneficiary of American help after Israel.
India is not sincere with any other country in the World and just taping the opportunity to milk as much as possible and as long as possible. But India has been exposed already, and the World has seen the real face of India. Indian propaganda to show itself as a victim, to gain world sympathies is no longer accepted by the World. India is the aggressor and carries evil designs and epic-center of all evils for the regions as well as globally.