The threat to national security: Emergency clamped in Maldives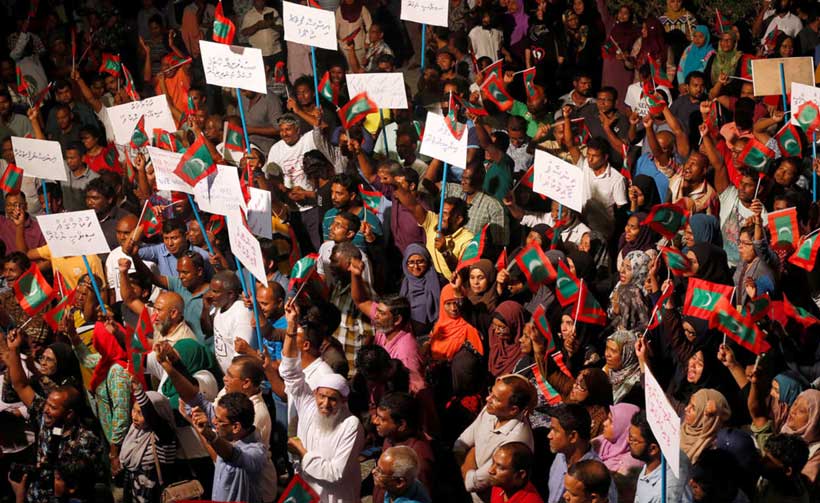 The president of the Maldives Abdulla Yameen's has declared a state of emergency, citing a threat to citizens' safety and national security, following widespread international condemnation and concerns about its impact on the country's crucial tourism industry, the government said. Maldives has declared State of Emergency for 30 days as per Article 253 of the Constitution citing threat to national security. The government said a curfew would not be imposed.
The state of emergency was limited to 30 days only and Abdulla Yameen's decree, which came into effect at midday local time (0700 GMT), suspends all basic rights and gives the security forces sweeping powers to arrest suspects before a major anti-government rally planned later this week. Seven articles of the constitution have been suspended, including those guaranteeing citizens of the Indian Ocean island nation the rights of assembly, free expression, freedom from arbitrary detention and freedom of movement.
Under the emergency regulations, police are allowed to enter and search homes without a warrant, and the rights to assemble peacefully and travel between the many islands of the archipelago nation were suspended. Soldiers in riot gear surrounded the parliament building in the capital Male on Sunday soon after the opposition petitioned parliament to remove the South Asian island's attorney-general and its chief prosecutor.
The Maldives has suffered acute political instability for several years, but a new cycle of chaos and unrest appears to be intensifying.  "President Yameen has declared state of emergency to ensure the safety and security of every citizen," his spokesman Muaz Ali tweeted. In a statement to the nation, Yameen, who took power in a contested election in 2013, said there were groups planning to use weapons and explosives.  "My beloved citizens, I assure you, that in enforcing this decree, the rights and freedoms stated in the constitution will only be restricted within the limits of … the constitution, and only to the extent strictly required by the situation," Yameen said.
The move comes at a time of heightened tensions following an explosion on Yameen's speedboat on 28 September that wounded his wife and two others. Yameen was unharmed in the blast, and the FBI has said there is no evidence it was caused by a bomb. But the authorities say it was an attempt on his life. Yameen arrested the vice-president, Ahmed Adeeb, on 24 October after accusing him of "high treason" and linking him to the boat blast.
Legal Affairs Minister Azima Shakoor made the emergency announcement on Monday on state television, and a statement attributed to President Abdulla Yameen was posted on the ministry of foreign affairs website. "The government of Maldives wishes to also assure all Maldivians and the international community that the safety of all Maldivians and foreigners living in and visiting the Maldives will be ensured," the statement said.
The Maldives National Defence Force (MNDF) said it had found a remote-controlled bomb near the president's official residence and safely defused it. Officials on Wednesday said several discoveries of arms and explosives had been made, though the whereabouts of other weapons and ammunition missing from state armouries remained unknown.
Further searches were under way on Wednesday evening, with local media reporting that at least one suspected explosive device had been found. "The purpose of today's announcement is to send a clear message. Those who seek to cause harm and unrest through violence – whether their aims are political, religious or otherwise – have no place in our country. We are a young, vibrant democracy and will do all we can to uphold those values," said Maumoon.
The Maldives plunged into political turmoil last week after the country's top court threw out a "terrorism" conviction against its former president Mohamed Nasheed, and ordered the release of other jailed opposition politicians. The ruling dealt a blow to Yameen with critics accusing him of corruption, misrule, and rights abuses. He denies the allegations. The government does not believe that the Supreme Court ruling to release the political prisoners can be enforced
The government declared the state emergency after refusing on Monday to implement a ruling that has led to a wave of protests in the capital, Malé, with angry clashes between police and demonstrators. The president, Abdulla Yameen, has responded by dispatching soldiers to surround the parliament building, preventing MPs from meeting. He also called a noisy rally of his supporters.
The main opposition Maldivian Democratic Party said declaring the state of emergency in the first place was political, designed to stop a rally planned for last Friday demanding the release of the party's leader, former President Mohamed Nasheed. "It appears that Yameen is willing to make up threats about the nation's security in order to settle political scores," the party said in a statement, referring to the president. "Yameen's increasingly erratic, paranoid and dangerous behavior is damaging the country and proves he is unfit to be president. He has failed and should step down."
The Supreme Court ordered Yameen on Thursday to free nine dissidents, ruling that their trials were politically motivated and flawed. The court also called on the president to reinstate opposition MPs. But the government refused to implement it and declared the emergency.
The Maldives Supreme Court has hit back at President Abdulla Yameen's refusal to free his jailed opponents amid an escalating crisis that saw security forces seal off the country's parliament and arrest two opposition lawmakers on Sunday.   Judges of the top court said there should be "no legal barrier" to releasing the nine people, including the island nation's exiled former president Mohamed Nasheed, whose terrorism and corruption convictions it overturned last week.
Their statement came after Attorney-General Mohamed Anil raised concerns about freeing people convicted of "terrorism, bomb attacks, corruption, embezzlement and fraud".
The top court's ruling last week has plunged the Maldives into political turmoil and dealt a major blow to Yameen, who critics accuse of corruption, misrule and rights abuses.
Yameen denies the allegations.
The sudden about face by the Supreme Court, which sided with Yameen in the past, and the widespread international support for its verdict puts unprecedented pressure on the president to free his opponents ahead of a presidential election later this year.
The government accused the Supreme Court of trying to oust the president, a claim judges did not respond to in their statement late on Sunday.
Earlier in the day, the attorney general, in a televised appearance flanked by the chiefs of the army and the police, said the government has received news of an imminent order by the Supreme Court to impeach Yameen. "I have informed all law enforcement agencies they must not obey such an illegal order," Mohamed Anil said.  Ahmed Shiyam, the army chief, said the security forces would follow the attorney-general's advice and "will not wait and watch as the Maldives descends into crisis".
The opposition called Anil's order to the security forces "unconstitutional, highly illegal, and dangerous" and petitioned parliament to oust Anil, as well as the country's chief prosecutor. Shortly afterwards, soldiers surrounded the parliament building and sealed it off.
The island nation emerged a decade ago from a long spell of 30 years of authoritarian rule under President Maumoon Abdul Gayoom. His successor Mohamed Nasheed, elected in 2008, presided over a brief flourishing of multiparty democracy before being controversially ousted five years later.
Since then Yameen has stifled dissent and imprisoned members of the opposition. Rights groups have accused Yameen of using new laws and criminal cases to silence critics and to neutralise his opponents.  On Monday the government made clear it had no intention of respecting the supreme court's decision. The legal affairs minister, Azima Shakoor, said the ruling was not enforceable, adding that there were numerous challenges to freeing prisoners.
Yameen's main rival, Nasheed, described events taking place in the country as "tantamount to a coup". He tweeted that Yameen should resign and said the security services "must uphold the constitution and serve the Maldivian people".
Nasheed is in Sri Lanka. He has been living in the UK since 2016 after being given asylum when he travelled there on medical leave from prison.
In addition to ordering the release of the political prisoners, the Supreme Court also reinstated 12 MPs who switched allegiance to the opposition. When they return, Yameen's Progressive Party of Maldives will lose its majority in the 85-member parliament, which could result in the legislative body functioning as a rival power to the president. On Friday Nasheed said he would mount a fresh challenge for the presidency this year. Nasheed was sentenced to 13 years in prison after he was convicted under Maldives' anti-terror laws. The trial that was widely condemned by international rights groups
Dunya Maumoon, the foreign minister, described the measures as "precautionary action by the government in light of several security threats that have emerged in the last week". "As a government we have a responsibility to our citizens to ensure they can go about their daily lives in peace and security. We are determined to root out a small minority who seem intent on causing damage to people and property," she said. On Wednesday the streets of Malé, the capital, were quiet, but soldiers had cordoned off water and power plants. Residents said raids were continuing.
The main opposition Maldivian Democratic Party (MDP), whose leader Mohamed Nasheed is in jail following his conviction earlier this year under anti-terror laws, has organised the protest. Nasheed left power in 2012 amid protests, forced out by what his supporters claim was a coup. Nasheed called on the international community to consider introducing sanctions against the current government. He also appealed to tourists travelling to the Maldives to reconsider their views on the popular holiday destination. "It is good and necessary to have a relaxing holiday but important they understand what is happening here too," he said.
The incarceration of Nasheed, who was convicted on charges of using the military to arrest a senior judge when in office, has been severely criticised by the UN and international rights groups.
The British high commissioner to Sri Lanka and the Maldives, James Dauris, said he was "most concerned by restrictions on fundamental rights and freedoms in the Maldives from today". Thoriq Hamid, from the NGO Transparency Maldives, said his organisation was "extremely … concerned that the situation has escalated to this point". The Australian government last week told its citizens to exercise a "high degree of caution" while travelling to Malé, "due to the possibility of civil unrest and the threat of terrorist attacks".
The MDP rally was aimed at pressuring Yameen to release Nasheed, the first democratically elected leader of the country and an internationally recognised climate change campaigner. Eva Abdulla, an MDP member of parliament, said the rally would proceed as planned. "We saw this coming. Everything has been leading up to this. This is the last straw – the only straw – left for Yameen. He has totally lost grip on governance. He doesn't have the public with him and any control is based on fear and intimidation," she said.
There are growing fears of Islamic extremism in the Maldives, fuelled in part by the political instability since the departure from power of autocratic ruler Maumoon Abdul Gayoom in 2008.The government has put him under house arrest. The government has warned media outlets their licences will be suspended "if broadcasts threaten national security".
The justification for the state of emergency on the basis of a security threat could be dangerous, Abdulla, the MDP parliamentarian, said. "My worry is we are a hotbed for jihadi recruitment at the moment so to use this to get at political opponents is irresponsible in the extreme. They could be turning a blind eye to the real problem and endangering us all as a result."
Junayd Mohamed, a journalist with the Maldives Independent, told Al Jazeera he also heard reports that riot police and military officials were inside the court. He said they set up barricades to block off the area, but protesters were rallying outside.  "Hundreds of people [are] gathered outside who are calling on the security forces to arrest President Yameen and protect the Supreme Court," Mohamed said.
Opposition members of parliament urged foreign intervention after the government ignored the Supreme Court ruling. The opposition now has a majority in the 85-member house as the court ruling also reinstated 12 members of parliament who were stripped of their seats last year. But two of the 12 were arrested at the airport on Sunday, shortly after they returned to the Maldives after spending months in exile.
In a resolution signed in the capital Male on Sunday, opposition MPs called on the international community "to impress upon the government of Maldives the need to respect the rule of law, and implement last Thursday's Supreme Court ruling that ordered the release of political leaders and the reinstatement of 12 opposition MPs".  They also called for "all necessary measures … to hold government officials accountable for violations of national and international law".  Tensions "could escalate to civil unrest and incite violence across the country", they warned.
The United Nations, European Union, and several foreign governments – including India, the USA and UK – have urged Yameen to comply with the Supreme Court's order.   The government has accused the court of trying to oust the president, a claim judges have not responded to. The United States urged government restraint on Monday. "The Maldivian government and military must respect the rule of law, freedom of expression, and democratic institutions. The world is watching," the White House National Security Council said in a Twitter post.
Rights group Amnesty International denounced the government's "appalling track-record of suppressing freedom of expression and any form of opposition". "This emergency cannot become a licence for further repression," Omar Waraich, the group's deputy South Asia director, said on Twitter.
The opposition now has a majority in the 85-member house as the Supreme Court ruling also reinstated 12 members of parliament who were stripped of their seats last year. But two of the 12 were arrested at the airport on Sunday, shortly after they returned to the Maldives after spending months in exile. Abdulla Sinan and Ilham Ahmed were detained on charges of bribery, a police spokesman told Al Jazeera.
Ibrahim Mohamed Solih, an opposition parliamentarian, condemned their arrest in a statement.  "We call on the police to release the MPs immediately, and to stop following unlawful orders, to stop obstructing the lawful mandate of parliamentarians," Solih said.  "In a desperate attempt to cling onto power, President Yameen has illegally overrun the state. His attorney-general has illegally assumed the powers of the apex court, while the military has overrun the legislature," he added.
On Sunday night, hundreds of flag-waving opposition supporters took to the streets of the capital Male calling on the government to abide by the court ruling.
Meanwhile, the official who heads the parliament's secretariat resigned after the speaker, a Yameen ally, cancelled the opening of the parliament, scheduled for Tuesday, over unspecified "security concerns".  "I have stepped down," Ahmed Mohamed told Al Jazeera on Sunday, without offering further details. The heads of the Maldives' main high-security prison and the elections commission have also quit in recent days.
Nasheed, speaking to a private television channel from neighbouring Sri Lanka on Sunday, called for protests and urged rank-and-file members of the security forces to arrest the attorney-general as well as the chiefs of the army and police.
Observation
Maldives is a tourist's paradise. It is not clear how much of an impact the state of emergency has had on the tourism industry in the Maldives, which is best known for its luxury tourist resorts.
The US State Department on Tuesday also welcomed the lifting of the state of emergency. Washington had been critical of its imposition, and has called for an end to politically motivated prosecutions and detentions.
Known for its luxury tourist resorts, Maldives has suffered from weak government institutions and a divided political system dominated. Yameen is the half-brother of Gayoom. The former president is now a vocal critic of Yameen. Over the weekend, Gayoom tweeted: "A band of thugs armed with knives drove by my residence several times after midnight last night shouting abuse at the top of their voice." He added: "I wonder who would have sent these unruly thugs?"
The Maldives has had a difficult transition to democracy since holding its first multiparty election in 2008. The state of emergency has been declared in Maldives amid a deepening political crisis sparked by a Supreme Court ruling that called for the release of imprisoned opposition politicians.
President Yameen has been in office since 2013. He had been set to run for re-election this year almost unopposed, with all of his opponents either jailed or exiled. Lawmakers voted Vice President Ahmed Adeeb out of office using the regulations. Authorities suspect that Adeeb was behind the alleged attempts on Gayoom's life, and he has been arrested and detained. Gayoom was not hurt in the September 28 blast aboard his boat, but his wife, an aide and a bodyguard was injured.
The Maldives' economy has faltered in recent years and the country suffers from overcrowding, high unemployment rates and substance abuse. The declaration of a state of emergency comes amid a bitter power struggle between the president and Adeeb, with factions within the police and army supporting different political players. The dispute has weakened the government at a time of growing popular anger over the continuing detention of Nasheed and economic problems.
Police has started investigations into Supreme Court judges and officials since the ruling, and have said that they now plan to question Gayoom in a separate case. On Monday, the health minister, Hussain Rasheed Ahmed, quit in protest against the government's attitude towards its highest court.
The continuing political instability in the Maldives is likely to damage its vital tourist trade, a key employer and earner of foreign exchange. Every year more than a million tourists visit the Maldives, an almost exclusively Sunni Muslim nation composed of 1,192 small coral islands, with a population of 340,000.
White sandy beaches, turquoise waters, shallow lagoons and secluded islets draw holidaymakers from all over the developed world as well as celebrities seeking privacy. Officials said there was no threat to resort security and the Maldives remained a safe destination for international visitors.
Who pulls the strings of the government of India?
While talking to a Cornell college professor, Rahul Gandhi lamented (March 2, 2021) that the RSS was making use of its educational institutions to propagate its tunnel vision (NewsMatters, March 6, 2021). `Wherefrom money comes to run hundreds of thousands of schools', he asked.
The RSS, founded in 1925, is not only distorting history, and polluting syllabi but also compelling the BJP government to appoint its nominees to key posts whether academic or political.
The RSS's rationale is that it is their government. As such, they have every right to make appointments to all political and non-political posts and revise syllabus according to their own version of history.
A bird's-eye view of appointments
Besides president Kovind Nath, a dalit, and Hindu-monk Yogi Adityanath, several parcharaks (apostles) were nominated for appointment as chief ministers, governors and cabinet ministers. The nominees included ML Khattar, chief minister of Haryana, Trivendra Singh Rawat, chief minister of Uttarakhand, Devandar Fadnavis (Maharashtra), and Ram Thakur (Himachal Pradesh).
The veterans appointed as governors included Balramji Das Tandan (Chhattisgarh), Ram Naik (UP), Om Prakash Kohli (Gujarat), Keshri Nath Tripathi (West Bengal), Kalyan Singh (Rajasthan), Vidya Saga Rao (Maharashtra), Vaju Bhai Bhala (Karnataka), Padmanabha Acharya (Nagaland), Jagdish Mukti (Assam) and Tathaghat Roy (Tripura) (Source: Aryana P. Chatterji, Thomas Blom Hansen, and Christophe Jaffrelot (eds), Majoritarian State).
Dr, Lokesh Chandra was made president of Indian Council for Cultural Relations. Ram Bahadur Roy, former ABVP organizing secretary who was jailed during Indira-Gandhi- imposed emergency was appointed to the Indira Gandhi National Centre for Arts. Baldev Sharma, former editor of the RSS's Hindi mouth-piece Panchjanya, was appointed chairman of the national Book Trust. Shakti Sanha, private secretary to prime minister Atal Behari Vajpayee was rewarded with appointment of Director of Nehru Memorial and Library. The memorial was the hub of Nehru-Gandhi legacy. A small-time actor Gajendra Chauhan was appointed Chairman of the Films and Television Institute of India. Hindu Nationalist Anupam Kher was appointed head of India's Board of Film Certification.
Realising that educational institutions are key agents for ideological dissemination, the RSS thrust its nominees as vice chancellors and directors in universities and cultural institutions of higher learning.
RSS's version of history
A distorted version is taught in RSS-run Vidya Bharti schools. Hindu caste system is well delineated in Rig Veda, Manusmriti and Bhagavad Gita. But, the RSS preaches that the Muslim Turks initiated the untouchability. Turks introduced commodes in India. "Hindus who refused to convert to Islam were forced to clean them. And, thus they became untouchable."
Conscription power
While addressing a large gathering at Muzaffarpur, Bhagwat said, `RSS volunteers were so disciplined that they could be mobilized in a matter of days should the constitution and laws of the country so demand'. Many senior retired armed forces officers including former army chief General VK Singh have joined the RSS.
Inference
Bhagwat's bonhomie with politicians, media, judiciary, industry, religious leaders and civil society reflects that the RSS would continue to keep the Modi government under its Octopus claw. Also it is keen to extend its influence in political, societal and non- governmental spheres. To deepen its roots, the RSS has initiated programmes like Family Awakening (parivar prabodhan),Village Development (grama vikas), and Social Harmony (samara satta).
Cease-Fire Review: A ray of hope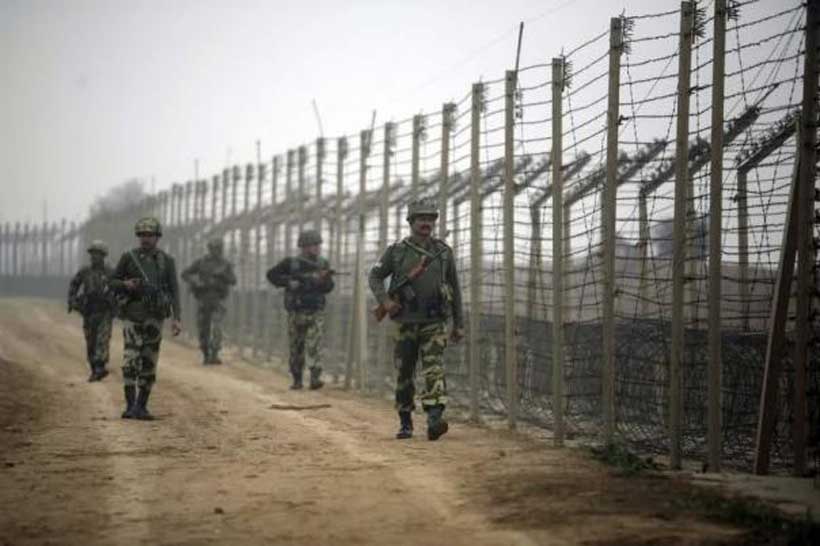 Pre-Negotiations are very much crucial to achieve the state of "Negociation Continuelle" (continuous negotiations) the only way due to which conflicting parties go for sustained mode of talks. On 25th February Director Generals of military operations (DGMO's) of India and Pakistan contacted with each other to review cease fire agreement, on line of control (LOC), which was held back in 2003. Both States reaffirmed cease fire agreement and to restart weekly hotline contact at DGMO's level. The agreement was largely violated by both states for several times and they were accusing each other for violations. But one thing is common that on both sides Kashmiris are suffering, they are raising their children in an environment of fear and severe violence. India and Pakistan are both nuclear capable states of South Asian region and are considered as the custodian of regional peace and stability. And without shadow of a doubt regional peace and security is a collective responsibility of the responsible states. Pakistan and India are the main conflicting parties of South Asian region and Kashmir is the bone of contention between them. Kashmir has been a question of integrity for both States. The Line of control also known as working boundary, divides Indian Kashmir from Pakistani Kashmir. There are several resolutions have been passed by the UN General Assembly to address the Kashmir issue but never implemented. UN wants to solve this issue according to the hopes of Kashmiris. The initiation of bilateral talks in the present outrageous environment is not less than a blessing in disguise and it will be fruitful for all the stakeholders; India, Pakistan and Kashmiris as well. This peaceful move from Pakistan and India is highly appreciated globally because Kashmiri diaspora is present worldwide and they are very much concerned with future of their homeland.
Indian Prime minister Narendra Modi, with his hostile ideology of "Akhand Bharat" assumed office in 2014. His political adventurism based on jingoistic-cum-hawkish policies dragged India State to the verge of staunch illiberalism where identity crisis burst up, which is more lethal than previously existing class crisis. Every community including lower class Hindus, Muslims, Christians, Sikhs etc. all are vulnerable to the identity crisis. On 30th May 2019, he sworn for his second tenure as prime minister of the world's so called largest democracy. He came with another adventurous mandate and the first demonstration took place when he suspended special status of Kashmir and abrogated articles 370 and 35A. His ideology is regarded as Nazi-inspired ideology because in contemporary scenario only RSS community and other proponents of Hindutva are only considered as "Real Hindustani". All minorities are suffering in India because their basic living rights are kept aside. The ongoing farmer's protests shook the foundations of the state, hundreds of thousands of farmers rushed to the Delhi against the anti-famer laws passed by Indian Parliament.
In India Separatist movements are getting pace; minorities are unsatisfied with governing approach of Bhartiya Janata Party (BJP). Prime Minister Narendra Modi, reuined the secular and democratic face of India. On the other hand, Foreign policy of India is facing severe challenges because PM Narendra Modi's approach is hostile based on hatred and prejudice. These attributes are fatal for State's reputation at foreign lands; the recent India-China standoff was just a teaser of BJP's whole story related to foreign relations. In addition to this, Economic goal of 2025 of India is again became a distant dream just because of belligerent policies of ruling regime.
In contemporary scenario if we look towards India, only Modi-Media nexus will be seen. But in reality the situation is getting worse day by day. The review of cease fire agreement, offered by India, is a positive step towards the regional peace. It is appreciated by both civil and military administrations of both states. When PM Imran Khan assumed office he offered dialogue to his Indian counter-part but Indian Premier refused to go for any sort of talks. India always took a position that to initiate talks first of all, Pakistan has to stop the cross-border terrorism. Both terrorism and talks can never go side by side, this Indian claim is not based on empirical evidences because Pakistan has been facing menace of terrorism since 2001 and leaving no stone unturned to root out terrorism and safe havens for terrorists.
Currently, India is facing deep internal and external challenges. It is in the interest of India to have peace talks with Pakistan. On the other hand, it is a ripe moment for Pakistan to act decisively because it is the only time when India can review its decision of 5th August 2019.Moreover, it is a ray of hope to establish peace in entire region. This is the time when bi-lateral diplomacy can turn the traditional regional political dynamics. Both states are facing same problems when it comes to poverty, climate change, social security and the list goes on. The realm of these talks should expand and concern parties have to include economic and political regimes in front of each other otherwise momentum of talks will be lost. Regional connectivity is important to have eternal peace, Pakistan and India should review SAARC (South Asian Association for Regional Cooperation) that would provide basis for economic, cultural as well as political connectivity. Major Powers should also play their important role because world cannot afford rivalry between two nuclear states. Now, America is under a democrat President, and they should check every internal and external move of their Strategic and defense ally in Asia-Pacific region. Negotiations between India and Pakistan are in the interest of all other regional and extra-regional actors. Both states should adopt flexible approach while discussing the core issues and should avoid blame game. It will enhance the chances of continuous negotiation which is a pre-requisite for peace and progress.
What does the Kashmiri want?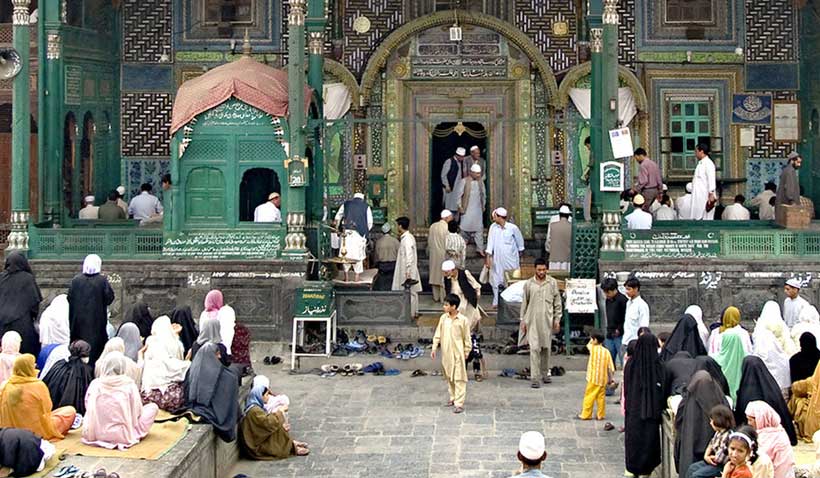 A group of envoys visited the illegally-occupied Jammu and Kashmir State ostensibly `to take first-hand account of the situation in Jammu and Kashmir and government's efforts to restore normalcy' (Hindustan Times February 17, 2021). Srinagar welcomed the envoys with a spontaneous shutdown. Prior to the visit, political leaders and human-rights activists were detained. The envoys did not visit Farooq Abdullah, Mehbooba Mufti or any of the other opposition Kashmiri leaders.
The Hindu dated February 17, 2021 reported 'The J&K government showcased "deepening democracy" to visiting 24 foreign diplomats, who arrived on a two-day tour of the Union Territory (UT) on Wednesday amid a spontaneous shutdown in Srinagar and alleged detention of recently elected National Conference (NC) district council members in Budgam'.
Post-special-status abolition situation
After abrogation of the special status, India took a number of steps to silence public dissent_diurnal and nocturnal search operations to hound, kidnap or kill the Kashmiri, Internet ex-communication, blatant use of draconian laws against ordinary Kashmiris and their leaders alike. A law was passed to jail parents of stone-pelters., if any. Meanwhile local body elections were held in which the ruling BJP was cut to size. But, India, as reported b y the Hindu also, showcased the elections in international media as a proof of popular participation and contentment of the people with the status quo.
Have the Kashmiri resigned to their fate
The mysterious silence in the Valley during the envoys' visit speaks volumes on how much the Kashmiri hate India. However, it appears the Kashmiri could have shown their ennui through some mode of peaceful protest. They could draw lessons from the Occupy the Wall Street or Precariat Movement in the USA.
Occupy has six letters. A group of six persons mostly celebrities in their fields, stand up at some busy street holding letters O,C, C, U, P, and Y. The Kashmiris also could have displayed the letters in word `AZADI' through a group of five persons.
Apathy
Arnold Toynbee, in his Challenge and Response Theory postulates that if a challenge is too onerous a nation may become apathetic. In similar vein, Ibn-e-Khaldoon suggests that survival of a tribe (nation) depends on cohesion (asabiya, nationalism) of a tribe faced with life-and-death threat around its frontiers.
Amy Chua (Political Tribes: Group Instinct and the Fate of Nations) talks about static or dynamic response of a society as shaped by group instincts of various components of a society.
Applying Amy Chua's framework to Kashmir situation
Amy Chua challenges the view that the conventional mechanism of demokratia (government by the people) is a panacea for all the problems of a society. Thus the recently-held local level elections or even `state assembly' elections in occupied Kashmir are no panacea for the Kashmiris' simmering discontentment, their revulsion to yoke of Indian rule. Chua, in her afore-quoted book analysed situation in Vietnam, Afghanistan, Iraq and Venezuela, besides so-called terror tribes including the Islamic State of Iraq and Syria.
Kashmir in Chua's framework would suggest it is naïve to believe that Kashmiris are resigned to their fate. By analogy, even a thousand years of exploitation by a microscopic Chinese population did not subdue the Vietnamese hatred of the Chinese. As soon as the Americans left Vietnam, the native Vietnamese prowled upon the rich community of Chinese like a pack of wolves. The Americans plunged into decade long futile war with Vietnam without realizing that the Vietnamese were not Chinese stooges.
The indomitable fighting spirit
Indian forces had been using pellet guns to blind the Kashmir. Now, former chief minister Mehbooba Mufti, they have begun to use even chemical weapons against the Kashmiri.
Let us have a glimpse of the dogra's reign of terror in Kashmir. To stifle the Kashmiri's fighting spirit, the dogra punished even Kashmiri children who played with fork-slings (ghulail) and stones (Muhammad Yousaf Saraf, Kashmiris Fight for Freedom, vol. 1, p. 50). Under the dogra rule, the Kashmiri were treated no better than beasts of burden. Instead of donkeys and horses, Kashmiri Muslims were used to transport goods across Gilgit, Leh and Skardu. They carried luggage on their backs across glaciers as high as 17,000 feet. Thousands of them perished along the way each year owing to frost bites, fall from a precipice, and hunger or sickness. The dogra caravans were not humane enough to stop for a while in the snowy passes to look after the injured porters (or 'human beasts of burden'). Besides performing the forced labour, the Kashmiri had to pay heavy taxes. Whole of their produce was confiscated by the dogra. Little was left for tillers and their children to eat. On every item, the oppressed Kashmiri had to pay multiple taxes. Take shawls. Not only the shawl-makers were taxed, but also the other intermediaries like importers of pashmina (wool) from Ladakh, and storekeepers, whether wholesalers or retailers (ibid. p. 280-81).
The regressive revenue system resulted in a famine during winter of 1877. People began to die of starvation. Instead of releasing grain stocks from the royal go-downs, the maharajah's constabulary drowned the starved, crying people in the Wullar Lake. Saraf writes: "Whole boat-loads of starving people have been conveyed by the Maharajah's officials to the Woolar Lake, and there drowned" (ibid. p. 294).
The reign of terror by Indian forces (now estimated at about nine lac regulars and security personnel) who replaced the maharajah's constabulary on October 27, 1947 is no less gruesome. International human-rights organisations, as well as India's National Human Rights Commission, have brought into limelight the Kashmiri's mysterious disappearances, their custodial deaths, and countless rapes of hapless Kashmiri women.
Like the dogra, Indian rulers are mercilessly exploiting Kashmiris' economic resources. Bulk of locally-generated electricity is being diverted to Indian states. The tourism industry is in shambles. Highly – educated people have no jobs. With no inflow of tourists, the shopkeepers have no business. Unlike the occupied Kashmir, all the socio-economic sectors in Azad Kashmir are progressing by leaps and bounds.
Toynbee's Challenge and Response Theory suggests that if the challenge is too strong, a nation becomes apathetic. Ibn-e-Khaldoon's asabiya (spirit of national cohesion) also suggests that a nation's spirit is likely to be smothered by a challenge which is too heavy. Historical lessons do not apply to the Kashmiri's struggle. Neither Indians, nor the dogra could gag them. The struggle for freedom has continued unabated.
The lesson from Kashmiris' struggle for freedom is that repression or palliatives like elections in occupied Kashmir are no good. The Kashmiri wants "freedom". Their group instinct is `resistance'. But they need to learn from peaceful resistance movements like the Occupy and the Precariat.