India, Nepal to Launch Electronic Tracking of Transit Trade
India and Nepal plan to launch a pilot project to ease the release of cargo using an electronic cargo tracking system (ECTS), supported by the Asian Development Bank (ADB). Senior customs officials of India, officials of the Nepal consulate in Kolkata, transport operators and traders, and other stakeholders discussed the use of ECTS at a workshop in Kolkata today.
The ECTS uses satellite positioning systems, cellular communications, radio frequency identification, and other web-based software to ensure the security of cargo. It will be operated by a managed service provider, which will offer an integrated end-to-end system for transit facilitation through a web application covering the filing and processing of the transit declarations as well as tracking.
"The use of the ECTS will ensure safe and secure transit, simplify border formalities, reduce transit time and transaction cost, and improve shipment visibility," said Manish Chandra, Commissioner of Kolkata Customs. "It will provide a tracking facility to customs officials, which should help ensure cargo security, making it possible for them to extend higher levels of facilitation."
In June 2017, India and Nepal signed a memorandum of intent to pilot the tracking system to ease transit of cargo by road and rail from Kolkata to four major customs points of Nepal—Kolkata-Birgunj via Raxaul, Kolkata-Sirsiya inland container depot via Raxaul, Kolkata-Biratnagar via Jogbani, and Kolkata-Bhairahawa via Sonauli corridors. Transport operators that will use the ECTS will enjoy simpler procedures and streamlined documentation.
"As a landlocked country, Nepal welcomes the introduction of the ECTS," said Rabi Shanker Sainju, Joint Secretary in Nepal's Ministry of Commerce. "Our traders look forward to the increased reliability, efficiency, and reduction in transit cost that it will bring."
The ECTS is an important initiative under the South Asia Subregional Economic Cooperation (SASEC) program, which groups Bangladesh, Bhutan, India, Maldives, Myanmar, Nepal, and Sri Lanka, with ADB as the secretariat.
SASEC is a projects-based partnership, which aims to improve cross-border transport connectivity, promote energy trade, and facilitate faster and less-costly trade among the participating countries. Since SASEC's establishment in 2001, participating countries have undertaken 49 projects in transport, energy, trade facilitation, and information and communications technology worth almost $11 billion.
"The ECTS is a major tool to ease the movement of cargo within and across international borders," said Ronald Butiong, Director for Regional Cooperation of ADB's South Asia Department. "We expect it to be used along major corridors in the SASEC countries, which will help boost intra-subregional trade."
African Development Bank and UNIDO join forces to accelerate Africa's industrialization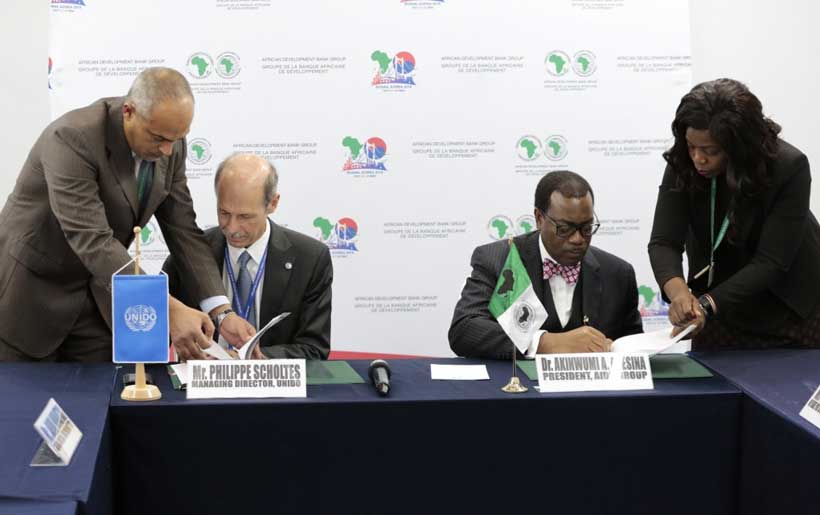 The African Development Bank (AfDB) and the United Nations Industrial Development Organization (UNIDO) have signed a Memorandum of Understanding (MoU) to step up collaboration to boost Africa's industrialization.
"The Bank launched in 2016 its Industrialization Strategy for Africa 2016-2025, which was the outcome of collaborative work with UNIDO and the United Nations Economic Commission for Africa. The signing of the present MoU is key to our Strategy's implementation," said African Development Bank President Akinwumi Adesina. "The Bank already benefits enormously from UNIDO's expertise in developing policies, programmes and knowledge tools which supports our member countries to industrialize." In 2017, the Bank allocated US$1.2bn to Industrialize Africa – one of the Bank's High 5 development priorities – mostly to projects for financial sector operations.
The new agreement facilitates the Bank and UNIDO cooperation on joint activities of shared interest in areas such as agro-industry development, circular economy, eco-industrial parks, investment in innovation and technology, enterprise development, trade and capacity-building, and access to finance, among others. The MoU is in line with objectives set in the Bank's High 5 strategy, the African Union's Agenda 2063, the Third Industrial Development Decade for Africa (IDDA III), the UN's Agenda for Sustainable Development, as well as the G20 Initiative on Supporting Industrialization in Africa.
"Achieving Africa's industrial potential will not happen by chance; strong partnerships such as the one our two organizations have now formalized are key," said Philippe Scholtès, Managing Director at UNIDO. "This partnership will create significant opportunities and facilitate our work together towards the operationalization of IDDA III 2016–2025".
The two entities have already initiated working level collaboration including within the framework of UNIDO's flagship Programme for Country Partnership (PCP) model, which helps synchronize development efforts and mobilize resources to support countries in accelerating industrialization. The Bank and UNIDO recently undertook a joint mission to Morocco as part of the initial development of the PCP and will continue exploring cooperation opportunities in the ongoing PCPs in Senegal and Ethiopia. Collaboration has also been initiated for the establishment of staple crop processing zones in a select number of African countries.
The Memorandum was signed by Adesina and Scholtès in Busan, Republic of Korea, on the sidelines of the Annual Meetings of the Boards of Governors of the African Development Bank Group, held under the theme of "Accelerating Africa's industrialization." The signing ceremony was attended by African Industry Ministers, representatives of regional Member States, development partners and private-sector executives.
To Fulfill its Mission, ADB Must Prioritize Sustainability
Asia is rapidly evolving as are its development needs. To keep pace with these changing needs and to ensure that solutions multilateral development banks like the Asian Development Bank (ADB) bring are effective, thorough assessment of their operations is crucial. In its 2018 Annual Evaluation Review (AER), Independent Evaluation at ADB draws out an overall picture of ADB's performance.
"Delivering results is critical to ADB's existence. Evaluation is a central piece for ensuring that the solutions ADB brings to development problems are fit for purpose, and as effective as possible," said Director General of Independent Evaluation at ADB Mr. Marvin Taylor-Dormond.
The AER identifies areas in which ADB has been successful, where it hasn't, and what were the reasons behind this. A review of its overall performance reveals that over the past 3 years, there has been a marginal decline in the success rate of public sector projects. In 2015 to 2017, 74% of public sector projects were successful, down from 76% in 2014 to 2016. A sector-wise look shows that four sectors—education, health, public sector management, and transport—dropped in performance. These four sectors account for 58% of the portfolio that was evaluated.
If one looks at private sector-supported ADB projects, the decline is more apparent. About 58% of projects were categorized successful in 2015 to 2017, compared to 67% in 2014 to 2016. This fall can be attributed to the disappointing performance in financial intermediary and private equity funds, which account for half of the projects evaluated.
Performance at the country-level was steady at 75%, although it was still below ADB's 80% target. AER notes that ADB achieved good results in its operations with middle-income countries. Also, when it came to promoting inclusive growth, middle-income countries were highly appreciative of ADB's work. Other areas where ADB is doing well include environmentally sustainable growth, regional cooperation, and gender mainstreaming.
However, there are some areas where results can be improved. The Independent Evaluation Department (IED) assesses the relevance, effectiveness, efficiency, and sustainability of ADB projects and programs. One third of completed projects and programs were evaluated as less likely to be sustainable, well below the desired rate of four out of five.
"The sustainability problem is well illustrated by the inadequate financing for operations and maintenance of ADB-supported transport projects," said IED Thematic and Country Division Director Mr. Walter Kolkma. "Other factors affecting the sustainability of ADB operations are often limited capacity of government agencies to run these projects and governance issues."
For private sector operations, the AER recommends that to achieve better outcomes, ADB expand operations beyond infrastructure and help middle-income countries better adapt to new challenges. With specific reference to the use and leverage of guarantees, loans, and other credit enhancement tools, the AER calls for the mobilization of much-needed private sector finance for development, particularly to help close Asia's huge infrastructure gap, estimated at $1.7 trillion a year.
"Impartial evaluation is crucial for accountability and learning. ADB must capitalize its learning and use these lessons to design better, smarter, and stronger future projects to stay relevant because in today's world, developing member countries are not short of options of development financing," noted Mr. Taylor-Dormond.
China to Improve Inland Waterway Transport with World Bank Support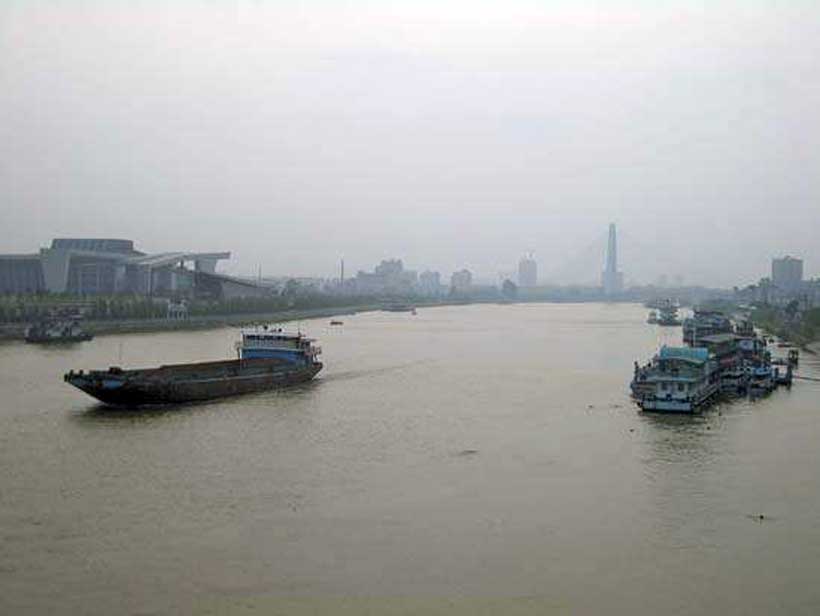 The World Bank's Board of Executive Directors approved a US$150 million loan today to improve the capacity and reliability of inland waterway transport along the Han River in China's Hubei Province. The project will increase connectivity between the less developed central and western regions and the more prosperous eastern provinces, and yield local and global environmental benefits by promoting a green mode of transport and producing renewable energy.
As part of the Yangtze River Economic Belt, China is relocating industries in the less developed inland regions of the middle and upper reaches of the Yangtze River. This requires an efficient multimodal transport that can move freight over long distances in a sustainable manner.
"Inland waterway transport is a cost effective and environmentally friendly mode of transport that is underexploited in China. The new project will increase inland waterway transport along the Han River and promote a shift from roads to waterways, which reduces carbon emissions from transport," said Zhai Xiaoke, World Bank's Senior Transport Specialist and leader of the project.
The Hubei Inland Waterway Improvement Project will construct the Yakou Navigation-Hydropower Complex in the middle reaches of the Han River. It will upgrade about 53 kilometers of waterway between the Yakou and the Cuijiaying Complex to Class III navigation standards and help enable the completed investments at other cascades to realize their full navigation capacity and economic benefits. The hydropower station will supply renewable energy to Yicheng City, which is located 16 kilometers from Yakou.
The project will also provide gravity flow irrigation to over 5,300 hectares of existing farmland. Other anticipated benefits of the project include the significant reduction of lifting costs, the improvement of flood resilience, and the creation of a better landscape for recreational tourism.
The total investment of the project is US$515.13 million; the IBRD loan will finance US$150 million and the Hubei Provincial Government will invest US$365.13 million. About 5.61 million residents along the Han River are expected to benefit from the economic development and ecological improvement brought about by the greener transport mode.
Starting with the First Inland Waterways Project in 1995, the World Bank has supported seven inland waterway projects in China, with each successive phase introducing important additionality, ranging from technical innovation to integrated development and management of multi-purpose inland waterway transport, as well as improved institutional capacity and environmental aspects.