Assessing failures of "Humanitarian Intervention": Finding a "non-traditional"approach
Within the context of traditional theory of international relations humanitarian intervention is referred as "intervention-from-above", highlighting the "tactics of intervention" by various states, international institutions, government sponsored think tanks and international aid organizations. At the global level, flow of international aid is unidirectional (traditionally flowing from North to South); although, intervention is not only limited to North, but may occur regionally in the South too. Historically, the world has witnessed tensions highlighting "certain drawbacks" in the global legal system particularly within the context of a donor country "crossing humanitarian boundaries, sovereignty, the principle of non-intervention, while purposefully meddling in the regional affairs of the host", violating every nomenclature of humanitarian assistance and instigating dilemma among probable future host economies.
Today, host countries are forced to question the objectives of donor economies. Many states begin formulating an "after-effect strategy" in case the donor intends to violate, in the light of many least economic developed economies being host, fewer states respond. From the aforementioned arguments, the questions that challenge policy makers of today are: Does humanitarian intervention bring results? Does it truly assist the host economy? If it does, which is the best effective and efficient plan of action?
Policy makers must focus their attention on the "flaws in international law highlighted in the aforementioned arguments". Furthermore, historically it has been seen that, nations ignore legal guidelines and international laws which does not benefit it while giving jurisprudence to politics than the international laws.
Today, the focus of the article will be on the three traditional pillars of humanitarian intervention, the donor's "capability" to assist the host, the donors "interests" in providing assistance to the host, and the "after-effects" on the host; in an effort to "effectively" understand and identify factors responsible for recent "negative outcomes" from humanitarian interventions while identifying alternative non-traditional approaches of humanitarian intervention shifting the focus of political thinkers and strategic experts from military theories, while giving special emphasis on the role of non-government development agencies and civil society organizations. Keeping all relevant actors in play, it is literally impossible to predict the success of "traditional grass-root focused "humanitarian intervention especially when the "much advanced top-down approach" continue to fail.
The quest to identify non-traditional theories of humanitarian intervention, also termed by strategic experts as "bottom to top approach", will be the focus of this article. It will be safe to say that, such non-traditional approaches, will depend majorly, on intervention policies of humanitarian aid agencies and public works development focussed institutions of non-governmental organizations, development focussed civil society and volunteer groups from the masses, civil rights advocacy groups and organizations advocating for a specific society.
Decoding the myths
Political and Strategic experts have, classified, two types of traditional "humanitarian intervention" theories. The first theory relies on aggressive military intervention to fulfil strategic objectives of the host and is carried under the leadership of one or more host states, or by unanimously approaching the United Nations Security Council and other regional and international institutions.
The first theory comprises of intervention tactics, which could fulfil positive humanitarian objectives of great benefit for the host, however it remains secondary to the intervention objective implemented by the host. For example, repetitive acts of crimes against humanity, horrific abuses by successive regimes could come to an end through an intervention which is designed specifically by the host government. It is important to note that, such intervention is rare, especially considering the "humanitarian" view of this form of intervention, instead their long presence could result in oppression against the masses forcing the host to use all forms of excessive force.
Some historical examples include devastation of Germany during World War II, the Liberation of Bangladesh in 1971, and the invasion of Cambodia by Vietnam in 1968. Policy makers must understand that, interventions at such level involves specific military and political goals that starts with "intervention and occupation" for an indefinite time.
In this form of humanitarian intervention, genocide, crimes against humanity and violence induced on local masses are common. Such acts are destitute to walk among the strategic and military objectives of the host. However, in regions where the host intervened without any strategic objectives, for example intervention on Kurdish regions since World War I, and military confrontation against the indigenous tribes of Amazon, excessive violence induced against human life have been categorically side-lined or purposefully ignored.
In the second theory of humanitarian intervention, human rights abuses instigate an "aggressive response", although without any strategic advantage. If the intervention does takes place, it will be implemented without a "clear sight, objective or commitment" on the host intervening state, the commitment would be largely to challenge the political structure or the authority responsible for carrying such horrific crimes. Strategic and political experts refer this scenario, which remains active in the Middle East today, "the CNN factor", an aggressive wide scale visual representation of horrors and distress particularly depicting crimes against humanity, stressing the masses of West to force their governments to response, particularly "Americanised" nations.
If the agendas established by policy makers are restricted, and the actors tasked to "bull-work" the humanitarian intervention agendas follow strict discipline and designated guidelines, simultaneously earning the trust of the masses, humanitarian intervention in this platform could bring relief to the socio-economic havoc wretched life of the masses. This initiative has been implemented for the Kurds living in northern Iraq post-Gulf War, in the early years of relief and rehabilitation initiatives in Somalia (before invasion),and deployment of UNPROFOR aid and relief units for the then civil war-stricken masses of Croatia, the then Bosnia. In the aforementioned examples, however, the strategic objectives to eliminate the factors responsible for the crisis were absent, on larger extent, the crisis devastated the lives of millions.
If the state intervening in the crisis receives armed responses that could increase volatility in the region, then the state forces intervening could deploy evasive tactics and steer away from the confrontation. The participation of Washington has been vital with relevance to its extensive experience in humanitarian intervention. During Clinton administration, the US aggressively shifted its policy of "strategic objectives dipped humanitarian intervention" and an example to this "doctrine" was largely visible during the "initial deployment of medical and food aid workers" deployed in Somalia, eliminating the "strategic discourse" while establishing an example of "stringent and self-restraining" regime. The new established theory was a perfect example of "intended humanitarian intervention" of a state, having an edge over responses taken by globally established international institution.
The change in international relations dynamics followed by acute regional, religion/ sectoral "coloured" violent conflicts has resulted into numerous debates on "humanitarian intervention as a viable tool in global politics". The debate however, failed to separate the two theories of humanitarian intervention aforementioned discussed. This has resulted in "fragmented policies which not only failed but also became a principle factor in fuelling regional conflicts, further deteriorating an already deteriorated situation" leading to discontent and apprehension towards humanitarian intervention, while fuelling rage among the local masses and apprehensive governments towards UN actions. Clearing the "thick air" is not the purpose of this article, but many progressive steps could be taken in an effort to identify alternative theories.
Establishing outcomes from intervention
To begin with, a political tool such as an "intervention", if introduced as a traditional mechanism in foreign policy, is troublesome even without the presence of "strategic action", witnessed from the example of US intervention in Vietnam, or Soviet Union intervention of Afghanistan.
Using military superiority and using it to achieve desired political objectives/agendas is increasingly becoming difficult inspite of the "rightist regimes in the West". The traditional tools of foreign policy (aggressively used by Washington during post-World War II until the end of Cold War) such as "cloak and dagger diplomacy", "gunboat diplomacy" which elevated Washington's position as a hegemon, benefitted many US intelligence agencies in holding many economies hostage without any resistance. In the light of globalisation, tradecraft tactics evolved and advanced weaponry, began playing a much larger role.
In 1983 when a single truck exploded inside the barracks of US soldiers, Washington which was already on an edge, withdrew the remaining stationed US forces and shifted the US foreign policy which was focussed on rebuilding and restructuring city of Beirut during post-1982 war. An aggressive President Bush Jrdid not undertake restructuring and rehabilitation initiatives in Iraq, which could have forced Washington to deploy forces in Iraq which could have instigated terror factions in targeting US soldiers. Bush understood the "careful policies implemented by Clinton administration "particularly the actions taken by Washington in Somalia an example of "self-limiting" the objective to strictly humanitarian intervention. His objectives were very clear, turning Iraq's fate into Bosnia was all he feared.
Since 1989, the traditional concepts of international relations have evolved. The pragmatic but traditional theories that were applicable in IR are fairly limited. This has largely been a "misconception" among traditional international relations theorists, military and political experts making their expectations uncleared:
a) Even today, traditional theorists continue to believe, that cooperation and coordination among the nations could only be effective within the UN.
b) The aforementioned notion comes from the successful restoration of Kuwaiti sovereignty after the deployment of UN forces. The resultant of the conflict created a biased approach on a half-baked truth followed by rhetorical idea that combined security initiatives would be sufficient to mobilise large troops and financial assistance to implement resolutions passed by the United Nations Security Council. The traditional theorists failed to acknowledge the presence of Washington's "hunt for oil" and Israeli's "security dilemma". They also failed to foresee the lust for Middle East economies to acquire nuclear weapons.
c) Numerous severe simultaneous humanitarian crisis erupted which resulted in dictatorial regimes and failed states. The continent of Africa witnessed subsequent collapse of imperial regimes while the Central Asia witnessed the collapse of Soviet Union and the then Yugoslavia, which paved the way for ethnic conflicts, civil war and nationalist dictatorial regimes.
d) It was by now evident that, cost-efficient intervention will not be effective and even an objective focussed intervention will not bear desired results fearing which no political leadership was willing to accept the high cost of collateral damage during uninsured even in the name of "vital national interests." Reinforced by poor political leadership in intervened states and their failure to adhere or implement any concrete domestic policy along with subsequent challenges to domestic security, decision makers "waited and watched".
e) In colonial dominated regions particularly Africa, Latin America and Caribbean and South Asia, the concept of" humanitarian intervention" represented the interest of traditional colonial forces in the region, paving a way to regain dominate the lost territories, particularly those with significant Muslim population. This "delusion" idea was further fuelled by the West's retention of oil in the Gulf but refraining from taking any action against "systematic killing, ethnic cleansing" of Muslims in Serbia. Furthermore, the use of technology in the urban setting especially in the regions of Mogadishu to hunt warlord Aidid, reinforced their idea.
Strategy or Politics?
Bringing the focus back on political leadership, Bosnia was "political fore-play" which backfired. Argued by ethics professors even today, the reluctance to interfere, even after witnessing the horrors in war, mass killings, rape, gender-based violence and genocide reminding the days of World War II gripped Europe, the world has been reminded of another holocaust. It is nothing less than a betrayal to the lives of people who took a pledge "Never Again", the pledge was disrespected by the ugly truths of international political world. When thousands of leftists were brutally murdered in Singapore, the West particularly Washington compensated the loss of lives with the fear of communist controlled Singapore. When Indonesia invaded East Timor, dismantling all trumps (sovereignty, national and territorial integrity and right to existence) of international relations, instigating a policy on mass rape, murder, extensive killing and genocide which resulted in the deaths of over half of the then population, intervention in all forms remain absent.
Perhaps evidently, inspite of genocide carried by communist regime on large scale in Cambodia, forced the West not to intervene (presence and support of China)in the Vietnam invasion of Cambodia which resulted in the end of Khmer Rouge. Policy makers must understand that, the decisions under taken by the West form a pattern: strategic objectives outweigh even the harshest and deplorable humanitarian crisis.
The aforementioned statements points towards the fact that, there is an imminent need to re-evaluate and reassess humanitarian intervention policy. Today, the masses will not accept the decision to "fight someone else's war" irrespective of deplorable circumstances. This could come as a relief for many rightist political leadership, but it practically "chokes" the nation's policy for humanitarian intervention.
A failed political leadership to blame?
It is important to note that, the political leadership reluctance highlights the "inadequate importance" given to the segment of humanitarian intervention in international diplomacy coupled with the "saga of failure" of global powers and international established institutions failures in the past. Coupled with the failure of political will and leadership, identifying "strategic interests" and formulating a strategy resulted in some of the worst humanitarian crisis in Haiti, Bosnia, Somalia, Rwanda. The larger responsible segment of this failure goes to liberal "appeasing" foreign policy coupled with strategic interests and domestic security preferences. Historically, Washington was pushed to take a leading role and pulled by its own masses particularly when the "stakes were too high" overseas. This "tendency" continues to thrive within power nations which is evident from the on-going Rohingya crisis in South Asia.
The fundamental issue with humanitarian intervention lies largely on "intervention" aspect rather than "humanitarian" support, the larger perception remains the same "internal violence being the only factor capable of changing the dynamics of the domestic policy of a state". Policy makers must note that, if the nation undertakes the responsibility of providing" clean water, food, medicine, temporary shelter for refugees and internal displaced conflict-ridden masses" limiting the action to strictly humanitarian, then nations should not consider it an "intervention" even if the host country has not acknowledged or given a formal consent. If the intervening state intents to meddle with the host state's internal issues particularly in times of internal conflict or civil war, then the intervening state will fail even if its intentions are "humanity centred".
It is imperative for policy makers to identify or formulate strategies of "humanitarian intervention" without instigating further violence, fuelling crimes against humanity, genocide, factors leading to further deterioration of the host state.
A Threat Assessment of South China Sea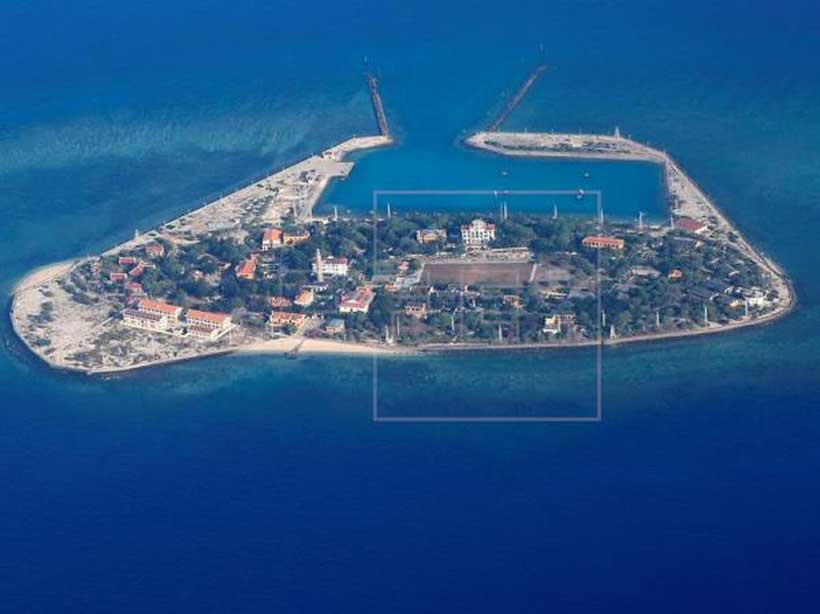 Authors: Areeja Syed and Muhammad Rizwan*
In the international arena, rapidly evolving economic power, China has emerged as a colossal threat to the U.S and her hegemonic powers. 21st century is witnessing both U.S and Asia to bridge their gulfs and draw closer to each other. During the cold wartimes, the United States was more inclined to decrease the power and its influence of Soviet Union in Asia but with the massive alteration in the international political and economic scenario, upsurge of china and its regional dominion has become the main trepidation for the U.S. Many tactics have been adopted by U.S to contain china but many tensions keep arising between these states, like trade war, south china conflict, Taiwan issue.
It's a well-established fact that The Pacific Ocean is one of the major and important Oceans in the world. The word pacific means peace and serenity. It was named Pacific in 1520 by a voyager Ferdinand Magellan when he sailed through it. The Pacific Ocean stretches from California to china covering 60 million square miles and spreads tens of thousands of feet under the outward of the ocean in many regions. Contrary to its name, The Pacific is, a violent and humongous water body. Most of its part is still unexplored and undiscovered yet this half-discovered ocean is contributing considerably in changing humans' lifestyle through deep-sea excavating, industrialized harpooning and fossil-fuel fiery. This extensive ocean is replete with plenty of earth's most idiosyncratic kinds of life. South China Sea is a part of Pacific Ocean and is a bone of contention between ASEAN states and China. The United States of America while having cordial relation with ASEAN state is trying act as balance in South China Sea. While running his presidential campaign, in 2018,Donald Trump viciously badgered Barack Obama for being bungling of averting China from escalating its influence in the South China Sea. Trump blamed Chinese Navy for being aggressive to the US in the undecided sea area. China has clashes with the US owing to the regional incongruities in the South China Sea. Also, China has disagreements with Japan in the East China Sea. Both the disputed regions are probable to be rich in oil reserves and several other natural resources and can enhance the international trade. China retains its claim, claiming almost the entire South China Sea.
It is a row over land and veracity over ocean areas, and the two island chains Parcels and the Spartlys, demanded by an assortment of nations in whole or in share. These chains include hundreds of sharp cliffs, minor islands, shorelines, and aquatic life, like the Scarborough lagoon, adjacent to one another. The ocean itself is a chief trading path and abode to fisheries on which the people living alongside the region depend for their wellbeing. China has always made extensive claims in South China Sea that whole sea belongs to it. It specifies the two clusters of islands sliding inside their limits entirely. Philippines is the other noteworthy plaintiff in the region and as a part of grouping considers its physical nearness to the spratly island as the foundation and primer. The other island chain, Scarborough Shoal well-known as Hengyang island in China was claimed by both the Philippines and China just over 100 miles (160km) from the Philippines and 500 miles from Chinese territory. Other states like Malaysia and Brunei also approve their avowal to region in the South China as declared in The United Nations convention on the Maritime law, as described by UNCLOS. Burnei does not hold any of the disputed islands, but Malaysia has control over a quite minuscule number of Spratly islands.
The US navy claims that it is safeguarding and watching the South China Sea to guarantee the freedom of navigation in that region predominantly where China has seized many islands and reefs into its control. This disputed region is the route of trillions of dollars of trade travels annually which is at stake due to the conflict and belligerence in the South China Sea can also threaten and berate the safety of a region. This region cannot afford any armed skirmish that would have possibly far-ranging and callous repercussions. This war is the exact portrayal of China-U.S supremacy scuffle. The problem is for influence and military dominance in the region between China and US. It is becoming a same cold war like situation in which both countries are trying their best to dominate a particular region. But the problem is, during the course of these events even a miscalculation or small incident can escalate in to full fledge which will be very difficult to control even for belligerent parties.
*Muhammad Rizwan is pursuing M.phil in International Relations from COMSATS University Islamabad.
National Interest surpassing human rights: Case study of Kashmir
Authors: Rizwan Malik and Areeja Syed
The Indian government revoked the exceptional status accorded to Indian-occupied Kashmir in Indian constitution. This sudden development is the most sweeping political move on the disputed region in seventy years. A presidential pronouncement issued on August 5 revoked Article 370 of Indian constitution that ascertained the special rights to the Muslim-majority state of Kashmir, including the rights to have her own constitution and autonomy to make laws on all affairs apart from communication, defence, and foreign policies. This shocking move literally shook Kashmir and Pakistan at their cores. Now It has been more than one month now since Indian forces started a lock down in Indian administered Kashmir. Due to continuous threat of mass protests against this illegal action, additional troops were deployed in already heavy militarized valley. Crippling curfew was imposed and Internet services were suspended. Indian security forces have also arrested all the political leadership of the valley. Different International media outlets have published news regarding the brutal suppression of local Kashmiri people by Indian forces.
With the evolution of United Nation and other international institutions, rights violation and other disputed issue that could undermine peace and stability are paid umpteen attentions by the international community. Time to time we have witnessed intervention on humanitarian bases by International Community .Even force was used in many states to stop oppressive regimes from committing atrocities.
India claims herself to be the largest democracy in the world and champion of human rights protection. But this is absolutely contrary and devious to the ground realities. Especially since BJP came into power in 2014 with an expansionist agenda, it is actively involved in different crimes and often violated the sovereignty of many states. BJP government has conducted military operation in Myanmar in 2015 without taking into confidence the local government. Later, Pakistan was targeted in February 2019 though it resulted in shooting down of one of Indian fighter jets. This shift has deteriorated the already-heightened tensions with neighboring Pakistan, which relegated its diplomatic relations with India.
Kashmir has been a bone of contention and a disputed region between Indian and Pakistan since 1947. Pakistan and India claim Kashmir in full but rule it partially. The nuclear-armed neighbors remain at daggers drawn over this issue and have fought three wars over this territory but Kashmir issue is still unresolved. A rebellion in Indian-administered Kashmir has been continuing for past 30 years. United Nations General Assembly passed resolutions on Kashmir and has given Kashmir citizens the right of self-determination .UN instructed both India and Pakistan to withdraw their troops from disputed region and to organize plebiscite there. Though India did not agree to these demands and never held a plebiscite but a special status was granted to Indian occupied Kashmir which made it a semi-autonomous region. Different round of talks were arranged between India and Pakistan to solve this dispute which means that India recognized Kashmir as international dispute.
But on August 05, 2015 BJPs government removed this special status of Kashmir and directly imposed the rule of central India.BJP has established a stance that Kashmir is integral part of India and vowed to attack even Pakistani administered Kashmir.
This illegal move of Indian authorities is accompanied by the brutal use of force in the valley. International community which asserts it as the protector of International law and human rights round the globe has basically done nothing against this inhuman/illegal occupation of Kashmir. Reason is that international community is following real politik .According to realist school of thought , International relations states only protect their own national interests. They do not have much appetite for human rights and International Law. This is best depicted in response of international community on Indian moves in Kashmir. If we analyze the international reactions to this recent development one by one we can see that these great powers have their own vested interest in India that is why they are not willing to take any concrete step. For example due to changing geopolitical situation in Asia-Pacific region United States considers India as its strategic ally against the regional power of China. According to US, Indian will contain expanding Chinese influence in south Asia and will act as balancing forces. Moreover Indian with its huge population and large economy is very good trading partner of United States .That is why US will not take any concrete steps against Indian aggression. Countries like France and Russia are huge arms exporters to India so they will not try to lose a client by taking any concrete steps against India. States like Saudi Arabia and UAE which have influence on India because to their oil exports and other trade relation will not take any action .Reason they have very strong trade ties which they do not want to threaten .Secondly they themselves are oppressing regimes so promoting human right in any other region will jeopardize their own position as international actor.
With this realpolitik prevailing at international politics Pakistan is left with pauce options. Pakistan has very strong religious and cultural bonding with Kashmir people and she considers it her legal and moral responsibility to help Kashmir people who are facing wrath of Indian forces. it is the responsibility of the International community to speak for the human rights violations in Kashmir instead on just focusing on their own vast national interests.
A bird's eye view of Asia: A continental landscape of minorities in peril
Many in Asia look at the Middle East with a mixture of expectation of stable energy supplies, hope for economic opportunity and concern about a potential fallout of the region's multiple violent conflicts that are often cloaked in ethnic, religious and sectarian terms.
Yet, a host of Asian nations led by men and women, who redefine identity as concepts of exclusionary civilization, ethnicity, and religious primacy rather than inclusive pluralism and multiculturalism, risk sowing the seeds of radicalization rooted in the despair of population groups that are increasingly persecuted, disenfranchised and marginalized.
Leaders like China's Xi Jingping, India's Narendra Modi, and Myanmar's Win Myint and Aung San Suu Kyi, alongside nationalist and supremacist religious figures ignore the fact that crisis in the Middle East is rooted in autocratic and authoritarian survival strategies that rely on debilitating manipulation of national identity on the basis of sectarianism, ethnicity and faith-based nationalism.
A bird's eye view of Asia produces a picture of a continental landscape strewn with minorities on the defensive whose positioning as full-fledged members of society with equal rights and opportunities is either being eroded or severely curtailed.
It also highlights a pattern of responses by governments and regional associations that opt for a focus on pre-emptive security, kicking the can down the road and/or silent acquiescence rather than addressing a wound head-on that can only fester, making cures ever more difficult.
To be sure, multiple Asian states, including Malaysia, Indonesia, Thailand, the Philippines, Pakistan, Bangladesh and India have at various times opened their doors to refugees.
Similarly, the Association of Southeast Asian Nations' (ASEAN) disaster management unit has focused on facilitating and streamlining repatriation of Rohingya refugees in Bangladesh.
But a leaked report by the unit, AHA Centre, in advance of last June's ASEAN summit was criticized for evading a discussion on creating an environment in which Rohingya would be willing to return.
The criticism went to the core of the problem: Civilizationalist policies, including cultural genocide, isolating communities from the outside world, and discrimination will at best produce simmering anger, frustration and despair and at worst mass migration, militancy and/or political violence.
A Uyghur member of the Communist Party for 30 years who did not practice his religion, Ainiwa Niyazi, would seem to be the picture-perfect model of a Chinese citizen hailing from the north-western province of Xinjiang.
Yet, Mr Niyazi was targeted in April of last year for re-education, one of at least a million Turkic Muslims interned in detention facilities where they are forced to internalize Xi Jinping thought and repudiate religious norms and practices in what constitutes the most frontal assault on a faith in recent history.
If past efforts, including an attempt to turn Kurds into Turks by banning use of Kurdish as a language that sparked a still ongoing low level insurgency, is anything to go by, China's ability to achieve a similar goal with greater brutality is questionable.
"Most Uyghur young men my age are psychologically damaged. When I was in elementary school surrounded by other Uyghurs, I was very outgoing and active. Now I feel like I have been broken… Quality of life is now about feeling safe," said Alim, a young Uyghur, describing to Adam Hunerven, a writer who focuses on the Uyghurs, arrests of his friends and people trekking south to evade the repression in Xinjiang cities.
Travelling in the region in 2014, an era in which China was cracking down on Uyghurs but that predated the institutionalization of the re-education camps, Mr. Hunerven saw that "the trauma people experienced in the rural Uyghur homeland was acute. It followed them into the city, hung over their heads and affected the comportment of their bodies. It made people tentative, looking over their shoulders, keeping their heads down. It made them tremble and cry."
There is little reason to assume that anything has since changed for the better. On the contrary, not only has the crackdown intensified, fear and uncertainty has spread to those lucky enough to live beyond the borders of China. Increasingly, they risk being targeted by the long arm of the Chinese state that has pressured their host countries to repatriate them.
Born and raised in a Rohingya refugee camp in Bangladesh, Rahima Akter, one of the few women to get an education among the hundreds of thousands who fled what the United Nations described as ethnic cleansing in Myanmar, saw her dreams and potential as a role model smashed when she was this month expelled from university after recounting her story publicly.
Ms. Akter gained admission to Cox's Bazar International University (CBIU) on the strength of graduating from a Bangladeshi high school, a feat she could only achieve by sneaking past the camp's checkpoints, hiding her Rohingya identity, speaking only Bengali, dressing like a Bangladeshi, and bribing Bangladeshi public school officials for a placement.
Ms Akter was determined to escape the dire warnings of UNICEF, the United Nations' children agency, that Rohingya refugee children risked becoming "a lost generation."
Ms. Akter's case is not an isolated incident but part of a refugee policy in an environment of mounting anti-refugee sentiment that threatens to deprive Rohingya refugees who refuse to return to Myanmar unless they are guaranteed full citizenship of any prospects.
In a move that is likely to deepen a widespread sense of abandonment and despair, Bangladeshi authorities, citing security reasons, this month ordered the shutting down of mobile services and a halt to the sale of SIM cards in Rohingya refugee camps and restricted Internet access. The measures significantly add to the isolation of a population that is barred from travelling outside the camps.
Not without reason, Bangladeshi foreign minister Abul Kalam Abdul Momen, has blamed the international community for not putting enough pressure on Myanmar to take the Rohingyas back.
The UN "should go to Myanmar, especially to Rakhine state, to create conditions that could help these refugees to go back to their country. The UN is not doing the job that we expect them to do," Mr. Abdul Momen said.
The harsh measures are unlikely to quell increased violence in the camps and continuous attempts by refugees to flee in search of better pastures.
Suspected Rohingya gunmen last month killed a youth wing official of Bangladesh's ruling Awami League party. Two refugees were killed in a subsequent shootout with police.
The plight of the Uyghurs and the Rohingya repeats itself in countries like India with its stepped up number of mob killings that particularly target Muslims, threatened stripping of citizenship of close to two million people in the state of Assam, and unilateral cancellation of self-rule in Kashmir.
Shiite Muslims bear the brunt of violent sectarian attacks in Afghanistan and Pakistan. In Malaysia, Shiites, who are a miniscule minority, face continued religious discrimination.
The Islamic Religious Department in Selangor, Malaysia's richest state, this week issued a sermon that amounts to a mandatory guideline for sermons in mosques warning against "the spread of Shia deviant teachings in this nation… The Muslim ummah (community of the faithful) must become the eyes and the ears for the religious authorities when stumbling upon activities that are suspicious, disguising under the pretext of Islam," the sermon said.
Malaysia, one state where discriminatory policies are unlikely to spark turmoil and political violence, may be the exception that confirms the rule.
Ethnic and religious supremacism in major Asian states threatens to create breeding grounds for violence and extremism. The absence of effective attempts to lessen victims' suffering by ensuring that they can rebuild their lives and safeguard their identities in a safe and secure environment, allows wounds to fester.
Permitting Ms. Akter, the Rohingya university student, to pursue her dream, would have been a low-cost, low risk way of offering Rohingya youth an alternative prospect and at the very least a reason to look for constructive ways of reversing what is a future with little hope.
Bangladeshi efforts to cut off opportunities in the hope that Rohingya will opt for repatriation have so far backfired. And repatriation under circumstances that do not safeguard their rights is little else than kicking the can down the road.
Said human rights advocate Ewelina U. Ochab: "It is easy to turn a blind eye when the atrocities do not happen under our nose. However, we cannot forget that religious persecution anywhere in the world is a security threat to everyone, everywhere."