Our teachers need a stern lesson
It is no surprise that our local news reports on education have usually been replete with how bad the Thai learning system is.
From a national perspective, the country's recent Ordinary National Educational Test (O-Net) test results for Grade 12 students reveal the average scores are below par in all subjects. The only subject that the average score is higher than 50% in is Thai language. This does not mean the average quality of students' Thai language competence is high or adequate.
The World Bank's report provides a bleak picture of the level of Thai language attainment among students. Its report states that 32% of 15-year-old students in Thailand are "functionally illiterate". This means their reading comprehension is so poor that they barely understand what they read, hence they even struggle to survive or cope with menial jobs.
When it comes to an international comparison, Thai students are falling behind their peers in Vietnam, Malaysia and Singapore. This is most evident in the Programme for International Students Assessment (Pisa) which evaluates the ability of randomly selected 15-year-old students to attain scientific literacy, reading literacy and mathematics literacy. Sadly, for the past 10 years, Thailand's performance in the Pisa test has never met the world standard. The average 15-year-old Thai student is 1.5 years academically less competent than their peers in Vietnam.
Thai educators are well aware of how bad the system is. For decades, considerable energy, attention and resources have gone into education reform in order to revamp the system. However, the system has not changed much. Since the National Education Act was promulgated in 1999, the system is still heavily centralised and overtly unequal resulting in low academic achievement of students.
One of the main problems of the Thai education system is the rampant rote learning pedagogy. Thai classrooms apply a top-down approach that lacks interactive engagement with students. Teachers stand in front of the class with the expectation to know it all and be the masters of knowledge, while students are given limited engagement and thus show little enthusiasm.
To make matters worse, teachers are not always present in class. The Quality Learning Foundation reported that Thai teachers spend more than 42% of their time outside the classroom.
Worst of all, Thai schools are overloaded with demanding curriculums. Students are expected to know so many topics without being provided with substantive explanation or examples of difficult concepts. They are expected to learn through memorisation rather than understanding, or acquisition of knowledge.
In the recent bi-annual meeting of Anandamahidol scholars, Charas Suwanwela, President of the Education Reform Committee appointed by the current government, offers a compelling insight to the reform process. He highlighted why the two decades of education reform do not produce the needed result and what needs to be done.
Firstly, our education system must shift from a top-down approach to a bottom-up one. By all standards, the Thai system needs greater decentralisation. Reformers of the 1999 National Education Act were aware of this and put decentralisation at the forefront. However, realistically speaking, most — if not all — decisions and resource allocations still depend largely on the discretion of the Ministry of Education, which is heavily bureaucratised and highly hierarchical. Such reliance and dependency has limited the ability of educational service areas to be able to perform.
"To successfully implement any kind of reform, such effort must be bottom up where everyone owns it. As things stand, nobody is accountable for educational problems in Thailand. We all blame each other but nobody takes charge of how things must change", Mr Charas said.
Greater participation of the public and private sectors is needed. For so long, educational responsibility has belonged to the state, which leaves the rest of the society inert and irresponsible for change. But education is the responsibility of every party: The state, schools, families, private sectors, communities and even temples. Everyone must participate to make a difference.
Second, there must be a renewed sense of hope for teachers and students.
"Teachers and students must be empowered to become active agents. For teachers, they must be motivated to constantly acquire new knowledge to inform and inspire students. While specialisation teachers in all subjects are needed, we do not have the resources to do so. Therefore, teachers must be eager and empowered to improve themselves", Mr Charas said.
The heart of it all, however, is that students must be awakened. In the new era of digital technology, students cannot rely on top-down, rote learning and memorisation as the method of education. They must learn to be digitally literate so that they can acquire information on their own. A digital revolution is needed for students to learn online, on-air and on the ground.
Third, education reform must take the issue of inequality seriously. Prasarn Trairatvorakul, National Economic Reform Chairman, recently shared his vision of the state-run Equitable Education Fund that aims to address educational disparity.
"A new law is being drafted to mobilise [financial] resources from national budgets, donations and lottery profits to create an Equitable Education Fund in order to mitigate educational inequality," Mr Prasarn said.
"The annual educational budget is around 500 billion baht. This new law will propose that 5% of that will be allocated precisely to offer educational resources to support the most marginalised and underprivileged in the country. Starting from early childhood education, this new fund aims to offer financial supports for students up to upper secondary schools."
The system cannot be overhauled overnight. However, with vision, collaboration and real commitment, there is a beaming light of hope that education in Thailand might improve over time.
First published in Bangkok Post, repost under author's permission
A Short History of the ASEAN Digital Future
This month, Malaysia celebrates its 62nd anniversary of Independence, led by 94-year old but digitally savvy Prime Minister Mahathir Mohamad. Singapore also celebrated its 54th National Day this month, with Prime Minister Lee Hsien Loong speaking in Malay, Mandarin and English about how to prepare Singapore for climate change. At the 74th anniversary of Independence, Indonesian President Joko "Jokowi" Widodo announced an ambitious plan to move the capital from Jakarta to Borneo.
Traveling around ASEAN this month made me realize that while the rest of the world is more preoccupied with the turbulent present, Southeast Asia is already thinking and preparing for the future.
The reason for this is pretty straight forward. At 600 million people with more than US$2.5 trillion in gross domestic product (GDP), ASEAN economies remain one of the youngest and fastest growing region in the world. ASEAN's success since the 1960s has been built on trade, peace and stability, and dedication to economic growth rather than politics. Its future success hinges on its political neutrality, despite attempts by the Great Powers asking the region to choose sides.
In Hanoi for a Young Scholars Initiative meeting of young academics, I was struck by how Vietnam was already planning for a digital economy by 2030 and 2045.
Having touched 7.1 percent GDP growth in 2018, and with just under 100 million population, Vietnam has been a major beneficiary of China shedding its low-cost industries and the diversification of the Asian global supply chain.
In 2010, Vietnam achieved the World Bank's middle-income status and at the current trajectory, could be larger than Singapore's economy by 2029, according to a DBS study.
In order to maintain its growth momentum and to provide jobs for its growing youth, Vietnam envisaged four possible digital futures, as buyer or seller of digital products and services.
In the first Heritage scenario, using traditional engines of growth with low digital transformation, the additional growth could be minimal.
In the second scenario of Digital Exporter, using overseas companies hiring Vietnamese workers for exports, the projection shows some improvement, but only marginal benefits.
The third scenario of Digital Consumer leverages off Vietnam's own large consumer market, but the amount of current jobs at risk would be one-third higher than the two earlier scenarios.
The fourth scenario of a Digitally Transformed Economy, across all industries and government services, predicted an increase of 1.1 percent additional annual GDP growth, but 38.1 percent of current jobs would be at risk of transformation or disruption.
In essence, Vietnam realizes that its own industries can be cannibalized by relying only on the foreign sector and should therefore have a total domestic transformation that engages digitally with the rest of the world. That scenario lays out a road map that would give priority to infrastructure, network security, increasing digital skills and capabilities, modernizing government, an industry 4.0 and national innovation plan, and significant tax and regulatory reform.
Arriving in Jakarta last week for a conference on digital finance, I was struck how traffic from the airport has significantly improved, while everyone was also very focused on how digital transformation, social justice and climate change would be critical to Indonesia's future.
The move out of Jakarta, one of the most congested urban conglomerations in the world, would cost $33 billion over 10 years to build the new capital in Kalimantan. But another $40 billion would be spent on transforming Jakarta, as two-fifths of the city is below sea level and parts are sinking due to rising seas and soil settlement.
Indonesia is moving fast into the digital space, because its internet user growth rate is three times faster than the global average, and its internet user community is only 56 percent or 150 million out of its total population of 268 million. President Jokowi understands fully that "data is the new type of wealth for our nation, it is now more valuable than oil".
But since Indonesia is one of the biggest markets for Google, Facebook, Youtube and WhatsApp, the key to future growth will be the access to data. Will Indonesian companies, government and start-ups have access to data so that they can compete equally with multinationals that are willing to pay for such data? If we as individuals cede our private data to these platform companies, which then sell them as "private income", when will data become a public good for growth?
One reason why I am optimistic about ASEAN as digital economies is that they are actually more innovative than the present indicators suggest. If you look at the Global Innovation Index 2019, you would find that Switzerland is number 1, the United States (3) and Singapore (8), while Hong Kong, China and Japan are 13, 14 and 15th respectively. On the other hand, Malaysia ( 35 ), Vietnam ( 42 ), Thailand ( 43 ) and Philippines ( 54 ) are behind Latvia ( 34 ) and nearer India ( 52 ).
These scores are essentially weighted in ways like the famous IQ tests, which were essentially Euro-centric in bias. In the digital space, innovation and ability to capture markets are very much in the SPEED x SCALE x SCOPE framework. China was able to compete rapidly with the US, because of the scale of its internal market (800 million internet users), high speed broadband infrastructure available, and scope of hybrid services across multiple sectors (Alibaba and WeChat).
Clearly, within ASEAN, Indonesia, Vietnam and Philippines have scale, with populations over 100 million each. ASEAN's real strength is the youth of the population, already digitally savvy and moving into middle and higher income ranges. Hong Kong and Singapore score highly, but that is due to the higher weighting given to institutions, infrastructure and market sophistication, as you would expect from world-class cities. But Singapore came only 34th in terms of creative output, and Hong Kong came 33rd in terms of knowledge and technology outputs.
It is precisely because the ASEAN countries have youth, diversity of culture and access to world-class knowledge, as well as strategic geographical location, that they will become the cutting edge digital future. And since they are, as prof. Anis H. Bajrektarevic rightfully claims, 'champions of multilateralism' so much needed in a 'theatre of brewing expectations', that of 'still worryingly bilateral' Asia.
No economy today can afford to be complacent. Least of all in terms of flawed indices. To think that Hong Kong, considered by the Heritage Foundation to be number one in economic freedom, can descend into protests because of an intergenerational dispute over the rule of law and inequality, means that we need a root-and-branch review of how to compete in a complex digital world.
An earlier version of this text appeared in Jakarta Post under the title: A digital August in ASEAN.
Indonesia abandoning its Capital ?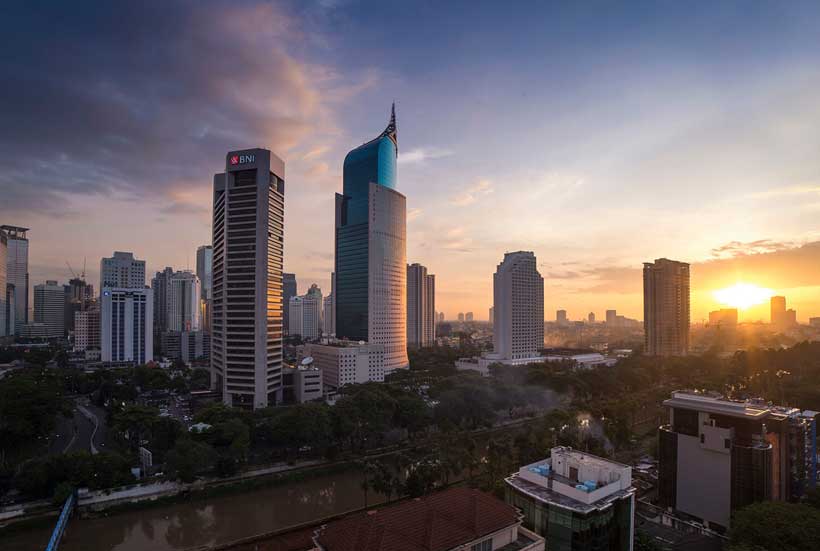 I have almost always lived in capital cities. I was born in New Delhi, resided in London, Prague (before Czechoslovakia split in 1993), Budapest, Rome, Bonn (long before the capital moved to Berlin in 1991), when my parents were posted there as diplomats. When in Indonesia, it's always been in Jakarta.
So am I a capital city snob? In connection to the uber-densely populated, polluted, badly planned, garbage-filled, flood prone, traffic-choked, sinking city that Jakarta is? Hah! Not likely.
Jakarta is Indonesia's gateway to the world, Southeast Asia's most dynamic metropolitan area, and the nation's economic, political, cultural and intellectual center. It provides all sorts of opportunities unavailable elsewhere in the country, which is what draws migrants in.
Jakarta proper hosts about 11 million in an area of 661.5 square kilometers, while the entire metropolis is home to over 30 million people across 6,400 sq km. Pretty squeezy huh?
Furthermore, Jakarta could also be hit by a powerful earthquake, not just the tremors we've been experiencing. Then we wouldn't have a capital. Oh boy!
So when I heard about the plan to move the capital from Jakarta to Kalimantan, I thought, hmmm (read: thinking hard!). A recent survey (posted in Coconuts Jakarta) unsurprisingly found that 95.7 percent of Jakartans were against the move. They suggested the new capital be called "Jokograd" or "Saint Jokoburg", mocking what they consider President Joko "Jokowi" Widodo's overly ambitious plan.
Megalomania? Overly enthusiastic? Or just like all leaders, wanting a legacy? Pak Jokowi, you have left legacies aplenty already! Yeah, sure, some failures, misguided policies, and many unmet promises as well, but no one's perfect!
So what and who is behind Jokowi's burning ambition? Could former president Megawati Soekarnoputri be one of them? Her father had also wanted to move the capital to Palangkaraya in Central Kalimantan (Jokowi decided on North PenajamPaser regency and part of Kutai Kertanegara regency in East Kalimantan). Moving the capital was one of first president Sukarno's unmet goals, so is "Mama Mega" passing it on to Jokowi?
Those who are for the move say it's courageous and revolutionary. Not really. Besides Sukarno, almost every president — certainly Soeharto and Susilo Bambang Yudhoyono, wanted to do it. But Jokowi is typically the Nike guy who says "just do it!"
Since independence in 1945, we've always been too Java-centric, even more than during colonial times. It's curious considering Java is an island comprising 7 percent (128,297 sq km) of the size of Indonesia (1,905 million sq km), populated by almost 160 million people, nearly 60 percent of the total population.
Kalimantan meanwhile has a land mass of 542,630 sq km, hosting under 14 million people. Transmigration from Java to the lesser populated islands of Kalimantan, Sumatra, Sulawesi and even Papua seemed an obvious solution to reduce overpopulation and poverty.
Transmigration programs, starting since the Dutch colonial period, later stoked fears of Javanization and Islamization, triggering conflicts, communal violence and bolstering separatist movements. Uh-oh!
In 2015 Jokowi scrapped the transmigration program, but now he's ferociously adamant about moving the capital to Kalimantan?
OK, let's look at the pros: like the transmigration program, it certainly looks good on paper. It suggests the government is serious about paying more attention to parts of Indonesia other than Java.
The move is expected to stimulate economic growth in the outer islands, and give a nod to non-Javanese culture. According to EndyBayuni of The Jakarta Post, "It's a step toward the 'de-Javanization' of Indonesia […] decentralization and regional autonomy are not enough".
My nephew, Andi Haswidi, a researcher, said, "Jakarta is sinking, and relocating the capital could induce a more equitable economic development". But he warned, the process will be incredibly hard and will require the revision of so many laws, unless the government resorts to using government regulations in lieu of law (Perppu). "It also requires incredible leadership, a serious commitment to the rule of law, and a more relaxed fiscal policy". Right. Just minor things.
The cons: extremely costly with an expected budget of Rp 477 trillion (US$36.6 billion) and humungous disruption, while the benefits are still uncertain. And remember Murphy's Law: expect the unexpected!
It's also one way to shrink the civil service, and possibly not getting the best human resources to work there. Would you be willing to just get up and leave everything that constitutes your life in Jakarta/Java? Family, friends and facilities, from health, education, entertainment and access to other places, both domestic and international?
Emil Salim, senior economist and extremely seasoned politician who held several governmental and Cabinet posts, reminds us of Indonesia's archipelago of 17,000 islands, flanked by two oceans, located smack bang in the middle of maritime traffic. A capital in Kalimantan would be very difficult to access.
"If Jakarta is fraught with problems, fix them", he said, "Moving is shirking responsibility". His opinion is echoed by Jeffrey Winters, a professor of Northwestern University who said, "It's capitulation. Jakarta is such a colossal failure, they've given up on trying to fix the city." But Winters also said, "It would be irresponsible to keep a capital in a sinking city that is going to be completely under water in less than five decades".
Environmental activists warn that the move could spark "a fresh environmental crisis in a region home to rainforests and endangered orangutans". They say mining and palm oil plantations are already threatening Kalimantan's environment and endangered species habitats, which could worsen if a big city is built near a key conservation area. And don't forget the forest fires!
"Equitable development" has always been a catchphrase in every president's rhetoric and every regime. According to Monique Rijkers in an article in Deutsche Welle, Indonesia doesn't need a new capital, what it needs are more metropolitan cities and infrastructure spread throughout Indonesia. As she points out, even the basic needs of the people such as access to water, electricity, health, education have not been met, and the government wants to move the capital?
Oh dear! Everyone has a point. It's so dilemmatic! Even those against the relocation admit that at some point the capital has to move, but not now. There are still too many pressing issues that need urgently to be tended to.
I give up. The House of Representatives needs to give its approval first anyway. Let's take it one step at a time, shall we, and let history, politics, science, and nature, run its course. 
Author's note: Early version of this text published by the Jakarta Post under the title: Jakarta to Kalimantan: Capital gain or capitulation?
In Myanmar, Better Oversight of Forests a Vital Step in Transition to Rule of Law
Authors: Art Blundell and Khin Saw Htay
For the first time, the Myanmar Extractive Industries Transparency Initiative (MEITI) has opened the books to share information with the public on revenue Myanmar's government collects from harvesting timber. Last month, the MEITI released two reports juxtaposing statistics on production and tax payments from government ministries' ledgers with corresponding figures reported by the state-owned Myanma Timber Enterprise (MTE) and forestry companies.
The reports are an important step toward improved transparency and accountability in Myanmar's forest sector because they shine a light on irregularities that may point toward mismanagement or illegal activities. Unclear legal frameworks and weak enforcement in Myanmar's forestry sector – a remnant of decades of military rule – have created an environment ripe for illegal logging and illicit trade, and mismanagement of natural resources.
The role of forests in Myanmar's transition to democracy cannot be overemphasized. Money from illegal logging helped to fuel Myanmar's decades-long civil war. Smuggling of illegally harvested timber to countries like Chinahas led to the loss of millions of dollars each year in government revenue. Corruption also fuels continued violence and prolongs armed conflict, especially in the heavily forested states that are home to most of Myanmar's ethnic minorities.
The MEITI is committed to sharing its results at the state level—especially in Myanmar's forest-rich regions. Myanmar's citizens have the right to understand how their forests are being managed for the public good.
The EITI framework was launched globally in 2003 with a focus on oil, gas, and mining, given that these lucrative sectors are often key drivers of corruption in resource-rich countries. Myanmar is one of only a few countries (following Liberia's lead) to add forestry to its EITI reporting, thanks to advocacy from civil society.
Myanmar's newest MEITI reports are a commendable step by the government toward transparency. But producing a report like this is not easy. The reporting highlights numerous disparities and irregularities in government record-keeping. This is not unusual for a first EITI report. It is also a major objective of the EITI: transparency leads to meaningful discussion about necessary reforms, while regular reporting creates an accountability mechanism to demonstrate progress. MEITI is now preparing their next report covering fiscal years 2016-2017 and 2017-2018.
The MEITI is already driving progress. Myanmar's Ministry of Planning and Finance (MoPF) has announced it will close the so-called "other accounts" maintained by State-owned Economic Enterprises, like the MTE, that have kept more than half their profits separate from the government's central budget. Data in the MEITI report suggest that MTEretained74% of its $1 billion profits from fiscal years 2014-2015and2015-2016 in these other accounts–significantly more than the 55% that is permissible.
Myanmar's Ministry of Natural Resources and Environmental Conservation (MoNREC) now holds important data that can be used to investigate and resolve irregularities uncovered by the MEITI reporting. For instance, the Forestry Department's data on production does not match the data provided by the MTE, and it is substantially more than the Annual Allowable Cut (a government-determined sustainable level of harvest). Likewise, the MTE indicated that more teak was sold than its total reported supply. The source of the additional volume of teak logs is unexplained.
Reforms should help MoNREC address these irregularities. Current reporting is obviously insufficient to capture reality. With the help of a workshop that followed the MEITI launch, stakeholders are working with MoNREC to develop appropriate reforms for MTE and the Forestry Department, and to improve forestry sector governance in general.
Opacity hurts the country in more ways than one. Illegal logging, corruption, and smuggling siphon off revenues meant for programs serving the public. Illegalities also threaten forests – and the communities that rely on forests for their livelihoods – and they drive off credible investment, leaving a gap often filled by investors with less regard for environmental and social regulations.
It is important to note that the MEITI reports cover only the period from April 2014 through March 2016, prior to Aung San Suu Kyi's NLD Party coming into power. The current administration has committed to fairer distribution of benefits from Myanmar's natural resources among its citizens, yet systematic barriers remain. Endorsing the recommendations from the MEITI report and implementing a roadmap for reform would signal the NLD's commitment to good forest governance. Meanwhile, companies should do their part to comply with the law and accurately report production, sales, and other data in an accessible manner that allows for independent monitoring.
Myanmar's forest resources hold great promise for the country's people, its economy, and the government budget, if managed responsibly. The MEITI has a clear role in charting that path forward and in helping Myanmar manage its natural resources based on the principles of good governance.