Conserving Iran and Iraq's wetlands
There's growing awareness in the Islamic Republic of Iran that wetlands are valuable and sustain livelihoods.
Ramsar, "the gem of northern Iran", is the town that gives its name to the Ramsar Convention.
The Convention is an intergovernmental treaty that provides the framework for national action and international cooperation for the conservation and wise use of wetlands and their resources. It came into force more than 40 years ago.
The Islamic Republic of Iran has 24 sites designated as wetlands of international importance (Ramsar sites) out of 2,290 worldwide. Of Iran's 24 sites about one third are under pressure or in a critical condition.
Wetlands are vital for biodiversity. Large populations of migratory birds winter there or use them on their way to and from wintering areas in Africa or the Indian sub-continent.
The Convention uses a broad definition of wetlands. It includes all lakes and rivers, underground aquifers, swamps and marshes, wet grasslands, peatlands, oases, estuaries, deltas and tidal flats, mangroves and other coastal areas, coral reefs, and all human-made sites such as fish ponds, rice paddies, reservoirs and salt pans.
The Islamic Republic of Iran has been struggling to prevent its lakes and wetlands from drying up owing to extensive extraction of water by farmers for irrigation, growing extraction for non-agricultural uses, and climate change. A telltale signal of vanishing wetlands is the increased frequency  and intensity of dust storms in Iran and across the region. The adverse situation has been compounded by 14 years of drought, according to Barbara Slavin, director of the Future of Iran Initiative at the Atlantic Council.
Sand and dust storms, the advance guard of desertification, have been identified as one of the "emerging issues of environmental concern" in UN Environment's latest Frontiers Report.
"The anthropogenic causes of sand and dust storms include deforestation and unsustainable agricultural practices as well as excessive water extraction and the modification of water bodies for irrigation and other purposes," says the report.
In the long term, only sustainable land and water management, integrated with measures addressing climate change mitigation and adaptation, can improve the situation.
Iran is trying to deal with the problem. Its National Biodiversity Strategic Action Plan, Target 18, states: "By 2030, conservation and wise use of wetlands are strengthened and the situation for at least 50 per cent of degraded wetlands is improved."
Lake Urmia
Lake Urmia, a Ramsar site and UNESCO Biosphere Reserve, is a vast hypersaline lake with many islands, surrounded by extensive brackish marshes, in northeastern Iran. The lake is fed by rainfall, springs and streams and subject to seasonal variation in level and salinity. The brackish marshes are an important staging area for migratory waterbirds.
Around 6.4 million people and 200 species of birds live in the Urmia basin.
The lake ecosystem supports biodiversity and provides recreation and mental health benefits, as well as water for agriculture and industry. If the lake were to dry up completely, dust storms and disaster could result.
A study between 2002-2011 in the eastern sub-basin of Lake Urmia showed that agricultural activities, the expansion of farmland, and population increases over the last three decades led to the over-exploitation of resources, causing land degradation. The lake has been in decline since 1995. By August 2011, its surface area was only 2,366 km2, according to UN Environment. It further declined to 700km2 in 2013. NASA satellite data indicate that the lake lost about 70 percent of its surface area between 2002 and 2016.
The Islamic Republic of Iran is working with development partners and local communities to improve the situation. Engineering works have helped unblock and un-silt the feeder rivers, and there has been a deliberate release of water from dams in the surrounding hills. In September 2016 the Government of Iran and the Food and Agriculture Organization launched a four-year sustainable management project for the lake.
Recent indications are that the lake is recovering. The lake surface area is now 2,300 km2 (UN Development Programme, 2017). UN Environment's November 2017 Foresight brief focuses on the extent of this recovery and measures being put in place to ensure this is sustained.
Hawizeh Marsh
In neighbouring Iraq, the Hawizeh Marsh, which extends across the border into Iran where it is known as Haur Al-Azim, was designated as the country's first Ramsar site in 2007. Around 20-25 per cent of this wetland is in the Islamic Republic of Iran.
Part of the Mesopotamian marshland complex fed by the Tigris and Euphrates rivers, the whole region is suffering from the construction of upstream water control structures,  increasing water extraction for agriculture as well as reduced rainfall.. As a result, the Hawizeh marsh was placed on Ramsar's register of threatened wetlands requiring priority attention.
In mid-2017, the Government of Iraq requested the Ramsar Secretariat to organize an advisory mission to the marshes to identify ways for future cooperation between Iraq and Iran as a first step towards the long-term conservation and sustainable development of the marshes, including ways to reduce the incidence of sand and dust storms.
The mission, which took place from 16 to 23 December 2017, involved  officials from  Iraq and Iran participating in workshops and conducting site visits on both sides of the border to better understand the situation. In cooperation with the Ramsar Secretariat, UN Environment is helping support the dialogue process which also includes consultations with local communities and participation of UN agencies.
Areas of agreed future cooperation include carrying out waterbird surveys,   creating a platform for exchanges of technical and scientific information on the ecology of the marshes, and joint celebration events on wetlands and water. In a quick and positive step forward, a team of Iraqi bird experts joined Iranian surveyors in conducting a midwinter waterfowl count on the Iranian side of the marshes from 23-26 January 2018. Similarly, Iranian experts plan to collaborate in the waterfowl census in Iraq in early February 2018.
Proof of Human Impotence and Agency in Climate Change While Disasters Multiply
To be rational is to know that weather events cannot be causally related to climate change, although exacerbation is another issue.  Yet when the news is full of record setting fires in California and Greece and Australia, temperature records tumbling, and typhoons and hurricanes relentless in their intensity, one might be forgiven for wondering.
Those who are not climate scientists can only interpret research done by others for the general public and form opinions colored by their work.  That sum of work as it develops becomes more frightening by the day, with a strong fear the predictions will come true earlier than anticipated.
Now there is new climate research on the troposphere, a region extending from the surface of the earth to 16 km (10 miles) at the tropics and 13 km at the poles.  Researchers have studied the amplitudes of the annual cycle of tropospheric temperatures, the highs and the lows, and how these have changed over time.  Above all, they have examined human agency.
The news, as they say, is not good.  Their results the authors state, "provide powerful and novel evidence for a statistically significant human effect on earth's climate."  They call it 'anthropogenic forcing'.
As a consequence we have "pronounced midlatitude increases in annual cycle amplitudes in both hemispheres."  These are repeated in satellite data.  It means higher tropospheric temperatures in summer and lower in winter.
Not only is there "seasonality in some of the climate feedbacks triggered by external forcings" (read human fingerprint), say the authors, but worse "there are widespread signals of seasonal changes in the distribution and abundance of plant and animal species."  In other words, we are screwing up wildlife, both plant and animal.
It is as if the air in the earth's attic is warmer in summer and colder in winter.  And its air conditioner, the tropical rainforest is on the blink.  Greed for hardwoods and farmland has resulted in serious depletion.
Meanwhile, carbon dioxide levels continue to soar, exceeding 412 ppm on May 14, 2018.  The last time the earth reached a 400 ppm threshold was several million years ago.  The human footprint here is proven through the negative delta13C levels caused by fossil fuel use because plants are lacking in the 13C isotope of carbon.  Combining the CO2 rise with increasing tropospheric temperature cycle amplitudes can only magnify the problem.  A new report in the Proceedings of the U.S. National Academy of Sciences lays out a scenario for a self-reinforcing feedback loop, a 'hothouse earth' at which point no human action could prevent catastrophe.
A quick glance at recent weather disaster reports, several within a week, should satisfy skeptics of the exacerbation of extreme events:
The Mendocino Complex fire in California is the largest in the state's history.  It is uncontrollable and expected to burn through August.
Record breaking rains in Western Japan have resulted in floods causing over 150 fatalities and mudslides knocking over and destroying homes.  "We've never experienced this kind of rain before," said a weather official.
Floods in France have led to the evacuation of 1600 people.  The flooding comes after the area and much of Europe suffered extremely hot weather.  Thus in July, devastating wildfires in Greece killed 92 people.  And as warning in Southeastern Australia, the bushfire season has been brought forward two months from October due to excessively dry hot weather.
Extremely heavy rains in Toronto have flooded the city.  Two men trapped in a basement elevator were rescued through the heroic efforts of first responders, who swam to the elevator and used a crowbar to open the doors.  There was just a foot of breathable air when the men swam out.
The climate story is not new; from Svante Arrhenius, the Swedish scientist who foresaw global warming from the use of fossil fuel (and thought it to be fortunate for Northern Europe) to James E. Hansen the climate scientist who, in historic Senate testimony on June 23, 1988, gave clear warning of the greenhouse effect that was changing the earth's climate.
The Intergovernmental Panel on Climate Change was established later that year, although the Montreal Protocol a year earlier had set the stage.  The Fifth IPCC Assessment was published in 2014 and the next one is due in 2022.  Yet, what have we learned?
On July 19, 2018, the House of Representatives passed a non-binding resolution, H.Con.Res.119, denouncing a carbon tax as detrimental to the U.S. economy.  As we march to climate self-destruction, the president wants to increase the use of coal and has withdrawn from the Paris Agreement.
So there we are …  the ostrich syndrome in full effect.
To beat hunger and combat climate change, world must 'scale-up' soil health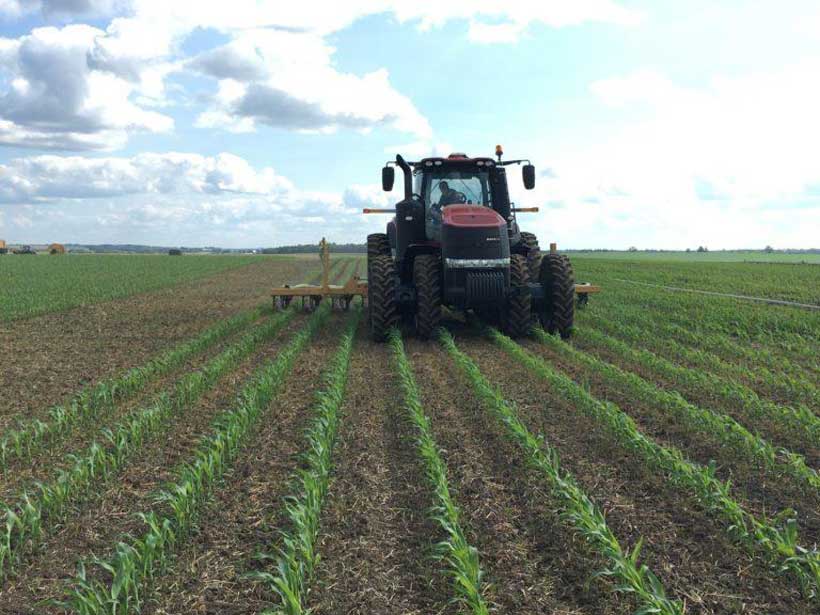 Healthy soils are essential to achieve 'Zero Hunger' – and other Sustainable Development Goals (SDGs) – peace and prosperity, the United Nations agriculture agency chief underscored in Brazil at the World Congress of Soil Science.
On Sunday, more than 2,000 scientists gathered in Rio de Janeiro under the theme "Soil Science: Beyond food and fuel," for a week of exploring the increasingly complex, diverse role of soils; grappling with resilient agriculture practices to address environmental and climatic changes; and confronting threats to food security and sovereignty.
"Soil degradation affects food production, causing hunger and malnutrition, amplifying food-price volatility, forcing land abandonment and involuntary migration-leading millions into poverty," said José Graziano da Silva, the Director-General of the Food and Agriculture Organizaation (FAO), in a video message noting that approximately one-third of the Earth's soil is degraded
The FAO The Status of the World's Soil Resources report had identified 10 major threats to soil functions, including soil erosion, nutrient imbalance, acidification and contamination.
Mr. Graziano da Silva stressed the importance of sustainable soil management as an "essential part of the Zero Hunger equation" in a world where more than 815 million people are suffering from hunger and malnutrition.
Soils and climate change
"Although soils are hidden and frequently forgotten, we rely on them for our daily activities and for the future of the planet," the FAO chief said, underscoring the important support role they play in mitigating or adapting to a changing climate.
Mr. Graziano da Silva specifically pointed to the potential of soils for carbon sequestration and storage – documented in FAO's global soil organic carbon map.
"Maintaining and increasing soil carbon stock should become a priority," asserted the UN agriculture chief.
He also noted how soils act as filters for contaminants, preventing their entry into the food chain and reaching water bodies such as rivers, lakes and oceans, flagging that this potential becomes limited when contamination exceeds the soils' capacity to cope with pollution.
In his message, Mr. Graziano da Silva noted the Global Soil Partnership in which FAO works with governments and other partners to build technical capacity and exchange knowledge on sustainable soil management through the Voluntary Guidelines for Sustainable Soil Management.
"Let us make soils a vehicle of prosperity and peace, and show the contribution of soils to achieve the Sustainable Development Goals," concluded the FAO Director-General said.
Caribbean Aims to Become World's First Climate-Smart Zone
A ground-breaking partnership to support the Caribbean's ambition to become the world's first 'climate-smart zone' launched today. 8 Times Olympic Gold Medal Winner Usain Bolt was in attendance to help fire the starting pistol for the Caribbean ClimateSmart Accelerator, which will be led by the Caribbean leaders to create the world's first climatesmart zone.
The Accelerator has created an unprecedented coalition including 26 countries and over 40 private and public sector partners which will implement climate solutions for resilience, renewable energy, development of sustainable cities, oceans and transportation. This climate-smart zone will not only protect the region but create jobs and a new economy in climate-smart infrastructure.
The Caribbean Accelerator has a vision which builds from the strategies of regional governments and agencies, including CARICOM and OECS. Although it has only just launching, it has already started to lay the foundations for success with initial Caribbean Climate-Smart projects including:
IDB's US$1billion commitment to climate-smart investments: The Inter-American Development Bank announced that it will partner with the Accelerator to program and implement the additional $1 billion in funds that it pledged for climate smart-investments across the Caribbean region at the Paris One Planet summit. This additional funding will build on an existing portfolio of over $200 million to support innovative solutions focusing on low carbon emissions, sustainable infrastructure and energy efficiency projects in the wake of natural disasters, drawing from low-cost blended finance and contingent credit facilities.
The IDB also announced that they will provide $3 million as start-up funds to the Accelerator to help get this important initiative successfully up and running, with the first $1.5 million available this year.
Grenada Climate Smart City: The Government of Grenada announced the start of the implementation of a $300m project to create the world's first "climate-smart city" with initial support from the Green Climate Fund (GCF) to help catalyse the project. Closely following a recent GCF investment into Grenada for a $48.7m climate-smart water project
Ocean Resiliency: An anonymous entrepreneur is investing $2m to support the Belize government's ocean protection efforts, ocean advocacy across the Caribbean, and entrepreneurs deploying business solutions to benefit the ocean like Algas Organics, which is turning the sargassum nightmare into a business opportunity creating fertilizer to support a thriving agricultural sector in the Caribbean.
The World Bank Group: The World Bank announced a three-year commitment of $1 million annually in in-kind services for the Accelerator, and is supporting Caribbean countries with an almost US$2 billion portfolio focused on strengthening resilience and financial protection against disasters – including US$1 billion in concessional financing from the International Development Association (IDA).
Airbnb: In partnership with the Accelerator, Airbnb is helping to weave a community of hosts who are ready to respond and build a more resilient Caribbean. The company is doing this by allowing hosts to open their homes to disaster survivors and relief workers free of charge.  Hosts waive their fees and Airbnb waives theirs. To date, over 11,000 people in need have been housed through the Open Homes program and it's now expanded to the Caribbean.
Zero Mass Water, a member of Breakthrough Energy Coalition, are solving the drinking water problems for the pediatric wards of 2 major hospitals in Jamaica, through the installation of 20 of their Source Hydropanls, which will make clean, filtered drinking water out of air for the next fifteen years.
Accelerator Speed Award: Usain Bolt announced an annual climate-smart "Speed Award".
Identifying the best initiatives across countries, companies, communities and individuals.  The first winners will be announced in June 2019.
Sean Paul a Grammy award winning Jamaican Musician, was announced as an official Ambassador of the Accelerator, with a focus on Oceans.
The TIDES Foundation announced a generous grant of $200,000 to the Accelerator.
Caribbean institutions and agencies – including governments, CARICOM and the OECS – have already started to use the Accelerator's unique platform of public and private stakeholders to make a difference.
Speaking at the launch, Prime Minister of Jamaica, Andrew Holness said: "Being climate-smart means putting the people of the Caribbean at the centre of all we do – to protect them from the challenges of climate change. The Caribbean Accelerator will also encourage job creation, social inclusion and economic growth. These benefits will only come when Governments, the international community and the private sector work together to overcome barriers and generate the investment that will benefit us all. That is why I am excited by the potential of the Accelerator to join the Caribbean with global partners who share our vision to see investment grow in the years ahead." Luis Alberto Moreno, President of the Inter-American Development Bank has played a key role in bringing together a multinational coalition of public and private partners to fast track public and private investments over the next five years.
Luis Alberto Moreno, the President of the Inter-American Development Bank, stated: "The IDB Group reaffirms its continued and historical commitment to the Caribbean and will work with leaders of the region to improve lives by creating climate-smart and vibrant economies, where people are safe, productive, and happy. We hope that through this Climate Smart Coalition, in addition to offering new affordable financing, we will use the IDB's extensive regional experience and presence on the ground to work closely with the people of the region to design their Caribbean of the future, today."
Speaking at the event today Sir Richard Branson said: "Our goal is ambitious and bold: we are creating the world's first climate-smart zone. We have a vision of a Caribbean which is greener, stronger and more resilient than ever before – built on innovation, powered by clean, sustainable energy and accelerated by public and private investment."
Jorge Familiar, World Bank Vice President for Latin America and the Caribbean, said: "We are committed to a stronger, more resilient, and climate-smart Caribbean.  Working together, bringing in international partners and increasing private sector participation will be key to maximize financing for development and create opportunities for all."
The coalition was first announced in Paris last December (https://www.caribbeanaccelerator.org/)  and since then it has grown from 11 to 26 Caribbean countries, with over 40 private sector partners to implement informative climate action across the Caribbean region.