Conserving Iran and Iraq's wetlands
There's growing awareness in the Islamic Republic of Iran that wetlands are valuable and sustain livelihoods.
Ramsar, "the gem of northern Iran", is the town that gives its name to the Ramsar Convention.
The Convention is an intergovernmental treaty that provides the framework for national action and international cooperation for the conservation and wise use of wetlands and their resources. It came into force more than 40 years ago.
The Islamic Republic of Iran has 24 sites designated as wetlands of international importance (Ramsar sites) out of 2,290 worldwide. Of Iran's 24 sites about one third are under pressure or in a critical condition.
Wetlands are vital for biodiversity. Large populations of migratory birds winter there or use them on their way to and from wintering areas in Africa or the Indian sub-continent.
The Convention uses a broad definition of wetlands. It includes all lakes and rivers, underground aquifers, swamps and marshes, wet grasslands, peatlands, oases, estuaries, deltas and tidal flats, mangroves and other coastal areas, coral reefs, and all human-made sites such as fish ponds, rice paddies, reservoirs and salt pans.
The Islamic Republic of Iran has been struggling to prevent its lakes and wetlands from drying up owing to extensive extraction of water by farmers for irrigation, growing extraction for non-agricultural uses, and climate change. A telltale signal of vanishing wetlands is the increased frequency  and intensity of dust storms in Iran and across the region. The adverse situation has been compounded by 14 years of drought, according to Barbara Slavin, director of the Future of Iran Initiative at the Atlantic Council.
Sand and dust storms, the advance guard of desertification, have been identified as one of the "emerging issues of environmental concern" in UN Environment's latest Frontiers Report.
"The anthropogenic causes of sand and dust storms include deforestation and unsustainable agricultural practices as well as excessive water extraction and the modification of water bodies for irrigation and other purposes," says the report.
In the long term, only sustainable land and water management, integrated with measures addressing climate change mitigation and adaptation, can improve the situation.
Iran is trying to deal with the problem. Its National Biodiversity Strategic Action Plan, Target 18, states: "By 2030, conservation and wise use of wetlands are strengthened and the situation for at least 50 per cent of degraded wetlands is improved."
Lake Urmia
Lake Urmia, a Ramsar site and UNESCO Biosphere Reserve, is a vast hypersaline lake with many islands, surrounded by extensive brackish marshes, in northeastern Iran. The lake is fed by rainfall, springs and streams and subject to seasonal variation in level and salinity. The brackish marshes are an important staging area for migratory waterbirds.
Around 6.4 million people and 200 species of birds live in the Urmia basin.
The lake ecosystem supports biodiversity and provides recreation and mental health benefits, as well as water for agriculture and industry. If the lake were to dry up completely, dust storms and disaster could result.
A study between 2002-2011 in the eastern sub-basin of Lake Urmia showed that agricultural activities, the expansion of farmland, and population increases over the last three decades led to the over-exploitation of resources, causing land degradation. The lake has been in decline since 1995. By August 2011, its surface area was only 2,366 km2, according to UN Environment. It further declined to 700km2 in 2013. NASA satellite data indicate that the lake lost about 70 percent of its surface area between 2002 and 2016.
The Islamic Republic of Iran is working with development partners and local communities to improve the situation. Engineering works have helped unblock and un-silt the feeder rivers, and there has been a deliberate release of water from dams in the surrounding hills. In September 2016 the Government of Iran and the Food and Agriculture Organization launched a four-year sustainable management project for the lake.
Recent indications are that the lake is recovering. The lake surface area is now 2,300 km2 (UN Development Programme, 2017). UN Environment's November 2017 Foresight brief focuses on the extent of this recovery and measures being put in place to ensure this is sustained.
Hawizeh Marsh
In neighbouring Iraq, the Hawizeh Marsh, which extends across the border into Iran where it is known as Haur Al-Azim, was designated as the country's first Ramsar site in 2007. Around 20-25 per cent of this wetland is in the Islamic Republic of Iran.
Part of the Mesopotamian marshland complex fed by the Tigris and Euphrates rivers, the whole region is suffering from the construction of upstream water control structures,  increasing water extraction for agriculture as well as reduced rainfall.. As a result, the Hawizeh marsh was placed on Ramsar's register of threatened wetlands requiring priority attention.
In mid-2017, the Government of Iraq requested the Ramsar Secretariat to organize an advisory mission to the marshes to identify ways for future cooperation between Iraq and Iran as a first step towards the long-term conservation and sustainable development of the marshes, including ways to reduce the incidence of sand and dust storms.
The mission, which took place from 16 to 23 December 2017, involved  officials from  Iraq and Iran participating in workshops and conducting site visits on both sides of the border to better understand the situation. In cooperation with the Ramsar Secretariat, UN Environment is helping support the dialogue process which also includes consultations with local communities and participation of UN agencies.
Areas of agreed future cooperation include carrying out waterbird surveys,   creating a platform for exchanges of technical and scientific information on the ecology of the marshes, and joint celebration events on wetlands and water. In a quick and positive step forward, a team of Iraqi bird experts joined Iranian surveyors in conducting a midwinter waterfowl count on the Iranian side of the marshes from 23-26 January 2018. Similarly, Iranian experts plan to collaborate in the waterfowl census in Iraq in early February 2018.
New Satellite Animations of Earth Show How Quickly Humans Are Changing the Planet
A new website that combines dramatic images from space with expert analysis of how humans are changing the planet will launch on World Earth Day (22 April).
EarthTime ties together diverse data layers to show the patterns and connections behind some of the major social and political trends of the past two decades – and how they are inscribed into fast-changing landscapes.
The platform has already been used in public outreach in schools and museums, and to inform world leaders at World Economic Forum events of major environmental and geoeconomic shifts, from air pollution to inequality. It uses images captured by NASA satellites since 1984.
The vision, and long-term goal, is to better inform everyone – including individuals, business heads and policy-makers – about the lives we lead, the decisions we make and the impact we have on the planet.
Nine expert analyses on global challenges will be launched on World Earth Day (22 April): deforestation, city growth, coral bleaching, fires at night, glaciers, renewables, sea-level rise, surface-water gain and loss and urban fragility. Other layers will be added in the months and years ahead. You can see them at www.earthtime.org.
EarthTime was developed by CREATE Lab (the Community Robotics, Education and Technology Empowerment Lab) at Carnegie Mellon University, in partnership with the World Economic Forum. It draws on the Forum's network of experts to give analyses and to tell stories. Users will soon be able to create their own stories.
EarthTime uses more than 300 free, open-source, geospatial datasets – an unprecedented number for visualizations of this kind. Expert opinions make sense of the data and the connections between them allowing a layering of narratives (e.g., how did rise in the global demand for meat trigger deforestation, a major contributor to climate change?). These stories are combined with images from space captured by NASA satellites between 1984 and 2016.
Current datasets come from the World Bank, the UNHCR, NASA, Berkeley Earth, the Stockholm International Peace Research Institute, Climate Central, S&P Global, Kudelski, the International Renewable Energy Agency and WWF, to name a few. New data providers are being added constantly.
"EarthTime tries to build the common ground that we believe is essential to the discourse that we all must have as stewards of our planet and our joint future," said Illah Nourbakhsh, Professor of Robotics, Carnegie Mellon University, and Director, CREATE Lab.
"The Earth is changing dramatically. No single discipline can make sense of all that is now happening and no citizen is free from the consequences of what we all do next. We all must be involved in understanding Earth's changes and how we can work together to bring about our desired sustainable future into reality."
Nourbakhsh also serves as a Global Future Council member at the World Economic Forum. His research focuses on human-robot collaboration.
Human Footprint Devastating Wildlife: An Article For Earth Day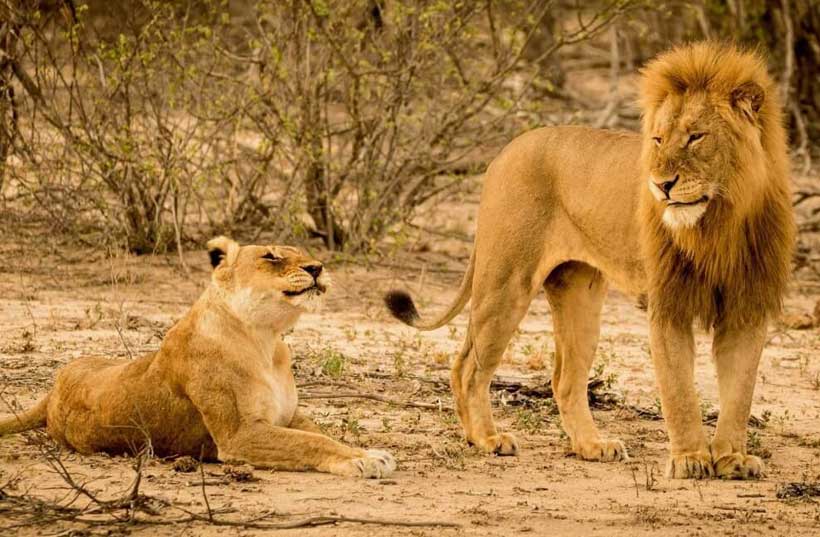 Animals can be beautiful; they can be sleek, graceful, powerful, or just plain adorable, even cuddly.   A field of wild flowers chanced upon can take your breath away.  Wordsworth so moved by 'a host of golden daffodils' put pen to paper, and we are richer for his poem.  And tourists in their thousands visit coral reefs for their stunning beauty and sea life.  So it is distressing when scientists confirm our gut feelings about the human footprint on this natural environment.
Few people know that March 3 was World Wildlife Day, or this coming Sunday (April 22) is Earth Day — perhaps Trump sucking up all the media oxygen is responsible.  The fact remains, world wildlife is under serious threat, and in ways we can't even imagine — not forgetting the eventual disaster due to climate change, unless the world wakes up.
Not so long ago Science, the voice of AAAS America's largest science body, published three papers describing the harmful, even devastating, impact of modern human presence.
The first is a mammoth global study spanning the four major continents and New Zealand.  Authored by over one hundred scientists, it follows the movements of 57 mammalian species through the GPS-tracking of 803 individuals.  It finds a strong negative effect of the human footprint on animal movement.
The scientists develop a human footprint index (HFI) comprising multiple aspects of human influence:  built environment, croplands, pastures, nighttime lights, roads, waterways, railroads, population density, etc.  On the animal side, they note and separate the effects of resource availability and body mass on vagility (migration distances) — larger species travel further as do carnivores.
They then compute animal movement as the distance between subsequent GPS locations over nine time scales ranging from one hour to 10 days.  At each time scale and for each individual, they calculate the median (middle range) and longest distance movements. These procedures point to the thoroughness of their research.
Overall the findings indicate a decline in movement of mammals in high HFI areas ranging on average from one-half to one-third of their movement levels in areas without human presence.  For example, the median displacement of carnivores over the 10 day period in high HFI areas was only about half when compared to zero impact regions.  And the long distance movement over the same period in HFI areas was down to a third, averaging 6.6 km versus 21.5 km.  The impact on feeding and breeding then is clearly severe.
The authors note the consequences for ecosystem function globally, the effects being critical for wildlife conservation and also in the spread of disease.  In the latter aspect, the authors warn that "reduced vagility may go beyond ecosystem functioning to directly affect human well-being."  In their understated words it means dangers of animal extinction and human epidemics.
Most of us always assume all bees are good.  Apparently not, as a couple of scientists explain.  So as we reach for that honey jar … ; it all depends on where it came from. That is the contention of the second piece which assesses the impact of managed honey bees on wild bees and other pollinators.
Pointing to the rapid global growth in managed bee colonies and the attention devoted to them, the authors believe this focus reduces efforts to preserve wild pollinators so necessary for wild plants and flowers.  In fact, high densities of such bees worsen the decline of these wild pollinators, and have also been linked to the spread of disease via shared wild flowers.  Long term this is a worsening threat to wild plants and flowers, many facing extinction.
The authors identify managed honeybees and their honey production and pollination of commercial crops as an agricultural issue, not an ecological one.  They advocate restriction of managed honey beehives in protected-ecological areas to reduce their harmful effects  noting that half of all European wild bees are threatened with extinction.
The theme for Earth Day is End Plastic Pollution.  If one ever wondered what can happen to a plastic bag discarded carelessly, the following research has a surprising and worrying answer.
This third Science article looks at plastic waste entering the oceans, often through catchment areas into rivers feeding into the ocean.  It assesses the influence of such waste on disease in reef-building corals.  The authors survey 159 coral reefs in the Asia-Pacific, a region containing 55.5 percent of global reefs and 73 percent of the human population living within 50 km of a coast — about a quarter billion people.
An estimated 4.8 to 12.7 million metric tons of plastic waste pollutes the oceans each year.  A model based on a high end figure of 8 million estimates that more than a quarter of this is pouring in from just 10 rivers, eight in Asia.  Of these the Yangtze alone dumps 1.5 million metric tons each year.  The river waste is a result of mismanagement and clearly can be reduced given resources and better waste collection and disposal practices.
In the oceans, microbes hitch a ride on the plastic, living longer and increasing their chances of landing on an unfortunate host.  The authors have measured plastic items per 100 square meters.  The count can vary from a low of 0.4 in Australia to a high of 25.6 in Indonesia.  Size of human population in coastal regions, good management or mismanagement of plastic waste disposal are all factors in the amount of waste entering the water.
The authors estimate 80 percent of marine plastic debris originates from land, thus offering a possibility of significant reduction through better waste management.  They develop a prediction model showing that by 2025 the waste will almost double in low-income countries like Myanmar but will edge up just 1 percent in Australia.  In total, they estimate a colossal 11.1 billion plastic items entangled on reefs across the Asia-Pacific region and expect the number to increase 40 percent by 2025 without stronger waste management intervention.
The study results are striking.  The likelihood of disease rises from 4 percent in areas free of plastic to an average of 89 percent when the coral has such debris.  Another issue is coral structural complexity which underpins micro-habitats for reef-reliant organisms.  Unfortunately, the study finds that plastic debris is up to 8 times more likely to affect reefs with greater structural complexity.  This lack of habitat can devastate fisheries through a drop in productivity by a factor of three.  Thus public awareness here could be a critical factor.
The parrots in the local pet store are almost always at risk.  It is human encroachment the owner tells us.  Forests are cut down, reducing habitat and food sources, and diminishing parrot populations.  Farmers plant crops in the cleared areas.  The parrots may or may not eat these but are perceived as a threat and often killed, further endangering them.
Once upon a time, millions of rhinos roamed across Africa and Asia; now about 30,000 survive, and many species are extinct or about to be.  Sudan, the last male northern white rhino lived at Ol Pejeta Conservancy in Kenya together with his daughter Najin and granddaughter Fatu.  He was 45, equivalent to 90 in human age, and quite infirm.  Earlier this year, when his condition deteriorated to the extent he was unable to stand, the vets decided to euthanize.  Hope lies with in vitro fertilization, and in the genetic material the vets collected from him.  At some future date, it might be possibly to use this to create an embryo with stem cell technology.
The engaging, lovable and cuddly koala is in danger from environmental effects.  its unusual diet of eucalyptus leaves carry a toxin it can usually handle, but increased CO2 levels reduce nutrition and eating more leads to ingesting more poison.  Add to this the Australian drought drying the leaves, leaving little moisture and resulting in kidney damage.
The human footprint also threatens the snow leopard, most closely related to the tiger not its namesake.  Ranging across the high mountain areas of central Asia, China and Mongolia, and revered in Kyrgyzstan, it has become a victim of human-wildlife conflict.  The herders whose livelihood depends on their sheep, goats and yaks do not take kindly to raiding snow leopards.  But their natural prey, the wild ungulates are suffering sharp declines due to competition with domestic herds.  Yet this animal is an example of what a concerted effort to save a species can accomplish.  Its status has been upgraded from 'endangered' to 'vulnerable'.
Altogether, these studies and cases convey a stark warning.  They show that environmental degradation is the promise of a dismal future in which mammalian wildlife is scarce, wild pollinators and consequently wild flowers and plants are sparse, and beautiful coral reefs succumb to plastic waste-borne bacteria depleting reef-supported fisheries.  This is our legacy unless we take a step back to reassess human wants for their impact on the environment.
Author's note:  A version of this article appeared in Common Dreams
Namibia Enlists the IAEA to Help Study its Marine Ecosystem Supporting Key Fisheries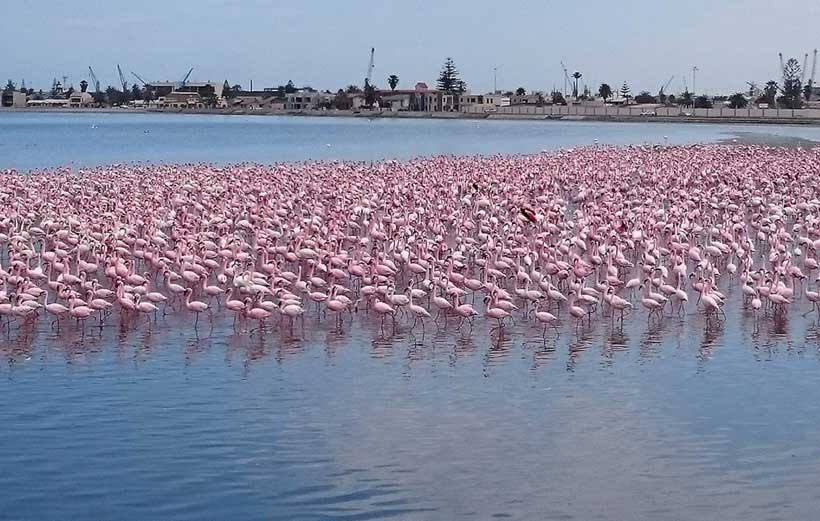 Authors: Miklos Gaspar & Lucas Smalldon*
The first-ever comprehensive study on the concentration of radionuclides and trace elements in Namibia's coastal waters revealed that while radionuclide levels are very low, there is an indication of higher than usual concentration of certain trace elements. Further study is required to determine whether these are the result of human activity along the coast or are due to the underlying geology, according to a scientific report delivered by the IAEA to the Government of Namibia in late 2017, based on research carried out at the Government's request.
"The IAEA report provides excellent information about the current status and can be used as the basis for future monitoring activities," said Axel Tibinyane, Director of Namibia's National Radiation Protection Authority. "As marine resources contribute significantly to our national development, it is imperative that they be used sustainably. The report will help us do that."
Following this preliminary research, the IAEA will continue to provide support to the Government to gain better insight into the high trace element levels.
In addition to the country's increasing population, uranium, gold and diamond mining, as well as industrial activity, are on the rise and there is a growing interest in seabed mining for phosphates. Namibia is among the world's top five uranium producers. To assess any impact on the environment of this increased level of human activity, a baseline needs to be established, as some of these undertakings could result in increased levels of radionuclides and trace elements. The data in the report can provide such a baseline.
"This project is the first of its kind and has provided new information on the Namibian shelf," said Deon Louw, the marine scientist in charge of the study at Namibia's Ministry of Fisheries and Marine Resources. "We need this knowledge to monitor and protect our marine ecosystem as human activity continues to rise."
Increased coastal activities mean that new regulations are needed to monitor and manage natural and human-caused (or anthropogenic) radionuclides and trace elements that may contaminate the marine ecosystem, with potential impact on seafood, local populations and the economy.
Namibia's coastal waters support a rich biodiversity and stretch along the south Atlantic's turbulent Benguela current for over 1500 kilometres. Much of the coastline is a marine protected area, which is considered unpolluted. It is part of the northern Benguela large marine ecosystem — one of the most productive coastal ecosystems in the world — and supports valuable fisheries and mariculture industries. It is a highly dynamic environment: strong winds, seething currents, and underwater sulphur eruptions surround rich stocks of fish, plankton, and other marine life, including the world's largest bacteria — visible to the naked eye.
Despite all this activity, little was known about Namibia's levels of marine radioactivity and trace elements until now.
The study
At the request of the Ministry of Fisheries and Marine Resources, in 2014 the IAEA began collecting a diverse range of marine samples off the coast. Over 500 samples were gathered, including sediment, seawater, fish, mussels and seaweed. Several thousand measurements were performed on the samples. More than 40 researchers from 11 institutions in six countries participated in the research project.
In addition to providing baseline measurements for ongoing pollution assessment and regulation, radionuclides and trace metal isotopes can serve as tracers to better understand oceanographic and pollution processes (see Studying the oceans through isotopes). The study of lead isotopes, for example, can help assess whether the lead is present naturally or as a result of human activities. Lead's isotopic signature can also provide information on the sources of pollutants.
"This research not only helps Namibia, but will also continue to add international scientific value by improving knowledge of global patterns of marine pollution," said Martina Rožmarić, a research scientist at the IAEA Environment Laboratories. "In studying the presence of natural and anthropogenic radionuclides and trace elements, such as lead, mercury, copper, and cadmium, off Namibia's seaboard, we are filling in a critical knowledge gap on the world map."
THE SCIENCE
Studying the oceans through isotopes
The concentration of radionuclides (natural and anthropogenic), trace elements and rare earth elements is difficult to measure. But measuring the levels of these substances and tracing them to their sources is central to understanding the state of the marine environment.
Several anthropogenic radionuclides can be detected at ultra-low levels; some, like the iodine isotope I-129 and the uranium isotope U-236, can be used as radiotracers to study oceanographic processes such as the movement of water masses or pollutants in the oceans and to improve the accuracy of marine dispersion models. Just like a colourful dye that can be observed in a water mass to see where it goes, these radionuclides have a unique signature that researchers can track to study different currents and see how fast it takes them to go from one part of the globe to another.
These isotopes are decaying slowly, which makes them a reliable tracer of natural processes, such as the circulation and mixing of water masses. But U-236 concentrations in the oceans are extremely low and can only be measured using highly sensitive accelerator mass spectrometry, which enables monitoring of ratios between U-236 and U-238, a more abundant natural isotope. In the Namibian project, these measurements were carried out at an IAEA collaborating centre, Spain's National Centre of Accelerators in Seville.
*Lucas Smalldon, IAEA Department of Nuclear Sciences and Applications
This article was featured in the IAEA Bulletin, March 2018.