Blockchain and crypto-currencies: An insightful interview on the digital revolution
The concept of crypto-currencies is undoubtedly a revolution in the world of finance. However, there is something more than only currencies that qualifies for being revolutionary. The linchpin on which this edifice of digital currency rests is Blockchain.  An open, distributed ledger that forms a chain of links. Everyone can see it, access it. There is no need for any third party. A can make a transfer to B any time without any "other" party being involved. Yes, like the reader I had a plethora of questions. Is this some form of financial rocket-science? What are the main pillars of this world? What is its use? How can if effect the world? How can it affect us? So on and so forth. Hence, in order to understand this new concept I decided to embark on this journey to comprehend the scope of Blockchain and subsequently, these currencies. One should not expect tips on trade and currency buying recommendation from the string of interviews that I plan to conduct. However, those who want to truly understand and realize the potential of Blockchain and crypto-currencies, may find these interviews insightful.
The first interview answers many questions but raises new ones too. Mr. Francesco and Mr. Luigi both were kind enough to give their time for the interview. Below is the introduction of both of the gentlemen.
Francesco Abbate – Finance Director at Procter & Gamble, co-founder of decrypto.biz (you'll read more about this below), CEO at Swiss Crypto Advisors. With 15 years of high level Finance experience in a multinational environment, coupled with many years of study and interest first in Bitcoin and then in crypto-currencies he is not only an investor & trader but also an orator, public speaker in the world of crypto.
Luigi Matrone – Former global brand manager at Procter & Gamble, co-founder and CEO at E-Business Institute, a consulting firm that provide digital and e-business solution for companies. Investing in the crypto world since few years, also co-founder and CEO of Smarter-chains, a digital platform helping manufacturers drive margin improvement and customer centricity by leveraging new technological capabilities.
I tried to get out some tips. But I got much better than only tips.
How is the weather in Davos? Blockchain must have been a dominant part of the narrative at the recent WEF?
It is quite cold and it snowed a lot here, but the super-hot topic was undeniably blockchain, there were so many discussion panels on this, it is clearly one of the most debated area, with people interested in this from all industries. It shows that this is getting traction, although we are still at a very early stage.
Let's begin with the value. Because in the end it is the 'value' that is going to determine the usage, prevalence and future of cryptos. What is the intrinsic value of Bitcoin/crypto? They are not backed up by gold like $ dollar or guaranteed by the government?
That is a very good point. Actually since 1973 Nixon abandoned the gold coverage of $ dollar so we entered into the fiat money era. We are personally the opposite of an anarchist and I like and value order and governments, although to be fair people in Argentina or Zimbabwe might have a different idea of what trust in the government means.
When it comes to intrinsic value it all depends on circumstances and what people are willing to use to transfer value. We started with barter deals, we went through gold, fiat money, credit cards…and credit card was a big revolution decades ago as people could not see the real money. In prisons often cigarettes are used as a mean of value transfer, so it is all relative and what matters is what people are willing to attribute value to, not always this might be what is guaranteed by a government.
So ultimately value is a matter of trust. But how can we believe in Bitcoin if it is not regulated? We often read of hacks and theft. I wouldn't leave my money on the mercy of these cyber-crooks.
Very important point indeed. We get this question every day. Bitcoin in itself as a protocol and as a software is fully regulated, there are rules for everything, the code is open source and everyone can read it. You can see how new Bitcoin are created roughly every 10 minutes as rewards for mining, how transactions are signed and broadcasted, how the ledger is validated and maintained. You can't change the rules without consensus; it is a "distributed democracy system". And in itself the system is completely secure, not because we say so but because that is how it mathematically works, the block-chain itself practically immutable thanks to the amount of computational power necessary to add every block to the block-chain, it is just mathematically impossible to go back and change the content or orders of transaction, you can't lose your Bitcoin or get stolen this way. What indeed happened and will continue to happen is hacks to personal accounts which are not protected, or to exchanges which are centralized. This has nothing to do with Bitcoin itself, it is either a personal fault (you are responsible for your security, like you would not give your credit card pin to strangers), or the result of a centralized player exchanging money for Bitcoin. If you leave your Bitcoin on exchanges and their central server gets hacked, then you can lose. Again, the point here is not to leave Bitcoin on exchanges and use basic security and safety procedures to be protected, we also take care of education and consultancy about this in www.decrypto.biz. As always, the users are the weakest point of the chain, but this can be minimized with specific knowledge, tools, and good practice.
For laymen like me, how would you explain the  concept of Blockchain and thereof, Bitcoin (other currencies)? Can you explain to the readers how does Bitcoin actually works? 
Another important question.It is critical to divide Bitcoin and Blockchain and do not confuse them. In simple terms, the Blockchain is a public ledger of transaction, like we all know in accounting or in any database. The critical difference is that it is decentralized, i.e. there are no central copies and it is distributed on a number of nodes (computers) in the network, and it is mathematically protected so that its content and order can never be altered of forged. Hence this has huge applications in every business where the transmission of data is important, as everything about this can be done in a better, cheaper, faster and more secure way on a Block-chain. Imagine things like insurances, notaries, auditing just to mention a few.
Once we understand this, we better get why Bitcoin is on a Block-chain. To use a simplified metaphor, Bitcoin is an application of a technology (Block-chain). Bitcoin is actually just a digital file that lists accounts and money like a ledger, simply this ledger is in a Block-chain. Hence it is decentralized, transparent, auditable, resistant to outages, permission-less, censorship resistant, and most importantly there is no trust required. No one has to trust anyone as the mathematics behind Bitcoin makes it possible to do transactions without any central authorizations like you need for a bank wire.
So when do you see yourself becoming a multimillionaire? Long term prospects of investing in crypto-currencies?
Let's just say that we think we are only at the beginning of the journey, the adoption rate for Bitcoin is still well below 1%, so imagine what the price might be once this is broadly adopted and with a much higher number of transactions processed per second. Most importantly, we are of the view that there is a huge potential for some coins beyond Bitcoin, and we are still very much on time to enter. We think there is a lot of money to be made if you invest wisely, manage trading emotions, and study the fundamentals of what you are trading with, this is when you can have sizeablereturns, and this is what we want to study and analyze.
Personally, we are in crypto for the long term, we believe some of the projects behind the coins are here to stay and transform many industries, everything which is about transmission of data is going to be hugely affected by this, it is a revolution that will catch many by surprise and unprepared. While short term we will continue to see high volatility and market turmoil as on January 16th, this is nothing new in the financial markets and we consider it a normal phase in a general adoption journey, we have gone through 7 drops higher than 30% just in last 12 months, we never sold in panic but always carefully analyzed the set up and bought when we believed the panic was about to be over. We will not manage our funds personally in the future; will have them managed by a trusted specialized fund.
What is Decrypto? What is your plan for future?
Decrypto.biz exists to democratize access to crypto-currencies. Our goal is to educate people while giving them analysis on crypto-currencies so that we can all understand what's happening in this new economical era of decentralization and drive ecosystem adoption while making new investments and profits.
We are here because The Block-chain technology is at an early stage of development and crypto-currency adoption is still relatively limited.
As a result, the education offer currently available is either very complex or technically designed for insiders (programmers, nerds…) or shamefully rudimentary (YouTube Do-it-Yourself). Information is asymmetric and Web is flooded with myriads of news and countless data across thousands of sites, blogs and social media. Lots of people are interested in investing in crypto-currencies, but they don't know (or don't have the time to learn) what are the key steps to start. And the technical knowledge to operate safely, properly and profitably.
For this reason we offer a comprehensive educational program for people who are eager to understand the world of crypto-currency but don't necessarily need or have the time to understanding all what's behind. We developed ways to find important news before others do. We issue a crisp newsletter to recap the key news of the day. We use a private Telegram channel for the breakthrough news which may require short term actions. We share the insights gathered through technical and fundamental analysis. To make them actionable we provide a simple guide on how to start trading in 10 steps and regular market update.
Personal predictions? Do you have any? Would you like to share?
In this world you hear anyone claiming to be an expert and going into predictions of specific prices by coin. We will try to make a different prediction: that the long term bullish trend will stay intact for major coins having a real tangible user case (Ethereum, Zcash, Bitcoin, Monero, Litecoin among the top) and they will all significantly increase in value. I also think that volatility will stay very high; we will keep having very steep declines followed by super bullish rally through the full 2018. Lastly, we predict that 2018 is the year when big investors' money will significantly enter the game, both Goldman Sachs and Mike Novogratz for example admitted to be working on building crypto trading desks and hedge funds, it will be interesting.
This very thought that in case the currencies go up and people realize their profits, gives this whole scenario a shade of skepticism. Do you really think that the masses can become rich? All of them? This is what everyone is expecting, isn't it?
We think it is important to first understand what these currencies really do and are, and the most important thing is to understand that just few of them are real currencies (Bitcoin, Litecoin, Bitcoin cash), many of them are simply tokens of equity of a company. In simple words, people are buying companies at a very early stage hoping that their Block-chain based business model can disrupt a specific industry (finance, banking, insurance, gaming, gambling, auditing, etc). Once you understand this, then you can make sound business decisions based on their product, their business model, their team, their go to market plan. Hence, if you make money it is because you saw very early a profitable business model ahead, this is what we try to do as well at Decrypto, we analyze markets and companies to try and understand if they are undervalued and has potential to grow. If you only start trading in this world because you think things will increase we think you are doing something fundamentally wrong, this is where you end up buying at the top, panic selling few weeks later, or maybe you could even win short term some money, but that is like playing roulette, we don't do that.
Some people make money because of their understanding of the market and have the ability to trade it; others lose them because they are just moved by greed and emotions. With decrypto.biz we want to show people that there is a learn what's happening with this new technology,understanding why certain coins (companies) have a potential, and provide education and analysis material to interested people.
What is an ICO? Are they as lucrative as these coins? 
ICO in simple terms is a way for innovative and Block-chain based companies to raise funds for their developments. You don't have to go to banks or VC firms, you split your companies in small pieces called tokens, you assign a value to each one expressed typically in Bitcoin or Ethereum, and you ask people to contribute with Bitcoin and Ethereum if they want to buy a part of your company. We would say it is an evolved form of crowd-funding. Like everywhere in this world of cryptos we can have amazing opportunities and epic scam. In 2016 up to mid-2017 almost every ICO went well, and people just made money without great level of analysis, many of them returned more than 1000x to date (NXT, Iota, Ethereum, Stratis, and many others). Things changed, regulations are more stringent, cases of very poor business models and fraudsmultiplied, we think there are still some of them who can revolutionize specific industries but it is getting more and more complex and you should be extremely scrupulous in your analysis, this requires a high level of technical, financial, and business knowledge
What happens today is that people have a very partial view of this, and vast majority just invest in specific coins "because it is going up" or "everyone talks about it". That to us is a recipe for failure, and not the reason why we have faith in the Block-chain and crypto-currency world. What we do, and what we try to communicate on decrypto.biz is analyzing the fundamentals of the companies behind these coins, what is their business model, who is on the team, what's their business plan, their revenue forecast, when they will have their prototype in the market, etc. There are amazing companies which are just born and in next months can revolutionize the way we think about notary, real estate, gambling, ticketing, digital identity, and much more… The new Amazons are here, but you don't find them by chance, our motto at Decrypto is that "success is no accident"
Before we conclude the interview and ask for your final verdict. A piece of advice for the readers? Also, few tips (just kidding!)
There are always 3 things we tell everyone who asks us for tips on a daily basis on this market
Study, understand what you are doing. If you do not have time nor knowledge, don't do it or find an expert advisor. This is how we started decrypto.biz, getting access and knowledge is complex and we do want to educate people and democratize access to the crypto world.
Don't put more money than you are willing to lose, don't sell your house for this!
Don't start if you can't handle emotions, this will remain volatile, again either you are able to manage this or you'd better have someone doing this for you, like a hedge fund.
I hope you enjoyed reading the interview! But as I said in the starting, my curiosity has increased now. We'll try to dig deep into this technology and currencies.
Let me know in the comments if you have any questions. I will send them to both the gentlemen.
Alibaba on Platform Economy
Alibaba on national mobilization of entrepreneurialism on platform economy: today, Alibaba sold $38 Billion within 24 hours: Around the world, currently, there are 100 nations with less than $38 Billion dollars in annual GDP. Imagine if this single company performed at the same rate for next 365 days, it would equal to annual GDP of Japan, Germany, India, France, UK and Canada all combined. Bravo Alibaba, well done, the world in shock is now fondling in own toolboxes.

Are Nations Awake: Are there enough reasons to explore how national mobilization of entrepreneurialism on platform economies and how it will uplift local grassroots prosperity? Are there enough trade-groups, Chambers of Commerce, Trade Associations with enough skills to play in these AI centric digitally advanced and globally friendly market-places? Outside a miniscule number most seriously out-dated trade-groups are in rapid transformation so they too would become shiny butterflies for the new global-age.
Old days of old ways are now new days of new ways.

Salvaging of exportability lost during last decade: Nation by nation, the grassroots medium-size economy was basically, ignored, abandoned and rejected, killing exportable goods and services. So long the trade groups around the 200 nations stuck in their old fashioned comfort zones spanning a century, outside handful organizations most nations are in deep trouble. Observe how nations with riots have the most disorganized, disconnected trade-groups, not due the lack of funding but due to lack of poor leadership with little or no global age skills.
Uplifting working-citizenry after a lost decade on skills: So long the national leadership assumes that MBA degrees are the saviors of their next economy and so long the corporations feels comfortable that all their management is being well trained on YouTube, no additional proof of this fallacy is necessary other than decimated economies and chaos on the streets.

Understanding The Third Economy: During the first economy; rules of engagement and rules of balancing the books were established, the second economy; where fancy jargon was invented to cook the books to balance with political agenda and now the upcoming third economy where real numbers will balance the real books with real columns all managed by artificial intelligence and block-chain delivering honest picture instantly to all and all the times.
Alibaba proves the direct benefits of a Third Economy; such prosperity can only assured by respecting the balancing of pennies and cents with mobilizing millions of abandoned small and medium enterprises and using free technologies as starting base. Such deployments are only possible when leadership is skillfully equipped to understand global-age and able to serve the special transformation demands, by firing the first person for incompetence for saying they have no new funding to change and firing the next person for disorganization for saying they are too busy and have no time to change.
Public sector around the world had almost all these resources available to deploy since last decade. Nation by nation, outside the top business sectors rest of the small medium enterprise players systematically abandoned and crushed were replaced by too big to fail nonsensical hype. Now national races in the age of digital platform economy will demand clarification on their internal conflicts of "digital-divide and mental-divide" and explain dysfunctional imbalanced spending on trade expansion without "national mobilization of entrepreneurialism" …it is also a fact that majority nations need massive in-depth-training at all top leadership levels to understand the new language of the new days.

It's time to choose; either build world-class export promotion agencies, vertical trade groups to foster trade by global-age showcasing on platform economies and bring home some grassroots prosperity or allow restless citizenry and rise of populism. It time to balance, that where public sectors mostly all over the world failed on such progressive affairs, technology has now blossomed as salvage operation with dramatic tools and deployment options. Is your national leadership ready now? Not to sidetrack, this is not an exclusive IT issues; this is global age expansion and entrepreneurial mobilization issues. Deeper studies and debates are essential.
The world is changing fast is no longer just a cliché, now growing into a warning
National Transformation: Futurism of 'creating local grassroots economy' demands two distinct national mobilizations. Firstly, creating skilled citizenry capable to swing with global-age demands and secondly, creating massive digitization of midsize economy to enable global-speed-performance to match trading with 100-200 nations. Mostly not new funding dependent but execution starved. Nations with such mastery will thrive and lead; generational transformation at magical speed with full deployments of platform economy is a prerequisite. Sounds rocket science, it is, but very doable and easy.
Rules of National Mobilization of Entrepreneurialism: To deploy such blueprints, launch a nationwide business-uplifting lifelong learning agenda for the entire export promotion bodies, Chambers, trade associations and also the entire small-medium-exporters base. Review this process meticulously every 100 days. Under right situation, the export promotion of the nation can easily quadruple within a year. It is necessary to keep asking what is blocking this and who is stopping this?
How do you mobilize public and private sector leadership after a lost decade on global-age expansion? With some 100 elections in 2019 alone and million promises on podiums the realities are hidden in creating real grassroots prosperity, now pending Presidential Elections of 2020 USA the mother of all elections will provide massive debates amongst calls of Impeachments, while December 12th Election of UK amongst calls of Brexit and European Union with loud and restless citizenry, a new world is unfolding. The public is informed, and slowly realizing what's working and what's not… deep silence at the public sector is not good, a growing sign of lack of skills. Urgent debates needed as 2020 starts with some dramatic shifts of markets, ideas and visions. We are now in the age of national mobilization of entrepreneurialism and platform economies.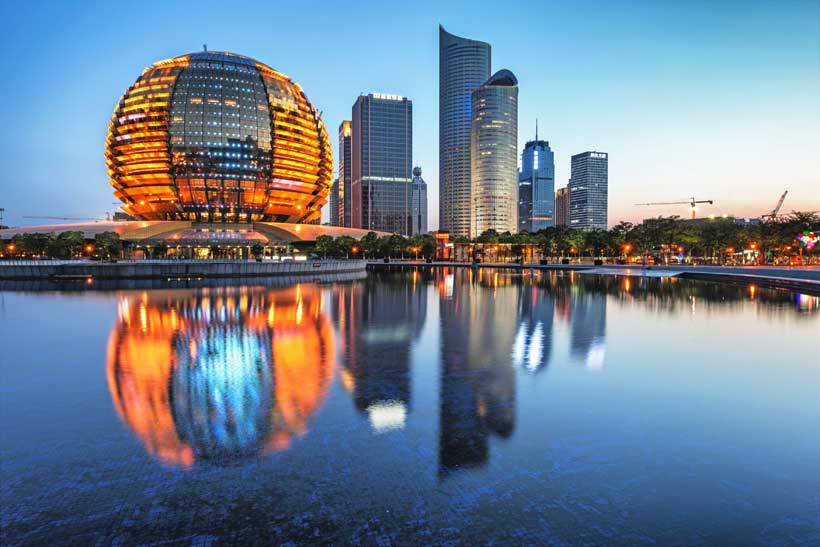 China is in a sustained economic slowdown. This is causing malignant unease among the political and economic leadership of the communist party in Beijing that governs China. Investing in China will be different, because:
"The country's first sustained economic slowdown in a generation. China's economic conditions have steadily worsened since the 2008 financial crisis. The country's growth rate has fallen by half and is likely to plunge further in the years ahead, as debt, foreign protectionism, resource depletion, and rapid aging take their toll."
Chinese social structures are under duress over their aging society. Formerly in the 1990s-early 2000s: "China had the greatest demographic dividend in history, with eight working-age adults for every citizen aged 65 or older."
Once societies age, marital numbers decrease, and overall productivity plunges. China's explosion of older citizens versus working-age will bring unique circumstances for global consumers. Factual evidence of slower productivity is evident throughout China, and will have to be considered for any financial or economic decision for decades ahead. The Chinese economic miracle bursting is largely due to aging demographics.
No one in western or eastern economic analysis circles or think tanks realistically saw this coming former President's Deng Xiaoping opening of China. This was termed, "Socialism with Chinese characteristics (and/or) 'socialist market economy,'" still ongoing. This slowdown will have deep ramifications for the global investment community, liberal order in place for over seventy-five years, and Chinese financial wealth that now spans the globe.
When countries age, and use reproductive rights to control populations, they become more assertive abroad, and repressive to its citizenry; this describes China's social, political and economic philosophies that govern over a billion people. Since its one-child policy was enacted, Chinese economic productivity will plummet, "because it will lose 200 million workers and young consumers and gain 300 million seniors in the course of three decades."
Suppressive economies have difficulty innovating, producing enough goods domestically, and integrating into world economic mechanisms that intends to distribute wealth globally. But this isn't the first time these warnings have been made publicly.
Former Premier, Wen Jiabao gave a prescient declaration in March 2007 during the long march of economic progress when Mr. Jiabao had misgivings about China's growth model by stating, "(Chinese growth had become) 'unsteady, unbalanced, uncoordinated and unsustainable." Recent numbers indicated China's official GDP "has dropped from 15 percent to six percent – the slowest rate in 30 years."
Expansionary Chinese growth hasn't experience this level of downturn since the end of the Mao into post-Mao era. What this does for the Belt and Road Initiative that is paving the way for investments into Central Asia up to the Arctic Circle is uncertain? Deep investment difficulties could witness China stopping the flow of billions of infrastructure projects into countries and continents such as Africa desperate for growth.
Public figures from the Chinese government generally have the economy growing at six percent, but many analysts and economists peg the number(s) at "roughly half the official figure." China's GDP has consisted of bad debt that typical financial institutions and western governments will transfer from the state to public sector and ultimately costs passed onto consumers. For China's wealth to increase when so much domestic wealth is spent on infrastructure projects to increase GDP these official numbers need context.
China has bridges, and cities full of empty office and apartment buildings, unused malls, and idle airports that do not increase economic productivity, and if that isn't the case then infrastructure increasing economic measurements will decrease. Unproductive growth factors officially known are: "20 percent of homes are vacant, and 'excess capacity' in major industries tops 30 percent." According to official Chinese estimates the government misallocated $6 trillion on "ineffective investment between 2009-14." Debt now exceeds 300 percent of GDP.
What's discovered is the amount of China's GDP growth "has resulted from government's pumping capital into the economy." Private investments have trouble overtaking government stimulus spending, and Foreign Affairs ascertains "China's economy may not be growing at all."
Chinese economic growth – post-Mao – saw the country's self-sufficiency in agriculture, energy, and water almost complete by the mid-2000s. Through economic malfeasance, population control, and resource decimation, "water has become scarce, and the country is importing more food and energy than any other nation." Environmental degradation is destroying the basic necessities for every day survival.
This is where the world community and financial resources of east and west can meet needs, and grow interconnected, global economies. Energy is one of the biggest areas that China will engulf global energy supplies
The U.S. Energy Information Administration believes China will continue being the largest natural gas user in non-OECD Asia, and by 2050:
"Expects that China will consumer nearly three times as much natural gas as it did in 2018. China's projected increase in natural gas consumption is greater than the combined growth of natural gas consumption in all other non-OECD Asian countries."
Opportunities for liquid natural gas (LNG) facilities to be built globally, and in China to spur domestic and international economic activity are unlimited. As China goes, so goes Asia, and the world is now in the "Asian Century." Investors, geopolitical strategists, and anyone concerned with global security should never believe it is wise to let China continue to falter economically and societally. Setting up investment mechanisms and diplomatic vehicles that benefit China, and the world community is a prudent choice.
When military choices defeat sound fiscal and monetary polices, the past 150 years have brought "nearly a dozen great powers experienced rapid economic growth followed by long slowdowns." Normal, civilized behavior was pushed aside. What's needed for Chinese economic growth is the free flow of information, managed wealth, consumer goods, and research/innovation.
Decades ahead, and current economic realities point to China being a great power that is under pressure, but still needs capital. A weak, unsecure China who isn't satisfied with its place in the Asian hemisphere or global economic system isn't good for continued prosperity. It would be smarter to engage and invest within China in the areas of energy, water, agriculture, and electricity where opportunities still abound.
Agribusiness: Africa's New Investment Frontier
Authors: Mariam Yinusa and Edward Mabaya*
In the past decade, a stroll along the aisles of any African supermarket is revealing: there is a new wave of home-brewed brands that are fast becoming household names. Products like Dangote rice from Nigeria, Akabanga pepper oil from Rwanda and Tomoca coffee from Ethiopia attest to the gradual but persistent evolution towards greater agro-processing and value addition in the domestic agriculture sector.
Africa's agribusiness sector is expected to reach $1 trillion by 2030, so there is certainly cause for optimism. Consumer demand for food in Africa is growing at an unprecedented rate. But what is fuelling this growth?
First, size matters. At a population of 1.2 billion people, Africa is currently the second most populous continent in the world, superseded only by Asia. According to United Nations projections, Africa's population could reach 2 billion by 2030 and 2.5 billion by 2050. This means that one in five consumers globally will be African.
Second, quality counts. Sustained GDP growth rates in several countries across the continent have translated into rising incomes for some segments of the population. According to the African Development Bank's African Economic Outlook Report, the middle-class population is expected is projected to reach 1.1 billion by 2060 which will make up 42% of the population. The average African middle-class consumer is becoming relatively more affluent, sophisticated and discerning in the food they choose to buy and eat. Concerns about price/quality trade-offs, convenience, nutritional content and food safety, amongst others, are central in their minds.
Third, concentration can be powerful. Although most growth poles are small to medium cities, megacities with populations of over 10 million inhabitants, such as Cairo, Lagos and Kinshasa, have gained increased prominence. These metropoles offer ripe opportunities for investment, as a result of the triad of high consumption, concentrated spending power, and agglomeration (i.e. lower and fixed distribution costs).
On the supply side, there is significant untapped potential. Over 60% of the world's uncultivated arable land is in Africa.
Policy makers recognize the huge opportunities these trends present and are making concerted efforts to create and maintain an enabling business environment to attract both local and foreign investors. The African Development Bank is at the forefront of this coalition of the "ready" to transform African agriculture.
Under its Feed Africa Strategy, the Bank is supporting its regional member countries to address both demand and supply side constraints along agricultural value chains. Through initiatives like the Technologies for African Agricultural Transformation (TAAT), the Bank is boosting historically low yields in priority commodities such as rice, maize and soybeans. In Sudan for example, the TAAT-supported heat-resistant wheat variety has increased wheat self-sufficiency from 24% in 2016 to 45% in the 2018-2019 farming season.
At the same time, Special Agro-Processing Zones (SAPZs) are attracting both hard and soft infrastructure and creating value addition to increased agricultural produce. Together with partners, including Korea-Exim Bank and the European Investment Bank, the African Development Bank has invested $120 million in SAPZs in Guinea, Ethiopia and Togo, which will significantly expand local agro-processing activities along numerous agricultural value chains.
Along with these key investments in Africa's agricultural value chains, the continent is starting to consolidate its wins. A case in point is regional integration, exemplified by the recent ratification of the African Continental Free Trade Area (AfCFTA), which has the potential to make Africa the largest free trade area in the world.
Agribusiness has already caught the eye of investors. Last year, it was one of the main attractions at the inaugural Africa Investment Forum conference, which is becoming the continent's premier marketplace for global and pan-African business leaders, and an innovator in accelerating deals.
Agriculture was one of the nine sectors that attracted investor interest at the 2018 Africa Investment Forum. The sector held its own against big hitters like financial services, infrastructure, energy, and ICT. One such transaction was the Ghana Cocoa Board (COCOBOD) deal in which $600 million loan financing was mobilized from the African Development Bank and other investors to boost annual production of cocoa beans from 880,000 tons to 1.5 million tons. Within the next three years, the project is also expected to promote growth in the domestic cocoa value chain by increasing processing capacity two-fold from 220,000 tons to 450,000 tons per annum.
Africa's expanding consumer base will undoubtedly lead to more spending on food and beverages on the continent. This should be enlightening for would-be investors in food processing and value addition ventures.
The front door to these opportunities is the Africa Investment Forum, scheduled for November 11-13 in Johannesburg, South Africa.
*Edward Mabaya, Principal Economist and Manager, respectively, in the Agribusiness Development Division of the African Development Bank.