Blockchain and crypto-currencies: An insightful interview on the digital revolution
The concept of crypto-currencies is undoubtedly a revolution in the world of finance. However, there is something more than only currencies that qualifies for being revolutionary. The linchpin on which this edifice of digital currency rests is Blockchain.  An open, distributed ledger that forms a chain of links. Everyone can see it, access it. There is no need for any third party. A can make a transfer to B any time without any "other" party being involved. Yes, like the reader I had a plethora of questions. Is this some form of financial rocket-science? What are the main pillars of this world? What is its use? How can if effect the world? How can it affect us? So on and so forth. Hence, in order to understand this new concept I decided to embark on this journey to comprehend the scope of Blockchain and subsequently, these currencies. One should not expect tips on trade and currency buying recommendation from the string of interviews that I plan to conduct. However, those who want to truly understand and realize the potential of Blockchain and crypto-currencies, may find these interviews insightful.
The first interview answers many questions but raises new ones too. Mr. Francesco and Mr. Luigi both were kind enough to give their time for the interview. Below is the introduction of both of the gentlemen.
Francesco Abbate – Finance Director at Procter & Gamble, co-founder of decrypto.biz (you'll read more about this below), CEO at Swiss Crypto Advisors. With 15 years of high level Finance experience in a multinational environment, coupled with many years of study and interest first in Bitcoin and then in crypto-currencies he is not only an investor & trader but also an orator, public speaker in the world of crypto.
Luigi Matrone – Former global brand manager at Procter & Gamble, co-founder and CEO at E-Business Institute, a consulting firm that provide digital and e-business solution for companies. Investing in the crypto world since few years, also co-founder and CEO of Smarter-chains, a digital platform helping manufacturers drive margin improvement and customer centricity by leveraging new technological capabilities.
I tried to get out some tips. But I got much better than only tips.
How is the weather in Davos? Blockchain must have been a dominant part of the narrative at the recent WEF?
It is quite cold and it snowed a lot here, but the super-hot topic was undeniably blockchain, there were so many discussion panels on this, it is clearly one of the most debated area, with people interested in this from all industries. It shows that this is getting traction, although we are still at a very early stage.
Let's begin with the value. Because in the end it is the 'value' that is going to determine the usage, prevalence and future of cryptos. What is the intrinsic value of Bitcoin/crypto? They are not backed up by gold like $ dollar or guaranteed by the government?
That is a very good point. Actually since 1973 Nixon abandoned the gold coverage of $ dollar so we entered into the fiat money era. We are personally the opposite of an anarchist and I like and value order and governments, although to be fair people in Argentina or Zimbabwe might have a different idea of what trust in the government means.
When it comes to intrinsic value it all depends on circumstances and what people are willing to use to transfer value. We started with barter deals, we went through gold, fiat money, credit cards…and credit card was a big revolution decades ago as people could not see the real money. In prisons often cigarettes are used as a mean of value transfer, so it is all relative and what matters is what people are willing to attribute value to, not always this might be what is guaranteed by a government.
So ultimately value is a matter of trust. But how can we believe in Bitcoin if it is not regulated? We often read of hacks and theft. I wouldn't leave my money on the mercy of these cyber-crooks.
Very important point indeed. We get this question every day. Bitcoin in itself as a protocol and as a software is fully regulated, there are rules for everything, the code is open source and everyone can read it. You can see how new Bitcoin are created roughly every 10 minutes as rewards for mining, how transactions are signed and broadcasted, how the ledger is validated and maintained. You can't change the rules without consensus; it is a "distributed democracy system". And in itself the system is completely secure, not because we say so but because that is how it mathematically works, the block-chain itself practically immutable thanks to the amount of computational power necessary to add every block to the block-chain, it is just mathematically impossible to go back and change the content or orders of transaction, you can't lose your Bitcoin or get stolen this way. What indeed happened and will continue to happen is hacks to personal accounts which are not protected, or to exchanges which are centralized. This has nothing to do with Bitcoin itself, it is either a personal fault (you are responsible for your security, like you would not give your credit card pin to strangers), or the result of a centralized player exchanging money for Bitcoin. If you leave your Bitcoin on exchanges and their central server gets hacked, then you can lose. Again, the point here is not to leave Bitcoin on exchanges and use basic security and safety procedures to be protected, we also take care of education and consultancy about this in www.decrypto.biz. As always, the users are the weakest point of the chain, but this can be minimized with specific knowledge, tools, and good practice.
For laymen like me, how would you explain the  concept of Blockchain and thereof, Bitcoin (other currencies)? Can you explain to the readers how does Bitcoin actually works? 
Another important question.It is critical to divide Bitcoin and Blockchain and do not confuse them. In simple terms, the Blockchain is a public ledger of transaction, like we all know in accounting or in any database. The critical difference is that it is decentralized, i.e. there are no central copies and it is distributed on a number of nodes (computers) in the network, and it is mathematically protected so that its content and order can never be altered of forged. Hence this has huge applications in every business where the transmission of data is important, as everything about this can be done in a better, cheaper, faster and more secure way on a Block-chain. Imagine things like insurances, notaries, auditing just to mention a few.
Once we understand this, we better get why Bitcoin is on a Block-chain. To use a simplified metaphor, Bitcoin is an application of a technology (Block-chain). Bitcoin is actually just a digital file that lists accounts and money like a ledger, simply this ledger is in a Block-chain. Hence it is decentralized, transparent, auditable, resistant to outages, permission-less, censorship resistant, and most importantly there is no trust required. No one has to trust anyone as the mathematics behind Bitcoin makes it possible to do transactions without any central authorizations like you need for a bank wire.
So when do you see yourself becoming a multimillionaire? Long term prospects of investing in crypto-currencies?
Let's just say that we think we are only at the beginning of the journey, the adoption rate for Bitcoin is still well below 1%, so imagine what the price might be once this is broadly adopted and with a much higher number of transactions processed per second. Most importantly, we are of the view that there is a huge potential for some coins beyond Bitcoin, and we are still very much on time to enter. We think there is a lot of money to be made if you invest wisely, manage trading emotions, and study the fundamentals of what you are trading with, this is when you can have sizeablereturns, and this is what we want to study and analyze.
Personally, we are in crypto for the long term, we believe some of the projects behind the coins are here to stay and transform many industries, everything which is about transmission of data is going to be hugely affected by this, it is a revolution that will catch many by surprise and unprepared. While short term we will continue to see high volatility and market turmoil as on January 16th, this is nothing new in the financial markets and we consider it a normal phase in a general adoption journey, we have gone through 7 drops higher than 30% just in last 12 months, we never sold in panic but always carefully analyzed the set up and bought when we believed the panic was about to be over. We will not manage our funds personally in the future; will have them managed by a trusted specialized fund.
What is Decrypto? What is your plan for future?
Decrypto.biz exists to democratize access to crypto-currencies. Our goal is to educate people while giving them analysis on crypto-currencies so that we can all understand what's happening in this new economical era of decentralization and drive ecosystem adoption while making new investments and profits.
We are here because The Block-chain technology is at an early stage of development and crypto-currency adoption is still relatively limited.
As a result, the education offer currently available is either very complex or technically designed for insiders (programmers, nerds…) or shamefully rudimentary (YouTube Do-it-Yourself). Information is asymmetric and Web is flooded with myriads of news and countless data across thousands of sites, blogs and social media. Lots of people are interested in investing in crypto-currencies, but they don't know (or don't have the time to learn) what are the key steps to start. And the technical knowledge to operate safely, properly and profitably.
For this reason we offer a comprehensive educational program for people who are eager to understand the world of crypto-currency but don't necessarily need or have the time to understanding all what's behind. We developed ways to find important news before others do. We issue a crisp newsletter to recap the key news of the day. We use a private Telegram channel for the breakthrough news which may require short term actions. We share the insights gathered through technical and fundamental analysis. To make them actionable we provide a simple guide on how to start trading in 10 steps and regular market update.
Personal predictions? Do you have any? Would you like to share?
In this world you hear anyone claiming to be an expert and going into predictions of specific prices by coin. We will try to make a different prediction: that the long term bullish trend will stay intact for major coins having a real tangible user case (Ethereum, Zcash, Bitcoin, Monero, Litecoin among the top) and they will all significantly increase in value. I also think that volatility will stay very high; we will keep having very steep declines followed by super bullish rally through the full 2018. Lastly, we predict that 2018 is the year when big investors' money will significantly enter the game, both Goldman Sachs and Mike Novogratz for example admitted to be working on building crypto trading desks and hedge funds, it will be interesting.
This very thought that in case the currencies go up and people realize their profits, gives this whole scenario a shade of skepticism. Do you really think that the masses can become rich? All of them? This is what everyone is expecting, isn't it?
We think it is important to first understand what these currencies really do and are, and the most important thing is to understand that just few of them are real currencies (Bitcoin, Litecoin, Bitcoin cash), many of them are simply tokens of equity of a company. In simple words, people are buying companies at a very early stage hoping that their Block-chain based business model can disrupt a specific industry (finance, banking, insurance, gaming, gambling, auditing, etc). Once you understand this, then you can make sound business decisions based on their product, their business model, their team, their go to market plan. Hence, if you make money it is because you saw very early a profitable business model ahead, this is what we try to do as well at Decrypto, we analyze markets and companies to try and understand if they are undervalued and has potential to grow. If you only start trading in this world because you think things will increase we think you are doing something fundamentally wrong, this is where you end up buying at the top, panic selling few weeks later, or maybe you could even win short term some money, but that is like playing roulette, we don't do that.
Some people make money because of their understanding of the market and have the ability to trade it; others lose them because they are just moved by greed and emotions. With decrypto.biz we want to show people that there is a learn what's happening with this new technology,understanding why certain coins (companies) have a potential, and provide education and analysis material to interested people.
What is an ICO? Are they as lucrative as these coins? 
ICO in simple terms is a way for innovative and Block-chain based companies to raise funds for their developments. You don't have to go to banks or VC firms, you split your companies in small pieces called tokens, you assign a value to each one expressed typically in Bitcoin or Ethereum, and you ask people to contribute with Bitcoin and Ethereum if they want to buy a part of your company. We would say it is an evolved form of crowd-funding. Like everywhere in this world of cryptos we can have amazing opportunities and epic scam. In 2016 up to mid-2017 almost every ICO went well, and people just made money without great level of analysis, many of them returned more than 1000x to date (NXT, Iota, Ethereum, Stratis, and many others). Things changed, regulations are more stringent, cases of very poor business models and fraudsmultiplied, we think there are still some of them who can revolutionize specific industries but it is getting more and more complex and you should be extremely scrupulous in your analysis, this requires a high level of technical, financial, and business knowledge
What happens today is that people have a very partial view of this, and vast majority just invest in specific coins "because it is going up" or "everyone talks about it". That to us is a recipe for failure, and not the reason why we have faith in the Block-chain and crypto-currency world. What we do, and what we try to communicate on decrypto.biz is analyzing the fundamentals of the companies behind these coins, what is their business model, who is on the team, what's their business plan, their revenue forecast, when they will have their prototype in the market, etc. There are amazing companies which are just born and in next months can revolutionize the way we think about notary, real estate, gambling, ticketing, digital identity, and much more… The new Amazons are here, but you don't find them by chance, our motto at Decrypto is that "success is no accident"
Before we conclude the interview and ask for your final verdict. A piece of advice for the readers? Also, few tips (just kidding!)
There are always 3 things we tell everyone who asks us for tips on a daily basis on this market
Study, understand what you are doing. If you do not have time nor knowledge, don't do it or find an expert advisor. This is how we started decrypto.biz, getting access and knowledge is complex and we do want to educate people and democratize access to the crypto world.
Don't put more money than you are willing to lose, don't sell your house for this!
Don't start if you can't handle emotions, this will remain volatile, again either you are able to manage this or you'd better have someone doing this for you, like a hedge fund.
I hope you enjoyed reading the interview! But as I said in the starting, my curiosity has increased now. We'll try to dig deep into this technology and currencies.
Let me know in the comments if you have any questions. I will send them to both the gentlemen.
Côte d'Ivoire: Robust growth under the looming threat of climate change impacts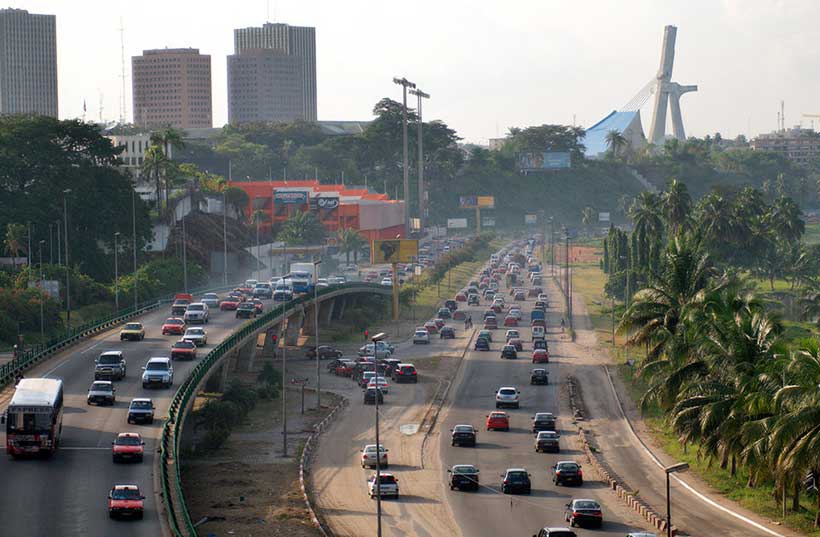 According to the Economic Update for Côte d'Ivoire, published today, the short- and medium-term outlook for the Ivorian economy remains positive. The economy is expected to maintain a steady trajectory, with GDP growth of 7 to 7.5% in the coming years. Titled "So Tomorrow Never Dies: Côte d'Ivoire and Climate Change," the report highlights the urgent need to implement measures to ensure that climate change impacts do not imperil this economic progress and plunge millions of Ivorians into poverty.
"The solid performance of the Ivorian economy, which registered growth of almost 8% in 2017, is essentially due to the agricultural sector, which experienced positive climate conditions. The economy also benefited from a period of calm after the political and social instability of the first half of 2017 and from more favorable conditions on international markets," said Jacques Morisset, Program Leader for Côte d'Ivoire and Lead Author of the report. "The Government also successfully managed its accounts, with a lower-than-expected deficit of 4.2% of GDP, while continuing its ambitious investment policy, partly financed by a judicious debt policy on financial markets."
However, the report notes that private sector activity slowed in 2017 compared with 2016 and especially 2015, which may curb the pace of growth of the Ivorian economy in the coming years. Against the backdrop of fiscal adjustment projected for 2018 and 2019, it is critical that the private sector remain dynamic and become the main driver of growth. This is particularly important in light of the uncertainty associated with the upcoming elections in 2020, which could prompt investors to adopt a wait-and-see approach.
As economic growth in Côte d'Ivoire relies in part on use of its natural resource base, the authors of the report devote a chapter to the impact of climate change on the economy. They raise an alarming point: the stock of natural resources is believed to have diminished by 26% between 1990 and 2014. Several visible phenomena attest to this degradation, such as deforestation, the depletion of water reserves, and coastal erosion. According to the Intergovernmental Panel on Climate Change (IPCC), climate change could reduce GDP across Africa by 2% to 4% by 2040 and by 10% to 25% by 2100. For Côte d'Ivoire, this would correspond to a loss of some CFAF 380 billion to 770 billion in 2040.
"This report sounds an alarm in order to spark a rapid and collective wake-up call," said Pierre Laporte, World Bank Country Director for Côte d'Ivoire. "Combating climate change will require prompt decisions and must become a priority for the country to maintain accelerated and sustainable growth over time."
The report pays special attention to coastal erosion and to the cocoa sector, which represents one third of the country's exports and directly affects over 5 million people. With 566 km of coast, Côte d'Ivoire now boasts a coastal population of almost 7.5 million people, who produce close to 80% of the national GDP. Two thirds of this coast is affected by coastal erosion, with severe consequences for the communities and the country's economy.
The Ivorian Government, which is already aware of this challenge and has prepared a strategy to confront it, must expedite its implementation. This would have the two-fold effect of developing a "green" economy and creating new jobs.
A future of work based on sustainable production and employment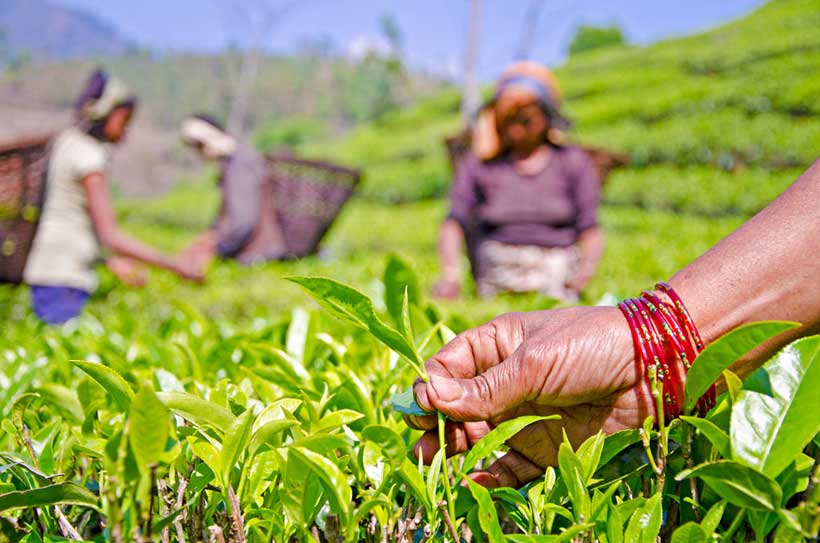 On the first Saturday of July each year, the international community celebrates the International Day of Cooperatives. This year's theme, Sustainable consumption and production of goods and services is timely, as the ILO works towards a future of work that is based on sustainable production and employment models.
As head of the ILO's Cooperative Unit, I have witnessed firsthand the positive impact of cooperatives' commitment to sustainable consumption and production.
In Northern Sri Lanka, for instance, after years of civil war, I saw how cooperatives helped build the resilience of local communities.
A rapid assessment at the start of the ILO's Local Empowerment through Economic Development project (LEED) indicated that cooperatives were the only "stable" structures present in Northern Sri Lanka before, during, and after the conflict. Since 2010, the project has been supporting agriculture and fishery cooperatives by securing fair trade certification for their products and helping them establish market links.
I've also listened to inspiring stories from other parts of the world of how cooperatives have joined forces to contribute to sustainable consumption, production and decent work – often through cooperative-to-cooperative trade.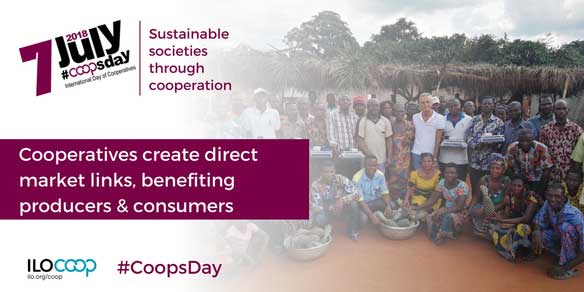 Some of these stories were shared at a recent meeting in Geneva of cooperative and ethical trade movements.
We heard how Kenyan producer cooperatives' coffee has found its way on the shelves of Coop Denmark and how biological pineapples from a Togolese youth cooperative are being sold in retail cooperatives across Italy. We heard how consumer cooperatives in East Asia have developed organic and ecolabel products, while educating their members about the working conditions of producers and workers, as well as on reducing food waste and plastic consumption. We also shared ILO experiences in supporting constituents in the field.
The emerging consensus from the meeting was that cooperative-to-cooperative trade can help lower the costs of trade, while ensuring fairer prices and better incomes for cooperative members and their communities. Opportunities exist not only in agricultural supply chains, but also in ready-made garments and other sectors.
Cooperatives at both ends of the supply chain have been joining forces to shorten value chains, improve product traceability and adopt environmentally-friendly practices. At the ILO we have been working with our constituents to improve the social and environmental footprint of cooperatives around the world.
As the ILO continues to promote a future of work that is based on sustainable production and employment models, a priority for us in the coming years is to facilitate the development of linkages between ILO constituents and cooperatives. The aim is to encourage joint action towards responsible production and consumption practices, the advancement of green and circular economies and the promotion of decent work across supply chains.
Source: ILO
Mongolia's Growth Prospects Remain Positive but More Efficient Public Investment Needed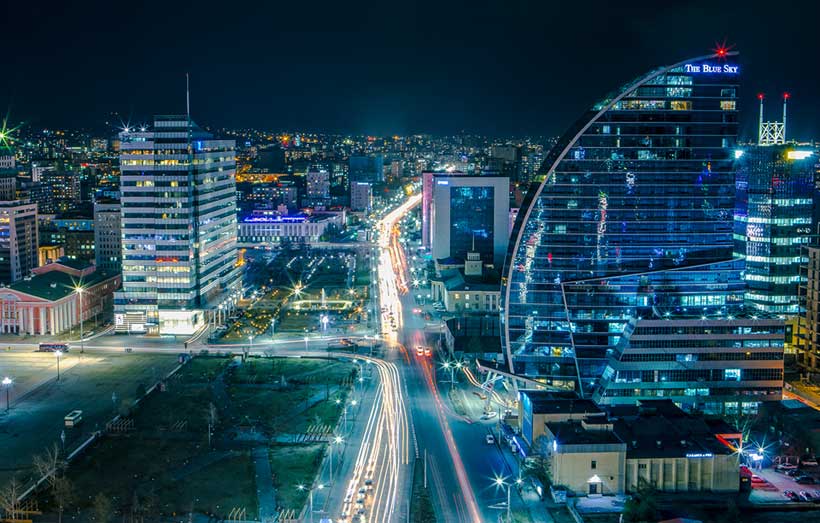 Mongolia's economic performance has improved dramatically with GDP growth increasing from 1.2 percent in 2016 to 5.1 percent in 2017 and 6.1 percent in the first quarter of 2018. While short- and medium-term economic prospects remain positive, Mongolia faces core structural vulnerabilities that hinder its potential, according to Mongolia Economic Update, the latest World Bank report on Mongolia's economy launched here today. The report also highlights the importance of improving efficiency of its public investment programs given extensive consequences from the overambitious and unrealistic investment programs implemented in the past.
"Last year was a good year for Mongolia with favorable commodities prices and the successful implementation of the government's economic recovery program," said Dr. Jean-Pascal N. Nganou, World Bank Senior Economist for Mongolia and Team Leader of the report. "This resulted in improved fiscal and external balances, triggering a slight decline of the country's public debt."
The recovery is expected to accelerate with a GDP growth rate averaging more than 6 percent between 2019 and 2020, driven by large foreign direct investments in mining. Other than agriculture, which was severely affected by harsh weather conditions during the winter, most major sectors including manufacturing, trade, and transport are expected to expand significantly. On the back of increasing exports and higher commodity prices, economic growth will continue to have a strong positive impact on government revenue, contributing to the reduction of the fiscal deficit.
The unemployment rate dropped to 7.3 percent in the last quarter of 2017, compared to 8.6 percent a year earlier. Still, it increased to 9.7 percent in the first quarter of this year, reflecting Mongolia's highly seasonal employment patterns due to difficult working conditions in the winter, especially in construction, agriculture, and mining.
The report highlights possible short- and medium-term risks including political risks, regional instability, climate shocks, and natural disasters. The most critical risk identified is a sudden relaxation of the government's commitment to full implementation of its economic adjustment program supported by development partners.
In addition, the economy remains vulnerable to fluctuations in global commodity prices and a productivity gap. The best long-term protection against these two vulnerabilities is the diversification of the Mongolian economy.
"To create a strong buffer against economic vulnerabilities, the government and donors should give a high priority to economic diversification that helps counter the ups and downs of the mining sector. Investing in human capital and strengthening the country's institutions are the best way to support diversification, together with sound investments in crucial infrastructure," said James Anderson, World Bank Country Manager for Mongolia.
The report takes a closer look at public investment programs implemented over the past five years, which surged until 2015, contributing to large increases in public finance deficits and the public debt. Mongolia needs to review and reshape its public investment policies and decision-making processes to improve efficiency of public spending, including clear project selection and prioritization criteria, as well as proper maintenance of existing assets.