The Baku Process: An Effective Cultural Diplomacy Momentum of Azerbaijan
The Republic of Azerbaijan is home of one of the earliest Christian communities in the world, the Caucasian Albanian-Apostolic Church in the village of Nic, the ancient temple of Caucasian Albania in the village of Kish, the round temple of Caucasian Albania, Khudavend Monastery Complex, the Momuna Khatun Monument, all of these unique religious and cultural monuments have deeply encouraged the Azerbaijani society and lifestyle to embrace a harmonious dialogue and preserve a combination of traditions and ceremonies of different cultures, ethnicities, civilizations and faiths.
The peculiar treasures, ancient historical sites, geographical position and the ethnic – national composition, make the Republic of Azerbaijan a special place where different cultures and religions can converge, harness an open dialogue and live in harmony.  Azerbaijan, the Land of Fire, has built an environment of tolerance, trust and confidence among the principal religious convictions: Islam, Judaism, Christianity, Catholicism; all of these elements of Azerbaijani society are shared throughout the world and the Baku Process plays an indispensable role towards harnessing intercultural dialogue, multiculturalism, spreading peaceful coexistence and prosperity across countries and regions.
On December 2-3, 2008, the President of Azerbaijan, H. E. Mr. Ilham Aliyev, initiated the "Baku Process," as an interactive international platform that encourages: a dialogue among different cultures and civilizations; promotes Azerbaijan's Cultural Diplomacy and harnesses multiculturalism policies that ensure a healthy cultural pluralism.
Intercultural Dialogue: a pillar of Azerbaijan's Cultural Diplomacy
The Republic of Azerbaijan, under the vision and guidance of national leader Heydar Aliyev, has established a solid national economy, strengthened its infrastructure and shaped an effective foreign policy during the first decade of its independence (1993 – 2003).  Founded on the solid statecraft institutions and foreign policy of Azerbaijan, on December 2nd-3rd, 2008, the current president of Azerbaijan H. E. Mr. Ilham Aliyev established the "Baku Process" under the framework of an International Conference dedicated to: "Intercultural dialogue as a basis for peace and sustainable development in Europe and its neighboring regions", with the participation of official representatives and Ministers of Culture from over eighty different countries.
The "Baku Process" aspires to promote intercultural, inter-racial and inter-religious dialogue among individuals, international experts, journalists and government leaders, while respecting the diverse cultural and ethnic backgrounds encountered throughout the five continents.
The First Baku Process Ministerial Conference was entitled: '"Baku Process" for the promotion of intercultural dialogue (2008)'; it was organized in cooperation with the Council of Europe.  On this occasion the Ministers of Culture, from Europe, Asia and Western Hemisphere, discussed viable effective methods that could promote and strengthen the cultural dialogue and preserve multiculturalism policies in many regions and countries.  This conference happened to be one of very few venues where European Ministers of Culture exchanged thoughts and views on multiculturalism, cultural diplomacy and public diplomacy with their counterparts from the Muslim Countries in Northern Africa, Middle East and Southeast Asia.
The Ministerial Conference of 2008 emphasized the vital role of effective dialogue, cultural policies, preservation of cultural monuments, and promotion of inter-religious tolerance and shared the values of Azerbaijani Multiculturalism Policy. The foreign dignitaries were introduced to a deeply rooted religious tolerance and cultural diversity that is presently flourishing among Azerbaijani people from Nakhchivan to Baku, from Shaki to Lankaran and from Quba to Tartar Region of Dağlıq Qarabağ (Upper Karabakh Region).  This conference was attended by representatives of the European Cultural Convention, Council of Europe, UNESCO, the International Organization of Turkic Culture TURKSOY; representatives of the GUAM Organization for Democracy and Economic Development shared their views on how to further strengthen cultural diplomacy projects in South – East Europe and in other regions of Europe, Africa and the Americas.  Under the framework of this event, the Ministers of Culture, adopted the 'Baku Declaration for the Promotion of Intercultural Dialogue' and established an interactive project entitled: "Artists for Dialogue."  Through the platform of Baku Process, the cultural diplomacy of Azerbaijan has bolstered its presence in the world, promoted mutual understanding among different cultures and diminished the transnational perils and threats that come from extremism, intolerance, xenophobia and racism.  According to Dr. Rashad Ilyasov; "the 'Baku Process' has tremendously strengthened Azerbaijan's geopolitical role in the global arena; modern Azerbaijan is actively contributing to the mutual development of cultures."
On his meeting with Mr. Jan Dziedziczak, held on August 17th, 2017, Academician Kamal Abdulla emphasized the importance of intercultural dialogue and noted that: "in all international events, Poland has defended Azerbaijan's just and right position and representatives of Poland have actively participated at international events." The advanced cultural partnership between Azerbaijan and Poland is one of many concrete initiatives that have swiftly developed under the framework of the "Baku Process".
Under the guidance of President Ilham Aliyev, the Government of Azerbaijan has established the Baku Process as an effective mechanism that fosters intercultural dialogue, shapes bridges of communication and confidence among nations and cultures.
In this context an important role has been played by the Heydar Aliyev Foundation, a non-for-profit institution under the leadership of Dr. Mehriban Aliyeva, First Vice President of Azerbaijan that is focused on developing projects in the areas of preservation of cultural sites, intercultural dialogue, education, youth and sports.  The priorities and strategic mission of Heydar Aliyev Foundation are to promote the cultural policy of Azerbaijan, foster international cultural research and promote cultural events in art galleries and concert halls.  In 2014, the Arts Council of Azerbaijan worked together with the Heydar Aliyev Foundation on implementing a waste recycling project together with German and Romanian art professionals and environmentalists. Such a prestigious project propelled by Azerbaijan's cultural diplomacy architects, unveils Azerbaijan as a country that is committed to promote intercultural dialogue both at home and abroad; the leaders of Baku, Nakhchivan and other cities of Azerbaijan, have a track record of concrete actions that support their genuine aspiration to build bridges of dialogue and trust among civilizations and cultures using Azerbaijan's multicultural experience, interethnic dialogue, linguistic diversity, religious tolerance and historical heritage.  Furthermore, Azerbaijan's Foreign Policy is focused to establish an International political community that Rousseau had envisaged, as a tool to man's liberation from the tyrannies, ongoing deprivations; a community that serves as a staunch advocate of human rights, equalities, defense of liberties that have attained a great magnitude and thrust on many international conferences organized by the Government of Azerbaijan, under the framework of "Baku Process".  Over the last decade Baku has served as a seedbed of pluralist dialogue, intercultural communication and incessantly serves as a platform where the consequences of constant xenophobia and regional war are diminished and in Rousseau's words: the only way of combating this war is to find a form of government that will set the law above them all."  Policies implemented by the Government of Azerbaijan are a genuine example of peaceful religious coexistence, were freedom and constitutional rights dominate the functioning structure of the state and its independent institutions.
Baku: a Center of European Cultural Policy
On October 13-15, 2009, the "Baku Process" invited more than ten European Ministers of Culture to participate in the first session of the Sixth Conference of Ministers of Culture of Islamic countries.  The member states of the Islamic Educational, Scientific and Cultural Organization (ISESCO) organized the Ministerial Roundtable on "Fostering Dialogue and Cultural Diversity – Baku Process: New Challenge for Dialogue between Civilizations," on this venue European ministers discussed the pressing cultural issues between the Islamic and European communities.  Furthermore, a special emphasis was placed to the involvement of governments, local communities and to the promotion of multiculturalism policies throughout Europe and the Middle East; as well as active engagement of youth, elected officials and teenagers.
On April 7-9, 2011, under the patronage of H. E. Mr. Ilham Aliyev, the Republic of Azerbaijan decided to host the World Forum on Intercultural Dialogue, supported by renowned international organizations such as UNESCO, UN Alliance of Civilizations, World Tourism Organization, Council of Europe, North-South Center of the Council of Europe and ISESCO.  The objective of the 1st "Baku Process" Forum was to advance cultural initiatives promoted by Azerbaijan in the sphere of cultural diplomacy, intercultural dialogue at the regional and global levels and to mark the beginning of a consolidated International Forum that tackles cultural issues and pressing international security matters that are affecting today's world.
The "Baku Process" Forum (2011) examined the hurdles that prevent communities from engaging in an effective dialogue and tackled intercultural issues based on geographic and historical contexts. Its main theme was: "United Through Common Values, Enriched by Cultural Diversity," additional plenary sessions and workshops addressed the example of cultural diversity in Azerbaijan as a positive role model to other regions and nations that aspire to preserve cultural diversity, democratic institutions, top notch education standards, faith and religious harmony as well as a propitious investigative journalism environment.
Geographically located at the heart of European and Asian civilizations, equipped with outstanding religious tolerance and admirable intercultural dialogue, the city of Baku hosted 500 participants from five continents and the representatives of 102 countries, including: public elected officials, heads of international organizations, religious leaders and heads of state. Moreover, the Intercultural Cooperation Platform was established; this venue attracted a wide array of participants and encouraged an extensive discussion on cultural issues and challenges, in this occasion the '5A' platform was established.  The symbolic "5A" platform marked the inception of the World Forum on Intercultural Dialogue that would be organized every two years, guided by a presidential decree signed in May (2011) by H. E. Mr. Ilham Aliyev, the President of the Republic of Azerbaijan.
On May 29th – June 1st, 2013, Baku hosted the 2nd World Forum on Intercultural Dialogue dedicated to generate a meaningful platform focused on cultural diversity, cultural diplomacy, intercultural cooperation, public diplomacy, regional security issues and religious affairs.  The "Baku Process" Forum has emerged as a reliable juncture that deals with ongoing challenges and opportunities that derive from multiculturalism and intercultural dialogue, the following topics were discussed at a greater length on many parallel sessions: "How to build the world's future together"; "How to build a popular support for cultural diversity"; "The New Era of Globalization: Hybridity of Cultures in a Changing World"; "Supporting Intercultural Actions."  Furthermore, under this framework, there were other conferences organized such as: "Global Intercultural Cities Learning Community"; a workshop on "Intercultural Dialogue through History Teaching: Best Practices and Challenges"; "Tourism as a key driver of Mutual Understanding and Tolerance among Cultures"; "Intercultural Dialogue through Faith and Science." This Forum was supported by UNESCO, UN Alliance of Civilizations, UN World Tourism Organization and ISESCO; it brought together principal national and international leaders and decision makers.  The 2nd World Forum hosted for the first time a conference that brought together – in Baku – more than fifty Ministers of Culture and Tourism from Europe, Middle East, Latin America and South-East Asia.
On May 18th – 19th, 2015, under the patronage of Azerbaijan's President H. E. Mr. Ilham Aliyev, Baku hosted the 3rd World Forum on Intercultural Dialogue.  This major global event was supported by the UN Alliance of Civilizations, UNESCO, Council of Europe and ISESCO.  Under the main topic: "Sharing Culture for Shared Security," the international participants discussed "culture and sustainable development in the post-2015 development agenda," this was a perfect opportunity to celebrate the World Day of Cultural Diversity for Dialogue and Development (May 21st).  In 2015, "Baku Process," highlighted once again the role of cultural policies, historical heritage, religions, faiths, immigration crisis, sports diplomacy, tertiary education, visual arts, business, university social responsibility and other aspects that promote effective intercultural dialogue; in such a convenient time when the United Nations has proclaimed the International Decade for the Rapprochement of Cultures (2013-2022).  A number of sessions were focused on: "Sharing Culture for a Shared Security: Cultural rights in the modern age"; "Countering Violent Extremism: the Role of Religious Leaders in Promoting Religious Pluralism and Advancing a Shared Well-being"; "Shaping a Common Global Agenda: the Role of International Organizations in Building Trust and Understanding Between Cultures."
The 3rd Forum, paid attention to the current global security and the role of nations in addressing the needs of vulnerable people and immigrants at a time of significant geopolitical instability, regional turmoil and European Union's large bureaucracy.  Under the framework of this forum was hosted: the second Ministerial Conference on "culture and sustainable development in the post-2015 development agenda"; the first meeting of the new Academic Forum of UNESCO Chairs on intercultural and interreligious dialogue and was launched a book by UNESCO-Tudor Rose publication entitled "Agree to Differ."  According to the President of the Republic of Azerbaijan, H. E. Mr. Ilham Aliyev: "today, representatives of all religions, ethnic groups live in Azerbaijan and are contributing for its successful economic development; I think this is one of our biggest assets. And we are proud of that. Therefore we organize numerous international events to promote the values of multiculturalism, values of peaceful cooperation, mutual understanding. I think the world needs this kind of events, needs open discussions, exchange of views in order to strengthen the positive tendencies."  The results of the Baku Forum will be included into the UNESCO publications focused on intercultural dialogue and support the development of future mission and strategic objectives, including the framework of the UN Decade for the Rapprochement of Cultures (2013-2022).
The "Baku Process" is making a prominent contribution to solve contemporary challenges and promote an international environment where living together peacefully and intercultural dialogue acquire the necessary attention to become two major pillars that guide European Countries' Cultural Dialogue and further strengthen the state of Azerbaijan's Cultural Diplomacy in the world.  The "Baku Process" creates a rare opportunity for global conversations to take place between state and non-state actors; over the last ten years, it emphasized practical actions and pragmatic cultural collaborations.
One of many concrete examples of such a pragmatic cultural approach is the visit of Bulgarian Vice President, Mrs. Margarita Popova to Baku Slavic University (BSU).  On October 1st, 2016, the Vice President Margarita Popova held a meeting with the Chancellor of Baku Slavic University, Prof. Dr. Nurlana Aliyeva.  The Vice President of Bulgaria emphasized "the education and cultural cooperation between Baku Slavic University and other Bulgarian Public Universities."  In the same vein, Chancellor Nurlana Aliyeva provided an overview of the Bulgarian Language and Culture Centre that is working at the Baku Slavic University.  In an interview for Azerbaijan State News Agency (AZERTAC), Chancellor Nurlana Aliyeva stated: "the Bulgarian Language and Culture Centre aims to develop cultural relations between the two countries."
On October 19th, 2016, Baku Slavic University (BSU) Chancellor Nurlana Aliyeva hosted a meeting with Bulgaria's renowned archaeologist Nikolay Ovcharov, a Counselor in the Ministry of Culture, Government of Bulgaria.  During this meeting Chancellor Aliyeva discussed the prospects for cooperation between the higher education institutions of Azerbaijan and Bulgaria.  This meeting was attended also by Editor-in-Chief of Standart daily newspaper Slavka Buzukova and her deputy, Mrs. Ekaterina Nikolova.
Chancellor Nurlana Aliyeva stated for Azerbaijan State News Agency (AZERTAC) that: "the cultural and scientific cooperation between Azerbaijan and Bulgaria are at excellent levels and Azerbaijani students demonstrate a special interest in the history, ethnography, economic and cultural life of Bulgaria."  Furthermore, Azerbaijan's First Lady and president of the Heydar Aliyev Foundation, Dr. Mehriban Aliyeva, has played a fundamental role in strengthening the cultural cooperation between Azerbaijan and Bulgaria."
Later on Dr. Nikolay Ovcharov had a working meeting with State Adviser on Multinational, Multicultural and Religious Affairs, Academician Kamal Abdulla.  On this occasion Azerbaijani Academician Abdulla gave an overview of cultural events organized by the Baku International Multiculturalism Centre.  Dr. Ovcharov shared the interest and possibility to have courses of Azerbaijani Multiculturalism Model be taught at various European universities, to promote the religious tolerance of Azerbaijan throughout many countries of the world.
VII Global Forum of United Nations Alliance of Civilizations (UNAOC)
On April 25th-27th, 2016, the Government of Azerbaijan hosted the 7th Global Forum of the United Nations Alliance of Civilizations (UNAOC) under the main theme: "Living Together In Inclusive Societies, A Challenge and A Goal."  At the official opening ceremony of this historic event, held at the heart of Baku, the President of Azerbaijan H. E. Mr. Ilham Aliyev stated: "It is not accidental that Baku hosts the 7th Global Forum of the United Nations Alliance of Civilizations.  Because as the land of tolerance and our commitment to multicultural values, independent Azerbaijan has an extensive experience for development of the dialogue of cultures, realization of important projects aimed at the preservation of cultural diversity and to regulate the mutual relations between civilizations and to host prestigious forums".
According to Mr. Milikh Yevdayev: "The delegates flew to Azerbaijan from every corner of the world, to discuss the power of inclusiveness in a world that is overwhelmed by division and strife.  Security experts, political scientists, heads of state, diplomats, organizational leaders, activists, students, and brave heroes, those who spend every day risking their lives at the frontlines of change – all came together for a meeting of their hearts and minds. Throughout the two days of intense programs and panels, the forum leaders gave particular attention to the role of religious leaders, women, youth, culture and education in perpetuating the message of building peace by actively and cooperatively coming together against hate and extremism. I saw many new faces, and also the familiar representatives of Azerbaijan's own diverse religious communities: Muslim, Christian and Jewish friends, and important leaders in this effort. …"
On his article: "Reflections on Global Peace and the 7th Forum of the U.N. Alliance of Civilizations;" published at The Jewish Journal, Mr. Milikh Yevdayev, emphasized: "There was something very powerful about this forum and its theme, as it relates to Azerbaijan in particular. The forum's theme 'Living Together In Inclusive Societies: A Challenge and A Goal' made me feel a sense of pride. There could be no better fit for such a program than Azerbaijan.  Positive inclusion is central to our national character, and also to our historical identity.  We are a nation defined by our success with inclusivity, multicultural and multi faith respect – now and in times when there is so much division and hatred in various parts of the world."  In his analysis Mr. Milikh Yevdayev underscored: "the UNAOC program was nothing short of uplifting, after weeks of immense worry and stress especially, as our homeland Azerbaijan came under attack again.  Before this, I wondered how to face the Passover Holiday while so many of my fellow Azerbaijanis were mourning their loved ones lost to the renewed aggression by Armenia in Azerbaijan's Karabakh region."
In her keynote speech, the First Lady of the Republic of Azerbaijan Dr. Mehriban Aliyeva stressed that tolerance and multiculturalism are a lifestyle in Azerbaijan.  She also informed the participants about the severe humanitarian and environmental consequences of Armenia's aggression against Azerbaijan and gave detailed information about the projects implemented by the Heydar Aliyev Foundation in the country and abroad on the basis of public-private and civil society partnerships.
The 7th Global Forum of the UNAOC was addressed by: the President of the Republic of Turkey Recep Tayyip Erdoğan, the UN High Representative for the Alliance of Civilizations Ambassador Nassir Abdulaziz Al-Nasser, and the Spanish Minister of Foreign Affairs Jose Manuel Garcia-Margallo.
Furthermore this global event hosted a breakout session entitled: "Constructing Peace, Deconstructing Terror," where a number of matters in the Middle East and other regions of the world were addressed. Similarly, Baku hosted other sessions; according to Dr. Rafig Novruzov the following topics were embarked upon: "a new global social contract for regions destroyed by internal and interstate conflicts and ways to reduce attraction towards extremist behavior; effective ways to restore a sense of dignity among people feeling disempowered; the changing narrative from religious and sectarian to political and strategic dimensions of violent extremism."
In these unique panels, some of the keynote speakers were: Baron John Thomas Alderdice, Former Speaker of the Northern Ireland Assembly (1998-2004); Mr. Novruz Mammadov, Mr. Egemen Bağış, Former Minister of European Union Affairs, Republic of Turkey; Mr. Samir Barhoum, Editor-in-chief of The Jordan Times.  In his remarks, Mr. Novruz Mammadov emphasized that 20 (twenty) percent of Azerbaijani lands are under the Armenian occupation. Mr. Mammadov stated: "United Nations Security Council adopted four resolutions demanding immediate and unconditional withdrawal of Armenian troops from our territory, but these resolutions remain on paper. These resolutions demand immediate and unconditional withdrawal; in some cases, resolutions of the U. N. Security Council are being implemented within hours or days.  But in our case it is more than twenty years of no action. That shows that there is a lack of political will."
In the framework of UN Alliance of Civilizations' objectives focused on: the promotion of cultural and interreligious dialogue; respect and mutual understanding among civilizations; encourage solutions that bring societies together based on the UN fundamental principles of peace and security, human rights and sustainable development; more than 4,000 delegates from 147 countries participated in the 7th Baku UNAOC Global Forum. This event was widely covered by 117 foreign and local media representatives.
In the 7th Global Forum of the UN Alliance of Civilizations was adopted the Baku Declaration during the high level ministerial meeting.  This document emphasized Azerbaijan's role as the host country of the 7th Global Forum of the UN Alliance of Civilizations under the name "Living Together in Inclusive Societies: A Challenge and A Goal", as a way to bind multiple perspectives and strengthen inclusiveness and diversity throughout many countries and regions.  According to Mr. Sarkhanbay Khuduyev: "the Baku Process, started in 2008 under the guidance and leadership of Azerbaijani President Ilham Aliyev, whose aim is to develop inter-civilizational dialogue and address intercultural convergence beyond the boundaries of Europe; the Azerbaijani head of state is raising the current multiculturalism matters at the global level."
IV World Forum on Intercultural Dialogue
On May 5-6, 2017, Baku hosted the 4th World Forum on Intercultural Dialogue, under the main theme: "Advancing Intercultural Dialogue: New Avenues for Human Security, Peace and Sustainable Development." This major global event focused on the role of faith, religions, migration, human security, sports diplomacy, cultural diplomacy, sustainable development and on ways to curtail violent extremism. The Forum provided a platform to discuss the best practices that ensure genuine respect for everyone, including freedom of religion, equal employment opportunities, good governance, effective healthcare systems and economic growth.  Heads of governments, ministers, representatives of various international organizations, senior policy makers, cultural diplomacy professionals, goodwill ambassadors, experts, journalists, practitioners, prominent intellectuals and activists, participated throughout the sessions of the 4th World Forum on Intercultural Dialogue.  According to Prof. Mehmood – Ul – Hassan Khan: "the IV World Forum on Intercultural Dialogue has already prioritized its agenda by placing intercultural dialogue and cultural diversity higher on the international agenda, it is critical for human security and a prime responsibility of our time. Prof. Ul – Hassan Khan emphasized: "[Previous] World Forums have reached remarkable achievements by bringing together heads of governments, ministers, and leaders of various international organizations, senior policy makers…" to discuss pressing challenges of our time.
Conclusion  
The Republic of Azerbaijan is a very special country where various ethnic groups, cultures, religions have coexisted for centuries since The Byzantine Empire.  The favorable geographic location of Azerbaijan has exposed this country to admirable features of European and Islamic Civilizations, making Baku, Nakhchivan, Shaki, Dağlıq Qarabağ and Quba, to become genuine archaeological and ancient commercial routes between the East and the West, as well as from the North to the South.  Azerbaijan, the Land of Fire, unlike any other country in the Eurasian landmass has preserved cultures of many ethnic groups and has become a candid bridge among millenary cultures, multiculturalism and religious dialogue.
Under the patronage of H. E. Mr. Ilham Aliyev, the President of the Republic of Azerbaijan, over the last ten years the "Baku Process" has hosted the following major events:
The I World Forum on Intercultural Dialogue held on April 7-9, 2011; addressed matters pertaining to intercultural dialogue with the participation of 500 representatives from 102 countries from all continents. The main topic of the Forum was: "United Through Common Values, Enriched by Cultural Diversity."
The II World Forum on Intercultural Dialogue held on May 29 – June 01, 2013, tackled ways on: "How to build a global future together"; "How to build a popular support for cultural diversity"; "Matters on the New Era of Globalization: hybridity of cultures in a changing world"; "Supporting intercultural actions." Another important session was focused on: ""Tourism as a key driver of mutual understanding and tolerance among cultures." The main topic of the Forum was: "Living Together Peacefully in a Diverse World".
The III World Forum on Intercultural Dialogue held on May 18-19, 2015; reflected matters on human security, the importance of sharing different cultures; understanding that human security must be a fully shared responsibility among community leaders, educators and spiritual leaders. The main topic of the Forum was: "Culture and Sustainable Development in the Post 2015 Development Agenda."
The IV World Forum on Intercultural Dialogue was held on May 5-6, 2017, tackled the role of faith, many religions, immigration policies, human security, cultural diplomacy, education, sustainable development and other matters. The main theme of this Global Forum was: "Advancing Intercultural Dialogue: New Avenues for Human Security, Peace and Sustainable Development."
All of the aforementioned major international forums have generated tangible results in the realm of Azerbaijan's Cultural Diplomacy and strengthened the role of the Government of Azerbaijan in the implementation of its foreign policy at the bilateral and multilateral platforms.
A few concrete results are:
On November 18th, 2016, Mr. Aslan Aslanov, Director General of Azerbaijan State News Agency (AZERTAC), was elected as the new president of the Organization of Asia-Pacific News Agencies (OANA) for a three years term (2016-2019). AZERTAC in cooperation with the Heydar Aliyev Foundation hosted on November 16-18, 2016, the 5th News Agencies World Congress and the 22nd session of the Council of CIS Heads of News Agencies.  Furthermore, on this occasion AZERTAC hosted the 16th General Assembly of the Organization of Asia-Pacific News Agencies (OANA).
Mr. Vugar Seyidov, Special Correspondent of AZERTAC in Germany was elected as OANA Secretary General.
The Government of Azerbaijan has helped inspire a number of regional governments, and international bodies, to pursue an active role towards strengthening their multiculturalism policies and religious dialogue, as well as intensify – and shape – these nations' respective efforts in reducing religious violence, acts of terrorism and improve regional immigration policies. In this context it is valuable to indicate a few recent events that are held in Europe: the 2nd International Conference on "Religious and Cultural Pluralism and Peaceful Coexistence in the Middle East," held in Athens (Greece) on October 30-31 (2017); organization of the 1st Ministerial Meeting of the Ancient Civilizations Forum, held in Athens on April 24-25 (2017); and the establishment of "Ancient Civilizations Forum" or GC10.  In September 23rd, 2015, leaders of European governments met in Brussels to try to shape a common action "plan on refugees following months of recriminations and amid a sense of spiraling momentum of which the leaders have lost control."
It is certain that the Republic of Azerbaijan has always harnessed an avant-garde foreign policy that addresses many global challenges that are deeply affecting Europe and Asia today.  Baku has supported, and become a global player, on all efforts led by the international community right at their inception stage; the Government of Azerbaijan under President Ilham Aliyev has proactively brought together Nobel Prize winners, heads of state and cultural experts to promote intercultural and interfaith dialogue — always intertwined with the world's pressing challenges and obstacles of today and of the future.
The nation of Azerbaijan, with its tolerant attitude and admirable acceptance of other cultures, upholds the special values of intercultural and interreligious dialogue; characteristics that are essential to foster regional peace, economic development and ensure respect for international law.  The "Baku Process" will continue to promote intercultural dialogue between governments and nations, strengthen cooperation among many ethnic groups and encourage cultural partnerships among people living on different continents.
Georgian Way of Combatting the Coronavirus
Despite its small size and unstable economy, Georgia was one of the first countries to start taking active measures to counter the spread of the pandemic. This included closing schools and conducting widespread diagnostic tests. As will be argued below, Georgian response to the pandemic was a mixture of East Asian and West European models.
The single most decisive factor why Georgia stands out as a successful example in combatting the pandemic is a swift political action by the central government, which acted as soon as the country's first case of coronavirus – a Georgian citizen who returned from Iran – was diagnosed, on February 26. The same day an inter-departmental task force was formed to coordinate the fight against coronavirus, made up of representatives of every major government agency, to manage the situation. Banning flights to/from Iran was announced. In the following days, flights to Italy, another hard-hit state, were also suspended.
All ministries drafted an action plan against the coronavirus. As the number of cases rose, schools and other educational institutions across the country were closed. Lockdown measures such as night time curfew and the suspension of public transport services (bus and metro) followed. On March 20th Georgia halted all passenger air traffic, including banning all non-resident foreign citizens from entering the country. Closure of restaurants, bars and shops apart from grocery stores, banks, petrol stations, pharmacies and post offices followed. Vehicles transporting essential goods were allowed to operate.
Moreover, inbound passengers were checked for high temperatures and were asked to provide exact information and contact details necessary in case they started experiencing symptoms at home. Those were essential measures as they allowed the government to track potential patients right from the state borders and airports. The government also set up a website with all the necessary information which reflected international scientific opinion and World Health Organization recommendations.
Though the above measures are standard in preventing a wide spread of any epidemic or infection, the swiftness of those actions was a decisive factor for success. Two additional instruments at the disposal of the Georgian government played a further stabilizing role. First is the role of the Richard Lugar Public Health Research Centre, part of the National Centre for Disease Control (NCDC). The laboratory has allowed Georgia to get test results in a very short time and trace the roots of the virus. The research center was constructed with funds from the US government and is a subject of widespread disinformation campaign emanating from Russia as to the laboratory's role.
In Between the Asian and European Methods
Many features of the Georgian government's handling of the pandemic are similar to the East Asian coronavirus management style. East Asian countries contained the spread of the virus below the vulnerable threshold by relying on preparedness, technology, and transparency. Evidence from Asia (Taiwan, Singapore and others) suggests an effective means to ensure the compliance of citizens to follow restrictive measures was to use modern AI technologies. Surely, Georgia lags well behind many Asian states in terms of technological advancements, but the country's correct mobilization of available medical resources as well as an aggressive contact tracing strategy prevented the state from falling into the pandemic-related chaos similar to what has taken place in most European states.
Similar to some Asian states, Georgia also did not follow all the WHO guidelines. Quite often the WHO gave controversial recommendations such as not to limit international traffic or assumptions about face masks not being effective. Georgian scientists also changed one crucial WHO guideline by removing high fever from the list of suspicious symptoms. This allowed them to detect many more infection cases compared to strictly following the WHO guidelines.
There is also Georgia's mindset in play. As in many Asian states, the country is used to crises, whether civil wars and the Russian invasion in 2008 or a difficult economic situation. These made it easier for the Georgian population to withstand limits on movement and endure a near total shutdown of economy with the ensuing economic hardship.
Surprisingly, draconian measures introduced by the Georgian authorities were in place much earlier than in most in of European states. The timing was crucial and since the European states did not introduce restrictive measures early enough, congestion of the healthcare system followed with thousands of patients entering the system daily in western Europe alone.
Take for example the Netherlands, which introduced almost no restrictive measures at the time when the spread of the pandemic became evident. Only flights from Wuhan (epicenter of the pandemic) were stopped. As a result, countries like the Netherlands and Belgium, far exceeding Georgia's economic and medical potential, experienced thousands of deaths.
As in west European states, the Georgian authorities faced a challenge of putting the state on a complete lockdown and concerns as to how compliant citizens would be. The Georgian authorities decided to balance the individual responsibility every citizen shares with stricter central enforcement mechanisms – an effective mixture of European and East Asian models. Moderate use of surveillance technology plus transparent, comprehensive testing, quick quarantining and isolation of suspected cases, made the difference.
Even in its own region, the South Caucasus, which is characterized by near identical level of economic development, Georgia stands out as a good example of pandemic crisis management. Armenia, Azerbaijan, Russia, Turkey and Iran all have much higher number cases of infections and fatalities. The reasons for those differences should be found not so much in the size of economies of those states, but rather in the timing of restrictive measures and how far they were effectively implemented.
Georgia's success story proves, as many analysts argued, that smaller states (with small population) could be less vulnerable to the pandemic. But it also shows that the timing of introduction of restrictive measures is more important and that relatively poor states could perform in a much effective way than larger, developed economies. Many argued that no concrete way of combatting the pandemic exists and that each state should adjust to its specific economic and medical needs as well as geography and other factors. However, as the Georgian case demonstrated, an effective application of East Asia and West European models serves as a good starting point for preventing the pandemic from hitting large population groups in the state. So far, this strategy proves to be effective as the government in Tbilisi has started to lift economic restrictions and the number of infections has not grown.
Author's note: first published in Caucasus Watch
Geopolitics of Dual Citizenship: Case of Georgia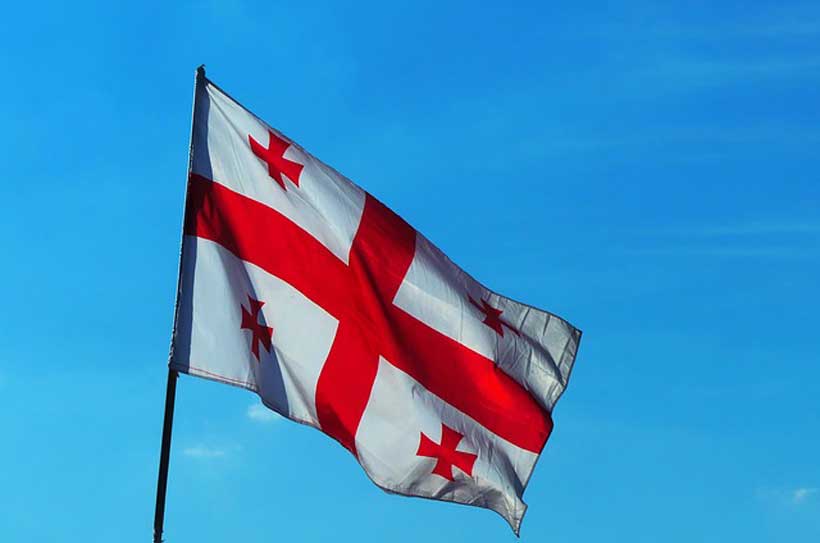 Authors: Prof. Dr. Tedo Dundua, Dr. Emil Avdaliani
Dual citizenship emerges as a geopolitical concept. Small states seeking political and military security could attain guarantees through the spread of dual citizenship. Below are examples from Roman history with a separate case made for modern Georgia.
Dual citizenship seems to be a way small European nations should feel safe within a framework of the European integration, whereas a responsibility for a personal security lays upon an allied country too. A research of historical background must be involved thoroughly, Georgia being an object for this case. If a foreign citizenship was a traditional honorary degree passed from the European principal domains towards the provinces, the countries being tied up formally, it should not be abandoned at all, and put under a scrupulous legislative elaboration.
"Serapita, daughter of Zevakh the lesser pitiax (duke), and wife of Iodmangan, son of Publicios Agrippa the pitiax, victorious epitropos (commander-in-chief and the only minister) of the Great King of the Iberians Xepharnug, died young, aged 21, and she was extremely beautiful" (Г. В. Церетели. Армазская билингва. Двуязычная надпись, найденная при археологических раскопках в Мцхета-Армази. Тбилиси. 1941, pp. 23-24).
This Greek text was carvedon tombstone from Mtskheta (East Georgia), the Iberian capital. It is prolonged by the Aramaic version (Г. В. Церетели. Армазская билингва. Двуязычная надпись, най­денная при археологических раскопках в Мцхета-Армази, pp. 22-23). Epitropos corresponds to the Aramaic trbṣ, which occurs to be used also towards Agrippa, now trbṣ of the king Pharsmanes (Г. В. Церетели. Армазская билингва. Двуязычная надпись, най­денная при археологических раскопках в Мцхета-Армази, p. 32). Agrippa seems to be a very big man, and because of his Roman nomen Publicius – also a Roman citizen.
In the old times civitas sine suffragio gave to Rome a direct control of her allies' troops without destroying local (i.e. Italian) res publica. "Latin Rights" were regarded as something intermediary between peregrine status and Roman citizenship. Inside his own community the Latin was subject of the local laws, and a free man. The allies fought on the Roman side, but her own army consisted of the Roman and the Latin forces. The rests are simply socii (A. N. Shervin-White. The Roman Citizenship. Oxford. At the Cla­redon Press. 1939. Second Edition. Oxford. 1973, pp. 46, 73, 96, 98, 109).
From the 2nd c. B.C. Rome was beginning to govern Italy. Magistrates who had supreme power over the Latin military forces, were also the civil heads of the Roman state. The local authorities performed the demands of the central government (A. N. Shervin-White. The Roman Citizenship, p. 105).
After SocialWar it was as communities and not as individuals that the Italian allies were incorporated in the Roman commonwealth, they became self-governing municipias. Each new citizen had a double existence, but these two lives were bound together by the most intimate of bonds. New municipias are the old tribes (A. N. Shervin-White. The Roman Citizenship, pp. 150, 153).
Then the enfranchisement of Gallis Cisalpins followed. From 42 B.C. onwards in Roman usage Italia came to mean the whole territory of the peninsula from the straits of Messina to the Alpine foothills (A. N. Shervin-White. The Roman Citizenship, p. 159).
Under Caesar and Augustus comes the first large-scale extension of the Roman citizenship in the provincial areas. This extension is based upon the firm foundation of a genuine Italian immigration. Besidethis stands the extensive grants of Ius Latii in the more Romanized areas of Spain and Gaul. The method is as follows – inserting a preparatory period of Latin status before the elevation of purely foreign communities to the full citizenship. The condition of a grant of Latin rights appears to have been the possession of a certain degree of Latin culture (A. N. Shervin-White. The Roman Citizenship, pp. 225, 233).
But then Caracalla gave the franchise to all free inhabitants of the Empire (A. N. Shervin-White. The Roman Citizenship, pp. 280, 287).
As to personal grants, Domitii, or Fabii, or Pompeii in the Western provinces are thought to drive their citizenship from grants made to their forebearers by Domitius Ahenobarbus, Fabius Maximus, or Pompeius Magnus, the generals (A. N. Shervin-White. The Roman Citizenship, p. 295).
Beyond the Roman rule, Caesar was the first to make a king Roman citizen (D. Braund. Rome and the Friendly King. A Character of the Client Kingship. Beckenham, Kent, Fyshwick, Australia. 1984, p. 45). This practice was maintained. For Britain tria nomina was as follows – Ti. Claudius Cogidubus, with Claudius or Nero being the benefactors; for Thrace – C. Iulius Rhometalcus, it is probable that he inherited his citizenship from a predecessor upon whom Caesar or Augustus had conferred it; for Pontus – M. Antonius Polemo, Antonius being a benefactor; for Judea – M. or C. Iulius Agrippa (D. Braund. Rome and the Friendly King. A Character of the Client Kingship, pp. 39, 41-42, 44).
Iberian case of Publicius Agrippa is very interesting. He was Pharsmanesminister and commander-in-chief. And Pharsmanes dealt with Hadrian. Roman general C. Quinctius Certus Publicius Marcellus is thought to be a benefactor, legatus divi Hadriani provinciarum Syriae et Germaniae superioris (Prosopographia Imperii Romani Saec. I. II. III. Pars VI. Consilio et Avctoritate Academiae Scientiarum Berolinensis et Brandenburgensis. Iteratis Curvis ediderunt Leiva Petersen, Klaus Wachtel. Adivvantibus M. Heil, K. P. Johne, L. Vidman. Berolini. Novi Eborau. MCMXCVIII, pp. 433-434, №№1038, 1042).
Hadrian sent his best generals against the Jews of Bar-Kokhba. Two inscriptions found in Ancyra in Galatia attest a senatorial legate of the legio IV Scythica in Syria, acting at the same time as the governor of Syria. He is Publicius Marcellus, who left his province because of the Jewish rebellion. Publicius Marcellus and part of the Syrian army participated in the war in Judaea. Another inscription from Aquileia informs that C. Quinctius Certus Publicius Marcellus was not only the consul, augur and legatus divi Hadriani provinciae Syriae et Germaniae superioris, but also that he received triumphal rewards, or ornamenta triumphalia. (W. Eck. The Bar Kokhba Revolt. The Roman Point of View. The Journal of Roman Studies. v. LXXXIX. 1999. Leeds, pp. 83, 85).
The revolt was dangerous, and a transfer of the legions from the different places to Judaea – an emergency measure. This state of emergency is reflected also in a striking measure: a transfer of the soldiers from classis Misenensis to the legio X Fretensis in Judaea. Since the possession of Roman citizenship was a prerequisite for enrolment in the legions (but not for service in other units of the Roman army, such as the two Italian fleets, the classis Ravennas and classis Misenensis), this meant that these marines were given civitas Romana on joining X Legion. The sources attest even conscription to fill the gaps not only in the legions serving in Judaea, which lost many soldiers, but also in other legions from where the units of the experienced soldiers were taken to strengthen garrisons of Judaea. Great losses were also incurred by the auxiliary forces in Judaea (W. Eck. The Bar Kokhba Revolt. The Roman Point of View, pp. 79-80). They were also to be filled up.
What conclusions are we to draw from all this?
Some of the Iberian units rushed towards South to help Romans with Agrippa from the Iberian royal clan in a command. And he was given civitas Romana, Marcellus being a benefactor.
Thus, citizenship of Publicius Agrippa, Iberian commander-in-chief, derived from a grant of C. Publicius Marcellus, Hadrian's governor of Syria. Moreover, Agrippa was not the only Georgian to be a Roman citizen.
A silver cup of the 2nd-3rd cc. records a name of the Iberian king Flavius Dades. Apparently a Roman citizen, he inherited his citizenship from a predecessor upon whom either Vespasian or Domitian had conferred it (Очерки Истории Грузии. т. I, p. 415; David Braund. Rome and the Friendly King. A Character of the Client Kingship, p. 43). Roman names like Aurelius are still vital in the 4th c. (Очерки Истории Грузии. т. I., p. 19).
Much of the Romans' long hegemony was spent in carrying through the major reform programs which were to set the pattern for most aspects of life in Europe for centuries to come. The Romans had a reputation for integration. Indeed, they installed Roman citizenship over the kings dwelling at the frontiers, especially the Eastern one. In the twilightof her greatness, showing every sign of disintegration, losing Gaul, Spain and Britain, the Empire still used this system, which proved to be comfortable while military campaigns in the East continued. So, the Georgian kings, sometimes possessing Roman citizenship, were,in effect, guarding the European borders (T. Dundua. Georgia within the European Integration. Tbilisi. 2016, pp. 74-81).
Dual Citizenship as a Tool for National Security
Historically, most countries tried to discourage dual citizenship by requiring newcomers to renounce their country of origin citizenship in order to naturalize, and origin countries took away citizenship if emigrants became naturalized citizens of other states. Nowadays possessing citizenship in more than one country has become common.
There is a number of benefits dual citizens can receive: social service systems, voting and ability to run for office in either country. It also involves financial benefits as holders of dual citizenship are usually also allowed to work in either country.Having a citizen's passport eliminates the need for long-stay visas and questioning about the purpose of your trip.Another benefit of dual citizenship is the ability to own property in either country as some countries restrict land ownership to citizens only.
Beyond that dual citizenship also has clear geopolitical ramifications. In this way smaller states can be defended by a bigger state. Georgia, since the break up of the Soviet Union, has been pursuing a pro-Western policy. This includes NATO and EU membership efforts. However, this policy brought troubles as Georgia experienced separatist wars in Abkhazia and Tskhinvali Region helped by the Kremlin and an outright Russian military invasion in 2008. NATO/EU membership pursuit is thus damaged for the moment and Georgia is vulnerable militarily and security-wise.
One of the possibilities for Georgia to correct this geopolitical dilemma would have been a dual citizenship for Georgians. As in the Roman times when the Empire was dominant and the bestowal of citizenship was not only a sign of friendship, but also a political connection (vow of protection), so could, for example, the extension of the US citizenship onto Georgia provides the latter with some more concrete security umbrella. Israel is a good case to discuss as the country has, by some estimates some up to 1 million citizens holding US citizenship.
The countries use the dual citizenship for their geopolitical interests. Take Russia which has been encouraging since the 1990s the distribution of Russian passports to separatist regions along its borders. As a result, the majority living in Abkhazia, Tskhinvali Region, Ukraine's Donbas, or in Transnistria are Russian citizens which put them under Moscow's protection. To counter this, a dual US-Georgian citizenship for Georgians could work. This would have to involve direct security obligations from the US side: enlarging security and military cooperation with Georgian government etc. This will not be easy as the security obligations through the dual citizenship strategy for Georgia would potentially put the US in direct collision course with the Russians.
Nevertheless, the dual citizenship is an emerging concept in the world politics, which can be used by larger states to protect smaller ones which are vulnerable militarily. As the case of the Roman Empire showed, the concept was present in Ancient period, covering the territory of Georgia. As argued above, it can be re-used in modern times too to provide security to Georgia.
Author's note: first published in Georgia Today
Is Azerbaijan a "middle power"?
"Middle powers" have been on the forefront of many international initiatives that demand coordination of resources and promotion of values. Traditionally, middle powers are named so because they are neither great, nor small. Scholars in the field, however, see "middle powers" beyond their mere geographic meaning and rightly so portray their importance not only in terms of their physical criteria. In an attempt to classify, some scholars like Marijke Breuning divide states into great/superpowers, middle powers, regional powers and small powers, with "middle powers" defined as the "states that can wield a measure of influence, albeit not through the projection of military might".
It is stated that "middle powers" are usually affluent states that employ their resources to foster peace and lessen global economic inequality" and are norm entrepreneurs that "advocate for the adoption of certain international standards and work diplomatically to persuade the representatives of other states to also adopt these norms".Carsten Holbrad in his identical work defined "middle powers" as "… moderating and pacifying influences in the society of states, reducing tension and limiting conflict among the great powers; or as principal supporters of international organizations, evincing a particularly high sense of responsibility.
Such countries play a role in the area of international development cooperation and the decision-makers of such countries advocate for more developmental aid and sustainable development. As examples to such states are said to be Canada, the member of the G8 and who has self-proclaimed itself as a middle power, to portray its role in international environment; Norway, who for instance facilitated negotiations between the representatives of Israel and Palestine in the run up to Oslo Accords in 1993. Netherlands and Sweden also claim to as norm entrepreneurs, for the work they do that fall into this category, especially in the field of mediation and good offices, and environmental issues. There is no consensus on the eligibility criteria, however, and often advanced countries of the world with purposeful activism on international affairs make their names to the list.
Another interesting element in this categorization is the distinction that some authors drive between the concepts of "middle power" and small states. It is underscored that the latter is not so easily defined, covers diverse group of states and is not solely confined to geographic size,as it is a "relative concept". In this context, small states are described "as those that have a rather limited capacity to exert influence on other states" and rarely resort to force in international relations.
In this work I would like to argue that despite its relatively small geographic size, Azerbaijan, a country in the South Caucasus, is also assertively making its name as a "middle power". The country has come a long way to become a regional leader with all the energy and infrastructure projects that it is implementing together with its international partners, such as Baku-Tbilisi-Ceyhan and Baku-Tbilisi-Erzurum oil and gas pipelines and Southern Gas Corridor (SGC) megaproject, expected to be completed in 2020.
However, those projects are not merely profit-oriented, they also aim to contribute to energy security and stability of wider neighborhood and regions, including in Europe. Security means stability. Stability and profits facilitate sustainable development. However, merely energy and infrastructure projects aside, Azerbaijan's rising international profile in the recent years and its role as norm entrepreneur should be closely examined as the country, I would like to argue, has earned the title of "middle power" by virtue of its initiatives and emphasis on certain values that unite societies, alongside serving as a bridge between often competing geopolitical spaces.
The country has long made the promotion of tolerance and multiculturalism as one of its central slogans in international affairs and there is a specifically established International Center on Multiculturalism in Azerbaijan that implements initiatives and state's vision in this area. Azerbaijan declared 2016 as the year of multiculturalism. It is multiethnic and multi-confessional state where national minorities and freedom of religious belief is respected. Tolerance is therefore idiosyncratic to Azerbaijani society.
On another note, Azerbaijan's emphasis on multilateralism is no less important. Its belief in the power of international institutions and increasing weight in international affairs has elevated it to the non-permanent member status of the UN Security Council in 2012-2013. One of the hallmark initiatives promoted by Azerbaijan was the conduct of the high-level open debate on "Strengthening partnership synergy between the United Nations and the Organization of Islamic Cooperation (OIC)", during its second-term presidency over the Council in October 2013, which was the first ever high-level debate in the Council on this very topic.
Besides, Azerbaijan's faith in multilateralism is also manifested in the very recent initiatives it took to bring together countries of diverse as well as similar faith, identities and interests. In fact, it was also Azerbaijan, who initiated the creation of what now became the driving force behind the international efforts to stabilize the global oil market, – the OPEC+. As a matter of fact, the establishment of the united format of OPEC and non-OPEC countries amid the fluctuating oil prices in order to tackle the challenges in the global oil market stems from the idea by President Ilham Aliyev, which he proposed during World Economic Forum held in Davos, in January, 2016. He said that "it would be nice if the main OPEC and non-OPEC countries could come together and agree with each other". Azerbaijan's appeal to the concerned oil producing countries found a widespread support among the relevant oil producing states, and so it happened. The OPEC+ format has since been acting on the forefront of all the developments associated with the global oil market. Azerbaijan's emphasis on international cooperation, and importance it attaches to the role of international organizations paid well in this case for the common objectives of the oil-producing states as well as attaining a balance in the global oil market.
Its above initiatives testify to the fact that Azerbaijan has acted as a "middle power", norm entrepreneur that both "advocated for the adoption of certain international standards and work diplomatically to persuade the representatives of other states to also adopt these norms", as well as worked towards "… moderating and pacifying influences in the society of states,…; or as principal supporters of international organizations, showcasing a particularly high sense of responsibility.
Moreover, the country has acquired a valuable chance to assert itself as a "middle power" and norm entrepreneur also through the chairmanship in the Non-Aligned Movement (NAM) – the second largest entity after the UN with 120 members – for the period of 2019-2022, as well as of the Turkic Council, GUAM and TRACECA in 2020. The 7th Summit of the Turkic-Speaking States and the 18th Summit of the NAM under Azerbaijani chairmanship were held in October, 2019, while the 2nd Summit of World Religious Leaders was held in Baku in November, 2019. Possession of the central role in these organizations and once again focusing on the issues of religious tolerance and inter-faith dialogue gave Azerbaijan another opportunity to act as a norm entrepreneur and as a "middle power" that once again stand for multiculturalism, tolerance, inter-faith dialogue, multilateralism and global partnership by making its voice heard through such versatile institutions.  
Azerbaijan's initiatives with Turkic Council and NAM also continued in the COVID-19 induced realities. The online special meetings of the two organizations were convened in April and May, 2020, respectively, that focused specifically on the global efforts to deal with the consequences of pandemics and sought to unite with more specific actions in order to alleviate the negative effects of the COVID-19 on the member states of the two organizations. Focus on unity, multilateralism, international cooperation and commitment to common objectives was the crux of those meetings. It was repeatedly underscored that it is only through the effective multilateralism and consistent adherence to the common values that unite all affected states, will they be able to overcome these challenges. Azerbaijan also acted as a norm entrepreneur and "middle power" because it repeatedly stood for sustainable development, having allocated about 10 million US dollars to the World Health Organization (WHO) to support its efforts in the midst of the COVID-19, especially with the idea to help needy population in Africa, Asia and Latin America. Moreover, as noted above, the large-scale energy projects that Azerbaijan implements together with its international partners contribute to the energy security and sustainable development of its immediate neighborhood, as well as larger European continent.
Another distinctive feature of the "middle power" as defined in Holbrad's above work is "…reducing tension and limiting conflict among the great powers…". Azerbaijan has hosted meetings between Russia and its western partners several times in a row. The first such a meeting took place in April, 2018 between Valery Gerasimov, the head of Russia's General Staff, and NATO Supreme Allied Commander Curtis Scaparrotti, who met in Azerbaijan to discuss the situation in Syria, while the second one happened in December of the same year.
This practice continued in 2019 as well with a meeting between the Chief of the General Staff of the Armed Forces of the Russian Federation Army General Valery Gerasimov and NATO Supreme Allied Commander in Europe General Tod Wolters that took place in July in Baku, where the parties discussed issues on "European and global security, ways to prevent incidents between Russia and NATO and the prospects for resuming dialogue between military experts". They also discussed topics related to the fight against terrorism and maritime piracy, alongside also focusing on situations in Afghanistan and Syria. In November, 2019, a meeting was held in Baku between Chief of the General Staff of the Russian Armed Forces Valery Gerasimov with Chairman of the NATO Military Committee, Air Chief Marshal Sir Stuart Peach. In February, 2020, another meeting of Valery Gerasimov and NATO's Supreme Commander of Allied Forces in Europe Tod Wolters took place in Baku.
The choice of Baku for such meetings between Russia and NATO officials is not coincidental as Baku is increasingly proving itself as a geographic venue capable of accommodating diverse and often competing interests between different geopolitical spaces, thus once again hewing to the very definitions attested above to the concept of the "middle power".
In conclusion, there might be different outlooks in the scholarly literature as to what actually constitutes "middle power". The ones that are chosen for this work have given some description of the concept, sufficient to be utilized as analytical frameworks. In an attempt to argue whether Azerbaijan fits into the very concept of the "middle power", the work highlighted many initiatives and policies implemented by the country during the recent years, that have encapsulated on the values of cooperation, multilateralism, multiculturalism, inter-faith dialogue, sustainable development and a bridge for dialogue.
Objectively, our world would have been a better place had all the above values and initiatives been instilled into the very fabric of our societies and foreign policy choices. Widespread acceptance of these values and norms could in fact bring in more dialogue, understanding and peace to the anarchic nature of international system. Norm entrepreneurs – "middle powers" are therefore valuable for the premium they place on those or other types of value systems that build, unite, improve and consolidate our collective home. Seems like Azerbaijan is on the right track, and its ambition to qualify for norm entrepreneur and "middle power" should be taken at face value.