Unmanned Military Weapons: International Humanitarian Law without Human Terrain
Unmanned Military Weapons (UMW) system based on Autonomous Weapons Technologies (AWT)  mesmerizes doppelgängers of Terminator-style robots; deadly machines backed by convoluted artificial intelligence which is qualified of exterminating human beings devoid of being impeded by human sentiments and traditional constrictions. This image is akin to science fiction and raises challenges about the development of UMW that vanguard the international legal discourse in the contemporary circumstances.UMW is innovation,and its adherence to the core principles of International Humanitarian Law (IHL) must be ensured. It is now obligatory upon the international community to address the lego-political, moral and ethical ramifications of the development of robotic technologies that might have lethal consequences.On October 24, 2010, in a report to the UN General Assembly Human Rights Committee, Christof Heyns—a Special Rapporteur on Extrajudicial Executions—opined that UMW systems flagged "serious concerns that have been almost entirely unexamined by human rights defenders or humanitarian actors" at the anvil of IHL. Therefore, UN must constitute a panel to evaluate the legal, moral and ethical aspects of UMW that are being mushroomed in the US and deployed fortarget killings in Afghanistan and elsewhere.
In June 2010, another UN official Philip Alston requested for terminationto CIA-guided drone airstrikeson Al-Qaeda and Taliban fugitives and suspects in Afghanistan and Pakistan.Alston articulated that killings ordered far from the battleground could lead to a "PlayStation"mindset. The CIA contested his findings by statingbut without confirming that it conductedthe airstrikes and military operations "within a framework of law and close government oversight." Heyns—a South African Professor of Law—was of the view that there was a need to discuss responsibility for civilian casualties and how to ensure that the use of robots complied with IHL, and human rights standards for developing the AWT. Thus, Heyns asked the UN to take up the issue head-on by exhorting the then Secretary-General Ban Ki-moon to organizea group of national representatives, philosophers, IHL experts,human rights defenders,developers and scientists to promote a debate on the legal, political, ethical, and moral implications of UMW systems. There is a fundamental question that must immediately be addressed,i.e., should lethal force ever be permitted to be fully automated and unmanned? Is it legally and morally correct to allow UMW to kill humans on the battlefields? Is it in compliance with IHL to transfer the decision from human being to machines to kill humans?
International Human Rights Clinic (IHRC) released a document on November 19, 2012,called Losing Humanity: The Case against KillerRobots, wherein a ban on the production and use of UMW was advocated. Subsequently, US Department of Defence (DoD) circulated a Directive 3000.09 wherein DoD adumbrated its policies on the development and use of UMW.   On April 9, 2013, Heyns askedfor a moratorium on the development of UMW until an acceptable legal framework is developed. However, the UN, IHRC,andDoD differed on the solution,andthey together commenced from the hypothesis that UMW would broach challenges of compliance to IHL. Therefore, the core principles of IHL such as principles of distinction and proportionality are insufficient to address the troubles raised by the UMW which require a more planned,controlledand coordinated legal regime to be emplaced to ensure the legality and morality of the use of UMW.There are also questions about the existing principles of command responsibility which are not adequate to provide the adherence of UMW with the IHL principles.
Unmanned Military Weapons?
Aroboticist Noel Sharkeydefines an unmanned machine as one that "carries out a preprogrammed sequence of operations or moves in a well-defined environment." In contrast, anautonomous machine operates in an amorphous environment. It is de rigueurto distinguish between weapons that are developed and designed as automated and unmanned weapons and weapons that are trulyautonomous. The term "autonomy" can be challenging to define as it alludes to highly intelligent robotsthat are capable of individual decision-making. The reality looks a lot less like science fiction,and more like everyday robotics.Inquintessence, what makes a machine autonomous is its environment of operation rather than its internal procedures. The DoD espouses a comprehensive definition of UMW whereunder "a weapon system once that is activated, can select and engage targets devoid of further intervention by a human hand. It includes human-controlled UMW systems that are designed to allow human operators to supersede theoperation of the weapon structure but can chooseand securetargets without further participationafter activation. The DoD definition's essential requirement is that once activated; it can "select and engage targets" without further human input. Human Rights Watch (HRW) adopts an identical definition "any robot that can select and engage targets without human input, even if there is a human oversight, will qualify as a fully autonomous robot." Thus, these definitions encapsulate the distinguishing nature of UMW that humans are not indispensable for the targeting decision-making process. In essence, there is a difference of predictability between UMW automatic weaponry. An automatic weapon system is wholly predictable except a breakdown. However, the UMW can only be anticipated as a sequence of similar results. It is crucial to have the determination of distinction to appreciate the capability of UMW of having compliance with IHL norms.
The emergence of UMW can develop in two different directions: as the expansionofhuman soldiers or as the replacement of humans in the battleground by unmanned proxies.In other words, the distinction is between UMW that expand or replace our soldiers and those automatic war machines that could be potential soldiers. Currently, the dominant perception is that robots will be deployed only to supplement andbroaden our soldier's engagement in thehostilities. In this context, UMW system isappreciatedas weapons that keep humans away from combat. Primarily, the UMW is the latesttechnological advancement that originated from the traditional archery. In the same way, the diagnostic responses to the potential introduction of UMW are notunusual. However, any introduction of new weapons is challenged by some as unethical or illegal.However, the idea that UMW will replace our soldiers is gaining currency in the years ahead. The UMW system is more than an extension of humans when they have the potential to decideto kill without human engagement in the hostilities. However, the deployment of drones could be castigated for a multitude of reasons, but their competence of compliance with the principles of IHL is indisputablebecause humans are involved in the targeting process.Whereas the UMW would take human operators out of the decision-making architecturethat has been contemplated under the IHL regime. It is an acceptable war doctrine that human beings have been maintaining distance from war through technology and weapons development since antiquity. But visualizing battle without humans has not yet been imagined and removing human soldiers from the war process would be a paradigmatic shift in the event of UMW system development.
The Future of UMW
Currently, the UMW is not in action entirely,but it has been growing gradually at a pace that has not been seen before. Several weapons systems are attaining full autonomous abilities. International experts like Werner JA Dahm in his piece "Killer Drones Are Science Fiction" published in The Wall Street Journal on February 15, 2012, stated that the deployment of UMW is predestined and impending in the future. He further contends that the technology required for "fully autonomous military strikes" is already present. The development of UMW would augment vertically and horizontally with aspects of operations such as take-off and navigation, and lead to full autonomy over time.With the technological advancements, more and more sophisticated sensing and computational systems will becarried out.The increased tempo of warfare and pressures to minimize casualties will also create demand forUMW. Several weapons systems include semi-autonomous capabilities already, and the level of automation in weapons systems is progressively increasing.
Recently, the South Korean military has posted an immobile sentinel robot in the Korean Demilitarized (KDZ) which can detect and select the military objects. Such a robot can respond with lethal or non-lethal force by the attending situation on the ground. However, the final decision about targeting must be of human beings and not of robots as robots would decide without human intervention. Nevertheless, the robot is competent to select and engage targets without human application, but its location in the KDZ makes it uncalled for the robot to differentiate between civilian and military objects. However, arobot treats any person as a hostile combatant who crosses the pre-demarcated line. The Aegis-class cruisers of the US Navy currently has the Phalanx Close-In Weapons Systems (PC-inWS) which are autonomously capable of performing its searches, detection, evaluation, tracking and killing assessment functions.  The PC-inWS has been designed in four types: (1) semi-automatic, where humans command the firing decision; (2) automatic special, where humans decide targets, but the software determines how to execute them; (3) automatic, where humans supervise the system, but it operates without their input; and (4) casualty, where the systems does whatever is necessary to save the ship.
Thus, the UK has been testing a new semi-autonomous aircraft called Taranis and BAE Systems—the Designer—hailed it as an "autonomous and unmanned stealthaircraft" capable of autonomous aviation. However, humans have been retained for the time being,but they are likely to be replaced gradually. The X-47B—a semi-autonomous drone—the US has been developing that will take off and land without human deployment. The developer assertsthat it is a mechanism that "takes off, lands and aviates a preprogrammed mission, and then returns to base with a mouse click administered by its mission operator. The mission operator supervisesthe machine's operation but does not actively involve in flying it via remote control as is the situation for other unmanned weapons systems currently in operation.The current development of X-47B does not envision autonomous target selection but would be capable of semi-autonomous flight. The development of UMW has been integratedinto all roadmaps of the US forces since 2004.The US Air Force's Flight Plan proposesthat by the year 2025 completelyautonomous and unmanned flight systems will be a reality. Sharkey claims to have read certain robotics development projects from more than 50 countries including Canada which ispresently engaged in developing UMW systems.The US Air Force Major Michael A. Guetlin states that "[it] is not a matter of 'will' we employ [autonomous weapons]; it is a matter of 'when' we employ them."
UMW System Advantages
Some tactical and operational factors promote the development of lethal UMW systems. The UMW systems are cheaper to operate than human-operated weapons and are capable of performing continuously, without the need for rest.Gordon Johnson, a member of the now-defunct Pentagon's Joint Forces Command, highlighted the benefits of UMW: "They don't get hungry. They are not afraid. They do not forget commands and directives. They do not worry if the guy next to them has just been hit or targeted. Will UMW do a better job than humans? Of course, Yes.Human operators are susceptible to fatigue and exhaustion.Though it can be possible to broaden mission times for humans of up to 72 hours with performance enhancers, eventually a human needs rest. The UMW is capable of performing for as long as their batteries sustain them. As battery and recharging technologyadvances, the possible mission and target time for UMW will continue to increase. A smaller number of humans are required for the operation of UMW systems. It may soon be possible for a single operator to manage a swarm of semi-autonomous drones, or for a single human commander to assign mission parameters to UMW, and monitor them from a secure distance. Therefore, it will allow for a distancing of the human warfighter and the battle space and expands the battle space. Consequently, the combatwill be able to be conducted over a much larger area than before. UMW has the capability of processing battleground information in a faster and efficient manner than human operators. UMW could be installed with a multitude of sensory technologies like infrared and thermal vision, high definition cameras and state-of-the-art acoustic sensors that would enhance UMW's superiority over sensory capabilities of humans.
There are vulnerabilities with the modern remotely guided vehicles due to the possibility that would interfere with enemy satellites, radar systems or radio frequencies. However, the UMW systems assuage these anxieties as they would be capable of performing without perennial contact with base camp.At present, remotely piloted systems have a delay time of about1.5 Seconds, restrictingtheirefficacyin a greatertempo battlespace. Thus, the impugned delay would make it impracticalfor a remotely piloted system to combatin aerialwarfare, which UMW aeronautical capabilities would make achievable. The proponents of UMW advocatethat UMW may, in fact,bemore adept at adhering to the principles of IHL than the soldiers logic and emotions. The UMW systems might be capable of performingmore conservatively because they would not lunge forpreservation instinct. Therefore, robotic sensors would be better well-equipped to make battleground observations and surveillancethan human combatants. The UMW would be designed without emotions that are bound to cloud sense of judgment of human soldiers, but UMW would be free from all the psychological infirmities and frailties of scenario fulfillment; the experiencesand occurrencesof human beings which they use as new information to fit their pre-existing belief patterns and combat orientation.
No Wrap-Up
It is, indeed, a reality now that UMW systems are here to stay as inalienable war machinery of the modern world and it is destined to be vertically and horizontally gradational in their advancement. The deployment of UMW systems posesa multitude of challenges including adhering to the IHL principles of distinction and proportionality. In IHL, principles, and standards have been defined for human soldiers and technology might never be able to substitute human beings in entirety. Making a distinction between civilian and combatants needs computational processing capability that has not been accomplished as of now. With the requisite technology development, the definition of civilian may not be adequately specific for UMW software. Therefore, the idiosyncratic and circumstantial nature of proportionality entails an assessment of dynamics that might not be workable for the machines. Further, there are ethical and moral challenges emanate from the UMW systems such as should the decision to kill a human being be assigned to a drone or robot? Having vigorously assessed the potentialchallenges of adherence to the IHL principles, we must not attribute UMW systems a higher standard than human management of warfare. However, there are umpteen instances of war crimes, indiscriminate attacks, crimes against humanity, and disproportionate use of force by the human soldiers in the human history. The introduction of UMW system is flgrantly bound to lead to the moral detachment and unethical expansion of battle space. But UMW has to peregrinate a long way before matching the human mind and human sense of justice. The UMW system is not necessary for making the distinction and calculating proportionality if measured against the human input.Nevertheless, human soldiers would be there in the loop as a goofproof when UMW system is first deployed in the battlefields; their engagement would fade away with the time. With the diminishing of human engagement, the complications confronted by the UMW in adhering to the principles of IHL would be unprecedentedly prominent necessitating the comprehensive lego-institutional analysis to re-conceiving the human terrain of International Humanitarian Law.
Webinar: How will we minimize conflicts in the Eastern Mediterranean?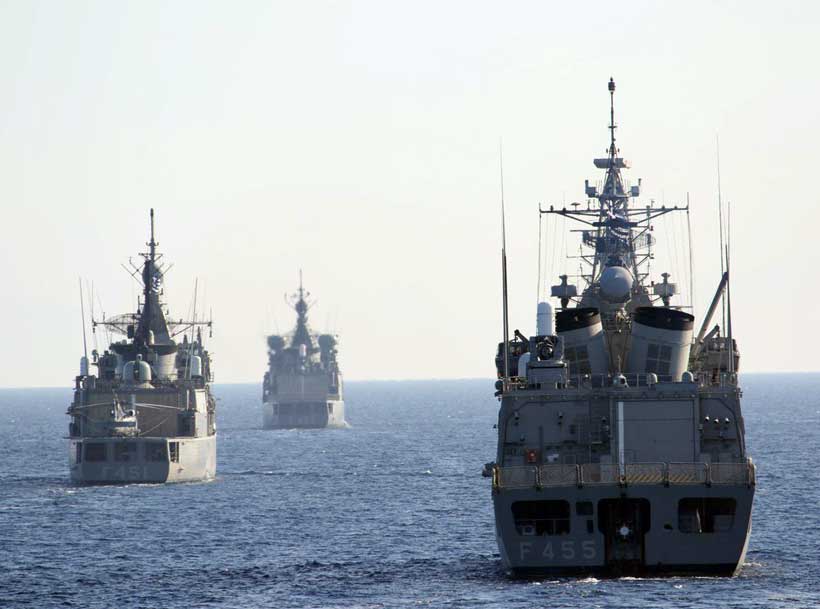 One of the biggest online events for this year with the theme: "How will we minimize conflicts in the Eastern Mediterranean?" was held by the Region of Western Greece and EuropeDirect Patra, on Thursday 25 February 25 2021, organized by the Deputy Governor of Entrepreneurship, Research and Innovation of Western Greece, Fokion Zaimis, with representatives at a very high level, from Greece and abroad. Specifically, the countries represented were Greece, Turkey, Sweden, the USA, Italy and Brussels through elected representatives, MEPs, MPs, lawyers, International Relations Specialists, political scientists, diplomats, senior officials, academics, journalists and representatives of European and international networks.
Opening the event the Deputy Governor of Entrepreneurship, Research and Innovation of Western GreeceFokion Zaimis said: "The Eastern Mediterranean, the cradle of ancient civilization and the crossroads of major economic and commercial routes has been and is the focus of many conflicts from antiquity to the present day. I warmly thank all the participants in today's international event for conflict prevention in the Eastern Mediterranean in cooperation with Europe Direct and CPMR. Critical and serious issues emerged from completely different starting points and perspectives. Regional government has an important role to play in communication, trade and economic relations, tourism, environment and the consolidation of relations of mutual respect and trust between the communities of Mediterranean countries. The goal is the progress and prosperity of the citizens and what unites us is much more than what divides us".
The Regional Governor of Western Greece Nektarios Farmakis highlighted: "It also proves in this way that regional government is able to organize and contribute to national or supranational issues and this is something very important, because it proves that it is not limited to the house and is not only trapped in its daily life but also looks at our world with a broader look. Knowing what is happening in the wider area ultimately concerns the regional government. I firmly believe in diplomacy and the possibility of international cooperation that can shape self-government strengthening the national diplomacy and strategy".
The MEP (epp) Manolis Kefalogiannis, stated: "A very important initiative of the Region of Western Greece with many distinguished guests from Greece and abroad on an important issue concerning the conflict and the reduction of conflicts in the Eastern Mediterranean. It really concerns a dominant issue at this time because we have a neighbor Turkey and President Erdogan who are behaving like riots in the wider region violating every concept of law, every good neighborly relationship and creating tensions in the wider region. We must respect, in accordance with international law, the decisions of the United Nations, the decisions of the European Union, always guided by good neighborly relations, always with respect to the international law of the sea, resolve any disputes in a spirit of peace, cooperation and relations as befits a country such as Turkey, a country that is part of the European family ".
Particularly honorable was the representation of NATO through the speech of a senior official, Dr. Nicola De Santis, Head of NATO Public Diplomacy, presented by Theodosios Georgiou, President of the Greek Association for Atlantic and European Cooperation, who highlighted, among other things, the role that Regions can play in security and cooperation. Dr. Nicola De Santis spoke about the important role that NATO plays in the challenges and what security prospects in the Eastern Mediterranean, explained the principles of the Alliance, pointed out the important role played by citizens through their demands, security as a necessary condition for development, as well the consultations and cooperation proposals promoted by NATO.
Speaking about the institutional-legal framework, the Ambassador (ad.hon.) and former Ambassador of Greece to Washington, Alexandros Mallias, pointed out: "It is exactly one year since the operation of violating the borders of Greece in Evros. The invasion and occupation of Cyprus, the aggressive moves against Greece and the constant official provocations, the strategic intervention of Turkey in Libya, Iraq, Syria and Nagorno-Karabakh are violations, incompatible with Article 1 of the NATO Statute. So this is an ally behavior that allows NATO rivals to question the consistency between declarations, principles and actions. The goal of Mr. Erdogan's policy is not sound in the negotiations to ensure the terms of an honest peace that will ensure relations of cooperation and good neighborliness. On the contrary, its goal is the forced adaptation of Greece to the expectations and conditions of Turkey. Therefore, it does not have a short-term character. It is no coincidence that Mr Erdogan is systematically calling for a revision of the Lausanne Treaty. At the same time, Ankara aims to nullify the trust of Greek citizens in its political leadership".
The business framework was set by former Minister of Culture & Tourism, Pavlos Geroulanos: "One can not ignore the provocation of Turkey and its willingness to create tension in the region. Obviously we can not discuss any cooperation as long as we have such a deployment of Turkish troops in the Aegean Sea. The basis of cooperation is with countries that have strong diplomacy, economy and army. Only when you can stand on yourfeet can you impose peace in an area."
Dimitrios Kairidis, Professor of International Relations and MP (North Sector of Athens, New Democracy), explained why Turkey, a country with special structural elements, is a particularly destabilizing factor for the wider Mediterranean region.
Suleyman Ozeren, Ph.D., Adjunct Professor, George Mason University talked about forced Migration, Refugee Crisis and the Abyss of Securitization in Turkey, which consist really concerning issues. He referred that Turkey is not only a country of entry for many refugees, such as Syrian people who were considered guest in the beginning, but also a country of exit for many Turkish people due to law and democracy issues. In this context he made some policies recommendations.
The representation of ELIAMEP (Hellenic Foundation for European & Foreign Policy) was also particularly honourable by Thanos Veremis, Vice President of the Boardand Emeritus Professor (Department of Political Science and Public Administration, University of Athens, History, International Relations) who expressed strong concerns about Greek-Turkish relations.
An important parameter in international relations regarding the value code that each country has, every citizen, put the Ottoman, Turkologist, Associate of the Laboratory of Turkish & Eurasian Studies and Lawyer at the Supreme Court, Dr. Dimitris Stathakopoulos stating: "We have common interests with Eastern Mediterranean, but we also have different quality characteristics which our value codes and the historical memories we have prevent us from resolving the existing issues in a sense of" associations ". Because we start from a different historical basis and it is by no means self-evident that we perceive International Law or conventions in exactly the same way. The Turks believed and believe, for example, that Greece liberated not Greek territories, but conspiracy theoristically conquered new countries. He sees Greece as an ungrateful part of the Ottoman Empire which made a "stop", not a Greek revolution ", and added that" we can get along with Turkey, but the logic of Turkey does not allow us to agree, since it does not want cooperation with equals".
Matthew Crosston, Ph.D., Professor, Director of Academic Transformation Office of the Provost, Bowie State University, Executive Vice Chairman and Author at Modern Diplomacy.eu talked about the Hydrocarbon Hybrid War asan untangling conflict in the Eastern Med. He pointed the problem of missing information in western and eastern media regarding the real situation, as well as the vision of Turkey to be an energy hub.
Through this event besides presenting the current situation in the wider Eastern Mediterranean region, the opportunity was given to identify those points that complicate the situation and views were expressed from different perspectives within a democratic, multicultural and pluralistic context that seeks to find cooperation solutions through dialogue, democracy, human rights and the peaceful coexistence of peoples.
The event was also attended by the honorable speakers:
Mitat ÇELİKPALA, Vice Rector, Professor, Faculty of Economics and Administrative Sciences, Department of International Relations, Kadir Has University
Emmanouil Karagiannis, Associate Professor, Department of Defense Studies, King's College London
Ioannis Mitsios, Political Scientist, International Relations Specialist, M.A. Northeastern University, Boston
Giorgos Alexakis, Vice Governor on European and International Affairs at Region of Crete, Vice-President of CPMR & EUROMONTANA
Theodoros Louloudis, Publisher of "Peloponnisos" Newspaper, Member of the Organizing Committee of the Regional Growth Conference,
Annika AnnerbyJansson, President of Region Skåne, Chair of the CPMR's Task Force on Migration Mamangement
Dimitrios Triantafyllou, Professor, Department of International Relations, Kadir Has University
Dimitrios Rizoulis, Journalist, Director of the newspaper "Dimokratia".
India – The US Promote National Defense – Security Cooperation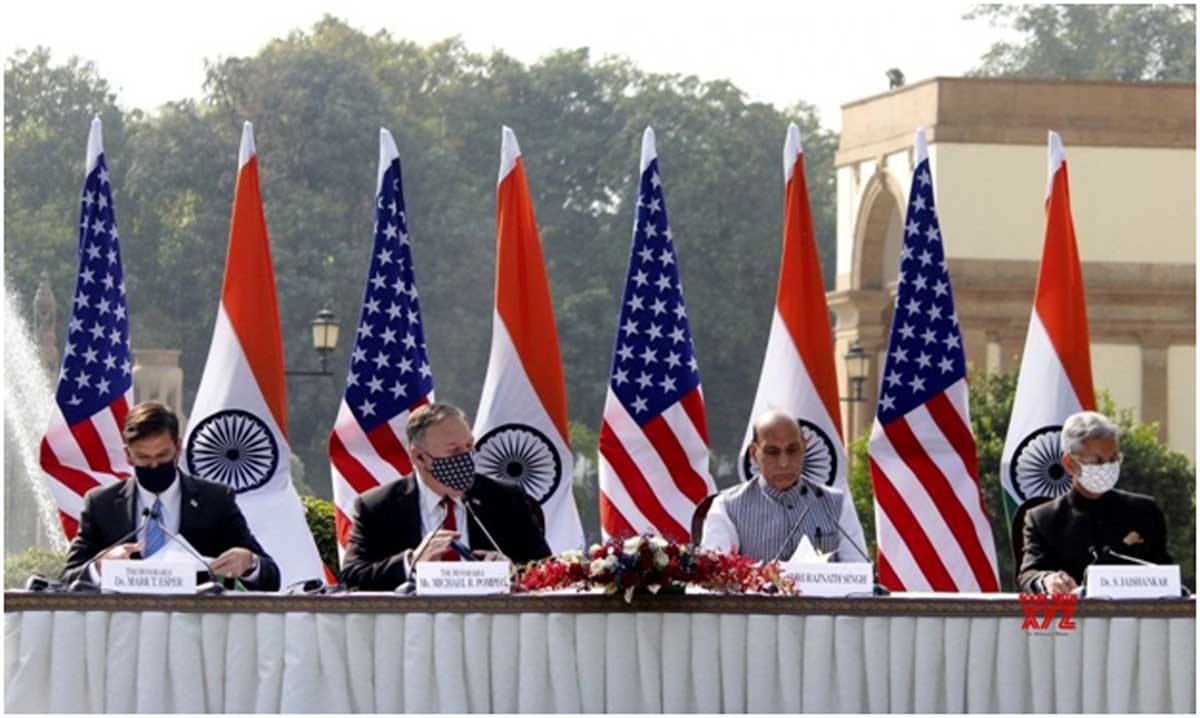 In recent years, the India-US bilateral relationship has been more closely bonded, especially defense-security cooperation in various fields including nuclear technology, maritime defense and security, anti-terrorism in the region and in the world … has been continuously promoted, contributing to the development of an intensive bilateral relationship. This results from the demand for security strategy, economic, security and political interests of the two parties. The United States wants India to become its ally in the Indo-Pacific region, counterbalancing China's growing influence, ensuring U.S. maritime security interests and a huge commercial arm market for the US. To India: a good relationship with the US will help India highten its position in the region; India also wants to rely on US power to increase its military strength, to watch out China and create pressure on Pakistan. In addition, India's comprehensive diplomacy and the US's regional strategy carried out simultaneously without overlapping, is conducive to strengthening the bilateral security cooperation for both countries.
It is evitable that in recent years, defense-security cooperation between India and the US has made remarkable progresses. After removing the Sanctions on India for nuclear testing in May 2018, the US and India announced the Joint Declaration on Civil Energy Cooperation between the two countries. Accordingly, the US will provide nuclear fuel and technology support for India to develop civil nuclear energy. This has opened the door for India to develop their nuclear weapons and improve military strength. The two countries also cooperate in many defense activities including ballistic missile defense, joint military training, expanding arms sales, strengthening military staff exchanges and intelligence, as well as loosening two-way technology exports.
To be specific: In January 1995, the two countries signed the "US-India Defense Relations Agreement", stipulating that in addition to conducting cooperation on research and production of military weapons, the two countries also conduct exchanges between military and non-military personnel. In May 2001, the Indian government announced its support for the US to develop a ballistic missile defense system, and proposed to purchase the "Patriot 1 (PAC-3)" air defense missile system. In March 2005, during the Conference on Cooperation in Ballistic Missile Defense, the US, India and Japan agreed to set up a joint working group, to implement close cooperation on ballistic missile defense. In June 2005, the United States and India signed a 10-year military cooperation agreement, which not only required increased exchanges between the two countries' armies, but also proposed to strengthen military cooperation regarding weapons production, and trading as well as ballistic missile defense. In July 2009, the two countries signed a "Comprehensive customer surveillance treaty" on defense, the US sold advanced defense technology to India. This treaty allowed India to obtain a "permission card" to buy the US's advanced weaponry. In addition, the two countries also cooperate in counter-terrorism in the region and around the world, maritime security, and joint military exercises …
One of the activities promoting bilateral relations between India and the US was the "2 + 2 Dialogue" taking place on October 27, 2020 in New Delhi. Within the framework of this dialogue, India and the United States had shared exchanges of a free and open Indo-Pacific vision, embracing peace and prosperity, a rules-based order with the central role of ASEAN, resolving disputes, ensuring the economic and security interests of all related parties with legitimate interests in this region … The focus on defense-security cooperation in this "2+2 Dialogue" is the signing of the Basic Exchange and Cooperation Agreement (BECA). The agreement allowed India to access accurate data, topographic images, maps, maritime and aviation data and satellite data on a real-time basis from US military satellites. Thereby, this will assist the provision of better accuracy for such weapons as cruise missiles, ballistic missiles and drones of India, and support the rescue operations during natural disasters and security strategy. The BECA is one of the four basic agreements a country needs to sign to become a major defense partner of the US. The other three agreements that India had previously signed with the United States are the General Security Of Military Information Agreement (GSOMIA), the Logistics Exchange Memorandum of Agreement (LEMOA) and theCommunications Compatibility and Security Agreement (COMCASA) . These are "cornerstone" agreements allowing the armies of the two countries to fight together in the event of a conflict. Accelerating the signing of the BECA was just one of various ways India reacted to China threats, especially after the border clashes in Doklam (2017) and Ladakh (5/2020-now). India, the US, Japan and Australia were more active in the Quartet Meeting on October 6 in Tokyo. India also invited Australia to join the Malabar naval exercises with the US and Japan in November.
The signing of BECA was a further institutionalization of the Indo-US strategic relationship to promote the two countries' intensive cooperate on strategy and military, without pressure to become an official ally yet have benefits. Washington received interests in selling weapons to New Delhi, especially when conflict starts. New Delhi has attached more importance to US military equipment because of its transparent pricing, simple operation and maintenance, thereby reducing reliance on Russia for weapons. Currently, the total value of Indian weapons purchased from the US is more than 15 billion USD and is expected to double in the coming time. The US-India military cooperation, therefore, will be closer in the future.
Also at this dialogue, the two countries agreed to cooperate in dealing with the Covid pandemic, considering this a priority for bilateral cooperation in this period. Accordingly, the US and India will cooperate in RDto produce a series of vaccines, to expand access to vaccines, and ensure high-quality, safe, effective and affordable medical treatment between the two countries and on a global scale.
Currently, India-US defense-security cooperation is at its heyday in the history and is likely to develop further. This relationship has profound effects on the regional security environment, especially direct effects on China. As military forces grow, India will probably implement their military strategy "taking the Indian Ocean in the South, expanding power to the East Sea in the East, attacking Pakistan in the West, watching out for China in the North", plus nuclear deterrence. This will worsen the fierce arms race in such regions as the South Asia and the Indian Ocean, leading to an imbalance of forces and add up a number of unstability factors in these regions.
In short, India-US defense-security cooperation is making remarkable progresses and has created impact on regional security, especially China and other countries with common interests in this region, including Vietnam. Therefore, the China-American-Indian triangle relationship is currently in an unstable state. In this scenario, it is suggested that countries actively identify issues relating to the this three military powers relationship and devise appropriate diplomatic strategies, balancing bilateral relations with major powers with disagreements to ensure national security and stability in the region.
India and Pakistan have both announced to "strictly observe" the truce along the Line of Control and all other sectors "in the interest of achieving mutually beneficial and sustainable peace along the borders". Such an announcement could not have emerged without Indian prime minister Narendra Modi's imprimatur. A hunch is that the move is an upshot of a nudge from the US president. This impression is fortified by several events that are accentuated by India-Pakistan entente (so called surgical strikes, 5000 ceasefire violations, hype about 2008 Mumbai attack and the one at Pathankot airbase, so on). From Pakistan's angle, India believed in might is right. And while it was open to compromises with China, it displayed a fist to Pakistan.
Need for a dialogue
In the past, peace at the LOC proved ephemeral as it was not backed up by sufficient follow-up. A dialogue is needed for the hour. It is a good omen that Pakistan is open to talks despite chagrin at abolition of the occupied state's statehood.
Misconception about the sanctity of the India-Pakistan LOC vis-a-vis the Sino-Indian LAC
A common misperception is that the Line of Actual Control (LAC) is more sacrosanct than the LoC. For instance, India's prestigious Indian Express explained: 'The LoC emerged from the 1948 ceasefire line negotiated by the UN after the Kashmir war. It was designated as the LoC in 1972, following the Simla Agreement. It is delineated on a map signed by Director General Military Operations of both armies and has the international sanctity of a legal agreement. The LAC, in contrast, is only a concept –it is not agreed upon by the two countries, neither delineated on a map nor demarcated on the ground'.
To understand Sino-Indian differences, one needs to peek into the Indian mind through books such as Shivshankar Menon's Choices: Inside the Making of India's Foreign Policy, Shyam Saran's How India Sees the World, and A G Noorani's India-China Boundary Problem 1846-1947.
The afore-quoted newspaper poses the question: "What was India's response to China's designation of the LAC?" It then explains India rejected the concept of LAC in both 1959 and 1962. Even during the war, Nehru was unequivocal: "There is no sense or meaning in the Chinese offer to withdraw twenty kilometres from what they call 'line of actual control…" In July 1954, Nehru had issued a directive that "all our old maps dealing with this frontier should be carefully examined and, where necessary, withdrawn. New maps should be printed showing our Northern and North Eastern frontier without any reference to any 'line'. The new maps should also be sent to our embassies abroad and should be introduced to the public generally and be used in our schools, colleges, etc". It is this map that was officially used that formed the basis of dealings with China, eventually leading to the 1962 War' (Indian Express, June 6, 2020, Line of Actual Control: Where it is located and where India and China differ).
India considers the LAC to be 3,488 km long, while the Chinese consider it to be only around 2,000km.
The LAC was discussed during Chinese Prime Minister Li Peng's 1991 visit to India, where Indian PM P. V. Narasimha Rao and Premier Li reached an understanding to maintain peace and tranquility at the LAC. India formally accepted the concept of the LAC when Rao paid a return visit to Beijing in 1993.
The reference to the LAC was unqualified to make it clear that it was not referring to the LAC of 1959 or 1962 but to the LAC at the time when the agreement was signed.
India's disdain of the LOC
India's mindset on the LOC should change. The problem is Nehru never cared a fig for the disputed state's constituent assembly, Indian parliament or the UN. This truth is interspersed in Avtar Singh Bhasin's 10-volume documentary study (2012) of India-Pakistan Relations 1947-2007. It contains 3,649 official documents which gave new perspectives to Nehru's state of mind.
In his 2018 book (published after six years of his earlier work), India, Pakistan: Neighbours at Odds (Bloomsbury India, New Delhi, 2018), Bhasin discusses Nehru's perfidy on Kashmir.
LoC peace should lead to Kashmir solution
The tentative solutions include (a) status quo (division of Kashmir along the present Line of Control with or without some local adjustments to facilitate the local population, (b) complete or partial independence (creation of independent Muslim-majority tehsils of Rajauri, Poonch and Uri, with Hindu-majority areas merged in India), (c) a plebiscite to be held in five to 10 years after putting Kashmir under UN trusteeship (Trieste-like solution), (d) joint control, (e) an Indus-basin-related solution, (f) an Andorra island (g) Aland island-like solution and (h) permutations and combinations of the aforementioned options.
Another option is for Pakistan and India to grant independence to disputed areas under their control and let Kashmir emerge as a neutral country. An independent Kashmir, as a neutral country, was the favourite choice of Sheikh Abdullah. From the early 1950s "Sheikh Abdullah supported 'safeguarding of autonomy' to the fullest possible extent" (Report of the State Autonomy Committee, Jammu, p. 41).
Abdullah irked Nehru so much that he had to put him behind the bars. Bhabani Sen Gupta and Prem Shankar Jha assert that "if New Delhi sincerely wishes to break the deadlock in Kashmir, it has no other alternative except to accept and implement what is being termed as an 'Autonomy Plus, Independence Minus' formula, or to grant autonomy to the state to the point where it is indistinguishable from independence". (Shri Prakash and Ghulam Mohammad Shah (ed.), Towards understanding the Kashmir crisis, p.226).
Sans sincerity and the will to implement, the only Kashmir solution is divine intervention or the unthinkable, nuclear Armageddon.