Toward a New Partnership: Georgian Voices
Every winter, Beso Idoidze stands guard alone over the historical highland village of Dartlo. Even the harsh cold winds of Tushetian winters won't make Beso abandon his post. As long as there is wood to burn and essential food items like potatoes, sugar, flour and olive oil in his larder, Beso perseveres.
Situated 2,000 meters above sea level, Dartlo village is cut off from the outside world from late September to the end of April, during which time it is only accessible by helicopter.
Once summer arrives, Dartlo's other residents start to return. Their only source of income is tourism. Some own guest houses, others produce traditional handicrafts, while those who have horses offer riding tours. Some people also get involved in the ongoing restoration work that sustains the vernacular architecture of this unique village.
However, the tourism season is short: if lucky, the village might be able to stay open for four to five months – from early June to mid-October. That is why most of the residents prefer relocating to other, larger towns, or to the capital Tbilisi – bringing them closer to regular jobs. Over the years, the number of residents in Dartlo and neighboring villages has been steadily declining, leaving only elders like Beso to hold down the fort.
Maia Kiknadze runs a travel agency that was established in 1991, right after Georgia gained its independence. Caucasus Travel, the very first tour operator in Georgia, was created at a time when the country was virtually unknown to people internationally, had no tourism infrastructure, and lacked workers trained in the tourism-service industry.
According to one employee, "The company has spent many years and a lot of effort promoting the country internationally and training staff such as tour guides and drivers. In addition, because of the severe scarcity of places for guests to stay, we had to personally visit the regions and scout for living quarters suitable for foreign visitors."
In the beginning, the company consisted of only three people, its founders. Within a few years, however, Caucasus Travel had grown and spawned two additional companies, Georgian Events and Explore Georgia, while a third company, CT Auto Georgia, came along later. By 2007, all of these companies, along with several others, were united under the banner of one holding company – Georgian Hospitality Group (GHG), which today employs 60 people full-time.
Georgia is increasingly renowned internationally for its culture, wine and cuisine, and adventure and eco-tourism. Maia believes that her company has played a considerable role in raising awareness about Georgia and in helping build-up its burgeoning tourism industry.
Lia Aleksishvili, who lives in Georgia's Kakheti region, remembers when her bakery in the city of Telavi was only a tiny business. Over the years, she has managed to transform the small shop – which often struggled to make ends meet – into a successful and bustling local bakery.
Lia's business also benefits the local community. The bakery employs four full-time workers and, when the holiday season arrives and demand for desserts and pastries peaks, four more people join part-time. Lia has also managed to use some profits from the bakery to invest in renovating the second floor of her building, turning it into a popular bed and breakfast.
Manana is a stay-at-home mother of seven children who are aged between 9 and 22 years. Her family lives in a three-room cinderblock hut with a leaky roof and cardboard for windows. Her husband Tamaz spends most of his time at the landfill hunting for scrap metal, and is the sole breadwinner.
Manana sees herself as living on the edge of extreme poverty, but she believes that there are households which are doing much worse. She is proud of her choice to have so many children. "They wear each other's hand-me-downs, and it's a lot of work, but I love kids. I always wanted to have as many as possible. There are large families who live in train carts, or who don't even have a roof over their heads. There are people much worse off!"
Manana believes that the best way to tackle poverty is through equal access to education. "When someone with no ability can get into a school just because they can pay, and when my child, who is talented, cannot just because we don't have money, that is wrong," she says. "They are trading talent for money and I don't want that to happen in our country anymore. My 14-year-old daughter Iro is great at table tennis, but we can't afford to equip her or pay for regular lessons."
Monthly social assistance from the state to the family amounts to GEL 500, which they claim is barely enough to buy shoes for all seven children, not to mention other mandatory things for school that don't fall under the scope of the assistance program. Having an illegal job, with the fear of losing social assistance for the entire family, doesn't seem like a promising solution to fighting poverty, Manana argues.
Nevertheless, Manana does her best to stay positive and optimistic about the future. This mother of seven dreams about having enough space for every one of her kids, in a house with dry walls and a roof that keeps them all warm and healthy.
Rusudan Kekelidze is the Principal Teacher at public school #210 in Tbilisi. In the early 1990s, she was at the very start of her professional career as a teacher. She still has vivid memories of that time: the ever-present smell of kerosene, students sharing tiny desks, and very poorly-equipped classrooms. But she also remembers that everyone had a common desire – to survive.
"It may sound dramatic now, but it truly was a fight for survival – physically, literally," says Rusudan. "It was a fight for the future. No matter what the skeptics might say, we have travelled a long and difficult path since then. Today, we see how our school has developed. It is so much better than we could have imagined. Take, for example, the school's infrastructure as a vivid sign of progress. Or, just listen to the words and sentiments in the hallways – I can, I want to, I will do, I'm happy to…"
"The future I imagine is more colorful and cheerful, and focused on success. I hope our students are able to start preparing their future paths here, within these walls. I hope the school is a good model for life, which is gradually developed and enriched with knowledge and practice," says Rusudan.
Source: World Bank
Moldova: Time to Overwrite the Mind Traps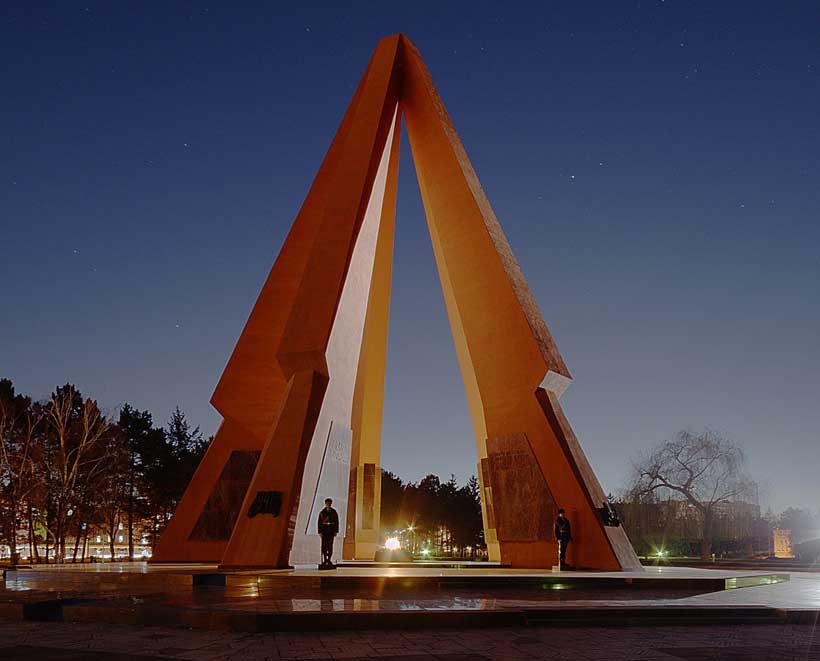 Moldova is usually assigned the title of the poorest country in Europe mired in financial and corruption scandals. The 'frozen' Transnistrian conflict is said to further divide the country between chimeric pro-Russian and pro-Western camps. Oligarchs are blamed for having captured the state and preventing democracy to flourish; and so goes on the litany of reputational prejudices about Moldova.
Although these clichés hold some water, they have generated mind traps and have prevented any alternative reading of Moldova. Caught in a thug of war between Brussels and Moscow, Europe has three options on how to approach Moldova: oppose Moscow on Moldovan territory; scale back its engagement; or honour its commitment to strengthen the rule of law and deepen economic cooperation with Chisinau. The last option requires the political maturity to accept that Chisinau can be a partner of both Brussels and Moscow.
The Bright Side of Scandals
Moldova made headlines in 2014 when the banking sector was defrauded of one billion dollars. Courtesy of the testimony of one oligarch, Ilan Shor, who himself has been convicted of involvement in the fraud, the former Prime Minister Vlad Filat was convicted and sentenced to nine years imprisonment. Despite his own conviction, Ilan Shoris now the mayor of the small town of Orhei, heads the Shor party and recently won a seat in the parliament. For many, this was a typical "à la moldave" scenario where most of the thieves got off scot-free whilst only one sits behind bars. Taken from another angle, even though Ilan Shor has been granted some form of witness protection and has escaped punishment himself, at least some part of the truth has been divulged and justice has been partly served. Following Shor's revelations about the scandal, people took the streets and a citizen movement emerged under the name of Dignity and Truth, now a political party headed by politician Andrei Nastase.
The one-billion theft has understandably attracted a lot of public attention, as did the role of Moldova in the Russian Laundromat, a scheme that laundered tens of USD billions from Russia between 2010 and 2014, involving over one hundred countries. Following these two scandals, Moldova launched a large package of reforms of its banking and judiciary systems, and put in place a National Integrity and Anti-Corruption Strategy for 2017-2020. These improvements have not gone unnoticed: the World Bank extolled the efforts of the National Bank of Moldova and the country's economic progress, which should boost investors' trust. Furthermore, criminal activities, such as smuggling, have been curtailed thanks to international cooperation, but the grey zone of Transnistria remains a thorn in Moldovan development.
Transnistria – A Peaceful Frozen Conflict
The active phase of the short 1992conflict lasted four months and left a thousand people dead. Due to the prolonged absence of military engagement, the situation was branded as a frozen conflict – thisvague concept was coined to qualify the blurry simmering situations of violence that followedthe several wars in various post soviet republics. As time passed, the term conflict has become redundant in the context of Transnistria; not much is frozen: population travels freely, students from Transnistria study in Chisinau and Transnistrians voted for the first time in the most recent February elections. There is a need to rethink our reading of this so called frozen conflict in Transnistria – violence is unlikely to resume between Tiraspol and Chisinau as long as escalating tensions between Moscow and Brussels do not boil over.
Former Vice-Minister of Foreign Affairs, Professor Osmochescu, asserts that the settlement was on right track with the 1992 Settlement Agreement, although he questions the decision to include Transnistrian representatives in the joint commission as it eventually gave Russia – allied with Tiraspol – the upper hand. The former diplomat is convinced that settlement dialogue should only include Russia, Ukraine, Romania and Moldova, excluding Tiraspol authorities that continue to insist on international recognition as a state. It is highly unlikely that European countries will recognize Transnistria owing to the fact that the EU Council has adopted restriction measures against the leadership of Transnistria for stalling progress of the political settlement.
Thecurrent process is a 5+2 settlement format, named after its composition including 5 negotiators (Russia, Ukraine, OSCE, Moldova and Transnistria) + 2 observers (EU and US). Unfortunately it has not yielded any meaningful results with the tensions between Russia and the West increasingly running counter-productive to the intent of the mechanism. During the recent conference on Transnistria, Russian academic Natalia Kharitonova underlined the unprecedented situation whereby relations between the external participants to the settlement process are far worse than between the parties to the conflict.
Today, some observers claim that a new conflict is poised because of Russian troops' presence in Transnistria and in 2018 the UN General Assembly adopted a resolution introduced by Moldova on the withdrawal of foreign troops, specifically targeting Russian troop and armament presence. These elements demonstrate that Transnistria is being utilised by both the West and Russia in pursuit of their own strategic objectives and, arguably, Transnistria is more an international affair than an internal one.
An Unhelpful International Involvement
For decades the presence of Russian troops in Transnistria has been a major concern for NATO, which has been amplified by the situation in Ukraine; and in its efforts to counter Russia, NATO opened an Information Office in Chisinau in December 2017. In view of the militarisation of the region and the recent collapse of the Intermediate-Range Nuclear Forces (INF),the NATO-Russia confrontation directly affects Moldovan sovereignty and security. The Foreign Policy Advisor to the President, Mr Ciocoi, acknowledged that his country is trapped between a rock and a hard place:'as a constitutionally neutral country, we are not pleased with the presence of Russian troops or NATO on our soil. It is a legacy of the past and a consequence of today's geopolitical realities. We have to deal with it.'
With most international efforts focusing on security issues and more recently on the fight against so-called Russian propaganda, little effort has been comparatively made to promote sustainable economic development and the rule of law in Moldova. Moldovans' daily concern is about making ends meet and employment, whilst Brussels and Moscow use the carrot and stick approach to promote their policies. Using economic incentives and sanctions, Brussels and Moscow are forcing Chisinau to choose between the West and the East. This dilemma is leading nowhere as Moldova is both West and East with the country depending on Russia for its energy and the EU market to export its goods. No reasonable politician or businessman in Moldova today embraces a west or east approach, but all favour a mixed approach. It is thus misleading to label President Dodon as a pro-Russian or the tycoon Plahotniuc as a pro-Western.
Blame it on the Rich
An oligarch turned politician, Vlad Plahotniuc presides over the Democratic Party, which won 30 seats at the recent parliamentary elections. Often described as the puppet-master who captured the state, most people blame him for all wrongs in the country and believe that he pulls the strings of the country including the judiciary system.
In a recent discussion with Vitali Garmurari, the Spokesperson for the Democratic Party said that the accusations against Vlad Plahotniuc need to be substantiated. Only a court can rule over the guilt of a person and so far, Mr Plahotniuc has not been sentenced, he added. Recently, Interpol rejected the request of Russia to place Mr Plahotniuc on their wanted list for alleged involvement in the attempt on the life of German Goruntsov, a Russian banker. For Vlad Plahotniuc's detractors, the absence of condemnation is not a proof of his innocence but evidence of his control over the judiciary.
In Moldova and abroad, rumours flourish about this man who has unquestionable power thanks to his key role in the energy sector. As a veteran in the oil and gas business, he has forged strong connections in the US, who are obsessed with replacing Russia as the leading gas exporter to Europe. The situation though is not as straightforward as it seems. Moldova relies completely on Transnistria for its energy and the region acts as a small hub for Russian gas to the Balkans. Moldovagaz – a joint venture between the Ministry of Industry of Transnistria, the Moldova Government and the Russian giant Gazprom – has the monopoly over gas transactions. One of the issues is that Moldova has committed to the European Third Energy Package that calls for the unbundling and opening of the energy market. As part of its commitment Moldova must strip Moldovagaz of its privileged position and, given the complexities at play, Chisinau was granted an exceptional delay until 1 January 2020. This European requirement corners Moldova as the country is totally dependent on Russian gas and Gazprom holds 50% of Moldovagaz shares and, de facto, the 13% nominally held by Transnistria. The situation gets even more complicated as the contract between Gazprom and Moldovgaz are valid until the end of 2019and Moldova does not have a meaningful gas alternative in place. Mr Plahotniuc understands perfectly the gains to be by playing Russian, the US and European against each other in the energy sector. In 2017,his close ally Vasile Botnari was appointed as the new head of Moldovagaz.
The ruthless energy competition between Russia and the United States for the European market is driving their political and security agendas. The year 2019 will be pivotal in the Moldovan energy market and, as this deadline approaches, the manoeuvrings of those invested parties both within Moldova and externally will be a riveting game to observe.
An Oligarchy on the Way to Democracy?
In the meantime, the Moldovan constitutional court has validated the result of the 24 February elections and Plahotniuc's Democratic Party has emerged as the party with second largest number of seats. Alongside the Democratic Party with 30 out of 101 seats, the Socialists gained 35 seats, the ACUM group gained 26 and the remaining 10 seats were shared between the Shor party and independents.
One of the features of the Moldovan political landscape is the fact that oligarchs head several parties: Vlad Plahotniuc heads the Democrats, Ilan Shor has his eponymous party and Renato Usatii is the president of Our Party. According to popular narratives, oligarchs are involved in politics to further their own profit and wealth; however their involvement does not necessarily pose a barrier to democracy. Commenting on the recent elections and the political landscape, Professor Osmochescu sees the emergence of these parties as a genuine mirror of the diverse opinions held by the population. Looking back at the political developments over the past thirty years, Professor Osmochescu recalls the evolution from an early enthusiasm with plethora of parties, the uncertainties around the future and the disillusion with both Russia and Europe. Today, he is hopeful that the leading parties will observe democratic principles and contribute to a new political paradigm.
The OSCE statement on the recent elections echoes the same opinion: although violations were recorded, fundamental rights have been generally respected, says the preliminary report. Taken as a whole, Moldova is transitioning and some are definitely looking at the cup half full rather than focusing on shortcomings.
It's All About the Money
Conflict specialist Iulia Cozenco has worked on various projects in Transnistria over the past decade and today she has one message: efforts should be directed towards social inclusion, and not only in Transnistria. Due to all the challenges Moldova has gone through over the past three decades, the population has become increasingly vulnerable and the country lacks a social protection system capable of responding to all the problems. She concludes that international assistance should be directed at broader social inclusion and protection initiatives rather than narrow Tiraspol-Chisinau confidence-building projects.
Commenting on the situation in Transnistria, Dumitru Budianschi, an economist at the Moldovan ExpertGrup,has observed that, the lack of a political settlement between Tiraspol and Chisinau does not prevent economics agreements from forging on. These agreements cover energy and mobile communications, however Mr Budianschi has raised the concern that these agreements lack transparency and have been extremely profitable to a select few people on both sides of the river. Unsurprisingly, the lack of settlement is perversely convenient for such shady deals. According to Mr Budianschi, the international policy of small steps in Transnistria will not pay off and a crackdown on the criminal activities in the region is needed in order to give any settlement a chance of succeeding. The growing trade with Europe, Moldova's first export partner, is a positive development that can no longer accommodate the black holes around Transnistria.
International involvement in Moldova is both a part of the problem and the solution. Should involvement take the shape of interference advancing eastern or western interests, it will only serve to polarise and destabilise Moldova and will ultimately backlash on European security. Disengagement would be equally damaging as Moldova today relies on both Brussels and Moscow and wishes to maintain relations with both partners. At this point in time, Chisinau needs international cooperation with Moscow and Brussels to assert itself as a solid partner to both the West and the East.
Georgia Stands With Azerbaijan: Strategic Partnership In The South Caucasus
Authors: Aliyar Azimov and Aynur Azimzade*
South Caucasus has always been a focus of geopolitical competitions for centuries with its geo-strategic location and natural resources. The transportation and energy projects, which implemented in the region, have further increased strategic importance of South Caucasus due to being in the junction West and East in the globalized 21st century. After the dissolution of USSR two major processes occurred: 1) regional cooperation between independent states in terms of common threats and economic-political projects; 2) geopolitical interests and competition among the regional powers (Russia, Iran, Turkey) and the US and the EU.
After the disintegration of the Soviet Union, the three South Caucasus countries found themselves in a new geopolitical vacuum, which resulted in serious events also (territorial conflicts and separatism). On the other hand, this vacuum enabled two of the newly independent South Caucasus countries – Azerbaijan and Georgia – to build and maintain good neighboring relationships, to jointly implement major and strategic regional oil and gas projects (Baku-Tbilisi-Ceyhan oil pipeline, Baku-Tbilisi-Erzurum gas pipeline) without any intervention of Russia. Until 2008, Russia was a major gas supplier to Georgia. However, the August War in 2008 ended with cut off relations between Russia and Georgia. Starting from 2007, Azerbaijan has steadily been supplying the majority of Georgia's oil and gas demand, especially after the August War Azerbaijan provided more energy flow by completely meeting its strategic ally's energy needs.
The development of east-west energy corridor in the South Caucasus allowed Azerbaijan and Georgia to involve in the projects as the main partners and to promote the development of the infrastructure by improving the macro-economic environment and international integration. Turkey also gives support to the international projects in the region and deepening the multilateral relations between Azerbaijan-Georgia-Turkey also promotes and intra-regional cooperation and diplomatic resolutions of regional problems. This cooperation is the most functional; it is built on interdependence by trade and transportation relations.
Since 1992, political relations between Azerbaijan and Georgia has reached a high level, cooperation in all fields has become more strategic year by year, and neighborship relations are based on the principles of the strong friendship and mutual respect. Because of this, all officials in Georgia have always firstly visited Azerbaijan in their terms.
Why Georgia needs Azerbaijan?
The East-West strategic energy cooperation helped to strengthen the state independence of Georgia and Azerbaijan. The projects, which implemented and proposed to be realized, are the basis of a strong foundation for economic stability and prosperity for both countries, even for South Caucasus. Considering this fact, in 2009 Georgia was not affected by the energy crisis thanks to Azerbaijan and energy contracts for the supply of gas and oil. Georgia is especially interested in energy transportation from Azerbaijan because since the gaining independence Georgia has had a permanent and stable supply of energy which allowed industries to operate smoothly and contributed the economy of Georgia significantly by making it as a transit country.
Azerbaijan also plays a vital role in the transformation of Georgia into the EU and the development of EU-Georgia relations. The lack of stability in the Middle East increases the role of Caspian Basin not only as a significant energy source but also more secure and shortest supply route for both countries as well as for the EU. Azerbaijan-Georgia good neighborhood relations are vital for the EU in the context of east-west energy cooperation. As the EU is more interested in ensuring a reliable flow of energy resources to the Member States and cooperates with Azerbaijan and Georgia, it makes both countries to be a significant player in the projects and economically and politically powerful in the South Caucasus region.
Salome Zourabichvili's first official visit to Azerbaijan
On 27 February 2019, newly elected Georgian President Salome Zourabichvili made her first official visit to Azerbaijan. It was a signal of Georgian administration's desire to continue its strategic partnership with Azerbaijan. Azerbaijan is one of the biggest investors to the Georgian economy and considering large regional projects between both countries, her first official visit to Azerbaijan in the region was not surprising.
In the recent past, there was a tension between Azerbaijan and Georgia due to:
The monument of an Armenian separatist, who fought against Azerbaijan during the occupation of the Nagorno-Karabakh territory of Azerbaijan by Armenian military, in the Akhalkalaki region of Georgia, where ethnic Armenians live, and the participation of Georgian administration in the opening ceremony of this monument,
In the response of this event, protest of Baku against the unveiling of a monument to a separatist in Georgia.
For this reason, the Georgian President's visit to Azerbaijan was of particular importance. The Georgian President knew well that Azerbaijan plays a crucial role in the energy supply and settlement of the problems in the region. At the same time, because its energy sector is dependent on Baku-Supsa, Baku-Tbilisi-Ceyhan and Baku-Tbilisi-Erzurum pipelines and Southern Gas Corridor, Georgia does not want to lose Azerbaijan as a strategic partner. Georgian President's visit to Azerbaijan also showed that some provocations could not affect the relations between the two countries. Zourabichvili's speech in Baku once again confirmed that Georgia always stands together with Azerbaijan on the issue of Nagorno-Karabakh by stating, "Conflicts and violation of territorial integrity are tragedies for both countries. We still fight together to restore and recognize our territorial integrity in international organizations." The Armenian media expressed assurance that Zourabichvili would change her statement during her visit to Armenia on March 13-14.However, Georgian President protested visit to Abkhazia and South Ossetia paid by Nagorno-Karabakh separatists by stating "It is very unfortunate when delegations from Nagorno-Karabakh visit Abkhazia and South Ossetia and discuss these two conflicts as of the same type. This is very sad and painful for us. These conflicts impede the development of our region. Georgia has two occupied territories, and if we talk about the country's interests, then one single concern for us is recognition of our sovereignty in deeds than in words." After the meeting, the Russian newspaper "Kommersant" mentioned about the Georgian president's visit in its article by stating, "These statements by President Zurabishvili were not seen in the Georgian post-Soviet history, because Georgia has pursued an impartial policy in the Armenian-Azerbaijani conflict till now."
Armenia has tried to position itself as a bridge between Iran and Georgia to transport Iranian energy resources to Europe. However, in 2008, its position in the Russian-Georgian war strained relations between Georgia and Armenia. Armenia was interested in North-South cooperation in order to escape from regional isolation and to revive its economic condition. Nevertheless, newly elected Georgian President's visit to both countries and her statements declared that relations with Azerbaijan are a high priority for Georgia and for being leading countries in East-West cooperation, Georgia has extensive interests in establishing strong friendship relations.
Azerbaijan and Georgia have been cooperating in several political and economic projects since the early years of independence. Several factors influence the dynamics of the Georgian-Azerbaijani relations in a positive way. Firstly, cooperation in transportation, energy, and economics is interdependent. Georgia's location makes it more essential for Azerbaijan in terms of to reach European and World markets. On the other hand, Georgia has increased its economic prosperity by participating in regional projects. In 2018, Azerbaijan was a third-largest direct foreign investor (33 million dollars) to the Georgian economy, second in Georgian imports (14.4%) and third in Georgian exports (10.7%).
Another key factor in the Azerbaijani-Georgian relations is that Azerbaijan and Georgia support eachother's positions on important issues in the international arena. Georgian officials always stress all the official statements that the solution of the Nagorno-Karabakh conflict, which occurred as a result of the occupation of Azerbaijani lands by Armenia, within the framework of Azerbaijan's territorial integrity.
When it comes to energy cooperation, Azerbaijani oil-gas company SOCAR is the main supplier of gas to Georgia as a reliable energy partner. Despite the gas agreement signed between Georgia and Russia in 2017, SOCAR has a large share in the Georgian energy sector. In 2018, gas transportation volume was 2.5 billion cubic meters of natural gas to Georgia. High dependence on Azerbaijani gas arose the concerns about national security, but in fact, Azerbaijan never used energy shipments as a political pressure tool. Even Azerbaijan have supplied more energy to Georgia in order to resolve energy shortages during difficult times.
S. Zourabichvili's recent visit to Baku declared that Georgia does not want to lose its strategic ally. Because political and economic support by Azerbaijan is essential for Georgia in terms of its integration to the West. Also, because of Georgia plays a transit role between Azerbaijan and the West in the field of transportation and energy, losing this position is unacceptable for the Georgian administration.
*Aynur Azimzade is research fellow at the Institute of Caucasus studies of Azerbaijan National Academy of Sciences
To be or not to be the Baltics' and Poland's defender
Usually, when we speak about the US we keep in mind its might and influence. This country plays one of the main roles in the world politics. It does its best to be the leader. Everybody used to it. Even Americans used to it.
We, Europeans, take its role for granted. Very often Europeans call for the US assistance and help in politics, trade, finance and even on war issues. But at what cost does the US manage to keep its omnipotent image? Do its people deserve the destiny to resolve foreign conflicts, defend foreign countries, finance foreign political projects and so on.
It is interesting that America First become the official foreign policy doctrine of the Trump administration. But Donald Trump's motto is completely contrary to reality.
According to the Wiki, "America First refers to a foreign policy in the United States that emphasizes American nationalism and unilateralism. It first gained prominence in the inter-war period and was advocated by the America First Committee, a non-interventionist pressure group against the American entry into World War II. Since 2016, an identically-named foreign policy that emphasizes similar objectives has been pursued by the administration of US President Donald Trump."
The today's US policy does fit the slogan. In order to bolster the NATO deterrent against possible Russian aggression the US has again been increasing military activity in Europe. That includes stationing four multinational battalion-size battlegroups in four eastern nations of the alliance, Estonia, Latvia, Lithuania and Poland, led respectively by Britain, Canada, Germany and the US. Poland would like also permanent US base (what Polish president Andrzej Duda dubbed "Fort Trump") as a deterrent to Russia.
The Center of Strategic and Budgetary Assessments (CSBA), located in Washington, DC, issued in March a report – "Strengthening the Defense of NATO's Eastern Frontier" which supports the idea of US further military involvement.
In the document the experts "offer a new strategy for deterring and, if necessary, defeating Russian aggression against NATO in the Baltic region and make recommendations for enhancing the US forward posture in Europe and improving Poland's military capabilities and force structure to support this strategy."
On the one hand, the US increasing its presence in Europe, shows its power and military capabilities. One the other – this is an exceptional case when Europe has reached its goal to feel safe at the expense of others – mainly, the US.
And what about Americans? Do they really feel the need to protect somebody far away from their homeland? Do they need long deployments? Are they proud of being defenders or are they victims of Trump's ambitions? Who are they in Europe?
European states have become absolutely helpless before their problems and found nothing better than using the US, its money and soldiers. Europe has outwitted the US! Of course, it is much better to deploy in Europe American soldiers in time of war or conflict, than burn natives.
Is the US really aware of the European countries authorities' plans? Do American soldiers want to be cannon fodder?