Magician or Con Man: Trump Addresses U.S. Congress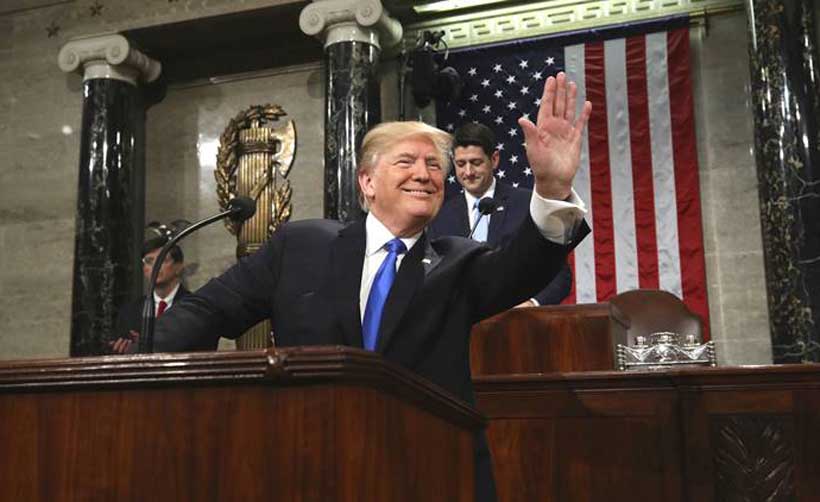 If a headline for the State Of the Union (SOTU) address was expected to be:  "A Truculent Trump Traduces Democrats", it now could be "Trump Triumphs — Credits American People for Year of Successes."  The speech was a litany of success stories, economic and military illustrated by tales of valor, grit, hard work, forbearance in the face of tragedy, the actual individuals involved all present, and, when mentioned, asked to stand to be applauded.  It was enormously upbeat with one sour note — the Democrats looking surly, determined not to applaud … not even the universalities of Congress, certainly not the tax bill on which they caved.  If truth be told, both sides have the same pay masters.  The speech itself a magician's illusion, a glass not half empty or half full, but appearing full yet without content when turned over.
The Democrats' response talked of chaos, and the negatives they could muster without seeming to realize that if Trump had credited the American people for the year and its successes, the Democratic response was indirectly blaming the same people for the failures.  It fell flat.  Attention focused on the white drool collecting on both corners of the speaker's mouth, morphing Joe Kennedy III into a frothing-at-the-mouth, angry young man vandalizing the beautiful portrait painted by the American people and  displayed by the President.
Does this mean Mr. Trump has been a good president?  No, of course not.  He is temperamentally unsuited to the job.  In one year, the Union of Concerned Scientists have moved their doomsday clock twice:  each time a half minute closer to midnight.  It is now at two minutes to, the closest to doom since 1953.  They cite increased danger from nuclear weapons, that is proliferation, increased expenditures, improved accuracy and thus greater usability of tactical nuclear weapons, the absence of arms control talks and a general instability.  To that they add the calculated failure to combat climate change, a charge clearly leveled at the Trump administration.
Mr. Trump has also been lucky.  The world is in a synchronous economic boom, for the first time since 2010.  He is adding to it with a regressive unfunded tax-package contributing to the stock market's record highs.  For the tax cuts, the bill will come later — perhaps on the backs of the same middle class whose paychecks will have more take-home money from February as the president proudly pointed out.
Some congressional representatives touted left-leaning credentials by announcing  their decision to boycott the SOTU address.  It achieved little, and might be considered a slight to the office of president.
If truth be told, most of our elected representatives are no longer responsive to the needs of the ordinary voter.  Election victories correlate with political ads on TV, and these cost money.  Fundraising is the name of the game, a time-consuming, lucrative activity that also makes politicians beholden to major donors.  It is a fact Donald Trump was able to exploit by declaring he was not bought as he was using his own money — and it struck a chord with many voters.  Of course, his tax bill will allow him to keep more of it, perhaps even more than he spent in the election.
Not a bad deal.  But then did he not claim to have written 'The Art of the Deal', a runaway best seller?
Poll Shows Americans Support the Invasion of Syria – What they Misunderstand About that War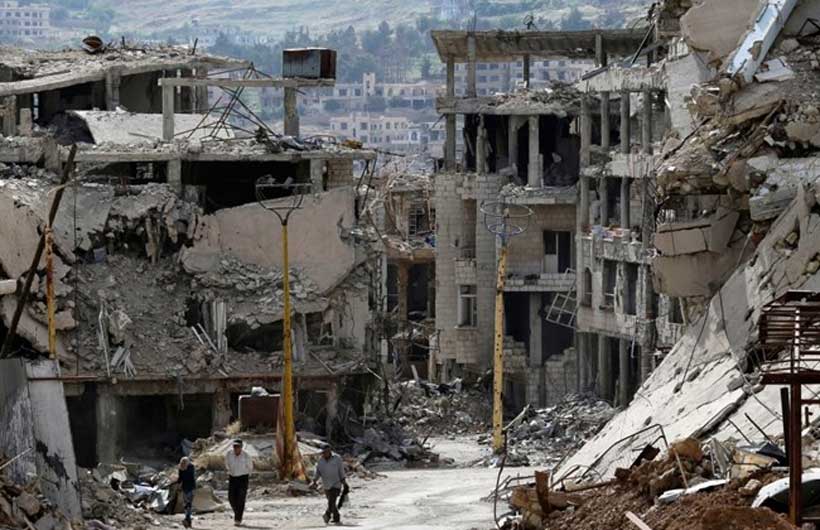 The first even marginally trustworthy poll of American "registered voters" regarding the April 14th U.S.-and-allied missiles-invasion of Syria, shows an overwhelming 66% supporting the invasion (36% "Strongly" and 30% "Somewhat), and only 23% opposing (8% "Strongly" and 11% "Somewhat").
When the 1,995 U.S. registered voters were asked further, in this Morning Consult / Politico poll, "How confident are you that the airstrikes in Syria will prevent the Syrian government from using chemical or biological weapons again?" only 30% are "confident" (8% "Very" and 22% "Somewhat") and 57% are not (21% not "at all" and 35% "not too"). Obviously, all of the 30% who are "confident" on that are also believing that the Syrian government has been "using chemical or biological weapons" and the 57% who aren't "confident" are expecting the Syrian government to continue using such weapons; but the only other option that the pollster offered was "Don't know / No opinion" and perhaps any respondents who disbelieved the U.S. government's allegations that the Syrian government has been using such weapons would have to be among the 12% who said "Don't know / No opinion" (or else such respondents would have quit answering at that point, which was 3 questions into a 7-question poll: the stupid polling organization excluded even the possibility that a respondent believed the Syrian government's denials that it had used such weapons — that's how little consideration was offered regarding even the merest possibility that this invasion had been punishment of a non-guilty nation by guilty invaders: zero).
This invasion, like the one a year earlier, occurred when the U.S. and its allies said that Syria was guilty but didn't provide any evidence of that, and when Syria and its allies said that those charges were lies and that the 'rebels' whom the U.S. and its allies supported had actually set up the incident in order for the U.S. and its allies to invade and overthrow the government. These invasions were lawless — based upon no legal process other than brute accusations, like in any common lynching or other mob-'justice'.
The fact that this poll did not show close to 100% contempt by the American people regarding what the U.S. government and its two allies, UK and France, had just done, indicates not only that the American people are astoundingly ignorant that the U.S. and its allies are international outlaws and warmongers (which makes sense for a nation that invaded and destroyed Iraq 2003, Libya 2011 and has been trying to do it since 2011 in Syria), but that they are also astoundingly misinformed as to which side in this war is guilty, and which side is not. (Hint: It's certainly not Assad, who is simply defending Syrian sovereignty over Syrian territory.) According to the standards that were set in place by the Nuremberg Tribunals following World War II, in which invasions for any other purpose than national self-defense are war-crimes, it's not only the lie-based invasion and destruction of Iraq 2003, and the 2011 invasion and destruction of Libya, that constitute international war-crimes — there's simply no power that's enforcing international law: not policing, not prosecuting, not judging, and not legislating, at all, any such thing. The international outlaw regimes, U.S. and its allies, are simply international gangsters, and the American public overwhelmingly are bored about the whole thing, don't really care whether they are the Nazis of today (and the U.S. government is even proud to be it, not only under Trump, but under Obama before him — all accepted, not resisted in any way, by the American public).
Poll-findings like this implicate the American public, and not only the American government, in such mega-crimes. Even the clear-cut national experience of having been lied into Iraq 2003 hasn't taught the American people that we live in a gangster-regime. And now this regime has destroyed even the last vestiges of the authority that the U.N. once had.
Ironically, the core voter-base for the war-criminal U.S. President Trump seem to have strongly opposed the latest invasion. But, to judge from this latest actual poll in the matter, the American public strongly supports that invasion. Apparently, Americans can't learn from even the most blatant experiences, such as having been lied into destroying Iraq in 2003 — a country that, like Syria, and like Libya, had never attacked, nor even threatened to attack, the U.S.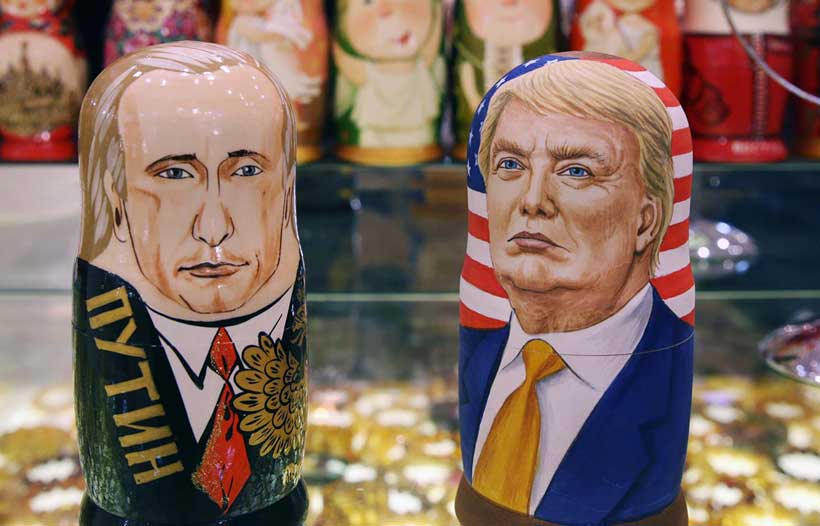 Trump "bought" the POTUS by 1) manipulating voters through big data (ie. The block chains and other manipulations of tracked data), and 2) getting help from Russian hackers who hacked into key states' voting systems.  He needed both elements to be able to win because without them, there is a very good possibility that Hillary would have won. Trump's history of dishonesty and bankruptcy should have eliminated him from the presidential election but it did not (the American legal system may need some adjustment and honing).  He settled his fraud case out of court right before Election Day 2016. He defrauded students with his fake online university.  He is also notorious for "robbing Peter to pay Paul", and for his using his fake non-profit organization's donation to pay his legal bills when he is sued, and for the fines he is ordered to pay by the US court system.
Trump is correct that the US should try to "make nice" with Russia.  Too many Americans (at least the ones who vote and understand and follow politics; mostly older Americans) still have the mindset from the Cold War Era that Russians are "Commies" and dishonest (A daily reading of American news shows Americans are not extremely honest either…..for example, the Panama Papers).  Russia has the largest amount of millionaires in the world, most living in Moscow.  They have had a free market system for 25 years now, and they are just now starting to feel the social impacts of this new system; the stresses that such a system causes over the quest/greed for money.
Of course, there is government corruption in Russia, but there is here in the US too. It is both interesting and ironic that many of the activities the US accused the Soviets and Russians of doing in the past are the exact same acts the US has been and is still doing to its own citizens. Julian Assange, Private Manning, and other whistleblowers have shown the world that this is true. They have suffered for their risks of exposing the truth.
The Russian free market economy was and still is an untapped income source for international businesses. In fact, Trump has many businesses in Russia, and these felt the financial crunch when the sanctions were levied against Russia in 2014 after the Ukraine Conflict.  So, Trump wasn't making money either from his business investments he had already established on Russian soil before he became POTUS.  This further motivated him to ask the Russians to help him win the POTUS (because greed or money is a very effective motivating factor). The economic sanctions were levied collectively by the US and the European Union, but also unilaterally by the US. Russia also levied import bans that hurt many European and American businesses that were still allowed to do business in Russia under the economic sanctions.
There is a very good possibility that Trump made a deal with the Russians that if they got him into POTUS, he would lift the sanctions against Russia (specifically Putin's inner circle of extremely wealthy friends who were most affected by the sanctions). The reasons Russia would have made this deal is that 1) Russia's economy was shrinking because of the sanctions, and 2) Russia's "bread and butter" is based on oil.  Russian social programs and the government function due to the proceeds of oil sales.  The sanctions against Russia included no sale of replacement parts for the oil drilling rigs, and most of these rigs were purchased from American companies. So, as the parts began to wear out, the Russian oil companies (especially Gazprom) could not easily extract oil, therefore, they could not sell much on the world market (but the Russians asked Chinese engineers to design similar replacement parts,  but this took a lot of time for development).
Unfortunately for the Russian oil market, in September 2016, the 5 years of oil embargo that mandated that Iran could not sell oil on the world market ended.  This flooded the global oil market since Iran started selling oil at a very low price so that they could raise hard currency (US Dollars) to improve their very hurt economy. This further hurt the Russian economy since oil customers could now choose a different supplier (the law of supply and demand).  Oil was selling at its lowest for about USD30/barrel, but on average around USD50/barrel for the last 2 years (and now up to about 70USD as for 25 Mar 2018).  Russia needs at least USD100 per barrel just to break even on its government and social program bills. Russia has drained most of its two big money reserve accounts. The long term drop in oil prices has certainly caused devastating effects on countries that rely on income from selling oil on the world market, including Venezuela, which has its own political problems and corruption.
Also, Russia's currency devalued to the dollar.  At one time, it was at an amazingly high rate of 95 rubles per 1 US dollar (Each bank may have a different exchange rate. The USD/RUB exchange rate was 1:30 before the Ukraine situation).
Since most goods (and travel) are purchased using US dollars as the international purchase currency, the cost of consumer goods in Russia greatly increased while people bought appliances and electronics in bulk (to sell later; again, the law of supply & demand) and people were losing their jobs or taking pay cuts just to keep their jobs because the economy greatly slowed and shrank. Many Russians lost their jobs during this time, or they had to greatly tighten their financial belts. For some Russian banks, their supply of USD was greatly limited or cut off because these banks refused to give the names of their American clients to the US government, so the US Federal Reserve refused to sell USD to such banks (as a form of "blackmail" or "leverage"). Many small Russian banks actually closed during the worst of this economic situation in Russia.
Trump wasn't too "street smart". He allowed his hormones to cloud is otherwise substandard judgment. The Russians videoed him with various beautiful Russian women in his hotel room. This was released to Trump to show him that the Russians had secret videos of Trump, but he did not know what else the Russians had recorded about him and his activities. Since Trump certainly remembers the activities he did, he was probably concerned about which, if not all, of those activities were recorded.  This was done to make him "behave" and to do his part that he promised to do (lift the sanctions). Videoing Trump was the Russians' insurance that Trump would do his part.  However, he was not able to deliver the promise of lifting sanctions because of the way the US "checks & balances" work (which work relatively well,  but still need to be honed, obviously since Trump's past allowed him to become president).  Russia did their part but Trump didn't deliver his part; a "breach of contract".
This left Russia in a bind to stimulate their economy since the US and the world sanctions against it are still practiced.  What Trump didn't realize is that Russia had other options, "Plan B or more" by forming economic trade with other countries such as Venezuela (that does not like the US, and they don't try to hide that fact) and with Asia, especially the Far East. The Russians gained an edge over Trump because of his arrogance and narcissism.
There are similarities between Trump and Hitler.  Hitler outright killed those he did not like, or who opposed him, or who he felt had a low quality of life. Trump is doing this too by taking away healthcare in the US so that people die.  Trump has taken away healthcare for children of indigent families including a lot of immigrant families (a passive form of ethnic cleansing).  He has taken away educational assistance for children with disabilities. He has taken away the subsidies to help the elderly pay for heat, utilities and prescriptions.  Hitler did an "ethnic cleanse + quality of life cleanse" but Trump is doing an "ethnic cleanse + socioeconomic cleanse + quality of life cleanse" by use of his executive orders and other methods to "Make America Great Again".
Hitler also consolidated his power into a dictatorship shortly after being elected. Trump tried this too as soon as he was sworn in. He signed many executive orders in his first few months as POTUS. He has limited communication from government offices.  He has also cut funding to government offices or organizations that he feels are not important such as climate change.  Now the world is considering replacing the US Dollar as the reserve currency which would cause many problems because international contracts are normally written in US Dollars, and the contracts may span future decades with predicted exchange rates. For example, Boeing and Airbus have contracts that may span decades). The US credit rating has been downgraded for the first time in US history, thanks to the Republicans, for which Trump is. The US may be headed towards yet another credit rating downgrade since Trump just signed the new US budget in March 2018.
How U.S. Has Virtually Destroyed U.N.
Under President Donald Trump, the U.S. has basically eliminated the only real international authority the U.N. used to have. Here is how this was done:
The equivalent, in international law, to a domestic-law crime involving murder, rape, and theft, is an international invasion that's purely for aggressive purposes and not at all authentically a defensive act against an authentic foreign threat that was coming from the invaded foreign country. Consequently, for the U.S. Government now to have removed the U.N. from any authority over international invasions, is, in domestic-law equivalency, like removing a national government from authority regarding murders, rapes, and thefts, which occur inside that nation. Such a 'government' is no government at all. But, tragically, this is what has happened; and, so, we are now careening into World War III, in this international "Wild West" world, which we live in (and may soon die in, as things thus head into WW III).
The U.S. Government no longer even nominally cares whether or not the U.N. authorizes its invasions; but, as recently as 2003, it used to, even if only nominally, care. The U.S. has thus effectively discarded the U.N. altogether, whenever violating the U.N. is the only way to impose its will against a given target-country.
In late 2002 and early 2003, U.S. President George W. Bush nominally expressed a desire for the U.N. to authorize an invasion of Iraq, but failed to receive that authorization and then did the invasion anyway, along with only UK, Australia, and Poland, joining the U.S.-led gang, in this destruction of Iraq.
At a press conference on 6 March 2003, just 11 days before he (on March 17th) ordered the U.N. weapons-inspectors to leave Iraq, and then invaded Iraq on March 20th, Bush said:
Elizabeth.
Q Thank you, Mr. President. As you said, the Security Council faces a vote next week on a resolution implicitly authorizing an attack on Iraq. Will you call for a vote on that resolution, even if you aren't sure you have the vote?
THE PRESIDENT: Well, first, I don't think — it basically says that he's in defiance of 1441. That's what the resolution says. And it's hard to believe anybody is saying he isn't in defiance of 1441, because 1441 said he must disarm. And, yes, we'll call for a vote.
Q No matter what?
THE PRESIDENT: No matter what the whip count is, we're calling for the vote. We want to see people stand up and say what their opinion is about Saddam Hussein and the utility of the United Nations Security Council. And so, you bet. It's time for people to show their cards, to let the world know where they stand when it comes to Saddam.
Mark Knoller.
Q Mr. President, are you worried that the United States might be viewed as defiant of the United Nations if you went ahead with military action without specific and explicit authorization from the U.N.?
THE PRESIDENT: No, I'm not worried about that. As a matter of fact, it's hard to say the United States is defiant about the United Nations, when I was the person that took the issue to the United Nations, September the 12th, 2002. We've been working with the United Nations. We've been working through the United Nations.
Subsequent U.S. Presidents haven't been even that respectful of the U.N.'s authority; and current U.S. President Donald Trump is blatantly dismissive of it, so that he's not even requesting U.N. authorization for his invasions.
Thus, the lesson that the U.S. Government learned from the Iraq invasion isn't that the U.S. Government should never again lie about what the evidence actually shows, in order to invade a country, but instead that the U.S. Government should simply ignore the U.N. whenever the evidence doesn't persuade other Governments that an invasion would be authentically defensive instead of purely an act of international aggression.
What might turn out to have been "The Most Important U.N. Security Council Vote Ever" was the 10 April 2018 U.N. Security Council's failure to require the U.S. and its allies to provide evidence to prove that Syria's Government had gassed its own people in Douma on April 7th as the U.S. and its allies alleged, before the U.S. and its allies could, with even just possible legal justification, launch a promised massive bombing of Syria as supposed punishment for the gas-attack that they were alleging. The question of whether or not the U.N. would authorize the American invasion wasn't even being raised; the question was only whether the alleged gas-attack needed to be independently verified before an invasion might possibly legally be launched — and no proposal was passed. Unlike in the 2003 invasion of Iraq, the U.S. never tried to win U.N. authorization to invade Syria in 2018, but simply invaded, casually ignoring all laws, and even denying the need for evidence to back up its allegations against Syria.
If the Russian Government's proposal that the Organization for the Prevention of Chemical Weapons (OPCW) must investigate the case and issue a report on its findings, before any action, such as an invasion, is done by any country, had passed the Security Council, then that would be applying standard legal and juridical practice (that no punishment be imposed unless and until guilt has been proven), and likely no invasion of Syria (such as occurred on April 14th) would have been done, at least until the OPCW's report is issued. But the U.S. and its allies refused to adhere even to this, the minimal legal requirement in any democracy. They instead demanded, and won, a U.S.-and-allied international dictatorship — a lawless, might-makes-right, international world.
A U.N. like this is, essentially, no U.N. at all, just a talking-forum — and that's what now exists: it's a forum merely for the constituent Governments to present their respective propagandas to the world, but no longer actually to negotiate anything, since the U.N. has no military, and now the U.S. Government has become effectively whatever the U.S. military (including its armaments corporations such as General Dynamics) want it to be — and, "To hell with the U.N.!" The way now to buy the U.S. Government has become to buy those corporations' weapons, and then the U.S. Government will ally itself with that country. This is purely transactional, in the interests of America's armaments-firms, not in the interests of the invading public, and certainly destructive of the interests of the invaded public, no matter how profitable it may be for the owners of those armaments-firms. (One can talk instead about "Wall Street," but they're mainly the sellers of stock in America's armaments-firms and associated products and services; so, they are middle-men who represent the interests of the aristocracy, not really themselves necessarily principals — people who are within the aristocracy.)
Among the contrary accounts regarding that alleged Douma gas-attack was "What really happened — Chemical Attack that lead to missile Strikes on #Syria", presenting it as having been set up by the 'rebels' that the U.S. Government supports. But truth is irrelevant for people with power, especially if it runs contrary to the lies that they are pushing.
President Trump came into office promising a rebirth of American manufacturing, but, so far, the vast majority of his boost to U.S. manufacturing has been only to the U.S. weapons-manufacturers — actually by far the largest international arms-sale in world history. On 21 May 2017, I headlined it "U.S. $350 Billion Arms-Sale to Sauds Cements U.S.-Jihadist Alliance" and reported that the day before, "
U.S. President Donald Trump and the Saud family inked an all-time record-high $350 billion ten-year arms-deal that not only will cement-in the Saud family's position as the world's largest foreign purchasers of U.S.-produced weaponry, but will make the Saud family, and America's ruling families, become, in effect, one aristocracy over both nations, because neither side will be able to violate the will of the other. As the years roll on, their mutual dependency will deepen, each and every year." That, sadly, has turned out to be true — and not only regarding America's carrying the Sauds' water (doing their bidding) in both Yemen and Syria, but in other ways as well.
On 21 March 2018, CNBC bannered "Trump wants Saudi Arabia to buy more American-made weapons. Here are the ones the Saudis want"
, and reported what Trump had just negotiated with Saudi Arabia's Crown Prince Mohammed bin Salman al-Saud, which was a step-up in that $350 billion sale, to $400 billion. CNBC associated the Sauds' arms-purchases with 'investments' in the U.S., so as to mislead their audience to think favorably of these sales, but if these sales were actually investments in anything, it was in the ability of the Saud family to join even more fully with America's aristocracy so as for them jointly to impose their will upon any country where they both want "regime-change" — control by themselves, instead of by that invaded country's local aristocracy. (Then, the U.S. Government issues economic sanctions against Russia for 'interfering in our democracy'. But the Sauds, and their allies, Israel's aristocracy, actually do precisely that, routinely, and very effectively!) So: CNBC said: "During the Oval Office talks, Trump touted a creation of 40,000 American jobs due to Saudi military sales.
The president used several maps and charts of Saudi acquisitions to further make his point. The crown prince, likewise, added that last year's Saudi pledge of $200 billion in investments will rise to approximately $400 billion and that a 10-year window to implement the deal was already under way." That was a misleading statement about the amounts, too. Here is how Indian Express had headlined and reported on 18 May 2017: "Saudi Arabia to invest $200 billion in US, purchase arms worth $300 billion
": "As President Donald Trump prepares for his first overseas trip, Saudi Arabia has announced to make a whopping USD 200 billion investment in the US and intends to purchase arms worth USD 300 billion from America, a senior administration official has said." There, too, the Saudi masters got their propagandists to refer to "investments" in relation to "purchase arms worth $300 billion," which turned out, just two days later, on 20 May 2017, to be actually $350 billion — and which amount of arms-purchases now has risen instead to $400 billion, which will be paid, as listed in that CNBC news-report to: Lockheed Martin, Boeing, General Dynamics, Honeywell, and Raytheon. When Trump campaigned for the Presidency, he had promised to be anything but a sales-person for America's war-machine. But, he is so, and this is fascism: socialism for the rich, and 'survival of the fittest' for everyone else. Trump certainly isn't a sales-person for the poor, anywhere. He's what his fellow-fascists call a 'populist', in order to insult the public that they must appeal to for votes.
American 'productivity' thus will increase in the production of death and destruction; but, as economists view things, that is "productivity" and added "Gross National Product," regardless of how much it actually immiserates the world (and, so, economic theory is part of the fraud that enables all of this, essentially, corruption). Thus, economic theory is as fraudulent as is the international 'news' that the propaganda-agencies spread to the public. It's all a "pile of bull," but lots of consumers are buying it, because it's all that they know and it satisfies them — they're not even looking for more than the myths.
Previously, the "Biggest Arms Deal in History" was between UK's aristocracy and the Sauds, the Al-Yamamah deal, which boosted UK's biggest weapons-maker, BAE, and in which the massive corruption became the subject of scandals and a Governmental inquiry, which Saudi Prince Bandar bin Sultan al-Saud forced UK Prime Minister Tony Blair to close with no report being issued. And both the UK and U.S. claim to be 'democracies' — and both Governments accuse Russia of 'interfering' in their 'democracy'!
If the reader wants to know why a web-search for the title of this article "How U.S. Has Virtually Destroyed U.N." probably turns up no mainstream 'news'media in the U.S.-allied world, and even very few "alternative news" sites, then the reason isn't that they weren't offered the article, because they all routinely receive the submission of each of my articles but routinely turn them down. The reason is instead that the most important truths are prohibited from publication in the U.S.-allied world — it's a world dominated by lies. After all: we invaded and destroyed Iraq for no real defensive reason, and our Government has never apologized for that, much less been held accountable, at all, for it. And now, because of the U.S. Government, the U.N. isn't even really a debating-forum, any more. It's just a propaganda-forum, now.
first published at strategic-culture.org