Without young people, Global Goals will not be achieved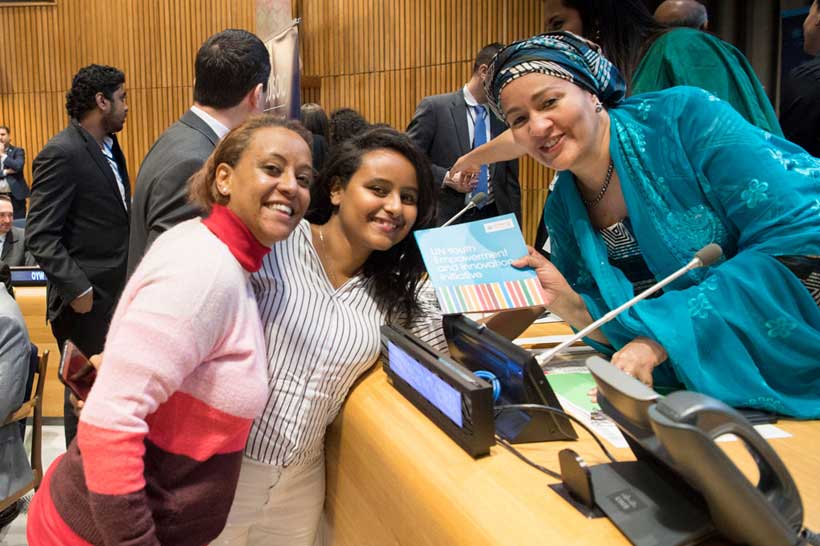 Today's young people are more connected, dynamic and engaged than ever and the Global Goals can't happen without them, speakers told an annual United Nations forum, where young leaders called on the Organization keep its promise to 'leave no one behind' on the road to creating a prosperous world for everyone on a clean planet.
The first day of the 2018 Youth Forum, convened by the UN Economic and Social Council (ECOSOC), got off to a rollicking start with young people from every corner of the world leading discussions with ministers and high-level government officials, UN agencies and other international organizations.
One of the highlights of today's events was the dialogue between Deputy Secretary-General Amina Mohammed and Jayathma Wickramanayake, the UN Secretary-General's Envoy on Youth.
The conversation revolved around the Forum theme, 'the role of youth in building sustainable and resilient urban and rural communities' and how youth can engage in the implementation of the 2030 Agenda for Sustainable Development, adopted by UN Member States in 2015. Ms. Mohammed said that the Agenda 2030 was "shaped with youth" and young people were "the loudest voice" in the ground-breaking My World survey, in which almost 10 million made their voices heard during the UN system-wide discussions on the landmark17 Sustainable Development Goals (SDG).
She encouraged youth to "make noise" for their voices to be heard.
Stressing that the importance of youth engagement by Member States in their national plans to implement the SDGs, Ms. Wickramanayake said: "We talk about leaving no one behind but if we don't keep up with that phase, young people will leave the UN behind."
In a keynote address, Salina Abraham, President of the International Forestry Students' Association, said: "Sustainable development is not having to leave your home, family and culture behind to provide your children with an adequate life. It's not having to conceal your language or culture in an attempt to conform, only to never truly be accepted.
"Sustainable development is having the security, access, resources and tools to create new opportunities wherever you choose to call home," she said.
For her part, ECOSOC President Marie Chatardová said that young people imbue urban and rural communities with energy, creativity, and innovation.
"Your drive for innovation and consumption choices are crucial to our goals of increasing the eco-efficiency, minimizing waste and pollution, and of promoting access to and the sustainable use of all resources," she said.
"You are a key partner in efforts to make cities and human settlements inclusive, safe, and resilient, and to build a global coalition to reverse land degradation and protect biodiversity," she added.
"We are here to listen to your voices. Our landmark frameworks – including the 2030 Agenda, the Paris Agreement and the Sendai Framework for Disaster Risk Reduction – already recognize you as the key partners in efforts to build a better future," she stressed.
Also addressing the Forum was General Assembly President Miroslav Lajčák, who stressed that "if we neglect young people, we will not achieve a single SDG."
He highlighted the role of youth in innovations that help reverse the trends that are harming the planet as well as in preventing conflict and building peace.
"I want to conclude with a blunt truth: our international system simply was not set up for young people. If you look at photographs of the signing of the UN Charter, you will not see any young men or young women. That is why, for years, young people were not seen – and were not heard – in the conference rooms, like this one," he said.
"Young people can no longer be dismissed as the rebel fighters; the terrorists; the disenfranchised. They are the innovators, the solution-finders; the social and environmental entrepreneurs," he added.
Rwanda: EU provides €10.3 million for life-saving refugee support measures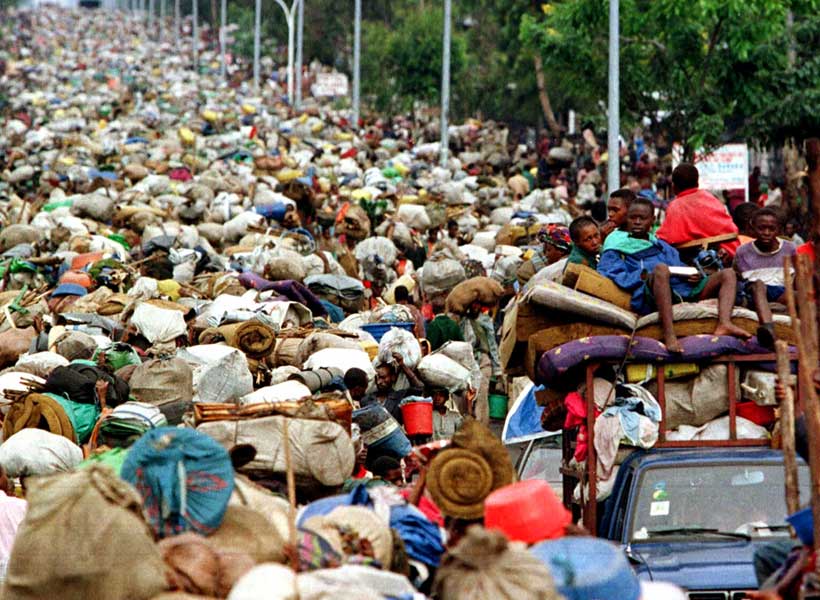 During his visit to Rwanda, Commissioner for International Cooperation and Development Neven Mimica has announced a €10.3 million support package to the UNHCR's Emergency Transit Mechanism (ETM) in Rwanda, which provides a life-saving avenue out of Libya for people in need of international protection, with a view to their further resettlement. The funding is provided through the Emergency Trust Fund for Africa. This initiative builds on the example of the ETM Niger, through which more than 2,900 refugees and asylum seekers have been evacuated out of Libya since 2017.
High Representative/Vice-President Federica Mogherini said: "The Emergency Transit Mechanism in Rwanda is a vital life-saving measure to bring people in need of international protection out of Libya. It is an important sign of African solidarity and of partnership with the European Union. It broadens the support to the most vulnerable people held in Libyan detention centres that need to be closed urgently."
Commissioner Mimica said: "This project will support efforts of the Government of Rwanda to receive and provide protection to about 1,500 refugees and asylum-seekers who are currently being held in detention centres in Libya. Such a remarkable and powerful proof of African solidarity should be further encouraged, replicated and supported."
Background
The UNHCR has evacuated more than 4,250 refugees and asylum-seekers out of Libya to other countries since 2017.
However, around 4,700 people are currently estimated to be held in dire conditions inside detention centres in the country. They urgently need to be moved to safety and to be provided with protection, lifesaving assistance, and durable solutions.
Following the escalation in and around Tripoli, namely the July air strike on a migrant detention centre, the EU continues to support the vital work of the Gathering and Departure Facility on location.
The EU is also supporting the UNHCR's increased efforts to transfer to Tripoli the most vulnerable people in need of international protection from conflict areas where they are at risk, pending their evacuation outside of Libya.
ADB Program to Help Improve Education and Health in Armenia
The Asian Development Bank (ADB) has approved a $10 million policy-based loan (in euro equivalent) to assist the Government of Armenia's efforts to improve the quality and accessibility of education and health services.
Armenia is experiencing a demographic shift with the share of children under the age of 18 declining from 37% of the national population in 1990 to 25% now, signaling an impending decline of the country's labor force. Access to and funding for quality education and health services are poor, resulting in many people not having the skills to meet employers' needs and avoidable ill health having a detrimental effect on the population.
In 2017, for instance, public expenditure on education was about 2.2% of gross domestic product (GDP), which is lower than the 5% recommended by the Organisation for Economic Co-operation and Development. Government health spending was at 1.3% of GDP, below the 5% threshold observed by the World Health Organization as expenditure of countries with low shares of out-of-pocket payments.
To address this, the Government of Armenia has implemented reforms since 2010 to improve education and health services, with a focus on helping women and girls. A preschool law was endorsed to the National Assembly with the aim of boosting the number of children in elementary schools to 70% in 2023, from around 30% in 2017. Teachers have also been receiving training and skills development. A new set of guidelines and protocols, meanwhile, have been implemented in most of the country's hospitals and health centers, covering topics ranging from preventing hospital-acquired infections to methods in continuing medical education.
"A well-educated and healthy population is essential for the growth and development of a country like Armenia, where human capital is significantly unrealized," said ADB Senior Health Specialist for Central and West Asia Ms. Rouselle Lavado. "ADB's assistance will support the government's ongoing efforts to ensure that citizens are educated, healthy, and productive.
The main focus of the Human Development Enhancement Program is children and youth, starting from the preschool age. As well as improving the accessibility and enhancing the quality of education and health services in the country, the program will also increase financing for these efforts.
ICC gives greenlight for probe into violent crimes against Rohingya
Judges of the International Criminal Court (ICC) on Thursday authorized an investigation into alleged crimes against humanity, namely deportation, which have forced between 600,000 and one million Rohingya refugees out of Myanmar, into neighboring Bangladesh since 2016.
The pre-trial judges "accepted that there exists a reasonable basis to believe widespread and/or systematic acts of violence may have been committed that could qualify as crimes against humanity of deportation across the Myanmar-Bangladesh border" the Court said in a press statement, in addition to "persecution on grounds of ethnicity and/or religion against the Rohingya population."
After a reported military-led crackdown, widespread killings, rape and village burnings, nearly three-quarters of a million Rohingya fled Myanmar's Rakhine state in August 2017 to settle in crowded refugee camps in neighboring Bangladesh.
This is the second strike against the alleged crimes this week, as the tribunal's decision follows a Monday submission by Gambia to the UN's principal judicial organ, the International Court of Justice (ICJ), accusing Myanmar of "mass murder, rape, and genocidal acts" which violate its obligations under the Genocide Convention, in addition to destruction of villages, arbitrary detention, and torture.
As a member to the Genocide prevention treaty, Gambia "refused to stay silent", and as a member of the Organisation of Islamic Cooperation (OIC), the small African nation has taken legal action to assist the persecuted majority-Muslim Rohingya, with support by other Muslim countries.
In July, the ICC's top Prosecutor, Fatou Bensouda, requested an investigation be open into the alleged crimes committed since October of 2016, concerning Myanmar and Bangladesh.
At that time, her Office's preliminary examination found "a reasonable basis" to believe that at least 700,00 Rohingya were deported from Myanmar to Bangladesh "through a range of coercive acts causing suffering and serious injury."
Under the Rome Statute that created the ICC, which highlights crimes against humanity as one of its four crucial international crimes, the top Prosecutor concluded sufficient legal conditions had been met to open an investigation.
While Myanmar is not a State party to the treaty, Bangladesh ratified the Statute in 2010, meaning authorization to investigate does not extend to all crimes potentially committed in Myanmar, but will focus on violations committed in part on Bangladeshi territory, the ICC said in July.
'Only justice and accountability' can stop the violence
Judges forming the pre-trial chamber, Judge Olga Herrera Carbuccia, Judge Robert Fremr, and Judge Geofreey Henderson received views on this request by or on behalf of hundreds of thousands of alleged victims.
According to the ICC Registry, victims insist they want an investigation by the Court, and many "believe that only justice and accountability can ensure that the perceived circle of violence and abuse comes to an end."
"Noting the scale of the alleged crimes and the number of victims allegedly involved, the Chamber considered that the situation clearly reaches the gravity threshold," the Court said.
The pre-trial Chamber in addition authorized the commencement of the investigation in relation to any crime, including future crime, so long as it is within the jurisdiction of the Court, and is allegedly committed at least in part in the Rome Statute State Party, Bangladesh, or any other territory accepting the jurisdiction.
The alleged crime must also be sufficiently linked to the present situation, and must have been committed on or after the date of the Statute's entry into force for Bangladesh or the relevant State Party.
Judges from the ICC have given the greenlight for prosecutors to commence collection of necessary evidence, which could result in the judge's issuance of summonses to appear in court or warrants of arrest. Parties to the Statute have a legal obligation to cooperate fully with the ICC, nonmembers invited to cooperate may decide to do so voluntarily.