Using Digital Tools to Transform Transportation
At Transforming Transportation, an international forum at the World Bank headquarters in January 2018, participants took a close look at the potentially enormous impact and opportunities offered by the digital era.  From making transit safer for all, to decreasing congestion, to making it greener, the digital revolution is bringing great changes to the way people and things move around the world.
Big data in Haiti can track where poor people live and where they need to go, giving planners key information for future development.
In Belarus, drivers can access apps that tell them how bumpy the roads are.
In India and Nepal, electronic scanning and clearances are speeding up trade and saving time and money at border crossings.
In the Philippines, the cost of daily traffic jams is estimated at about $60 million U.S. dollars a day. Here, too, digital tools are making a difference. Laura Tuck, the World Bank's Vice President for Sustainable Development, says that by using intelligent transportation systems, "where you're collecting data from the cars that are going, you can share this with users– where you have accidents, where you have a lot of congestion, you can help users avoid them, and you can help authorities start to plan their traffic management better."
Safer, greener, accessible for all
Members of the Digital Development Partnership, a cross-cutting team in the Digital Development unit at the World Bank, were instrumental in planning a session on the digital tools helping build this sustainable mobility. Those tools include data collection so cities can build safer roads, reporting and protections for women using public transportation, and integrated fare systems that make paying for transit faster and easier. The digital revolution's impact on transportation "extends beyond new business models like car sharing and bike sharing," said Doyle Gallegos, the World Bank's Global Lead for Broadband Access for All. ""As companies, NGOs, governments and others increasingly use digital tools to enhance their capacity to target action in pursuit of more sustainable, equitable and safer transportation networks."
Safety is the focus at Brisk Synergies, which uses street cameras, data analysis and AI to evaluate accidents and near misses. Using video footage, Brisk calculates the minute difference in time between two things colliding, cars and pedestrians for example, to measure risk. "With this kind of analysis, we can identify high-risk locations, we can help monitor road user behavior patterns, and we can help measure the improvements to any kind of intervention that a city might deploy," said Alyssa Fischer, Policy Program Manager at Brisk, who presented at the session.
Other groups are using open source data to map movement and provide instant information to drivers, and others, in real time. Mike Davis, of TransitScreen, says his company aims to become the "Switzerland of transportation data," by providing up-to-date information on all forms of transport on a single screen or app. Instead of looking at a bus schedule, to the exclusion of other forms of transport, users can look at one site and see how the bus links to the ferry or to a bike share.
From Bike Shares to the Cloud
Bayo Oresegun, of IBM, is using big data and the cloud to speed communication. "Globally, 2.5 quintillion bytes of data are created each day," he said. Mining that data and getting it to users means that Alitalia, for example, can rely on real-time weather updates to direct its planes to avoid turbulent skies, and so save on jet fuel.  Beijing is using predictive models to alert residents to high levels of pollution, while taking steps to mitigate it.
Proper government policies and regulations are fundamental to ensure that new technologies are accessible to everyone. Sometimes, new technology – from drones to digital identification – evolves so quickly that governments can be slow to keep up. Communication is the key, said Michael Geertsen, the director of Government Solutions for Microsoft, in a session on Harnessing Disruptive Mobility through Policy and Regulation. "One approach would be formal collaboration networks. That might vary from city to city, but think of them as design-think workshops and ways that could, in a non-threatening way, begin to realize some of these questions."
Tools to Protect the Vulnerable 
New digital tools are also changing travel for women.  In Mexico City, 65 percent of women reported being harassed on public transportation. Data analysis showed that men and women have different travel patterns. So, as one option, the city introduced segregated subway cars and women-only pink buses. And it began targeting indifference. Analysis found that women reported that no one came to their aid when they were being harassed in public. So the city began training bus drivers in non-confrontational intervention. It built a communication campaign to encourage observers to speak up and stop the harassment as it happened, and it created apps to ease reporting.
Complaints have since dropped, according to Karla Dominguez Gonzalez, a gender specialist at the World Bank. But she adds, "technology should be part of a more holistic, comprehensive package that can help us to start changing social norms." New tools and digital solutions are only part of the answer; real change comes from how humans use them.
Artificial Intelligence: Everyday Everywhere
May 17 marks the World Telecommunication and Information Society Day with the theme of enabling the positive use of 'Artificial Intelligence for All'.
The term artificial intelligence (AI) may conjure up science fiction stories or robots. However, you may be surprised if you find out that it is present in your everyday life.
Video games, online customer support, smart home appliances, promotional emails, as well as personalized and contextual digital advertising are some examples of AI.
In Iran, AI started to be taught as a university course 16 years ago. Iran is applying AI in mitigating traffic density, offering financial services and for military purposes.
Like all other parts of the world, Iran is developing AI as a necessary part of up-to-date technology and modern life.
Wherever you live, you are surrounded by AI whether you notice or not.
The smartphone in your hand, your bank credit card in your purse, and even appliances you use every day in your home, they are AI-based technology in your daily life. AI has a great impact on your life and without it, your life would be very different.
Like any other new types of technology, AI has positive and negative effects on our life and like other aspects of life, our awareness is the only way to benefit from facilities, which make our life easier if they are used in right way.
World Telecommunication and Information Society Day 
According to UN, the purpose of World Telecommunication and Information Society Day (WTISD) is to help raise awareness of the possibilities that the use of the Internet and other information and communication technologies (ICT) can bring to societies and economies, as well as of ways to bridge the digital divide.
May 17 marks the anniversary of the signing of the first International Telegraph Convention and the creation of the International Telecommunication Union.
In recent years there has been significant progress in AI technology, made possible by tremendous advances in contributing fields, such as big data, machine learning, computing power, storage capacity and cloud computing, among others.
AI-based technologies are already emerging as a key component of proactive tools and applications being used to help people lead better lives by improving healthcare, education, finance, agriculture, transportation, and a wide range of other services.
The 2018 theme will focus on the potential of Artificial Intelligence (AI) to accelerate the United Nations Sustainable Development Goals (SDGs).
First published in our partner Tehran Times
Use blockchain model to cut small firms' costs and empower citizens
Applying the "blockchain" model to areas like energy use, supply chains and governance would cut costs for firms and empower citizens, said the Industry Committee.
Blockchain transactions are recorded by multiple users, rather than by paid – and often costly – intermediaries. The model is currently best known for underpinning the functioning of digital currencies, such as Bitcoin.
The committee approved on Wednesday recommendations on how to apply the blockchain model elsewhere, so as to cut intermediation costs for small firms, empower citizens and enable the EU to become a global leader in this field.
It is not all about Bitcoin
Citizens could use blockchains to gain full control of their own data and decide what to share, and small firms and innovative start-ups could use them to cut intermediation costs and ensure that transactions are executed efficiently, the approved text says.
MEPs advocate applying the blockchain model to areas such as energy consumption, health care, supply chains, transport, finance and the creative industries.
For example, the model could help to:
monitor the origin of goods, offering greater certainty that, e.g., diamonds are ethically sourced, clothes are not made in sweatshops and a bottle of champagne comes from Champagne,
"democratize" the energy market, by enabling households that produce energy to exchange and consume it without the need to pay an intermediary agency, and
create records such as land registries, birth certificates and business licences with less dependence upon lawyers, notaries and government officials.
Getting blockchain rules right
Industry Committee MEPs call on the EU Commission to propose a regulatory approach designed to promote different uses of blockchains and other Distributed ledger technologies (DLTs) that is innovation-friendly and technology neutral.
To ensure the sector is competitive, MEPs also ask for the post-2020 EU long-term budget (Multiannual Financial Framework – MFF, currently under negotiation) to include funding for blockchain-based research and projects.
Background
Blockchain-based transactions create fast, cheap and secure public records and can be also used for many non-financial tasks, such as casting votes in elections or proving that a document existed at a specific time. Blockchains are particularly well suited to situations where it is necessary to know ownership histories.
They also present opportunities in all kinds of public services such as health and welfare payments and, at the frontier of blockchain development, are self-executing contracts paving the way for companies that run themselves without human intervention.
Blockchain – How does it work? 
The Cyber Harassment of Women in Pakistan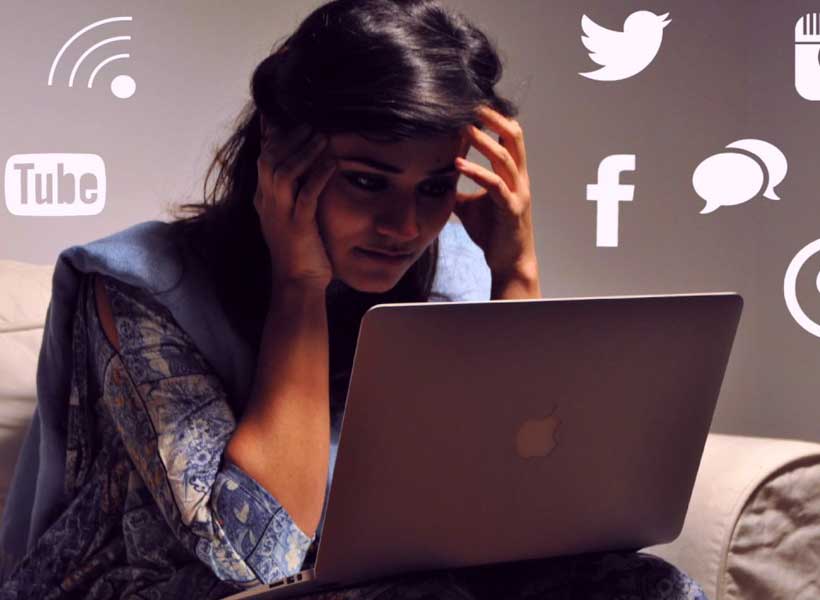 Technology has gained remarkable success in the global world, today everyone have an access to the modern technology and are addicted to its use especially the social media websites like face book, twitter, Imo, Skype, hangouts and too many other websites like this have caught too many people in its web that not only young generation but adults are also trapped in its spindle.  Both men and women are not safe of Cyber harassment today but women are the more prominent victims of being exploited sexually and mentally. Invasion of privacy, extortion, cyber bully and blackmailing are at the top rank for spoiling women lives.
According to the report of Digital Rights Foundation 40 percent of the women faces different forms of online harassment on internet. These social websites are useful on one way but on the other hand there are too many vulnerable effects of these websites. Cyber world has excelled in its tricks today and there are many ways either to secure or ruin human lives in seconds through cyber world. Keeping a blind eye and trust on known or unknown people a lot of lives in Pakistan has been lost due to their ignorance, innocence and lack of awareness about using social websites.
According to the study of Online Violence 72 percent of women in Pakistan are unaware of the Cyber Laws and Cyber Hygiene. From the last few years researches have shown that women in Pakistan are facing insecurity and threat to their lives because of these social and dating websites. Women are being cyber bullied, harassed, blackmail and tortured online on these websites which has spread a frightening roars in the world. Today the main concern is why women are not secure either online or offline? Why there is no any way developed yet to stop this horrifying trend in Pakistan and to secure the lives of women in future?
We all have addiction of using social websites, no doubt they are useful but on the other hand lack of awareness and tricks of cyber world have led us to an insecure world that we don't find a way to escape from the trap. Despite of the Cyber bill passed by Pakistan in 2015 this vulnerable problem has not been stopped yet and the victims are increasing day by day. In our patriarchal society women are being considered as socially, morally, spiritually and physically weak living beings created by God and our society treat them in the same way. The thinking of society have made too many women psychologically weak that they keep their mouths closed after being raped, bullied, harassed and blackmailed online or offline. The conservative thinking of our societies that women are the respect of  the family and they have to close their mouths or keep the thing as secret  if any horrifying thing happened to them because if they speak out they may disrespect their families status in societies.
The government of Pakistan passed  Punjab Protection of Women against Violence Act  last year that only worked a bit but till now no act or bill have been passed yet to stop online violence against women at bigger level. The lack of awareness and education is one of the biggest concerns about the deaths of women who were sexually exploited online. Few powerful women of our society if ever took a step to get themselves help and caught the hidden culprit behind computer , our families and police investigators added fuel to fire and cause psychological fear in them despite of helping them. The investigators both male and females ask such an abusive and shameless questions to females that it hit the nerves of victims and they left the case in between instead of fighting for their rights. The question arise here that why the authorities are sometimes quiet on this issue from too many years? What is the purpose of passing cyber bill when there is no implementation of it practically all across the country? Why male police officers are being used for investigation of women who are being harassed online? These are all the reasons that women are facing insecurity in Pakistan and in other Asian countries not only offline but online as well because not proper measures ,rules ,laws, bills and acts has been passed yet to stop cyber stalking, trolling and extortion of women.
Recommendations to Check Cyber Crimes:
There should be female cyber experts in Pakistan who would only deal with the issues of women being exploited online because victims sometimes feel hesitation in showing or revealing personal data or pictures to male cyber experts.
There should be a separate department of cyber experts who would only deal with these issues personally despite of involving whole family in case and women should be given contacts of those experts so whenever they would face problem or are being scam they would immediately seek help to those experts.
Women should go straight forward to these types of departments and meet with experts without any hesitation. Moreover there should be one female police investigator all time available in cyber section for investigation of women cases so they would not feel ashamed or disrespect rather than going to police stations.
It is impossible to stop cyber threats in today's world but awareness ,campaigns ,seminars conducted by cyber experts and surveys of women NGO's and organizations in Pakistan can somehow  play a decisive role in saving  the lives of women.
There should be male and female counselors available in cyber departments for the counseling of harassed women who are being victimize and mentally effected and had fear to express truth or reality  in order to seek help and to caught the culprit behind computer.
A software should be developed and would be provided to all women either educated or uneducated  in their cell phones, laptops and computes that will detect any harmful act done to their devices or the social sites used to that devices .
Proper seminars should be conducted regularly in remote areas by women organizations and NGO, s where women are being taught the use and awareness of these social sites and those ways to protect their lives online.
Government should introduce a subject of cyber hygiene for safe use of social websites for all the students in every education institute from junior classes.