OSCE: New law on World War II crimes in Poland can threaten freedom of expression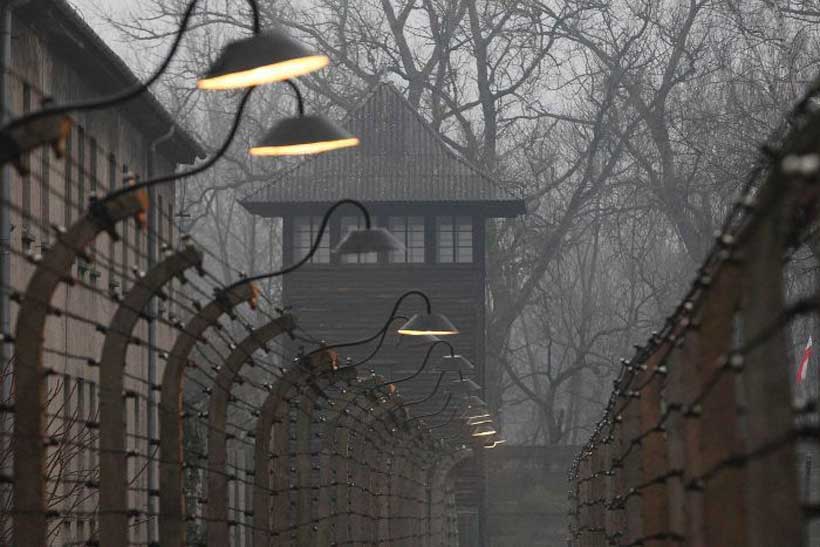 The OSCE Representative on Freedom of the Media Harlem Désir today expressed his concern about a law criminalizing statements on historical events, such as accusations against Poland or Polish people of complicity in crimes committed during the Holocaust or denial of crimes against the Polish population committed by Ukrainian nationalists, such as the Volyn Massacre during World War II.
The law will set fines or a maximum three year jail term in particular for anyone who refers to Nazi death camps as Polish or accuses Poland of complicity.
"I have serious concerns about the law, which criminalizes speech in historical matters," the Representative said. "Though we all know the sensitivities around historical events, freedom of expression is of particular importance for historians and academics. History is a matter of independent academic research and of free discussion, not of judiciary decision. The law should be rejected as a disproportionate restriction of freedom of expression. Only when statements constitute incitement to violence or discrimination could they be criminalized," said Désir.
The Representative recalled that in its authoritative interpretation of Article 19 of the International Covenant on Civil and Political Rights ("ICCPR"), General Comment No 34, the UN Human Rights Committee has stated clearly that "laws that penalize the expression of opinions about historical facts are incompatible" with international obligations on freedom of expression under Article 19. Furthermore, the ICCPR "does not permit general prohibition of expressions of an erroneous opinion or an incorrect interpretation of past events".
To enter into force, the law would still need to be enacted by the country's president. "I hope that to protect freedom of expression the law will be vetoed by the president," said Désir.
Safer roads, a global development challenge for all
Every 24 seconds someone is killed in traffic, making safety on the world's roads a global development challenge for all societies, especially for the most vulnerable, a senior UN official has said, ahead of the first ever High-level General Assembly Meeting on Improving Road Safety.
Nneka Henry, who heads the United Nations Road Safety Fund (UNRSF) Secretariat, noted that 500 children die in crashes every day, and that of the older population, women are 17 times more likely to be killed during a car crash than men, even when wearing seatbelts.
Challenge for all
Despite these statistics, road safety is not just a challenge for women or for young people. It is "for each and every one of us who walk, ride, cycle or drive on our roads," Ms. Henry told Diedra Sealey, a young diplomat in the President of the General Assembly's HOPE Fellowship programme.
The interview took place ahead of the High-level Meeting of the General Assembly on Improving Road Safety, which gets underway at UN Headquarters in New York on Thursday and Friday, organized by the President of the General Assembly, Abdulla Shahid, and the World Health Organization (WHO).
Coinciding with the meeting, is the UN Road Safety Fund pledging conference. The Fund was established in 2018 with a vision to "to build a world where roads are safe for every road user, everywhere." It specially finances projects in low- and middle- income countries, where some 93 per cent of road deaths and injuries take place.
"I am here in New York to remind all 193 Member States of their commitment to the Fund's mandate and success," Ms. Henry said.
Those successes include the announcement that as of 1 July, all vehicles imported in East Africa need to be below the Euro 4/IV emission standard and no more than eight years old.
The Fund has been working with the Economic Community of West African States' 15 members, to harmonize vehicle standard resolutions.
Major benefits
"This will have major air quality and road safety benefits," Ms. Henry said about the latest announcement.
Some of the other achievements by the Fund include legislation in Azerbaijan to help emergency post-crash response, help to increase enforcement of the speed limits and other road traffic rules in Brazil and Jordan, as well as improving data collection in Cote d'Ivoire and Senegal, and training urban planners on making safer school zones in Paraguay.
Vision for the future
As part of the High-level meeting this week, UN Member States will adopt a political declaration, to lay out a "vision for the future of mobility as one that promotes health and well-being, protects the environment, and benefits all people," according to a press release.
The interconnected targets are part of the Sustainable Development Goals (SDGs) that show how road safety is also integrated into the SDGs, from allowing safer access to education, to allowing people access to groceries and reducing carbon emissions into the atmosphere.
Halving traffic deaths and injuries by 2030 is a target under the third SDG, on good health and well-being.
Cambodia's Economy Growing but Must Weather Oil Price Shock
Cambodia's economy will grow by 4.5 percent in 2022, according to the latest World Bank projections. Weathering the Oil Price Shock, the Bank's June 2022 economic update for Cambodia, shows that while domestic economic activity and goods exports continue to recover from the slowdown caused by COVID-19, growth remains uneven, with the war in Ukraine driving inflation.
The report shows that during the first quarter of 2022, goods exports rose to $4.8 billion, up by 26 percent on last year. Traditional growth drivers, especially garments, travel goods, and footwear continue to expand but newer manufacturing industries, such as for electrical and vehicle parts, are also emerging, while exports to the US are surging.
Although domestic economic momentum is strong, recovery is held back by deteriorating global demand. Rising global energy and food prices are fueling higher inflation, and in Cambodia, poor and vulnerable households with limited savings are likely to bear the brunt of the oil price shock. The fiscal deficit is expected to widen to 6.3 percent of GDP, as the government will need to continue spending programs to support the poor.
"The government's Living with COVID-19 strategy has allowed Cambodia to reopen, enabling economic recovery," said Maryam Salim, World Bank Country Manager for Cambodia. "However, the road ahead remains unclear. Rising energy and food prices due to the war in Ukraine are imposing additional burdens on the poor, and this will slow the pace of poverty reduction. The government's cash transfer program, which has been vital to poor households during the pandemic, will continue to be needed."
Over the medium term, the economy is expected to grow at around 6 percent annually, with the new investment law, together with free trade agreements, helping to boost investment and trade. The report recommends policies that can help sustain economic recovery. These include continued efforts to contain COVID-19 infection, strengthening consumer and investor confidence, promotion of exports, particularly in agricultural commodities, by facilitating trade and reducing the costs of doing business, and stabilization of retail prices.
The report also includes a special focus section on post-pandemic supply chain disruptions. It suggests strategies for reducing logistic costs and emphasizes that efforts to increase Cambodia's trade competitiveness and enhance its connectivity will require a systematic approach that goes beyond improvement of physical assets. Efforts are needed to strengthen the entire supply chain by monitoring the efficiency of trade gateways and routes, expanding the "Best Trader scheme" to the wider logistics sector, developing a longer-term business plan for railways, and establishing the "Roadwatch," hotline, through which traders and citizens can report irregularities. Implementing these reforms will require an institutional approach and a lead government agency that can oversee logistics development at the national and gateway levels.
The Cambodia Economic Update is a biannual report that provides up-to-date information on short- and medium-term macroeconomic developments in Cambodia.
Why Students Should Have Sports Pauses Between Lectures
Including physical activities and exercise in your day can provide some great benefits. As a student, you may have a busy schedule that can make it difficult to engage in healthy habits. However, playing sports between lectures or being involved in a college team on campus has many benefits. Unfortunately, some students report that walking is their daily exercise. While this does help keep the body moving, it is not enough to meet today's standards.
Here, we look at how a student, and even teachers, can benefit from playing sports between their lectures and classes. Whether it is done on campus or at a gym with peers, including fitness exercise is one of the ways to ensure your body and brain remain healthy.
Aerobic Exercise for Brain Health
As a college student, it can be hard finding the time to include sports in a schedule. However, playing sports and adding exercise are essential for brain function. While trying to juggle attending classes, completing coursework, and writing essays, students may need to find some extra help. With essay writing services, one can get assistance with essays, research papers, homework, and more. Students can free up some time and still maintain their grades. Asking for help does not mean failure. It can be a great way for any struggling student to learn how to spell for good grades, meet strict deadlines, and more.
During that extra time, getting involved in sports between classes or lectures can be very beneficial. This can positively affect a protein called BDNF, which promotes the growth of nerve cells. Types of aerobic exercise will also help with heart health and can enhance your mindset. It will improve alertness and attention, allowing students to learn and retain information easier. This can help those that struggle with writing essays or a research paper. Adding exercise or playing low-impact sports could boost motivation so that students can complete their next assigned essay on their own.
Help with Stress and Anxiety
Stress is something that every student will deal with. They have to complete courses, write essays, and even rewrite papers based on teacher comments on students' writing. This all takes up time and can lead to great levels of stress. There have been studies conducted on how engaging in sports activities can reduce these things. By taking a time-out period during the day to exercise, daily stressors can be reduced. During this time, engaging in a low-intensity workout can effectively reduce anxiety and stress.
Aerobic exercise will help one rebuild confidence and alleviate some anxiety. When exercising, there will be reduced muscle tension, and it teaches one to look for different situations that provoke stress or anxiety. Many students stress or have anxiety over their grades. If you have a student contract for grades in college, there is an agreement between you and the professor on grading papers a bit differently. Even though you may have this contract, stress will always be a factor when completing assignments. Taking some time to play sports on campus between classes or study sessions can help with this.
Improves Sleep
Whether you are a student tackling courses or a teacher grading college papers, getting a good night's sleep is essential. Having some type of physical routine and exercising will help to improve sleep quality. Those who play sports will also be able to fall asleep faster. While sleeping, the brain is always working and retaining information from studying. Not getting enough sleep can lead to decreased attention in class. By getting in a good 8 hours, higher brain functions will not be impaired, allowing you to be a better student and maintain good grades.
To get the most from exercise, try to schedule workouts, practices, or scrimmages in the morning or afternoon. If you exercise too close to when you go to sleep, your body temperature may be too high, resulting in the inability to fall asleep.
How to Incorporate Exercise
If you are one that does not regularly exercise but you want to start enjoying the benefits, there are some ways to easily add a routine to your schedule. Students have many things to worry about when attending a university. Staying healthy and having good brain function are usually not things that many think of. However, they are essential to your academic success. If you are ready to include exercise, here are some tips that can be useful:
· Save Money – Money is the main concern for any student, and not everyone can afford a gym membership. There are some free or inexpensive ways to have access to what is needed for a good workout. Buying or borrowing resistance bands, exercise balls, or jump ropes are just a few examples.
· Make a Schedule – Just like you have a schedule for classes and homework, having one for sports is also needed. This will allow you to set aside specific time slots for playing a game or getting in practice, making it a priority. Experts suggest performing exercise regimes in the morning, so there are no excuses for procrastination later in the day.
· Make Lifestyle Adjustments – Making small changes during the day can help achieve exercise goals. Choose to take the stairs instead of escalators, walk or bike around campus, and add a walk during study breaks instead of snacking or socializing.
· Join School Activities – There are many others who are looking to stay healthy and keep fit. Some schools have activities that include programs and classes. These are held on campus, so they provide easy access and allow for interaction with peers. Every college will have a wide array of sports that can be enjoyed. You can join teams representing your university or play some social games with others.
Conclusion
Academic performance is the main focus for college students, but it is not everything. Your general health should also be a concern. You will need to be mentally and physically healthy so you can benefit from those good grades that are being earned. There is no need to take part in rigorous training sessions or intense sporting activities. Simple activities can promote a healthy body and mind, and many activities can be found right on campus.