The Indian Budget 2018: The Good, the Bad and the Ugly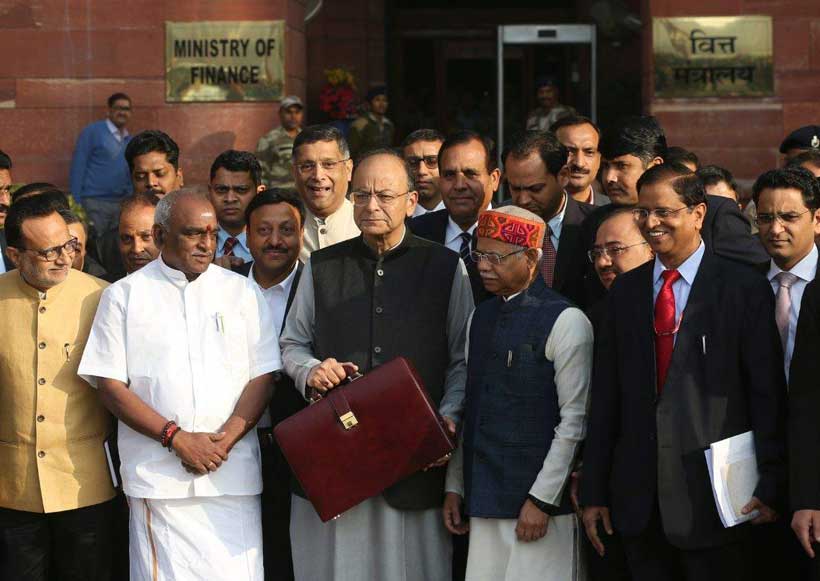 It won't be a hyperbole to call the preparation of the Indian Budget the world's toughest tightrope balancing act. In a country of 1.3 billion Indians, a gazillion sects and a country where the dialect changes every 20 kilometers, the Indian Budget is a unique unifying factor. Sitting in a small office, a select group of individuals charts the course of the Indian economy, soon to be the world's fifth largest. A multitude of Intelligence and Security agencies are tasked to ensure that the Budget remains a secret before it is presented and the markets wait with a bated breath to gauge the winds that will blow with the onset of the Indian Budget. These winds can help the markets move at roaring speeds or topple the very applecart of their existence.
The Narendra Modi led National Democratic Alliance presented it final full Budget on Feb. 1, 2018. With elections due in eight states and the coming of the all-India General Elections, this budget was a final attempt by Modi to deliver on his promise of "Ache Din" (Good Days). But did he? Large sections of India is now restless. Farmers are suffering from a lack of good prices and mounting agricultural loans. Youth is suffering for the want of jobs. Businesses are under stress due to a new tax regime that they are yet to understand and comprehend. The Indian Middle class, BJP's strongest supporters and among the minuscule few who actually pay a direct tax is reeling under high taxes. This was the last grab attempt to placate these sections and retain power for another five years. But what did it deliver? Sure enough, the budget contains a slew of measures for the agriculture and rural sectors, a new health insurance scheme has been announced for the poor and a small relief in income tax for the salaried class and senior citizens.
Let's take a closer look at the Indian budget and break out the good, the bad and the ugly.
The Good
To placate the Farmers who have been protesting across the length and the breadth of the country, this budget promises to raise the minimum price offered to farmers for their crops. Stating that the focus of the government in the coming fiscal would be agriculture and rural India, the finance minister has announced that all Kharif crops will be paid a minimum support price (MSP) that is 50 percent more than the cost of production. It has also identified a need to invest heavily in the agricultural markets across India. It has also earmarked more money for rural areas, including that for irrigation projects and for aquaculture projects. The Kisan credit card will be extended to fisheries and animal husbandry farmers while Rs 2,000 crore provided for the development of agriculture market. The central budget directs state governments to purchase extra solar power generated by farmers using solar-powered pumps who have become cheaper after this budget.  The credit to agriculture would be raised to Rs 11 lakh crore in the coming fiscal from Rs 10 lakh crore. The budget provides for a 100 percent tax deduction for farm producer firms with Rs 100 crore turnover. There is a special impetus to promote "Operation Green". In total, there has been a record allocation of Rs. 14.34 lakh crores for the agriculture sector.
In a bid to provide universal healthcare, the Budget announces a 'National Health Protection scheme' to provide health cover of up to Rs 5 lakh to each of the 10 crore poor families per year. Under the Aayushman Bharat programme, a total of 1.5 lakh centers will be set up to provide health facilities closer to the homes for which an outlay of Rs 1,200 crore to be allocated. A total of Rs 600 crore have been allocated for tuberculosis patients who will be provided with a grant at the rate Rs 500 per month during the course of their treatment. There are plans to set up 24 new medical colleges and hospitals by upgrading district level ones.  The budget lists that the PM JivanBimaYojana has benefited 5.22 crore families with more in the pipeline. And here we were really thinking that Obama-care was game changing?  Apart from all these announcements, the Budget contains a slew of announcements for the senior citizens of the nation like Incentives for Senior citizens like exemptions in income of Rs 10,000 from Banks FD and post offices and Rs 50,000 per annum exemption for medical insurance under Sec 80D.
With the finance minister promising a record infrastructure spending on roads and railways, construction and engineering firms, as well as train wagon-producers, could benefit. There is a plan to expand airport handling capacity by five times to handle 1 billion trips a year. It is estimated that Rs 50 lakh crore is needed for infrastructure building and the government will allocate Rs 7,140 crore for the textiles sector in next year.  National highways exceeding 9,000-km will be completed in 2018-19 and allocation of over Rs 1.48 lakh crore has been planned for railways. Regional air connectivity scheme shall connect 56 unserved airports and 31 unserved helipads for better connected and a closer India.
For the rural economy, the budget contains a slew of announcements. 8 crore poor women will get new LPG connections. Under the Prime Minister's SaubhagyaYojana, it is estimated that 4 crore poor people will get power connection. A total spending estimate for this scheme is Rs 16,000 crore. Under the Swach Bharat Mission, the Government plans to construct 2 crore toilets in the next fiscal year. The government has set an ambitious target to provide a house for all by 2022. A total of 1 crore houses are to be built under Pradhan MantriAwasYojana in the rural areas. The Government will expand the PM Jan DhanYojana. All 16 crore accounts will be included under micro insurance and pension schemes for better returns and social outreach.
To formalize the economy, the Employees Provident Fund Act will be amended to reduce the contribution of women to 8 percent from 12 percent for first three years, with no change in employer's contribution. The government will contribute 12 per cent of wages of new employees in EPF for all sectors for the next 3 years. The target for loan disbursement under Mudra scheme has been set at Rs 3 lakh crore for next fiscal.
The Bad
The government has extended Corporate Tax of 25% to companies with turnover up to Rs 250 cr in the financial year 2016-17. For a party always under a perception of being a corporate front, this will not go down well in the eyes of the media and the party will have a wild time dousing the flames. Also, 100% tax deduction is allowed to co-operative societies, the majority of whom have cooked books and shady members.
The long-term capital gains will now be taxed at a rate of 10% if exceeding Rs 1 lakh. The Education cess increased to 4% from 3% to collect additional Rs 11,000 crore but in turn, has put an additional burden on the tax paying middle class. The government's decision to impose long-term capital gains tax on equity investments may dent investor sentiment for financial services companies, life insurers and providers of mutual fund products.
The Indian Defense Budget, while increased contains no clear roadmap to make India a manufacturing powerhouse and increase our armament production. Barely spending money is not good and while the outlays are increasing continuously, it is no secret that our outlay is minuscule in comparison to our GDP. Furthermore, most of the current budget is spent on personnel and maintenance costs, leaving very little for capital acquisition.  There is a serious need to quantify the defense budget and earmark separate funds for the capital acquisition.
The Ugly
Apart from a few scraps here and there like Rs 40,000 standard deduction, Mr. Modi has completely ignored the honest Indian Direct Taxpayer. A resentment is now brewing in this segment which has honestly been paying to tax and has time and again got pinched by every budget. In a nation where barely, 1.9% of the populations pays any tax, the honest Indian Taxpayer has become a minority of sorts, exploited and with no one to raise a voice for it. Hopefully, Modi can mollify this before the General Elections or all hell will break loose.
Conclusion
To conclude, the Indian Budget is prudent, not populist. The Indian Government deserves full credit for bringing out such a balanced budget so close to the General Elections. The fiscal prudence of this government has been lauded by international agencies and the recent budget is in line with the attempt of the government's fiscal consolidation path. The Finance minister has set the fiscal deficit for 2019/19 (April-March) at 3.3 percent of the gross domestic product, slightly higher than expectations for 3.2 percent. Altogether, the budget has focused more "investments" than one-time hangouts. However, the devil lies in the details. There is a pertinent need for faster and smoother implementation.  The infrastructure projects will generate more jobs and ultimately, more usable projects on completion. R&D will generate more output for this nation. The government is ably trying to focus on both the "Ease of Doing Business" and the "Ease of Living". Elections are upon the present dispensation and the Government must now focus on the implementation. If the 2014 election was about Ache Din, 2019 (or 2018) will be about the poor. The buildup initiated with the Jan Dhan and theUjwala Yojana, continued with the PAHAL andSaubhagyaYojana and now the AyushmanYojana and this Budget. The ingredients are all there. It now up to the chef Modi to cook his broth. But will his broth taste like sweet victory or a bitter-sweet defeat. This only time, and the Indian Rural Voter will tell.
13th G-20 Summit: India's Diplomacy Finest Hour
The week leading up to the 13th G-20 Summit 2018 was one filled with chaos for the world's mightiest economic and military superpowers. Great Britain was at loggerheads with the rest of EU and with its own Parliament over the Brexit deal. France was on the boil with protests over rising fuel and commodity prices. The United States of America and China had locked horns on who would cede ground in the ongoing trade war. Russia was again caught in conflict with Ukraine. Germany was in a fix on whether or not to impose sanctions on Russia over the Kerch Strait incident. Finally, Saudi Arabia was entering the summit knowing it would face diplomatic isolation over the ongoing yet to settle incident brutal murder of journalist Jamal Kashoggi.
At the summit, there was no success between the abovementioned countries to break the palpable tensions amongst them. The only diplomatic breakthrough and yet not a success was drawn between China and the United States wherein they decided to halt the tariff war for now. However, there no details are out on this halt and the devil is the details which is yet to be revealed. On the bilateral front, POTUS Trump did not meet Crown Prince MBS of Saudi Arabia or with Vladimir Putin.
While the above two paragraphs seem to portray a gloomy summit, one country made diplomatic strides in balancing and holding all the powers present at Buenos Aires together and achieved in bringing forth a very progressive Buenos Aires G-20 Leaders' Declaration. I'm referring to the Republic of India. In a matter of 48 hours at the summit, under the stewardship of Prime Minister Narendra Damodardas Modi, India left a significant foot print. India was able to hold bilateral and trilateral meetings with very contrasting and contradicting groups without either of the groups gaining more prominence over the other.
India held the first ever Japan-America-India (JAI) trilateral meeting. The meeting of the three democracies discussed their converging interests to ensure security and stability in the Indo-Pacific region. Despite being a part of this group, India has made it clear that it sees Indo-Pacific as a geographic and not a strategic construct. While James Mattis proclaimed recently that the Indo-Pacific for the United States is from Hollywood to Bollywood, Mr. Modi long before this meeting had stated that for India, it stretches all the way from the East African Coast to the Western Coast of America. India stands by this firm position in order to maintain a friendly relationship with China which it has rebuilt since the Doklam stand off last year. India has now held 4 bilateral meetings between Xi Jinping and Modi. Even the Chinese side has acknowledged that there has been perceptible improvement in the Indo-China relations post the informal Wuhan summit between the two leaders. The JAI meeting can be termed as a victory for India as it did not receive any negative press from the prominent Chinese press.
Also, there was no signs of the QUAD group holding any meeting despite Australia's presence at the meeting because China has always viewed this group suspiciously and believes that this groups interest is to contain them. India showed respect to China by not bringing this group together at Buenos Aires.
Next, India participated in the RIC meeting with Russia and China. This was the 2nd time that this group met in 12 years. This showed the seamless balance India has achieved in interacting with America in JAI and the Eurasian giants in the RIC meeting. Modi comfortably raised the issues of rising volatility in fuel prices in this meeting without any derailing voices it usually faces from Pakistan in the SCO meetings where theses three countries usually meet on such issues. The RIC meeting was necessary because unlike at JAI, over here Modi was able to highlight the necessity to reform multilateral institutions which have been unable to meet the expectations of the international community.
There was a BRICS meeting held on the sidelines of the summit too which was attended by heads of the four governments. They exchanged views on continued terrorist attacks and urged all nations to take a comprehensive approach on tackling terrorism including all the elements identified in the Johannesburg Declaration.
The G-20 declaration echoed a lot of pressing issues that were reiterated by Mr. Modi throughout the two days at various fora. His points on tackling international economic offenders; countering terrorism; tackling climate change; reformation of multilateral institutions; benefits of digitization; need for technological innovation in finance; sustainable food future; gender empowerment found its way in some form or the other into the declaration.
The Indian Diplomacy was at one of its finest hours and also its high points that it has never exhibited so far. In a matter of those 2 days, India showed that it has gained global salience. Whether it is the world's most advanced democracies; world's most progressive economies or world's most powerful militaries—everyone today wants great relations with India. Modi was able to show that NAM is a relic in the Indian diplomatic archives and that we are able to work in contradicting and contrasting groups and yet maintain seamless balance in achieving our strategic interests and promote peaceful relations with all nations alike.
India is now gearing up for the G-20 summit in 2022 which it will host in the 75th year of its independence. India owes its gratitude to Italy which has forfeited its opportunity to host in 2022. Mr. Modi has sounded the bugle that we will be a New India in 2022. Although India may not have the indigenous military prowess or economic dominance like China or the United States, it has always used the good will it has achieved through its soft power to bring the world together. Mr. Modi and his diplomatic entourage deserve a salute for keeping this G-20 summit together.
India and Pakistan bid for NSG Membership
48 years journey of India and Pakistan resulted in them getting the de-facto Nuclear Weapons Status. Since the last 20 years, both rivals have developed their arsenals in accordance with Credible Minimum Deterrence to meet the demands of nuclear strategy and security environment.
Henceforth, with the modification of global dynamics, India and Pakistan bid for the membership of Nuclear Suppliers Group. They aspire to enter into a legitimate Nuclear Regime to gain global recognition, power, prestige, and security.
India's bid for NSG membership is backed with powerful states in disguise as Nuclear Weapon States, playing their Great Game to control the power politics of the Asia Pacific Region. India's real motive is to have access to Nuclear technology from International markets, admission in the international arena of nuclear commerce, get more Uranium for Nuclear Reactors and fulfil their demand for thermonuclear weapons, Import Nuclear weapons (Russia-France), and easy to produce missile capabilities. The aggressive aims are undermining the guidelines of NSG and are a grave threat to regional stability.
In addition to that, India's Strategic ambitions are eminent to its recent Strategic collaborations with France and Russia. It shows that their future plans are not just confined to the peaceful use of Nuclear Technology. Moreover, India is acquiring Igla-S system, Vshorad missiles, S-400 Triumf, Eurofighter Typhoon, LCA-Tejas MK 1A, Mig-21s, Su-30 MKI, Rafale, AK-103 assault rifles, Nuclear Submarines from different defence deals. The existence of India's secret nuclear city Challakere highlights India's ambitions to become a regional power. Their stance to match the nuclear arsenal of China and Pakistan is a big bluff.
India is using all its resources to avail the NSG membership. They are lobbying with close friendly states to work with other members to get India acknowledged in the NSG. India is also addressing concerns of some member countries over India's non-NPT status. India is stressing that admission must be 'merit-based', and not 'criteria-based', as advocated by China, and that being a member of groupings like the Australia Group, Missile Technology Control Regime, and Wassenaar Arrangement, boosts its credentials.
Moreover, President Obama explicitly committed himself to facilitate India's entry into the four components of the international export control regime, namely the MTCR, the Australia Group, the Wassenaar, and the NSG. India has recently been granted the STA-1 status and can avail new strategic opportunities under a 2+2 Framework which can open the doors of international nuclear commerce for India. It is an open threat to regional stability and violation of NPT Regime.
Alice Wells, the Principal Deputy Assistant Secretary of State for South Asia and Central Asia said that we moved ahead with an STA-1 authorization and we certainly believe that India meets all of the qualifications of the Nuclear Suppliers group and will endure to actively advocate on behalf of India's membership.
Beijing backed a two-step approach which demanded that the NSG members first need to arrive at a set of principles for the admission of non-NPT states into the NSG and then move forward with the negotiations. Talks between the Indian and Chinese officials on the subject were "forward-looking". Apart from China, there are others factor that are a hurdle for India to achieve NSG status, including India's refusal to sign the CTBT and the Fissile Material Cut-Off Treaty.
NSG member nations are typically nuclear nations that come together as a global control regime for trade in nuclear materials, equipment, and technology. India's bid for membership violates the rules and regulations of NSG.
If India does get the membership, it will not support Pakistan's membership and it will sabotage Pakistan's sovereignty. Pakistan wants global recognition, as the country's defence policies will be in danger due to the US' and India's aggressive aims. The US exempts India from rules and regulations for civilian nuclear trade and facilitates it with a legal right for the sake of playing their own Great Game in the Asia Pacific Region. The Indian government has accelerated its diplomatic efforts to participate on the NSG's high tables as a full-fledged member.
Out of the 48, 43 members are with India while China, Ireland, New Zealand, Austria have objections to exceptionalism and insistence on development of a uniform criteria for the entry of all non-NPT nuclear states. Hence, it is vital to strengthen the criteria and norm-based approach and revisit multilateral approaches to strengthen the Proliferation Regime. Moreover, criteria Based Approach will benefit Pakistan's security concerns.
On contrary, Pakistan has defensive Nuclear Posture which had maintained Full Spectrum deterrence to counter Indian Cold Start Doctrine and Pakistan Nuclear policy is not aggressive/ offensive to obtain more fissile material for nuclear weapons. The reality of Nuclear South Asia is that whatsoever, the Nuclear Treaty, Group or Agreement have to be signed, India and Pakistan evaluate their Strategic calculations with each other to keep their National Security foremost.
Pakistan must strengthen its diplomatic lobbying skills to collaborate with others states to defend Pakistan so that it can get the MTCR, Wasanaar, Australia Group and NSG membership. Tasnim Aslam, head of the UN desk at the Foreign Office stated that "Pakistan has the expertise, manpower, infrastructure and the ability to supply NSG controlled items, goods, and services for a full range of nuclear applications for peaceful uses".
Presently, there is a need for dialogue to discuss the issue. The role of the US and Russia in this regard cannot be negated and they should motivate regional states towards peace.  India's policy of isolating Pakistan and its hostile attitude towards Pakistan is hazardous for South Asian Strategic Stability.
A pioneer Dalit campaigner
Sannani Pariyar – Member, District Coordination Committee, Dhading, Nepal
Fifty-five year-old Sannani Pariyar initially became interested in politics during her school days. While her family was very poor, her parents knew the value of education and enrolled her in school. She was able to complete grade seven, the highest level her school offered. As her parents couldn't afford to send her to school at the district headquarters her education temporarily stopped. She was able to commence Grade Eight only after three years when her village school was upgraded to higher levels.
However, when she was in grade nine, her family started to force her to get married. "I did not want to get married but I had no choice because I didn't have an excuse for not getting married," Sannani says, "All my friends had already gotten married and it was very difficult to get a good marriage proposal." She finally succumbed to family pressure and got married and within a year, gave birth to her son. "I was preparing for my School Leaving Certificate (SLC) exam. But I had to give birth to my son just before, which forced me to quit the examination," Sannani reveals.
She dedicated her time and energy into raising her son and later a daughter, but as her and her husband's financial situation wasn't good, she began to help her husband in his tailoring shop. Sannani reflects, "sometimes, I feel that these struggles teach you more and make you more determined as a person."
That determination and courage led her to become involved actively in politics after her children were old enough to go to school. Sannani joined the All Nepal Women's Association, a sister organization of Communist Party of Nepal-Unified Marxist Leninist (CPN-UML) as a member. Reigniting her thirst for education, Sannani decided to continue her studies, 18 years after her schooling stopped. She went to the school along with her daughter and both of them passed SLC with good marks.
After completing SLC, Sannini became involved in various organizations including People to People group, a local level group which works to end various kinds of caste-based discrimination and violence against women. She explains, "Being involved in these groups helped me connect with the community and to work with them very closely, which helped me eventually build trust and leadership." She however believes that women and minority groups such as Dalits are given positions in political parties only to fulfil the quotas and aren't provided with meaningful opportunities to participate. She said that there still a long way to go to changing the attitudes and mindsets of people, adding, "There is still a vast difference in what people at the decision-making level do and say. Breaking that barrier and putting an end to the discrimination will be my ultimate win."
She submitted a nomination for chairperson in her ward in the 2017 local elections, but her party initially tried to discourage her from filing the candidacy for the position. She recalled, "They told me it would be very expensive to win the election. But I told them that it was not their problem, and that I would manage somehow." She contested for the election after she got a loan from a cooperative, and ultimately won.
Promoting Gender and Social Inclusion in her municipality
Sannani has also become a member of the District Coordination Committee (DCC) in her district of Dhading. As an advocate for women's rights and preventing violence against women, she has used her role as member in the DDC to support the drafting and approval of a Gender and Social Inclusion (GESI) policy for her municipality of Jwalamukhi. This policy is the first of its kind in the municipality and will be used by all the wards within Jwalamukhi. Sannani hopes that it inspires other municipalities to draft their own GESI policy. She has also been regularly advocating for the provision of a separate gender-responsive and GESI-related budget, and has been successful in lobbying for allocating a separate budget of NRs. 500,000 (US dollar 1= Nrs. 113) for the GESI programs in her municipality.