Tackling Pakistani madrassas: An uphill struggle
This is an edited version of remarks by James M. Dorsey at the launch in Islamabad on 30 January 2018 of 'The Role of Madrassas: Assessing Parental Choice, Financial Pipelines and Recent Developments in Religious Education in Pakistan and Afghanistan,' an extensive study by three Pakistani think tanks backed by the Danish Defense College.
In many ways, the question whether madrassas or religious seminaries contribute to instability in Pakistan and Afghanistan goes far beyond an evaluation of the content of what students are taught and how they are being taught. In fact, it could be argued that the train has left the station and that there are no magic wands or simple administrative and regulatory fixes to address problems associated with madrassas. To make things worse, those problems are not restricted to madrassas; they also are prevalent in the public education system.
Irrespective of which of the spectrum of estimates of the number of madrassas in Pakistan one accepts, fact of the matter is that many, if not the majority, of madrassas do not produce graduates who have learnt to think critically. Rote education produces the opposite in a 21st century world in which critical thinking is ever more important.
Moreover, generations of graduates coupled with successive governments willing to play politics with religion and debilitating conflict have helped create a significant segment of Pakistani society that is ultra-conservative, intolerant, anti-pluralistic, and often supremacist.
It is a segment that easily can be whipped up to adopt militant causes as recent protests as well as the popularity of militant groups among both Barelvis and Deobandis have demonstrated. Which raises the question of whether madrassas alleged links to militancy is the core issue, or only part of a far more fundamental issue: the fact that madrassas more often than not teach an ultra-conservative worldview that with a solid grounding and resonance in society is being reinforced and reproduced.
What that means is that the problem is far greater than ensuring registration of madrassas or simply ensuring that include modern science alongside religious subjects in their syllabi. The magnitude of the problem is illustrated in a madrassa in the city of Jang that has a state-of-the-art computer lab. Access to the lab and computer lessons are voluntary, yet only a mere 16 percent of the school's 300 students are interested or avail themselves of the opportunity in a world in which a baby's first demand is an iPhone. Visits to other madrassas elsewhere in the country show that at times English lessons that are on the curriculum are just that. They exist on paper rather than in practice. The language classes that do exist often produce anything but English speakers or children with even a rudimentary knowledge of the language.
The question of the context in which madrassas operate is also illustrated by the fact that foreign funding is not what keeps the bulk of the madrassas afloat. Foreign funding is no longer crucial. That is not surprising. Four decades after Gulf states, and to a lesser degree Iraq in the past, and Iran on the other side of the equation, poured huge amounts into ultra-conservative religious education, a world has been created that leads it own life, develops its own resources, and is no longer dependent on external funding and support. It's the nature of the beast.
Former Federal Secretary Tanseem Noorani asserted as much as recently as last year when he noted that the number of madrassas was increasing faster in rural areas of Pakistan than regular public schools. There is indeed little doubt that madrassas fill a gap in a country with a broken education system as well cater to a demand for a religious education. And there is no doubt that there are inside and outside of government valiant efforts to fix the system. Hundreds of madrassas have been closed because of links to militancy or other irregularities. But there is equally no doubt that inroads made by ultra-conservatism not only in segments of the public but also significant elements of the bureaucracy cast doubt on the degree to which fixing the system can succeed.
There has been much debate and speculation about Saudi funding. The issue of Saudi funding has much to do with the broader issue of ultra-conservatism as a factor that pervades the discussion of madrassas and more broader trends in Pakistani society. Popular perception is that Saudi funding was focused on Wahhabism, the specific strand of Sunni Muslim ultra-conservatism prevalent in the kingdom.
In fact, it was not, despite Saudi links and support to Wahhabi groups like Ahl-e-Hadith in Pakistan. Saudi funding and support focused on ultra-conservatism irrespective of what specific strand of Islam as long as it was anti-Shiite, anti-Ahmadi and anti-Iran. It was that broader focus that allowed the Saudis to, for example, support Deobandis, something that a singular focus on Wahhabism would have precluded.
Not only was Saudi funding broader focused, it also was in a majority of cases hands off. In other words, a majority of Saudi-supported in Pakistan as elsewhere across the globe, were more often than not, not Saudi-managed nor was a Saudi anywhere in sight, even if textbooks, Qur'ans and other materials were Saudi-supplied.
Moreover, official sources will never be comprehensive in documenting funding particularly from foreign sources. That is all the truer in countries where financial controls and their implementation is lax. In the case of Saudi funding of madrassas, this means that money flows are often not transparent and not necessarily recorded and when recorded not made available for scrutiny. As a result, tracking Saudi funding may never produce a comprehensive picture and will often rely on anecdotal evidence or unofficial documentation provided either by the donor or the recipient.
No doubt, far less Saudi funding is available today, but that there is, yet, no indication that Crown Prince Mohammed bin Salman's vague notion of a more moderate Islam means a restructuring of the kingdom's funding targets.
The effort to rewrite Saudi textbooks that are used in the kingdom itself could indicate that change is coming although the extent of that revision remains to be seen. Recent statements by the World Muslim League, a major vehicle of Saudi funding, about the need for inter-faith dialogue and recognition of the Holocaust point in that direction.
Yet, the record of the first three years of the era of the Salmans, King Salman and his powerful son, Prince Mohammed, also has markers that would suggest the opposite. It may be that funding abroad will be more focused on what serves Saudi efforts to confront Iran, which would put Pakistan, with its borders with Iran and the Islamic world's largest Shia minority, in the bull's eye. It would also mean that moderation may be less evident in what the Saudis choose to support.
Over the past two decades, repeated efforts have been made to regulate and reform madrassas even if implementation and impact has been lagging. That lag cannot simply be attributed to a lack of resources and/or capabilities.
Reform depends on political will and is obstructed by resistance from powerful and entrenched ultra-conservative circles whose tentacles reach beyond the ulema and the administrators of madrassas. With other words, it is the fallout not only of Saudi and Gulf funding but of government and state policies that allowed ultra-conservatism along a broad spectrum to flourish in Pakistan. The issue here is not simply militancy, it is ultra-conservatism that is not by definition or necessarily politically militant.
This is nowhere more evident than in the fact that the problem is not restricted to madrassas but is far more universal. The U.S. Commission on International Religious Freedom reported as recently as two years ago that Pakistani public school textbooks contained derogatory references to religious minorities.
The report asserted that "in public school classrooms, Hindu children are forced to read lessons about the conspiracies of Hindus toward Muslims', and Christian children are taught that 'Christians learned tolerance and kind-heartedness from Muslims."
It went on to say that "this represents a public shaming of religious minority children that begins at a very young age, focusing on their religious and cultural identity and their communities' past history."
The report noted that a review of the curriculum demonstrated that public school students were being taught that "religious minorities, especially Christians and Hindus, are nefarious, violent, and tyrannical by nature."
Addressing the issues at the core of Pakistan's religious and public education system is going to take out-of-the-box thinking that devises ways of drawing in important segments of the ultra-conservative community rather than alienating them. A turn-around will only truly work if it has buy-in rather than projects a sense of imposition.
For that to happen, government policy and the implementing bureaucracy will have to have a broad vision: one that initiates and manages a broad range of policies and processes that seek to foster values that are at odds with ultra-conservatism such as tolerance, pluralism, and freedom of expression rather than just pay lip service to them. It's not clear that Pakistan has the political will for this, let alone that the building blocks for such policies are in place.
Modi-fying Kashmir and Historical Facts
The Modi government on 5th august 2019 revoked two key constitutional provisions — Article 370 and Article 35A — which gave the state of Jammu and Kashmir distinctive rights. India moved around 50 thousand military personnel into the valley to avoid any backlash, which shows that the Indian government is afraid of the repercussions of an illegal act. But these curfews and emergencies are not new for Kashmiris. Kashmiri's will continue fighting for their land and will never compromise. Kashmir is an 86,000-square mile disputed region that is divided between India, Pakistan and China. Kashmir's independence struggle has a long history.
Historically Kashmiris have not ruled their own land since their last king Yusaf Shah Chak who was defeated by the Mughals in the 16th century. Chak launched guerrilla attacks against the armies of Mughal king Akbar on November 1586, he was certain that "Independence was just a day away". Since then it's been 400 years since Kashmir has passed into the hands of Afghans, Sikhs, the British Great Britain and now Indian rulers after partition. Today, the same kind guerrilla attacks continue against Indian occupational forces, although by a renewed insurgency fueled by modern weapons and communications technology.
Thousands of Kashmiri's are part of the armed freedom struggle against Indian forces. Now in the shape of the Kashmir freedom movement, it is entirely different from what it was during the early years of partition. Now, the use of social media has changed the dynamics of the freedom movement making it extremely challenging for India to curb the voices of Kashmiris in the present era. Though India always blames Pakistan for supporting freedom fighters and stone pelters it has never really applied an introspective approach to what its armed forces are doing.
As Kashmiris continue to reject India and its democracy the Modi government has locked down almost 90 lakh Kashmiris since 5 august. There is a complete media blackout in Kashmir and still India calls itself a democracy. Such Indian actions to erode the basic fabric of the Kashmir freedom movement will only fuel the struggle for independence even more. There are many people inside India which negate this act of oppression by the Modi Government. Modi's actions are opposite to democratic values which India claims are reason for its unity.
Several Indian activists have condemned the abrogation of articles 370 and 35 A. Till now 6 petitions have been filed in the Indian supreme court, all of which reflect the pure negation of Mr. Modi's agenda. Hence, the way India is treating Kashmiris will surely have dire consequences for the state in the future. The country which calls itself the largest democracy is treating Kashmiris worse than animals, a democracy where even cows purportedly enjoy more rights than Kashmiris and Muslims.
In 1947 Kashmiris resisted against Dogra forces and around 2 lakh were killed but the Kashmiris refused to be subdued. After partition on 2 November 1947, Indian Prime Minister Pandit Jawaharlal Nehru had promised a plebiscite in Kashmir saying: "The fate of Jammu and Kashmir is ultimately to be decided by the people. The pledge we have given not only to the people of Kashmir but also to the world. We will not and cannot back out of it."
But India has still not pulled back its troops since then and has continued to forcefully occupy the region. Pakistan and India have fought a number wars and smaller-scale conflicts in 1948, 1965, 1971 and 1999 due to Kashmir with border skirmishes remaining common even today. India is involved in killing Kashmiris while the world remains in silence. Only a consistent struggle can force India to check its decisions otherwise, India is on its way to change the demography of Kashmir. Modifying the status of Kashmir within the Indian constitution won't change realities which exist historically. Even today, the whole world acknowledges that Kashmir is an international dispute and not just an internal matter of India. By casting even further light and global attention on this issue through his most recent actions, Mr. Modi has gravely miscalculated the outcome of this move.
Revoking Article 370 A has already stripped Kashmiris of their special rights and now there would be single citizenship for Kashmiris. The Indian flag will be the only flag and article 356 and 360 will be applicable. Minorities will be eligible with a 16 % quota. People from other states will be eligible to buy land in Jammu and Kashmir. Assembly duration of the union territory of Jammu and Kashmir will be for 5 years. All the above developments will further estrange Kashmiris in their own land.
From 1586 till now, the Kashmiris defeated many oppressors and none was able to subdue them. Mr. Modi's modification of its status will definitely fire back in the coming days as India cannot impose a curfew forever. At least 4,000 people have been detained in Kashmir since August 5 and situation on ground as reported by international media is getting worse than ever. More and more Kashmiri youth will join armed groups and the intensity and number of armed attacks is widely expected surge dramatically. Without a doubt such a dangerous and arrogant decision by the Indian leadership has severely compromised the peace and stability of the entire region.
Kashmir: A Victim of the Influence of Major Powers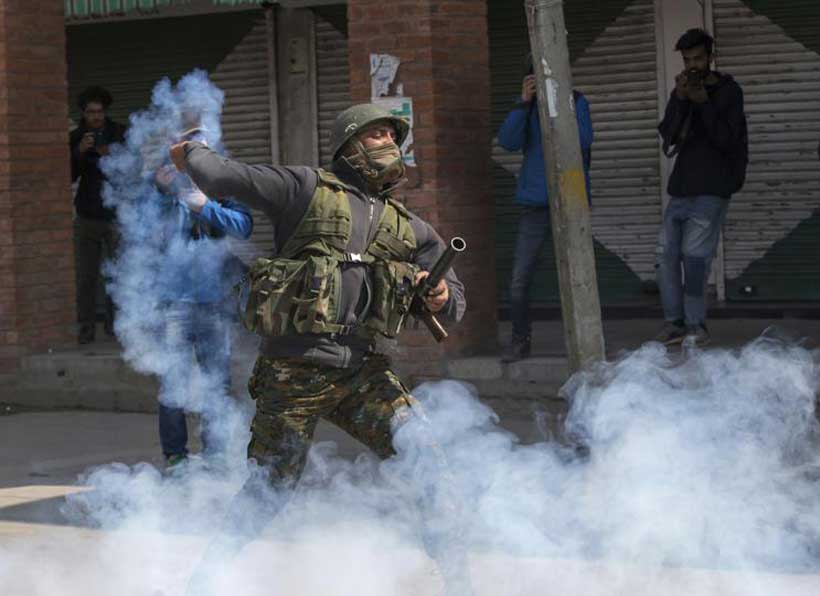 India-Pakistan relations are constantly tense and India-Pakistan history is full of struggles and rivalries. The problems between the two countries have emerged on the international scene recently when the Indian state decided to abolish autonomy in Jammu and Kashmir and apply full control of the Indian state over the region. The area is known to be the center of a dispute between India and Pakistan over land claims and border demarcation.
The Indo-Pakistan conflict over Kashmir is classified as one of the most dangerous in the world. India and Pakistan are nuclear states. The Kashmir conflict began in 1947 and did not end today, after Kashmir was a former independent region in the Himalayas. Kashmir lies in a strategic area on the Himalayas, bordered by India, Pakistan, China and Afghanistan; it is a region of cultural diversity and contains the most important Eastern religions such as Islam, Buddhism and Hinduism. The region of Kashmir is one of the most beautiful regions of the world and fertile agricultural land with a lot of natural resources, but the political instability and security has ruined the economic situation and the lack of tourists and investors.
Historically, Kashmir has been a Hindu religion, but the connection between Kashmiri people and Afghan families has led to the spread of Islam. Kashmir was ruled by the Mongols from the 16th to the 18th centuries, after which Kashmir returned to be an independent state. However, strong British influence in that period robbed the sovereignty of that country by selling land and people, who are mostly Muslims, to a Hindu warlord, Gulab Singh, for 7.5 million rupees.
This "contract of sale" was quickly legalized in the Amritsar Treaty. Since then Singh has declared himself "Maharaja of Jammu and Kashmir", and imposed on the local population by force Hindu culture and its religious principles. He burned mosques and overthrew anyone who begged himself to oppose his rule and stand up to Hindu principles. After Maharaja "Gulab Singh" took over the rule of Jammu and Kashmir Maharaja "Hari Singh", who completed the same path of his predecessor in a land where the number of Muslims at the time 94%.
The severe repression of the people of Jammu and Kashmir in cooperation with the British prompted them to raise their voice in the face of the Maharaja and his allies in 1931. On 25 October 1947, after violent confrontations between the Maharaja and the population, the Kashmiri people won and the Maharaja was expelled. Maharaja sought support from India after Britain stopped supporting him.
The British colonial policy divided the area there on a religious basis. Most of the Muslim lands have been annexed to Pakistan, and the Hindu-majority lands have been annexed to India. In 1947, Indian military forces returned to Kashmir by force against weak Kashmiri resistance and little support from Pakistanis.
At that time, Pakistan began to support the rebels and the separatists from India, which led India to complain to the Security Council accusing Pakistan of supporting the rebels in Kashmir. Pakistan has responded that India is trying to promise Kashmir sovereignty, but it is working to annex Kashmir and bring Maharaja Hari Singh back to power. In 1948, the Security Council sought a mutually satisfactory solution, dividing Kashmir territory, one part called Azad Kashmir or Free Kashmir is supervised by Pakistan, and another part is Jammu and Kashmir and is supervised by India
The never-ending wars between India and Pakistan over the Kashmir issue prompted India in 1974 to conduct six nuclear experiments. This means that India has become a nuclear state and is capable of destroying every enemy, namely Pakistan. This has pushed Pakistan to become a nuclear power by acquiring nuclear weapons. In 1988, India and Pakistan signed a non-aggression pact. Military science suggests that the Asian region is the most dangerous on earth and capable of destroying mankind. India, Pakistan, China, Russia and Iran are nuclear states. Religious conflicts and territorial disputes are accelerating the nuclear war. According to the Pentagon, the next nuclear war between India and Pakistan will claim at least 12 million deaths and more than 7 million wounded from the region.
India, as a big country and a major nuclear power in the Asian region, will not concede to Pakistan in this Kashmir conflict. But India is demanding the entire territory of Kashmir, i.e. Pakistani Kashmir and Chinese Kashmir and this is impossible to achieve, and the conflict is increasing today through the legal measures taken by the Indian state to annex Jammu and Kashmir to the sovereignty of the Indian state and wrest autonomy. Therefore, the solution to this issue remains through diplomacy and negotiations because the weapons, force and many wars in that region did not lead to any positive result.
India's Constitutional Revocation and Prevalent Security Environment of Kashmir
During Prime Minister Imran Khan's first ever visit to the US on July 23, 2019, President Trump had offered to mediate the outstanding Kashmir issue between India and Pakistan. This move was greatly appreciated by Pakistan with President Trump publicly stating that Prime Minster Modi had requested him to mediate between the two countries over Kashmir during the sidelines of 2019 G20 Summit held in Osaka in June this year. With President Trump's offer to mediate at such a crucial time, the issue has once again achieved global significance. Moreover, President Trump's mediation offers, and India's recent move constitutionally revoke the special status offered to Kashmir would likely have serious implications within the prevalent security environment throughout the region.
India has often rejected such offers claiming Kashmir as its internal matter. Taking a step forward, on August 5, 2019 the government of India revoked the special status of the Kashmir region that has been previously granted under Articles 370 and 35(A) of the Indian constitution through a presidential order. Referred to as the Jammu and Kashmir Reorganization Bill that was later approved by parliament despite the opposition's criticism. Under Article 370 of the Indian Constitution the Kashmir region had been awarded special constitutional rights and a 'so-called' autonomous status of decision making. Following the abrogation of Article 370, the Kashmir region would be divided into two 'Union Territories' i.e. Jammu and Kashmir and Ladakh governed by the Indian central government.
The timing of this constitutional abrogation might have been influenced by President Trump's offer of mediation between India and Pakistan that was reiterated by the US President despite India's rejection. This abrogation was also part of the Bhartiya Janata Party's (BJP) election manifesto as promised by Prime Minister Modi during the 2019 general election. By fulfilling this electoral promise, Mr. Modi is trying to assert that Kashmir is entirely an internal matter for India and that it would not allow any third country to interfere in the Kashmir issue irrespective of its relations with India.
Based on this notion India is inclined to project this political and constitutional change as its internal matter. By revoking the special status of this disputed region, India also intends to change the demography of Kashmir as much of the current population is Muslim. India has been involved in various tactics to change the demographic structure of Indian Occupied Kashmir (IOK) which includes a steady stream of Hindu migrants relocating and settling in masse from other parts of India in this predominantly Muslim region.
This trend is also evident in the region's population numbers. In 1947 for instance, the Muslim population of IOK was about 79 per cent. As of 2018 this figure has been reduced to 68 per cent. In this regard the abrogation of Article 35(A) would likely intensify this trend as in the future, non-residents of Kashmir would be able to purchase property in Kashmir and would become permanent residents with a right to vote.
The security environment of Kashmir has been at stake in recent years due to India's desire to oppress the freedom movement militarily. During Prime Minister Modi's first term from 2014-2019 the Kashmiri freedom struggle has seen greater military suppression, especially since 2016 when a prominent freedom fighter Burhan Wani had been brutally assassinated. However, it seems that India has still not succeeded in achieving its desired objectives. After a landslide victory in the 2019 elections and with Mr. Modi once again in office as Prime Minster, the military suppression of the freedom movement in Kashmir has further intensified. Recently, India has deployed an additional 38,000 paramilitary troops in the region to join more than half a million troops and paramilitary forces already present. Along with this increased military presence in Kashmir, India has also been involved in continued aggression across the Line of Control (LoC) as evident by its use of prohibited 'cluster bombs' against the civilian population. These could have seriously provoked Pakistan to respond in an offensive way and might have resulted in another February 2019 episode.
At the present, Indian aggression along the LoC poses a major threat to peace in the region. India might believe that it could carry out a limited attack or 'surgical strike' against Pakistan which would stay below Pakistan's nuclear threshold as evident from the February 2019 military engagement and the recent attacks along the LoC. India has repeatedly attempted to dominate the escalation ladder as was shown in the recent escalation instance the recent escalation following the Pulwama attack. Prime Minister Imran Khan has warned about the possibility of a 'false-flag operation' in Kashmir carried out by India for which Pakistan might be blamed. Based on such blame India could launch a limited attack or a low intensity conflict across the LoC. Consequently, Pakistan would be left with no choice but to respond in kind to any such aggression by India.
India's abrogation of Kashmir's special constitutional status and its military offensive in Kashmir could trigger another politico-military escalation between India and Pakistan within a year. India's policy to forcefully make Kashmir an integral part of the Indian Union by annexing it through political and military means would serve a very dangerous precedent which would likely pose as a serious detriment towards the peaceful settlement of the Kashmir dispute. This change in the constitutional status of Kashmir would greatly limit the prospects for third-party mediation in the future especially for the United Nations, whose resolutions on Kashmir clearly provide a right of self-determination to decide Kashmir's future. Unfortunately, the prevalent security environment in Kashmir is dominated by India's aggressive behavior which ultimately would have long lasting implications for strategic stability throughout the South Asian region.