Historical aspects of the economic warfare in the interpretation of Christian Harbulot
Christian Harbulot, director of the Economic Warfare School in Paris, provides an historical reconstruction of the economic balance of power between states. In this study, he demonstrates that the strategies that states put in place in order to increase their economic power – and their impact on the international balance of power – can only be interpreted through the concept of economic warfare.
According to Harbulot, the true goal of these economic clashes has so far been hidden. Therefore, there is no academic discussion or understanding of this topic that is capable of providing an effective reading of international relations. There are many factors that will potentially trigger tensions between states in the future: the crisis of liberal principles promoting a positive view of economic development and globalization as a tool for establishing peace between nations; gradual resource depletion; energy issues; challenges to the Western economic leadership posed by the process of deindustrialization and the development ambitions of emerging economies.
This perspective sheds light on the importance of recognizing the legitimacy of the concept of economic warfare and lay the theoretical foundations to analyze the economic strategies states adopt to increase their power. In Harbulot's opinion, the principles of economic warfare can be historically retraced in the fight for survival and for the control of resources and territories. The first example of economic warfare in history is the incursions of the nomad populations aimed at raiding the wealth of sedentary populations. In modern times, the economic warfare increased its spatial scope so that maritime and terrestrial commercial routes became the theater of continuous clashes for the control of some specific resources.
At that time, maritime piracy became an effective tool to exert power. In fact, the British pirates – that were attracted by trade routes between Europe, Africa and America, became the ancestors of the British Royal Navy. Both at sea and on the ground, the economic dimension became a key feature in military and diplomatic operations. By the end of the Middle Age, some kings used the economic power in order to support their military actions. An example of this is the war between the French king Louis XI and Charles I of Bourgogne: the French king commanded his fleet to block corn and herrings supplies to the Flanders (in the kingdom of Bourgogne), convinced the bankers to stop funding his rival and encouraged the hosting of fairs in Lyon in order to reduce the money flux to Geneva, which at the time was the trade hub between Bourgogne, Germany, and Italy.
In the 17th century, the newly created states considered the security of their territory (cities and countryside) as a strategic priority. In this time, the Seven United Provinces of the North created the first model of sanctuary area, meaning the securitization of a given territory from any kind of attack from the enemy. A net of fortresses and natural barriers like rivers was meant to protect the Provinces from the attacks coming from Spain. Similarly, Vauban's France built up fortifications along the frontiers of the newly acquired territories in the north. This defense system led to the concept of "pré-carré" (squared field) that made reference to the geometric shape coming out from the disposition of these fortifications on the map that looked like a garden, divided in different flowerbeds. From then, this term evolved to nowadays' meaning of "external sphere of influence" from the diplomatic, military and economic point of view.  In order to guarantee their territorial integrity, states also exploited the military capabilities of an allied state in exchange of economic concessions. Portugal, for instance, signed an alliance treaty with the United Kingdom in 1373 in order to get its protection against Spain's attempt to incorporate it. If at the very beginning this alliance was set up between pairs, later on it became the framework for the establishment of British protectorate over Portugal, so that for centuries the UK offered military protection in return of financial and commercial control over Portugal. Economic warfare has always been a feature of each stage of colonization, from the Roman Empire to the maritime empires established in the 16th century that gradually acquired control of natural resources and trade routes. Human trafficking is the most evident example of how economic interest impacts power relationships. In this regard, the colonization process of North America clearly shows the overlapping of conflicting dynamics of different economic interests.
The exploitation of American settlers in cotton plantations as well as the fiscal policy and the trade restrictions applied, led Great Britain and its colonies to war. Harbulot mentions this historical case to show how the control of trade routes is a key feature of economic clashes between states. In the 16th century, before becoming an Empire built up on its maritime trade power, Great Britain was a poor country with no military power. At that time, Spain and Portugal dominated the sea routes. When the British decided to became a maritime power, they started with piracy actions threatening the superiority of the enemies' fleets.
Under the reign of Elizabeth I, the British pirates started pillaging Spanish and Portuguese ships carrying precious metals from South America. Afterwards, the British started expanding their trade networks to Turkey, Russia, the Caribbean and Asia. Finally, in 1707 the birth of Great Britain out of the fusion between Reign of Scotland with the Reign of England, led to the creation of one of the greatest free trade area of the time and to the first model of mass consumption in the world. During the 17th century, the British tried to exploit the great trade potential of British territories overseas and established the East India Company that paved the way to the colonization of India.
The colonial aspirations of Great Britain led to a military escalation that was necessary to defeat local sovereigns opposing the British hegemony, and to face the rivalry with other European powers. Great Britain went to war with the Netherlands (1652-1784) to win the control of the main trade routes with their colonies, which was threatened by the dominant position of the Dutch company of East India. Again, the necessity of securing maritime routes, led the British Empire to many other wars like Afghanistan (1839 -1842 and 1878 -1880) in light of contrasting Russia's expansionism in India; the opium war with Chinese Empire (1839-1842 and 1856-1860) in order to force the Qing dynasty to open up to world trade; the occupation of Egypt in order to control the strategic platform in Cairo; the Boer wars (1880-1881 and 1899-1902) to ensure strategic control over Cape Town. After taking into account the British case as an example of how the ability to control sea routes is a key asset in geostrategic clashes, Harbulot analyzes the overlapping between war and economics that became evident for the first time during the revolutionary and Napoleonic wars (1792 – 1815).
William Pitt – British Prime Minister at the time – tried to preserve Great Britain's predominant position in international trade. His strategy aimed at controlling the sea routes and establishing an indisputable maritime advantage through the Royal Navy – which was the only British force that could compete with France's military capacity. The British military fleet was therefore empowered with 105 ships, whereas the French one could count on only 70. While Prussia – Great Britain's ally – was able to contain France and its allies on the continent, the British fleet weakened France's economic potential through preventing its access to the sea routes. For the first time in history, the economic warfare became global and delineated two blocks: on the one hand, Great Britain put in place a maritime block against France; on the other hand France locked the access to British exports to Europe.
The original feature of these two blocks consisted in the fact that both states wanted to adopt economic retaliation strategies to win the conflict. For example, Russia's withdrawal from Napoleon's continental block triggered Napoleon's Russian campaign, that had disgraceful consequences for the French Emperor. The overlapping between traditional and economic warfare paved the way to some mechanism for economic warfare that were kept in place even in peacetime. By the end of the 18th century, France's industry resulted to be significantly weakened by the military efforts carried on during the revolutionary wars. Napoleon then chose the scientist Jean-Antoine Chaptal, to reform the French industry and protect it from Great Britain's trade threats.
In addition, Napoleon instructed the National Industry Encouragement Society to detect the strength and the weaknesses of the British economy: France was willing to do everything in its power in order to fill the twenty-year gap with the British, even smuggling machineries that were illegally purchased or stolen in Great Britain. In the framework of the continental block imposed by France, Napoleon consolidated this system of economic defense through a militarization of the custom check-points (whose officers in 1815 represented 20% administrative personnel of France besides the army). Despite the costs of the wars with France, Great Britain managed to keep its advantages: the industrial revolution that had started long before compared to the rest of the continent made British products more competitive; British colonies ensured a significant supply of raw materials and British naval supremacy allowed the control of the main sea routes.
It was paramount for London to reduce trade barriers in order to export its products to Europe, therefore the British government adopted the first techniques of economic warfare peacetime. In particular, a commission led by the political economist John Bowring was instructed to negotiate with French authorities for the opening up of trade. What Bowring did in reality, was lobbying for the creation of groups supporting British liberal trade in France and using the local press to influence public opinion that was the main tool to reach this goal. It was only with WWI, though, that the principles of economic warfare were formalized.
Already in 1914, in light of the likely long duration of the conflict, the powers involved elaborated the typical practices of the economic warfare: i.e. reducing the availability of materials for the enemy's army, and raw materials for its industry – with an extremely negative impact on the population –  blocking trade and finance flows that directly hit the enemy's food supplies. In addition, over the course of the conflict, some specific structures dedicated to the economic warfare were created. In 1915, the French Ministry of War set up a Control Section responsible for collecting necessary information to support economic warfare. Similarly, Great Britain created an independent organization, the War Trade Intelligence Department, attached to the Ministry of Foreign Affairs. In 1916, Italy set up a special office entrusted with collecting and checking economic news, attached to the Ministry of War.
These structures were coordinated by an Inter-allied office located in Paris. During the conflict, economic warfare actions became more and more targeted against international objectives and supported by military operations, which became more sophisticated thanks to the development of aviation technologies. However, in 1918 there was no general consensus between France, Great Britain and the United States about the goals to reach. Paris wanted to use economic warfare to force Germany to surrender and accept international control on its possession of raw materials, so that France could still have the upper hand. Washington was aware of the leverage the economic warfare could play to stop Germany's economic expansion and get to a peace treaty, however its main interest was to stress the liberal principles and play a dominant role in international trade; London aligned itself with the United States while keeping its focus on its economic interests. As the conflict ended, the structures dedicated to economic warfare were dismissed but were restored after the break out of WWII. In 1939, Great Britain created an actual Ministry for Economic Warfare, with similar tasks of the dismissed War Trade Intelligence Department.
In June 1940, Prime Minister Winston Churchill set up a new service called Special Operations Executive – that was basically the offensive component of the Ministry of Economic Warfare – and entrusted it to conduct sabotage operations on the continent and fuel uprisings in the territories occupied by the Germans. At this stage, the interaction between war and economy shed light on the problems related to the economic warfare. However, in the second half of the 20th  century, this topic was overshadowed. On the one hand, during the Cold War, Western bloc countries were keen to cover the economic disparities between them and powered their ideological projection against the Soviet bloc. On the other hand, the United States – the new global superpower – elaborated their version of the British strategy of influence and promoted the free trade theories and competition as the main model for the Western world economy.
According to Harbulot, an effective analysis of the economic warfare must consider the evolution of the methods states used to conquer territories, increase their trade and power. Over the 19th  century, states preferred to conquer markets (through economic warfare) rather than territories (through traditional warfare) in order to acquire more influence on the international level. Harbulot identifies the cases of Japan and Germany because of the importance these states gave to the seek for a "vital space", to be conquered through territorial acquisition and trade influence. In 1854 U.S. commodore Matthew Perry forced Japan to open up its ports to Western powers. However, in 1867 Mutsuhito ascended the throne of Japan and decided to reverse the established balance of power. His modernization policies aimed at filling the gap with major Western economies and hinder their leadership.
The Meiji Restoration – whose slogan was "Enrich the country, strengthen the military" – was framed in a policy aimed at acquiring a comprehensive expertise in many fields, following the example of the leading countries in a given sector. Japan also pursued an expansionistic policy through the annexation of Korea and claimed a trade protection on China – that threatened the United States' interests in developing business ties with the country. Japan's main goal was to establish a sphere of regional co-prosperity with East Asia countries, occupied by the imperial army. Therefore, the Japanese empire occupied Manchuria and founded the state of Manchukuo, a classic example of the reproduction of military systems invented by the Portuguese and then imitated by the Dutch and the British. The Japanese combined the model of the Company of India with the one of the American railroads to create the Railroad Company of Manchuria. This latter was in charge of the administration of Manchukuo and of the management of the Japanese occupation troops; it possessed its own police forces, a central bank and even a merchant fleet. The State of Manchukuo was test site for the new approach to increase state power through the economy.
The case of Germany is quite different. Over the course of its history, Germany constantly sought to acquire new territories to guarantee food supplies for its population, as German lands were covered with forests and difficult for farming. By the end of the Middle Ages, German settlers started colonizing the lands of East Bavaria. While acquiring new territories was not always a peaceful process because of the resistance of the local population, the expansion via sea was far easier. The creation of the Hanseatic League allowed Germany to peacefully establish its dominion on the Polish shores between 16th and 17th   centuries. The battles conducted by the Hohenzollern family completed the creation of a sphere of influence at the eastern borders of Germany. The debate around the strategic advantages of territorial versus trade expansion was very popular in the politics of the Second Reich. The unification of Germany pursued by Otto von Bismarck allowed the country to acquire more influence on the world stage. However, the increasing in its power at the end of 19th century was not only boosted by the changes brought by the industrial era, but also by the geostrategic competition with the British and French Empire: the German strategic core consisted in the "Konzern" (associations of both vertically and horizontally integrated enterprises), in banks and insurance companies that challenged their European competitors.
The debate on how to handle a hypothetical geo-economic success gained momentum at the end of WWI. As a result, in 1915 Samuel Herzog published in Germany "German economic warfare plan", which could be considered as a draft handbook of economic warfare.
In his book, Herzog listed the economic tools that States could oppose to the Reich's enemies. Some of them are helpful to influence or control the exports during the economic warfare; some others could ensure Germany's success against the passive resistance of defeated countries. According to the author, in order to preserve Germany's economic assets, it is necessary for the state to exercise its control over industries that have kept the upper hand against foreign countries. In addition, the state should protect private initiative in a way that it does not conflict with national economic interests.
Harbulot focuses then on the dissimulation of economic warfare: firstly, the economic dimension acquired a great prominence in the balance of power among individuals, groups and states; secondly, he underlined the high interdependence between the economic strength and the political and military power. Nevertheless, the historic phenomenon of economic warfare has always been denied, because the political justifications for economic expansions have always been perceived as aggressive and illegal.
The negative perception of the economic war as a consequence of cupidity is grounded on Saint Augustine and Thomas Aquinas' just war theory. According to this theory, States are pushed to hide their war plans for economic purposes and to proclaim their intention to spread religions, to stimulate growth of developing countries and, more recently, to promote democracy. This dissimulation attitude causes the distortion of the balance of power.
It is worth noticing that international military organisations, such as NATO, have not developed a proper economic warfare doctrine yet, because of conflicting interests among member states.
Some examples of the dissimulation of economic warfare are the domination strategies implemented by colonial empires, as well as recovery strategies of countries aiming at avoiding colonisation or at increasing their power.
Firstly, domination was dissimulated by the pretext to conquer and impose one's religion to colonised people. Secondly, the doctrine of liberalism and the idea of increasing power through trade expansion stimulated free trade and the opening of new markets. All these factors became the justification to the foundation of new empires.
Any commercial achievement could lead into an economic warfare, which could represent a coercive instrument to use against countries that try to close their market. As to some examples, the United Kingdom implemented its "gunboat diplomacy", in order to export its products in the Middle East and East Asia markets and in 1840-41 the Royal Navy closed the Alexandrian harbour. Moreover, during the Opium Wars, the Western countries forced an "independent country" to participate in the drug trade.
With the Opium Wars, the strategy of "economic aggression" became evident. As a result, countries such as Japan were forced to modify their plan and to implement a significant economic penetration policy (represented by the above-mentioned slogan "enrich the country, strengthen the military") with the aim of reducing disparities with Western countries. When, a century later, at the end of '80s, Japan became the world's second largest economy, the USA and Europe denounced its expansionism, as well as its economic trade's strategy. The Central Intelligence Agency (CIA) even published a report on the "Japanese propaganda" aiming at hiding the protectionist measures taken by the US against other market economies, in violation of the principles of economic liberalism.
As for the recovery strategies, they focus on basic objectives and are strongly linked to geographic and cultural background. Due to its geographical morphology, Japan developed a solid maritime infrastructure, along with an industrial economy and became a model for South Korea, India, Brazil and China. In particular, South Korea opted for shipbuilding and for the creation of large private industrial conglomerates.
On the contrary, India chose to become a world leader in IT sector and pursued an education reform in order to improve science teaching. Moreover, the city of Bangalore, thanks to its favourable weather conditions, was transformed into a high-tech capital.
Brazil instead based its recovery strategy on the energetic sector, with the aim of becoming the regional leader in this field. Besides, Brazil used its soft power to claim the role of world's sustainable development power due to its wide-scale production of electric power.
Finally, the Chinese recovery strategy was grounded on market opening, with the creation of special economic zones and the implementation of measures to attract foreign investments.
However China, as Japan did, developed an aggressive plan of foreign markets' penetration, with the strong opposition of the United States. This triggered a debate around economic warfare in the Western world. In particular, China was deemed to become member of "normative" international organisation only in order to impose its own rules. As a matter of fact, reactions caused to a sceptic attitude against China could be considered as economic conflicts. This is true for protectionist measures on photovoltaic technologies taken by the Obama administration, as well as for the decision of the Australian government to refuse the participation of the Chinese company Minmetal in the Australian firm Oz Metal.
The paradigm of economic warfare changed after the Second World War, when the USA became the world geo-political, military and trade leader. Along with coercive methods of colonial empires, the USA expressed their economic power by pursuing a new strategy. In particular, in order to prevail over an allied country in the economic and cultural field, the United States established themselves as a superpower and managed to hold a stronger position in the hierarchy of the values, rules and arbitrages of market economy. As a result, the US imposed in peacetime to Western countries a "silent practice" of economic warfare.
Nevertheless, the availability of new markets after the collapse of the Soviet Union and the aggressive recovery strategies implemented by emerging economies modified the current stability of international economic relations. Furthermore, a growing competition, stemming from the two above-mentioned factors, pushed the USA to take into account the need of a "real" economic war. Asia's increasing power and the EU internal market, actually undermined the supremacy that the USA had acquired by the end of WWII.
These changes in the balance of power highlight the new paradigm of the economic warfare: the relationship between ally and enemy is replaced by a direct or indirect conflict between two enemies.
Despite the fact that economic warfare was usually characterised by direct conflicts, globalisation has modified the world economic framework, both for emerging economies and developed countries.
States' strategic interests diverge and become more and more complex. Therefore, a military or geo-political concern could be in contrast with an economic one, and vice versa. As a result, two countries could conclude a military alliance and fight for economic reasons at the same time.
Therefore, these new balances of power among States, where competition and cooperation co-exist, show that the current economic relationships are weaker than in the past. However, these changes do not reduce conflicts among states. During the '90s, the USA, as world leader, implemented a policy of economic security, started in the '70s with the introduction of Section 301 of the 1974 Trade Act (that enabled the country to oppose trade barriers penalizing its exports) and Section 301 of the 1988 Omnibus Trade and Competitiveness Act (that enabled the country to denounce unfair practices and protect American companies from intellectual property violations).
With the aim of fighting unfair competition, the USA decided to tighten their position on trade. Despite the objections of several states, these unilateral measures are still in force and are used as leverage against the Dispute Settlement Body of the World Trade Organisation. Torricelli's (1992), Helms-Burton's (1996) and D'Amato's (2001) laws implemented these measures and forbade thee WTO membership to the countries that were hostile to the United States.  Among the countries affected by these provisions (with the exception of Cuba, covered by a US embargo since 1962), Iraq, Libya, Iran and Nigeria were rich in oil reserves. Moreover, the appointment by the Clinton administration of the National Economic Council in 1993, working jointly with the National Security Council, proved the paramount importance of the national economic security.
The USA represented a model for several countries: France, for instance, appointed a Committee for Competitive Economic Security chaired by the Prime Minister in 1995; over the course of his first mandate. President Putin strengthened the role of some State bodies on the protection of the economic resources in Russia. The economic weakness of Western countries and the increasing power of the emerging ones will probably reinvigorate tensions between developing and industrialized countries, which dominate the world economy. While developing countries are eager to increase their power through massively expanding their trades to foreign markets, Western countries tend to separate power strategies based on military and diplomatic means, from those based on economic warfare.
Moreover, the Western policy of deregulation emphasises this paradox. While European advantages decrease, in fact, emerging countries increase their competitiveness with the financial support from bank authorities, which are directly or indirectly controlled by the state.
Therefore, a competitive imbalance – that is usually strengthened by the substantial role the financial sector plays in the functioning of market economies – weakens industrialized economies. Chinese managers, instead, successfully adapted the Communist dictatorship to the rules of market economy and pursued more ambitious targets than purely making profits.
After the collapse of the Soviet Union – caused by the arms race – China elaborated the idea of "war with no limits", by combining military and economic instruments. The crisis of colonialism and the growing power of emerging countries undermined the Western notion of ethnocentrism, which the foundation of the theory of Western superiority.
Therefore, in the new global contest, Western countries are weakened by a number of contradictions:
Liberalism and Protectionism  
In the United Kingdom and in the United States economic doctrine, liberalism justified the dismantling of protectionist systems in the countries that were their top export destinations. The goal was to an increase their exports and to minimize the impact of the destination countries on international financial markets.
Delocalization vs. National Interest
In the United States there are two conflicting economic trends: one aims at opening the markets and benefiting from delocalisation, the other stresses the importance of protecting American people's interests.
The European Union's inability to react to the challenges posed by economic warfare.
In the aftermath of WWII, during negotiations on Marshall Plan, there has been a considerable discussion in France on some U.S. economic needs, such as the obligation to feed animals with American soya and the distribution in the French market of films coming from Hollywood. General De Gaulle, Prime Minister since 1958, pursued an independent policy against the U.S. interests: he created the oil company Elf Aquitaine with the aim of reducing dependency from the seven Anglo-American oil companies; he limited the settlement of American multinational companies; he started casting doubts on the role of dollar as reserve currency. Nevertheless, his vision was defeated by the liberal idea of markets' openness. Furthermore, the creation of the EU single market marginalised the discussion on the role of the economy in state power strategies. As a result, France dramatically changed some of its economic structures that had previously provided the country with a significant economic power.
In particular, the Commission Permanente de l'Electronique, which in the '60s rose awareness on the need of developing the electronics industry, was abolished. At the beginning of 21st  century, Prime Minister Dominique de Villepin re-launched the debate on the "economic patriotism", fostered by the drawbacks of emerging countries' recovery policies. Some of them, in fact, evolved in real "fighter economies", to fill the development gap with the West. Their offensive strategies integrated the range of techniques already implemented by Western countries in the past: collecting information via Internet, stealing patents, dumping measures, counterfeiting, metal smuggling (especially copper, whose world-wide demand is increasing).
While these unfair measures, which undermine the Western economic leadership, represent an issue for concern in the United States, in the EU they are considered as "exception that proves the rule". Accordingly, the US adopted coercive instruments against these measures, in order to single hostile countries out. On the contrary, the European Union rarely followed this example. In 1984 the EU adopted a retaliatory measure in accordance with Section 301 of The US Trade Act, even though it was only applied six times in ten years.
In the centralized EU system, since the only competences left for Member States are national defence and public order, the United Kingdom, the Netherlands and Germany integrated the economic war paradigm in their modus operandi. France, instead, lobbied for amending the EU Treaties with the aim of improve its room for manoeuvre, but its attempts were not successful. More generally, the EU Member States proved not to be able to set up a shared strategy on this issue. As a result, the EU did not react to Putin's measures protecting and promoting Russian industries – through state aids, customs duties benefits, and debt cancellation – and not even to the Russian threat of cutting gas supplies to Europe.
In the current international framework, the pacification process favoured by the leadership of the Western countries is weakened by multipolar geo-economic relationships and growing conflicts with emerging countries. As a result, the European Union – that does not consider economic warfare – cannot do much other than following the lead of the United States. Despite its image of cohesion, the EU is fragmented: Germany leads Northern Europe and is engaged both in increasing its power and promoting itself as a peaceful country in open contrast with its past; Southern Europe tries to solve its infrastructural problems, while post-Soviet countries are still under American, German and Russian influence.
To conclude, the economic warfare paradigm shall be taken into account in current international relations. Harbulot imagines a new political economy based on a consistent combination between state power strategies, trade expansion and territorial development. Nevertheless, these dimensions deal with three divergent interests. Therefore, the definition of short, medium and long-term priorities relies in the hands of the political power.
Circular economy: More recycling of household waste, less landfilling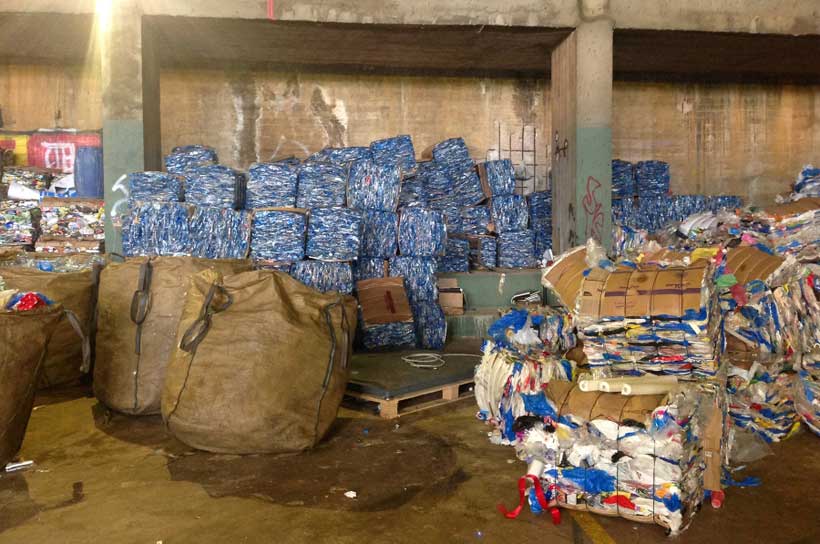 EU Parliament backs ambitious recycling targets, under legislation on waste and the circular economy, adopted on Wednesday.
Improving waste management will not only benefit the environment, climate, and human health. The four pieces of legislation are also part of a shift in EU policy towards a circular economy, i.e. a system where the value of products, materials and resources is maintained in the economy for as long as possible.
By 2025, at least 55% of municipal waste (from households and businesses) should be recycled, says the text, as agreed with Council of Ministers. The target will rise to 60% by 2030 and 65% by 2035. 65% of packaging materials will have to be recycled by 2025, and 70% by 2030. Separate targets are set for specific packaging materials, such as paper and cardboard, plastics, glass, metal and wood.
Landfilling to become an exception
The draft law also limits the share of municipal waste being landfilled to a maximum of 10% by 2035. In 2014, Austria, Belgium, Denmark, Germany, the Netherlands and Sweden sent virtually no municipal waste to landfill, whereas Cyprus, Croatia, Greece, Latvia and Malta still landfill more than three quarters of their municipal waste.
Textiles and hazardous waste from households will have to be collected separately by 2025. By 2024, biodegradable waste will also have to be either collected separately or recycled at home through composting.
Reduce food waste by 50 %
In line with the UN sustainable development goals, member states should aim to reduce food waste by 30% by 2025 and 50% by 2030. In order to prevent food waste, member states should provide incentives for the collection of unsold food products and their safe redistribution. Consumer awareness of the meaning of "use by" and "best before" label dates should also be improved, say MEPs.
"With this package, Europe is firmly committed to sustainable economic and social development, which will at last integrate industrial policies and environmental protection", said lead MEP Simona Bonafè (S&D, IT). "The circular economy is not only a waste management policy, but is a way to recover raw materials and not to overstretch the already scarce resources of our planet, also by profoundly innovating our production system".
"This package also contains important measures on waste management, but at the same time goes further, by defining rules taking into account the entire life cycle of a product and aims to change the behaviour of businesses and consumers. For the first time, Member States will be obliged to follow a single, shared legislative framework", she added.
Background: what is a circular economy?
A circular economy implies reducing waste to a minimum as well as re-using, repairing, refurbishing and recycling existing materials and products. Moving towards a more circular economy will reduce pressure on the environment, enhance security of supply of raw materials, increase competitiveness, innovation and growth, and create jobs.
Greece can turn its education system into a source of inclusive and sustainable growth
With a qualified and well-engaged teacher workforce, motivated 15-year-old students with a strong sense of school belonging, and one of the lowest dropout rates across the European Union, Greece is well placed to build a strong and inclusive education system.
Education for a Bright Future in Greece recognises the Greek Government's efforts to increase the quality and equity of the education system through a combination of innovative policies and deep structural reforms. The current government's efforts to improve the governance of schools and education institutions and resources, can provide students with the environment, knowledge and skills needed to contribute to more inclusive and sustainable growth, boosting productivity and well-being, according to the new OECD report.
Strongly affected by the economic crisis, the Greek education system has suffered a series of cuts in public spending (a decline of close to 36% in nominal terms over the past decade), and a recruitment freeze of public civil servants which has impacted wages and resulted in the hiring of new teachers on short-term contracts. This is affecting the quality of schools and the education system as a whole as it deals with an increasingly diverse student body, including high levels of child poverty and a larger proportion of migrant and refugee students. Results from the OECD PISA global education survey show that the performance of 15-year-old students in reading, mathematics and science remains below the OECD average.
In this complex context, the Greek education system is facing several structural challenges, including a high proportion of substitute teachers, a highly centralised school system, the need for better professional development support for teachers, the effects of widespread shadow education, and weaknesses in tertiary education.
"Now that Greece's economic prospects are improving, it is time to centre attention on building a highly performing education system that puts children at its centre. Greece can turn its education system into the dynamo of a more inclusive and sustainable growth. Building on international best practices, reforms should consider more autonomy for schools and school principals, a solid accountability framework, and a culture based on evaluation. In the context of the digital revolution, that is affecting all aspects of life, prioritising the skills and competencies of Greek children, youth and workers will be key." said Gabriela Ramos, OECD Chief of Staff and Head of the OECD-Greece Joint Steering Committee, launching the report in Athens with Kostas Gavroglu, Greek Minister of Education, Research and Religious Affairs.
The current reform agenda should also focus on providing teachers with greater contractual stability and innovative tools for professional development, giving stronger roles to school principals, as well as developing a set of strategic principles for tertiary education policy-making and raising quality of in-school lessons to tackle shadow education.
Streamlining and improving the governance and financing of the education system and its schools would also help. For individual schools to thrive, governance and funding should be aligned. This requires developing an overall future-oriented vision of education for Greece, providing financial clarity on resources available, giving schools an identity and capacities of their own and creating a permanent teacher workforce in schools. It is also important to make progress in developing an evidence-based system to measure progress of school performance and evaluations. Lastly, raising standards in higher education would also help address mismatches between the skills of tertiary graduates and the skills employers need, as well as reduce the high levels of graduate unemployment. To implement these changes and many of the recommendations of the Review, Greece will need to give education expenditure the importance this sector deserves. Considering the dire impact of the crisis in this sector's budget, educational public spending will have to recover.
Rich and Poor: Opportunities and Challenges in an Age of Disruption
Before 1800, just about everybody was poor. You had royalty, you had these huge landowners, but they were a tiny, tiny minority and just about everyone lived in poverty. And everyone lived very much wedded to their land.  This was the entire history of humanity. There were some huge changes, of course: agriculture.  What happened was that mostly people were hunters and gatherers before agriculture. And then, when agriculture started, food production was then brought to people rather than vice versa.  People didn't go out looking for food. There were places where they knew that a steady supply of food would be created.
But wealth was tied to land, and those who controlled land, controlled much of the world's wealth. And the difficulty was in shipping or moving anything: things, ideas, people. It was very difficult to move anything, so there wasn't very much trade. And so, the cost of moving things really mattered and shaped the way societies were formed.
In the 17th century, only 3,000 European ships sailed to Asia. In the 18th century, for the next hundred years, about 6,000 ships sailed. It was very difficult to move anything.
Now, around 1800-1820, some very important things happened. And the two most important ones that most historians will look at are the Industrial Revolution and steam power. So, around 1820, steam power allowed the movement of goods, and the movement of goods fueled industrialization, trade, and economic growth.
But at that time, also was the start of–one of the great economists, Deirdre McCloskey, talked about right around that time, with the advent of the Industrial Revolution and steam, you had the beginning of what she called the great divergence, meaning that certain areas, especially Europe and the United States, grew rich very, very quickly.
She talks about the founding–the formation of the so-called bourgeoisie. And the bourgeoisie were former peasants who were close enough to royalty that they wanted to live like that. And so, she sees the development of the bourgeoisie as a very important development because they were the precursors of the middle class.
Now, in the two centuries from 1820 until now, what happened was that the availability of goods, of services just exploded.  It wasn't a little bit of change, it was just huge amounts of change, because before 1820, people were born and they died in pretty much the same world. The world, from the time they were born to the time they died did not change very much.  But starting in 1820, the world started changing very, very quickly.
Two centuries ago, four out of five U.S. adults worked to grow food for their families.  Now, one farmer feeds 300 people.
So, the reason I talk about this is because we have to put these things in perspective. We have to put the evolution of sort of human advancement–which is what we work on at the World Bank, development–we have to put it in the perspective of what happened.
You know, Chinese President Xi Jinping talks about having thousands of years of a great success.  And truly, it was Asia and the Middle East that were the sources of much innovation before 1800. And then, he often says that the 200 years after 1800 were not so great for China, but of course China is growing very rapidly, now.
And again, before 1800, remember, just about everybody was poor.
Now, this is what I see everywhere I go: Everywhere I go I see young people who may not own a smart phone, but who have access to smart phones. By 2025, many analysts are saying that the entire world will have access to broadband.
Now, when you get access to broadband, when you can see things on the Internet, a couple of things happen. First of all, people are much more satisfied with their lives when they have Internet access.  When they have Internet access, they can see how the world works. They can watch movies, television shows. The satisfaction with life goes up.
But the other thing that happens is their reference income goes up, and this is something that we actually study at the World Bank Group. The income to which they compare their own goes up. And when that happens, your income also has to go up or you're not very satisfied.
Now, technology is going to do us a great service by getting everyone connected, but the other thing that technology is doing at the same time is it is going to eliminate some jobs.
Now, there are a lot of different predictions about how many jobs will be lost. Some will say that just about the jobs will be lost.
Let me just tell you what one person says, this person who I got to know quite well, Jack Ma, who founded the great company, Alibaba, right? He's the richest man in China. It's a huge company.
Jack Ma puts it this way: "You know, when my grandfather was alive, he worked 16 hours a day, 6 days a week, and he felt very busy. Me, I work eight hours a day, five days a week, and I feel very busy. My children will work three hours a day, three days a week, and they will feel very busy."
He says that every single muscle power job will be eliminated by technology.  And he goes further and he says that every single knowledge-based job will be eliminated, as well–maybe not as quickly, but it will be eliminated.  And he predicts that whenever you have these kinds of ruptures–and he thinks that this is a major rupture, the way that artificial intelligence and technology is moving, there is a major rupture.  And when that happens, his interpretation is that when those things happen there are at least 30 years of tremendous difficulty and upheaval.
And so, what do we do? How do we respond to these kinds of upheavals? How do we respond to this phenomenon in which everyone knows how everyone else lives and their aspirations are going up. They want more for themselves while, at the same time, technology potentially could eliminate many, many jobs.
Well, if you look back into the history of how you tackle the problem of inequality, how you tackle the problem of poverty, this man, Andrew Carnegie, is a very important figure. He wrote, in a book called "The Gospel of Wealth"–he said that, "The man who dies leaving behind many millions of available wealth, which was his to administer during life will pass away unwept, unhonored, and unsung. The man who dies thus rich dies disgraced."
So, Carnegie helped other, John D. Rockefeller, think differently about their money. And so, philanthropy was started.
The word "philanthropy" entered the English language around the 17th century, translated from the Greek "philanthropia," which means "love of mankind."
Excuse me, let me go back a second.
And British Parliament in 1601 passed the Statute of Charitable Uses, the first time when governments were supposed to take care of the poor in any given region.
Around the same time, Islamic leaders endow property to create major educational centers. Shah Abbas–we were just talking with Padideh about this–of Persia, endowed school at the royal mosque, which set a pattern for similar colleges.
And so, there was this tradition of philanthropy. But the point here is that philanthropy, which was our traditional way of thinking about how you tackle the problem of inequality and poverty is not going work anymore.
Let's look at another example, a very famous one of course is Albert Schweitzer. Now, I always get in trouble when I talk about Albert Schweitzer like this because people, for good reasons, admire him very much.  But Albert Schweitzer was part of a different tradition. He was part of the colonialist movement.  He was also a missionary.  And there was this sense that it was the responsibility of people like Albert Schweitzer to bring civilization to the uncivilized masses. But Albert Schweitzer also portrayed himself as a great physician who was providing care to the poor.
And I'd first heard about this because there was a cardiologist from the hospital that I trained in in Boston who actually, in the 1950s, visited Albert Schweitzer. And when he came back, he wrote a little report saying that he was absolutely appalled at the conditions that he found in Albert Schweitzer's hospital.  He was a cardiologist that specifically looked at rhythm disorders. And he said that so many of the patients there had these things and there were things to be done for the patients but they were not done. A little tiny report, but then it turns out that there was a British journalist named James Cameron who visited Schweitzer in 1953, and here's what he wrote about the hospital that he found:
"The hospital was a shock. I had been prepared for some unorthodoxies, but not this glaring squalor. The doctor had fenced off all mechanical advance to a degree that seemed both pedantic and appalling. The wards were rude huts, airless and dark, plank beds and wooden pillows, everyone infested with hens and dogs.  There was no running water but the rain, no gas, no sewage, no electricity, except, again, in character, for the operating theater and the gramophone."
Cameron goes on to say, "I said then that the hospital existed for him rather than he for it. It was deliberately archaic and primitive, deliberately part of the jungle around it, a background of his own creation which clearly meant a great deal more philosophically than it did medically."
Now, part of the criticism here is that what Schweitzer was up to–and he talked about it with great clarity.  He talked about it–he was an inspiration to many. He talked about his mission to correct the wrongs that others had instigated in the name of Christianity.
But for 30 years I worked in an organization called Partners in Health, and we tried to do exactly the opposite of what we saw Schweitzer having done. We thought, "Look, this is not about us. It's about providing the best possible medical care we can out of respect for the fundamental humanity of these others."
And so, there is so much aspiration, there is so much desire to have access to education, to make sure that your children are not underfed. There is so much aspiration out there, and once people get access to the Internet, the aspiration will continue to go up. How do we possibly respond to this situation?
Well, it gets right to the core of what we are as an institution. The World Bank Group–at the time, it was just one part of the World Bank Group–was founded in 1944 out of the ashes of World War II. In a, I think, just brilliant–what's the right word? In a brilliant move, leaders in the world, especially of the U.K. and the United States said that, before the war ended, we have to build institutions that, on the one hand can bring stability–because before World War II and during World War II, currency wars were happening.  Countries would devalue their currency, would try to do everything they could to gain an advantage, and the status of global currencies was in a mess. So, they needed to bring some stability to the global system.
But also, they thought that there should be an organization that rebuilt Europe, and that is what the World Bank is. The original name was the International Bank for Reconstruction and Development, and the purpose was to rebuild Europe.
But then, something happened right around that time, which was in 1946, which was announced in a commencement speech at Harvard in 1946 by General George Marshall called the Marshall Plan. The Marshall Plan then took over in terms of building back Europe, and the World Bank had to find some other things to do.
The first loan of the World Bank, though, was to France. But since that time, the World Bank has shifted and then focused more on poverty.
The founding principles–the Secretary of Treasury, Henry Morgenthau, opened the conference and he said that the goal of the World Bank Group, the goal of the meetings, was to create a dynamic world economy–and I quote, "A dynamic world economy in which the people of every nation will be able to realize their potentialities in peace, to raise their own standards of living and enjoy increasingly the fruits of material progress. For freedom of opportunity is the foundation for all other freedoms."
Now, he also argued that, "…prosperity has no fixed limits. It is not a finite substance to be diminished by division.  On the contrary, the more that the other nations enjoy, the more each nation will have for itself."
So, this was a wonderful vision and I do not think we've moved too far away from that, even today.
By the way, the other person that put the conference together in addition to Secretary of Treasury Henry Morgenthau, was the great John Maynard Keynes, probably the second most famous economist of all time behind Adam Smith, but he was a very, very important person. And that conference, which was not easy, led to the foundation of this organization.
So, what do we do?  Well, over the past 70 years, countries have paid in capital, have given us money.  But we don't take that money and just give it away. Some of it we do, since 1962, but a total of $19 billion has been paid into the World Bank Group, including the International Bank for Reconstruction and Development, and also IFC, our private sector group.
Now, with that $19 billion, we've made close to a trillion–over $900 billion in loans and grants.  So, what happens is that if you actually create a bank and give them capital, they use that capital and then they can go to–we, anyway, can go to capital markets and raise financing. And we have been able to do that to the tune of $900 billion.
In addition, we have been able to put $28 billion directly into an account that we reserve for the poorest countries.  And this program is called IDA, the International Development Association. And IDA gives grants to the poorest countries.  They can pay it back over 40 years.  Right, very hard to get a loan that you pay back over 40 years at zero percent interest, and we do that to help countries grow. Now, that is what we have done over time.
When I first walked into the World Bank, I saw this sign: "Our dream is a world free of poverty." And I asked, why is this a dream? Who don't we turn this into a real target and a goal, and we did.
After three to four months of arguing–and that's what we do at the World Bank, we argue. We argue with data, we argue with politics and ideologies–we argue with many different kinds of tools. We came to a conclusion:  We wanted to end extreme poverty, that is, people living under $1.90 a day, by 2030.  And we also were committed to boosting shared prosperity, reducing inequality. And we decided that there would be three ways for us to get there.
The first, traditionally, we've always focused on economic growth but, in this case, we're focusing on inclusive, meaning everyone benefits; sustainable, meaning that it doesn't destroy the planet–inclusive, sustainable economic growth.
The second, because there are so many crises that are affecting the world every day, pandemics, climate change, refugees, fragility, conflict, violence, we wanted to focus on fostering resilience to those kinds of problems in the world that affect more and more people.
And finally, the third pillar was to invest more and more effectively in people. So, inclusive, sustainable economic growth; resilience to the various shocks that are happening in the world today; and investing more and more effectively in people.
Now, we have had to change because the world has changed, and the world has changed pretty dramatically.
In the 1960s, probably 70 percent of all capital flows, of all money going into developing countries, came from official development assistance, of which we're a part. So, in other words, the money that was going into the developing countries all came from the donor agencies, USAID, those agencies like that, and groups like ours. But look at over here how far it has dropped.
Oh, cool, see that?
So, even in 1990–in 1990–50 percent of all the capital flowing into developing countries was official development assistance.  But starting in 1990, it dropped, and now it's been less than 10 percent. So, we used to be able to tell countries what to do and they would listen to us because we were such a big player.  But now, all of official development assistance is only 9 percent.
And so, in that context, what do we do?  How do we play a role? How can we help the billions and billions of people in the world who are being born today, or who are young, who are going to be looking for jobs, how do we help them achieve their goals?
The first thing that I told you about: resilience. So, this is a woman living in a refugee community. There are so many people now living in situations of fragility. Two billion people in the world live in fragile and conflict-affected areas. And by 2030, 46–nearly half of all the people living in extreme poverty will live in fragile and conflict-affected states. We are doubling the work we are doing in fragile and conflict-affected states, but we are also realizing that we do about $60- to $65 billion worth of business every year.  We realize that 60- to 65 billion is nothing; it is a drop in the bucket. There is no way that we can solve any of these problems, the refugee crisis, pandemics, famine, all these–we can't solve them with our capital.  We have to find ways of leveraging others.
So, we have created, for example, after the horror of Ebola, we were so worried about why did we wait so long to respond to Ebola that we created an insurance instrument. And so now, for the first time in history, we have an insurance instrument that will release automatically when diseases like Ebola get to a certain stage. It would have released much, much sooner than money actually moved to Liberia, Sierra Leone, and Guinea during the Ebola crisis.
And what we did was pretty straightforward:  Instead of putting a bunch of money aside or going to donors and asking for money, we went to the capital markets and said, "Is anyone interested in purchasing a bond, a three-year bond, capital at risk"–meaning if there's an epidemic you're going to lose all your money–"but we'll pay you 8 percent a year."
There were so many people that were so desperate to get 8 percent a year that we were oversubscribed and now we have $450 million that sits in our accounts, ready to be disbursed if there's a pandemic. And we had to pay something for it, but a tiny fraction of the overall amount.
We're now using that same principle and we're working on developing famine insurance. You know, famines happen all the time, we're always late in responding. And we thought, "Why not create an insurance instrument that will respond right away so that we catch the famines earlier and literally snuff them out rather than letting them get worse and worse and worse?"
So, we're doing this and we're trying to leverage everything we possibly can. We're now the largest financers of climate change activities in the world.  We're committed to this but, again, we can't do it with our own financing. We have to leverage others.
This is really the biggest game.  So, the size of the global economy is about $78 trillion. There's about $7 trillion sitting in negative interest rate bonds. That means that you put your money in the bank, but rather than the bank giving you interest, you pay them every year to hold your money.
So, if you gave them $100, at the end of the year, you'd have $98 or $99 instead of $100. And the reason people do that is they're so scared of risk that they're willing to pay someone to hold their money, because at least that's safe.
There's another $10 trillion sitting in very low yielding government bonds. There's another 9 trillion in cash. Literally, people take "thousand euro" bills and put them in their safes.
Now, we feel that that is the kind of money we need to be able to give everyone in the world an opportunity, and why not? They're getting such little return we think we can help them get a higher return while at the same time providing opportunities for everybody, and especially in the area of infrastructure.
So, the idea–this is the Guinean Stock Exchange. And I don't know why I show you this, but it's just a cool picture, Guinean Stock Exchange. The notion now is that, instead of seeing ourselves as a lender, seeing ourselves as direct interveners, we see ourselves as facilitators. And the idea that we're now talking about to everybody is the idea of maximizing finance for development.
How do we mobilize those trillions of dollars sitting on the sidelines for the benefit of the poorest people in the world? We know that the private sector has to be much more involved in development than before, because there are many, many examples of win-win situations. Let me show you one:
The Queen Alia International Airport, if you've ever been there, it's a wonderful airport. The Jordanian Government came to us and said, "We need to build the rebuild the airport and we'd like a loan. And then, if you give us a loan–if you give a loan to the Jordanian Government, then our people will run it."
We said, "You know, there may be a better way to do that."  And so, without taking a single penny of loan, without paying a single penny in terms of interest payments on loans, we were able to get the private sector to finance this completely.
The Jordanian Government, though, still owns 54 percent and therefore receives 54 percent of the profit.  And without putting a penny into this airport, they have received over a billion dollars over the last nine years in revenue from the airport. They were about to go a very different direction, but really, wonderful staff at the World Bank Group said, "Why don't you try this another way."
This is a great example of how we can change the way we do business and not only reduce the indebtedness of countries but give them a return. This is the kind of investment that now a lot of people want to make.  There's $5 trillion that's about to be inherited by Millennials from their Baby Boomer parents.  And what I'm hearing every day is that "We don't want to just sit on this money.  We want the money to have an impact on the world."
So, there is this phenomenon that's called "impact investing," very important.  What people are saying is, it's not just risk and return–what's the risk of the investment; what's the return. It's risk, return, and impact.  And if the impact is high, we're willing to take more risk and get less return.
Great idea, but it's tiny, relatively speaking.  It's about $200 billion a year now, which is very small compared to the needs. The need to achieve the Sustainable Development Goals, a UN–the UN Sustainable Development Goals, the global goals, as they're called, is about $4 trillion a year. So, all of official development assistance is about $140 billion; you throw impact investing on top, another 200 billion.  Still, we are nowhere close to the 4 trillion that's needed to meet the demands of impact investing.
Here, what we've done is, instead of saying, "Take a lower return," instead of saying, "This is an issue of charity," we have put together a system where we go to African countries and we help them with all aspects of doing a solar auction.
And so, again, without our putting any money in, just helping them technically do it–we have a program called Scaling Solar.  And Scaling Solar now has gotten–the latest was 4.7 cents a kilowatt/hour in Senegal. So, Senegal pays 15 to 20 cents per kilowatt/hour of electricity, but the solar auction, because we helped them with it, now they're only going to pay 4.7 cents. This is a huge victory and we're now going to take that elsewhere.
Again, we didn't put any money in; we just helped structure the deal. And, in structuring the deal, we got solar at a low price.
But this is the crisis that I am most concerned about, the human capital crisis. 400 million people lack access to essential services. 100 million people fall into poverty every year from catastrophic health expenses. Only one-third of the world's poor are covered by safety nets.
All of you are covered by safety nets; the one-third of the world's poor are not. The worst part of this problem, in my view, is childhood stunting.
Childhood stunting is very straightforward: If you're two standard deviations below the height for age–and we know now that all children in the world can grow 25 centimeters in the first year, 12 centimeters in the second year. There is some variation, but every child in the world, if they're adequately nourished, can grow that much.
So, the numbers are just stunning. There are–38 percent of children in Ethiopia are stunted, and we know that stunted children do not learn as well and definitely don't earn as well when they get older. In other words, what happens to these stunted children is their brains are actually not formed.
This is a study by a professor at Harvard from Bangladesh. On the left is a stunted child and the right is a healthy child, and the gold is just the neural tracks.  In other words, stunted children have fewer neural connections, and so they are just simply not going to do as well, and the percentages are extraordinary.
All of Sub-Saharan Africa averages about 30-35 percent; India, 38 percent; Indonesia, 37 percent; Pakistan, 45 percent.
So, that proportion of the children are likely not going to be able to compete in what will be a surely more digitally demanding economy of the future.
Education, we also have huge problems. And 250 million children cannot read or right.  In India, three-quarters of third graders can't solve a two-digit subtraction. By fifth grade, half of the students in India still could not.
In Brazil, skills of 15-year-olds have improved but at the current rate, they will not reach average wealthy country scores in math for 75 years, and in reading it would take 263 years, at current rates. 260 million children still not in school.
And what is even worse is that even in countries where children are in school, what we found through a project that we're running–you know, we have some American University grads from the World Bank here.
Where are you guys?
You see, there's a future.
And we have now done one of the most important learning outcome studies. It is called the Harmonized Learning Outcome Database. And we now know, for any given country, how much learning happened in the years that you were in school. So, even if you were in school for 12 years in Yemen or Malawi, you are only going to get about half the benefit as if you were in school in Singapore. So, Singapore has a great school system.  And if Singapore is the standard, then what we found, unfortunately, is that many countries in the world you lose almost five years of education.
So, the education system is not working. So, what happens if you're stunted to begin with and your educational system is not providing you what you need to compete in the economy of the future?
Well, I have been involved in global health and global education for most of my adult life. And one of the things I recognized is that we had been extremely successful in arguing for more funding for HIV, more funding for TB, more funding for malaria, and even more funding for education.  But it created a situation where many heads of state and ministers of finance have become a bit complacent and are waiting for the grants to come, and they're kind of saying, "Well, if you give us the money to do that, we will. But if not, we have more important things to spend our money on. We have to spend our money on hard infrastructure. We have to spend our money on roads and electricity." And all that is true, but what we have also found is that human capital may be the most important investment they can make.
This is from a study on the wealth of nations, we call it the changing wealth of nations. And for the first time–and Quentin.  Where's Quentin?
Quentin Wodon earned his Ph.D. in economics here at American University, was the lead economist who brought human capital for the first time into the wealth of nations. And the human capital is the dark part, right?  So, that is human capital.  So, high-income countries, middle-income countries, low-income countries–even in low-income countries, human capital is a significant proportion of the overall wealth of a nation.  And it is the first time we have ever included human capital.
If you, though, look at human capital and wealth per capita, first of all, you see that the high-income countries have so much more wealth per capita than the middle-income or low-income countries.
But then, look at the proportion of human capital, the dark, and see how far the low- and middle-income countries have to go to catch up in terms of their investments in human capital.
So, we made a decision. It worried me that so many countries were just waiting for the grants to come in.  There was no urgency in investing in people and their health and education. So, we're going to come up with a ranking.
Now, rankings are very controversial, but what we know about rankings is, boy, do they get people's attention.  So, we're actually going to rank the countries, the member countries of the World Bank Group, and we're going to look at survival, we're going to look at quality-adjusted years of schooling–so, it is not just the number of years you went to school.  We're going to use the database that we're developing at the Bank and we're only going to give you credit for those years of school that you actually learned, the years of school to which you actually learned.
And if you look at two health indicators, adult survival and childhood stunting, you really can bring into the equation the impact of health on where you sit in terms of your overall human capital.
So, we are going to do a ranking. We are going to come up with a productivity number. I can talk more about it later if you're interested in the details of it.  And we're going to announce this–we're going to publish this ranking in October at our Annual Meeting, and it is going to be incredibly controversial.
There are many, many leaders who will be very angry with me, especially the countries that come out ranked below countries to which they've always felt superior.
And yet, what we know from the Doing Business ranking is that, unless you do a ranking, it doesn't get people's attention.  We have done study after study after study showing that investing in health and education is important, but those studies haven't led to the kind of response that we need.
Now, is it possible to do something? Absolutely.
This is Peru. We found that–I worked in Peru for years, and in Peru for years and years and years we tried to reduce childhood stunting but it never happened.  And then, finally, in about 2007 or so, the World Bank took some money that it wasn't using elsewhere, put it into a national project on trying to reduce stunting and, in seven years, they reduced the stunting level in half.
We learned a lot of lessons from that and the point we are going to make to all our clients is we're not condemning you with this ranking. We are trying to get you to pay attention and then we're going to do everything we can to help you move up the ranking because, in fact, if you don't, your people may not be able to compete in the economy of the future.
Now, as I wind down here–oh, my goodness. Okay, we have more time afterwards. I want to talk about, in the context of the history–the history of development that I talked to you about. I really do feel, especially with so much of the controversy that you see today, I think that there has to be a new way of interacting with each other as human beings.
You know, when I say that 200 years ago just about everyone was poor, 50 years ago, when I was a young person–54 years ago when I was still living in Korea, there was a sense that countries like Korea, the poorest countries in the world, would always be poor, you know, the term "Poverty will always be with you."
And so, there was a huge amount of literature of how rich countries and organizations like the World Bank, how they should think about their mission with respect to poor people. And there was a huge amount of literature created.
And when I as an anthropology grad student read those historical accounts of my country of Korea, I just didn't recognize what they were writing about.
And so, I read a book in graduate school that was one of the most influential for me.  It was a book called "Orientalism," by Edward Said.
Does anyone know that book? Yeah.
And you know, I have to tell you, everywhere I go in the Middle East, and even in Asia, people have read this book.
Because here's what Edward Said said–Edward Said made the argument that when you read accounts of the Orient–and for him, it meant the Middle East, Persia, and–you know, the countries of the Middle East, but it extends all the way out to Japan and East Asia. He said that, when you read accounts of those countries, you're not really reading about those countries.  You're reading about the authors, because the authors are using their accounts of those countries for other purposes than humble description.
And he wrote this: "There is a difference between knowledge of other peoples and other times that is a result of understanding, compassion, careful study, and analysis for their own sakes. And on the other hand, knowledge–if that is what it is–that is part of an overall campaign of self-affirmation, belligerency, and even outright war."
Now, I–let me suggest to you–I feel like I'm back to being a professor–let me suggest to you that the anthropological mission of doing ethnography, of really trying to understand what the world looks like from the perspective of others, is just as important as all the technical things that I've talked to you about. This is a change that fundamentally we need to see.
It all goes back to this: These kids want to have a chance to become whatever they want. And I think about–you know, this is me back in 1963 living in Korea. And this is what Korea looked like in 1963, one of the poorest countries in the world, lower GDP per capita than Ghana, than Somalia, than Kenya.
And this is what the World Bank said: "Korea is so poor, they're so backward, we're not going to give them a loan because they would never be able to pay it back." They were wrong about that, of course, but that's what they said.
Last year, I was in Tanzania and I was in this classroom. And I like to ask the children, "So, what do you want to be when you grow up?" Two kids raised their hand and said, "I want to be President of the World Bank."
Just like you, my own staff and the teachers laughed.  But I said, in–I stopped them, and I said, "In 1963, when then-President of the World Bank, George David Woods, if he had visited Korea"–and it is plausible that he would visited Korea to see if they were eligible for loans, then–"if he had visited Korea and if he'd visited my preschool, I doubt that he would see–I doubt that he would have thought that one of his successors was sitting in that room."
So, can we do this?  Can we actually create equality of opportunity for everyone? I would argue that if we don't, we're in big trouble. About how many years ago–55 years ago, President John F. Kennedy came to American University in June to give the commencement speech, and in that commencement speech, he said this:
"No problem of human destiny is beyond human beings. Man's reason and spirit have often solved the seemingly unsolvable, and we believe they can do it again."
He was talking about the nuclear test ban treaty, but I think the task we have today is even bigger. Can we give everyone, every child on earth, an equal opportunity to become what they want?  Hey, I had that.
I truly believe that every child deserves it. And unless we use the tools of finance to do it, we will not succeed.  But it is going to be your problem, because the thwarted ambitions of a young person in Africa and the Middle East is not going to be distant from you. That we know. The world is so interconnected that you're going to have to think about their prospects, as well as your own.
*World Bank Group President Jim Yong Kim 2018 Spring Meeting Positioning Speech, American University Washington, D.C.