Nepal trusts India much less than China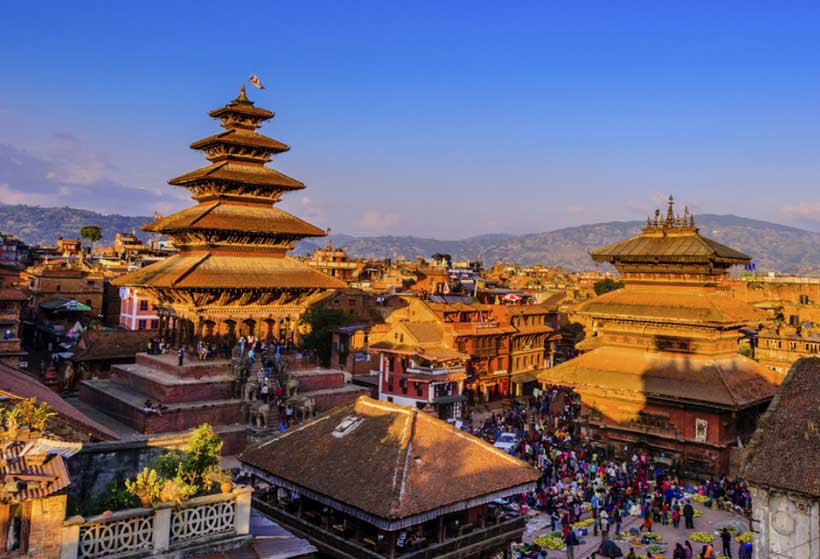 Like Pakistan, Sri Lanka, and Bangladesh, Nepal is also, in recent years, tilted towards China, especially for economic, rather than military or even strategic reasons although all of them have made any collative effort on any regional or international issues.
Nepal, the landlocked country, which is surrounded on three sides by India and China on one side over the Himalayas, depends on neighbors for its prosperity and also diversifying the sources of key supplies was very important for the successful conduct of its policies. Nepal is trying to find a way to ensure manageable risk in terms of resources it gets from other countries.
Extra pressure from New Delhi forced Nepal to move towards China.
Constantly tormented by the necessity of pursuing a neutral policy to effectively balancing between its immediate but antagonistic neighbors China and India, Nepal has been striving to figure out how it is related at multiple levels to both countries.
China and as well as Indian exerts tremendous influence on Nepal to toe their lines however, Katmandu is keen to be a partner of Beijing. While China is a UN veto power and world economic power, India is an emerging economy with its own limitations.
However, Hinduism playing a mediating factor, India has extensive political and economic influence over Nepal and thus far it provides much of Nepal's supplies. In 2015, India withheld supplies, especially fuel, to the country after the devastating earthquake by blocking traffic because of a political dispute. Here Beijing stepped in and supplied fuel along the mountainous routes and became a trusted partner.
Rise of leftism
A Left parties' alliance formed a new government in Nepal after a landslide victory, seen as a triumph of China over India regarding influence in Kathmandu, with pro-Chinese nationalist leader K.P. Sharma Oli expected to be prime minister. The alliance has an ideological affinity with communist China. Its top leaders, Oli and Pushpa Kamal Dahal, both ex-prime ministers, also have a personal rapport with top Chinese and party officials.
Leaders of the coalition in Katmandu said the new government will launch five or six megaprojects aimed at spurring development and job growth, including revisiting the Chinese company-funded Budhi Gandaki dam project, which was cancelled on the eve of the election.
After the elections, Oli visited a border point with Tibet where a trans-Himalayan railway project is under review, further indicating future collaboration with China. Oli pledged to bring in Chinese investment for key infrastructure projects, and to return a US$2.5 billion hydropower project to China's Gezhouba Group, after the current government scrapped the deal citing contract "irregularities".
While Chinese communist ideology seems to be close to Nepalese political and intellectual classes, India under BJP government tries to  use Hindu religion to exert  more influence the on the Nepalese mindset than China.
Nepal's newly elected Left Alliance is not doing Beijing's bidding, but seeks to balance relations between China and India to promote economic growth and political stability. The sweeping victory of the Communist CPN-UML and Maoist Party alliance in Nepal's election this month has raised alarm bells. The primary concern in the international press seems to be that a communist government will allow China a greater role in a region India sees as its backyard.
Earlier, the centrist Nepali Congress-led incumbent government played a role in slowing Beijing's economic advances in Nepal. Not one project has yet been pursued under the "Belt and Road Initiative", eight months since a framework agreement. Breaking with the tradition of visiting India first upon taking office, Dahal chose China as his first port of call in August 2008. Oli signed a slew of deals, including on transport and transit, when he arrived in Beijing as Nepal's leader in March 2016. These treaties not only ended Nepal's sole dependency on India for trade but also diversified the Nepalese market for petroleum imports, crucial for a landlocked nation that has faced three economic blockades by India.
Once considered close to New Delhi, Oli became vocal against India when it pressured Nepal over its constitution in September 2015, then imposed a five-month blockade, and tried to bar Oli from becoming prime minister. But, he is not against seeking Indian investment for development. No government in Nepal can ignore one neighbour at the cost of another. Nor can it afford sole dependency on either.
With China surpassing India on the list of Nepal's largest donors and investors, India's unease has deepened. The problem is India still sees Nepal as its "backyard"; it welcomes Chinese investment but expresses deep suspicions when it comes to its neighborhood.
There is speculation, mostly from Indian sources, that China has been pulling the levers behind the scenes to help the two major left parties come together. Western media have repeated the claim, with the alliance depicted as a pro-China force and Chinese activities held responsible for India's diminishing influence in Nepal.
If India's traditional dominance in Nepal has waned, it is more because of India's reckless diplomacy and it new hate politics. After India imposed an effective blockade against Nepal in 2015-16 for refusing to write a constitution on its terms, Nepal was cut off from fuel and essential supplies for more than five months. Nepal has since looked north for development and diplomatic balance and China readily obliged its red neighbor.
India may not accept developments in Nepal as the aspirations of a landlocked, sovereign neighbour to diversify its trade, transport and transit dependencies.  India's clout would not count greatly if it continues to try to reverse the logical trend but on the contrary would only help steer China's speedy footprints in Nepal.
But India must honour its earlier infrastructure commitments to Nepal, while admitting that China is a reality, not a choice, for Kathmandu.
Logic
It is geographic logic that geared Nepal towards the south but economic and geopolitical logic means it now also engages China. There is now a consensus across the political spectrum on the need to end Nepal's exclusive southern orientation and develop better trade and transport links with China.
Study of China and its language are becoming popular in Nepal. The students of Nepal are also taught about contemporary China, including the government's claim that it is the home of the "four great new inventions", including shared bicycles and high-speed railways. The number of Chinese tourists travelling to Nepal is also swelling, rising 20 per cent in 2016 to 104,000, according to figures from the Nepal Tourism Board. The sharp rise has coincided with an increase in the number of Chinese businesses in Kathmandu, including hotels and restaurants in the so-called Chinatown in the city's Thamel district.
Since opening in 2015, Nepal has organised dozens of events promoting Chinese culture. In fact, the Classrooms have sparked controversy in some countries because of their links to the Chinese government, and the perception that they support Beijing's political objectives and fail to tackle sensitive topics. There are more than 1,000 such classrooms in primary and secondary schools around the world.
While China's cultural clout in Nepal lags far behind that of India – with which Nepal shares a 1,700km open border – opportunities for Beijing to shift that balance were given a huge boost when Nepal's Communist alliance, which is seen as friendlier to China, secured a landslide election victory.
Totalitarian China has restrictions placed on religions, especially Islam and controls over the internet and blocks many websites which might carry content that is religious and not exactly critical of the ruling Communist Party – including Google and Facebook – but also religious contents.
Political economy
The left win in Nepal was good news for China, given Nepal's strategic location as a buffer with India and proximity to Tibet, an autonomous region of China with lingering tensions over its sovereignty.
Nepal's communists have been adherents of the market economy since the establishment of democracy in 1990 and many leaders have close relationships with India. Most domestic forces have sought help from India and China to gain political leverage and both countries have attempted to influence political processes. Their involvement is as effective as local dynamics allow. No country wields absolute power over politics in Nepal.
China is Nepal's largest foreign investor, and in the past financial year alone has invested 8.36 billion Nepalese rupees (US$81.89 million) in the country, an increase of almost 35 per cent from the year before, according to Nepal's Department of Industry.
More than US$80 million of investment are helping Beijing to win hearts and minds in its tiny, but perfectly placed neighbour Nepal. Much to the annoyance of New Delhi, Beijing has poured huge sums of money into infrastructure projects in Nepal – a landlocked nation with China to its north and India to its south – under its trade and infrastructure development plan known as the "Belt and Road Initiative".
The impact of Chinese investment in Nepal is visible in its roads and motorways, hydroelectric projects and railways, as well as the rebuilding projects launched after the devastating earthquake of 2015 that left more than 9,000 people dead. At the entrance to a project, partly funded by Beijing, to restore a tower in front of the old royal palace in Durbar Square, are the flags of both Nepal and China.
China has been making strenuous efforts to increase trade with Nepal. At present, China-Nepal relations are developing at the fastest pace we've seen," said Yu Hong, Chinese ambassador to Nepal. Nepal's closeness to China, expected to deepen under its New Leftist government, is just a sovereign nation's wish to secure its interests and India should accept it as such.
In fact, the regional superpower China helps Nepal overcome it's over dependence on India by providing those resources that come from India to the former kingdom of Himalayas. Nepal ended its long dependency on India for internet access recently by opening a fibre optic link to China. Nepal's information minister Mohan Bahadur Basnet inaugurated the link across the Himalayas at a ceremony in the capital, Kathmandu. Previously, all internet connections in the landlocked country came via three access points in its only other neighbour, India through the cities of Bhairahawa, Biratnagar and Birgunj in southern Nepal.
The new internet line provided by China Telecom Global extends from Kathmandu to the border point Rasuwagadhi into the Tibet region. It comes after a coalition of two communist parties that are considered pro-China won Nepal's election last month. The Nepal line is connected via Hong Kong bandwidth, which is not restricted by the infamous "Great Firewall". The link was scheduled to be up and running by the middle of last year but it was delayed due to the difficulties of working at high altitudes above 4,000 metres.
Work on a communications link to China was finished in December 2014, but it was completely destroyed in a devastating earthquake in April 2015. A land transport route through the Tatopani border point to China is still closed.
Chinese influence can be seen across Nepal, Beijing still has some way to go, especially in the area of people-to-people relations, which are still not sufficient. Cultural relations and the people-to-people relations are the vehicle for strengthening bilateral relations
This visible presence is a concern for India, which regards China as a strategic competitor and views the influx of Chinese money with a geopolitical edge. There are also perennial concerns over China's soft power regarding sovereignty
Helplessness
Any country would like to have full and complete sovereignty and freedom to decide its course without any pressure or force from any other big nation. Nepal feels for that ambiguity and inability. .
Nepal is pursuing a long history of trade and cultural connection with China that was broken after the British incursion. What the India/West axis sees as Nepal being breaking away from its fold, but Nepal sees as a much-needed rebalancing.
Nepalis strongly desire to break free from the shackles of political and economic domination from both Indi and China. They have seen Asian countries transform themselves in a matter of decades and are eager for similar change. They have seen the rise of China and how the Chinese have lifted millions out of poverty. They have seen in their own country how almost 70 years of Western development aid has done little in comparison.
There is a great disillusionment against what is widely perceived as the proclivity of the Indians and Westerners to get mired in domestic politics and social engineering Nepal is not a "security instrument" to contain China, nor a battleground in the new great game. It is easy to see why the Chinese model, with its strictly economic terms of engagement, is preferable to many, even with concerns about "debt entrapment" among countries dealing with China.
Anyone in China's neighborhood is going to be aware of the gravity of China's pull and the amount of influence it could potentially wield. But many in Nepal appear unconcerned, focusing instead on China's massive economic development and the spillover benefits it could have for their country. 10 years down the road, Nepal's economy will have largely benefited because of the Chinese economy.
Obviously Nepal will benefit from the growing Chinese economy and the Chinese protection would ward off any threats from India.
Kartarpur Corridor: Sikh Soft Power
Ever since the inauguration of the Kartarpur Corridor, three months ago, in November 2019, it has drawn the attention of media and strategic analysts in South Asia, and outside the region, for different reasons. The Corridor, a long standing demand of the Sikh community, connects Dera Baba Nanak (Punjab, India) with Gurudwara Darbar Sahib, (Narowal Kartarpur in Pakistan) (which are barely 5 kilometres apart). Individuals wanting to pay obeisance at Darbar Sahib, can cross over through the Corridor, without a visa.
The founder of the Sikh faith, Guru Nanak Sahib spent a crucial phase of his life — the last 18 years — at the town of Kartarpur, which he founded (in 2019, along with members of the community, many governmental and non-governmental organisations, in different capacities commemorated the 550th birth anniversary of Guru Nanak Sahib).
While it is true, that in recent years, there has been an increase in the number of Sikh pilgrims visiting Pakistan on important religious occasions, and the Pakistan government had taken steps to encourage more Sikh pilgrims, the opening of the Kartarpur Corridor is significant, given that pilgrims can travel without a visa.
Darbar Sahib, Kartarpur is especially relevant, not just from a symbolic point of view, because Guru Nanak Sahib spent a significant part of his life –18 years. But because it was at Kartarpur, that Guru Nanak Sahib who came up with an alternative paradigm, and sought to challenge the status quo in South Asia, along with some of his close followers from different faiths, propagated the Sikh philosophy (Meditation and remembrance of God, honest and truthful labour, and sharing one's earning with the needy are often referred to as the three important pillars of the Sikh philosophy, which were enunciated, by Guru Nanak Sahib)
Kartarpur Corridor: Current context
If one were to look at the current situation, Kartarpur Corridor and the response so far, while it is true, that there are a number of logistical issues, which have resulted in the number of pilgrims crossing over, being far lesser than estimates. According to official estimates, from the Indian side, the number of individuals who have crossed over through the corridor is a little less than 45,000 ever since the opening of the Corridor.
One of the major causes identified for the Corridor, not receiving the sort of response, which was expected, is the requirement of a Passport for travel to Kartarpur. The Sikh community had been demanding an arrangement where by any ID would suffice.
Yet, there have been a number of positive outcomes. It has resulted in interactions between Sikh Community and locals. Pilgrims have returned with positive stories not just with regard to the Darbar Sahib, but the warmth of the local population.
The opening of the Corridor hasalso opened up vistas in the area of religious tourism not just for Sikhs, but for the Hindu community as well. Pakistan has stated, that not only will it renovate Hindu Temples, but will also permit pilgrims from India access to Gurudwaras and Hindu Temples they were not permitted to visit earlier.
Pakistan itself is likely to benefit not just economically, through religious tourism, but in terms of it's international image.
Impact on South Asia's geopolitics
One aspect, which can not be ignored is the Corridor's impact in the context of South Asia's geopolitics. A number of observers of South Asia, were surprised, that the Religious Corridor actually went ahead in spite of tensions between India and Pakistan (which have consistently deteriorated in 2019) . Similarly, a number of naysayers, in the media as well as strategic community, have been critical of the Corridor, arguing that Pakistan could use it to foment militancy in Punjab (this is a rather simplistic argument, which fails to take into account the sensitivities of Sikh pilgrims, who have no real interest in the politics of deep-states, and looks at the issue from a rather narrow lens)
What is especially interesting is, how the Corridor has drawn global attention. US, China and a number of other countries have welcomed the opening of the corridor, saying that it will pave the way for peace and harmony in South Asia. A number of Sikh activists and commentators have been speaking about the need for 'Sikh Soft Power' which can be effective in blunting narratives of bigotry and narrow mindedness which have gained currency globally in the past few years.
The opening of the Corridor, and its potential role in reducing conflict could be an important component of this Sikh Soft Power. In 2019, a number of other important events have helped in enhancing the stature of Sikhs globally. First, Sikhs in different walks of life have taken an unequivocal stance, against hate both in India and outside. Two prominent Sikh politicians – Tanmanjeet Singh a Labour MP in UK and Gurratan Singh, a New Democratic Party (NDP) legislator from Ontario in Canada were hailed for taking a firm stand against Islamophobia. Second, Khalsa Aid (founded by a British Sikh, Ravi Singh) an international charity while following the Sikh principles of compassion and Nishkam (selfless service)has provided humanitarian aid in conflict zones, and regions struck by calamities like floods and earthquakes. The stellar work of Khalsa Aid, is now recognized not just in South Asia, but globally.
It would be pertinent to point out, that The UN head, Antonio Guterres, also visited the Corridor during his recent visit to Pakistan. He had welcomed the opening of the Corridor in November 2019. "paving way for interfaith harmony and understanding by facilitating visa-free cross border visits by pilgrims to holy shrines."
This visit is important, because it brings to the fore the relevance of the Kartarpur Corridor in a global context. The UN Chief while commenting on his visit to Kartarpur, dubbed it as a symbol of Inter faith harmony. A prominent US based Sikh activist, Harinder Singh in a tweet stated, that the UN Chief's visit was significant. Said Singh:
'Guru Nanak Sahib started langar at Kartarpur Sahib, free & open distribution of Wisdom & Food. United Nation's Secretary-General & Pakistan's Minister for Religious Affairs Dr. Noor Ul Haq Qadri partook rice & lentil. Hope 1-Ness wisdom prevails to realize peace via the Panjab'
Conclusion
In conclusion, Kartarpur Corridor has religious significance for the Sikh community, but it has the potential for reducing tensions in South Asia (by possibly making a beginning, by propelling greater bonhomie and economic integration between both Panjab's) and could pave the way for greater people to people initiatives as well as trade between India and Pakistan. The Corridor will also help in highlighting the role, which the Sikh faith has, not merely as a 'bridge-builder', but an active facilitator of peace in South Asia at a time when the hopes are dim. The Corridor thus is important, as it is an important component of 'Sikh Soft Power' and also reiterates the relevance of what has been dubbed as Faith Based Diplomacy.
Islamic Extremists and Christians in Pakistan
Pakistani Christians played an important role in Pakistan's independence. When they were in dire need of Sikh, Persian, and Christian minorities' support, the Supreme Leader and other Muslim leaders promised them equal freedom and rights in the newly established government.
Thus Christians in Punjab and Sindh were fully active after 1945. Christians also supported the idea of a separate Muslim state.
Since Pakistan's independence in 1947, until the mid-1970s, the Pakistani government was largely secular. But on 26 March 1971, Eastern Pakistan was declared the independent state of Bangladesh, and most of the Pakistani Hindus (who lived in Bangladesh) separated from Pakistan. Meanwhile, Pakistan's transformation into a culturally integrated and increasingly Islamic state has turned Islam to the source of legislation and a cornerstone of national identity. The governments of Zulfiqar Ali Bhutto and Zia al-Haq therefore took greater Islamic law into account.
Pakistani Christians
Most of Pakistan's population are Muslims, but Christians are the largest minority after the Hindus. The south of Karachi has a large number of Christian settlements and there are many Christian villages in central Punjab and the cities of Lahore and Faisalabad.
Most Christians' Ancestors converted to Christianity in order to escape their lower caste during British colonial times. Christians are the poorest part of Pakistani society. But a number of prosperous Christians live in Karachi and their ancestors were of the educated and prosperous class.
Christians and the Islamic Extremists
Prior to separation from India, Pakistan was a diverse religious and cultural community, but later tolerance to other religions and cultures was reduced. Now, Pakistan is a country where Muslim extremist groups and movements do not tolerate religious minorities. As a matter of fact, Christians have repeatedly been subjected to bloody attacks by Islamic extremists. Pakistani Christians, especially Christian Neophytes who have converted from Islam to Christianity, have always been the main target of Islamic hardliners. In this regard, the terrorist attack in Peshawar and the attack on the Christian Center in Lahore were among the most violent terrorist attacks. Along with the bomb blast, suicide attacks, burning Christian homes and churches and increasing ISIL attack on Pakistani Christians at Easter or Easter celebrations are also signs of this.
Reasons behind extremists' attacks on Christians
While Christians and Muslims previously used to live in peace along with each other and were rarely attacked, the following factors increased attacks on them.
First. Indeed, some consider the Pakistan constitution as the root of The radicalization of space for the benefit of extremists.
Since the 1990s, Anti-Blasphemy laws approval has led to the Christians' being accused of Blasphemy and insulting the Prophet of Islam, while some of these allegations are false charges with just personal motivation. These accusations sometimes led to the violence against the Christians and they always have security concerns for religious celebrations.
Second. Before the separation, there was a lot of tolerance in Pakistan, but tolerance has been reduced for several decades.
Pakistani society has become increasingly Islamized and homogenized. As some claim that before the separation, minorities made up 15 percent of the country's population, but it is currently less than 4 percent.
Third. Most of the harassment of Christians in Pakistan by extremist Islamic groups is influenced by political parties. In this regard, some believe that extremist groups that have close relationships with the security and intelligence agencies play an important role in this area. Currently, these radical Islamist groups are managing thousands of Islamic schools and educational centers and provide children and youth with wrong and inappropriate teaching which lead to violence against religious minorities such as Christians. In the meanwhile, churches that engage in social and youth activities experience the worst persecutions.
Fourth. The US-led war in Afghanistan has made Christians more vulnerable to deadly attacks. Indeed, some acts of violence were politically motivated. Attacks on Christian minorities can also be part of a militant message to the West and also a warning to the government to message of Islamic extremists to the government to avoid from being too close to the West.
Fifth. ISIL has supporters in Pakistan, and many extremist militias in the two countries (Pakistan and Afghanistan) follow ISIL's fanatical views of Shia Muslims and theory of putting Christians under pressure and killing them.
Sixth. What is clear is that previous governments have virtually failed to provide adequate space to prevent the migration of Pakistani Christians abroad. In the meantime, the Pakistani opposition has accused the government of "serious violations" of religious freedom by failing to cooperate against terrorist groups.
The future of Pakistani Christians
Many Pakistani Christians believe that they do not have the socio-economic status and equal access to available opportunities, and indeed they are second-class, practically lower-income citizens, and have been denied to become President, Prime Minister, Senate Speaker, or National Assembly Speaker. They also claim that the Christians work in the poorest part of society. In the same vein, some Pakistani think tanks have included Pakistan in the list of a handful of countries that have placed religious minorities under the strongest pressure.
Despite supportive measures adopted by governments in Pakistan (such as allowing guns for Christians) to protect themselves against terrorist attacks, radical Islamists have always viewed Pakistan's Christians as a threat. However, as three-quarters of Iraqi Christians have left the country since the fall of Saddam Hussein's regime and also increasing of the number of migrant Christians in Syria and the region after 2011, This may also happen for Pakistan.
Indeed, there may be numerous reasons such as war, unemployment and convulsions in the region and the increasing attacks by ISIS and other fundamentalists behind the increasing of Pakistani Christians' migration to abroad in the short and long term. This in turn can have many effects on Pakistan and its relations with Europe and the West.
Will the President Trump's India-Visit be fruitful?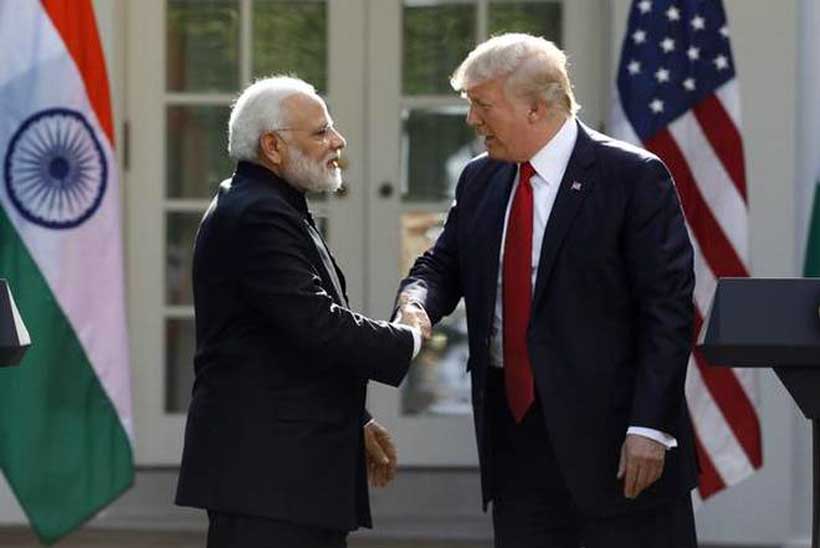 Will President Trump's visit to India on 24-25 February be fruitful? Will the US achieve its goals? Will it be beneficial for India? Will it be merely a personal visit to please Modi or a pleasure trip? There are so many similar questions in many minds.
I think there might be two objectives of this visit: One may be, President Trump has his own agenda on this trip to India, as he is just at a launching stage of his presidential campaign for presidential elections to be held in November this year. He needed political support from his friend Modi, as the Indian-American has a certain vote-bank in the US. He might be seeking his support in Presidential-Elections. The second may be a long term US policy since President George W. Bush administrations and continuing under Barack Obama's tenure, that the US needs India as a strategic partner to help "Counter Russia and Contain China".
Regarding the first objective, Modi is losing his popularity inside India as well as globally. His extremist policies have bounced back already. Kashmir is burning, a civil war in ongoing almost in 20 states against discriminatory Citizenship Act-2019. Law and order situation has drastically deteriorated. Investors are leaving, foreign tourists are advised not to travel to India. The industry is being closed. The routine business has been affected adversely. The economy is almost collapsing, and the country is bleeding. Social unrest and political instability have damaged Modi's popularity in India. Not only the Minorities but moderate Hindus, Intellectuals and neutrals are opposing Modi's policies. His policies are also not welcome by the International Community either. Anti-India protests, agitations, rallies around the world have been witnessed. Human Rights Organizations, International Institutions, and all Peace-Loving nations and individuals are criticizing his policies. India is passing through the worst crisis of its 7 decades-history, under Modi's leadership.
Under this scenario, President Trump's any association with Modi may become counter-productive and Presidential Elections may bring results contrary to his expectations.
Regarding the second objective, the US was seeking strategic cooperation with India to "Counter Russia and Contain China". As the US is losing its influence in this region and facing failure one after another. The US is left with no option except withdrawing its troops from Syria and Afghanistan. The US could not face Iran in the Middle-East and may leave Iraq too. Philippine is out of American Influence. Practically, the US cannot face Russia in the Baltic Ocean, Cannot face China in the Pacific Ocean, and cannot face Iran in Middle-East.
With this background, the US-supported India, projected India, up-lifted India, "to Counter Russia and Contain China". The US has signed with India the "Major Defense Partner" agreement and Indo-Pacific Alliance agreement. The US supplied India with the latest lethal weapons and hi-tech advanced technologies. Extended financial assistance, trade concessions, market access on priority. Extended political and diplomatic support at International platforms like UN, WTO, UNSC, IMF, FATF, EU, World Bank, NSG, etc.
The US has been helping India out of the way, sometimes directly, and sometimes through Israel or through its allies indirectly. As a result, India has become the biggest beneficiary of US assistance after Israel.
Will India meet the expectation of the US? In case of need, do India have a will or capacity to deliver according to American's expectations? While India is collapsing and Modi-Initiated civil war leading India toward disintegration, keeping any expectation from India, maybe just a dream only.
It is worth mentioning that for the last 7 decades, Pakistan was a close ally with the US during the cold war era and front line state during the war on terror. Pakistan's role was vital in achieving the strategic goals for the US in this region and globally. Pakistan's role was appreciated and acknowledged on several occasions. The US leadership knows the capabilities and potential of Pakistan very well, especially the Military leadership is much more aware. Pakistan is a Peace-Loving Nations and well matured. We are a responsible state and understand the consequences of war, especially when the two countries are nuclear states. Pakistan is always willing to be a partner of any peace process anywhere in the world. We are against any armed-conflict or use of force. We wish, all differences around the world, maybe resolved under UN Charter diplomatically, including long pending Kashmir issues.