Moderating Saudi Islam: Government proposes tightening fundraising rules
A Saudi draft law could constitute a first indication that Crown Prince Mohammed bin Salman's vow to return the kingdom to a moderate form of Islam will some reshaping of the kingdom's global funding for Sunni Muslim ultra-conservative educational and cultural facilities as well as militants.
The law, if adopted, would at the very least tighten rules governing the raising of funds in the kingdom that often flowed to militants in campaigns of which it was not always clear whether the government had tacitly approved them. Tighter rules would make it more difficult for the government to put a distance between itself and militant fundraising.
To be sure, analysts have long assumed that fundraising, particularly with the help of members of Saudi Arabia's government-aligned, ultra-conservative religious establishment, could not occur without the knowledge of a regime that maintains tight political control.
It remains unclear how tighter fundraising rules would affect Saudi Arabia's ideological war with Iran. The kingdom has for decades invested billions of dollars in globally propagating Sunni Muslim ultra-conservatism as an anti-dote to the Islamic republic's revolutionary zeal.
The bulk of the funds flowed to non-violent groups, but in some cases also to ones that attacked Shiites and/or Iranian targets. That has largely not changed since the rise in 2015 of King Salman and his powerful son, Prince Mohammed.
Saudi Arabia, in the latest suggestion that tightened fundraising may target militancy rather than supremacist, sectarian and intolerant strands of ultra-conservatism, plans to open a Salafi missionary centre in the Yemeni province of Al Mahrah on the border with Oman and the kingdom.
The plan harks back to the creation of an anti-Shiite Salafi mission near the Houthi stronghold of Saada that sparked a military confrontation in 2011 with the Yemeni government, one of several wars in the region. The centre was closed in 2014 as part of an agreement to end the fighting.
Prince Mohammed's use of ultra-conservative Sunni Islam in his controversial war with the Houthis was also evident in the appointment as governor of Saada of Hadi Tirshan al-Wa'ili, a member of a tribe hostile to the Shiite sect, and a follower of Saudi-backed Islamic scholar Uthman Mujalli. Mr. Mujalli reportedly serves as an advisor to Abd Rabbu Mansour Hadi, the exiled, kingdom-backed Yemeni president.
Writing in Al-Monitor, Brookings fellow and former CIA official Bruce Riedel argued that continued government support of ultra-conservatism served not only Saudi Arabia's regional ambitions but also as a pacifier for a religious establishment that, despite public endorsement of Prince Mohammed's social reforms, is deeply uncomfortable with changes like a loosening of restrictions on women and greater entertainment opportunities.
"After three years on the throne, King Salman bin Abdul-Aziz Al Saud and his son Crown Prince Mohammed bin Salman are pursuing the most aggressively sectarian and anti-Iran policy in modern Saudi history. The Wahhabi clerical establishment is an enthusiastic partner, which is good internal politics for the royals… t's a way to keep the mainstream Wahhabi establishment and the Al Sheikhs content that their core interests are safe," Mr. Riedel said, referring to the descendants of 18th century preacher Mohammed ibn Abdul Wahhab, who constitute the ruling Al Sauds' religious counterpart.
If adopted, fundraisers would have to be authorized before launching a campaign. Failure to obtain authorization would result in a jail sentence of up to two years and, in the case of foreigners, deportation. Fundraisers would only be allowed to accept donations from Saudi nationals and institutions.
The stipulation that the fundraisers themselves too would have to be Saudi nationals would effectively block foreign individuals and groups from Pakistan and elsewhere that have been supported for decades by Saudi Arabia from independently seeking financial support in the kingdom.
A litmus test of the impact of the law, once adopted, will be how Saudi Arabia deals with people like Pakistani cleric Maulana Ali Muhammad Abu Turab. Mr. Abu Turab was identified last May as a specially designated terrorist by the US Treasury at the very moment that he was in the kingdom to raise funds for his militant madrassas or religious seminaries that dot the border between the Pakistani province of Balochistan and Afghanistan.
A member of Pakistan's Council of Islamic Ideology that oversees whether legislation is in line with Islamic law, Mr. Abu Turab is a leader of Ahl-i-Hadith, a Pakistani Wahhabi group supported by the kingdom for decades, and a board member of Pakistan's Saudi-backed Paigham TV.
He also heads the Saudi-funded Movement for the Protection of the Two Holy Cities (Tehrike Tahafaz Haramain Sharifain) whose secretary general Maulana Fazlur Rehman Khalil has also been designated by the Treasury.
Similarly, Pakistani militants reported over the last 18 months that funds from Saudi Arabia were pouring into militant madrassas in Balochistan against the backdrop of indications that the kingdom may want to try to destabilize Iran by stirring unrest among the Islamic republic's ethnic minorities, including the Baloch.
Saudi efforts to more tightly control fundraising may also serve Prince Mohammed's unconventional effort to fill depleted government coffers at a time of economic recession. Prince Mohammed launched in November what amounted to a power and asset grab packaged as an anti-corruption campaign after the kingdom's elite had failed to respond to a request to make patriotic contributions to help shore up government finances.
Saudi Finance Minister Mohammed Al-Jadaan said last week that authorities had received a total of roughly $100 billion in out-of-court settlements from around 350 people accused in the purge.
As a result, tougher fundraising rules could potentially mean that donations would increasingly favour domestic rather than foreign causes.
It is, however, with no indication that Saudi Arabia is willing to reduce tension with Iran, unlikely that the kingdom would halt funding of its ideological war with the Islamic republic. Nor is there an apparent Islamically-packaged alternative to the propagation of ultra-conservatism as its primary soft power tool.
In short, tighter fundraising rules are certain to enhance control of the causes for which money is solicited and who will be allowed to raise funds. It may well also result in support for advocacy of interfaith dialogue and greater tolerance as recently propagated by the World Muslim League, a government-controlled non-governmental vehicle that for decades funded the global spread of ultra-conservatism. The rules, however, are unlikely to mean an end to funding of ultra-conservatism and sectarianism that serves Saudi Arabia's existential battle with Iran.
Saudi Arabia's Entertainment Plans: Soft Power at Work?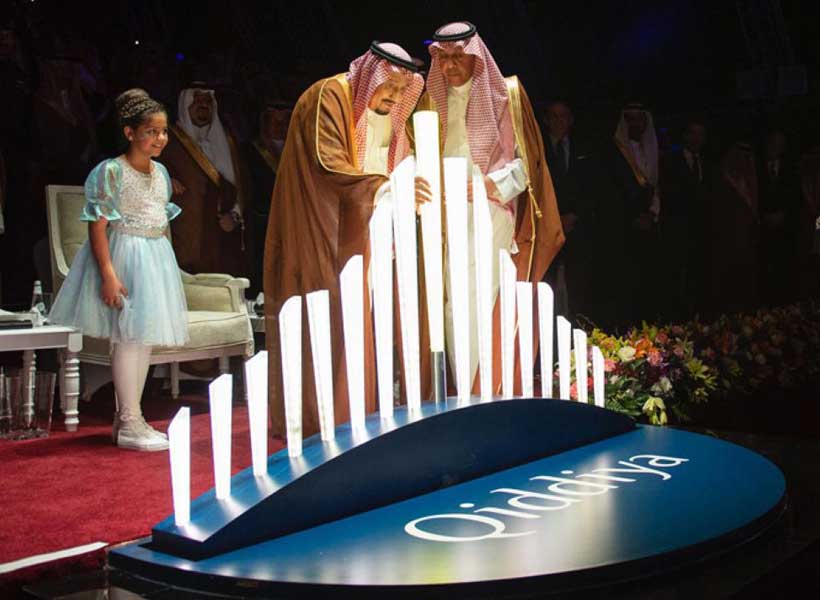 Saudi Arabia recently broke ground on its ambitious "entertainment city" known as Qiddiya, near Riyadh. The splashy launch, attended by 300 dignitaries from around the world, highlights a frequently overlooked aspect of Saudi Arabia's Vision 2030 plan: the entertainment industry as a growing economic sector. As the kingdom diversifies its economy away from reliance on petro fuels, Crown Prince Mohammed bin Salman has been keen to showcase the increasing openness of his country, promoting festivals, concerts and sports events and ending the country's 35-year ban on cinemas.
These projects are partially intended to bolster the economy and attract FDI—but not only. Saudi Arabia is also playing catch-up with other regional actors, such as Qatar and the UAE, in terms of cultural output and cultural participation. With Qiddiya and the other cultural projects in the works, Saudi is now carving out a road for itself to become a regional culture hub.
Thefirst phase of Qiddiya, which includes high-end theme parks, motor sport facilities and a safari area, is expected to be completed in 2022.  Saudi officials hope the park will draw in foreign investment and attract 17 million visitors by 2030; the final phase of the project is expected to be completed in 2035, by which point the entertainment resort will be the largest in the world, dwarfing Florida's Walt Disney World.
Beyond these financial incentives, however, the Qiddiya project is Saudi Arabia's answer to events like the Dubai Expo 2020 or the Qatar World Cup 2022 and suggests that the kingdom is trying to position itself as the next big destination for lucrative events – which also add to the idea that entertainment, culture, and innovation are key to Saudi Arabia's economic vision and success.
Vision 2030's emphasis on entertainment raises a key question: is Riyadh attempting to increase its soft power across the region in a constructive and proactive way?  The answer to that question is yes.
In the immediate future, Qatar and the UAE will remain the region's foremost entertainment and cultural hubs.  From Qatar's Islamic Museum of Art, which famous architect I.M. Pei came out of retirement to design, to Dubai's theme parks, including a $1 billion behemoth which is the world's largest indoor theme park, these two Gulf states are demonstrating their prowess to develop an arts and culture scene.  In Doha, Qatar is exemplifying its unique outlook towards world affairs by emphasizing humanitarianism and fourteen centuries of history.  Qatar is also hosting the World Cup in 2022, intended to bring Doha center-stage in the sports world. Abu Dhabi's Louvre has been referred to as "one of the world's most ambitious cultural projects", while advertisements throughout the emirate insist that the museum will cause its visitors to "see humanity in a new light".
Despite these Gulf states' head start on developing vibrant entertainment sectors, there is still room for Saudi Arabia to offer something new. For one thing, some of its neighbors are dealing with trouble in paradise: Qatar's once-strong economy is under increasing strain as the UAE, Saudi Arabia, Bahrain and Egypt boycott it; meanwhile, the company which owns many of Dubai's largest theme parks lost $302 million in 2017.
The Qiddiya project also represents a particular vision that's distinct from neighboring countries' cultural programs. Qiddiya is designed to mix desert heritage and the ethos of the past with the technological advances of the future. The intended result is to be a fusion between aspirations and building on those achievements from desert to post-modernity, on a colossal scale.
The project is crafted both to satisfy domestic demand—it includes plans to build 11,000 homes to serve as vacation homes for Riyadh residents— and to compete directly against Saudi Arabia's neighbors in the Gulf. With two-thirds of the Saudi population under the age of 35, building a thriving entertainment sector is particularly important.
The kingdom is hoping to use its idea of mixing the past with the future in Qiddiya to significantly alter the flow of tourist revenues in the Gulf. The UAE, Qatar and Bahrain rely on tourists from the Gulf and beyond for essential cash inflows—including the $30 billion a year Saudis spend on tourism abroad every year. By providing new entertainment options in-country for Saudi Arabia's citizens and residents, who pay more than any other country's citizens while on vacation, Riyadh aims to redirect some of this overseas tourism spending back into the kingdom. It's set up concrete goals to this effect, hoping to increase domestic spending on culture and entertainment from about three percent of household income to six percent. Saudi Arabia also likely hopes that Qiddiya will attract significant international tourism as well—one senior official tied the park's creation to the goal of making Riyadh one of the top 100 cities in the world to live.
Of course, it is likely to be a long wait before the kingdom itself starts producing the cultural output that will make it a real entertainment hub; after all, Saudi public schools still do not teach music, dance and theater, and the kingdom lacks music and film academies. But by taking the first steps of embracing the vast economic potential of the entertainment sector, the kingdom may well be on its way there.
Israel, Ukraine, and U.S. Crack Down Against Press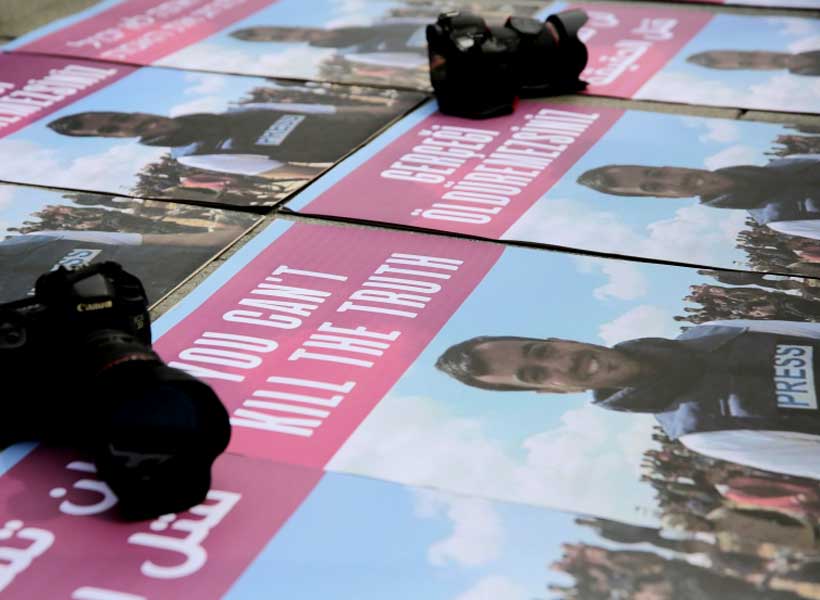 On Wednesday, May 16th, Russian Television reported recent crackdowns against the press, on the part of both Ukraine's Government and Israel's Government. One headline story, "9 journalists injured by Israeli gunfire in Gaza 'massacre', total now over 20", reported that Israel had shot dead two journalists:
"Yaser Murtaja, 31, a cameraman for Palestinian Ain Media agency, died on April 7 after he was shot by Israeli forces the previous day while covering a protest south of the Gaza Strip. He wore a blue protective vest marked 'PRESS'."
And:
"Ahmad Abu Hussein, 24, was shot by Israeli forces during a protest in the Gaza strip on April 13. He died from his injuries on April 25. He was also wearing a protective vest marked 'PRESS' at the time."
The other 18 instances were only injuries, not murders, but Israel has now made clear that any journalist who reports from the Palestinian side is fair game for Israel's army snipers — that when Palestinians demonstrate against their being blockaded into the vast Gaza prison, and journalists then report from amongst the demonstrators instead of from the side of the snipers, those journalists are fair game by the snipers, along with those demonstrators.
Some of the surviving 18 journalists are still in critical condition and could die from Israel's bullets, so the deaths to journalists might be higher than just those two.
Later in the day, RT bannered "Fist-size gunshot wounds, pulverized bones, inadmissible use of force by Israel in Gaza – HRW to RT" and presented a damning interview with the Israel & Palestine Director at Human Rights Watch.
The other crackdown has been by Ukraine. After the U.S. Obama Administration perpetrated a very bloody coup in Ukraine during February of 2014, that country has plunged by every numerical measure, and has carried out raids against newsmedia that have reported unfavorably on the installed regime. The latest such incident was reported on May 16th by Russian Television, under the headline, "US endorses Kiev's raid on Russian news agency amid international condemnation". An official of the OSCE (Organization for Security and Cooperation in Europe) stated there: "I reiterate my call on the authorities to refrain from imposing unnecessary limitations on the work of foreign journalists, which affects the free flow of information and freedom of the media." An official of the CPJ (Committee to Protect journalists) stated: "We call on Ukrainian authorities to disclose the charges and evidence they have against Vyshinsky or release him without delay. … We also call on Ukrainian authorities to stop harassing and obstructing Russian media operating in Ukraine. The criminalization of alternative news and views has no place in a democratic Ukraine." However, as reported by RT, Ukraine's Prosecutor-General called the editorial policy of the anti-regime RIA Ukraine "anti-Ukrainian" in nature, amounting to "state treason." So, the prosecutor is threatening to categorize and prosecute critical press under Ukraine's treason law.
The U.S. regime is not condemning either of its client-regimes for their crackdowns. (It cites Ukraine's supposed victimhood from "Russian propaganda" as having caused Ukraine's action, and justifies Israel's gunning-down of demonstrators and of journalists as having beeen necessary for Israel's self-defense against terrorism.) In neither instance is the U.S. dictatorship saying that this is unacceptable behavior for a government that receives large U.S. taxpayers funds. Of course, in the U.S., the mainstream press aren't allowed to report that either Israel or today's Ukraine is a dictatorship, so they don't report this, though Israel clearly is an apartheid racist-fascist (or ideologically nazi, but in their case not against Jews) regime, and Ukraine is clearly also a racist-fascist, or nazi, regime, which engages in ethnic cleansing to get rid of voters for the previous — the pre-coup — Ukrainian government. People who are selected individually by the installed regime, get driven to a big ditch, shot, with the corpses piling up there, and then the whole thing gets covered over. This is America's client-'democracy' in Ukraine, not its client-'democracy' in Israel.
May 16th also was the day when the U.S. Senate Intelligence Committee voted 10 to 5 to approve as the next CIA Director, Gina Haspel, the person who had headed torture at the CIA's black site in Thailand where Abu Zubaydah was waterboarded 83 times and blinded in one eye in order to get him to say that Saddam Hussein was behind the 9/11 attacks; and, since then, Zubaydah, who has never been in court, has been held incommunicado at Guantanamo, so that he can't testify in court or communicate with the press in any way. "The U.S. Government has never charged Zubaydah with any crime." And the person who had ordered and overseen his torture will soon head the agency for which she worked, the CIA.
Whether the U.S. regime will soon start similarly to treat its own critical press as "traitors" isn't clear, except that ever since at least the Obama Administration, and continuing now under Trump, the U.S. Government has made clear that it wants to seize and prosecute both Edward Snowden and Julian Assange for their journalistic whistleblowing, violations of "state secrets," those being anything that the regime wants to hide from the public — including things that are simply extremely embarrassing for the existing rulers. Therefore, the journalistic-lockdown step, from either Israel, or Ukraine, to U.S., would be small, for the United States itself to take, if it hasn't yet already been taken in perhaps secret ways. But at least, the Senate Intelligence Committee is strongly supportive of what the U.S. Government has been doing, and wants more of it to be done.
JCPOA in Post-US Exit: Consequences and Repercussions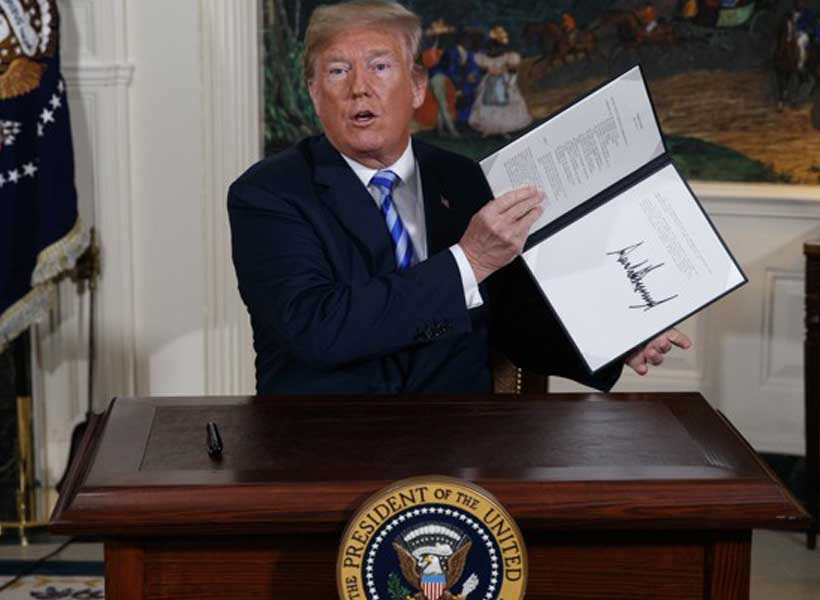 The Joint Comprehensive Plan of Action (JCPOA) or otherwise known as the Iran nuclear deal signed by the P 5+1 in 2015 was widely hailed as a landmark achievement made possible by sincere dialogue and diplomacy. Indeed, the agreement is to a greater extent an achievement of the nuclear non-proliferation regime that helped checked the increasingly disturbing power symmetry in the Middle East which in return has managed to contain the transformation of low intensity conflicts into all out wars. A relative stability is the hallmark which resulted from JCPOA in the Middle East which is extremely volatile region of the world. A vital question is: how these achievements are going to be affected by the US withdrawal from it?
The US withdrawal from JCPOA will adversely affect the aforementioned three areas of its accumulative achievement with variant degree. First, it has negative consequences for the norm that negotiated settlements in international arenas has the potential and lasting credibility to minimize violence or other coercive means led by war. The momentum and confidence the diplomatic means have garnered in post- JCPOA scenario will come to the crushing halt. The sealed and mutually agreed upon agreements in international arena especially in which the US is the potential party, will come under extreme scrutiny leading to an environment of gross trust deficit. Therefore, on the first instance this withdrawal has negative lasting consequences for the diplomatic norms in itself.
Secondly, US exist from the deal does not augur well for the nascent nuclear non-proliferation regime. This regime has a dearth of good precedents like the JCPOA which has deterred a nation from acquiring and operationalizing nuclear weapons as is the case with Iran. Keeping in view this backdrop of this institution, JCPOA has been its glaring example wherein it has managed to successfully convince a nation to not pursue the path which leads towards the nuclear weapons. Therefore, the US withdrawal has shaken the confidence of the non-proliferation regime to its core. It has engendered a split among the leading nations who were acting as sort of de facto executive to enforce the agreements on the nuclear ambitious states. Therefore, this US withdrawal has undoubtedly far reaching repercussions for the non-proliferation as an institution. This development may affect the nature and its future development as an institutional mechanism to deter the recalcitrant states to change their course regarding the nuclear weapons.
Thirdly, in relation to the above mentioned negative consequences on diplomacy and nuclear non-proliferation regime, the US withdrawal from the deal has far serious security ramifications for the volatile and conflict ridden Middle East. It has multiplied the prospects of all-out war between Iran and its regional rivals on one hand and Iran and Israel on the other hand. Just tonight the announcement of Trump exiting JCPOA and the Israeli aggression on Syrian military bases substantiates the assertion that there exists a correlation between this US withdrawal and the Zionist regime`s regional hegemonic designs. It has extremely positive message for the Saudi Arabia. The impulsive and overambitious Crown Prince Muhammad bin Salman (MBS) went on extended tours in the US and Europe to convince Western leadership that Iran should be contained.  Therefore, element of stability in the region – contained low intensity conflicts – got serious motivation to turn into all-out-wars  with non-exclusion of nuclear options at the disposal of Zionist regime in the Middle East. The Middle Eastern region with this exit of the US is going to observe substantial turmoil in the months to come which will have some extra regional ramifications.
As a conclusion it could be argued that the US exit has some far reaching repercussions for the diplomatic norms, non-proliferation regime and above all for the volatile Middle Eastern region. All these ramifications resulted from the US withdrawal will also in return have some serious consequences internally and externally. The status of the US as the sole super power of the world will be diminished with this decision. It will create an unbridgeable gap in the West. Henceforth, the EU foreign will be more autonomous, integrated and autonomous in her conduct.