Hunger continues to intensify in conflict zones
Food insecurity – or lack of access to enough food – continues to worsen in places torn by conflict, United Nations agencies reported Monday, listing Yemen, South Sudan and Syria among the countries most affected by acute hunger.
Highlighting the extremely critical importance of humanitarian support for affected communities, the report was generated by the Food and Agriculture Organization (FAO) and the World Food Programme (WFP) as part of bi-annual briefings to the UN Security Council on food security.
Conflict is a common factor undermining food security in all 16 countries covered in the report, according to which the intensification of conflicts is a key reason behind the recent resurgence of world hunger levels, following decades of steady declines.
The 16 countries that are monitored are: Afghanistan, Burundi, the Central African Republic (CAR), the Democratic Republic of the Congo (DRC), Guinea-Bissau, Haiti, Iraq, Lebanon, Liberia, Mali, Somalia, South Sudan, Sudan, Syria, Ukraine and Yemen.
Among them, Yemen, South Sudan, Syria, Lebanon, CAR, Ukraine, Afghanistan, and Somalia have a quarter or more of the population facing crisis or emergency levels of hunger.
In Yemen, 60 per cent of the population, or 17 million people, are affected by acute hunger. These figures are 45 per cent, or 4.8 million, in South Sudan, 33 per cent, or 6.5 million, in Syria, and 33 per cent, or 1.9 million, in Lebanon – a country hosting large numbers of Syrian refugees.
But these are far from being the only countries flagged as cause for concern.
In the DRC, where serious food security concerns have been overshadowed by crises in other parts of Africa, the situation is rapidly deteriorating, the report warns.
There, 11 per cent of the population is now in the crisis phase or above, adding up to 7.7 million people who are coping with acute hunger.
In Sudan, 3.8 million people are in the crisis phase or above. In Iraq, that figure is 3.2 million while in the Lake Chad basin, the number is 2.9 million people. In Burundi and Haiti, it is 1.8 and 1.3 million, respectively.
According to data released last October, the number of hungry people worldwide rose to 815 million people in 2016, up from 777 million the year before. The majority of the hungry, or 489 million people, live in countries wracked by conflict.
What Is A Mac Data Recovery Software & How Does It Work
With the advent of technology, data storage remains a crucial element of business and communication. Whether using a Windows PC, Android, or macOS, you need versatile software to secure your data. If you continuously use MacOS, you need good Mac data recovery software.
Of course, most people still use some of the simplest ways to free up space by finding and deleting files and folders that are no longer needed. Whether these files were downloaded or shared to your MacBook, deleting them to create more space is a straightforward process. However, it is better not to fret, as recovering files that have been accidentally deleted is equally simple and easy.
There are several good data recovery software you can install and use to recover files and folders. You can easily use this software to recover deleted files on Mac, including finding and removing duplicate files, clearing temporary files, and emptying all the trash cans.
In this article, we focus on explaining more about Mac data recovery software and how they work. The article will help you better understand Mac data recovery software, how they work, and how to choose the best to use with your system.
Mac Data Recovery Software
The best data recovery software for Mac will help you:
Recover data from crashed or non-booting Mac
Recover deleted documents, emails, videos, audios, and photos
Protect macOS Big Sur and lower versions
Support data recovery from USB corruption, unrecognized drives, and partition loss
Let's look at one of the best data recovery software for Mac – Disk Drill for Mac.
Disk Drill For Mac
Disk Drill, developed by Cleverfiles, is the free data software for Mac OS X. in addition to having previewing capabilities for recovered files and folders, Disk Drill Basic contains several other functionalities such as Guaranteed Recovery and Recovery Vault, boot disk maker, lost partition restoration and so on. This makes Disk Drill one of the best Mac data recovery software to use.
Also, the software works on both internal and external hard drives, SD cards, USB flash drives, and many other external appliances that you can connect to your Mac.
The latest version of the software has an extensive database of file signatures that can be recovered from drives even when your devices are formatted. Besides, the software uses very efficient and quick scanning algorithms.
If you are using macOS and think that this software may become obsolete after some usage time, you are wrong. Disk Drill Data Recovery for Mac is constantly updated and supported by committed teams to cover all the cases of data corruption that may result from the loss of power, improper removal of a device, etc. Below are some of the main features that make Disk Drill a top data recovery software for Mac:
Guarantee Recovery is a background service that saves a copy of each file to a user-specific folder. Both the data protection modules significantly reduce the chances of permanently losing critical data.
Recovery Vault provides an extra layer to the Mac trash bin that references the deleted files on Mac. The data recovery feature provides the ability to recover lost data from a byte-to-byte cone version of the device and even partitions without risking the original storage source.
Other available tools for free include Disk Health Monitor, Time Machine Recovery, Emergency Recovery Boot Drive, Duplicate File Finder, and Mac Cleaner.
Disk Drill, therefore successfully manages the balance between essential features for casual users and those advanced features required by professional and enterprise users.
How Does It work?
1. Clean Up Your Mac
The apps help you get rid of temporary files, uninstall unwanted applications, clean up additional languages, delete big files stored in the mail, among other locations.
Disk Drill has significant features of cleaning applications and will help you get rid of duplicate files too quickly.
2. Find And Remove Duplicate Files
Disk Drill helps you by quickly finding and removing duplicate data on your Mac.
3. Empty The Trash Cans
Emptying the trash cans is the other way to empty or clean up space on Mac. Usually, when you delete files, they are sent to the trash can for storage so that you can easily recover them.
4. Uninstall Applications
You may have installed several apps in the Mac that you no longer use. Such apps take up much space on your device, and you can remove them with Disk Drill to free up space.
5. Clean Out Temporary Files
Many people still retain files they have used in their MacBook. Such files will be taking up your disk space without adding any value. Cleaning the temporary files is an excellent way to free up some space for more important files.
Other Mac Data Recovery Software To Consider
Apart from Disk Drill, other software that is also considered among the best recovery apps on Mac include:
PhotoRec For Mac
EaseUS Data Recovery Wizard for Mac
MiniTool Power Data Recovery for Mac
Softtote Mac Data Recovery
African Union urged to address the threat of Congo forest logging driving extreme weather
Industrial logging in the Democratic Republic of Congo (DRC) may severely disturb rainfall patterns across sub-Saharan Africa and bring about more extreme weather, including intense droughts and flash floods. In a letter sent today to the African Union, Greenpeace Africa is calling for an urgent discussion of the consequences that plans made in Kinshasa to lift its moratorium on logging would have for Congolese and African people in general.
Renewed industrial logging in the DRC poses a risk "to Indigenous People, local communities and biodiversity, as well as the whole of sub-Saharan Africa," writes Greenpeace Africa's Programme Director, Melita Steele, to the Commissioner for Rural Economy and Agriculture, H.E. Josefa Leonel Correia Sacko,
Africa's climate is fundamentally linked to the state of Central Africa's forests and massive logging can impact the quantity of rainfall throughout the region. The Congo Basin forest is estimated to contribute more than half of the annual precipitation in Sub-Saharan Africa, already facing a plethora of droughts and extreme heat waves.
Last July, Congolese Deputy Prime Minister and Minister of Environment, Ève Bazaiba, decided to lift the moratorium on new logging concessions, which has been in place since 2002. The decision was approved on 9 July by the eleventh Council of Ministers, presided by Président Félix Tshisekedi. An implementation decree is believed to be imminent.
"Deciding on whether to protect or destroy the rainforest may be within the DRC's sovereignty, but the consequences of its actions will be felt everywhere from Nairobi to Dakar, from Pretoria to Abjua," writes Steele on behalf of Greenpeace Africa.
Beyond direct implications for Congolese and other African people, the decision to lift the moratorium is contradicting commitments made by the President of the Republic, Felix Tshisekedi, at President Joe Biden's Leaders Summit on Climate, to protect the forest and increase forest cover by 8%. It also undermines the African Union's 2063 Agenda and its Sustainable Forest Management Framework (SFMF), promising that "Africa will have zero deforestation and forest degradation and its forests will be protected, sustainably managed and restored through collaborative, cross-sectoral and transformative efforts to ensure the prosperity, food security and resilience of its people."
Finally, this jeopardizes Africa's credibility in climate talks in COP26, set to begin in Glasgow in ten days, and the appeal from rich nations to support vulnerable nations annually with USD 100 billion to face the climate crisis.
Serge Ngwato, Greenpeace Africa forest campaigner in Kinshasa: "We cannot expect Africa's claim for climate funds to be taken seriously, when our own actions make the climate crisis worse. Renewing industrial logging would pose additional risk both to us Congolese and to our neighbours – the moratorium must be extended, while management rights over the forest must be granted to its Indigenous and local communities."
Serbia: Job Creation and Green Transition Needed for Sustainable Growth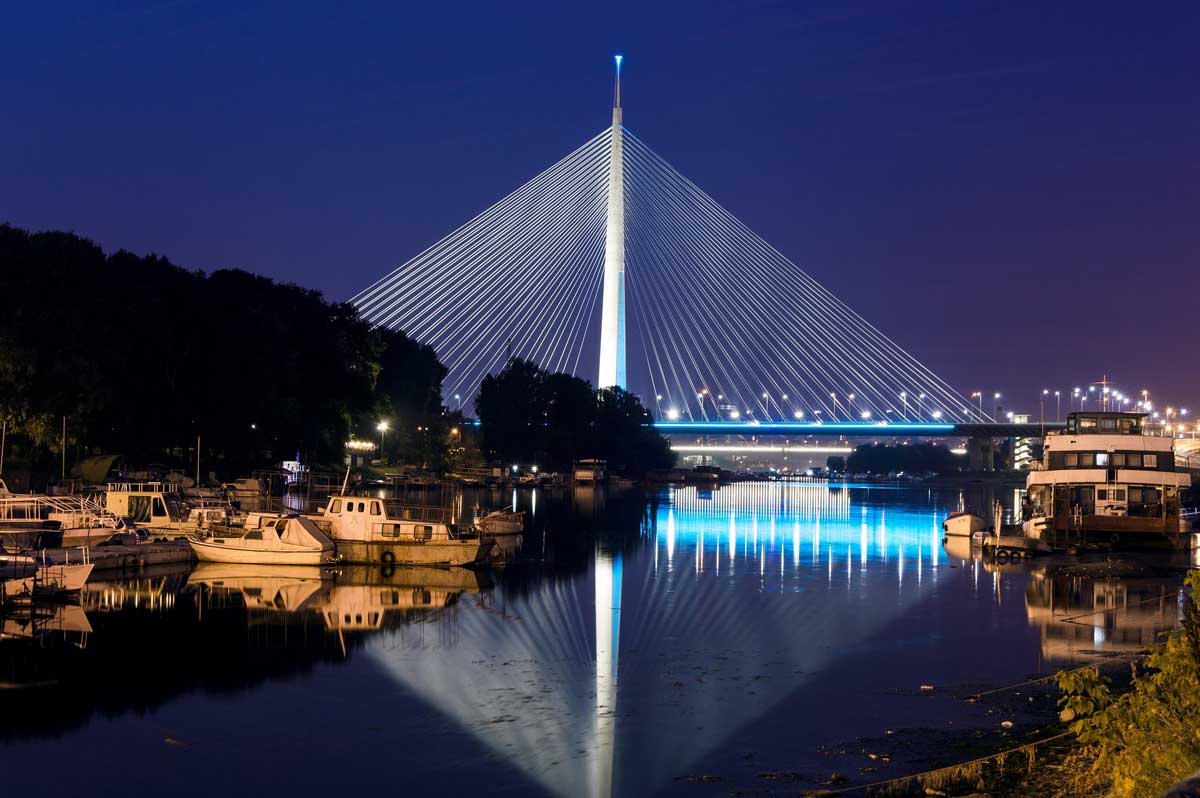 Serbia's economic recovery is gaining pace, with a rebound in private consumption and an increase in total investments, says the latest Western Balkans Regular Economic Report. The growth rate is expected to reach 6 percent in 2021 and then return to about 4 percent over the medium term.
This year's growth has been supported by the new fiscal stimulus package. However, the fiscal deficit is gradually decreasing in 2021, while a strong export performance has kept the current account deficit below projections. Going forward, consumption will remain the main driver of GDP growth over the medium term, while net exports will continue to make a negative contribution to growth.
"To unleash its growth potential and create new, high-quality jobs, Serbia needs to remove structural bottlenecks related to governance, the labor market, infrastructure, and the tax system," said Nicola Pontara, World Bank Country Manager for Serbia. "Green transition, enabled through a more efficient use of raw materials and energy, expansion of green industries and technologies, as well as an emphasis on less polluting and more energy-efficient industries, can help Serbia build a clean and resilient economy."
Macroeconomic stability will be maintained in the medium term and inflation, which has accelerated in recent months, is expected to return to the National Bank of Serbia target range. However, risks related to recovery in Europe, and globally, as well as rising COVID-19 cases, could impact this positive outlook.
Job creation and green transformation are common goals for all countries in the Western Balkans region, where economic growth is resuming after a COVID-19-induced recession in 2020. The outlook for the region has improved significantly, with GDP growth now projected to reach 5.9 percent in 2021, after a 3.1 percent contraction in 2020. Growth in the region is projected at 4.1 percent in 2022 and 3.8 percent in 2023.
The poverty rate for the region is projected to resume its pre-pandemic downward trend and fall by around 1 percentage point to 20.3 percent, close to its 2019 level.
However, the recovery remains fragile. Early warning signals from the labor market call for close policy attention. Job losses from the recession and its aftermath have disproportionately affected women and youth, which may set back efforts to raise the region's perennially low rates of labor force participation. Youth unemployment in the region rose to 37.7 percent in 2021, up 5.4 percentage points from June 2020, further worsening youth employment prospects.
"As the Western Balkans countries look to a post-pandemic future, their policy approach will need to focus on addressing key impediments to job creation and economic transformation, including green transition," said Linda Van Gelder, World Bank Country Director for the Western Balkans. "All six countries would benefit from reforms in the business environment, governance, and digitalization, which would contribute to growth and close the gap with EU countries."
Global strides toward climate action are causing fundamental changes in society. Consumer and investor preferences are shifting, green technologies and new business models are disrupting more markets, and green policies are reshaping economic landscapes. As such, greening a country's economy is becoming a decisive factor in international competitiveness and the ability to attract international finance and investments.
The Western Balkans now find themselves at a key decision point regarding the impending green transition. Effectively managing this transition, including the many policy tradeoffs, will need to be a core focus of policy attention for the region in the years ahead.