Bangladesh Women Making Progress But Still Face Gender Gap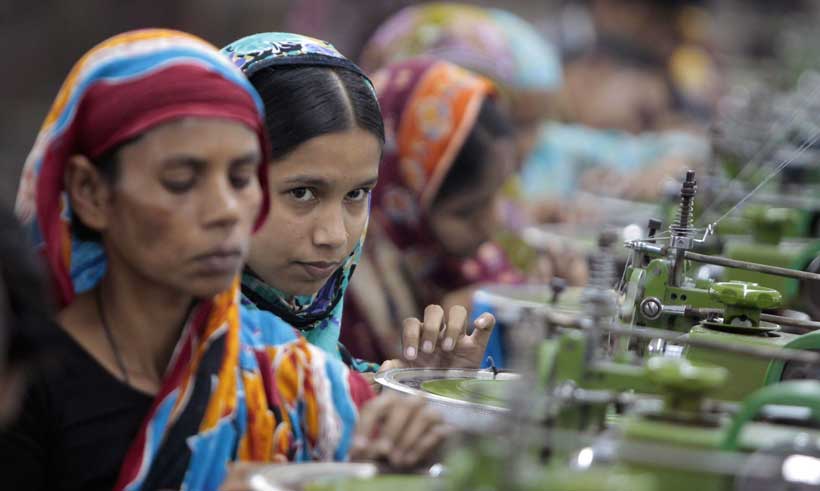 Bangladesh's women have made progress in various aspects of health, education, and work, but still face sizable gender gaps, according to a new report from the Asian Development Bank (ADB), prepared in collaboration with the BRAC Institute of Governance and Development.
The report, the Bangladesh Gender Equality Diagnostic of Selected Sectors, aims to guide the design of gender features of ADB-supported projects in four key sectors—skills, vocational, and tertiary education; energy; transport; and urban development. It presents an in-depth analysis of the different areas and disparities in each sector, and recommends sector-specific strategies on gender.
It was introduced at a launch event and panel discussion today featuring gender and sector specialists and economists, including the Secretary, Nasima Begum; and the Additional Secretary, Mahmuda Sharmin Benu, of the Ministry of Women and Children Affairs; and ADB Country Director for Bangladesh Manmohan Parkash.
"We hope this publication will be a useful resource not only for ADB, but also for our partner government agencies and other development partners to achieve the gender targets of the Sustainable Development Goals," Mr. Parkash said. "We also hope in so doing, it will help bring about significant positive changes in the lives of women and men, and in the promotion of inclusive development."
The report finds that the country has generally made rapid progress on several social and economic indicators. For example, while the maternal mortality ratio remains higher than the 2015 Millennium Development Goal of 143, it has fallen from 472 deaths per 100,000 live births in 1990 to 181 in 2015.
Likewise, the proportion of employed women with no formal schooling almost halved from 41% to 21% from 2010 to 2013 while the proportion with higher secondary education and degrees rose markedly, as the employed female population has become more skilled. However, women's access to technical and vocational training is less positive, with only 28% of students enrolled.
Women's educational and work opportunities are hampered by a lack of reliable, safe, and economical public transport, the report says. Energy is also critical to women's empowerment and development because access to clean and affordable energy services is a precondition for improved women's health, children's ability to study, and women's livelihood opportunities.
Women's participation in the labor force is rising faster than men's but they accounted for just one third of the workforce in 2013. The gender gap has also narrowed in income and wages. But less than 10% of women work in the formal sector with the remainder in the informal sector, such as home-based work. This tends to be characterized by lower income, greater insecurity, and generally unfavorable working conditions. Meanwhile, under 5% of firms have women in top management. Women also continue to have more limited access than men to resources, including land, housing, technology, and even newspapers (15%) or the Internet (28% of users).
Skills, vocational, and tertiary education are indispensable for enabling women and girls to enter the workforce on equal terms with men and to access better conditions, better pay, and better prospects, the report says. Gender inequality in education as well as stereotyping in the choice of academic courses and subjects, as well as employment persist. To overcome this, it is crucial for women to make the most of available opportunities, such as, among others, resources for entrepreneurship and use of new information and communication technology. This would allow them to shift to more skilled employment with better pay and working conditions instead of staying as low-paid domestic workers subject to various forms of exploitation.
The report sees rapid urbanization as another key priority for action, since unless this is managed strategically, it can cause reversals in the progress that has been made for women's empowerment. Besides lack of access to services such as power, sanitation, water, and transport, women are subject to frequent sexual harassment and violence in dense slum areas where they have to put up with flimsy housing, common toilets and water points, and insufficient lighting.
The report points out that a survey carried out by the Bureau of Statistics in 2011 shows that as many as 87% of currently married women report experiencing some kind of violence during the previous 12 months. One third of women age 15-49 believe in at least one justification for a husband hitting his wife, such as arguing with him.
The report was produced to support the development objectives of the Government of Bangladesh as set out in its Seventh Five-Year Plan (2016-2020), as well as the Country Partnership Strategy (2016-2020) of ADB in promoting inclusive and environmentally sustainable growth in the country.
Modernizing Higher Education for Economic Growth
Malawi has fewer affordable universities than it has students who want to go to them, leaving college out of reach for many. Enrollment in tertiary education is low, but more and more Malawians hunger for it. With IDA financing from the World Bank, Malawian citizens now have more options.
The five-year, $51 million Skills Development Project is helping public universities to strengthen and increase public access to programs that cater to sectors critical to Malawi's economic growth. These include engineering, natural resources extraction, agriculture, construction, health services, tourism, and hospitality.
Beyond the establishment of the National Council for Higher Education, project funding supports a range of activities at institutions, including improving course offerings and staff skills, renovating infrastructure, and setting up satellite facilities.
Market-relevant course offerings
To expand the range of scientific skills and mid-level technicians needed to fuel Malawi's economy, 39 new programs have been developed by universities, with the participation of the private sector ensuring their relevance to the economy. By 2017, these programs contributed 44 percent of the new student intake to public universities.
Diploma programs at universities have also been bolstered to increase the training of mid-level career personnel needed by various trades. For example, the University of Malawi's Polytechnic now offers 10 technician-level engineering diploma programs in subjects like mining, telecommunications, and health. By 2019, these programs are expected to have enrolled 750 diploma students.
Modernized facilities
One of the major constraints to increasing student enrollment at public universities has been space. At Chancellor College, where most of Malawi's secondary school science teachers are trained, more and better infrastructure is expected to make it possible to boost student intake by 65 percent. This includes modernized laboratories and four new lecture halls seating 350 students each.
This will go a long way toward meeting an increase in the demand for science teachers, following the introduction of physics and chemistry as separate subjects in the secondary school curriculum.
Mzuzu University is heading to be the country's center of excellence in tourism training. It is constructing a purpose-built tourism and hospitality facility that will produce graduates who are industry-ready.
Online and distance learning
The Lilongwe University of Agriculture and Natural Resources (LUANAR) and Mzuzu have introduced online and distance learning (ODL), resulting in increased enrollment at both. At LUANAR, online students make up 10 percent of the total student population. Between 2014 and 2016, Mzuzu increased its intake of online students tenfold. With more affordable fees and flexible options, the ODL system has helped to open access to higher education for many people nationwide.
"I enrolled through ODL because of its flexibility. I continue with my everyday life and yet I am studying at the same time. This is wonderful," says 45-year-old Joe Mwenye, a father of five and a teacher in Ngabu in Chikwawa district. He is studying at LUANAR for a Bachelor of Science in Agricultural Extension.
LUANAR has three ODL centers: one in the town of Mzuzu, another in Lilongwe, and another in Blantyre. Mzuzu University is opening satellite centers in Balaka, Karonga, Mulanje, and Lilongwe.
The Depth of Taboo: Social Issues in South Asia
Rarely does a geopolitical handbook also make such large and important contributions to uncomfortably critical social issues. This handbook is that rare example. The author Aryal takes our MD readers deep into some disturbing discussions – caste systems, systematic violence against women, rape, honor killings, gender stigmatizing, and societal sexism – not to just anecdotally expose people to some of the continued living horrors afflicting important regions of the world but to systematically analyze such atrocities so that their long-term political, economic, social, and diplomatic consequences are revealed.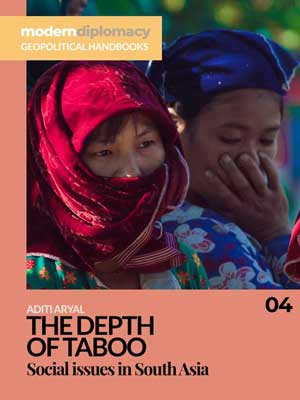 What many around the world do not realize is how crippling these gross abuses of human decency can be for a nation and region writ large: these are not just individual crimes to be noted and then forgotten. The failure of societies, the failure of GLOBAL society, to make more effective progress and take a more rigid stand against injustice is a black mark on all countries, on all of us. This handbook in its own small way strives to be a light within that darkness and as such it is both informative and courageous. While the readers of MD will not find the content of this particular handbook for the faint of heart, the importance of acquiring this knowledge, of becoming more aware of the world that we live in as it truly is in so many places, should be considered a duty of all those fortunate enough to not be born into states where such systemic violence still exists and largely goes unchallenged.
The title of this work is no accident and no shameless marketing attempt to attract more readers. Rather, it is exposing in a single word the reason why overcoming systemic violence based on gender is so difficult. Social taboos run deep in every region, state, city, town, village. We will likely not succeed in eliminating them from the social conscience of people. But the attempt to ameliorate the power of taboo, its power to push rationality out and pull insanity in, is a noble one that all of us at the editorial staff at MD recognize as silently essential for the cause of future peace on so many different levels. The battle against taboo is the secret front end of the war against gender violence and oppression. Ultimately, the criminal justice systems of societies must improve to remedy those actions not prevented from occurring. But the real long-term comprehensive solution will be the effort to eliminate the fear of social taboos, to eliminate the stigma that drives many to commit ignorant violence in the first place.
Women and girls with autism must be empowered to overcome discrimination they face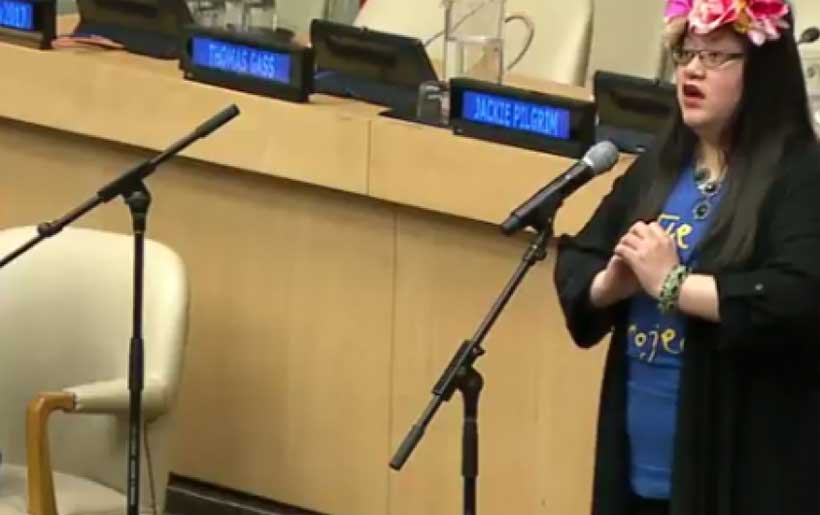 On World Autism Awareness Day, United Nations Secretary-General António Guterres has joined the global call to empower women and girls with autism and involve them and their advocates in policy and decision-making to address the discrimination and other challenges they face.
"They face […] barriers to accessing education and employment on an equal footing with others, denial of their reproductive rights and the freedom to make their own choices, and a lack of involvement in policy making on matters that concern them," said the Secretary-General in his message on the Day.
Emphasizing that "our work for gender equality and women's empowerment must reach all the world's women and girls," he stressed that the international community's efforts to achieve the Sustainable Development Goals (SDGs) must uphold the 2030 Agenda's core promise to leave no one behind.
The Goals and the landmark framework from which they emerged were adopted by UN Member States three years ago. Together they aim to wipe out poverty and boost equality by putting the world on a more sustainable economic, social and environmental path by 2030.
"On World Autism Awareness Day, let us reaffirm our commitment to promote the full participation of all people with autism, and ensure they have the necessary support to be able to exercise their rights and fundamental freedoms," concluded the Mr. Guterres.
Autism is a lifelong neurological condition that manifests during early childhood, irrespective of gender, race or socio-economic status. The term Autism Spectrum refers to a range of characteristics.
Autism is mainly characterized by its unique social interactions, non-standard ways of learning, keen interests in specific subjects, inclination to routines, challenges in typical communications and particular ways of processing sensory information.
The rate of autism in all regions of the world is high and the lack of understanding has a tremendous impact on the individuals, their families and communities.
The World Day is marked annually on 2 April, and this year's official UN commemoration will be on Thursday, 5 April, with a half-day programme in New York entitled Empowering Women and Girls with Autism, that will feature a keynote address from Julia Bascom, Executive Director, Autistic Self Advocacy Network.