Ability of information systems for international defense purposes
We know that enemies of freedom are using the same technology that hackers use, and we are also using it. "(Tom Ridge, former US Secretary of Homeland Security)
It seems that in the present era, the need to develop a deterrent in cyberspace has been well understood. Apparently, with the development of communication technologies and the generalization of the use of the Internet in everyday life, it's time to complete the defense in cyberspace so that all possible defense options could be available.
US officials have recently signaled to their French counterparts that they would increase the level of security of their intelligence systems. This, in addition to pointing out the vulnerability of French intelligence systems, suggests that the United States expects its allies to achieve a level of autonomy in cyber defense.
The United States, in the "International Strategy for Cyber ​​Space" document, has developed a so-called "US Collective Barrage Plan", which divides states into three distinct categories:
"Governments "acceptable "and" responsible "behaviors on the part of the United States, but do not have the necessary equipment and capabilities to cyber defense. The United States can make good relations with these governments, but they will overpower the security of the United States.
– Governments that have "acceptable" and "responsible" behaviors on the US side and are able to secure their intelligence systems, the United States wants to establish full cooperation with these governments.
– Governments that are "unacceptable" and "irresponsible" from the US perspective (potential rivals) and not able to work with them.
Paris is trying to develop an autonomous system with cyber security investments, which allows its cybercrime operations to be relied upon.
But this American plan, as analyzed above, provides two-dimensional "sovereignty / affiliation" solutions that allow France or any of its other partners to make the necessary reforms and programs to create Adopts or develops cybercrime. The country, with its confirmation as a mainstream security intelligence system, can be considered as one of the main partners within the framework of US collective censorship, provided that the management and leadership of the collective defense system are entrusted to the United States.
The security products developed for sensitive defense industries and approved by the French National Security Agency (ISIS) to cover the needs of government activities (defense / arms, diplomacy) are very limited. However, cyber defense should not only be dedicated to this field of activity, but also should cover all key information systems to the infrastructure of vital infrastructure and networks. Therefore, we need to develop processes for the approval of products that are specific to more business sectors, which creates a special constraint on supply demand management.
According to the above analysis, such operations in the country not only entail the immunization of products, but also require the development of organizational processes and qualifications for them. In addition, private companies should also participate in cyber security exercises. To achieve this, it seems that a full implementation of the National Security Management Plan is necessary.
Is this the end of NATO-era?
Money is a very powerful tool, which can easily ruin relations. Different views on money spending can ruin even good relations between countries in such huge and powerful organization as NATO. It should be noted that European defence spending will surpass $300 billion a year by 2021, according to new research from Jane's by IHS Markit.

Defense expenditure is a highly sensitive topic in the region. U.S. President Donald Trump has repeatedly criticized NATO member countries in Europe for not respecting a rule that says 2% of GDP should be spent on defence.
At a NATO summit in 2017, Trump ramped up that pressure by noting the U.S. had allocated more cash to defense than all the other NATO countries combined.

The U.S., as the leader of the Alliance, keeps close eye on those of them who try to oppose the need to rapid increase on defence spending.
In particular, this month Germany displeased the U.S. by a conflict that erupted between Finance Minister Olaf Scholz of the Social Democrats (SPD) and Defense Minister Annegret Kramp-Karrenbauer, chair of Chancellor Angela Merkel's Christian Democrats (CDU).

The finance minister insisted that an increase in the defense budget to 2 percent of gross domestic product, as NATO member states have pledged to do, not be anchored in the coalition government's midterm assessment. The discord between the two apparently grew so heated that the Chancellery had to step in. President of France also shocked the NATO supporters when said about "the death of NATO brains".
Judging by opinion polls, many residents of the European countries, including the Baltic States, consider military expenditures of this size unnecessary and dangerous.

The authorities of the Baltic States, in contrary, strive to increase defence spending. But the reason why the Baltic States support US requirements is their active cooperation with the U.S. The dependence on the U.S. is so high that they simply can not oppose U.S. initiatives. Though even 2 percent of gross domestic product on defence is a heavy burden for the Baltics' economy.

Within the EU, the Baltic States and Poland are considered close U.S. partners and are doing everything to really benefit the United States, no matter how the EU looks at it. These are the main reasons why the Baltic countries support a requirement that they themselves are not able to fulfill.

Latvian journalist Māris Krautmanis in his article in Neatkarīgā Rīta Avīze discussing the adoption of the budget for next year, writes that there is no money for the promised salary increase for doctors and teachers. Krautmanis finds an explanation for why this is happening. "The tremendous sums from the state budget eat up defence spending so that NATO generals do not reproach that Latvia spends little. This is a taboo topic at all, it is not even discussed," the author writes.

Another Latvian journalist Juris Lorencs writes in Latvijas Avīze about disturbing trends in world politics for Latvia and about what position should be taken in Latvia.
He writes about slogans which sound louder and louder: "Our home, our country comes first!" He thought they weaken both NATO and the EU. He also calls the U.S. unpredictable in its political behaviour.

Misunderstanding of the role and amount of financing could lead to the NATO destruction on the inside. At least there are two reasons for the collapse of the NATO: the U.S. can stop its financing or European member states such as Germany and France will decide to quit the organization themselves in favor to strengthening defence in the framework of European Union. Let's see…
As Kashmir simmers the IOR too stands as a potential Nuclear Flashpoint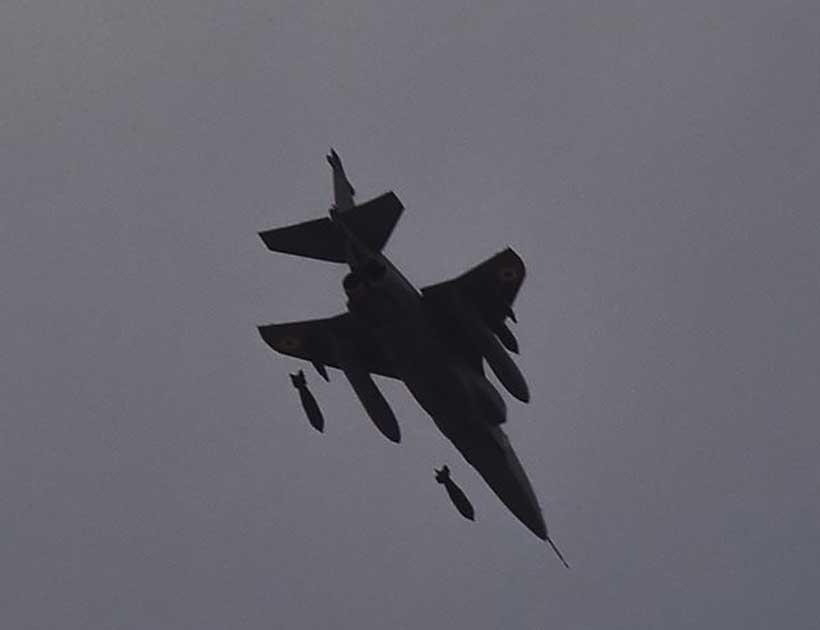 This year has seen tensions between Nuclear armed Pakistan and India reach unprecedented levels with both countries flirting with a dangerous escalation spiral. February's aerial engagement between the two countries' air forces, sustained exchanges of small arms and artillery fire over the LOC, as well as the ongoing curfew and communications blackout (now in its 100th day) have all left many to contemplate the long-term consequences of these altercations on the stability and overall security of the entire South Asian region.
These include consequences leading to as far as the Indian Ocean Region, which despite being more than 1300kms away from the LOC remains witness to a series of dangerous developments, especially within context of the current scenario. For instance, India's recently planned test of its K4 Submarine Launched Ballistic Missile (SLBM) represents a key part of India's long-held desires of developing a robust second-strike capability. While the test itself is meant to signal a major tipping point within the overall strategic balance of the region, the worsening situation in Kashmir carries the risk of unnecessarily heightening tensions at a time when the regional situation is already quite complex. This is largely because the K4 with its purported range of 3500 kms is capable of targeting most of mainland China in addition to Pakistan from the relatively safer distance of India's coastal waters. Its value as a strategic deterrent is evident from its planned deployment on India's nascent fleet of nuclear-powered ballistic missile submarines (SSBNs). These include the INS Arihant and the recently commissioned INS Arighant for which the K4 has been designed to spec. With the Indian navy planning to induct even more SSBNS over the next decade, there are soon likely to be dozens of K4 missiles deployed on these subs, which themselves are likely to remain scattered across the IOR.
While the planned deployment of these missiles was to supposedly herald India's coming of age as a major global power, the current context in which these actions are being taken presents a troubling scenario. Particularly keeping in mind the apparent shifts in India's nuclear doctrinal and policy framework, the very thought of such nuclear weapons being readily deployed across the Indian Ocean represents a major cause for concern the world over. Unlike India's land-based nuclear arsenal where its nuclear warheads are largely demated from the several delivery systems available to its military, India's sea based nuclear arsenal is likely to be deployed at a much more heightened state of alert. As a result, it is also likely to be subject to an altered or more sophisticated command and control structure which in itself requires seamless communications not only between the Indian state and military but also within the many arms of the Indian military itself. Such integration is further conditional on India acquiring highly robust intelligence, surveillance and reconnaissance (ISR) capabilities that leave absolutely no margin for error considering the immense risks at stake in one of the world's most volatile regions. Add to that the Indian government's now institutionalized approach to nuclear brinkmanship and its steady revocation of its 'No First Use' policy, there exists a highly dangerous mix of hubris and recklessness where the entire human race risks being annihilated from even the smallest of missteps.
While some may argue that India is still quite a few years away from deploying a notable fleet of SSBNs armed with its K4 SLBMs, the nuclear weapons already deployed by the Indian Navy already pose quite serious challenges to regional stability. In addition to the K4 which is still under testing, India has equipped several of its surface and sub-surface platforms with a number of other nuclear capable missiles such as the Dhanush and the K-15 Sagarika SLMBs. Considering their relatively short ranges (the Dhanush has a target range of 350kms, while the K-15's range is around 750-800 kms) these weapons are unlikely to be able provide an adequate second-strike deterrent. However, being mostly Pakistan specific, they still contribute immensely to converting the entire Indian Ocean Region to a nuclear flashpoint in addition to the LOC.
In fact, considering the direction in which India's military thinking has evolved over the last decade, the IOR's potential as a nuclear flashpoint is arguably even greater than that of the LOC. The sea's vastness, lack of terrestrial boundaries and potential lack of collateral damage makes a nuclear detonation in the IOR all the more likely. This can range from a non-targeted nuclear detonation as a mere show of force to a tactical nuclear strike on a specific naval platform and its crew in a bid to achieve escalation dominance early on in a conflict. As has often been the case with Indian military thinking, such a scenario can arise from a gross overestimation of its capabilities. Derived from its conventional military superiority(which is already more manifest at sea), such conditions make for an attractive option for India to conduct a limited war against Pakistan at sea.
However, considering how both the Indian and Pakistani navies have opted to commingle conventional and nuclear weapons across a large section of their naval platforms, the risks of any conventional engagement escalating to the use of nuclear weapons remain unacceptably high. As such, even thinking that escalation from a small engagement or skirmish at sea can be managed by either side is downright illusory at best. Yet, based on the Indian state's most recent actions and statements, whether the hubris coming out of India's leaders extends to the manic delusions of a winnable nuclear war is unnervingly open to question.
One hopes that the world never has to contemplate, let alone face, the consequences of such an appalling possibility.
Macron is wrong, NATO is not brain-dead
Right before the 30th anniversary of the fall of the Berlin wall this weekend, French President Macron decided to make another staggering statement in a series of gaffes over the past weeks. "NATO is brain-dead", he said in an interview for the Economist yesterday and everyone gasped. Europeans more than anyone need the alliance alive and well.
Macron also said that he didn't know if he still believed in Article 5 of the North Atlantic Treaty – the part on collective defense which says that an attack on one is an attack on all. The French President was worried about whether the US was still committed to the alliance.
This is not the first time that NATO has been kicked. The alliance has been scorned over the years, many doubting its reason d'etre. The transatlantic alliance has proven to be a resilient one over the decades, however. It is a mathematical constant, if you wish.
If the transatlantic alliance didn't break on the rocks of the Iraq war, it surely can survive Trump.
Macron's concern is that historical forces are pulling the transatlantic allies apart but that perception is a product of Trump's rhetoric, nothing more – it is not indicative of the pattern of transatlantic relations over the decades. Transatlantic relations are not Trump.
President Trump is facing an impeachment and elections, all within the next months to a year. The assessment of transatlantic relations cannot be based on the rhetoric of a person who might be gone soon. No one in the Washington community believes that Trump would withdraw from NATO, even after all the tough rhetoric. NATO is here to stay, and that is the belief among virtually all US officials and diplomats. Transatlantic relations will soon normalize after President Trump is out of office because that is the pattern. The transatlantic partnership is deeply ingrained in the American political psyche. There is no need for apocalyptic statements that rock the boat.
The US has guaranteed Europe's security since the end of the Second World War. Europe cannot do it on its own. What is true is that Europe needs to start contributing more to its own defense.
For a third of NATO's European member states in proximity to Russia, NATO is anything but obsolete. From the Baltic States, through Poland, Slovakia, Romania, down to Bulgaria, NATO's enhanced military presence since the Crimea war has been felt as a counter-measure to Russian ambitions. That of course is far away from France, but European NATO is not France. Macron doesn't speak for all the NATO European states most of who cannot imagine political life and even survival without NATO.
What is apparent is that French President Macron is rolling out a gaffe after gaffe this week. He caused a diplomatic scandal with the Bulgarian and Ukrainian governments, by saying in a far-right magazine that he preferred legal African migrants to Bulgarian and Ukrainian criminal gangs. The week before that, he blocked Albania and North Macedonia from starting accession talks for EU membership, which drew a lot of criticism from all corners of Europe. Yesterday, Macron called Bosnia a jihadists ticking bomb, of course ignoring that France is a jihadist force itself. Macron's "brain death" comment angered Angela Merkel who warned him to cut down on the drastic remarks.
So Macron, not Trump, is the one with the divisive, anti-European role, judging by the past weeks. Macron, not Trump, is turning into the European anti-hero.
The claim that the French President's series of inflammatory statements is a strategy to position France as the alternative leader of the European Union could be as true at the hypothesis that all this is a part of Macron pandering to the French far-right.
The truth is that NATO is alive and kicking. Its very existence serves as deterrence against a potential attack on a NATO member, so that Article 5 does not even have to be tested. NATO should not be taken for granted; only when something no longer exists will one get to appreciate all the invisible deterrence benefits.
If the history of Article 5 shows us one thing, is that it was used for the first time by the Americans in the aftermath of September 11th. This is a common reminder, anytime someone in the US questions the value of NATO.
So, Macron is wrong on NATO. It will be good if he toned down the lunatic rhetoric of the past weeks, to show that he himself is not brain-dead. If Macron's intention was to make waves, he is succeeding. If his intention was to be vying for the European Union top leadership spot, he is failing.