1 Million Workers Targeted in Tech-Reskilling Drive
The World Economic Forum launched the IT Industry Skills Initiative to meet the global skills gap challenge and address job displacement arising from automation and the Fourth Industrial Revolution. The initiative is committed to reaching 1 million people with resources and training opportunities on the SkillSET portal by January 2021.
The initiative was conceived by the Forum's IT Governors community under the chairmanship of Chuck Robbins, Chairman and Chief Executive Officer, Cisco. The founding partners are Accenture, CA Technologies, Cisco, Cognizant, Hewlett Packard Enterprise (HPE), Infosys, Pegasystems, PwC, Salesforce, SAP and Tata Consultancy Services.
"We need responsive solutions and coordination from all parts of society – governments, citizens and private industry alike – to re-envision an educational system based on lifelong learning that can fully prepare workers for the jobs of the future," said Klaus Schwab, Founder and Executive Chairman, World Economic Forum. "This initiative is a clear example of industry leaders taking concerted, collective action to address a major social challenge at scale."
According to a World Economic Forum report on workforce reskilling, one in four adults reported a mismatch between the skills they have and the skills they need for their current job. Therefore, enabling and empowering workers to transform and update their skills is a key concern for businesses and societies across the globe.
"In our dynamic world, technology has opened up many avenues for growth. However, we are also seeing how innovations such as artificial intelligence and automation can impact the workforce. It is important for all of us to recognize that without the talent we need, none of us would be successful," said Chuck Robbins, Chairman and CEO, Cisco. "This initiative brings together the capabilities and strengths of all of our companies to help educate the high-skilled workers needed for jobs now and into the future. It is our obligation to make sure that people with jobs across every industry are given the means to learn new skills and remain competitive."
The coalition has created a free platform of online tools to streamline the process of reskilling adults. The initial iteration of the portal will be available in April 2018.
To empower people to address fast-changing skill requirements, initiative partner companies are opening up key elements of their individual training libraries into one centralized portal. Users will have access, free of charge, to the most up-to-date, self-paced training materials from leading global IT companies, ranging from general business skills to introductory digital literacy to more advanced topics such as cybersecurity, big data or internet of things. The portal will offer a tailored Skills Assessment, developed by PwC, and based on the Fourth Industrial Revolution skills research, to help users determine which coursework and/or learning pathways best fit their current skillset and learning goals.
In creating this platform, the coalition hopes to recast continued education to a more engaging, ongoing and educationally reaffirming experience. They also hope to motivate adults of all backgrounds to use the platform, especially those from low-resource communities or under-represented groups who have historically had less access to the IT industry. SkillSET is hosted on the award-winning EdCast AI-powered Knowledge Cloud platform, accessible to anyone using desktop or mobile versions.
The coalition, which continues to add members, will be working over the next few months to develop tools and processes intended to address many of the barriers that prevent adults from reskilling or successfully completing trainings. The initiative will initially target the US market, with plans to scale to other geographies and build industry and public-sector partnerships in 2018 and beyond. Under the chairmanship of Mike Gregoire, Chief Executive Officer, CA Technologies, the coalition will report on progress at the World Economic Forum Annual Meeting 2019.
Founding Partners Speak Out:
Pierre Nanterme, Chairman and Chief Executive Officer, Accenture: "People need innovative ways to learn new skills in order to remain relevant and adaptive as the pace of technology change accelerates. For example, AI offers enormous opportunities for growth, but success will increasingly depend on humans collaborating with intelligent technologies. By accessing a broad range of 'new skilling' techniques, people will be better placed to work with machines and help businesses pivot to new growth models."
Michael Gregoire, Chief Executive Officer, CA Technologies: "Technology is both the tool and the canvas and carries the huge promise of improving how we live and work. The counter side, however, is some degree of wariness by those who fear it disrupting their livelihoods, which is both understandable and expected. We are focused on a large-scale, proactive solution that encourages continuing education to empower and inspire today's and tomorrow's workforce. We must engage with technology in a way that creates new opportunities, both at an individual level and in the aggregate."
Francisco D'Souza, Chief Executive Officer, Cognizant Technology Solutions: "The workplace issue of the 21st century is a worldwide shortage of qualified technology talent driven by a massive skills gap, which we must address together on a global scale. The pace of technological change has education systems struggling to keep up in delivering learning experiences that are relevant, immersive and readily available as workers seek to expand their skills. The future of talent development depends on new models, ways of thinking and initiatives like this one that engage individuals as lifelong learners and provide them with opportunities for continuous reinvention."
Salil Parekh, Chief Executive Officer and Managing Director, Infosys Ltd: "Our relevance, in an increasingly digital future, will depend on our ability to learn and evolve lifelong at the pace of technology. Democratizing digital literacy is an essential first step to make technology a force for good that moves us all forward."
Alan Trefler, Founder and Chief Executive Officer, Pegasystems Inc.: "Throughout history, we've seen technological advancement bring both opportunities and challenges as society adapts. With technology so central to how we live and work today, it's critical that we enable people to acquire the skills required to be successful and to help society move forward in a positive direction.
Robert E. Moritz, Global Chairman, PwC International, PwC: "All over the world, people are asking themselves how they are going to prepare for their future, whether it's a new job, new responsibilities, or needed new skills. By working together across the public and private sectors, our hope is to enable new opportunities for people to carve their own paths, develop new skills, and future-proof themselves. By sharing our Skills Assessment, we believe more people around the world will be empowered to learn and grow professionally throughout their lives."
Keith Block, Vice Chairman, President and COO, Salesforce: "As the Fourth Industrial Revolution spurs incredible innovation, it is our responsibility as business leaders to ensure that the benefits created by this opportunity – now and in the future – are accessible to all."
Bill McDermott, Chief Executive Officer, SAP: "Our focus on building digital skills will unleash amazing potential in dreamers from all backgrounds. Instead of fearing automation, we should be optimistic about the exciting possibilities when people and machines work together. Bigger than artificial intelligence, we are entering a new frontier of 'augmented humanity'."
Rajesh Gopinathan, Chief Executive Officer and Managing Director, Tata Consultancy Services Ltd: With the advent of the Fourth Industrial Revolution, enterprises are leveraging the combined effect of emerging technologies to transform their businesses. Employees will also have to transform their skills and adopt newer ways of working to participate in today's opportunities that are as enormous as in any of the previous generations. It is important for enterprises to make investments in reskilling and upskilling employees and prepare them for digital-age careers."
Health Leaders Stress Need for Coordinated Global Response to Tackle Pandemics
Improved global coordination and regional capacity building will help ensure the world is better prepared for the next pandemic, said leading health experts at the World Economic Forum Annual Meeting 2022.
"We must not lose this moment of potential transformative change in building preparedness," said Helen E. Clark, Board Chair, Partnership for Maternal, Newborn & Child Health, World Health Organization (WHO). "Unfortunately, political resolve to solve COVID is beginning to fade."
Paul Kagame, President of Rwanda, pointed out that the COVID-19 pandemic is still raging in many countries. "To date, the African continent has fully vaccinated just 18% of its adult population." This is mostly due to the lack of virus testing and vaccine administration capacity, he said.
"Investing in health systems and regional bodies like Africa CDC and African Medicines Agency must be a key priority. We have to act in the full expectation that there will be another pandemic."
Bill Gates, Co-Chair of the Bill & Melinda Gates Foundation, said it was critical to identify and isolate viral outbreaks early. "Infectious disease is an exponential phenomenon and less than 2% of overall deaths occur in the first 100 days."
"Unfortunately, much of the world's pandemic risk resides in countries which don't have the capacity to respond quickly and effectively," he said. "You have to have global capacity if you are serious about pandemics."
Peter Sands, Executive Director of the Global Fund to Fight AIDS, Tuberculosis and Malaria, argued for the need for "multi-pathogen infrastructure and capacity". That is, to ensure that broad public health surveillance and infrastructure are available across the infectious disease spectrum.
"We need to finish the job – and we can do that by investing intelligently in infrastructure like lab networks, community health workers, supply chains and simultaneously help countries defeat HIV, TB and malaria as well as make them safer against future pathogens," he said.
Francis deSouza, President and CEO of Illumina, predicted that the pandemic will launch the world into what he describes as the "Era of Biology" in which human health, longevity and biology will underpin the 21st century.
"The amount of breakthrough innovations that have occurred during the pandemic period is unprecedented," he said. On the sequencing front, for example, the price has dropped 99% over the past few years. This has enabled us to deploy sequencing around the world to over 190 countries".
He added: "However, we are only as strong as the weakest among us, hence we need to build a global infrastructure and have a coordinated global response to the next outbreak."
'New dawn' for Europe as War in Ukraine Strengthens EU and Support for Enlargement
The European Union surprised the world, and even itself, with the speed, scale and unity of its response to Russia's invasion of Ukraine. This "new" Europe is ready to project both soft and hard power on the world stage, European leaders told participants at the World Economic Forum Annual Meeting 2022.
Christine Lagarde, President, European Central Bank, on the panel at the session, European Unity in a Disordered World?, said the Ukraine war has revealed how powerful Europe is collectively: "This is a new dawn for Europe."
The war on Ukraine has also revealed weaknesses – including global supply chain vulnerabilities and over-reliance on Russian energy, she said, but Europe is addressing this and can begin to flex its muscles on the global stage. "Europe has untapped purchasing power, trading power, technology power, pension power and moral power."
Roberta Metsola, President of the European Parliament, reinforced the point. "This is Europe's moment," she said. "Europe can become the global project for peace."
Mistakes of the past will be rectified, she said. "For way too long we did not seriously consider an energy union where we can rely on each other rather than on a country that can switch us off at any time."
Referring to the EU's support and defence of Ukraine, she was emphatic: "This is not the time to talk about face-saving for Russia or appeasement."
Eduard Heger, Prime Minister of Slovakia, also on the panel, said: "If Ukraine falls to Russian aggression, Slovakia is next." He added that we must continue to provide military support as well as step up humanitarian aid. "Above all we need to give Ukrainians hope."
"Let's not compromise – we must remain faithful to the values of the EU – freedom, rule of law, human dignity and equal rights."
Micheál Martin, Taoiseach of Ireland, said of Russia's invasion of Ukraine: "The people of Europe have spoken. Enough is enough." In response there is much stronger unanimity between member states and more support than ever to accept the accession of new members.
He continued: "We see the EU's future in terms of the green economy and in terms of the digitalization but also in terms of enlargement."
Mark Rutte, Prime Minister of the Netherlands, called on European member states to continue to raise their defence spending. "The NATO alliance members are inseparable, but Europe must play its part," he said. "This will help transform Europe from a soft power to a hard power."
New Accord to Improve Health and Vaccine Equity for 1.2 Billion People in Lower-Income Countries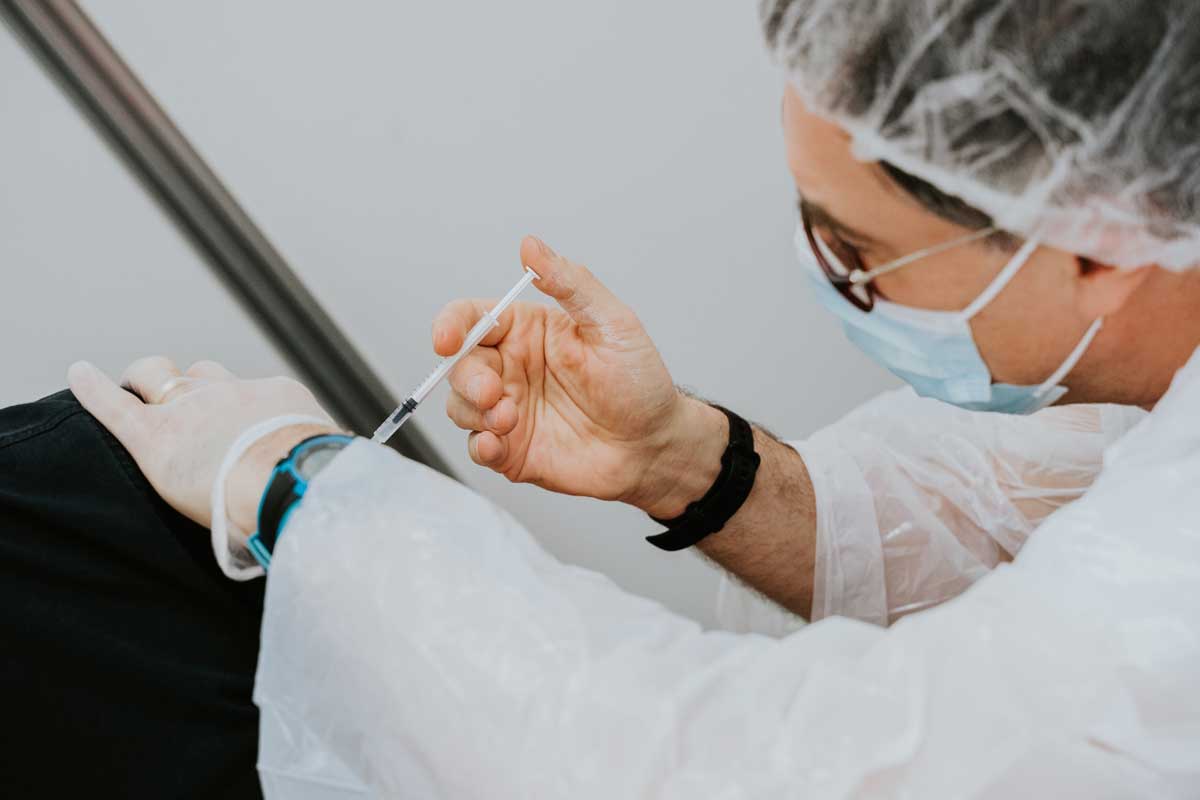 A groundbreaking initiative launched today at the World Economic Forum Annual Meeting in Davos 2022 aims to greatly reduce the health inequities that exist between many lower-income countries and the rest of the world.
An Accord for a Healthier World is led by Pfizer. The pharmaceutical company will offer all its patent-protected medicines and vaccines, including the COVID jab, that are available in the United States and the European Union on a not-for-profit basis to 1.2 billion people in 45 lower-income countries.
"As we learned in the global COVID-19 vaccine rollout, supply is only the first step to helping patients. We will work closely with global health leaders to make improvements in diagnosis, education, infrastructure, storage and more. Only when all the obstacles are overcome can we end healthcare inequities and deliver for all patients," said Albert Bourla, Chairman and CEO of Pfizer.
Pfizer will work with healthcare officials in Rwanda, Ghana, Malawi, Senegal and Uganda to identify early insights and opportunities to ensure all medicines and vaccines can reach those in need. This will include expertise to support diagnosis, healthcare professional education and training along with supply chain management and other infrastructure enhancements. Learnings from these five countries will be applied to support a rollout to 40 more countries.
"This is how all global problems should be tackled," said Lazarus Chakwera, President of Malawi. "The great thing about this accord is that it helps low-income countries without violating their dignity and agency as people, for it is a true partnership that involves both Pfizer and countries like Malawi sharing the burden of costs and tasks in the production and delivery of supplies that will save millions of lives."
The collaboration seeks to identify quick and efficient regulatory pathways and procurement processes to reduce the longer amount of time it can take to make new medicines and vaccines available in these countries. Pfizer has committed to provide 23 medicines and vaccines that treat infectious diseases, certain cancers and rare and inflammatory diseases. It also plans to add future medicines and vaccines on a not-for-profit basis.
The accord, with funding from the Bill & Melinda Gates Foundation, is advancing work on the development of vaccine candidates for the prevention of Group B Streptococcus, a leading cause of stillbirth and newborn mortality in low-income countries. They are also discussing opportunities to support respiratory syncytial virus vaccine development, another maternal vaccine.
"Everyone, no matter where they live, should have the same access to innovative, life-saving drugs and vaccines," said Bill Gates, Co-Chair of the Bill & Melinda Gates Foundation. "[The accord] could help millions more people in low-income countries get the tools they need to live a healthy life. Pfizer is setting an example for other companies to follow."
Paul Kagame, President of Rwanda, described the accord as an important step towards sustainable health security for countries at every income level. "Rapid and affordable access to the most advanced medicines and vaccines is the cornerstone of global health equity," he said.
President Nana Addo Dankwa Akufo-Addo of Ghana, said true health equity needs strong cooperation between the public and private sectors. "We must continue to strive for quality healthcare for all people to live longer, stronger and healthier lives," he said.
Macky Sall, President of Senegal, said the accord works towards a better world. "Senegal proudly supports the launch of An Accord for a Healthier World to improve health equity and outcomes for the people of our country and across the world," he said.
Yoweri Museveni, President of Uganda, said it is important that partners find new ways to address challenges in access to medicines. "It is the time to close the health equity gap," he said.