1 Million Workers Targeted in Tech-Reskilling Drive
The World Economic Forum launched the IT Industry Skills Initiative to meet the global skills gap challenge and address job displacement arising from automation and the Fourth Industrial Revolution. The initiative is committed to reaching 1 million people with resources and training opportunities on the SkillSET portal by January 2021.
The initiative was conceived by the Forum's IT Governors community under the chairmanship of Chuck Robbins, Chairman and Chief Executive Officer, Cisco. The founding partners are Accenture, CA Technologies, Cisco, Cognizant, Hewlett Packard Enterprise (HPE), Infosys, Pegasystems, PwC, Salesforce, SAP and Tata Consultancy Services.
"We need responsive solutions and coordination from all parts of society – governments, citizens and private industry alike – to re-envision an educational system based on lifelong learning that can fully prepare workers for the jobs of the future," said Klaus Schwab, Founder and Executive Chairman, World Economic Forum. "This initiative is a clear example of industry leaders taking concerted, collective action to address a major social challenge at scale."
According to a World Economic Forum report on workforce reskilling, one in four adults reported a mismatch between the skills they have and the skills they need for their current job. Therefore, enabling and empowering workers to transform and update their skills is a key concern for businesses and societies across the globe.
"In our dynamic world, technology has opened up many avenues for growth. However, we are also seeing how innovations such as artificial intelligence and automation can impact the workforce. It is important for all of us to recognize that without the talent we need, none of us would be successful," said Chuck Robbins, Chairman and CEO, Cisco. "This initiative brings together the capabilities and strengths of all of our companies to help educate the high-skilled workers needed for jobs now and into the future. It is our obligation to make sure that people with jobs across every industry are given the means to learn new skills and remain competitive."
The coalition has created a free platform of online tools to streamline the process of reskilling adults. The initial iteration of the portal will be available in April 2018.
To empower people to address fast-changing skill requirements, initiative partner companies are opening up key elements of their individual training libraries into one centralized portal. Users will have access, free of charge, to the most up-to-date, self-paced training materials from leading global IT companies, ranging from general business skills to introductory digital literacy to more advanced topics such as cybersecurity, big data or internet of things. The portal will offer a tailored Skills Assessment, developed by PwC, and based on the Fourth Industrial Revolution skills research, to help users determine which coursework and/or learning pathways best fit their current skillset and learning goals.
In creating this platform, the coalition hopes to recast continued education to a more engaging, ongoing and educationally reaffirming experience. They also hope to motivate adults of all backgrounds to use the platform, especially those from low-resource communities or under-represented groups who have historically had less access to the IT industry. SkillSET is hosted on the award-winning EdCast AI-powered Knowledge Cloud platform, accessible to anyone using desktop or mobile versions.
The coalition, which continues to add members, will be working over the next few months to develop tools and processes intended to address many of the barriers that prevent adults from reskilling or successfully completing trainings. The initiative will initially target the US market, with plans to scale to other geographies and build industry and public-sector partnerships in 2018 and beyond. Under the chairmanship of Mike Gregoire, Chief Executive Officer, CA Technologies, the coalition will report on progress at the World Economic Forum Annual Meeting 2019.
Founding Partners Speak Out:
Pierre Nanterme, Chairman and Chief Executive Officer, Accenture: "People need innovative ways to learn new skills in order to remain relevant and adaptive as the pace of technology change accelerates. For example, AI offers enormous opportunities for growth, but success will increasingly depend on humans collaborating with intelligent technologies. By accessing a broad range of 'new skilling' techniques, people will be better placed to work with machines and help businesses pivot to new growth models."
Michael Gregoire, Chief Executive Officer, CA Technologies: "Technology is both the tool and the canvas and carries the huge promise of improving how we live and work. The counter side, however, is some degree of wariness by those who fear it disrupting their livelihoods, which is both understandable and expected. We are focused on a large-scale, proactive solution that encourages continuing education to empower and inspire today's and tomorrow's workforce. We must engage with technology in a way that creates new opportunities, both at an individual level and in the aggregate."
Francisco D'Souza, Chief Executive Officer, Cognizant Technology Solutions: "The workplace issue of the 21st century is a worldwide shortage of qualified technology talent driven by a massive skills gap, which we must address together on a global scale. The pace of technological change has education systems struggling to keep up in delivering learning experiences that are relevant, immersive and readily available as workers seek to expand their skills. The future of talent development depends on new models, ways of thinking and initiatives like this one that engage individuals as lifelong learners and provide them with opportunities for continuous reinvention."
Salil Parekh, Chief Executive Officer and Managing Director, Infosys Ltd: "Our relevance, in an increasingly digital future, will depend on our ability to learn and evolve lifelong at the pace of technology. Democratizing digital literacy is an essential first step to make technology a force for good that moves us all forward."
Alan Trefler, Founder and Chief Executive Officer, Pegasystems Inc.: "Throughout history, we've seen technological advancement bring both opportunities and challenges as society adapts. With technology so central to how we live and work today, it's critical that we enable people to acquire the skills required to be successful and to help society move forward in a positive direction.
Robert E. Moritz, Global Chairman, PwC International, PwC: "All over the world, people are asking themselves how they are going to prepare for their future, whether it's a new job, new responsibilities, or needed new skills. By working together across the public and private sectors, our hope is to enable new opportunities for people to carve their own paths, develop new skills, and future-proof themselves. By sharing our Skills Assessment, we believe more people around the world will be empowered to learn and grow professionally throughout their lives."
Keith Block, Vice Chairman, President and COO, Salesforce: "As the Fourth Industrial Revolution spurs incredible innovation, it is our responsibility as business leaders to ensure that the benefits created by this opportunity – now and in the future – are accessible to all."
Bill McDermott, Chief Executive Officer, SAP: "Our focus on building digital skills will unleash amazing potential in dreamers from all backgrounds. Instead of fearing automation, we should be optimistic about the exciting possibilities when people and machines work together. Bigger than artificial intelligence, we are entering a new frontier of 'augmented humanity'."
Rajesh Gopinathan, Chief Executive Officer and Managing Director, Tata Consultancy Services Ltd: With the advent of the Fourth Industrial Revolution, enterprises are leveraging the combined effect of emerging technologies to transform their businesses. Employees will also have to transform their skills and adopt newer ways of working to participate in today's opportunities that are as enormous as in any of the previous generations. It is important for enterprises to make investments in reskilling and upskilling employees and prepare them for digital-age careers."
Renewable energy investment in 2018 hit USD 288.9 billion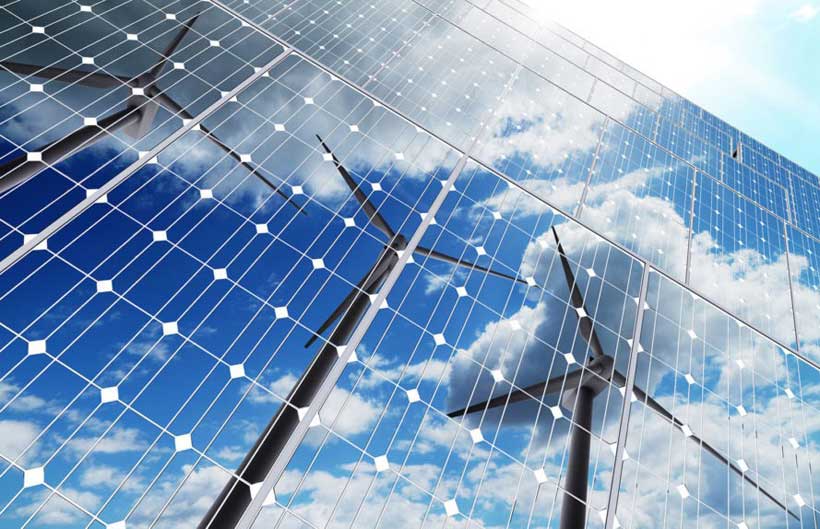 Global investment in renewable energy hit USD 288.9 billion in 2018, with the amount spent on new capacity far exceeding the financial backing for new fossil fuel power, according to new figures published today.
These numbers, produced by BloombergNEF (BNEF), are being published today as part of REN21's Renewables 2019 Global Status Report.
The numbers show that while investment was 11 per cent down over the previous year, 2018 was the ninth successive year in which it exceeded USD 200 billion and the fifth successive year above USD 250 billion. The figure does not include hydropower above 50MW, which saw an additional USD 16 billion invested – also down on 2017, when USD 40 billion was invested.
The dip in investment in 2018 can be partly attributed to falling technology costs in solar photovoltaics, which meant that the required capacity could be secured at a lower cost, and a slowdown in solar power deployment in China.
However, globally, solar was still the largest focus of investment, with USD 139.7 billion in 2018, down 22 per cent. Wind power investment increased two per cent in 2018, to USD 134.1 billion. The other sectors lagged far behind, although investment in biomass and waste-to-energy increased 54 per cent, to USD 8.7 billion.
The figures compare the amount invested in new renewable power capacity, which was USD 272.3 billion globally in 2018 (excluding large hydro), with that in new coal- and gas-fired generating capacity, which was USD 95 billion.
China leads, Europe and developing countries rally
A geographical breakdown of the USD 288.9 billion figure for total renewable energy investment in 2018 shows that China led investment worldwide for the seventh successive year, at USD 91.2 billion. However, this was down 37 per cent from 2017's record number, due to a number of factors including a mid-year change in the government's feed-in tariff policy, which hit investment in solar power.
China also accounted for 32 per cent of the global total investment, followed by Europe at 21 per cent, the United States at 17 per cent, and Asia-Oceania (excluding China and India) at 15 per cent. Smaller shares were seen in India at 5 per cent, the Middle East and Africa at 5 per cent, the Americas (excluding Brazil and the United States) at 3 per cent and Brazil at 1 per cent.
If China is excluded, renewable energy investment in the developing world actually increased 6 per cent to USD 61.6 billion, a record high.
"When overall investment falls, it is easy to think we are moving backwards, but that is not the case," Angus McCrone, Chief Editor at BloombergNEF, commented: "Renewable energy is getting less expensive and we are seeing a broadening of investment activity in wind and solar to more countries in Asia, Eastern Europe, and the Middle East and Africa."
Investment in Europe jumped 39 per cent to USD 61.2 billion, the highest level in two years, driven largely by large on- and off-shore wind investments.
In the United States, investment edged up 1 per cent to USD 48.5 billion, the highest level since 2011, also driven by an increase in wind power financing.
Investment in the Asia-Pacific region (excluding China and India) increased 6 per cent to USD 44.2 billion, the highest level in three years, while the Middle East and Africa saw investment leap 57 per cent to a record USD 15.4 billion. However, in the Americas (excluding Brazil and the United States), investment declined 23 per cent (excluding large hydropower) to USD 9.8 billion.
"It is reassuring to see investment growing in the US," said Prof. Dr. Nils Stieglitz, President of Frankfurt School of Finance & Management, involved in the report, "Ironically, this renewables investment growth may in part be driven by projects rushing to qualify for the current tax-support scheme, which is due to expire in only a few years as chances for extension are currently quite low."
A wealth of more detailed information on global investment in the financing of renewables in 2018 will be shared in the Global Trends in Renewable Energy Investment report, to be released in September ahead of the Global Climate Action summit of the UN Secretary-General. That report has been published every year since 2007. this year's edition is co-funded by the German Federal Ministry for the Environment, Nature Conservation and Nuclear Safety. It will feature a look back on a decade of renewable energy investment.
EU responses to climate change
Fighting climate change is a priority for the Parliament. Below you will find details of the solutions the EU and the Parliament are working on.
Limiting global warming: a matter of 2°C increase
Average global temperatures have risen significantly since the industrial revolution and the last decade (2008–2017) was the warmest decade on record. Of the 17 warmest years, 16 have occurred since 2000.
Data from the Copernicus Climate Change Service shows that 2018 was also one of the three warmest years on record for Europe. The majority of evidence indicates that this is due to the rise of greenhouse gas emissions produced by human activity.
The average global temperature is today 0.85°C higher than at the end of the 19th century. Scientists consider an increase of 2°C compared to pre-industrialised levels as a threshold with dangerous and catastrophic consequences for climate and the environment.
This is why the international community agrees that global warming needs to stay well below a 2°C increase.
Why is an EU response important?
According to the European Environment Agency, the EU is the world's third biggest greenhouse gases emitter after China and the US. The energy sector was responsible for 78% of EU greenhouse gas emissions in 2015. Common mitigation efforts are key as climate change affects all EU countries, even if not in the same way.
The Mediterranean region can expect more heat extremes and less rain, while countries in the continental region face higher risk of river floods and forest fires.

EU efforts are paying off. In 2008, the EU set the target to cut emissions by 20% compared to 1990 levels by 2020. It is well on track to reach this goal: in 2015 the level of greenhouse gas emissions in the EU represented a decrease of 22% compared with 1990 levels.
The EU and international climate policy
The EU is a key player in UN climate negotiations. In 2015, it ratified the Paris Agreement, the first universal agreement to combat climate change. Its goal is to mitigate climate change by maintaining the increase in global temperature at 1.5°C compared to pre-industrialised times.

Under the Paris Agreement, the EU committed to cutting greenhouse gas emissions in the EU by at least 40% below 1990 levels by 2030. It has put several measures in place to reach this target.
Cutting greenhouse gas emissions

The EU has put in place different types of mechanisms depending on the sector.
To cut emissions from power stations and industry, the EU has put into place the first major carbon market. With the Emissions Trading System (ETS), companies have to buy permits to emit CO2, so the less they pollute, the less they pay. This system covers 45% of total EU greenhouse gas emissions.

For other sectors such as construction or agriculture, reductions will be achieved through agreed national emissions targets, which are calculated, based on countries' gross domestic product per capita.
Regarding road transport, in early 2019, the European Parliament backed legislations to reduce CO2 emissions by 37.5% for new cars, 31% for vans and 30% for new trucks by 2030

The EU also wants to use the CO2 absorption power of forests to fight climate change. In 2017 MEPs voted in favour of a regulation to prevent emissions resulting from deforestation and change of land use.
Addressing the energy challenge
The EU also fights climate change with a new clean energy policy adopted by the Parliament in 2018. The focus is on increasing the share of renewable energy consumed to 32% by 2030 and creating the possibility for people to produce their own green energy.

In addition the EU wants to improve energy efficiency 32.5% by 2030 and adopted legislation on buildings and household appliances.
EU funding for climate
Climate mitigation and adaptation goals are integrated into the EU's main spending programmes. The EU agreed to make at least 20% of EU expenditure climate-related in 2014-2020, including the €3.4 billion LIFE environment and action programme.
Clean Energy at Forefront of Fight Against Climate Change in Asia and Pacific
The advancement of affordable and reliable clean energy is not only at the forefront of Asia and the Pacific's development progress, it is also at the heart of the region's development of resilient infrastructure and fight against climate change, participants at the Asia Clean Energy Forum (ACEF) 2019 heard today.
Co-hosted by the Asian Development Bank (ADB), the United States Agency for International Development, and the Korea Energy Agency, with the support of the International Energy Agency as the Knowledge Partner, ACEF 2019 is being held from 18–21 June under the theme "Partnering for Impact." In line with this theme, the event is highlighting the need to focus on collaborative partnerships, ideas, and efforts that have market potential, with the goal of delivering tangible clean energy impact across the Asia and Pacific region.
Some 1,300 people will attend the event, including many from the private sector involved in clean energy development, as well as academicians, officials from governments, and representatives from nongovernment organizations and multilateral development banks. ACEF began in 2006 as an annual event to provide a platform for discussion and collaboration in promoting clean energy in Asia and the Pacific.
ADB President Mr. Takehiko Nakao participated in the opening panel discussion featuring Co-founder and Chief Scientist of the Rocky Mountain Institute Mr. Amory Lovins and Global Strategic Development Advisor and Member of the United Nations High-Level Panel on Women's Economic Empowerment Ms. Fiza Farhan.
"A sustainable and secure energy supply remains essential as more than 350 million people still lack access to electricity in our developing member countries (DMCs). It is also a key part of the fight against climate change," said Mr. Nakao. "People around the world are demanding affordable energy, clean air, and a more responsible approach to the environment. ACEF is a leading event in Asia and the Pacific that enables our DMCs and other participants to share their experiences and innovative ways to meet these critical demands."
Through Strategy 2030, ADB has committed at least 75% of its operations to support climate change mitigation and adaptation efforts by 2030. Climate finance from ADB's own resources will reach $80 billion for the period 2019–2030. Based on historical trends, ADB's lending, equity, grants, and programs in support of renewable and energy efficiency could contribute significantly to this target.
ADB has also affirmed its commitment to advanced technologies in sustainable energy by launching its first innovation technology challenge, which will invite technology providers to submit proposals for grants from the High-Level Technology Fund which is supported by the Government of Japan to address energy related development challenges. This new modality aims to build partnerships with technology providers and accelerate innovative technology development and deployment in DMCs.
ACEF 2019 features five thematic tracks based on key elements of Strategy 2030: energy and livable cities; energy and water sustainability; energy and rural poverty alleviation; energy and innovative finance; and clean energy technologies. There will be 21 workshops focusing on a range of topics, including radical energy efficiency, hydro mini-grids, electric vehicles, the empowerment of women in the energy sector, renewable energy systems, the future of cooling, and the food–energy–water nexus.
ACEF 2019 will be limiting its carbon footprint by purchasing carbon credits to offset the travel related emissions of all participants. The event will also be paperless, with all program materials to be made exclusively available on ACEF's website and mobile app.