Technologies Are Transforming Healthcare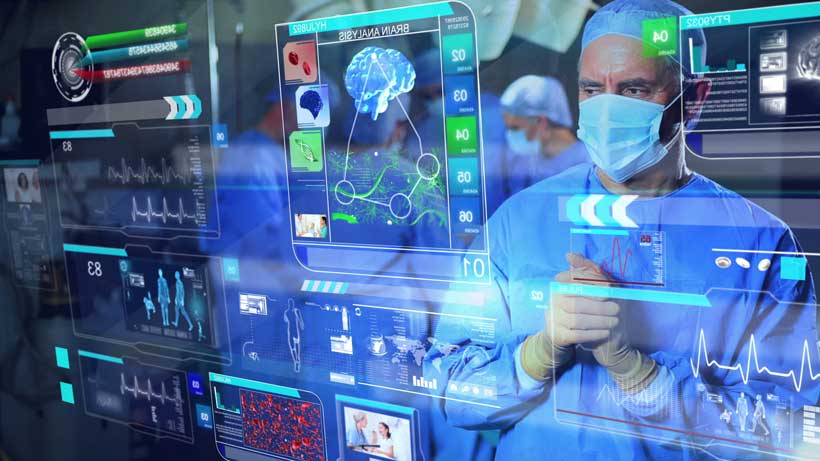 People will live to the age of 140 within a few decades, hospitals will be transformed into mere casualty rooms as patient self-management of health becomes the norm, 5G-connected ambulances will save millions of lives by accessing digitized trauma data and performing procedures in transit, experts told the World Economic Forum.
These exciting developments are coming soon. However, cancers are already being detected months earlier than before, thanks to small, wearable health-monitoring devices. Computer vision is allowing the visually impaired to "see"; dyslexia sufferers are reading and surgeons are rehearsing complicated operations in a holographic-robotics environment.
"Technology and healthcare have long existed in their own metaphorical silos, but now these two worlds are colliding," said Albert Bourla, Chief Operating Officer, Pfizer Inc. This collision means more and better medicines are being delivered faster to sick people, while biological sensors have dramatically improved diagnosis, he added. Also, predictive diagnosis brings preventive measures rather than reactive. Such dramatic transformation in the sector is having a major disruptive effect on healthcare stakeholders and their relationships, he said.
"Even the mundane – but vital – area of hospital administration is being transformed, with real-time interactive recording of patient outcomes dramatically reducing bureaucracy and costs," noted Satya Nadella, Chief Executive Officer, Microsoft Corp. Nadella said the artificial intelligence techniques working with data enable medical scientists to "stand on the shoulder of giants" as they can instantly access best-case history. This resolves the impossible task of practitioners keeping up with new developments and removes the problem of medical students' knowledge becoming "outdated" on the day they graduate.
While the new technology may be dazzling, "the focus of healthcare must be on the patient," emphasized Michael F. Neidorff, Chairman and Chief Executive Officer, Centene Corporation. Care will become increasingly personalized as the particular, often unique, issues of individuals are identified. Doctors will remain essential in detailed diagnosis and care regimes.
"Chronic diseases are the leading cause of morbidity in the world, accounting for more than 60% of all deaths. Yet most of these diseases are preventable and many are reversible with accurate and early diagnosis," said Rajeev Suri, President and Chief Executive Officer, Nokia Corporation. Nokia is working on non-invasive, wearable devices that will continuously monitor vital signs – such as cortisol and glucose levels – and immediately pick up irregularities. Millions upon millions of lives can be saved, Suri said. He sees the collection of this personal data as filling the void between medical consultations, eliminating the need for repeated blood testing, for example.
Technological innovation is costly and the question of affordability and a possible widening of inequalities in healthcare provision was raised. Neidorff said this underlines the need "to recognize healthcare as a fundamental human right". The debate has to move in the direction of political policy to ensure that everyone can benefit. The solution to the affordability issue lies with both government and the private sector.
Other speakers underscored how much money can be saved by the new technology-driven approach, freeing funds for a broad-based healthcare system. One example is early intervention in diabetes cases eliminating 700,000 emergency room visits and 340,000 hospital admissions a year in the United States. This would mean a saving of $47 billion.
ADB to Help Improve Water Governance, Develop Regional Urban Investment Plan for Mongolia
The Asian Development Bank (ADB) has agreed to provide two technical assistance (TA) grants totaling $2.5 million to help the Government of Mongolia strengthen water governance at the river basin level and prepare a development investment program for aimag and soum centers in the country.
The agreements were signed by Batkhuu Idesh, Director General of the Development Financing Department of the Ministry of Finance, and Yolanda Fernandez Lommen, ADB Country Director for Mongolia, at a ceremony in Ulaanbaatar. First Secretary Hiroshi Fukasawa from the Embassy of Japan in Mongolia witnessed the event. Representatives from the Ministry of Environment and Tourism and the Ministry of Construction and Urban Development also participated.
"Mongolia's future development rests heavily on how it manages its resources and achieve sustainable development driven by a multisector economy and ecological balance," said Ms. Fernandez Lommen. "Both projects are aligned with ADB's Country Partnership Strategy for Mongolia, which supports the government's efforts to foster inclusive growth, improve people's access to services, and strengthen environmental sustainability."
The $1 million water governance TA grant aims to improve the effectiveness and sustainability of investments in the water sector and infrastructure in the country to provide socioeconomic benefits. The project will assess the current status of water governance standards, provide policy recommendations for legislative and institutional reforms, and develop and update management plans for river basins. It will strengthen and build capacity among government agencies, and assess the potential scaleup and replication of water security approaches for river basins.
The regional development TA grant for the aimag and soum centers is worth $1.5 million. It will help the government develop an investment program to improve basic urban services and promote the local economy in selected aimag capitals and soum centers. The program will focus on regional urban clusters that have the potential to build a more resilient and diversified economy to deliver inclusive and sustainable growth. The TA will support the preparation of the investment program, such as the formulation of economic and urban development strategies, feasibility studies, and measures that will enhance aid effectiveness and project readiness.
The two projects are funded by the Japan Fund for Poverty Reduction. Over the past 19 years, the fund has supported projects in Mongolia in poverty alleviation, community development, improving livelihoods, and safeguarding the environment.
Data USA adds more than 7,300 profiles of higher education institutions to visualization platform
Data USA has released new data visualization profiles summarizing the costs, demographics, debt, acceptance rates, financial aid, and endowments of more than 7,300 universities and higher education institutions in the US. The visualizations make available data from the US Department of Education's Integrated Postsecondary Education Data Systems (IPEDS).
Data USA is a free, open data platform created in collaboration between Deloitte, MIT, and Datawheel. Data USA integrates, visualizes, and distributes data from multiple public sources and has grown in its first two years to more than 300,000 monthly users, becoming one of the main sources for Americans to access public data.
"The new university profiles will allow students, parents, and school counselors, to understand the cost, demographics, and career opportunities of thousands of US universities," said César Hidalgo, director of MIT's Collective Learning group and a co-founder of Datawheel.
"Whether you are a student or parent, researcher, journalist, employer, or curious citizen, these new data visualizations offer greater insights into the composition of colleges and universities around the country and the integral role they play in the overall job market," said Matt Gentile, principal, Deloitte Transactions and Business Analytics LLP, and one of the Data USA project lead sponsors. "With the vast amounts of open government data, we're closing the gap in making that data useful, understandable, and actionable."
"IPEDS data is extensive, but to most individuals who are not thoroughly familiar with the intricacies of the formats involved, translating the raw data into useable information is a daunting task," said Jeff Bradfield, National Practice Leader for Higher Education, Deloitte Consulting LLP. "With this new interface, the data is now more accessible to people inside and outside the higher education community."
The new higher education profiles provide a robust amount of data visualizations, including:
Admissions and financial aid
Majors, time to complete degrees, and jobs of graduates
Diversity of student and faculty populations
Staffing, expenses, and operations
Additionally, the individual institution profiles that also include automatically generated comparison data from peer institutions.
Data USA is the most comprehensive visualization engine for shared US government data to date, aggregating and visualizing publicly available data from multiple sources including the Department of Labor, Department of Commerce, the Census, and Department of Education, among others.
Data USA is freely available and users can browse the data and gain insights using filters or target their view using search tools. The code is open source, and the platform is scalable, allowing for new data to be added. Application developers can build on the Data USA platform using the API and integrate additional data for custom use.
Strong outbound tourism demand from both traditional and emerging markets in 2017
Virtually all source markets reported higher tourism spending in 2017, reflecting continued strong demand for international tourism across all world regions. Both emerging and advanced economies fuelled growth, led by the United States which spent US$ 12 billion more on travel abroad. China spent US$ 8 billion more, consolidating its leadership as the biggest spender in the world. The Russian Federation spent US$ 7 billion more and Brazil US$ 5 billion more, both rebounding from weaker spending in previous years. Strong tourism expenditure reflects enhanced connectivity, increased visa facilitation and a global economic upswing.
All top 25 source markets reported higher spending on international tourism in 2017, as highlighted in the latest UNWTO World Tourism Barometer. China consolidated its leadership as the biggest spender in travel abroad in 2017 with US$ 258 billion in expenditure (+5% in local currency).
The other three BRIC economies all substantially increased expenditure in 2017. The Russian Federation (+13%) rebounded after a few years of declines, to reach US$ 31 billion, climbing three places to re-enter the top ten at number 8. Brazil (+20%) also recovered strongly and moved up eight places to number 16 with US$ 19 billion in expenditure. India continued its rise with 9% growth in spending to US$ 18 billion and moved up four places in the ranking to 17th.
"Emerging economies play a key role in tourism development and we are very pleased to see the rebound of the Russian Federation and Brazil, and the ongoing rise of India, as these key emerging outbound markets contribute to growth and market diversification in many destinations", said UNWTO Secretary-General, Zurab Pololikashvili.
Advanced economies also performed robustly in 2017, led by the United States (+9%), the world's second largest outbound market. US travellers spent US$ 12 billion more on international tourism to US$ 135 billion. Expenditure from Germany (3rd largest market) and the United Kingdom (4th) both increased 3%, and from France (5th) 1%.
Australia (6th) reported 7% growth and Canada (7th) a 9% increase. Completing the top ten are the Republic of Korea (9th) where expenditure grew by 9% and Italy (10th) where it increased by 6%.
Beyond the top ten, tourism spending also grew notably in Sweden (+14%) and Spain (+12%).
These strong results in outbound tourism are consistent with the 7% increase in international tourist arrivals in 2017. Demand for travel was particularly high in Europe, where arrivals increased 8% last year.