How climate change and population growth threaten Egypt's ancient treasures
In his 40-something years as an archaeological excavator on Luxor's West Bank, Mustafa Al-Nubi has witnessed a flurry of changes.
Tourist numbers have surged, fallen, and then slowly grown again. Local villages have exploded in size. Even the landscape has undergone a radical transformation, as Egyptologists slowly pick their way through the vast Theban Necropolis. "It's like one big museum now," Nubi says. "My grandfather would not recognize his own house."
Yet none of this, he insists, compares to the unusual weather that's gripped southern Egypt in recent years. Where once he could work much of the dig season – usually from October to April – without breaking a sweat, now his traditional galabeya robe is often stained dark by 10am. Winter can be chilly one day, and stifling the next. Amid periodic downpours at unusual times of the year, Nubi and his colleagues have almost got used to dashing for cover. "I don't know what's happening," he said. "But it was not like this before."
The millennia-old treasures tell a similar tale. For much of history, conditions around Luxor were almost calculated to preserve its trove of pharaonic riches. With little rain, low humidity, and piles of swirling desert sand that cocooned the ancient temples in a protective bubble, there were few climatic concerns. And with a comparatively small local population, here on a previously isolated stretch of the Nile, there was little reason to suspect that the likes of the Ramesseum might go the way of their crumbling counterparts in densely populated northern Egypt. The pharaohs called their massive mortuary temples the temples of a million years; they were meant to last forever.
All that, however, is slowly beginning to change. Increasingly erratic weather that many largely attribute to climate change is eating away at the ancient stones. At the same time, booming population growth is complicating preservation efforts. After surviving thousands of years of war, invasion, and cannibalization for building materials, the splendours of ancient Egypt might have finally met their match. "We have a fear," said Mostafa Ghaddafi Abdel Rehim, a senior antiquities official in Luxor. "Like all the world, we have a fear of climate change."
Changing conditions
It starts with the temperature. The temple-heavy expanses of Egypt have always been sizzling during the summer, but it was never this hot – or for this long, both locals and archaeologists say. Some excavation days have had to be cut short, as overheating workers wilt in the exposed digging trenches. In other instances, changing conditions have even forced archaeologists to alter the way in which they document the hieroglyph-dotted walls. "We used to make blueprints using natural sunlight, but starting about 20 years ago, we found it harder and harder to burn the image onto the paper," said Ray Johnson, director of the University of Chicago's Epigraphic Survey, which has been working at Madinat Habu temple for almost 100 years. "It was then that we realized that it was getting hazier and hazier." At Karnak, the gargantuan New and Middle Kingdom complex that dominates the northern approach to Luxor, blindingly bright sunshine has already robbed most of the walls of their color, leaving tourists to crane their necks up at the sheltered ceilings.
Even more worryingly, soaring summer highs also appear to be leaving their mark on the building blocks themselves. Around Aswan, several hours train ride south of Luxor, temperatures that sometimes rise well over 40 C are slowly cracking many of the rose granite structures. The granite expands in the daytime sun, and then contracts overnight in the cooler air. "It can look like a bag of wool. It gets rounder and rounder, and then eventually breaks away," said Johanna Sigl of Cairo's German Archaeological Institute. On her dig site at the bottom tip of Elephantine island, mid Nile, several inscriptions, including one in which a senior official records his duties collecting stone for his pharaoh, have more or less disappeared as a consequence.
The effects of climate change will only get more intense, experts say, possibly requiring some tricky decisions about the viability of maintaining vulnerable historic sites.
"In some instances these places are the foundations of a tourism industry that brings a lot of benefits to the local people," said Mette Wilkie, Director of the Ecosystems Division at UN Environment. "But then you have a lot of buildings that are in the middle of nowhere, and here the situation is much more difficult."
The greatest damage, however, is seemingly done during winter. Though still rare, increasingly frequent downpours are savaging ancient mud brick buildings, most of which have only lasted so long because of limited rain. "Every year, we notice this is more of a problem," said Christian Leblanc, head of the French Archaeological Mission at West Thebes, who's directed conservation efforts at the Ramesseum for over 25 years. "Of course it degrades the stone." Particularly vulnerable are the temple's half dozen arched mud brick granaries, some of the largest remaining structures of their kind, which are periodically layered with new mud bricks to shield the originals from the elements.
In 1994, a monster storm illustrated the devastation rain can wreak. Hundreds of tombs, including many in the Valleys of the Kings and Queens, were swamped, the Temple of Seti I morphed into a lake, and hundreds of traditional mud brick houses collapsed. At Deir al-Bakhit, an early Christian monastery, the rain fell so furiously that it punched drop-shaped imprints into the mud brick. Wary of a repeat and fed up with frequent water-related repairs, most locals have since rebuilt in concrete.
Human impact
And then there's the direct environmental impact of human activity. Until the late 1960s, the Nile burst its banks every August, inundating the valley for miles on either side. These were the conditions that the ancient architects knew, and they factored them into their designs accordingly. But after the completion of the Aswan High Dam, the annual flood ended, and with it came a glut of new problems for the temples. Without the regular "cleanse", there's no longer anything to clear the salt from the topsoil.
"It eats away at the stone like an acid," Ray Johnson said. And with more humidity, in large part because of the enormous quantities of water evaporating off the dam's reservoir, there's more crystallization, as the salt particles in the temples' sandstone blocks expand. "So the lower walls of almost all temples are missing and filled instead with a kind of breathable mortar," Johnson added. From the toes of the Colossi of Memnon, the 700-ton statues of the pharaoh Amenhotep III, to the periphery of Karnak's Sacred Lake, faint white saline traces betray the danger at hand.
Population growth, too, has levied a heavy toll. More people means more agriculture, and so instead of the fields around the temples lying dry and fallow for part of the year as they once did, they're now under constant cultivation. It's raised the water table throughout the East and West Banks (hydrologists suspect that the dam has also played a part), and swamped the foundations with far more water than they were designed to handle.
"Just look, there are people and water everywhere," Christian Leblanc said. Many of the central pylons of Luxor Temple, the most centrally located of the great sites, have had to be patched up with cement after the fast-expanding city's sewage percolated upwards. As Egypt's numbers surge, already leaping from about 66 million in 2000 to over 95 million now, the pharaonic treasures are having to share their space with ever more houses and sugar cane crops.
"This is a phenomenon across the world, and there will be some areas where we will simply have to give up using land for our livelihood," Mette Wilkie said. UN Environment is working to tackle climate change and environmental degradation by helping countries embrace low-emissions growth; supporting the sustainable management of forests and other ecosystems; and finding innovative new ways to fund climate action. UN Environment also helps countries adapt to the changing climate, and build their resilience to future challenges.
In Egypt, there is some cause for optimism. In fact, officials have more or less resolved the groundwater issue for the time being. With funding from the U.S. Agency for International Development, the Ministry of Antiquities has installed an extensive drainage network around the key sites, which has seemingly lowered their water levels by up to four meters.
"It has been a big success. The problem is fixed," said Mohammed Abdelaziz, the ministry's top official in Upper Egypt. Authorities have ringed many of the antiquities' zones with walls to prevent further urban or agricultural encroachment, and established four field schools in the Luxor area to teach inspectors how to better treat the treasures and identify potential threats. All this coming at a time of new technological innovations has made some archaeologists quite bullish about the temples' long-term prospects.
Just to be on the safe side, though, others have stepped up their documentation efforts. If worse comes to the worst, at least we'll have a record of what's been lost. "There is more urgency now," Ray Johnson said. "That's why we go first to what's most threatened."
UNGA76: Giant eco-friendly artwork set to inspire world leaders
A new 11,000 square metre 'ephemeral fresco' created by Swiss artist Saype, has set the stage at UN Headquarters in New York, to welcome world leaders for the General Assembly High Level Week. It shows two children building the world of the future using origami, highlighting the participation of young people.
"World in Progress II is perfectly suited to our time and place. First, it is, in all senses, a big picture. Both its execution and its subject are monumental and ambitious. We have to take several steps back, just to view it in its entirety. Then we understand that it shows two children, designing their ideal world together", said on Saturday UN Secretary General during the unveiling ceremony.
Antonio Guterres explained that, just like the artwork, the United Nations' mission extends far beyond what we can see around us. "Most of it lies out of our view. Our work is multilateral, and multi-generational. And each of us plays an essential part in creating the whole", he added.
Earth-friendly art
Guillaume Legros, or "Saype", an artist name inspired by the contraction of the words "say" and "peace", is famous for its invention of an eco-friendly painting process. His special technique allows him to create huge frescoes directly on the grass.
"In two weeks, there will be nothing left due to the regrowth of the grass. This makes the work disappear, even more than the rain", he explained to UN News, adding that he spent more than a year finding the right pigments for his ephemeral art.
Saype had already shared one of his creations at UN premises before. Last year, World in Progress I was unveiled during the commemoration of the UN's 75th anniversary in Geneva, Switzerland.
"In the centre, there is a dove that symbolizes peace. The basic idea is that on the one hand when talking about children, we ask ourselves what responsibility we have towards them. But, on the other hand, they are the ones who will have the world of tomorrow in their hands. This means that we must really learn to live together in a world that is also hyper-connected", he said.
A call to world leaders
For the UN chief, the children depicted in World in Progress II are designing our shared future.
"This year's General Debate will take up this theme, focusing on the world we are building together. My recent report on Our Common Agenda recommends new ways for today's decision-makers to better serve both young people, and future generations".
Mr. Guterres said he was hopeful that world leaders will take inspiration from Saype's art to consider how "we can look beyond our immediate surroundings, while respecting nature and our planet".
Bengal's Thriving Cotton Handloom Tant Textile Crafts Looming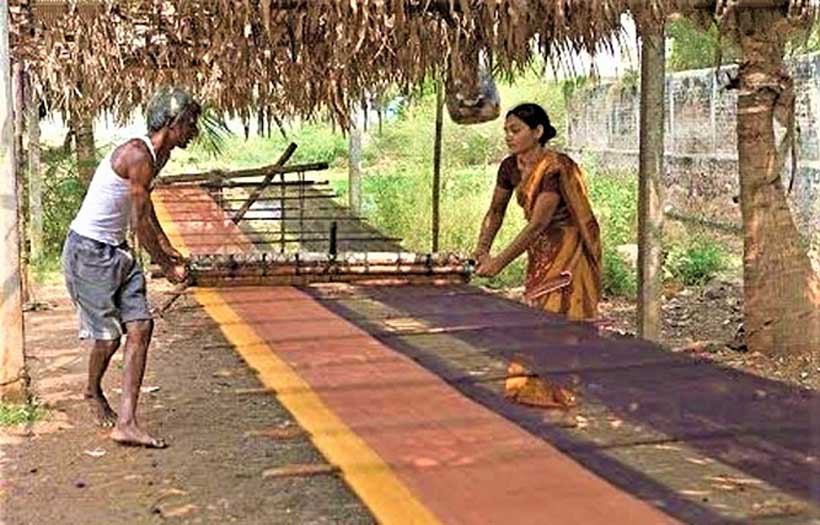 India being a diverse nation endorses and nourishes indigenous ethnic crafts. Every region of India has to offer thriving cultural heritages, a few of those receiving the attention of the mainstream population, while several are failing to do so. Once glorified Bengal's Handloom Tant Textile Crafts falls into the second category, as it's lost the place to be under the spotlight. Even though "Every Handloom Tant Textile Crafts has a unique story to tell—as it is inheriting one of the finest and ancient weaving mechanisms that sprouted in nowhere other than Bengal. Dating back to the 15th century and leaving remarkably earliest trace from Nadia District of West Bengal Handloom Tant Textile Crafts received Royal patronage and retained popularity throughout centuries. Its uniqueness lies in design which mostly includes the depiction of ancient Bengali cultural influences and reflection of Bengali flair. In that sense, Handloom Tant Textile Crafts are very much connected to the soil of Bengal and utterly reflects sustainable, indigenous initiative within the millennials weavers of Bengal, who still feel connected to the ancient essence.
Origins
The word 'Tant' indicates the cotton-based Handloom Textile Crafts, includes Handloom weaved Textiles including Saris, Cloth pieces, Dupattas, Bed Sheets etc.
Shantipur of undivided Bengal, now in Nadia district of West Bengal having earliest record of Handloom Tant Crafts weaving back to 15th century. It remained dominant cultural tradition from 16th to the 18th century and received extensive royal patronage along with the world-famous Muslin and Jamdani Sari of the same genre. In 1947 after the partition of Bengal, a hefty number of weavers migrated especially from Tangail Bangladesh to India and received rehabilitation in different regions including Phulia, Shantipur. Weavers bore their lineal Handloom Tant Textile weaving Crafts with them. Residual weaver communities got settled in the Hooghly and Bardhaman regions of West Bengal. Since then, each region has developed its signature style.
The weaving Technique
Handloom Tant Textile Craftsare woven with locally produced Bengal cotton. The kind of fine handspun yarn being used for Weaving of Handloom Tant Textile Crafts once applied in weaving soft, feather-light Muslin and Mulmul textiles that have been exported and adored globally for ages. The fineness of weaved cotton depends on the yarn quality and it is on the yarn that the textile is fine (combed cotton) or coarser (regular cotton).
Cotton being deftly woven to the thread is further being woven by craftsmen to Tant Textile. It is customary to use shuttles. Though nowadays handlooms have largely been replaced by power looms to weave Tant Textiles, which compromising the quality of Tant Textiles pushing environment-friendly, electricity-saving Handloom on the verge of extinction.
Popular motifs in use
The most popular Handloom Tant Textile Crafts product is Sari. The handloom Tant Textile crafts products other than Sari also depict motifs like Sari. A quintessential six-yard Tant Sari is distinguished by a thick two-to-four-inch border and a decorative Aanchal. Weavers use fine cotton yarn to manifest a variety of floral, paisley, and artistic motifs, attached to the culture of Bengal. Some of the most adored time-honoured motifs of West Bengal's Handloom Tant include bhomra (bumblebee), tabij (amulet), rajmahal (a royal palace), ardha Chandra (half-moon), chandmala (garland of moons), ansh (fish scales), hathi (elephant), nilambari (blue sky), ratan chokh (gem-eyed), benki (spiral), tara (star), kalka (paisley) and phool (flowers), etc. Apart from these regional trends are being followed.
Why Handloom Tant Textile Crafts losing the interest of the mainstream population and what are the way forward?
Because of the advertisement and marketing industry the youth generations are mainly inclined towards high-shine clothing, heavy silks and zari, ignoring or being unaware of clothing science and technology. Handloom Tant Textiles, in comparison, is a modest, soothing clothing based on environment-friendly technique which add real charm to Tant. Elderly people are not even aware of the positive aspects of Handloom Tant Textile Crafts, due to no such promotion leading the Crafts to evade.
What is in particular in Tant to rethink its revival?
Handloom Tant Crafts comes under the range of heritage textiles of West Bengal. Sari-loving Indian women would certainly like to acquire collection of handloom saris from across India. While Handloom Tant Textile Sari would certainly give the blended feeling of heritage and comfort. Most of the Sari-wearing Indian women find themselves particularly attached to Bengal's Handloom Tant and Jamdani Sari. Jamdani Sari belongs to the same genre of Handloom Tant. Tant Jamdani from Dhaka and Shantipur is exceptionally lightweight, characterized by intricately designed motifs that seem to float on the surface of the translucent ultra-fine textile, giving it an almost mystical grace in appearance.
Moreover, Handloom Tant Textile Crafts are comfortable to wear in tropical climatic zones of the world. Tropical, subtropical climates of the Indian subcontinent are exceptionally fine to wear and use such textiles. While most of the raw material being used and the technology being followed in Handloom Tant Textile Crafts is nature friendly and indigenous for the subcontinent. Revival, then on the restoration of the lost glory of Handloom Tant Textile Crafts of Bengal will certainly promote environment-friendly sustainable textile technology basing on the growth of the home-based cottage industry of West Bengal. Employing Indian youth in the process may revamp the initiative in the way Handloom Tant Textile Crafts would get a modern outlook and that will generate youth entrepreneurs to promote indigenous industries and a lot more positive things would happen in this row.
How important the present time is to preserve Handloom Tant Crafts? what could be the way forward?
As an economic industrial activity, the 'Tantshilpa/Tant Crafts' (the art of weaving handloom Textiles) is second only to agriculture in providing a livelihood to the people of certain regions of West Bengal. Ravaging the hope of business in Bengali New Year on April 14, 2020 the ongoing pandemic and ensuing lockdown have led to insurmountable losses to Textile Industry. Handloom Tant Textiles also facing a tremendous challenge for decades losing the interest of younger generations owing to its traditionalism and maintenance cost. The need of the hour is to activate retail for existing stock using e-commerce and involving youth to regenerate the work chain and boost business. The genesis of interest towards such heritage and endangered craft like Handloom Tant Textiles can restore the sentiment and attachment of weavers' communities.
Organizing regular workshops with the weavers offering creative concept and textile design expertise in developing an ongoing collection of modern Tant saris and textiles that can bring the Handloom Tant Industry on-trend. While Tant is a versatile and comfortable fabric especially suited in the climate of India and considerable places of the world and also lends itself well to soft furnishings home decors cum comfortable garments.
Classified Handloom Tant Textile Crafts are being picked by authentic celebrities, dignified women. To revive the Indian Economy in the post-pandemic global crisis, promotion of indigenous Industries based on the authentic handmade, handloom, and traditional crafts are the way out, which is also environment friendly. 'Make in India' and 'buy local' is more relevant now than ever before, as each locally-made purchase directly supports indigenous industry, regional to global work circle, in turn, funds its makers, that is, the craftsmen/women in every level.
The hands that nourish tradition, indigenous crafts need to be celebrated. Direct connection of remote areas Handloom Tant Textiles weavers with well-structuredHandloom Tant Textile Craftswork chain is the way forward that less known regions areas of West Bengal like Santipur, Phulia, Nadia, and Dhaniakhali get counted in the global map of Textile industry representing the glorious Handloom Tant Textile Crafts of Bengal.
Copenhagen named UNESCO-UIA World Capital of Architecture for 2023
The city of Copenhagen has been officially designated as World Capital of Architecture for 2023 by the Director-General of UNESCO, Audrey Azoulay, on the recommendation of the General Assembly of the International Union of Architects (UIA).
This decision is in keeping with the partnership agreement established between UNESCO and the UIA in 2018, through which UNESCO designates the host cities of UIA's World Congress as World Capitals of Architecture. "We are very happy to see the torch of the World Capital of Architecture title pass to Copenhagen from Rio de Janeiro," Audrey Azoulay said. "The inaugural World Capital of Architecture in Rio was a real success, underlining the important role of urban planning, notably in the pandemic context", she noted, adding that "Copenhagen will build upon Rio's achievements, by continuing to show the way in which architecture and culture can respond to the challenges of our time, especially in the environmental field."
UNESCO and the UIA launched the World Capital of Architecture initiative to highlight the key role of architecture, city planning, and culture in shaping urban identity and sustainable urban development. Every three years, the city designated as World Capital of Architecture becomes a global forum at the forefront of discussions on contemporary urban planning and architectural issues.
As the World Capital of Architecture for 2023, Copenhagen will host a series of major events and programmes on the theme "Sustainable Futures – Leave No One Behind." In cooperation with the Danish Association of Architects and various Nordic professional bodies, the municipality will examine how architecture and urban design contribute to meeting the 17 United Nations Sustainable Development Goals.
From 18 to 22 July 2021, Rio de Janeiro will host the World Congress of Architects online. Following Copenhagen in 2023, Barcelona and Beijing are the two contenders looking to claim the World Capital of Architecture title in 2026 and host the next World Congress. The official decision will be made later this year.