Focus on GDP Fuelling Inequality and Short-Termism
Decades of prioritizing economic growth over social equity has led to historically high levels of wealth and income inequality and caused governments to miss out on a virtuous circle in which growth is strengthened by being shared more widely and generated without unduly straining the environment or burdening future generations. These are the findings from the World Economic Forum's Inclusive Development Index 2018, which is released today.
Excessive reliance by economists and policy-makers on gross domestic product as the primary metric of national economic performance is part of the problem, since GDP measures current production of goods and services rather than the extent to which it contributes to broad socio-economic progress as manifested in median household income, employment opportunity, economic security and quality of life.
The Inclusive Development Index is an annual assessment that measures how 103 countries perform on 11 dimensions of economic progress in addition to GDP. It has three pillars: growth and development; inclusion; and intergenerational equity – sustainable stewardship of natural and financial resources.
According to this year's index, over the past five years, the 29 advanced economies included in the study have on average flatlined in terms of inclusion, which is measured by median household income, poverty, and wealth and income inequality, despite boosting their Growth and Development score by over 3%. The four indicators that make up the index's Growth and Development pillar are: GDP per capita; labour productivity; employment; and healthy life expectancy.
Over the same period, only 12 of the 29 advanced economies were successful in reducing poverty and only eight saw a decrease in income inequality.
More worrying still: rich and poor countries alike are struggling to protect future generations. The index's Intergenerational Equity and Sustainability pillar – which takes into account public debt; carbon intensity of GDP; dependency ratio and adjusted net savings (which measures savings in an economy after investments in human capital, depletion of natural resources and the cost of pollution) – actually deteriorated in upper-, middle- and low-income economies since 2012 and improved only marginally (0.6%) in advanced economies.
Top performing countries
According to the index, the most inclusive advanced economy in the world in 2018 is Norway. The Nordic nation ranks second overall for intergenerational equity and third for the two other pillars of the index: Growth and Development, and Inclusion. Small European economies dominate the top of the index, with Australia (9) the only non-European economy in the top 10.
Of the G7 economies, Germany (12) ranks the highest. It is followed by Canada (17), France (18), the United Kingdom (21), the United States (23), Japan (24) and Italy (27). In many countries, there is a stark difference between individual pillars. For example, the US ranks 10 out of 29 for Growth and Development; however, it ranks 28 on Inclusion and 26 on Intergenerational Equity. France, on the other hand, fares less well on Growth and Development (21 out of 29); however, it ranks 12 for Inclusion. Its low ranking on Intergenerational Equity (24) suggests it may be storing up problems for the future.
Six emerging European economies are located in the top 10 spots in the emerging economies' ranking: Lithuania (1), Hungary (2), Latvia (4), Poland (5), Croatia (7) and Romania (10). These countries perform well on Growth and Development, benefiting from EU membership, as well as on inclusion indicators, as median living standards rose and wealth inequality declined significantly. Latin America also performs well, with three countries featured in the top 10: Panama (6), Uruguay (8) and Chile (9).
Performance is mixed among BRICS economies, with the Russian Federation ranking 19th, followed by China (26), Brazil (37), India (62) and South Africa (69). Although China ranks first among emerging economies in GDP per capita growth (6.8%) and labour productivity growth (6.7%) since 2012, its overall score is brought down by lacklustre performance on Inclusion. Other emerging countries such as Mexico (24), Indonesia (36), Turkey (16) and the Philippines (38) show more potential on Intergenerational Equity and Sustainability but lack progress on Inclusion indicators such as income and wealth inequality.
Key findings and policy implications
IDI data suggest that relatively strong GDP growth cannot be relied upon by itself to generate inclusive socio-economic progress and rising median living standards. All but three advanced countries have experienced GDP growth over the last five years, but only 10 of 29 have registered clear progress in the IDI's Inclusion pillar. A majority, 16 of 29, have seen Inclusion deteriorate, and the remaining three have remained stable. A majority of those countries with the best GDP growth performance failed to improve on Inclusion. This pattern is repeated in the relationship between GDP growth and performance on Intergenerational Equity and Sustainability with 11 of 29 showing clear progress and 18 of 29 deteriorating.
Emerging -country data show a similar disconnect between GDP growth and Inclusion. Of the 30 emerging economies with the highest GDP per capita growth over the past five years, only six have scored similarly well on a majority of the Inclusion indicators, while 13 have been no better than mediocre and 11 have registered outright poor performance. With respect to Intergenerational Equity, only eight have scored similarly well on a majority of the Intergenerational Equity and Sustainability indicators, while 12 have been no better than mediocre and 10 have registered outright poor performance.
This evidence suggests that GDP growth is a necessary but not sufficient condition for achievement of the broad-based progress in living standards by which most people judge countries' economic success. This message is particularly relevant at a time when global economic growth is returning to a more robust level and policy-makers could do more to future-proof their economies and make them more equitable. Political and business leaders should not expect higher growth to be a panacea for the social frustrations, including those of younger generations who have shaken the politics of many countries in recent years.
"Economic growth as measured by GDP is best understood as a top-line measure of national economic performance. Broad, sustainable progress in living standards is the bottom-line result societies expect. Policy-makers need a new dashboard focused more specifically on this purpose. It could help them to pay greater attention to structural and institutional aspects of economic policy that are important for diffusing prosperity and opportunity and making sure these are preserved for younger and future generations," said Richard Samans, Managing Director and Head of Global Agenda at the World Economic Forum.
About the Inclusive Development Index
The IDI is a project of the World Economic Forum's System Initiative on Shaping the Future of Economic Progress, which aims to inform and enable sustained and inclusive economic progress through deepened public-private cooperation, thought leadership and analysis, strategic dialogue and concrete cooperation, including by accelerating social impact through corporate action.
4 Crucial Factors That Helps in Selecting the Ideal FX Expert Advisor
The forex market is increasingly expanding at a rapid pace with millions of active traders executing trades daily. The use of advanced technology is also preferred among traders who are involved in active trading. As automation is slowly taking over most industries and businesses, the forex market is also noticing a rise in the use of FX expert advisors to execute a trade on behalf of an investor.
But even with the tons of perks that these FX EAs are capable of, you must consider certain factors before investing in one.
But before we jump into discussing the factors that indicate an EA's reliability, let us get a clear understanding of what forex EAs are and how they work.
Explaining FX Expert Advisors
An EA is a software program that offers the benefit of automated trading to investors worldwide. A forex EA is responsible for identifying the best possible timings for opening a position with the help of certain in-built algorithms and indicators. As the market is active for 24-hours straight, using an EA will certainly be useful; it is immune to any emotional factors and can facilitate you to make high-profitable trades by identifying the ideal entry points.
Developed in MQL, an EA can operate on MetaTrader 4 or 5 and comes up with complex strategies of trading based on a certain mathematical pattern. The ways expert advisors tend to outperform manual trading practices involve their high-accuracy results along with faster data-processing technology which aids in better analysis.
Although being quite similar and often mistaken as the same, a forex EA slightly differs from a forex robot in terms of its functions. While forex robots can take care of executing a trade on behalf of you, and EA will simply advise you when to initiate a trade allowing you to have full control over initiating a trade.
Points to consider before investing in an EA
Investing in an expert advisor requires certain factors to keep in mind that will help you to maximize your success rate with the benefit of automation.
Performing a thorough background check
The security factor should be on your priority list while opting for an expert advisor. Thorough research along with a complete background assessment is necessary to determine the authenticity of the EA. You can rely on reviews and testimonials of other users as well as checking the credentials of the vendor. Some factors that decide the genuineness of the EA include secure payment options, refund guarantees in case of false claims, transparent business practices, and development by trustworthy programmers.
Conduct satisfactory research
It is common to come across many catchy claims of instant and guaranteed profit while opting for an EA. But these commercials fail to mention that expertise is the most critical asset you will need to succeed in this industry. You can immediately notice risk factors when anyone makes exaggerated and unreasonable statements if you have a good understanding of how the foreign exchange market works. While many appropriate automated trading systems are useful in leveraging your trading career, you may also come across many fraudulent scenarios in this industry. Thus only proper learning will provide you with the information you need to prevent being a target of these frauds.
Get familiar with basic EA stats
Reliable expert advisors are generally introduced to the market after a long process of backtesting performed by the developers. While selecting an EA you will most likely come on certain statistics including the profit factor, drawdown and expected payoff that demonstrate its performance. As an investor, you need to be knowledgeable about these stats, what they mean and how they can impact your trading style before finalizing an EA.
Perform independent testing
The final step will always be to verify the capabilities of an expert advisor along with checking the backtested results. You can rely on a demo account or a trial version of that EA easily before making the final call.
Selecting the ideal forex EA can be challenging irrespective of the level of experience you have in this. However, following these tips as well as your experience can make this process easier and worthwhile.
No pathway to reach the Paris Agreement's 1.5˚C goal without the G20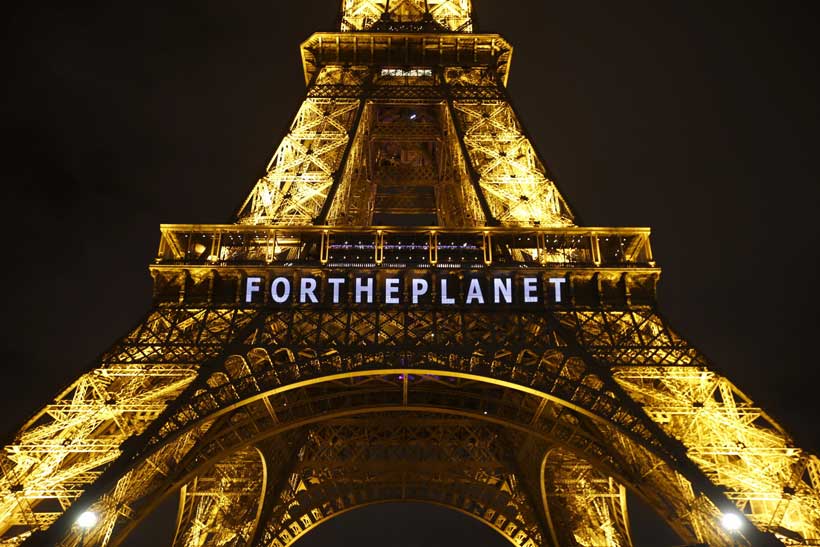 "The world urgently needs a clear and unambiguous commitment to the 1.5 degree goal of the Paris Agreement from all G20 nations", António Guterres said on Sunday after the Group failed to agree on the wording of key climate change commitments during their recent Ministerial Meeting on Environment, Climate and Energy.
"There is no pathway to this goal without the leadership of the G20. This signal is desperately needed by the billions of people already on the frontlines of the climate crisis and by markets, investors and industry who require certainty that a net zero climate resilient future is inevitable", the Secretary General urged in a statement.
The UN chief reminded that science indicates that to meet that 'ambitious, yet achievable goal', the world must achieve carbon neutrality before 2050 and cut dangerous greenhouse gas emissions by 45 % by 2030 from 2010 levels. "But we are way off track", he warned.
The world needs the G20 to deliver
With less than 100 days left before the 2021 United Nations Climate Conference COP 26, a pivotal meeting that will be held in Glasgow at the end of October, António Guterres urged all G20 and other leaders to commit to net zero by mid-century, present more ambitious 2030 national climate plans and deliver on concrete policies and actions aligned with a net zero future.
These include no new coal after 2021, phasing out fossil fuel subsidies and agreeing to a minimum international carbon pricing floor as proposed by the International Monetary Fund (IMF).
"The G7 and other developed countries must also deliver on a credible solidarity package of support for developing countries including meeting the US$100 billion goal, increasing adaptation and resilience support to at least 50% of total climate finance and getting public and multilateral development banks to significantly align their climate portfolios to meet the needs of developing countries", he highlighted.
The UN Chief informed that he intends to use the opportunity of the upcoming UN General Assembly high-level session to bring leaders together to reach a political understanding on these critical elements of the 'package' needed for Glasgow.
A setback for Glasgow
The G20 ministers, which met in Naples, Italy on July 23-25, couldn't agree to a common language on two disputed issues related to phasing out coal and the 1.5-degree goal, which now will have to be discussed at the G20 summit in Rome in October, just one day before the COP 26 starts.
Economic Recovery Plans Essential to Delivering Inclusive and Green Growth
EU member states must ensure careful and efficient implementation of economic recovery plans that support inclusion and growth to bounce back from the worst impacts of the COVID-19 pandemic, says a new World Bank report.
The World Bank's latest EU Regular Economic Report – entitledInclusive Growth at a Crossroads – finds that the unprecedented and exceptional policy response of governments and EU institutions has cushioned the worst impacts on employment and income. However, the pandemic has exposed and exacerbated deep-seated inequalities, halting progress in multiple areas including gender equality and income convergence across the EU member states. A further three to five million people in the EU today are estimated to be 'at risk of poverty,' based on national thresholds benchmarked before the crisis.
The report highlights that effective recovery programs can reinforce progress on the green and digital transitions underway across the region. With the crisis continuing to unfold, government support schemes and the rollout of vaccines in a timely manner will remain essential to bolstering the resilience of firms, workers, and households. Given the longevity of the crisis and the impact on the most vulnerable, many governments have opted to extend the duration of support throughout 2021.
"A green, digital and inclusive transition is possible if economic policy is increasingly geared towards reforms and investment in education, health and sustainable infrastructure," said Gallina A. Vincelette, Director for the European Union Countries at the World Bank.
With an output contraction of 6.1 percent in 2020, the COVID-19 pandemic has triggered the sharpest peacetime recession in the EU. Governments will need to ensure targeted and active labor market policies are in place to support an inclusive recovery. The report highlights that special attention should be given to already vulnerable workers such as youth, the self-employed, and those in informal employment. These groups are more likely to face employment adjustments during the crisis and may face longer spells of unemployment or periods outside the labor force.
Women have been disproportionately impacted by work disruptions during the pandemic, particularly in the sectors facing the worst effects of the crisis. This was also highlighted in the 2020 Regular Economic Report produced by the World Bank, which found that at least one in five women will face difficulty returning to work compared to one in ten men. It has been harder for women to resume work due to the sectors and occupations that they are working in and because of the additional care burdens that have fallen disproportionately on their shoulders – a manifestation of increasing inequities in home environments.
"As recovery takes hold, it will be important for carefully targeted and coordinated policy support to continue to mitigate the impact of the crisis, with measures increasingly targeted towards vulnerable households and viable firms. Policy makers will also need to strike a balance between helping those that need it most, while enhancing the productivity of the economy and keeping debt at manageable levels," added Vincelette.
World Bank's Regional Action in Europe and Central Asia
To date, the World Bank has committed more than $1.7 billion to help emerging economies in Europe and Central Asia mitigate the impacts of COVID-19. Since April 2020, around $866 million has been approved through new emergency response (MPA/Vaccines) projects. In addition, up to $904 million is being reallocated, used, or made available from existing projects and lending, including additional financing, to help countries with their COVID-19 response.
The World Bank's Global Economic Prospects suggests that growth will be strong but uneven in 2021. The global economy is set to expand 5.6 percent—its strongest post-recession pace in 80 years. The recovery largely reflects sharp rebounds in some major economies.