Shame and stigma: The taboo of menstruating in South Asia
The beliefs and practices that revolve around menstruation differ across societies. In some cultures, the menstruating women are victimised due to the regressive attitudes that exist around menstruation. In others, menstruation as a topic is not up for discussion; it is covered in layers of shame and stigma. Nevertheless, what remains common for the women who go under this natural biological phenomenon is that there exist different battles. Actually, these battles have to be fought primarily as a result of some concepts that render women dirty and their bodies polluted; as not sacred enough to befit daily activities. These beliefs reduce women into untouchables and sometimes compel them to live in isolation.
In the region of South Asia, the practices vary from culture to culture, and there is a stark contrast between urban and rural societies. In Hindu societies, families host figurines of deities in their houses that are worshipped regularly with full devotion. The concept of sacred and profane is very widely present in such families, and menstruating women are considered profane. Living in the same space as the god is sacrilegious.
In Nepal, 19% women are banished from their houses to 'chhaupadi goth', roughly translating to menstruation huts. Chhaupadi is a practice in the mountainous western Nepal that forces women to sleep and live in sheds for the duration of their period, due to the belief that menstruating women cause ill-luck to the family, crops, and cattle if the god is displeased.  The practice had been outlawed by the Supreme Court in 2005, and recently in 2017 was taken up in the parliament again because it caused death in huge numbers. In 2017 alone, the cases of Chhaupadi related deaths came up and it was immediately re-criminalised with a penalty for the offenders.
Despite this, the practice has not stopped. In interviews that were taken immediately as the nation was outraged by the frequent deaths that took place in western Nepal, the women were questioned if they would still practice Chhaupadior put their daughters through the same after the re-criminalisation and additional penalty. They responded that it was not up to them but on the very societies that coerced them to undergo such malpractice. Furthermore, criminalising the practice would mean filing formal complaints against the family members which is very unlikely. If the women had that kind of powers, they would not be banished to a shed in the first place.
Merely making and implementing of draconian laws is not enough because people house their belief systems in superstitious interpretation of religion. Vulnerable in those sheds, women fear snake bite and animal attacks, mosquitoes, asphyxiation due to inhalation of smoke from the fire built to fight the cold, and sexual predators among others. However, these families see it more deeming that a woman live in a shed outside the house in unsafe conditions just to prevent the house from being polluted by her presence. This all boils down to the fact that a death of a menstruating woman would be justified because at least, the god was spared from pollution, the crops and cattle were intact. It perhaps gets justified as a result of something she did, maybe touch a bottle of pickle, who knows?
A large section of the urbanised sectors lament, often in forms that take of troll posts and memes, about the so-called 'feminists' in the 'East' who limit their talk to menstruation to come off as empowered in contrast to the 'feminists' in the 'West' who battle real and important feminist issues like 'equal pay' and 'glass ceiling'. Dissecting this, it dawns upon a realisation that people in these societies regard the women who talk about menstruation in the open as aggressively progressive. Moreover, they would rather dismiss the topic as something irrelevant and consider talking about it lesser important than talking about other inequalities. However, it is only fitting to be vocal about menstruation as much as required.
We forget to remember that women in remote areas with poor access do not benefit from the choice between various menstrual products at their disposal. In India, less than 16% of the women use marketed feminine products. In various parts of the country, women use sand, or wood shavings or pieces of cloth. Now, the issues that arise are of infections amongst other things. To begin with, these products are unsafe and pose a threat of infections like urogenital infection and bacterial vaginosis. The cloths are repeatedly used without being sun-dried because of the shame of exposure of the used cloths to men and other women. What also prevents these women from using hygienic safe products is due to unavailability for several kilometres, unaffordability arising out of poverty, and embarrassment to ask for even a sanitary pad, especially from male shopkeepers. In fact, 23% of the girls drop out of school upon starting their menstruation. The Indian government, along with entrepreneurs, and educators have worked hard to ensure all women have access to sanitary products. However, the lack of funds, expensive to afford one-use products, unable to maintain quality of the low-budgeted products, and failure to meet the needs of all women in the country are some problems that are faced.
In Pakistan, 80% women do not have access to sanitary menstrual products. UNICEF reported that the biggest hindrance to sanitary conditions was prevented by the lack of washing facilities. In fact, for a country frequented by natural calamities and insurgencies in some areas, women should be educated and encouraged about using hygienic productssince there is always the likelihood of moving to temporary shelters in such circumstances. It was reported that a stunning number of girls are shocked upon menstruating their first time because they were not aware about it. In only a few years to follow, many drop out of school or stay absent from school when they are menstruating, thus hindering their education.
To sum it up, menstruation has been evolved as a shameful event in this part of the world. Menstruating women are shunned and indoctrinated as inferior and unchaste and they do not even fight against the practices but accept it as normal. Firstly, religion has a significant part to play as it is due to the god-fearing purity seeking individuals that seek to maintain the sanctity of their surroundings from where the concept of sacred and impure arise. But, how can any practice be religious if it causes the already disadvantaged more detriment? Secondly, unawareness and equating menstruation with shame and secrecy has worsened the situations to where women are not comfortable with their own bodies so much so that they from birth to death are unaware of their own anatomies. Where mothers are themselves not at peace with their body and bodily functions, passing it on to their daughters is difficult and discussing about it with their sons unimaginable. Lastly, this exclusion of men and terming menstruation as a 'woman thing' has led to men genuinely having no idea what the deal is about and why is it important for women to be safe, clean, healthy, and rested when they menstruate. Thus, a change is necessary by educating women, by subsiding sanitary menstrual products, criminalising discrimination against menstruating women, and by including men in this drive.
Modernizing Higher Education for Economic Growth
Malawi has fewer affordable universities than it has students who want to go to them, leaving college out of reach for many. Enrollment in tertiary education is low, but more and more Malawians hunger for it. With IDA financing from the World Bank, Malawian citizens now have more options.
The five-year, $51 million Skills Development Project is helping public universities to strengthen and increase public access to programs that cater to sectors critical to Malawi's economic growth. These include engineering, natural resources extraction, agriculture, construction, health services, tourism, and hospitality.
Beyond the establishment of the National Council for Higher Education, project funding supports a range of activities at institutions, including improving course offerings and staff skills, renovating infrastructure, and setting up satellite facilities.
Market-relevant course offerings
To expand the range of scientific skills and mid-level technicians needed to fuel Malawi's economy, 39 new programs have been developed by universities, with the participation of the private sector ensuring their relevance to the economy. By 2017, these programs contributed 44 percent of the new student intake to public universities.
Diploma programs at universities have also been bolstered to increase the training of mid-level career personnel needed by various trades. For example, the University of Malawi's Polytechnic now offers 10 technician-level engineering diploma programs in subjects like mining, telecommunications, and health. By 2019, these programs are expected to have enrolled 750 diploma students.
Modernized facilities
One of the major constraints to increasing student enrollment at public universities has been space. At Chancellor College, where most of Malawi's secondary school science teachers are trained, more and better infrastructure is expected to make it possible to boost student intake by 65 percent. This includes modernized laboratories and four new lecture halls seating 350 students each.
This will go a long way toward meeting an increase in the demand for science teachers, following the introduction of physics and chemistry as separate subjects in the secondary school curriculum.
Mzuzu University is heading to be the country's center of excellence in tourism training. It is constructing a purpose-built tourism and hospitality facility that will produce graduates who are industry-ready.
Online and distance learning
The Lilongwe University of Agriculture and Natural Resources (LUANAR) and Mzuzu have introduced online and distance learning (ODL), resulting in increased enrollment at both. At LUANAR, online students make up 10 percent of the total student population. Between 2014 and 2016, Mzuzu increased its intake of online students tenfold. With more affordable fees and flexible options, the ODL system has helped to open access to higher education for many people nationwide.
"I enrolled through ODL because of its flexibility. I continue with my everyday life and yet I am studying at the same time. This is wonderful," says 45-year-old Joe Mwenye, a father of five and a teacher in Ngabu in Chikwawa district. He is studying at LUANAR for a Bachelor of Science in Agricultural Extension.
LUANAR has three ODL centers: one in the town of Mzuzu, another in Lilongwe, and another in Blantyre. Mzuzu University is opening satellite centers in Balaka, Karonga, Mulanje, and Lilongwe.
The Depth of Taboo: Social Issues in South Asia
Rarely does a geopolitical handbook also make such large and important contributions to uncomfortably critical social issues. This handbook is that rare example. The author Aryal takes our MD readers deep into some disturbing discussions – caste systems, systematic violence against women, rape, honor killings, gender stigmatizing, and societal sexism – not to just anecdotally expose people to some of the continued living horrors afflicting important regions of the world but to systematically analyze such atrocities so that their long-term political, economic, social, and diplomatic consequences are revealed.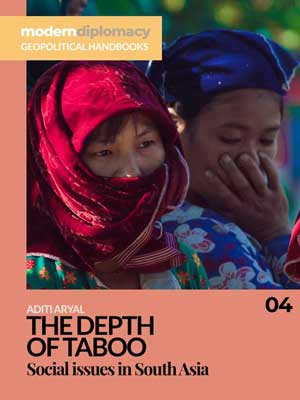 What many around the world do not realize is how crippling these gross abuses of human decency can be for a nation and region writ large: these are not just individual crimes to be noted and then forgotten. The failure of societies, the failure of GLOBAL society, to make more effective progress and take a more rigid stand against injustice is a black mark on all countries, on all of us. This handbook in its own small way strives to be a light within that darkness and as such it is both informative and courageous. While the readers of MD will not find the content of this particular handbook for the faint of heart, the importance of acquiring this knowledge, of becoming more aware of the world that we live in as it truly is in so many places, should be considered a duty of all those fortunate enough to not be born into states where such systemic violence still exists and largely goes unchallenged.
The title of this work is no accident and no shameless marketing attempt to attract more readers. Rather, it is exposing in a single word the reason why overcoming systemic violence based on gender is so difficult. Social taboos run deep in every region, state, city, town, village. We will likely not succeed in eliminating them from the social conscience of people. But the attempt to ameliorate the power of taboo, its power to push rationality out and pull insanity in, is a noble one that all of us at the editorial staff at MD recognize as silently essential for the cause of future peace on so many different levels. The battle against taboo is the secret front end of the war against gender violence and oppression. Ultimately, the criminal justice systems of societies must improve to remedy those actions not prevented from occurring. But the real long-term comprehensive solution will be the effort to eliminate the fear of social taboos, to eliminate the stigma that drives many to commit ignorant violence in the first place.
Women and girls with autism must be empowered to overcome discrimination they face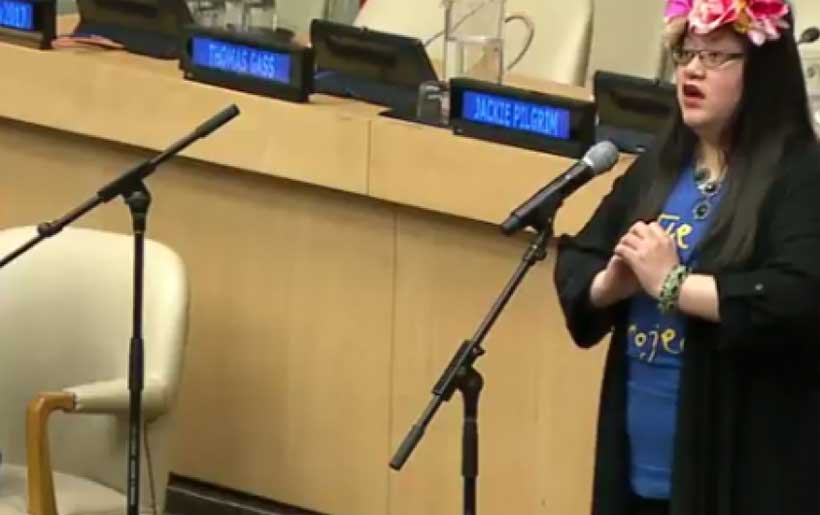 On World Autism Awareness Day, United Nations Secretary-General António Guterres has joined the global call to empower women and girls with autism and involve them and their advocates in policy and decision-making to address the discrimination and other challenges they face.
"They face […] barriers to accessing education and employment on an equal footing with others, denial of their reproductive rights and the freedom to make their own choices, and a lack of involvement in policy making on matters that concern them," said the Secretary-General in his message on the Day.
Emphasizing that "our work for gender equality and women's empowerment must reach all the world's women and girls," he stressed that the international community's efforts to achieve the Sustainable Development Goals (SDGs) must uphold the 2030 Agenda's core promise to leave no one behind.
The Goals and the landmark framework from which they emerged were adopted by UN Member States three years ago. Together they aim to wipe out poverty and boost equality by putting the world on a more sustainable economic, social and environmental path by 2030.
"On World Autism Awareness Day, let us reaffirm our commitment to promote the full participation of all people with autism, and ensure they have the necessary support to be able to exercise their rights and fundamental freedoms," concluded the Mr. Guterres.
Autism is a lifelong neurological condition that manifests during early childhood, irrespective of gender, race or socio-economic status. The term Autism Spectrum refers to a range of characteristics.
Autism is mainly characterized by its unique social interactions, non-standard ways of learning, keen interests in specific subjects, inclination to routines, challenges in typical communications and particular ways of processing sensory information.
The rate of autism in all regions of the world is high and the lack of understanding has a tremendous impact on the individuals, their families and communities.
The World Day is marked annually on 2 April, and this year's official UN commemoration will be on Thursday, 5 April, with a half-day programme in New York entitled Empowering Women and Girls with Autism, that will feature a keynote address from Julia Bascom, Executive Director, Autistic Self Advocacy Network.