Post 19th Congress of CPC: Where does Xi Jinping leads China to?
Xi Jinping "The Dream Seller"
Xi started 2018 by dream-selling that all rural Chinese living below the poverty line would no more be poor by 2020. Internationally he projected himself as the crusader for world peace and climate change, insurer of international order (Despite ignoring the ruling of PCA and violating UNCLOS), with a resolve to push through Belt and Road Initiative (BRI) to fulfill Chinese dream. It indirectly amounts to declaring himself as tallest leader on the planet, in the manner he got himself re-elected for second term and did everything possible to make himself great under the banner of 'Making China Great'. He seems to start 2018, assuming that the world accept him as tallest autocratic leader, as China has accepted him without worthwhile checks and balances.
Post 19th Congress of CPC1, Xi Jumping's election, enshrinement of his thoughts and ideas like BRI in the Chinese constitution, resulted into his self achievement of a parallel status to Mao Zedong in China. He has been on a title grabbing spree holding over 12 top class appointments in China. It includes becoming the Commander in Chief of Joint Battle Command of PLA, and now reorganizing CMC as its Chairman, with his loyalists holding top hierarchy, to rein PLA for him. He was able to sell the dream of prosperous life and freedom from poverty. He also demonstrated that mainland China is the safest place in the world with no terrorist attack so far1, in an era when no country feels safe from terror attacks of varying variety (Even if amounted to overlooking some Pakistan based militant groups support to ETIM, active in Xinjiang, isolation in support to Masood Azhar).
His anti-corruption drive was most popular amongst masses seeing powerful people in jail, notwithstanding the accusation of systematically eliminating the entire dissenting elements and all his possible competitors through every possible means including this drive. Many critiques in China and abroad feel that his real achievements do not match his elevation to the status of Mao, which would have definitely created some disgruntled elements in his system, and powerful lobbies who may be quiet now, because disagreeing with Xi 'The Core' is anti national and may lead to jail.
Internal risks ahead for Xi Jinping: creation of a boiling pot?
2018 sees 'Financial Battle' as the greatest challenge for Xi Jinping. Despite global slowdown his record of financial growth has not been good. He took over in 2012 with 7.9 percent GDP growth and his economist does not see him going beyond 6.5 in 2018. It is quite clear to the dream seller Xi Jinping, that so long he delivers economically, the people will tolerate his autocracy, and his opponents will be quite. So long CPC ensures economic progress and the people of China get a decent life, they will tolerate the forced praises of Xi Jinping. When his regime stops delivering economically, the democratic winds will start flowing from Hongkong and Taiwan, and the educated youth may not tolerate the autocratic system of Xi Jinping, having no worthwhile grievance redresser mechanism. After all China is third most popular educational hub, with largest number of PhD's in the world, where population understands the entire power play. Xi's loyalists assuming every key appointment in China including chiefs of State Owned Enterprises (SOE's), which are surviving on bank loans. They cannot be assumed to be quiet forever. Hongkong continues to protest for more autonomy (the last one in the beginning of 2018, in City Square). Xi realizes the need for economic delivery and he continues to repeatedly emphasise on success of BRI. He did deliberate on economy in a mega economic conference, but his catchy slogans like "Xi Jinping's Economic Thoughts on Socialism with Chinese charecteristics in New Era" have to deliver.
Riding the Tiger: PLA
Suppressing/sidelining PLA is like riding a tiger, because historically PLA had a major role in creation of PRC and has been having a stronghold in the CPC. In successive reorganizations of PLA, anyone who thought differently than Xi Jinping has been sidelined, with his puppets propped up including manning CMC. This has created a powerful lobby which has suffered in such reorganisation, with hidden potential to explode. Xi is also planning another watchdog body 'National Supervisory Commission' likely to be above law indicates that dissent has no place in "Socialism with Chinese Characteristics for a New Era" and adequate 'Revolutionary Tampering' will be resorted to quell dissent. It will also make PLA commanders extra cautious in exercising command, causing further disgruntlement. In fact Xi is pushing his country to a state where there is only one leader and everyone else is a worker. It is also fair to assume that whenever anyone gets more than his dues, everyone else becomes jealous of him and disgruntled, hesitant of cooperating willingly with him thus creating a boiling pot.
China can boast of speeding up its ammunition manufacture by utilizing robots, but with over centralization of power, the PLA hierarchy also has no choice but to behave like robots and no scope for dissent which is not a very happy state of affairs for any military force. It is learnt that PLA sidelined more Generals in anti corruption campaign than poor performers in any war, with suspicion of falling out of Xi's thinking, besides genuine corrupt cases.
Amongst many firsts post !9th Congress, China places its internal security force PAPF being placed under CMC, which is being managed by loyalists of President Xi Jinping. Message which comes out is that the internal security will also have much better grip of CMC and the role of NPC under which it has been traditionally, will have a limited role. The speculation can also be that with total autocratic style of hierarchy, China may be expecting much greater dissent than earlier.
No dissent with "The Core" XI Jinping, or be declared anti-national: A new normal
The biggest threat to China comes from within. The viability of "Implosion theory" is worth analysation with a totalitarian regime. Besides taking control of powerful PLA, with dissenters sidelined, some powerful civil members who held important positions in CPC, and booked under anti-corruption drive also add on to this lobby of disgruntled elements. The resolution of 19th Congress includes that adequate 'Revolutionary Tampering' will be resorted to quell dissent even in the society. The legal system stands hostage to party leadership justifies the boiling pot theory. The people's belief that Xi will make China great and his popularity amongst the masses is his greatest strength, a dent on which is a great risk. Some of his actions like forcing Christians to replace Jesus Christ photos by Xi Jinping's photo to avail government benefits, laying restrictions on religious practices on Uyghurs' in Xinjiang, use of force in trying to prevent democratic thoughts and autonomy in Hongkong may be too risky, as it may break the internal cohesion of China. Xi's efforts like forcing students to read Xi's thoughts (Equivalent of Mao Redbook) can be seen as an effort to change societal fabric may not go very well in China of New era having educated population. The strict censorship of media and internet, and electronic isolation of thoughts indicates attempt to bring societal changes in a manner that chances of student unrests/disagreements are minimized.
With Xi Jinping holding all key appointments with no room for dissent, the over-centralisation of power with him will lead to decision paralysis, with everyone in governance looking up to him for every decision, which might affect effective execution and growth of the country.
External Risks for Xi Jinping: Has he pushed others together?
The second major risk comes from reactions of the external environment to the autocratic, over ambitious Xi Jinping challenging the entire global system. Xi  has left no ambiguity in conveying that he wants to 'Restore' China's position as the 'Global Superpower' replacing US, and have a world class military by 2050.He has forced other countries not in tune with him, and some neutral countries to come closer to US against his aggressive designs. His direct threats to Taiwan and indirect ones to potential adversaries in his speech in 19th Congress, and the Resolution thereafter, indicate unprecedented arrogance. The threat to Taiwan, is being demonstrated with increased number military drills and air exercises around Taiwan, notwithstanding the Tsai call for mainland trying to destablise the region.
China's aggressive posture is visible in incremental encroachment of features and converting them into islands in South China Sea, stretching its sovereignty claim as per its perception based on impractical historical logic, over-riding UNCLOS and ruling of Permanent Court of Arbitration in favor of Philippines. Having done that his claim to be "Insurer of world order and peace" in his New Year message of 2018 does not make sense to the world outside China. China also continued to convert features to islands to military base (Announcing completion of infrastructure development in Ferry Cross Reef), without any physical opposition by taking advantage of window of opportunity due to US engagement with North Korea, Afghanistan, and controversies regarding Iran and Israel, besides certain internal controversies. China may have projected North Korea as a concern and supported UN sanctions, but the alleged leakage of oil despite, more so with impounding of Hongkong ships by South Korea, keeps China under scanner for not being serious about UN sanctions.
His direct messaging for PLA to be ready to realise China's reunification at any cost (Implying use of force), take expeditionary roles to ensure world peace, leaves no doubts about his hegemonic design and uncontrolled autocratic stance. He challenges the law based global system but wants to impose it inside China. This has pushed all other powers which are immediately affected by it, to get closer. The Quadrilateral Security Dialogue (QUAD) may be at official level talks on sidelines of Association of Southeast Asian Nations and East Asia Summits, to discuss regional and global cooperation in Manila may be an old idea with limited scope today, but it signals thinking and talking about balancing China's growing assertiveness. The signal seems to have reached China as its foreign office shows concern that it should neither be politicised nor exclusionary. It is seen that China is trying to deal with each country bilaterally, thereafter.   Malabar exercise in Bay of Bengal and global use of word 'Indo-Pacific' instead of 'Asia-Pacific' (cutting out China from it), Asia- Africa Growth Corridor are some examples of it. Quad may not be a relevant balancer today, but it may become formal, relevant and powerful in future, in case Chinese stance continues to be aggressive.
Notwithstanding larger than life image of Xi Jinping inside China, Post 19th Congress most reactions from other countries do not indicate any global swing in Xi's favor. Pakistan, the closest ally of China refused to accept Yuan as global currency in Gwadar SEZ in favor of Dollar initially, till US announced cuts in financial aid. It pulled out from Diamer-Bhasha dam deal over China's 'too strict' conditions. CPEC is being criticized in Pakistan to be against their interest, raising questions on viability of CPEC. In fact China itself has apprehensions on CPEC, concerning security and corruption of officials, and has recently stopped its fund flow to Pakistan to revisit terms and conditions, leaving some other energy projects in jeopardy. Nepal has already scrapped the deal of $ 2.5 Billion Budhi Gandaki hydropower project. Its BRI programs seem to be slowing down after symbolic progress initially, starving for funds.
While Xi may claim to have reached in US neighborhood for investments in South America, as a counter to US influence in South and East China Sea, but his idea of replacing US as global peace provider is still not acknowledged by anyone and does not indicate the practicality of its dream of being leading superpower. If China's Defense budget for 2017 was $ 215.7 Billion and US had allocated $ 611.2 Billion for defense (SIPRI Factsheet), there is no way that it can replace it as global security provider. The largest military need not be the best in the world, despite such aspirations. In my opinion his ambitions, aggressiveness and arrogance is moving faster than its capacity building. Xi's idea of proving to the world that the authoritarian, socialist model of governance with Chinese characteristics in new era is better than liberal democratic model of West has no takers. China's  next door neighbours like Nepal going for complete democracy and Vietnam moving towards more liberalism post 19th Congress justify the point.
The global strategists have reason to expect a more confident, assertive, foreign policy from China in light of Xi Jinping's announcement that China would continue to seek a greater role in world affairs in a new era, as it strides towards the global centre-stage. He is following it up with military build-up in expeditionary design in places like the South China Sea, and soft power play through economic schemes like the BRI.
History is full of examples where a totalitarian regime whenever started making threatening postures with no internal checks and balances, it led the country to disaster, like the way Hitler led Germany to a disaster when his ambition grew beyond his capability. It also need to be noted that in future the idea of having one or two superpowers is getting outdated, because all countries work as per their national interest and do not follow the dictate of any one country. North Korea standing up to US, Vietnam standing up to US and China, India and Bhutan standing up to China in Doklam stand-off, are some examples to prove that a well determined country cannot be forced to adopt a particular course by any power.
Strategic Encroachment in India's Neighborhood, post 19th Congress
Post 19th Congress of CPC, China continues to encroach in Indian neighbourhood without talking about the core issues and points of divergences as earlier. To that extent I do not think 19th Congress of CPC has made any major difference to India China relations. While China has talked of better relations with India in 2018, but the visits of its Foreign Minister alongwith Russian Foreign Minister did not yield anything worthwhile, with each side quite firm on its stance on issues of divergences like BRI.  On the controversial border issue there is a crying need of delimitation, definition and demarcation of LAC, and the demarcation be known to the troops manning it, if both sides want to avoid stand-offs. The Chinese however seem to be singing the old tune of better border management and confidence building measures to prevent it, which to my mind is a quick fix solution; with China again postponing the core issue even after 20th round of talks.
The only difference which affects India indirectly is that some of our common neighbors may give in to more aggressive 'Chequebook diplomacy' and 'Infrastructure diplomacy' of China or may get coerced/influenced by it. China's decision for extension of CPEC into Afghanistan may affect Indian influence in that country. It indicates the clear strategic intent of getting Afghanistan into its strategic orbit, attempt to play as a mediator between Pakistan and Afghanistan by 'Infrastructure diplomacy', take Afghanistan away from US strategic space and Indian influence, mitigate Indian Chahbahar connectivity, besides  using Afghanistan mineral resources. China has achieved rail connectivity with Iran, which does generate fresh concerns for Washington.  Maldives signing FTA with China, land grabbing efforts of China in Sri Lanka, Bangladesh, Myanmar, Nepal and Pakistan are few such examples affecting Indian security adversely for which India needs to find an answer.
China is also trying to play the role of mediator in Rakhine state of Myanmar, emphatically increasing its influence over Myanmar, advertising its capability for humanitarian development, checkmating Indian stance towards Rohingyas to show India in poor light. China is not concerned about the terror potential of Arakan Rohingya Salvation Army duly supported by ISI/Pakistan. China with little investment of money power expects to get a pat from UN, as a responsible state .
On diplomatic side India needs to not only 'Act east' but 'Act west' also. India is better located to be the hub of global sea lanes with lesser choke points either side, and is working towards this capability to provide an alternate model of global connectivity like Asia- Africa Growth Corridor connecting further West.2 Domination of Indian Ocean is going to be another strategic competition, which will become unavoidable in due course. China can keep increasing bases in Indian Ocean, but whether they will be its strength or vulnerability will be a question mark due to distance involved, choke points and growing strength and operability of Indian Navy with other global Navies.
What Next?
The National Security Strategy of United States calls China and Russia as competitors3. Although rubbished by China as 'Cold War Mentality', still brings the inclusion of China into a new arena of cold war with many more regional players getting in, looking for check and balance to aggressive China, even if they do not say so openly. A beginning of new cold war which may lead to a trade war is evident and reality. While China may be confident to ensure that the 'Implosion theory' will not work by its super strict checks, but will this narrative sell outside, I have my doubts. It remains to be seen that a country having an autocratic system, with only one decision maker and rest executers, with educated population will continue in this form for decades. Any slowdown in economy might result in democratic winds flowing inside to an extent that it may be difficult to control. The exact evaluation of Yuan is a suspect hence China may claim to stand tall on economic front, but is there a bubble inside only time will tell.
The views expressed are of Major General S B Asthana (veteran) and do not represent views of any organization. The General  is reachable on Facebook, Linkedin, Twitter and Google+ as Shashi Asthana, also on website http://www.asthanawrites.org 
References
Resolution of the 19th National Congress of the Communist Party of China on the Report of the 18th Central Committee, October 24, 2017, Xinhuanet.
Asthana S B, Opinion: What does Xi's autocratic position mean for India?WION News, December 07, 2018. URL http://www.wionews.com/world/opinion-what-does-xis-autocratic-position-means-for-india-26100
 National Security Strategy of United States of America, December18,2017.  https://www.whitehouse.gov/wp-content/uploads/…/NSS-Final-12-18-2017-0905.pdf
Future Trends of China's Diplomacy
This year 2019 marked the 70th anniversary of the founding of the People's Republic of China (PRC), and China's diplomacy has also gone through a journey of 70 years. The 70-year history of the PRC can be divided into the first 30 years after its founding and the second 40 years since opening and reform were initiated in 1978. The characteristic of china diplomacy is a responsible nation, rational behavior and the confidence of great power.
China had a clear break with the old diplomacy of humiliation; established a new kind of diplomatic relations with other countries on the basis of equality and mutual benefit; secured an equal position and dignity on the global stage; gained diplomatic independence by safeguarding and strengthening national independence, and protecting national security and territorial integrity; settled the border disputes left over from history with most neighbors by peaceful means, creating a stable neighborhood in general; established strong friendships with the vast majority of developing countries through mutual support; and set up a new diplomatic contingent for seeking the diplomacy of independence. The following are the future expectations of China diplomacy:
Firstly, Deng Xiaoping's directive, "Don't seek for leadership," stays powerful in China's new diplomacy, so China's future diplomacy will keep on emphasizing on the management of the crisis, economic diplomacy, multilateral diplomacy, cultural diplomacy, cooperation, and accommodation while protecting the main national interest. Solving problems and managing crises will stay an important characteristic of China's diplomacy, particularly in its ties with other major powers. Meanwhile, in cooperation with other major powers, China will appear to be more active in managing fundamental global issues at the strategic level.
Secondly, The Chinese government has repeatedly said that China does not have a plan of challenging the international system and has focused on the importance of being a "responsible member" of the universal society. As of late, China has developed new concepts for its foreign policy orientation, just as (1) "new security" emphasizing shared and cooperative security, (2) "peaceful development" focusing on non-violence commitment, (3) "win-win" cooperation denying a zero-sum comprehension of international affairs, and (4) building a "harmonious world" that promoting harmony with diversity, solving conflict through dialogue, and democratization of world governmental issues.
As these concepts demonstrate, China has no desire of being revolutionary in the international system, rather, it intends to be a responsible member of world affairs. Economic diplomacy will remain to be emphasized by china. While trade will keep on being a fundamental diplomatic focus, energy security and energy diplomacy will be given additional accentuation. Energy supply, energy shipment, and energy-saving cooperation will be fields where the diplomacy of china will move forward.
Lastly, Multilateral diplomacy will take on an even greater role in the future diplomacy of China. China will become more involved at the global level and in regional affairs at the United Nations. As the identity of China is more globally and regionally established, the current concept of multilateralism in the overall diplomatic strategy of china can be re-defined to realize national interests, address thorny issues, and provide governance in a complex world. More attempts will be created to improve regional integration between the SCO and East Asian. Finally, various needed diplomatic attempts may need to be further reinforced. China will keep on being cooperative, however, it will likewise be more active. All things considered; cultural diplomacy will be a new attribute of China's diplomacy. Confucianism, an extremely cosmopolitan doctrine that promotes harmony and peace through human relations, will be an important component of cultural diplomacy, both to strengthen China's soft power and to reduce the negative result of the China threat theory.
China has accumulated a wealth of experience over the past 70 years, understanding that China cannot develop without the world and that without China the world cannot prosper. China's future and fate have been closely linked to the rest of the world. What is certain is that China will adhere to the path of peaceful development and that the people of China will join the people from all other countries in working to realize the lofty dream of a harmonious world.
The Strategic Stopover: President Xi's state visit to Nepal
For starters, a Nepali styled dumpling, "momo" might have reminded President Xi, a cuisine closer to his taste buds than what Prime Minister Modi offered him a night before in southern India. Nobody would know if a "spiced extract tomato" served feelings like any kind of dumpling would excite a visiting Chinese head of state. There was a contrasting atmosphere in Kathmandu; President Xi proudly stated how Nepal-China friendship was extremely unique, one that has been positive since time. It was a deliberate statement to the Indians; friendship for China did not mean carrot and sticks. President Xi's visit to Kathmandu, a major state tour by any Chinese president for twenty-six years does not need to be analysed from an Indian standpoint. Fortunately, for Nepal, it shall now.
Game point for the visiting Chinese president. Every word he spoke was cunningly tailored to ward off accusations regarding how the Indians would analyse his visit. The Indian government has had open insecurities about Chinese interests in Nepal. President Xi was not in any mood of justifications, rather he was questioning India's approach towards Nepal, a self-declared natural ally of India. While the president was making his remarks in a cosy dinner affair, the Nepali authorities made sure of the fact that the Tibetans would not create any nuisance. Conversely, in India, they did.
President Xi's visit to Nepal was built on a rather strong foundation of trust between the two nations. Nepal had openly snubbed the Indo-Pacific union; a US led strategic alliance that is trying to keep Chinese ambitions at check. Even if Xi had any reservations, Nepal's bold move to approach China for the construction of railway lines until the Indian border is a testimony to Nepal's unhindered foreign policy. As the dinner progressed, President Xi increasingly inflicted wound on Indian attitude towards Nepali sentiments. China wished for a "land linked" Nepal, a rhetorical change from how Nepal has a trying landlocked geography. A reminder to the Indians of how they had inflicted a land blockade on Nepal. The nature of script effected by both Nepal and China has an air of easiness about transforming bilateral ties in the coming future. The Chinese president brought more to the table than what the Nepali delegations were expecting to. His take away phrase, "we will do what we claim to" is proving to be music to ears in Nepal. Diplomatically, it also means that China will not do what it does not claim to. Another reminder of how India conducts its business.
The dragon is looking for a trusted ally in the region and Nepal has managed to tick all the boxes. Prime Minister Oli of Nepal will be all smiles after achieving a significant power capital to challenge the language with Modi's unreliability. The state visit has also cut across deep lying misconceptions about Nepal's relationship with China. Factually, it is different from China's other interests elsewhere. Relations between Nepal and China are and have been significant than what Indians have perceived it to be like. After all, as President Xi mentioned, pre-historic relationship between China and Nepal would not remain unscathed in the absence of mutual respect and an attitude of friendliness. Both Nepal and China have realistically come to terms with their modern state of friendship. Suddenly, China has not only asserted its leverage in Sino-Nepal ties but it has come at a time of unwavering clarity for the Nepali government. Over the past years, Nepal's foreign affairs has witnessed deceit, revelations and a need to transform its understanding of international relations. Prior to his state visit, President Xi JingPing did the unconventional. He wrote an editorial on how he felt about his long awaited state visit to Nepal. Game point for the Chinese President.
Trade War: An Infinitesimal View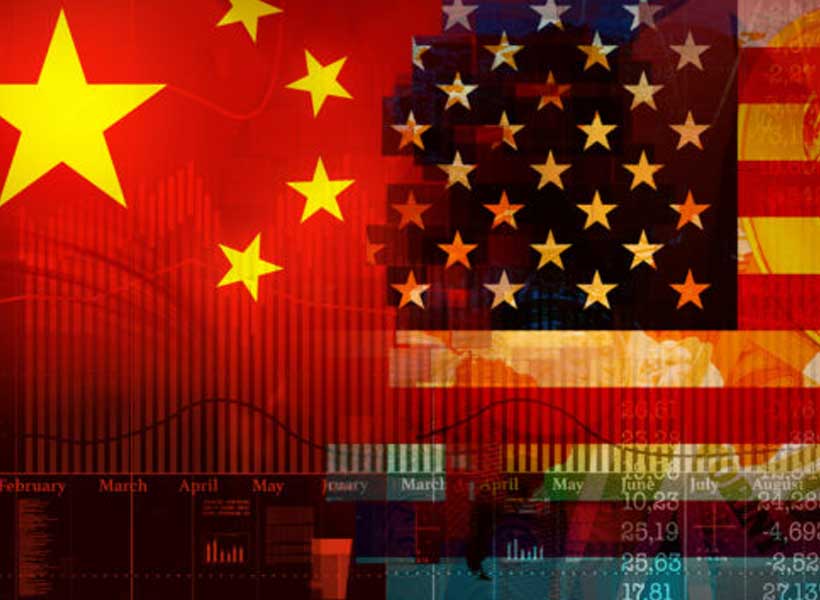 In the post Cold War era, the US changed its policies, shifted its priorities and viewing China's economic emergence as a great threat to its interests in coming decades. With a rapid economic growth, technological advancement and development of its armed forces, China became a future competitor of the US. Due to Chinese rapid economic growth, modernization of its armed forces as well as mounting position in Asian region and sea lanes of transportation, many American analysts take China as its future contestant. As a result, China remained a factor in the US all grand strategies. The 'China versus the US' indicate that Washington is taking potent steps against its threat (China). China perceives these steps as a part of the US policy of "hedge" to contain "the mighty China". This writing tries to examine the ongoing trade war between the US and China in miniature view and suggest the options for China.
Trade wars have finally begun between the US and the China. Before little explanation of this Trade war, let's discuss the concepts. A trade war is when a nation imposes tariffs on imports and foreign countries retaliate with similar forms of trade protectionism. It is side effect of protectionism that occurs when one country (country A) raises tariffs on another country's (country B) imports in retaliation for country B raising tariffs on country's A imports. Besides this, a tariff is a tax imposed on imported goods and services. Trade wars also commence if one country perceives another country's trading practices to be unfair. Trade wars are also a result of a misunderstanding of the widespread benefits of free trade. In addition, a tariff is a tax or duty that the government places on a class of imported goods (tariffs on exports are very rare). In theory, this makes the foreign products more expensive and therefore less desirable to consumers-boosting domestic makers of the product, which don't have to pay the tax. The tariff is collected by customs officials and goes to the government. In addition, Protectionism refers to government actions and policies that restricts or restrain international trade, often with the intent of protecting local businesses and jobs from foreign competition.
The United States and China have imposed a tariff of 25% on imports worth $34 billion after exchanging several threats over the last few months. This marks the official beginning of what China dubs as "the biggest trade war in economic history". While this trade war is far from the biggest the world has seen, it has the potential to cause some significant damage to the world economy. US President Donald Trump, who began the year by imposing tariffs on imported solar panels and washing machines, has vowed to possibly tax all Chinese imports into the US, which last year added up to a little over $500 billion. President Trump's tariffs against China will likely resonate with voters who believe in his "America First" campaign and perceive the trade deficit with China as a loss to the US economy. China, not surprisingly, has responded by targeting American exports like soybean and automobiles, a move that could cause job losses in American states that accommodate Trump's voter base. Other major US trading partners such as the European Union, Mexico and Canada have also slapped retaliatory tariffs on various US goods. On July 06, 2018 the Chinese products $34 billion worth, including goods, flat-screen televisions, aircraft parts and medical devices have faced tariff imposed by Trump administration. .The goods marked for tariffs will now face a punishing 25 percent border tax when they are imported into the US. The Trump administration initiated these tariffs after concluding an investigation into some of China's 'controversial trade practices'. The main motto behind the new trade barriers is to penalize China for doing things like forcing foreign businesses to hand over their most-prized technology to Chinese companies – many of which are state-owned – in exchange for access to their market. China immediately accused the US of starting "the largest trade war in economic history to date" and responded by imposing 25 percent tariffs on $34 billion worth of US goods, including soybeans, automobiles and lobsters. According to a spokesperson for China's ministry of commerce, after Minutes the US tariffs went into effect,
"China promised not to fire the first shot, but in order to safeguard the country's core national interests as well as those of the people, it is forced to fight back … the US will be opening fire on the whole world and also opening fire on itself."
Additionally, the state-run Global Times wrote,
"If what the US wants is to escalate a trade war with China, then so be it. A little fighting may be the only way the Trump administration clears its mind and allows everyone to sober up."
The aggregate amount of trade affected is moderate relative to the US and Chinese economies, but for the US, this is the most extensive import protection since the disastrous Smoot-Hawley tariffs in the 1930s. President Trump has threatened a 10 percent tax on a further $200 billion of imports from China.
In the context of feasible effects on global economy, the trade war between the US and the China could push the world economy towards a decline and it could lead to a collapse of comprehensive as well as global trade. The deteriorate investment, disturb financial markets and sluggish global economy are the major negative outputs of this trade war. This trade warfare between the US and China could extend to worldwide in trade arena and to areas beyond trade. According to economical analysts, the trade conflict among one superpower and other rising power can create disturbance of global supply chains. In addition, the US products which are assembled in third world countries can also be affected. Without a doubt, due to the disturb supply chain, the US consumer could well end up paying higher costs for products. At the end but not least, this trade confrontation between two rivalries of 21st century could affect the world trade system and it could be trade cold war between both countries be like the cold war between USA and the USSR in 20th Century. A thoroughgoing trade war could lead to a collapse of global trade.
Additionally, this trade war could also effects Chinese economy, With the Dawn of 21st century, People's Republic of China is in a very fair position in the context of Economy to face any economic tornado because in general, its economy is less dependent on exports, and exports to the US in particular. The value added in its exports to the US is less than 3 percent of its economy. In addition, China is at the end of many global value chains, which include inputs from the US, Japan, South Korea and Taiwan. The Shanghai stock market is in main territory, down 23 percent from a high in January 2018. Still, the trade war comes at a bad moment in China's cycle. The establishment have been tightening financial conditions and trying to restraint in financial risks, so that the economy is slowing, even before it takes a hit from trade. The Chinese currency has depreciated round about 4.3 percent against the dollar for the last past few months.
This is a natural market reaction to the US protectionism. Over the same period, the dollar has appreciated about 5 percent against a basket of major currencies. This is one of the ironies of the US which is trying to use trade taxes. They create uncertainty in the world and one result is that capital flows out of other economies to the US. In the short run, this raises the value of the dollar and largely undoes the protection. Historically, when the US introduces protection, it has typically not led to an improvement in the trade balance, rather the opposite. In the case of US-China trade, 25 percent tax means that about $50 billion of imports will be more expensive, and the US is likely to import less. But the other $500 billion that the US imports will be modestly cheaper because of depreciation and the US will import more. History suggests that the net effect on the trade balance will be minor. This is one reason that the direct effect on the Chinese economy is likely to be minor.
In addition, the effect of this trade war could be on the US economy. The US economy is humming along because of fiscal stimulus from tax cuts plus expenditure increases. Net job gains in June, 2018 were above 200,000, the pattern of recent months. In general, the trade war will destroy some jobs in export sectors and create some jobs in import-competing ones. This is a bad tradeoff because export jobs are generally of higher productivity and pay. The job churning is also disruptive — the lost jobs are likely to be in agricultural states and southern states with auto plants, whereas job gains are probably elsewhere. The Trump White House is betting that, given the overall strength of the economy, some localized pain will be tolerable and the get-tough policy toward China will be a political winner for the midterms. Economically, both the United States and China would lose from a trade war. Punitive tariffs would push up import prices, dent exports, cost jobs and crimp economic growth, so both sides would do best to avoid an outbreak of hostilities.
Here some options for China to retaliate this trade war. In this trade war with China, President Donald Trump wields one seeming advantage: the US could ultimately slap tariffs on more than $500 billion in imported Chinese goods. Beijing has much less to tax: It imported just $130 billion in US goods last year. Yet that hardly means China would be powerless to fight back once it ran out of US goods to penalize. It possesses a range of other weapons with which to inflict pain on the US economy. Here is a look at some of the options China has in this war:
The Chinese government should do trade in local currency. The visit of Pakistan's Prime Minister Mr. Imran khan Niazi to China give very valuable and authentic suggestion to Chinese government to do trade with Pakistan in Yuan rather than the US dollar $. It will be a direct and indirect hit to the US, her fellows and dollar $ currency. After the successful agreement with Pakistan, China could do trade with other countries in Yuan. Be remembered that China is a chief exporter country of the world with 2263 trillion dollar $. In addition, recently China gives defeat to the US in the context of purchasing oil and makes herself as chief and main oil importer and customer of the world. China could do trade with KSA, KUWAIT, IRAQ, IRAN, QATAR and other oil producing countries in Yuan but the US don't want this. If the China would successful to do trade with oil producing countries in Yuan than the dollar will decrease its worth and market value at least. The US impose sanctions on European companies to do trade with Iran and other oil producing countries but reciprocally the European countries give intimidation to boycott the US dollar. In addition, Russia would play vital role as recreationist and would give Red carpet to all. This downfall of dollar will make crash in World Bank and IMF also. Chinese government this step would create a greatest tension for the US and dollar.
China should do check and balance regarding the US companies in China. China's state-dominated and heavily regulated authorities could disrupt the US companies by withholding licenses or launching tax, anti-monopoly or other investigations. Chinese controlled media should play vital role. The state-controlled media have encouraged consumer boycotts against Japanese, South Korean and other international products Last year, Beijing destroyed Korean retailer Lotte's business in China after the company sold land in South Korea to the Seoul government for an anti-missile system opposed by Chinese leaders. Beijing closed most of Lotte's 99 supermarkets and other outlets in China. Seoul and Beijing later mended their relations but Lotte gave up and sold its China operations.
To counter Trump's "America First" approach, Beijing can appeal for support to US allies and other countries. Trump's unilateral actions have allowed China to position itself as a defender of free trade despite its status as the most-closed major economy. That could help Beijing win over governments that have criticized Trump for acting outside the World Trade Organization. Chinese leaders have tried – so far without a major success – to recruit European and other governments as allies. More broadly, Chinese commentators have suggested Beijing also could disrupt diplomatic work over North Korea's nuclear and missile programmes or other initiatives. But political analysts say that would risk setting back work Chinese leaders see as a priority.
In concluding remarks, No country can hope to impose tariffs without affecting its own trade and industry as well as economic interests in this contemporary world. Apart from disadvantage, countries that rely on foreign imports can be disturbed due to higher prices for goods, tariffs and supply chain of producers. So both the competitors of this globalized world, the US and China, are doing no good to their own economic fortunes by engaging in this tit-for-tat tariff battle after blamed each other for the ongoing trade warfare. According to the US Federal Reserve meeting the economic uncertainty, decline of private investment and delay of investment plans have been happened due to this trade war. Besides this, the economic giant China will also be equally affected. This current trade confrontation between the US and China also threatens the rules-based global trade order. It could also isolate the US, which has refused to settle differences through serious mediations, negotiations. If global trade tensions continue to simmer, it may not be too long before countries resort to other destructive measures such as devaluing their currencies to support domestic exporters. The world economy, which is on a slow path to recovery, can do without such unnecessary shocks.